Plamann Park is a large county park located in North Appleton, and it's one of our favorite things to do in Appleton! This is a great park to visit year-round. You can watch the seasons change on nature and hiking trails; sledding in the winter and a swim at the lake with inflatables in the summer. You won't want to miss visiting the young barnyard animals at the Children's Farm, which is open in the summer months! There is so much to explore – pack a picnic and head out for a day of fun!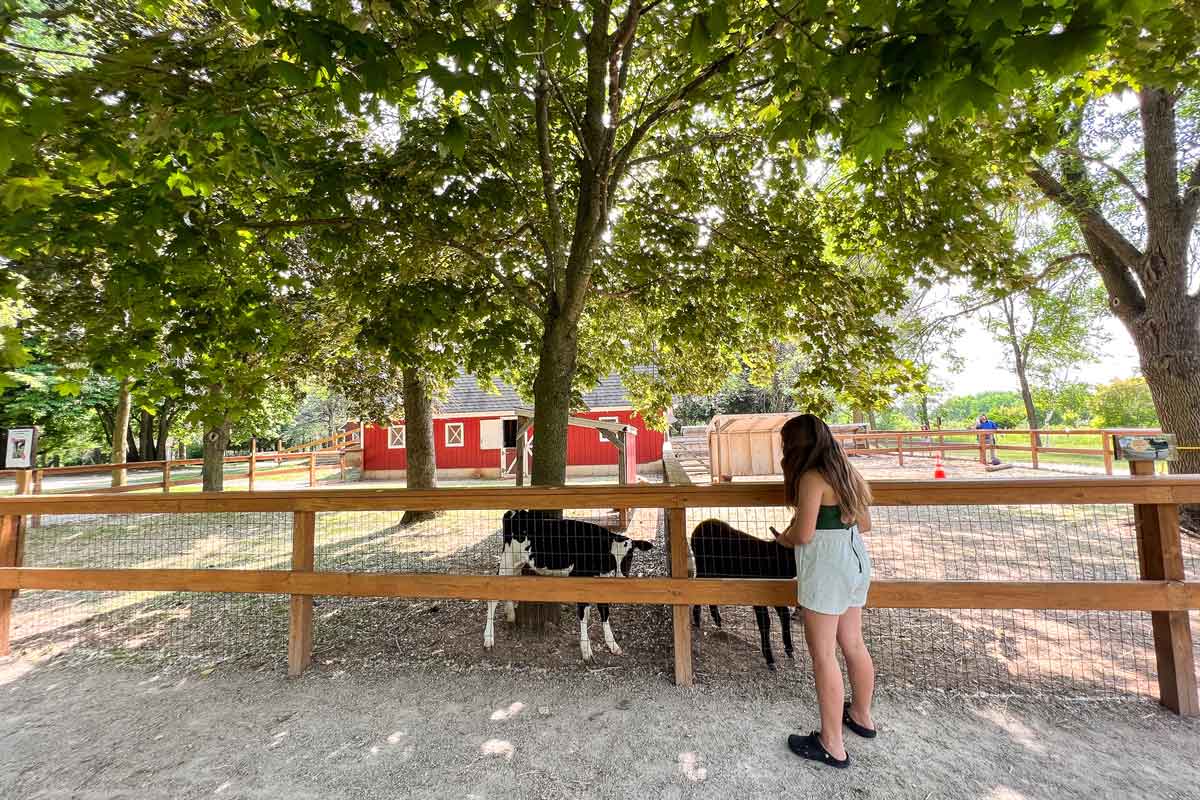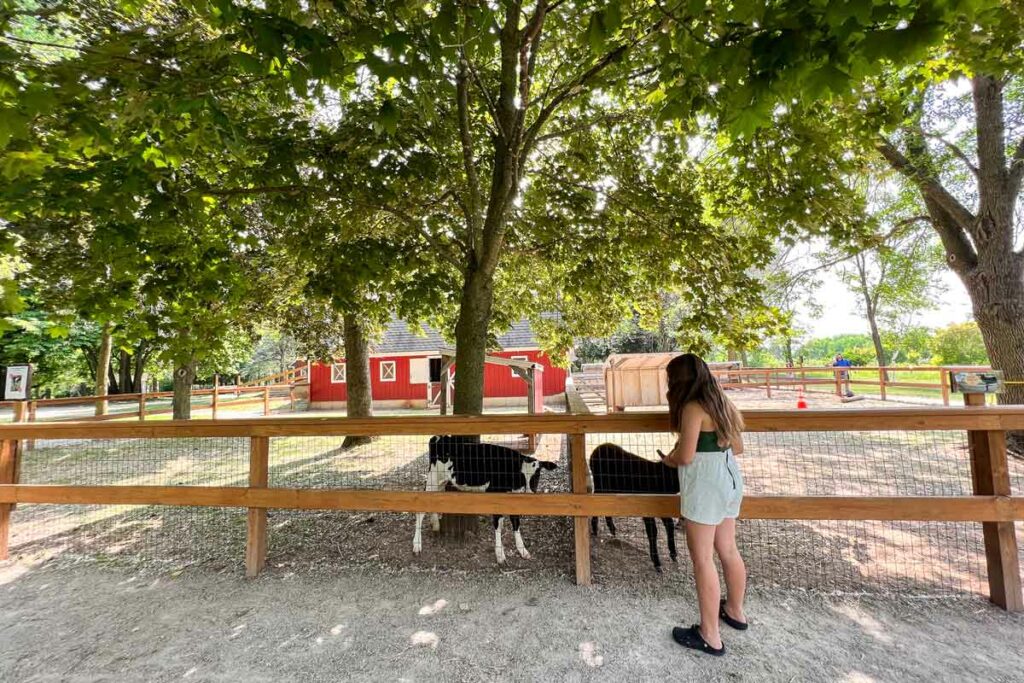 The Plamann Park Children's Farm
The Children's Farm opened in 1989 and has continued to host young animals on loan from local farms each summer. The animals are cared for by trained staff and are fed diets recommended by their home farms. So, while there is not an opportunity to feed the animals here, your kiddos will still get a good amount of interaction and petting when the animals wander over to say 'hello'. You'll find pigs, goats, calves, rabbits, and maybe other surprise visitors for the season. It is a perfect spot to spend a slow morning or afternoon playing and exploring, so definitely pack snacks or a picnic lunch. This is one of our favorite spots to visit with toddlers and preschoolers!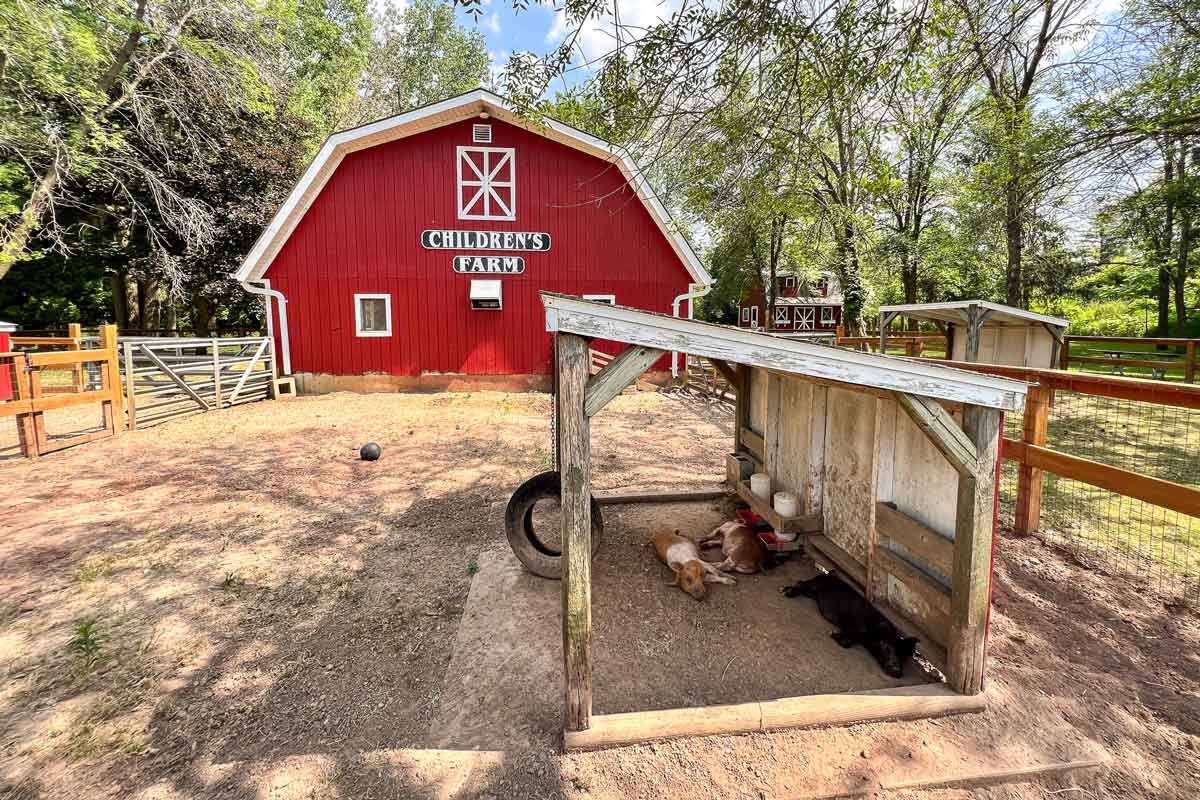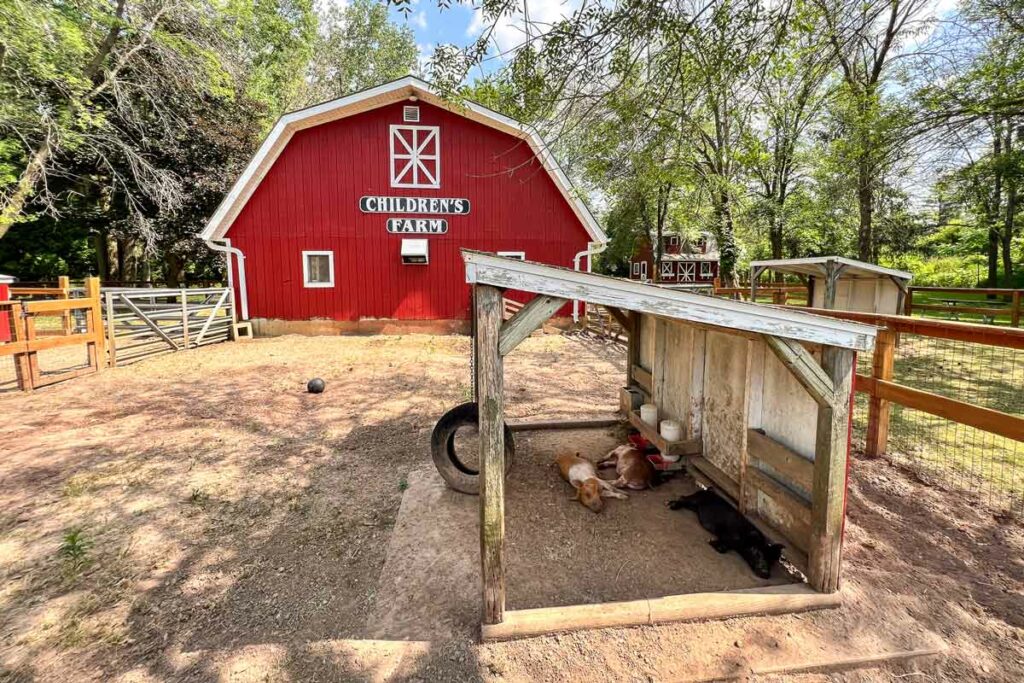 2023 Children's Farm Season
Opening Day: Saturday, May 28, 2023
Closing Day: Monday, September 4, 2023
Hours: Daily 9 am – 4:30 pm
Admission is FREE for everyone!
Open Memorial Day to Labor Day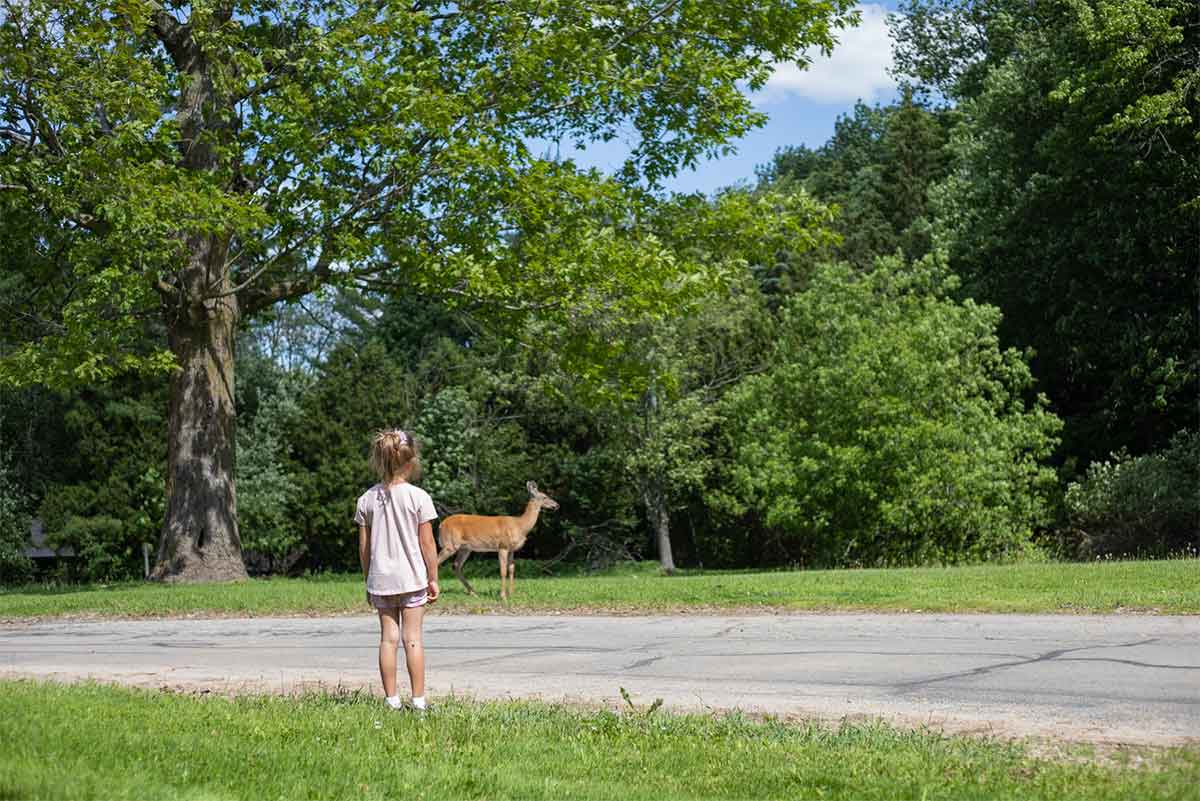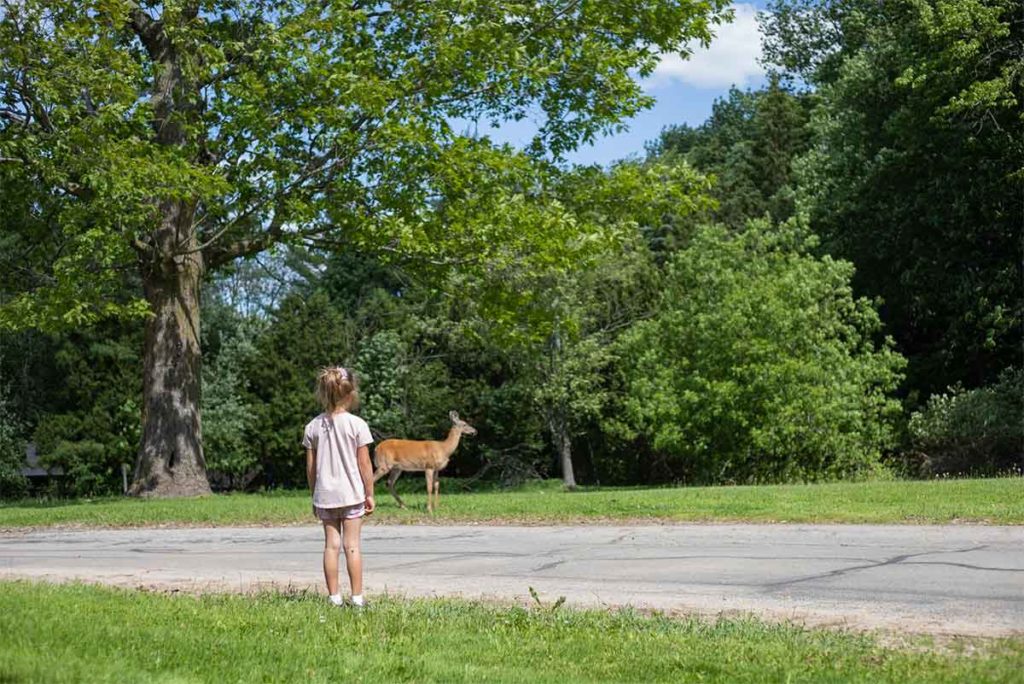 Other Things to Do in the Children's Farm Area
While you're at the park to visit the Children's Farm, stay a while and explore the other fun things to do for kids here!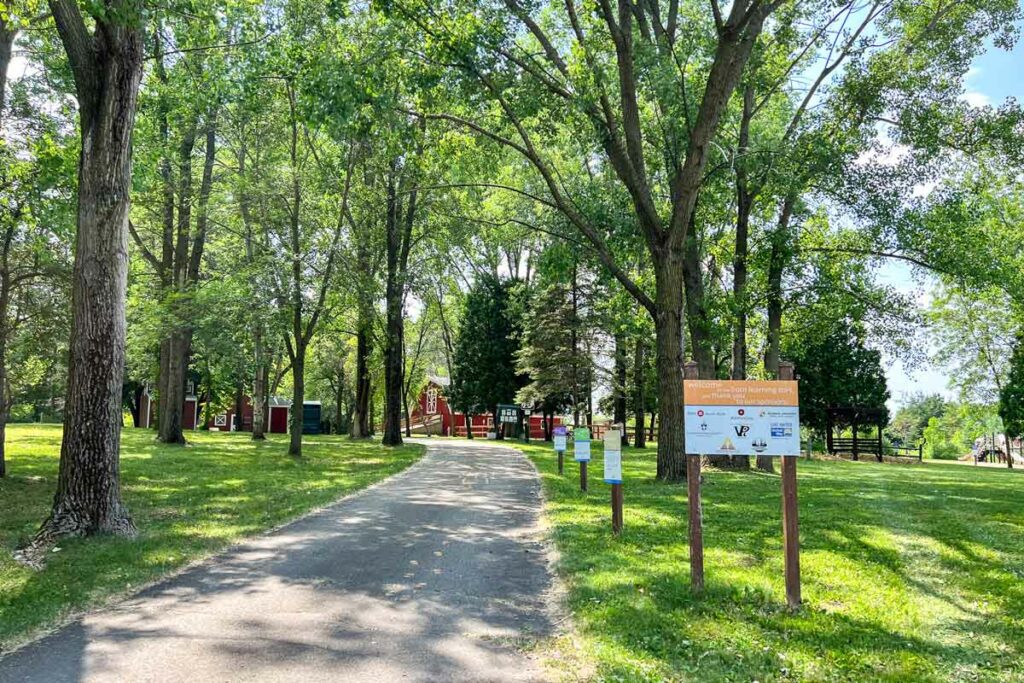 Cow Path and Bird Trail
First established as an Eagle Scout project, the paths are actually shaped like a cow and bird! They are super easy to navigate for even little kids. They take you around loops in a meadow that is great for bird and bug spotting.
The entrances are to the right of the Children's Farm and marked with signs.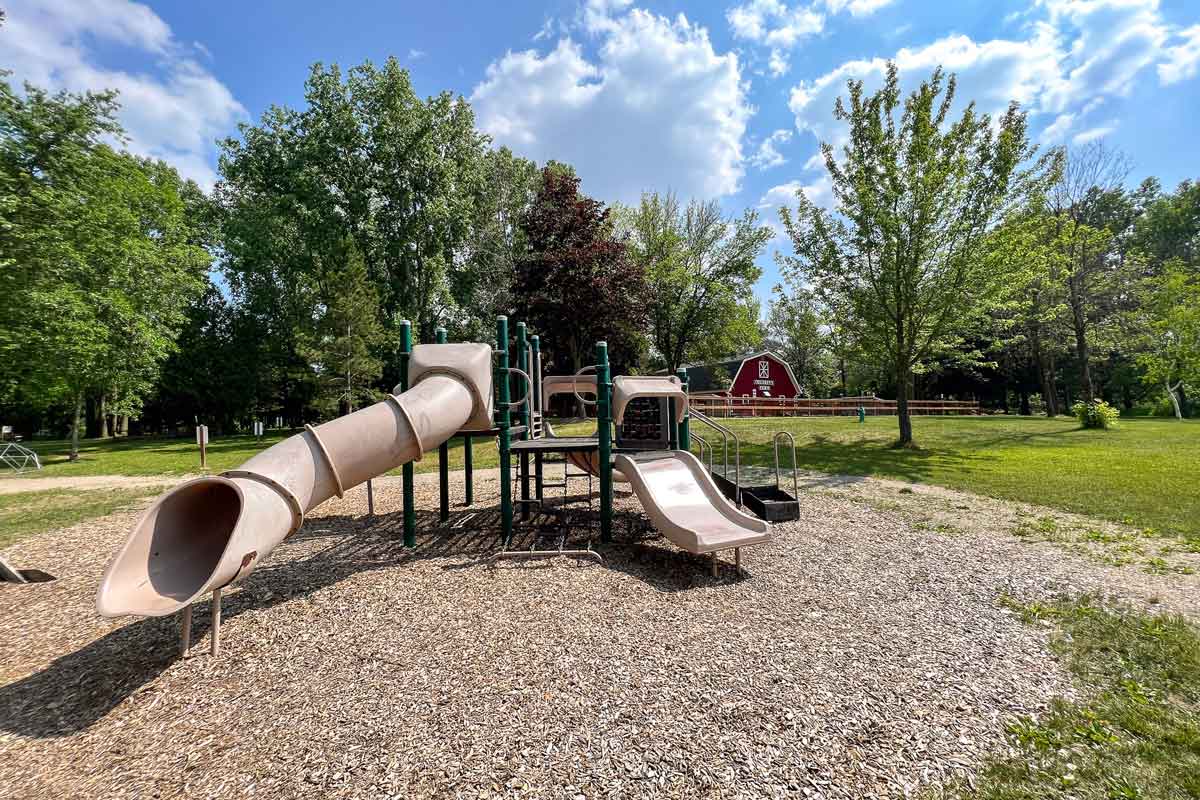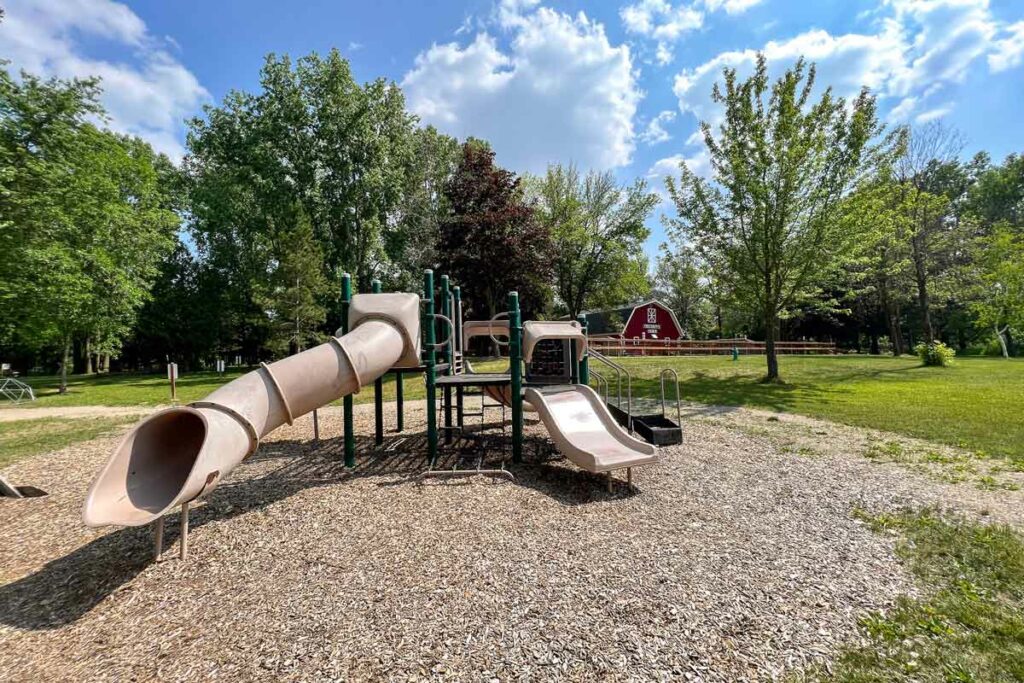 Playground
You'll find a small playground with a sandy bottom in the same area as the Children's Farm. It is perfectly sized for little kids and makes a natural stop before and/or after petting and observing the animals.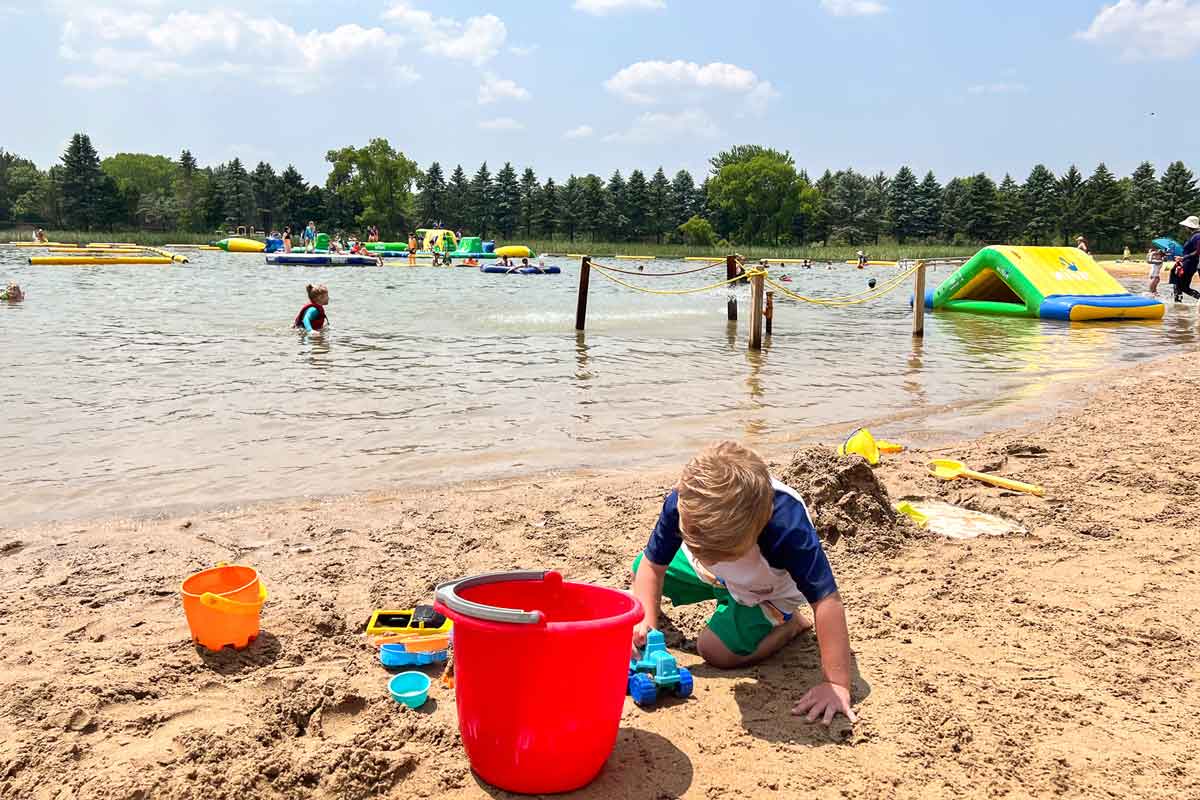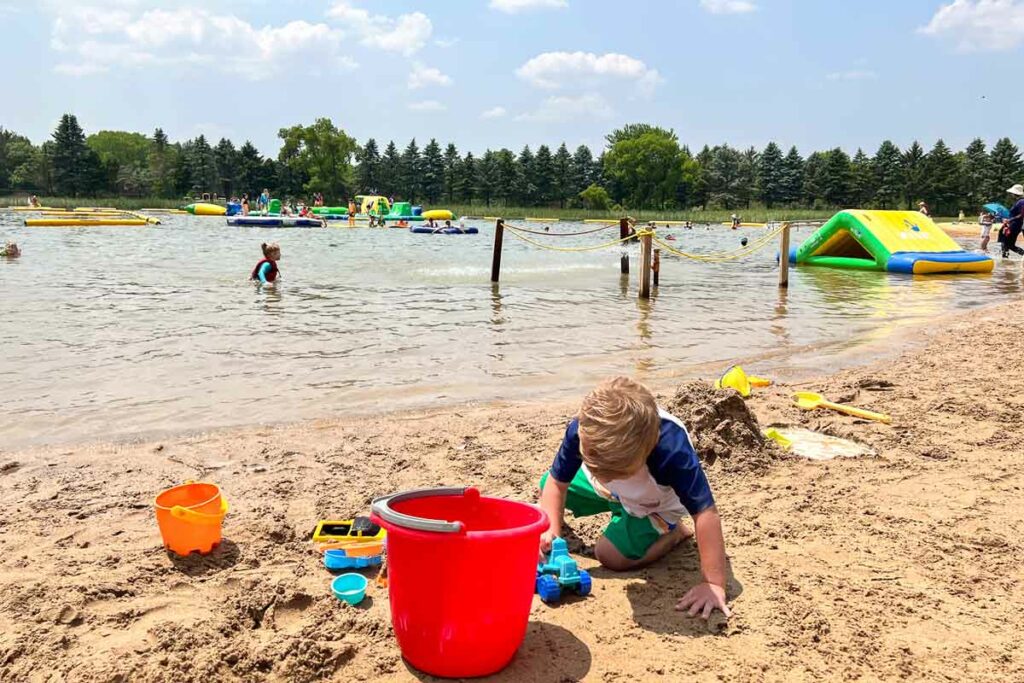 Plamann Lake
Plamann Lake is a man-made lake located just inside the park. A sandy beach, an inflatable aquapark called WITBIT, and a graduated entry make this lake a great fit for families with kids of varying ages.
Opening Day: Saturday, June 3, 2023
Closing Day: Saturday, August 19, 2023
Hours: 11 am – 6 pm
Admission:

Ages: 4 – 15: $4
Ages: 16 – 64: $5
Ages: 0 – 3 and 65+: FREE
Season passes available
Notes: Carry-ins allowed (no glass or alcohol). Floatation devices not allowed. Life jackets are provided for use on the inflatables.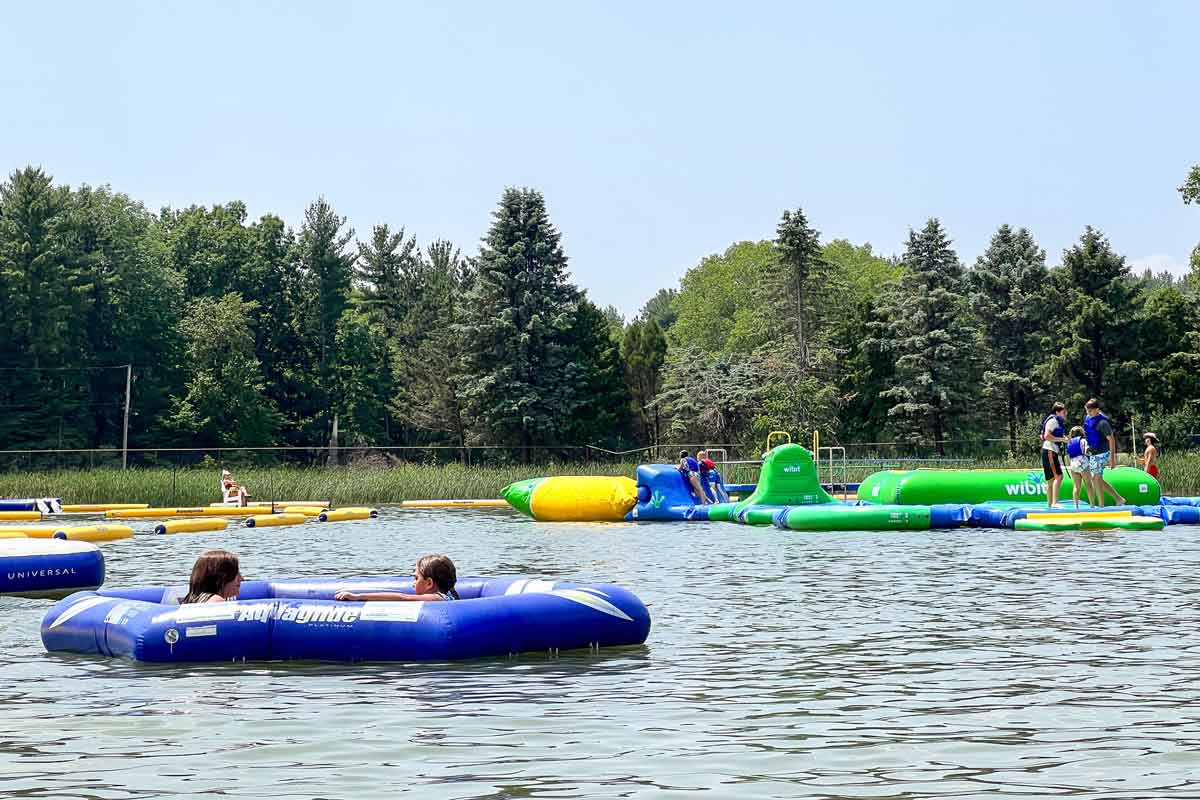 WIBIT Inflatable Aquapark
This fun feature is available to visitors 7 and older. It runs on a schedule of 20-minute rotations from 11:15 am until 6:15 pm with 10 minutes between sessions and is attended by lifeguards. What you need to know:
A front crawl swim test is required to enter deep water areas.
Everyone must wear a provided life jacket.
No diving or flips off inflatables.
Do not swim under the inflatables.
No roughhousing.
Swim lessons and party packages are also available.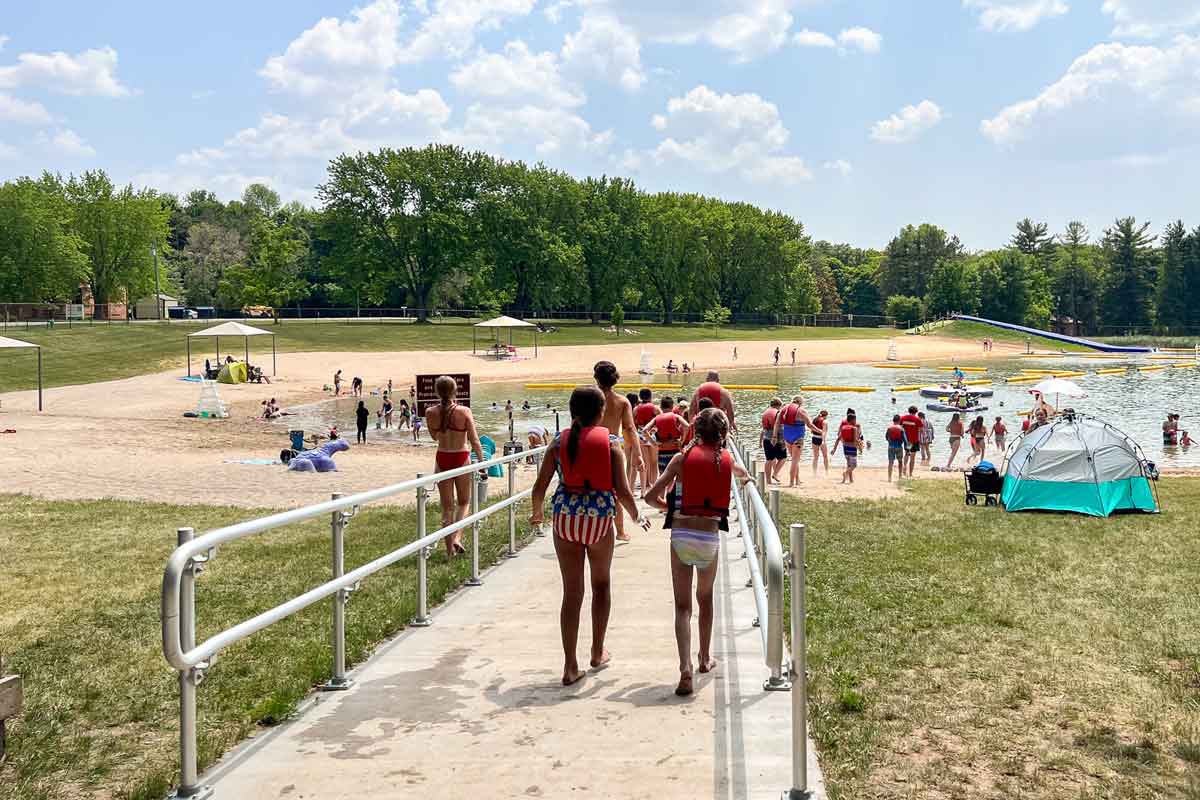 Trails
There are miles of nature trails and hiking trails to explore. The nature trails provide a great opportunity to slow down with kids and discover new things. These are just one part of our 18 Fox Valley Family Friendly Nature Trails for you to try!
Disc Golf
The disc golf course at Plamann Park is a well-rated 27-hole course with hills and wooded areas. Course hours are 7 am – dusk.
Are you looking for a fun place to stop for ice cream after a day at the Children's Farm, hiking, or swimming at Plamann Lake? Swing by nearby Copper Rock Coffee for an out-of-this-world scoop of homemade gelato, or hit up one of our other 60+ places to get ice cream!
Winter Recreation
Sledding: Large and small hills
Cross-country skiing: 3.5 miles of groomed trails
Snowshoeing: 3.5 miles of groomed trails
Snowmobile: The trails in the park give access to nearly 300 miles of trails throughout Outagamie County. The parking area is near Plamann Lake.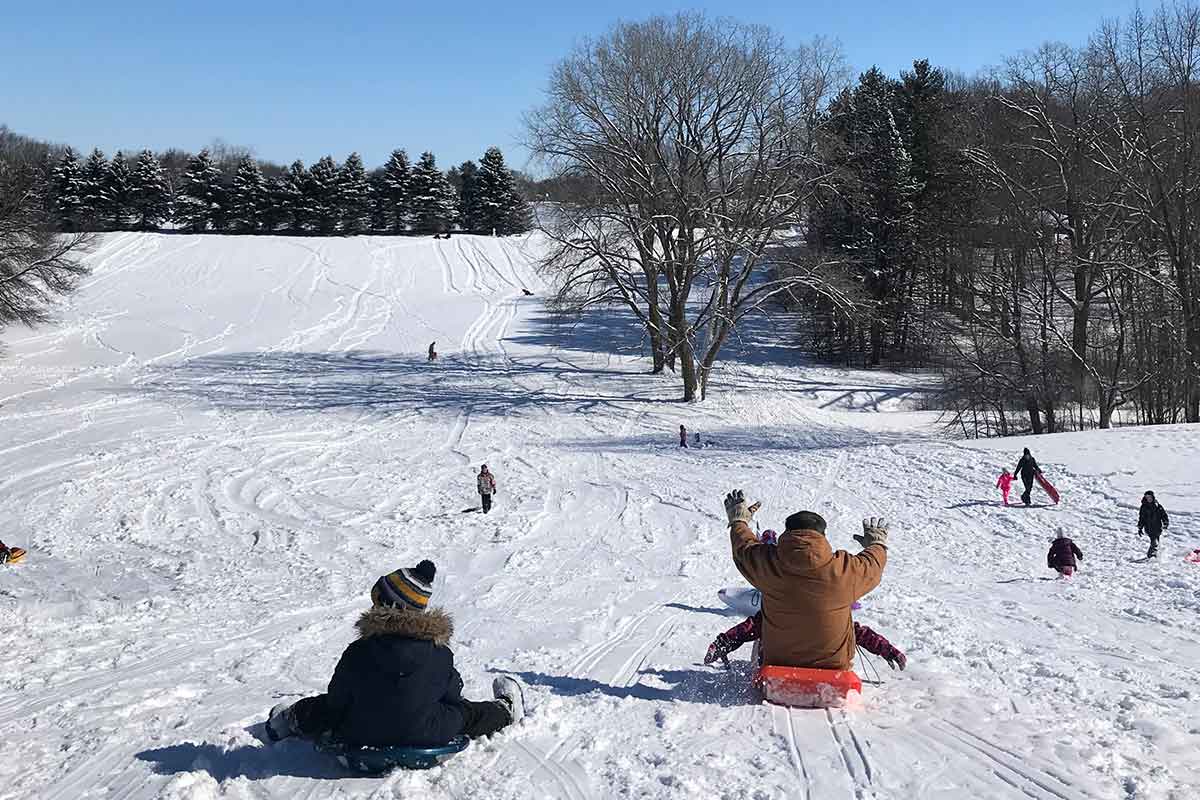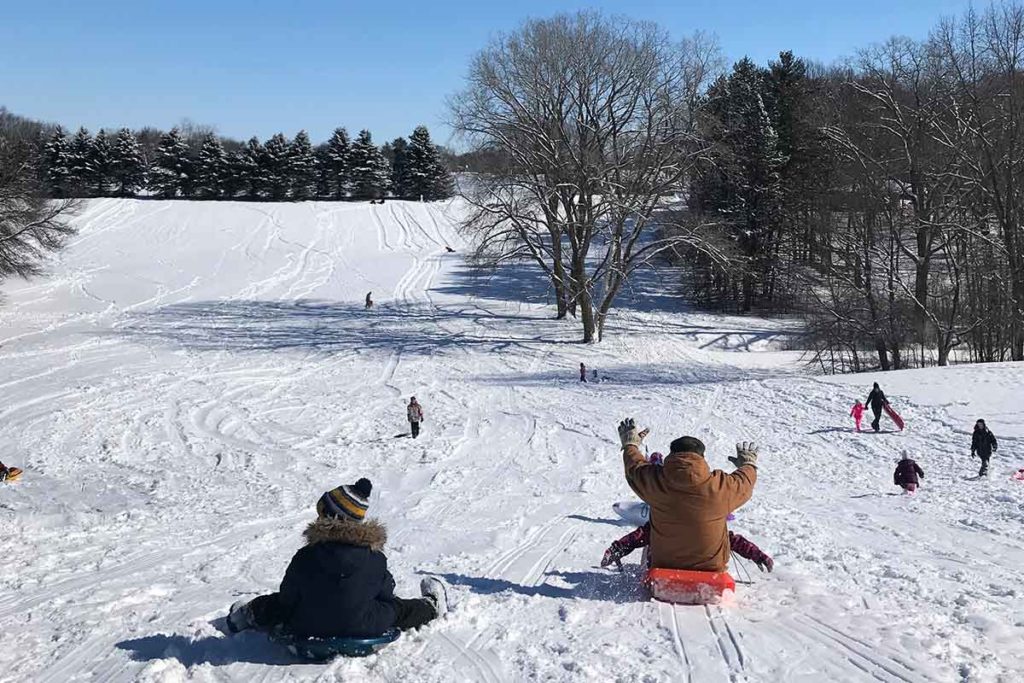 For more information, visit the Plamann Park website including general information, about the Children's Farm and Plamann Lake.