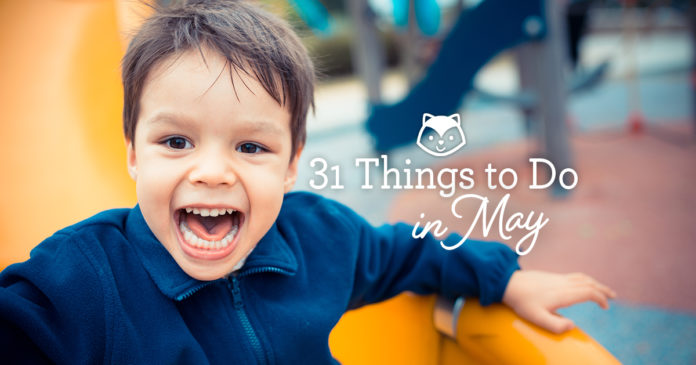 One reason to be excited for May is the average temperature in 67°F, here are 31 other reasons to welcome the month with open arms! Who else is also excited about being one month closer to summer?!?
We've rounded up some fun things to do this month in Northeast Wisconsin for your family!
Things to Do in May for Kids & Families
Most bathrooms open May 1 at our local parks. No more little potty emergencies! Here are some of our favorites.
Visit the owls and natural play area at Heckrodt!
Freshen up your feet for sandals season and bring along your favorite kid to one of these Kid Friendly Nail Salons!
Meet Dragon from Dragon Loves Tacos at a Dragon Loves Tacos Party at Appleton Public Library!
Mulberry Lane Farm opens May 1! Check out pictures from our visit last Spring.
May 17 is National Public Gardens Day. Enjoy FREE admission at Green Bay Botanical Garden on May 17. More information here.
Bay Beach opens May 4 for the season. Here are 10 reasons we LOVE Bay Beach!
May 12 is Mother's Day. Moms are FREE at Mulberry Lane Farms, Green Bay Botanical Gardens, and the NEW Zoo.
Find your Spring issue of Sprout Fox Cities Magazine!
Plamann Park's FREE Children's Farm opens Memorial Day Weekend. Learn more about the farm here.
Touch a Truck is a FREE event at Memorial Park in Neenah on May 8th!
Watch a Memorial Day Parade.
Skip making dinner and find a Kids Eat FREE option here.
Sign your kids up for Summer Camp.
Go Geocaching! Here are tips to get started and also different types to look for.
Find a babysitter and schedule a date night!
Ride the go-karts or mini golf at Badger Sports Park.
Feed the ducks at Bay Beach Wildlife Sanctuary.
Get out of town! Take off on a day trip!
Runoff some energy during the rainy days at one of these indoor playgrounds.
Start your quest to find the best ice cream in town!
Sign up for a CSA! Here is some help.
Work on your backstroke for summer. Go swimming!
Make sure to check out our calendar.