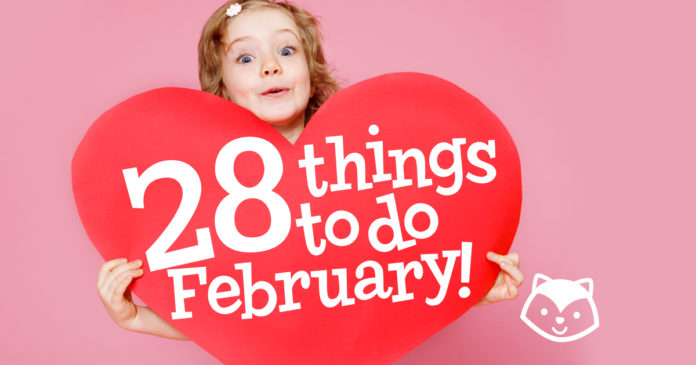 Looking for things to do in this cold winter month? Here are 28 ideas!
February Activities for Kids & Families
Saturday, February 10, 2018 – FREE Valentine's Family Festival, presented by the United Way Fox Cities Emerging Leaders Maplewood Middle School in Menasha.
Saturday, February 10, 2018 – EAA Skyplane Fly-IN – FREE Family event in Oshkosh
Sunday, February 11, 2018 – Discover Diversity FREE Day at the Building for Kids in Appleton.
Saturday, February 17, 2018 – Check out Shopkins Live! at the Fox Cities Performing Arts Center.
Thursday, February 22, 2018 – Young Audiences features interactive performances and demonstration from performing arts groups paired with visual arts activities for elementary school-aged children. This event is FREE and features the Appleton Boy Choir this month. Registration required here.
Saturday, February 24, 2018 – Dance the day away at the Family Get Down – Family Dance Party!
Run around the gym during Appleton Park & Recreation FREE Open Family Gym at Ferber Elementary School and McKinley Elementary School, Saturdays through March 5. For ages Kindergarten thru 8

th

 grade. More information on our calendar.
Sign up for Kids Skate Free! Skating passes for kids 9 and under are delivered by email each week. You can choose Skaters Edge in Grand Chute or Spectrum Skating Rink in Fond Du Lac.
Enjoy the fresh snow and go sledding! Check out our roundup of hills in Appleton, Neenah, Menasha, Little Chute, Kaukauna, Kimberly, Combined Locks, Sherwood, Oshkosh and Green Bay here.
Are you looking for something more extreme than sledding? Try tubing! Check out the Northeast Wisconsin Tubing Guide.
Go Ice Skating! – Find tips and where to go.
Looking for inexpensive or cheap things to do inside? Our Indoor Play Guide has over 25 options!
Forget about the snow and winter and go swimming! The Indoor Swimming Pool Roundup features splash pads, water slides, zero depth entries, lazy rivers and more!
Head for the hills for family skiing! Great tips and advice to have a successful and fun trip can be found here.
If you are heading to Milwaukee for the day make sure to check out some of these fun stops – The Milwaukee Public Museum, Betty Brinn Children's Museum, Discovery World in our Milwaukee Day Trip article.
Another great day trip is Madison! Lots of great ideas including – The FREE Henry Villas Zoo, University of Wisconsin-Madison Geology Museum, University of Wisconsin-Madison Arboretum, Babcock Hall Dairy Store, AJ Bombers and more! Read more here.
If you are lucky enough to visit the Water Capital of the World this month check out our Wisconsin Dells Family Guide!
FREE (or cheap) Movies! – American Family Kids Dream Winter 2018 Movie Series runs Fridays, Saturdays and Sundays through March 18, 2018.
Play around at Badger Sports Park on $5 Mondays and Tuesdays all winter long! Specials include $5 for a one-topping 16? pizza, $5 UNLIMITED Inflatables and $5 for 30 minutes of Laser Tag.
Get creative at one of these studios!
Fresh snow is perfect for snowshoeing. Bring a sled and a blanket for little ones and enjoy the trails with the whole family. Visit the Go Valley Kids Snowshoeing Guide for tips and trails.
Geocaching is not just for summer! It is also a fun winter activity. Learn how to get started with Geocaching 101.
Discover a new Children's Museum with our Roundup!
Whether at the library, Barnes & Noble or Half Price Books our area has lots of great options for littles and reading. Find a story time on our calendar!
Feed the ducks at Bay Beach Wildlife Sanctuary. Enjoy lots of great exhibits and live animals for FREE. Grab a couple dollars, feeding the geese and ducks will cost you $1 for a bag of corn. More information here.
Visit the Paper Discovery Center and enjoy some great views of the Fox River. Read about our visit here.
Monday – Thursday you can run off some energy at Funset Boulevard with $7 Unlimited Wristbands!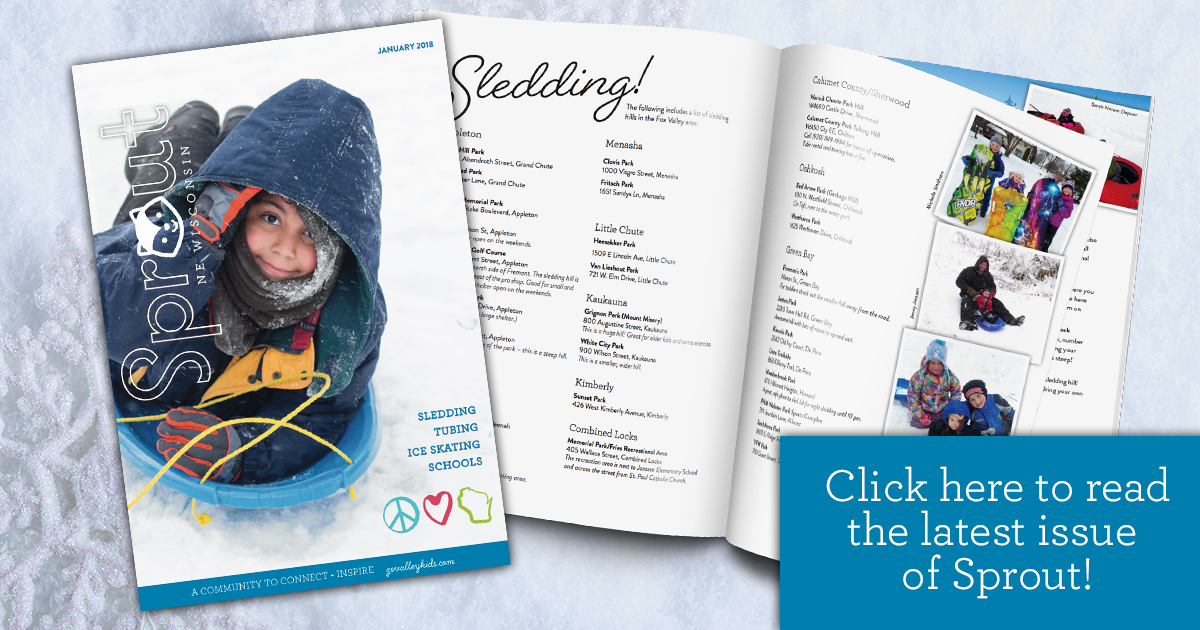 Save
Save