Splash pads, sometimes called a spray pool, are great for all ages. With little or no standing water there is no need for a lifeguard, with little risk of drowning. Most splash pads are open from Memorial Day to Labor Day. Please see individual sites for more information.
Read More: Where to Swim in the Fox Valley – 50+ Locations to Cool off this Summer!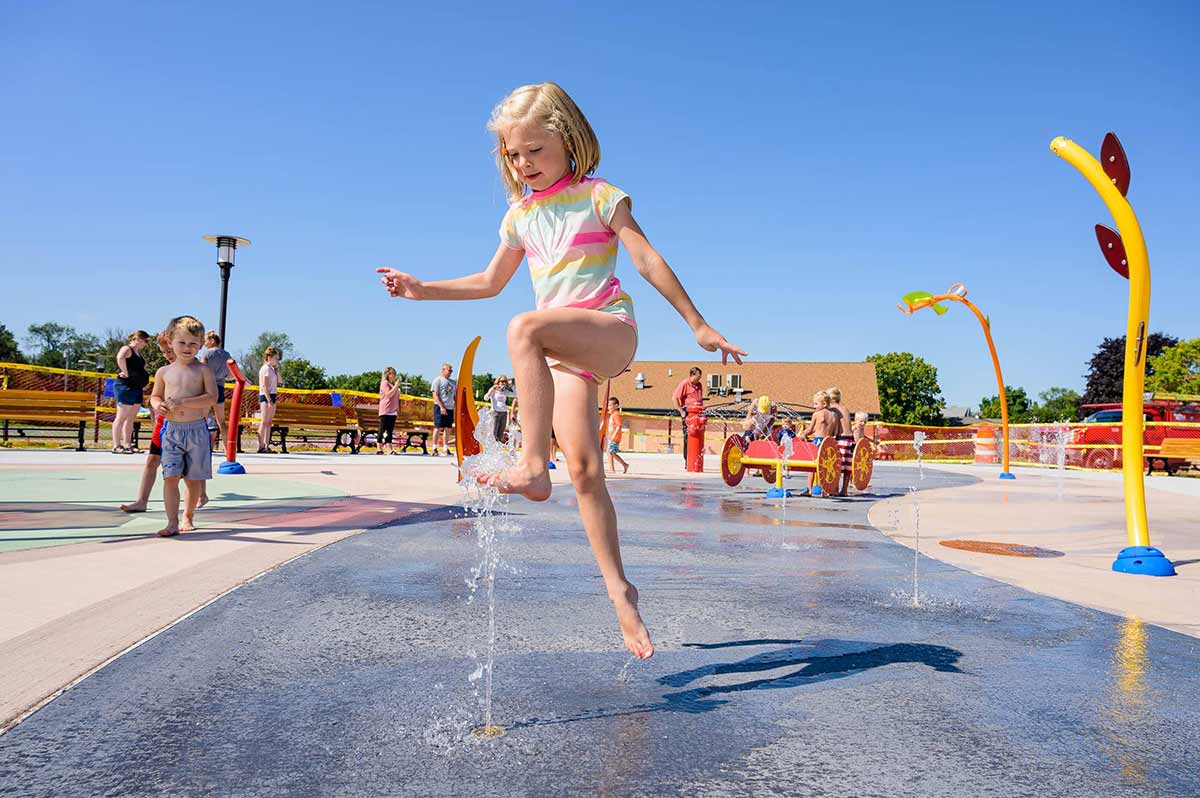 Washington Park Splash Pad, Neenah
The firefighter-themed splash pad is complete with a splash fire hydrant, fire truck, firehouse and more for fun water play adventures and cool summertime play! Open Memorial Day through Labor Day from 10 am – 8 pm. Learn more about Washington Park >
Washington Park, 631 Winneconne Avenue, Neenah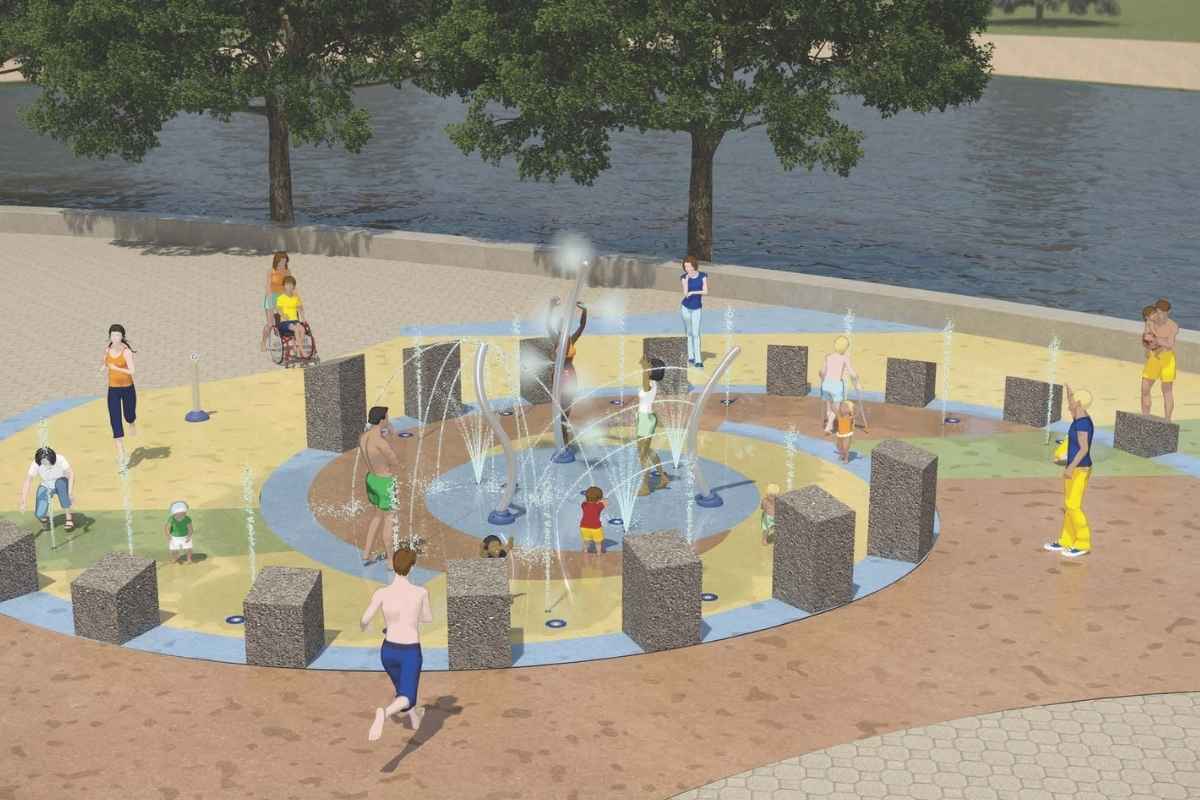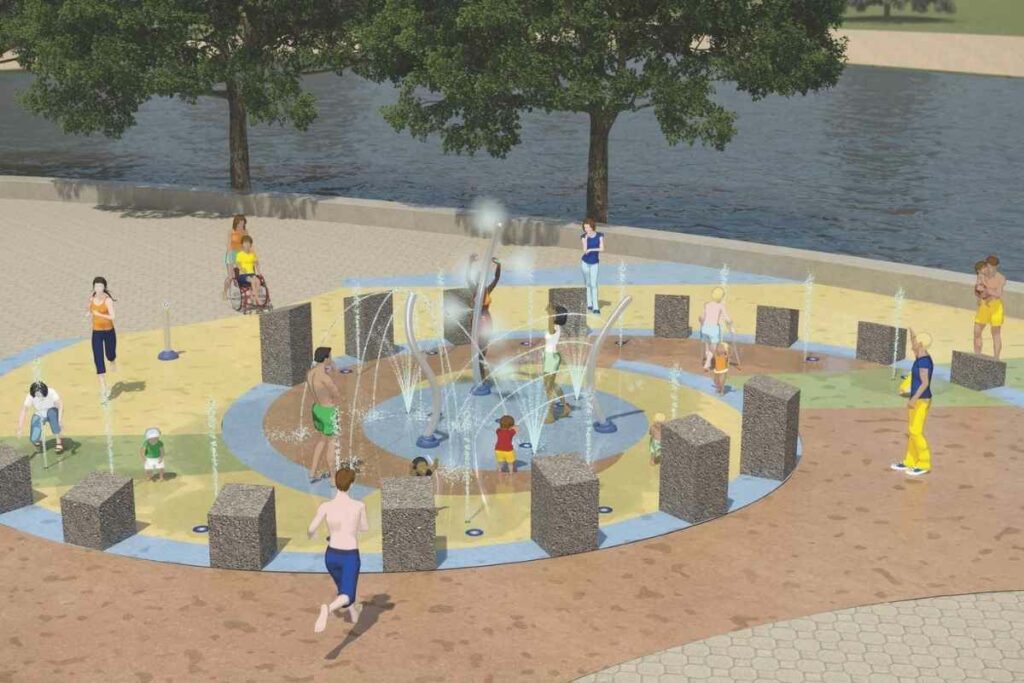 Shattuck Park Splash Pad, Neenah
Opening in 2022, this splash pad is our newest one in the area, a transformed water fountain along the riverwalk in Neenah. More info>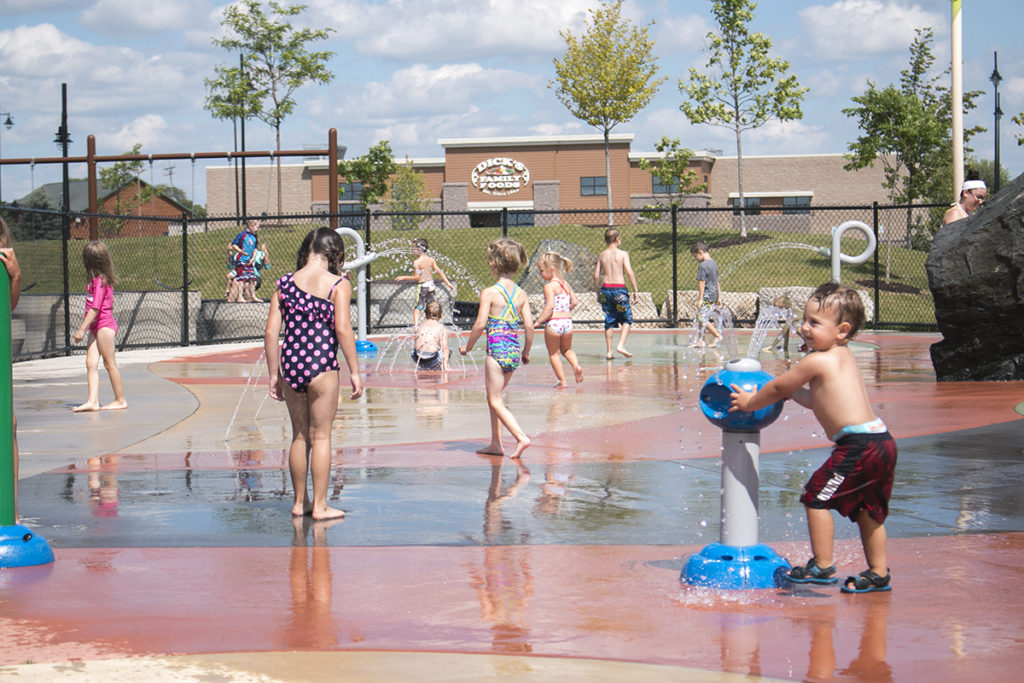 Wanick-Choute Park Splash Pad, Sherwood
Note: Wanick-Choute Splash Pad is currently closed for repairs. Stay up to date as they wait for parts to arrive on Facebook.
The temperature must be 63 degrees Fahrenheit or warmer and not raining outside (or in the forecast). Open from 10 am – 8 pm. No food is allowed inside the water structure. A fence surrounds the splash pad so little ones stay contained! Bathrooms, park, and picnic area nearby. Contact the Village Office with any questions or confirm its open at (920)989-1589 during office hours (Monday – Friday 8:30 am -4:30 pm).
Learn more about Wanick-Choute Park!
Wanick-Choute Park, W4690 Castle Drive, Sherwood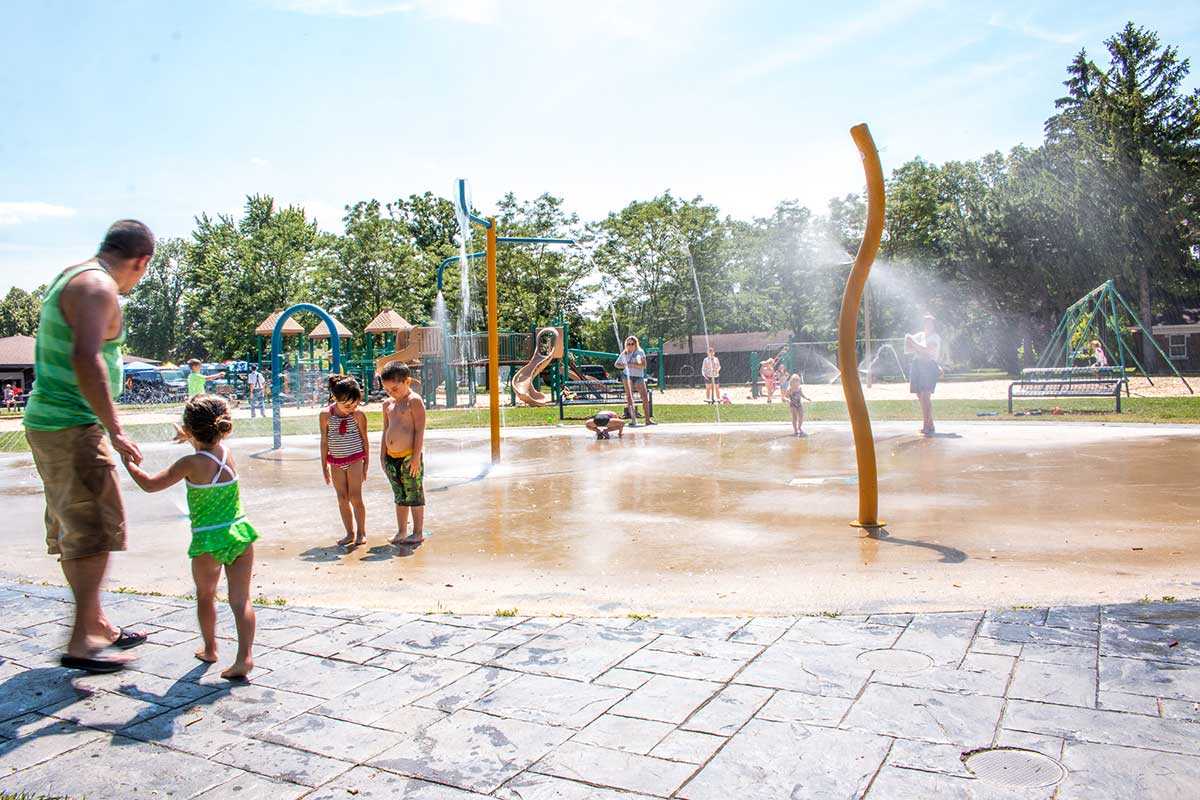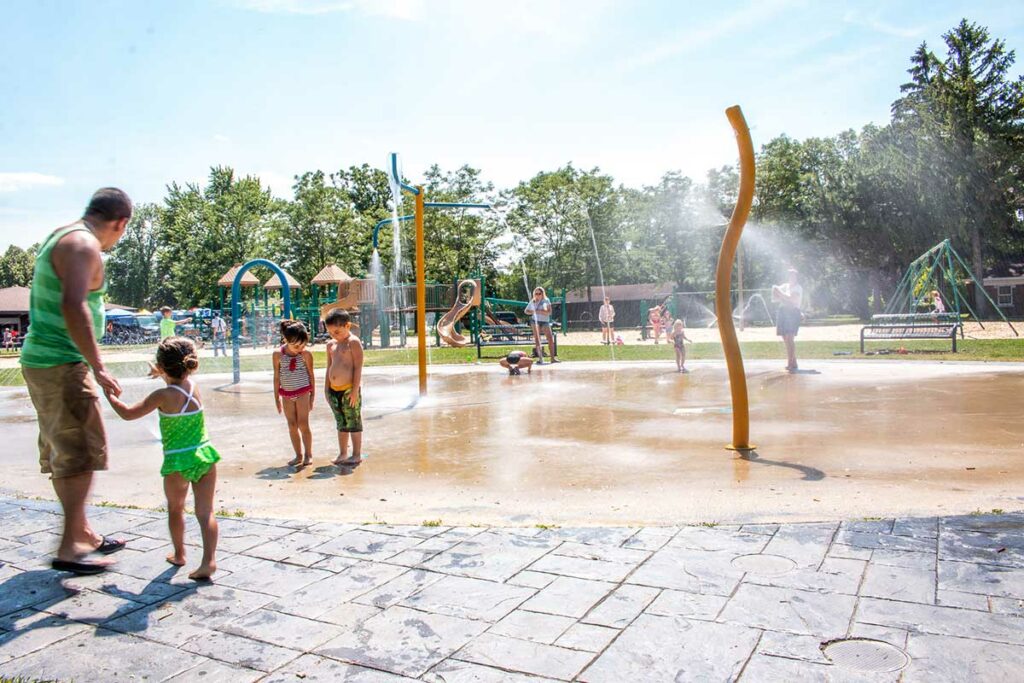 South Park Splash Pad, Oshkosh
South Park is also the home of Oshkosh's Inclusive Park. This park is accessible by all with ramps, shade canopies, and a rubber surface. Visit on Wednesday afternoons and grab a bite to eat at the Farmer's Market from 3 – 7 pm.
South Park, Georgia/Ohio Street, Oshkosh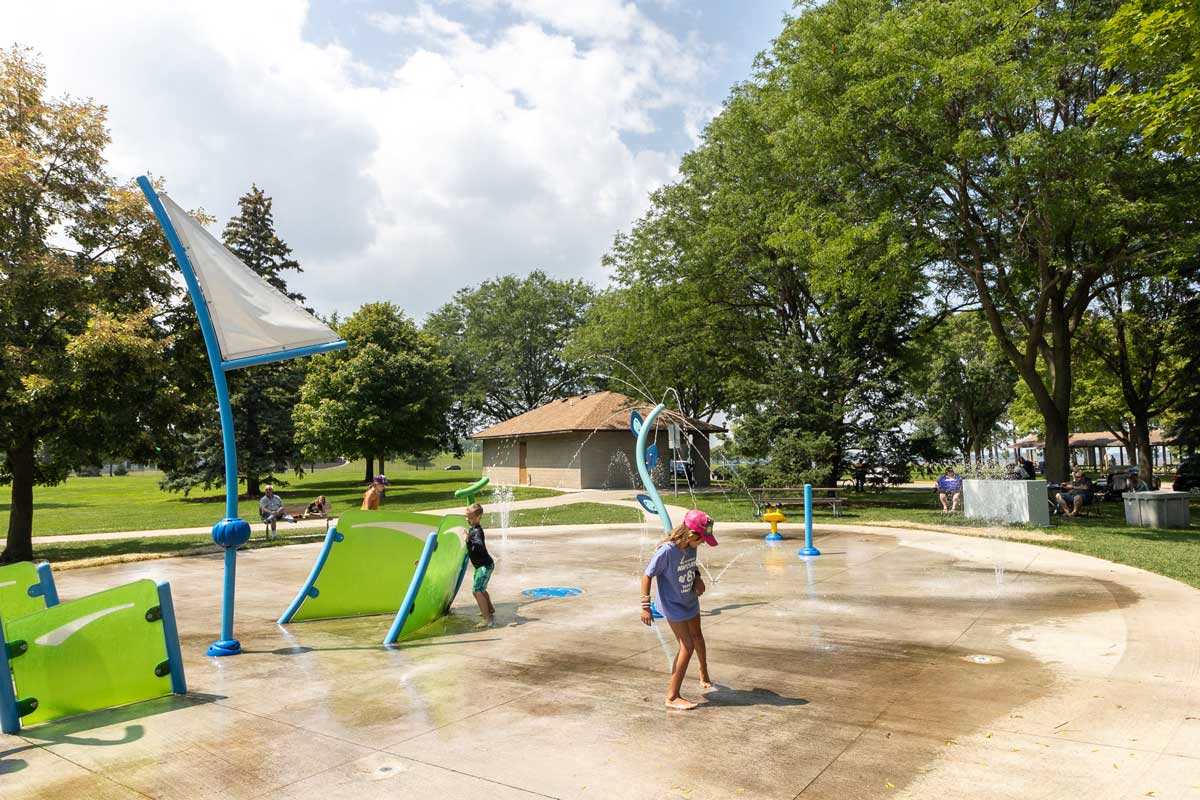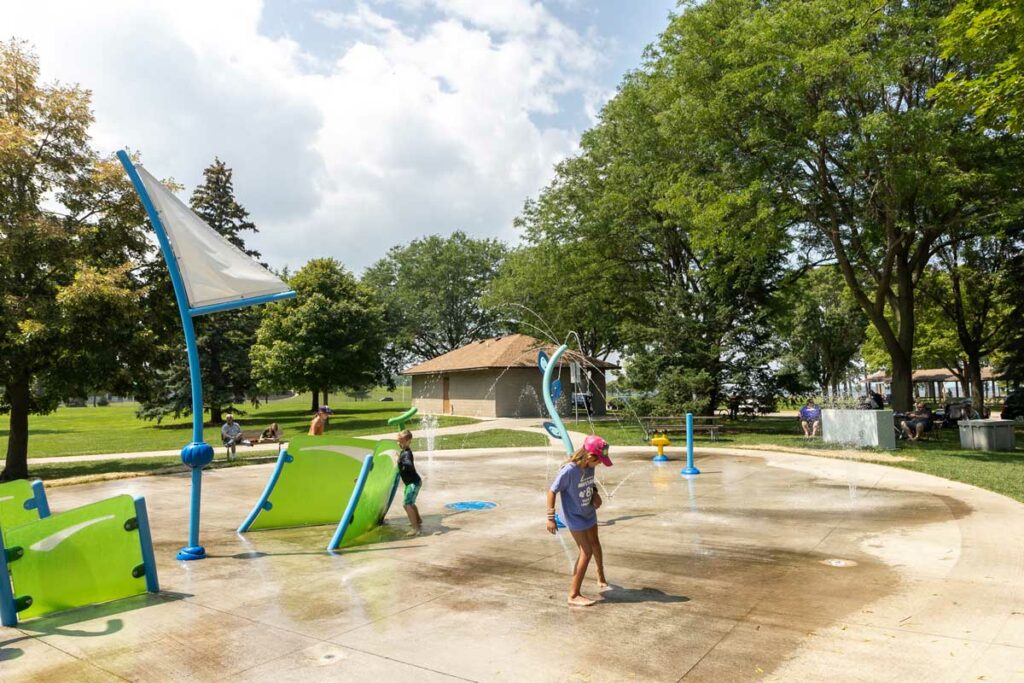 Lakeside Park Splash Pad, Fond du Lac
Lakeside Park in Fond du Lac is a fun place to visit with a FREE petting zoo, playground, lake views, lighthouse and more!
Lakeside Park, 555 N Park Ave, Fond du Lac
Recknagel Park Splash Pad, Seymour
Recknagel Park, 650 E High Street, Seymour
Opened in 2019, small and perfect for the preschool set! Open 9 am – 8 pm. Follow their Facebook page for updates.
Green Bay Splash Pads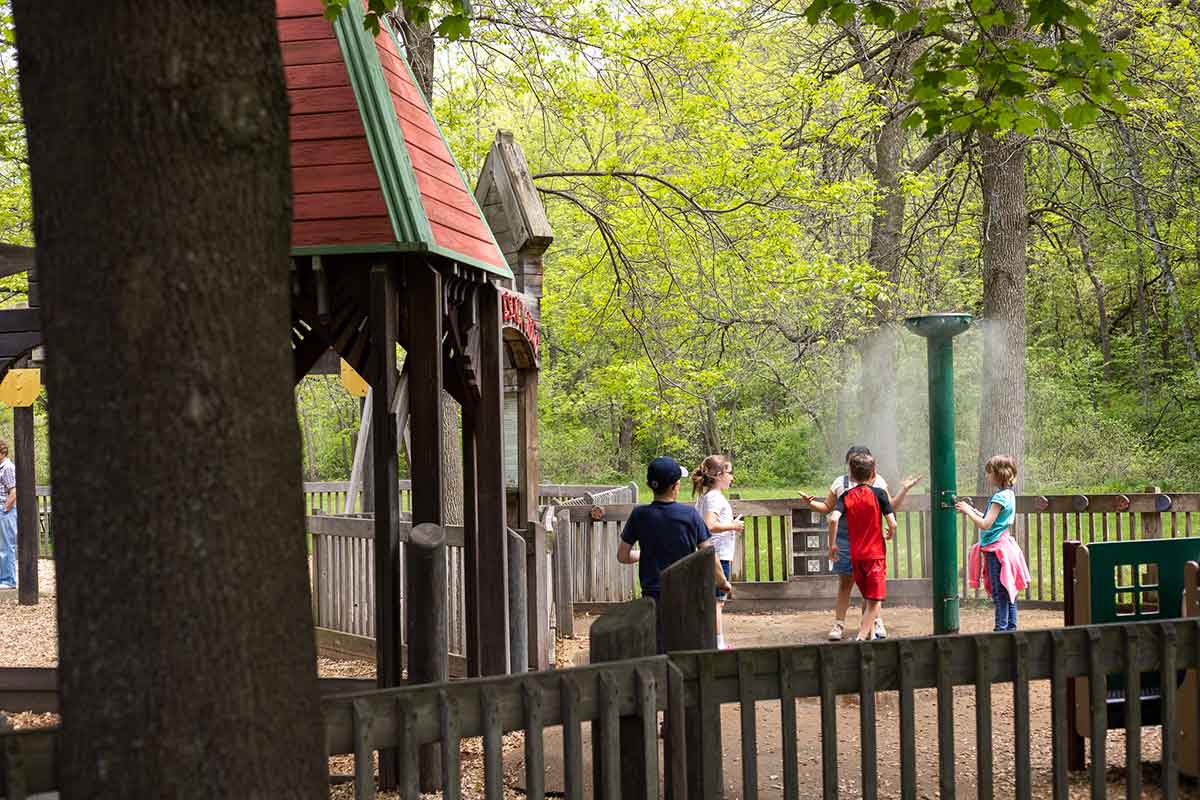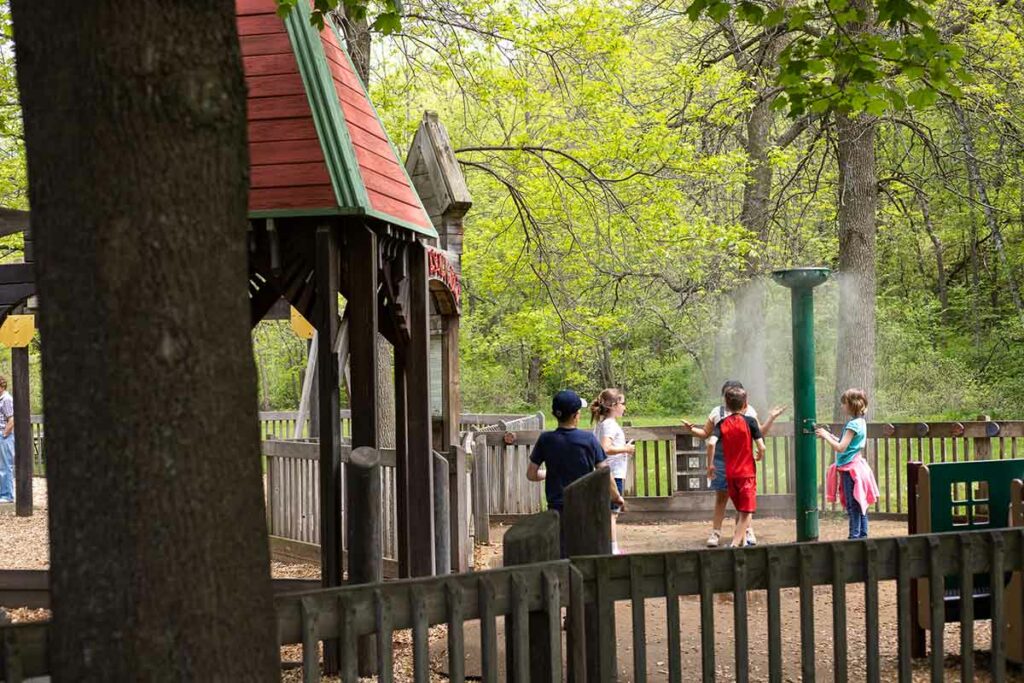 Pamperin Park Sprinkler, Green Bay
Pamperin Park is the largest developed park in the Brown County Park System with the largest children's structured playground and is located within the limits of the Green Bay metropolitan area. This picturesque and vast park offers a large wooden playground, wooded picnic areas, sand volleyball courts, disc golf, a reception hall and more.
Pamperin Park, 2801 County Road RK, Green Bay
Other Mentions Around Wisconsin
Fitchburg Splash Pad


2930 Chapel Valley Road

, Fitchburg
Fitchburg Splash Pad is FREE, open daily from 10 am – 8 pm. There are 3 zones: Toddler, pre-teen, and family.
Marathon Park Splash Pad
1201 Stewart Avenue, Wausau
Everyone entering the Marathon Park Splash Pad fence must pay the entry fee, 50 cents for all ages.
Hartland Splash Pad
Nixon Park, 175 Park St, Hartland
We've been warned that Hartland Splash Pad has extra chilly water making it a great spot to cool off on a summer day if you find yourself on an adventure near Hartland.
---
PLEASE NOTE: Some readers were disappointed with some of the Green Bay splash pads. Read more feedback on our Facebook page. If there is no picture, we have personally not visited it. This list is compiled by reader suggestions and online research
We would love to hear your feedback on any of the splash pads you have been to. We are also looking for more pictures. Please email us at govalleykids@gmail.com. Thanks!
Save
Save