Check out these fun, family-friendly activities this summer as you enjoy all the dairy our marvelous state of Wisconsin has to offer!
Farm Themed Stories & Toys
Engage the kiddos with farm, cow and dairy-themed toys.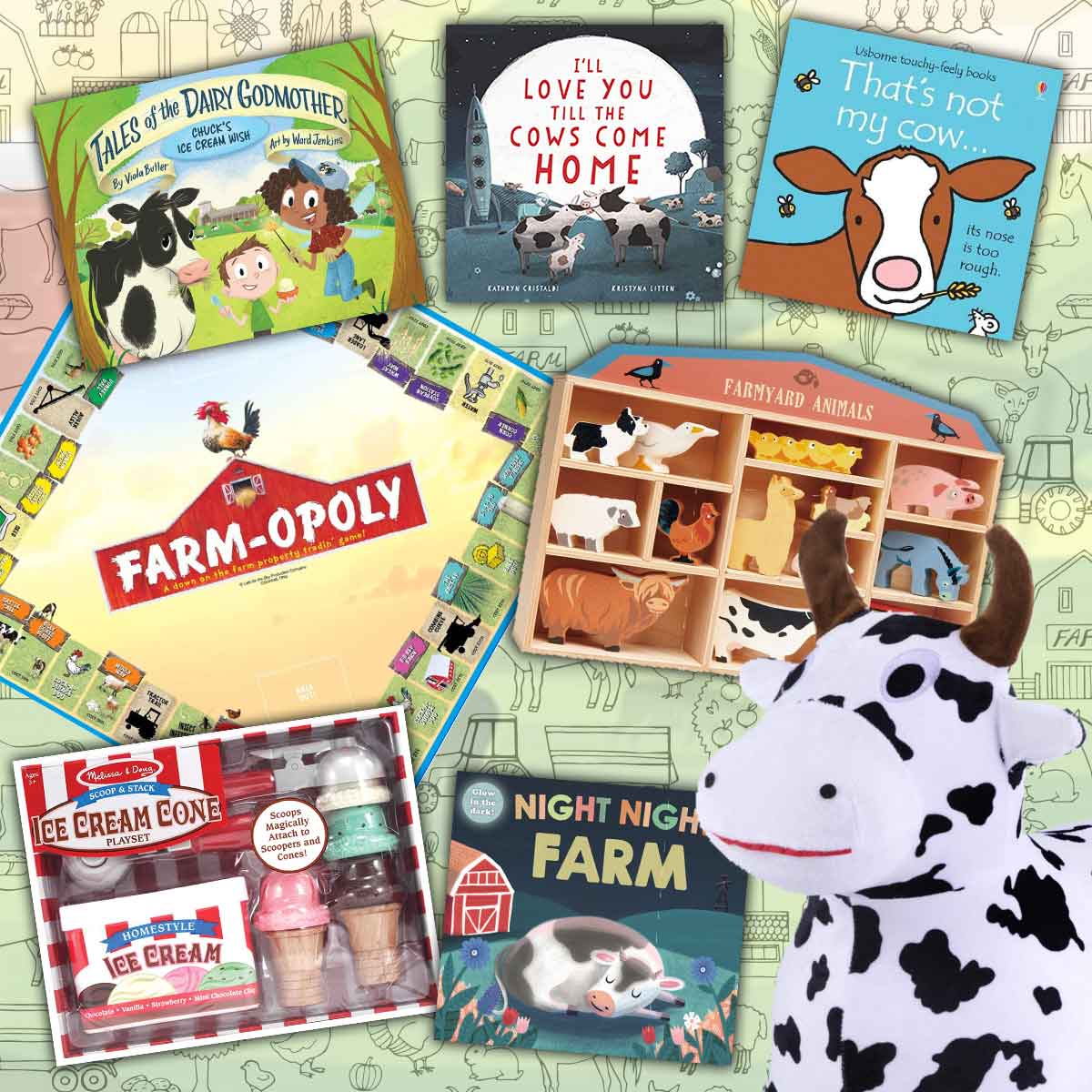 15 Fun Facts About Our Dairy State
Wisconsin may be the top cheese producer in the dairy industry but there is a lot to learn about our state!
Jersey cows produce the richest milk with an average of 5% butterfat and 4% protein.
Mozzarella cheese is the top-produced cheese in Wisconsin (34%) followed by cheddar (20%).
The most expensive cheese is a 20-year-old aged cheddar from Hook's Cheese Co. in Mineral Point which sells on special occasions for $209 per pound!
As of 2020, it is estimated that Wisconsin has 64,793 farms that span over 14 million acres.
The largest dairy farm in Wisconsin is Rosendale Dairy in Pickett, which can be toured, is home to 8,400 cows that produce 78,000 gallons of milk per day!
90% of Wisconsin's milk supply is used to make more than two billion pounds of cheese each year!
The first official Wisconsin cheese was created by a woman named Anne Pickett from Lake Mills in 1841.
Colby cheese was first crafted in Colby, Wisconsin, hence its namesake, in 1885.
It takes 12 pounds of milk to make one gallon of ice cream, 21 pounds of milk to make one pound of butter and 10 pounds of milk to make one pound of cheese! Our cows work hard!
Cheese curds are the freshest form of cheddar… you'll know by the iconic squeak!
Ice cream is delicious and Wisconsin boasts over 300 unique flavors!
The last cow to graze the White House lawn was a Wisconsin dairy cow during the Taft presidency.
So cheesy! Wisconsin produces over 600 varieties of cheese annually.
Chatty Belle in Neillsville is a 16-foot tall fiberglass statue referred to as the "World's Largest Talking Cow."
Cows can milk themselves and do on Knigge Farm in Omro, one of the first Wisconsin dairy farm to use automated cow milkers and calf feeders!