From touring a dedicated dairy farm to enjoying a sweet, melting ice cream cone, there are so many ways to celebrate the efforts of our amazing state this month! Thanks to our proud Wisconsin farmers, we have endless dairy options, like yummy cheeses and creamy yogurts, to add to our tables.
June Dairy Month celebrations first became a cherished tradition in 1937 when it started as National Milk Month. Now, June Dairy Month offers families many educational opportunities to learn about the dairy industry and of course, a reason to dig into the best dairy products around (as if we needed a reason anyway!)
Check out the fun, upcoming family-geared events and local specials for June Dairy Month!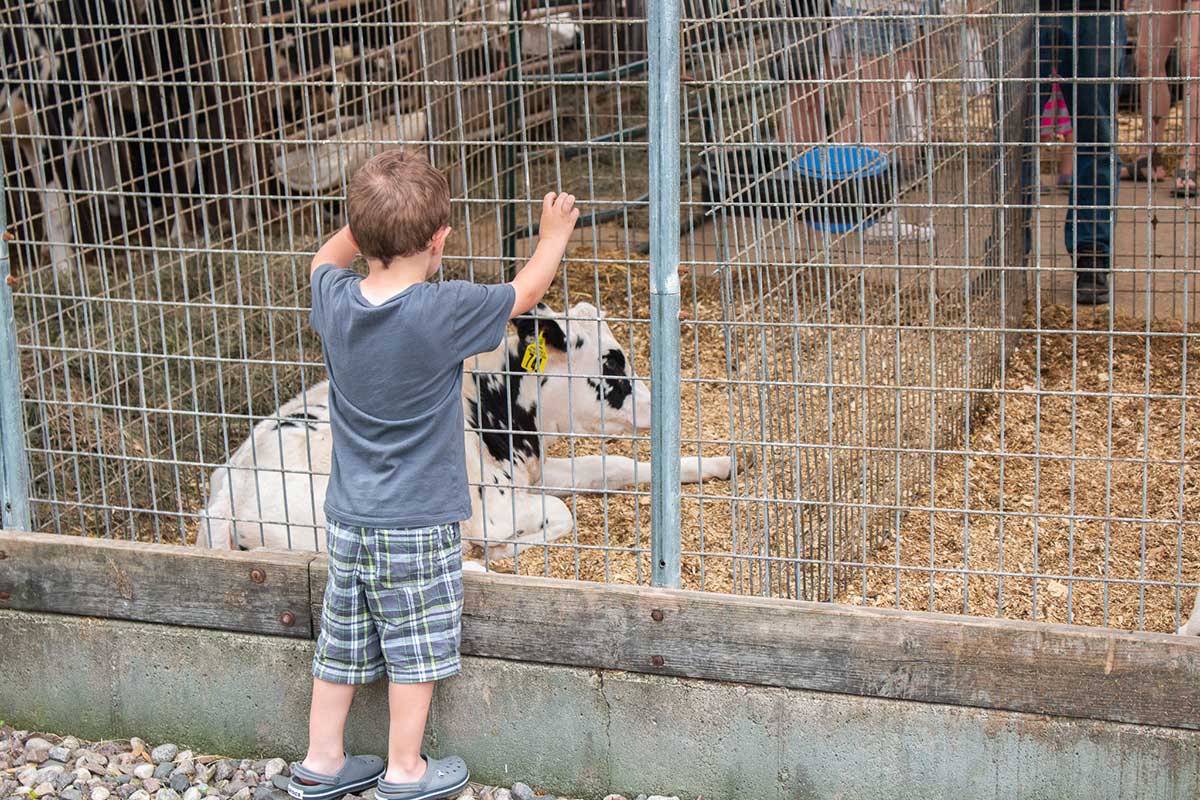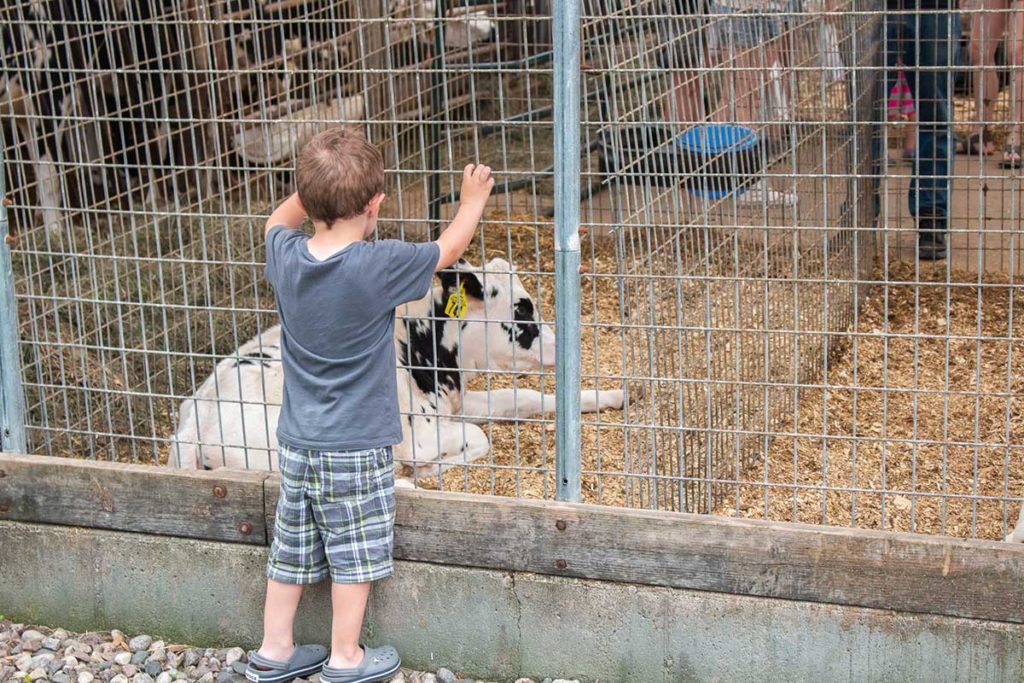 2022 Wisconsin Family Farm Events
June Dairy Month Kick-Off Udder Tuggers Pregame
The Wisconsin Timber Rattlers change their name to the Udder Tuggers as we kick off June Dairy Month! Join us for some moo-re dairy fun as we kick off 2022 June Dairy Month with the Udder Tuggers baseball team! We will have live dairy calves, kids' activities and family-friendly fun as we share what makes dairy so great!
Date: Friday, June 3, 2021: 4:30 pm – 6:30 pm
Location: Rendezvous of Luxemburg, E0896 CR-N, Luxemburg
Admission: Pregame activities and giveaways are free. Stay to watch the game at regular ticket pricing.
15th Annual Cheddar Chase
Show your cheese pride with a non-competitive, family-orientated one-mile walk/run during the parade at Cheese Fest!
Date: Saturday, June 4, 2021: 10:22 am
Location: Starting Line at Sanatorium Road and Main Street, Little Chute
Admission: Registration is $10. T-shirts are handed out on a first-come basis. Register the morning of the event or on Eventbrite.
All participants 12 and under will receive a Cheddar Chase medal at the finish line!
Dairy Days at Ledgerrock
Come out to Ledgerock to celebrate Dairy Days! Sample bourbon-flavored ice cream by Kelley's Country Creamery. The Campbellsport FFA Alumni will be serving grilled cheese sandwiches, and Ledgerock will be serving dairy-themed drinks all day! Dairy crafts, activities, face painting, and farm animals will be available to pet and view which makes lots of fun for the entire family. One Last Time will be providing musical entertainment from Noon to -3pm. Come out to enjoy the fun!
Date: Saturday, June 4, 2022: 11 am – 5 pm
Location: N5287 Grandview Road, Fond du Lac
Admission: FREE Family Event
Brown County Breakfast On The Farm
Have fun and learn about Wisconsin farm life and agriculture with a variety of activities for the whole family! Enjoy tasty eats, a farm tour, petting zoo, antique tractors, children's activities, cheese curd samples, and more!
Date: Sunday, June 5, 2022: 8 am – 12 pm
Location: Brickstead Dairy LLC, 1734 Wayside Road, Green Leaf
Admission

Advance Purchased Online: Adults (11 & over) $8, children (5-10) $4, and children under 4 are FREE
At Door: Adults (11 & over) $8, children (5-10) $4, and children under 4 are FREE
Outagamie County Breakfast on the Farm
A perfect family day including a breakfast of omelets, hashbrowns, breakfast ham, Wisconsin cheese, cinnamon rolls, milk, and Culver's Frozen Custard. After breakfast stay for live music, a pedal tractor pull, inflatables, face painting, petting zoo, farm tours, and more!
Date: Sunday, June 12, 2022: 8 am – 12 pm
Location: Van Rossum Dairy Farm, Kaukauna, WI
Admission:

Advance Purchased Online or in-person at Simon Specialty Cheese Store: Adults (11 & over) $8, children (5-10) $4, and children under 4 are FREE

At Door: Adults (11 & over) $8, children (5-10) $4, and children under 4 are FREE
Manitowoc County Breakfast On The Farm
Head to the farm for a hearty breakfast of ham and cheese omelets, sausage, donut holes, yogurt, a variety of cheeses, cinnamon bread and butter, juice, coffee and milk! There will also be Cedar Crest sundaes, a farm tour, and family activities.
Date: Sunday, June 12, 2022: 8 am – 12 pm
Location: Grotegut Dairy Farm Inc, 7427 Newton Road, Newton, WI
Admission: Adults $8, children ages 5-10 are $5 and under 4 are FREE. Cash only.
Parking: Watch for parking close to the farm in a hay field.
Fond du Lac County Breakfast On The Farm
Visit the LaClare Family Creamery and enjoy a delicious breakfast, an array of educational displays, children's activities and farm tours!
More Breakfasts on the Farm Around Wisconsin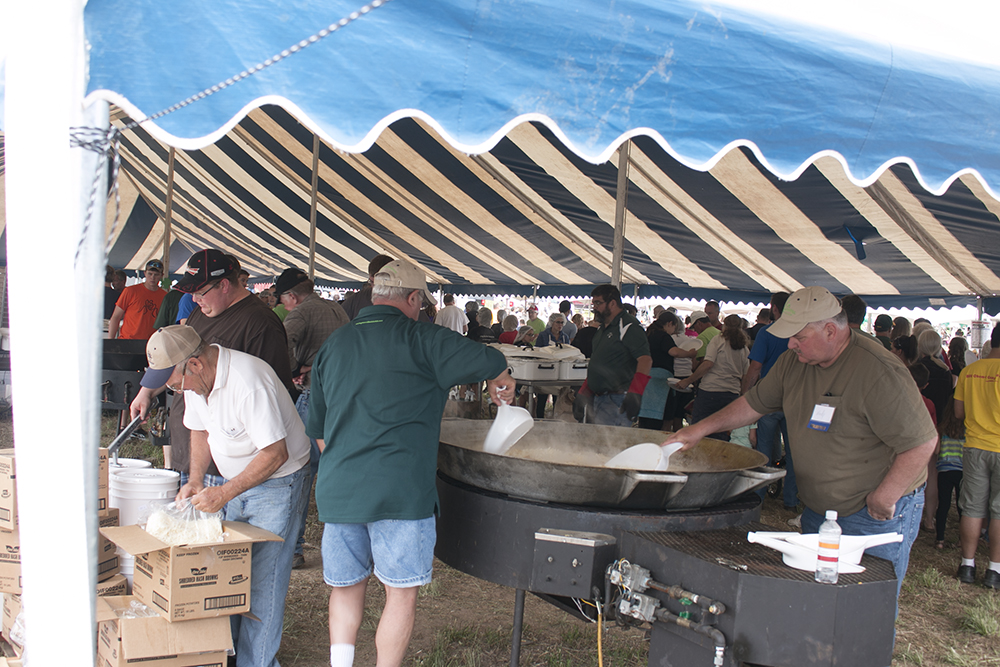 Enjoy a Virtual Farm Tour
Have you ever wondered what a real working farm is like? Join Julia Nunes, farmer and 73rd Alice in Dairyland, for a virtual walkthrough of her family's dairy farm, Scientific Holsteins.
The online tour showcases daily happenings on the farm, nestled in Tilden, Wisconsin. Viewers will see baby calves get their morning bottle, the milking process and also learn about working in agriculture.
Before the tour begins, be sure to download and print the free Farm Scavenger Hunt Challenge and spot all the items on the list!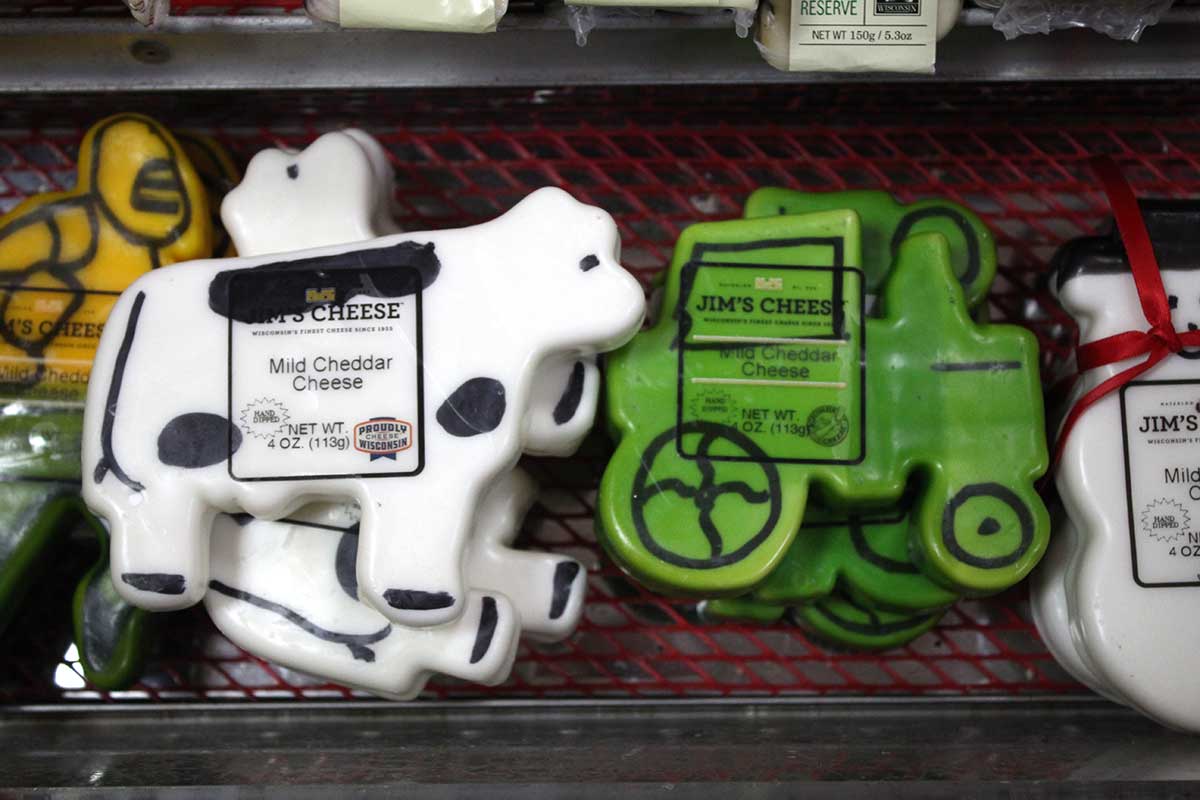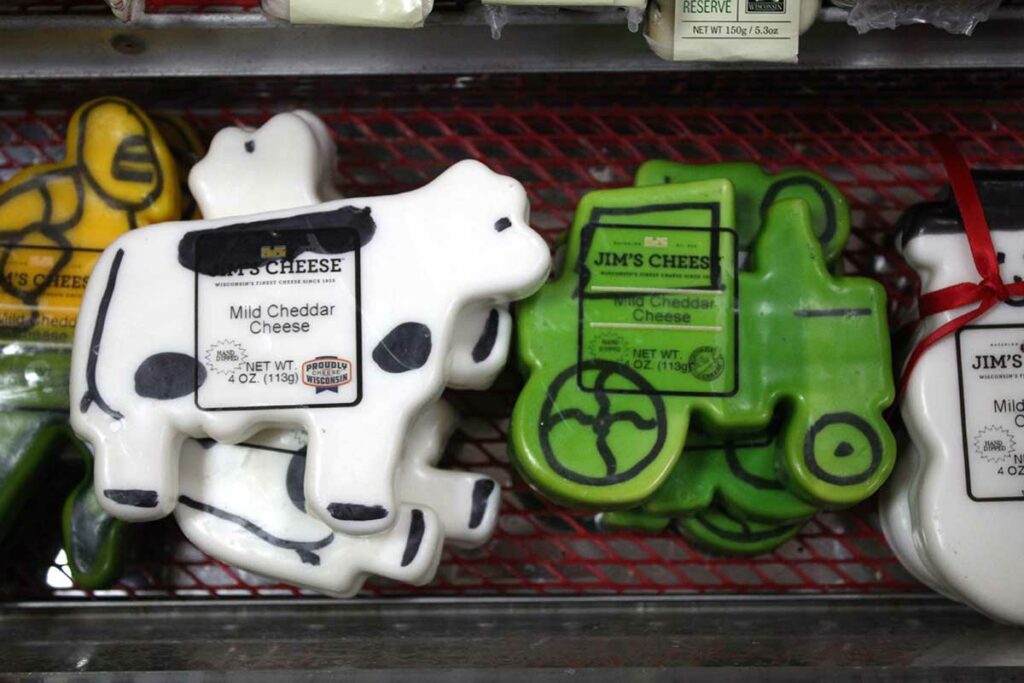 Gifts, Samples & Specials
If you're a customer of Dairy State Bank, stop into any DSB location for 'Cheese Day' and receive a FREE 1lb. package of locally-made cheese on Thursday, June 2, 2022, from 10 am – 2 pm!
Stop into Lamers Dairy for a delicious soft-serve cone, watch milk bottling, and pick up their chocolate milk and cheese specials to celebrate Dairy Month!
Celebrate With Dairyland Activities
Let your creativity flow as you appreciate and celebrate June Dairy Month with these fun crafts!
Handprint Cow Art
Make one of the cutest and most personalized cow, ever!
Colored construction paper
White, Pink & Black acrylic paint
Paintbrush
Scissors
Instructions: Using a paintbrush, paint your palm and four fingers white. Press it to the bottom of a piece of construction paper towards the edge. Take your paintbrush and add the details to your cow using pink and black paint. Using scissors, cut a strip of green construction paper and make small thin cuts down the strip-like grass and attach to your photo. Next, cut clouds out of white construction paper and add to your cow art!
Fun Farm Sensory Bin
Entertain little farm enthusiasts with easy-to-make sensory fun!
Long, shallow plastic bin
Filler (cheerios, popcorn kernels, rice, paper frills or water beads)
Assorted plastic farm animals
Scoops, spoons, shovels or cups
Toy barn, boxes or small containers
Instructions: Take a plastic bin and fill it with a filler of your choice. If playing outside, the bin can even be filled with water for summer play. Place assorted farm animals and tractor toys in the bin. Provide your kiddo with scoops, spoons, shovels, cups or anything that can safely engage them with the sensory bin. Insert a toy barn or other small containers for scooping the filler and playing. Moo, oink, neigh…enjoy!
Ice Cream Scented Play Dough
Mix up some fun with this naturally-colored Neapolitan Ice Cream scented play dough!
1 c. Plain Flour
1 tbsp. Oil
1 c. Warm Water
1/2 c. Salt
2 tsp. Cream of Tartar
1/4 c. Cocoa Powder
50mL Chocolate Essence – for chocolate dough only
50mL Strawberry Essence – for strawberry dough only
50mL Vanilla Essence – for vanilla dough only
Red Food coloring – for strawberry dough only
Saucepan
Spatula or Wooden Spoon
Mixing Bowl
Airtight container
Instructions: Pour all the dry ingredients into a saucepan. Slowly add water, flavor corresponding essence oil and stir before heating. Cook over medium heat until thickened. Remove the dough from the pan (it will be sticky!) and lay out on a clean surface dusted with flour. Allow to momentarily cool before kneading until smooth. Repeat this process for each individual dough "flavor." Store in an airtight container for up to two weeks.
Cubed Cheese Sculptures
Be creative and play with your snack and then eat it, too!
Bag of cubed cheese, any variety
Toothpicks or Pretzel Sticks
Placemat
Instructions: Open a bag of cubed cheese and place a pile on the placemat. Using toothpicks or pretzel sticks, carefully press into the cube and connect them. Use your imagination to build a giant barn, tractor, or even your favorite farm animals! When finished, discard any toothpicks and enjoy some cheese nibbles!
Recycled Cow Planters
Get a little crafty and share the love of cows in your home or garden!
Plastic Bottle, any size
White, Pink & Black Acrylic Paint
Paintbrush
Scissors
Garden Soil
Seeds or Ready-to-plant Flowers
Instructions: At the neck rim of the soda bottle, cut the top portion off and discard. Cut straight to avoid jagged or sharp edges; if rough edges occur, lightly buff with sandpaper. Paint the bottle white and let dry. Multiple coats may be necessary. Once dry, make cow spots and face and paint the bottom of the bottle pink like udders. Allow the bottle to dry completely. If placing the bottle outside, spray with a clear sealer and allow to dry. Then, fill with garden soil and plant your seeds or ready-to-plant flowers.