For busy mom-of-three, Casey VerVoort, home is truly where the herd is. VerVoort, along with her husband, Matt, own V-Twin Holsteins and M-C Vision Jerseys in Freedom, where together, they raise and breed sixty-five dairy cows. Their herd, which produces 345 gallons of milk per day, is a clear reminder of how hard Wisconsin dairy farmers work to bring fresh dairy to our tables.
For the VerVoorts, a typical day begins around 6:30 am when they wake to care for their three children, Haleigh, 3 ½, Heidi, 2, and Harmon, four months. Then, it's off to the barn to feed and milk the cows. During milking, cows are cleaned with a pre-dip and a milker is attached for the milk to be suctioned into the vacuum pipeline. The freshly pumped milk travels through the pipeline to the milk house, where a receiver jar filters the fresh milk into a bulk tank. The bulk tank then holds, cools and stirs the milk until a milk hauler comes to pick it up to bring it to the plant for processing.
Between daily barn chores and feeding and milking the cows twice a day, the VerVoort family spends a lot of time in the barn. In addition to being their livelihood, the pair, who purchased their first herd in 2013, believes farming is an important component in raising their children.
"When I think of farming, it's all rooted around family," said VerVoort.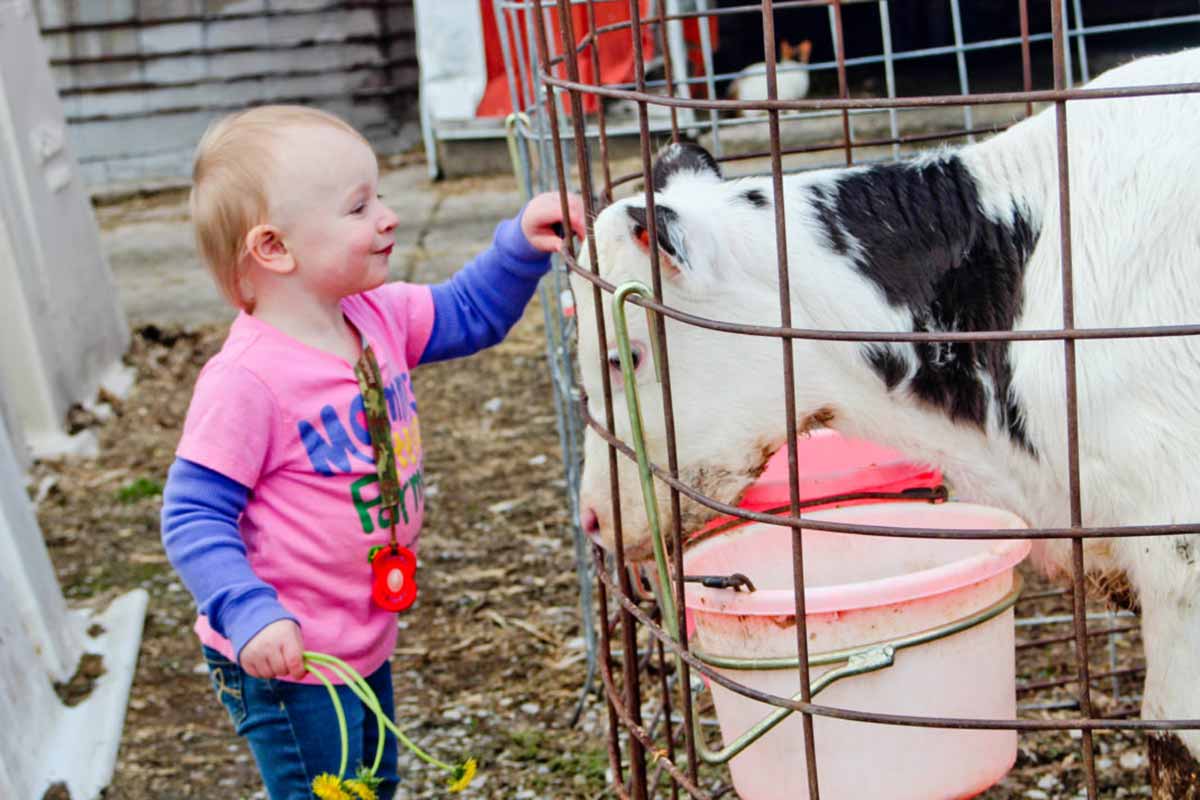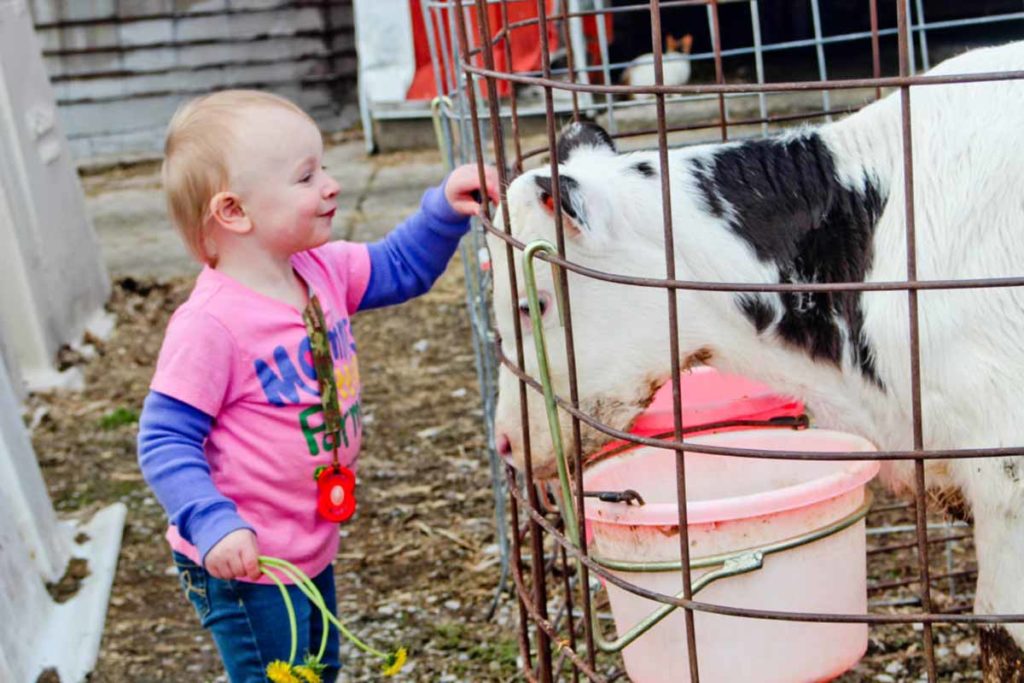 The VerVoorts' oldest daughter, Haleigh, especially enjoys helping her parents around the barn. "Haleigh's favorite chore is watering two weaned calves," said VerVoort, "we often play tug-o-war with the hose when we roll it back up – sometimes, if you make chores fun, you can get a lot more cooperation from the kiddos!"
During milking, Heidi helps to supervise feeding the baby calves and Harmon snoozes. "He falls asleep rather quickly when he hears the sound of the milking system," jokes VerVoort. By including their children during chores around the farm, not only do they develop strong immune systems, but they learn the value of hard work. "It teaches them responsibility at a young age," explains VerVoort. "They develop the self-discipline to focus on completing tasks, learn to work well with others, and become great problem solvers – these skills set them up to do well later on in life."
While we all know that milk comes from cows on farms, there is often a misunderstanding on what goes in the milk and what doesn't, especially when it comes to antibiotics. "All milk that you buy is antibiotic-free, no matter what the label says" explains VerVoort. Before leaving a farm, the milk is sampled and if any shipment found to have antibiotics present, it is immediately discarded. Farmers risk losing money and their entire milking shipments if antibiotics are found, which prompts them to increase precautionary measures to prevent it. "We work very hard to make sure nothing with antibiotic residue enters the food supply and there are many safeguards in place to make sure this is achieved," explains VerVoort.
From The Bottle
Lamers Dairy, Inc. has been bottling milk in the Fox Valley since 1913 and bottles approximately 6,500 gallons per day. "Each morning, 365 days a year, we pick up milk from our seven local farm patrons," explains Eric McGuire, business manager at Lamers Dairy, Inc. "Once tested to confirm the milk does not contain antibiotics, it is pasteurized, separated and homogenized to blend the fat content to whichever product we're running.
The milk varieties are then piped over to filling stations where it is packaged into plastic bottles in gallon, half-gallon, quart and pint-sizes, paper half-pints, and glass bottles. Once packaged, the milk is placed into cases, stacked, and placed on a conveyor belt that glides into the cooler. Trucks then load the crates to deliver to grocery stores, schools, and restaurants around Wisconsin. While we all may recognize the Lamers Dairy brand, what we know best is the delicious, creamy taste. "Our best-selling product is our award-winning whole chocolate milk," said McGuire. Lamers Dairy, Inc. won first place at the World Dairy Expo in Madison, Wis. for their glass-bottled chocolate milk. "It's very rich, and almost like a liquid dessert" explained McGuire.
Along with purchasing and tasting Lamers Dairy products in their store, consumers can get a glimpse into the bottling process. "One of the reasons we put the viewing window in place over twenty years ago was to encourage people to see exactly where their food is coming from," said McGuire. Adults and children alike can enjoy and learn from the complimentary bottle viewing. "The most important thing for children to understand is how much most farmers and food processors care about giving them high quality, nutrition-rich products," said McGuire. "Small farmers and small food processors strive to have the highest quality products in the market." Bottling viewing times vary daily based on the type of product being made but range from 8 am to 2 pm during weekdays.
McGuire also encourages children to get involved and learn more about the farming industry. "We are very fortunate to live in a state with as many dairy producers as we do," explains McGuire, "There are so many organizations such as 4-H, county promotion boards and our own UW system that offers numerous ways to learn about agri-business."
To The Table
So, the cows have been milked, the milk has been bottled and is now on your table for you to enjoy. What a process, right? But it's not time to sit down yet, you're about to be a farmer for the day. Located in Manitowoc, Wis. is the Farm Wisconsin Discovery Center, a $13 million project that opened in July of 2018. The center is home to 15,000 square feet of educational exhibits and lots of dairy cows.
"Children and parents can expect to gain a better understanding about current farm practices and how integrated agriculture really is throughout your everyday life" said Angel Johanek, the director of marketing and development at Farm Wisconsin. From hands-on, interactive exhibits to exclusive tours, guests can expect a diverse experience on the farm. Children especially can benefit from the many educational opportunities the farm has to offer.
"Our goal is that children develop an understanding and appreciation for agriculture and today's modern farms," said Johanek. "So, when that child has a glass of milk or a piece of cheese, they think of the farmers behind it and how it got to their table."
For a true farm-to-table taste from Wisconsin brands, guests can visit the Wisconsin Café which proudly features products by Sargento, or Ice Cream Acres, featuring ice cream products by Cedar Crest. Open daily and located on-site, there is a bite to satisfy everyone's tastes. After lunch, board a coach bus for an interactive and fun tour of the Grotegut Dairy farm and learn about Wisconsin's rich agricultural history.
Plus, there are babies! Don't miss out on one of the most unique features about Farm Wisconsin: The Land O'Lakes Birthing Barn. The Birthing Barn gives visitors a chance to see the miracle of birth, firsthand, where two to five calves are born daily. "Guests sit in a large auditorium-style viewing area, where two cows can be viewed at the same time during the birthing process" explains Johanek. "During this time, our birthing barn manager also speaks to guests and answers questions they have about the birthing process or cows in general."
From the farm, to the bottle, to the table – so much dedication and care go into every stage of the process. Next time you sip a cold glass of milk, nibble on some cheese or enjoy a scoop of ice cream this summer, don't forget to thank a farmer – and their cows.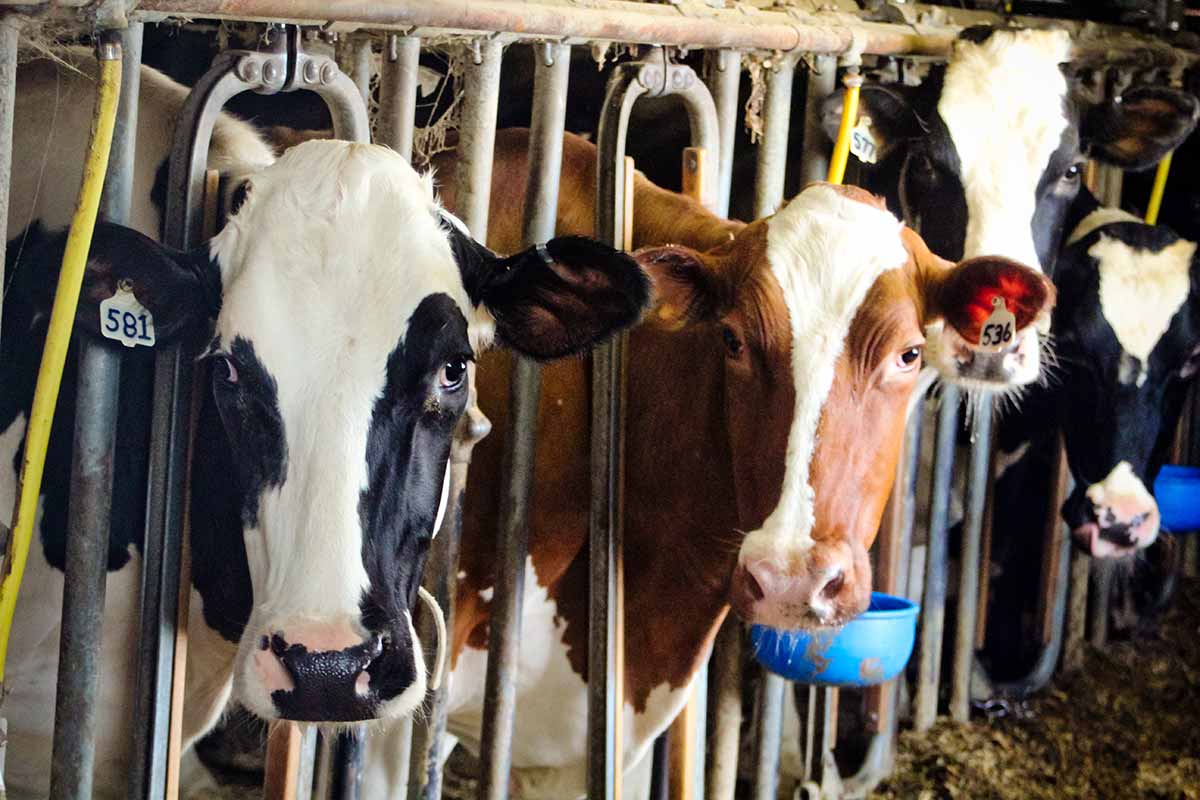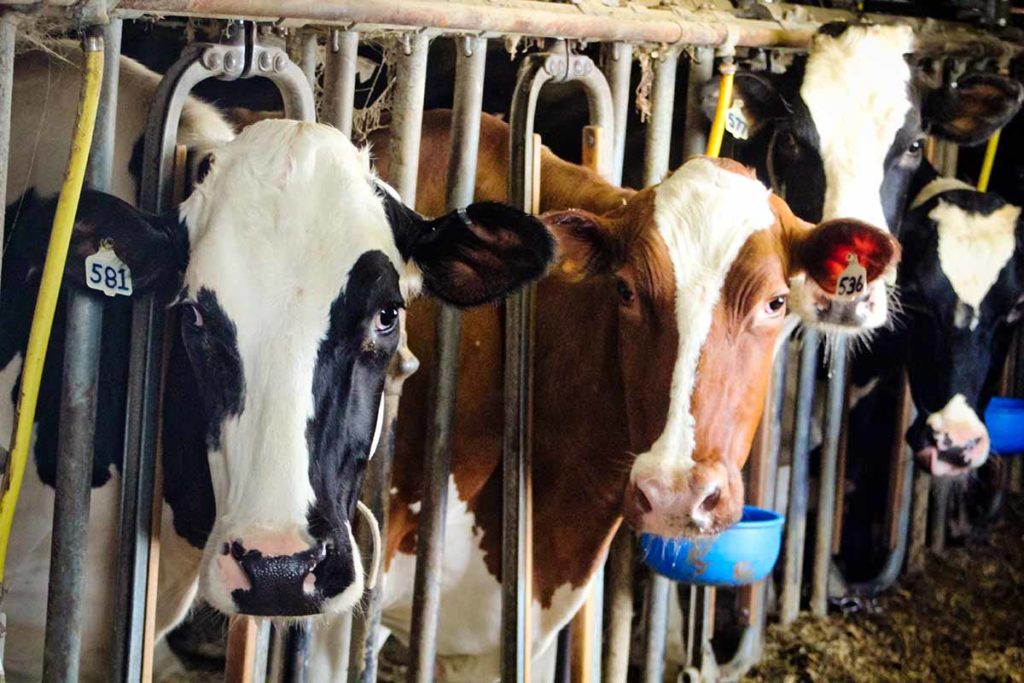 Whip up 5-ingredient Wisconsin Mac + Cheese!
1 package uncooked elbow macaroni
5 cups of whole milk
1 cup of Sargento Sharp White Cheddar Cheese, shredded
1/2 cup of Sargento Cheddar Jack Cheese, shredded
1 package of cream cheese, cubed
Directions:
1. Cook macaroni according to package directions and drain.
2. Over medium heat, melt the cream cheese and bring the milk to a boil, stir well.
3. Gradually stir-in the shredded cheeses until melted.
4. Fold in the macaroni noodles and serve hot.
5. Enjoy!