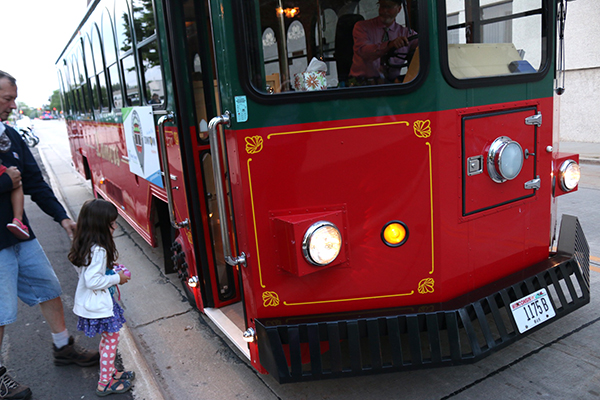 Enjoy Northeast Wisconsin with family and friends this summer! Find more things to do with the 2018 Go Valley Kids Summer Bucket List!
---
The Downtown Appleton trolley starts Thursday, June 1, 2018. It makes a complete loop of downtown Appleton and the riverfront every 30 minutes. We parked by the library. We walked over to the bus station to find the trolley. The trolley leaves at 15 and 45 minutes past the hour.
The Details
June 7 – September 29, 2018
Thursdays & Fridays: 5 – 11 pm
Saturdays: 8 am-11 pm
FREE but donations are greatly appreciated.
Also, did you know the meters are only enforced until 6 pm so no need to plug them on Thursday or Friday.
Snacks
Pack a snack or grab some popcorn from Mike's Popcorn Stand on Wisconsin Ave (210 West Wisconsin Avenue ) before heading downtown. This local and favorite treat is open April – October (Monday to Sunday from 6pm to 9pm).
Did you know there is also a candy store and ice cream shop on College Avenue? Crazy Sweet (201 W College Ave) is located across the street from The Building for Kids.
Trolley Stops
The trolley makes stops along the way, look for the black, green and red trolley stop signs.
There are 2 parks along the route: Jones Park (closed for construction in Summer 2018) and Jaycee Park.
Other family-friendly stops include: The Appleton Public Library, The Building for Kids, Houdini Plaza, The Trout Museum of Art, Paper Discovery Center and the History Castle.
Music
The Thursday nights Heid Music Summer Concert Series is family friendly and runs Thursdays June 7 – August 30, 5:30 – 8:30pm. The music usually plays at Houdini Plaza on College Avenue. Find the complete schedule here.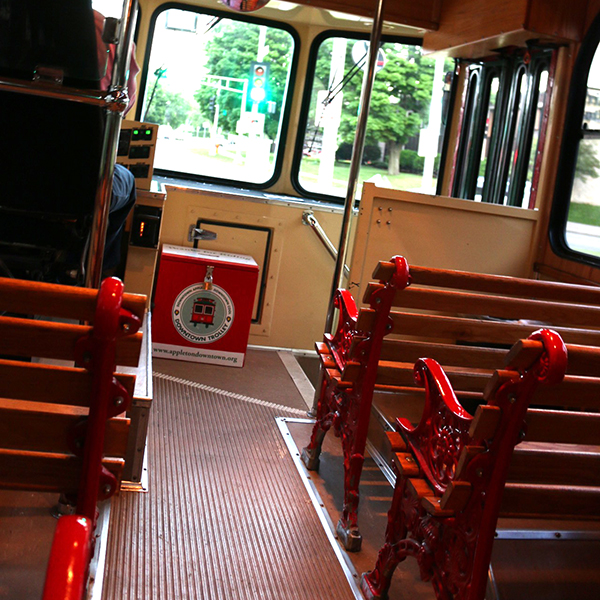 The 2018 trolley brochure with map is available to download here.