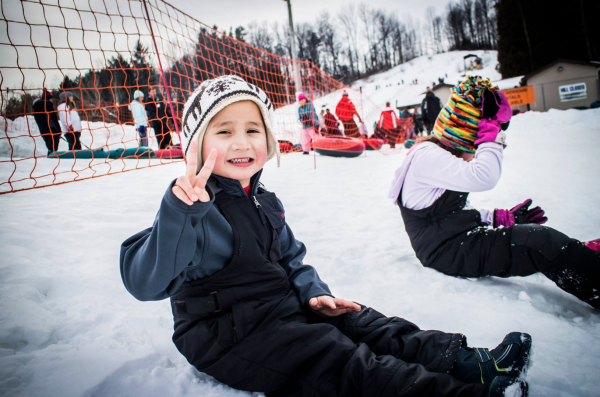 Tubing is a fun winter activity for kids of all ages! Tubing takes sledding to the next level. Check out our tips on how to have a great time with these 4 tubing hills in Northeast Wisconsin.
Tips
Go Early – popular tubing places tend to be busy on perfect winter days
Bundle Up – as with any winter activity, bundle up in many layers
Use the Bathroom Before – try to go to the bathroom before you start
Places to Go Tubing
Triangle Sports Area – Green Bay
This 80-foot hill located in Baird Creek Parkway is tubes-only which makes it a perfect spot for a first time tuber. There's a tow rope you ride back up in your tube. The hill also has a heated chalet complete with bathrooms. The rope ticket is only $3.50 and renting a tube is $2.50. This would be a great first place to go tubing!
Calumet County Park Tubing Hill – Chilton
A great tubing hill closer to the Fox Cities! This hill is open 11 am – 4 pm on weekends during favorable conditions. The cost to rent a tube is $6 per person + a deposit. No outside tubes are allowed.
Before heading out, make sure you call 920-849-1994 or check their Facebook page to make sure they're open!
Winter Park – Kewaunee
About an hour west of Appleton, Winter Park in Kewaunee has a 70-foot hill that's sure to be a blast for your family. This hill offers six different tube runs that measure over 450 long! There's a tow rope that pulls you back to the top. Winter Park has a heated chalet with bathrooms.
Winter Park is open Saturdays 10 am – 8 pm and Sundays 11 am – 5 pm. Admission is $8 a person for 2 hours or $35 for a family pass.
Navarino Hills – Shiocton
Navarino Hills is located about 30 minutes northwest of Appleton has tons of winter activities and has its own tubing park. The tubing hill has a tow rope and they make fresh snow. When more than 50 people are on a lift, a second will open. Tubing costs $7/hour or $15 for three hours. The hills are open Fridays 4 pm – 8 pm, Saturdays 10 am – 8 pm, and Sundays 10 am – 5 pm. They have a special offer for tubers: Fridays all you can tube 4 pm – 8 pm and Saturday night 4 pm – 8 pm for $10 a person.
An indoor chalet provides you a chance to warm up and use the restrooms during your day of winter fun. Navarino Hills offers special rates for groups so consider this spot for a winter birthday party.
TIP: Save time by printing their tube release form ahead of time on their rates page.
No Tow Rope Tubing Hills
Wanick Choute Park Hill – Sherwood
Have your own tube? You can bring your own tube to Wanick Hill! There is no tow rope and this hill doesn't have a fee. The hill is open during normal park hours.
Oconto Falls Tubing Hill – Oconto Falls
Oconto Falls Tubing Hill is another place where you can bring your own tube. There is a tow rope here and admission is free! The hours are 1pm-4pm on Saturdays and Sundays.
Hill 17 at Peninsula State Park – Fish Creek
On the golf course on Peninsula State Park, number 17 fairway is a favorite sledding spot! Bring your own tubes and sleds. Warning, this hill is steep!
Grinon Park – Kaukauna
This park right in Kaukauna offers a fun sledding hill! There is no tow rope and has no fee. Bring your own tubes and sleds for some winter fun!
Find more sledding hills in the Fox Valley and Green Bay here.