It goes without saying that Door County is one of the most pristine and undisturbed natural regions in our beautiful state of Wisconsin! In fact, Door County is home to 5 state parks that each boast their own, unique ecology and stunning beauty. 
For the ultimate state park adventure, set sail with your family (or make it a date!) to Rock Island State Park! Rock Island is only accessible via two ferry rides: one from the Northern tip of Door County at Gills Rock over to Washington Island and then a second ferry to Rock Island! 
It's quite an adventure and well worth the effort and ferry fees (although we've got some good ideas for minimizing costs) to experience these pristine, clear waters and practically untouched Wisconsin island landscapes. You'll also get a healthy dose of history via land and water along the way!
We've got everything you need to know to plan a successful trip to Rock Island State Park! But, before you head out on your journey, it's not too late to get your kids started with the Wisconsin Explorer's Program so that you can earn prizes and patches while you explore nature together in all of Wisconsin's beautiful State Parks.
READ MORE: 26 Awesome Wisconsin State Parks That Are Only Two Hours or Less From Appleton!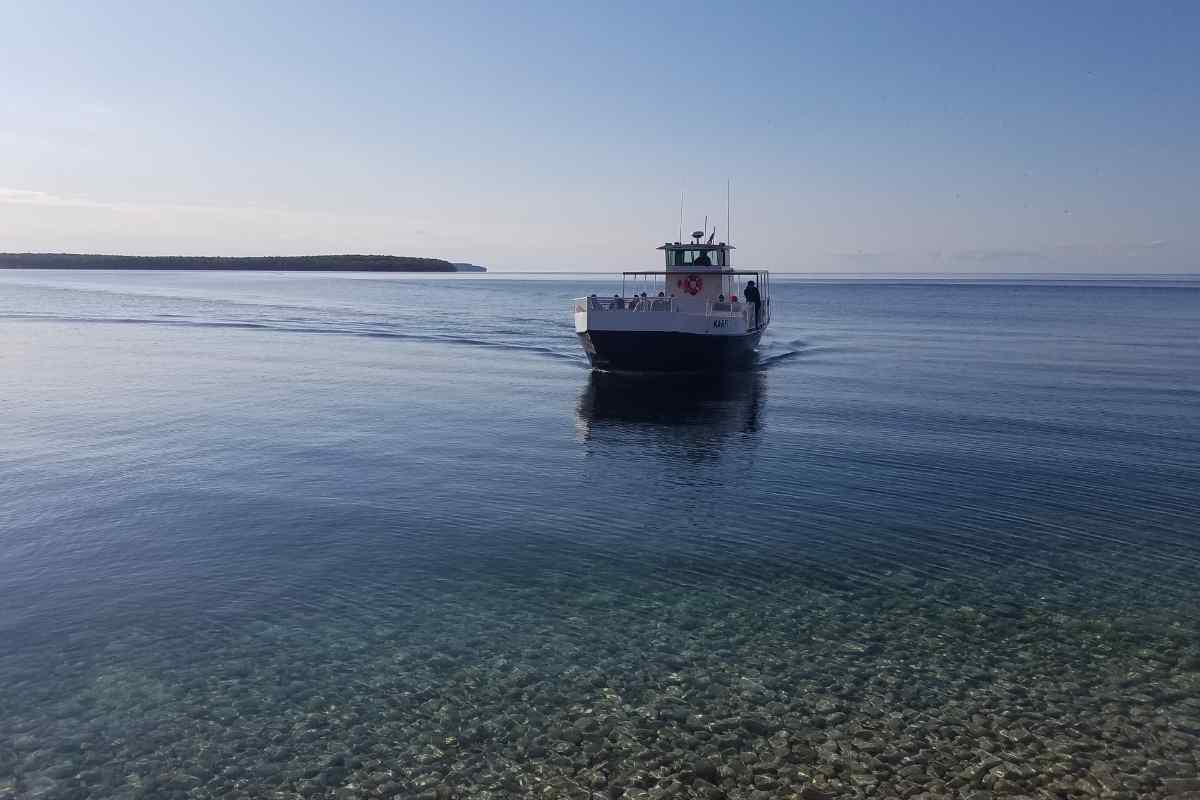 How Best to Get There:
You have a few options! You can either take your car to Washington Island and then the passenger ferry to Rock Island or bike over to Washington Island. Another money-saving option is to pay for the Washington Ferry and Rock Island Ferry combination fare when you pay at the Washington Island Ferry. Bicycles are NOT permitted on Rock Island.
Rock Island Ferry Rates: Check their website for current rates. Children under 5 years and pets are FREE! Bring cash to pay the ferry operators directly once you hop aboard.
Ferry Schedule: Changes from summer to fall. Check their website for the current schedule!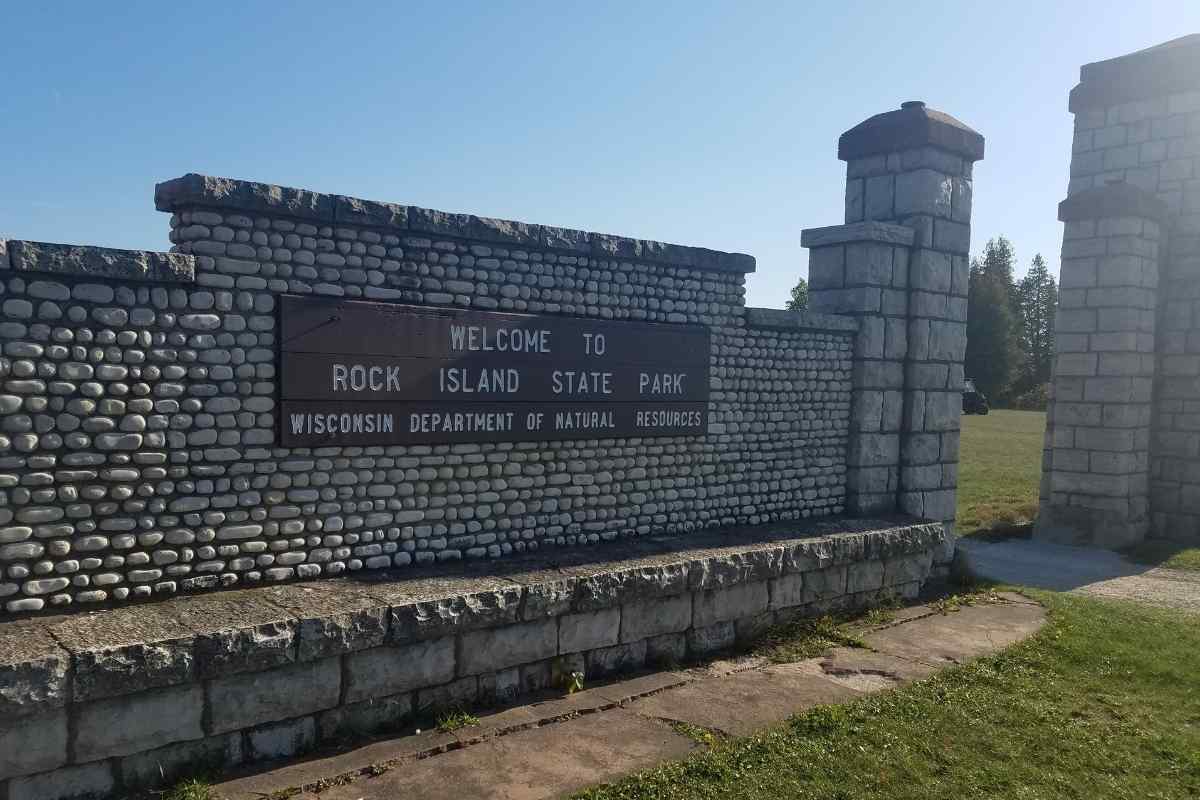 Rock Island State Park At-A-Glance
Travel Specs: 3 hours, 2 minutes | 130 miles
Address: 1924 Indian Point Road, Washington, Wisconsin
Hours: The park is open daily from 6 am – 11 pm
Seasonal Hours: Memorial Day Weekend through Columbus Day. There is no wintertime ferry access to Rock Island.
Camping: Yes, 40 rustic, walk-in family campsites are available! Many along the shore.
Pets: Leashed pets are allowed in the park.
Note: You must pack in all food and supplies that you will need on the island. Drinking water is available. The park also sells some souvenirs at the Boathouse.
History: Rock Island was originally inhabited by native tribes and then a small village of European settlers that later abandoned it for larger Washington Island. In 1910 the wealthy inventor Chester Thordarson purchased a large majority of the island and began to build various buildings, including the majestic Boathouse, out of the plentiful rocks here to form his summer estate. The Wisconsin DNR purchased the island and buildings from the Thordarson heirs in 1965.
Recreation Opportunities
Boathouse
One of many stone buildings erected by the late inventor Chester Thordarson, the Boathouse, currently serves as an indoor shelter and historical museum of sorts. Step into this majestical castle building for a peek into Rock Island's history!
There is a small gift shop with souvenirs. You can also spend time here playing chess, checkers, and other board games with your family. This is a great place to retreat during inclement weather, after nightfall (it's open until 9 pm), or for a break from outdoor island adventures.
The built-in boat docking area underneath the Boathouse is also a magical place. Crystal-clear green waters and beautiful rocky walls make this a view you won't want to miss.
Fishing & Boating/Canoeing
Canoeing and kayaking are permitted at Rock Island, but be aware of the hazardous conditions that are a frequent threat in the cool and sometimes unsettled waters of Lake Michigan. The ferry may even be able to transport over your canoe or kayak (but you'll have to take it from there) as space permits.
Come fish for smallmouth bass and gobies here at the park! Remember to bring your own live bait or artificial lures, as nothing is sold on the island.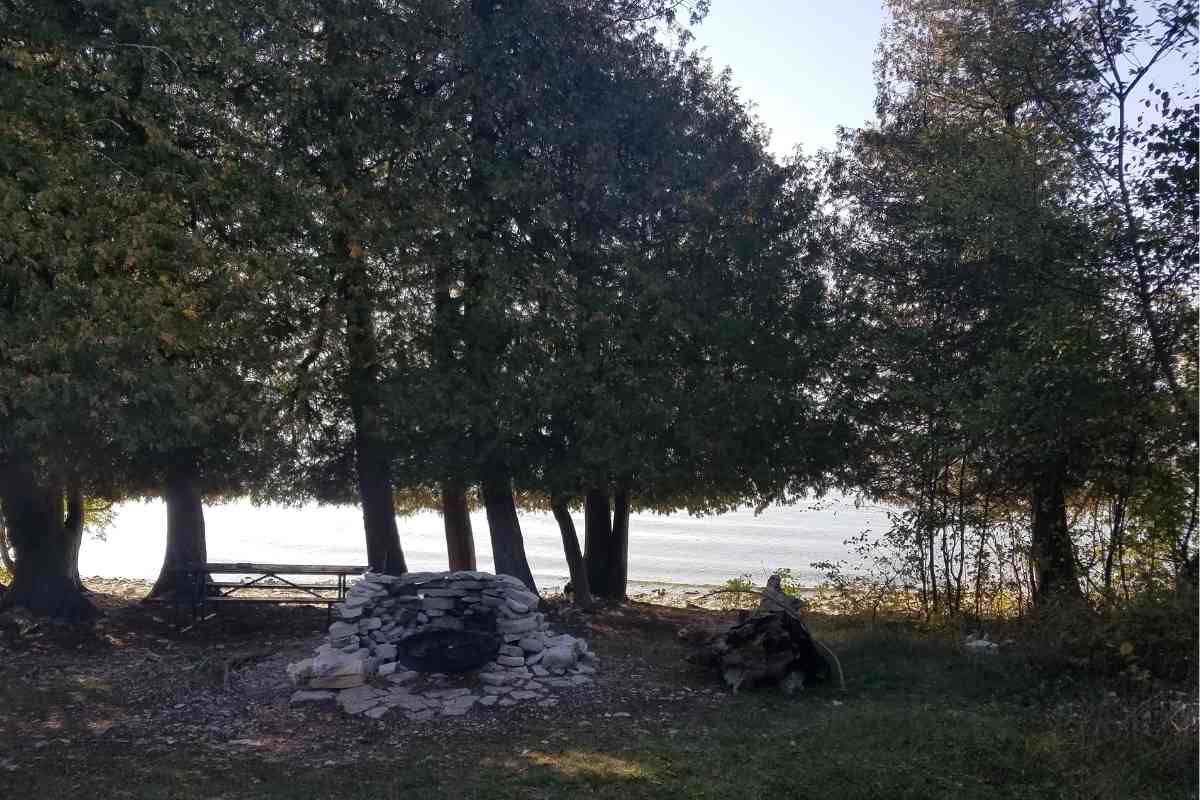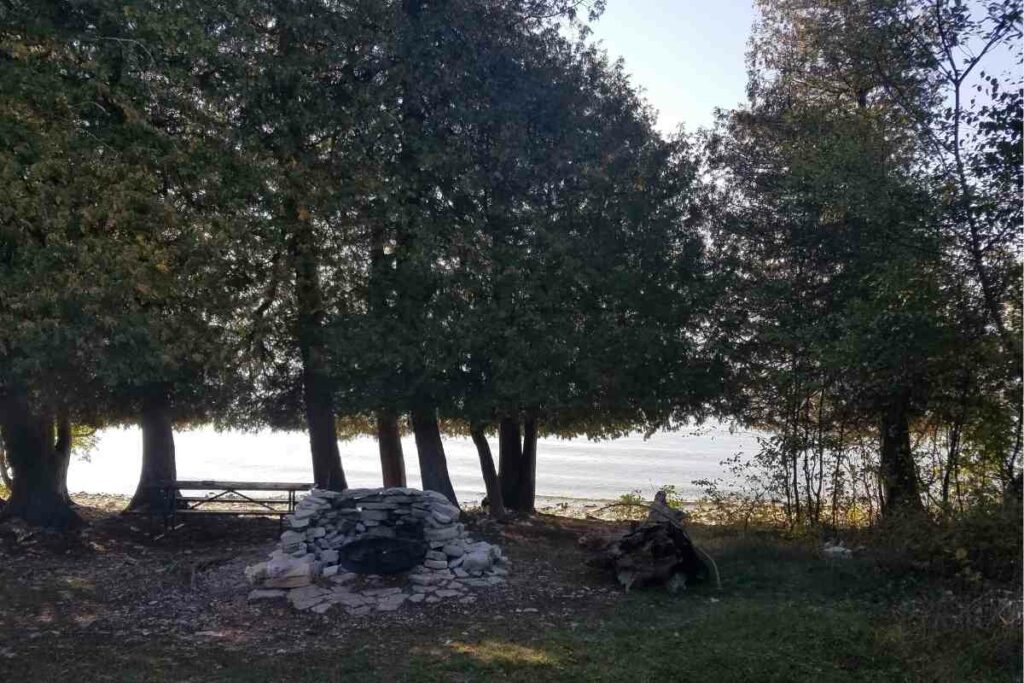 Camping
Rustic camping is definitely a highlight here at Rock Island State Park! All 40 sites are walk-in sites. You must pack and bring all of your gear from Washington Island over by ferry.
They do offer carts for hauling your gear to your site, or some campers prefer to bring their own collapsible wagons or carts—expect a ferry fee for these. Firewood sold in season at cost, drinking water, and both vault and flush toilets are all available on the island.
If you're looking for a campsite with a beach view, this is the perfect place for you! Camp alongside the shoreline in one of several sites available.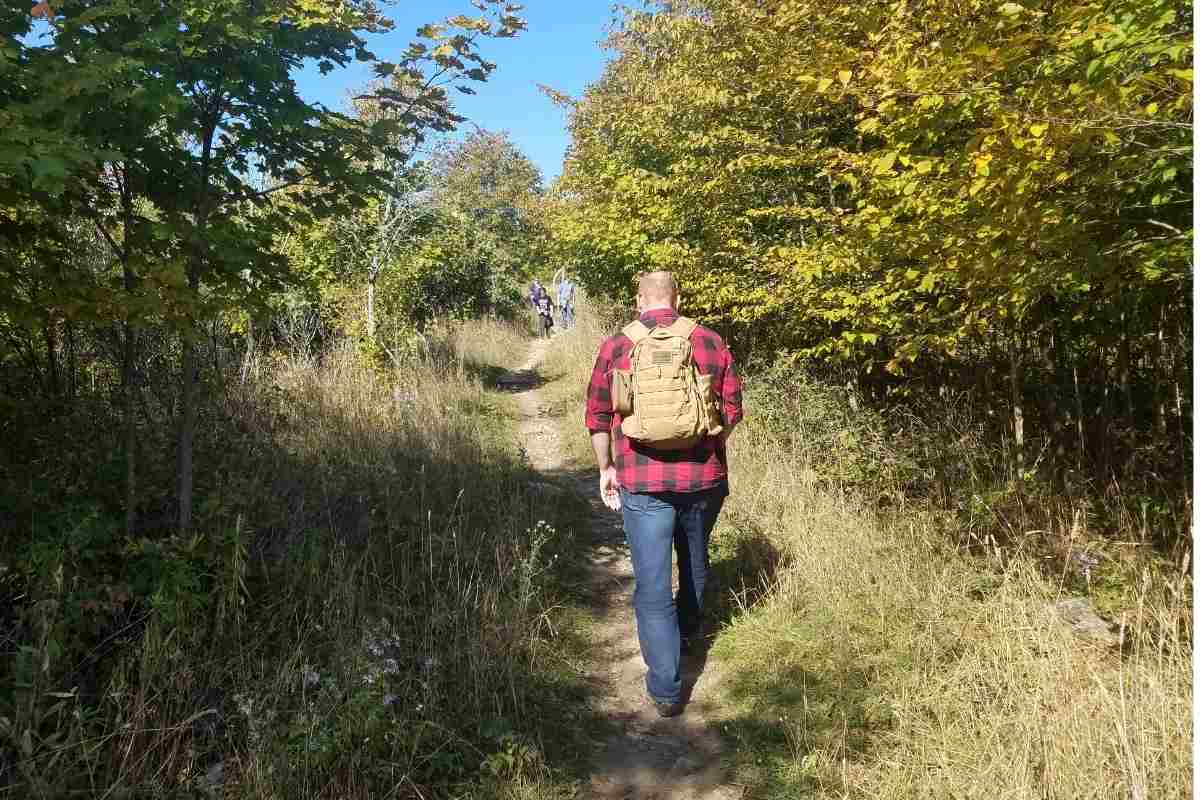 Hiking
If you came to hike, then you are in for an absolute treat! Rock Island state park offers 10 miles of hiking trails and 6 miles of shoreline that are perfect for a family hike.
Pro trip: Make sure to budget your time. If you're only around for a daytrip, you'll want to be back to the Boathouse before the final ferry departs for the day. Here are some highlights:
Thordarson loop trail (5.2 miles)- hike this beautiful trail that circumvents the entire island! You can also hike a part of it to reach the Pottawatomie Lighthouse. The trail has some mild hills and plenty of tree roots. It's best to baby wear with those who aren't yet walking or need walking breaks. There are also a few scenic vistas and historic cemeteries/water tower along the way.
Algonquin Nature Trail (1.0 mile)- This trail is more low key and meanders through the natural landscape of the inner island near the campground.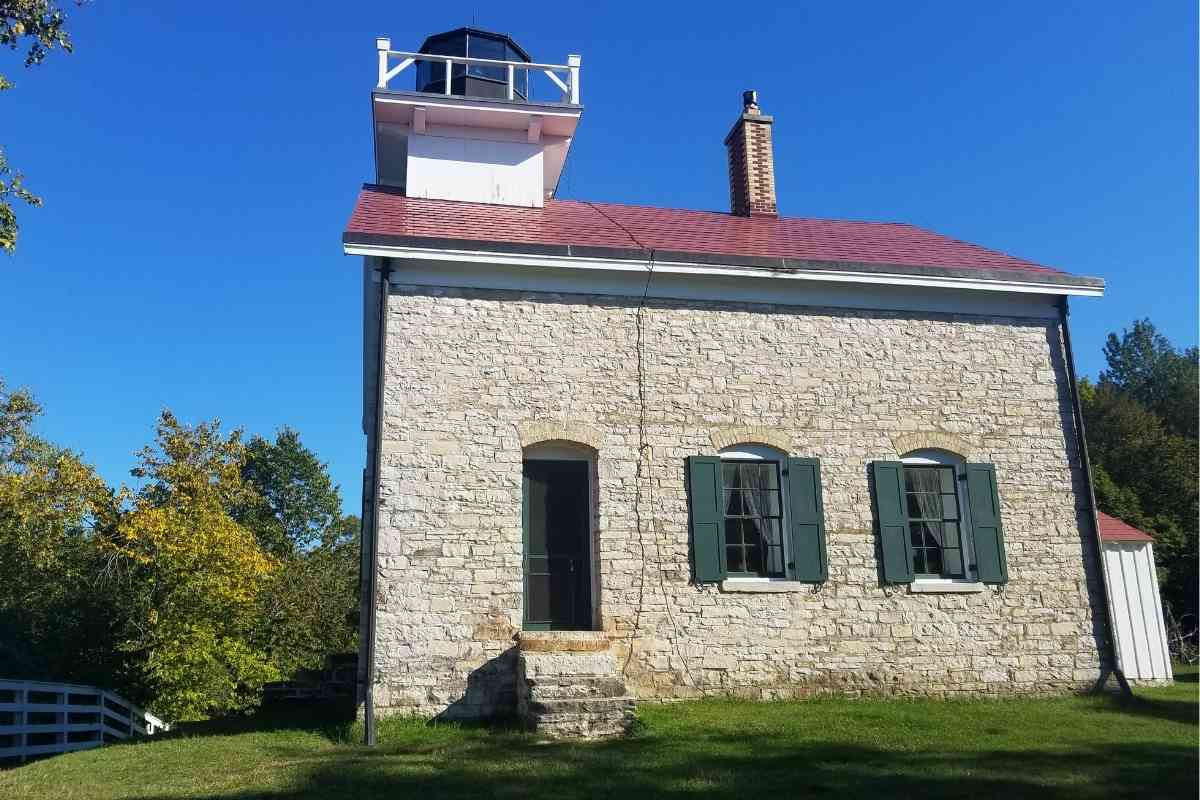 Lighthouse
Take the Thordarson trail out to the historic Pottawatomie Lighthouse, one of the highlights of a trip to Rock Island State Park! Free tours (donations appreciated) are available daily 10 am – 4 pm from Memorial Day to Columbus Day. You can even climb up to the lantern room during your visit! There is also a small gift shop inside. Check out the scenic vista and historic cemetery nearby.
Picnic Area & Play Field
There is a general picnicking/play field area, and the Greenhouse shelter is located just beyond the boathouse and ferry landing. You'll find plenty of picnic tables and green space to enjoy here, and a collection of yard games are available for use in the Greenhouse. Also, they have super nice flush toilet facilities!
Swimming
Swimming is permitted anywhere in the waters surrounding the island except near the boat dock. Many campers choose to swim right from their campsites. The water here is tested regularly for safety.
Visiting in Winter?
The DNR does not advise visitors to come to Rock Island in the winter. The ferry season ends in early October. The ice conditions are often hazardous and unpredictable for crossing on your own.
READ MORE: Visitng Door County for Winter Adventures
A Few of Our Favorite Pit Stops Along The Way: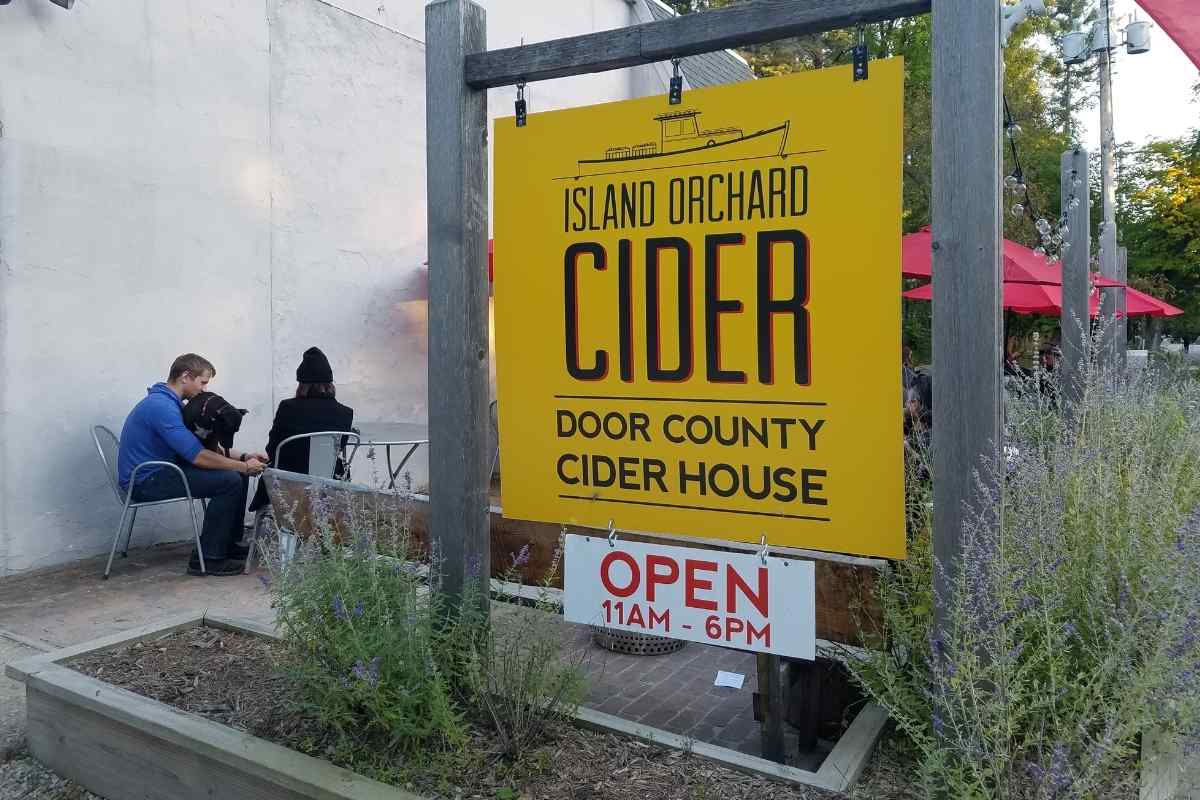 READ MORE: Family Road Trip! Our Favorite Things to Do In Door County with Kids!