We're unsure if anything feels like fall as much as a trip to a farm and pumpkin patch; it's one of our favorite things to do in Fall! From taking a hayride out to the pumpkin patch and finding that perfect pumpkin to feeding animals to getting lost in a corn maze, it's a fun family tradition for all ages. You'll find other activities and treats at many locations, making these pumpkin patches and farms our favorite for planning a fun fall afternoon with our families!
Check out our handy guide at the end of the article! Scroll to see it.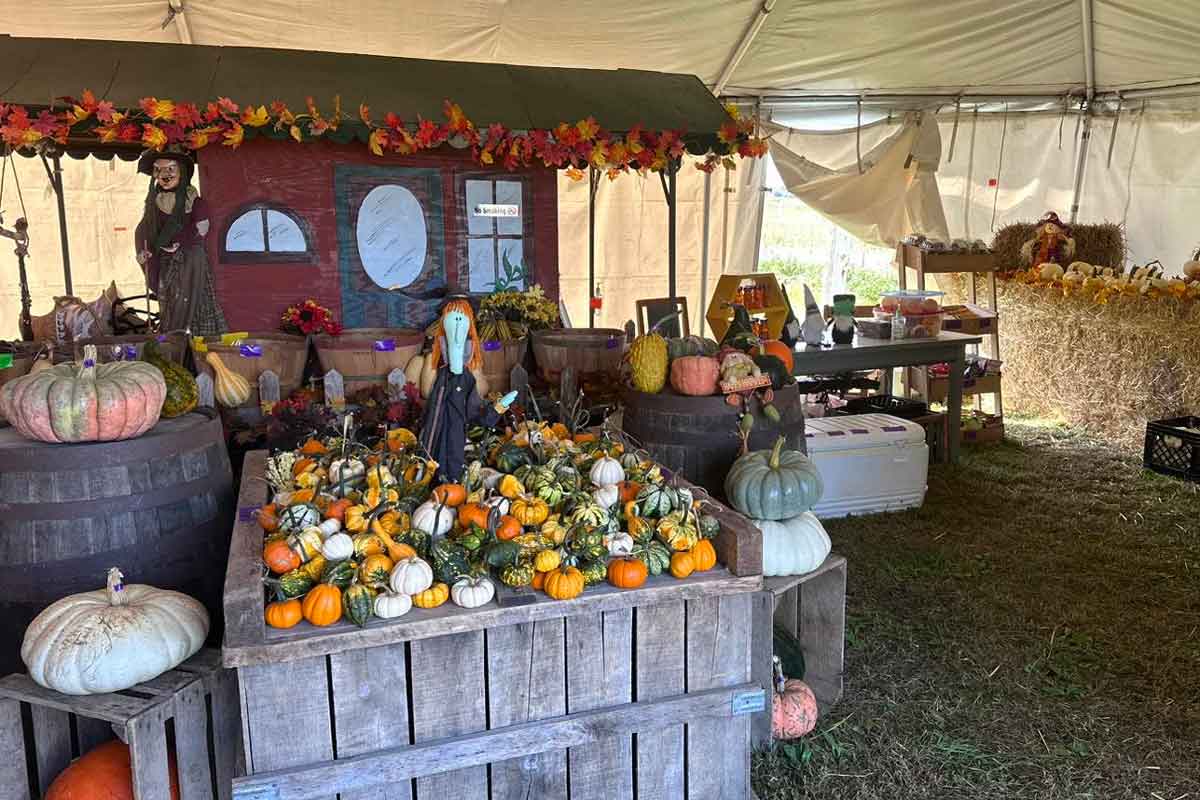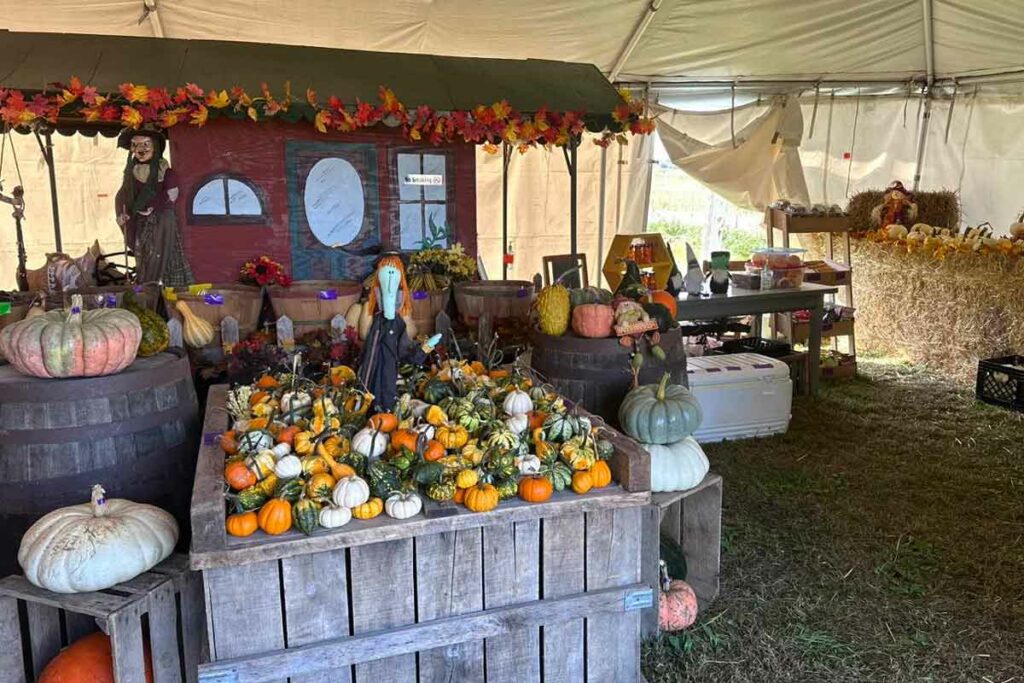 BerryLand Pumpkins, Abrams
5687 Steinkraus Ln, Abrams, Wisconsin
BerryLand Pumpkins in Abrams has been growing their own fresh farm produce since 1980. Located conveniently off Highway 41/141. Open daily, there is plenty to do for kids and families. You can also pick up some fall decorations including pumpkins and gourds.
Activities Include:
Child-Friendly Haunted Hayrides through the decorated Haunted Trail and a Pick Your Own Pumpkin in the field
Munchkin Maze
Ducky Derb
Game Tent
Bale Fort
Witch Pitch
Corn Box
Craft Corner
Obstacle Course
Climbing Wall for Kids
Human Hamster Wheel
Tons of fun photo opportunities
Admission:
Saturday & Sundays:

$10/person Hayride & Activities
$3/person Activities Only

Monday – Friday:

$3/person Activities Only

Children under 2 are free (this does not include a pumpkin.
No admission cost for shopping pumpkins and holiday decor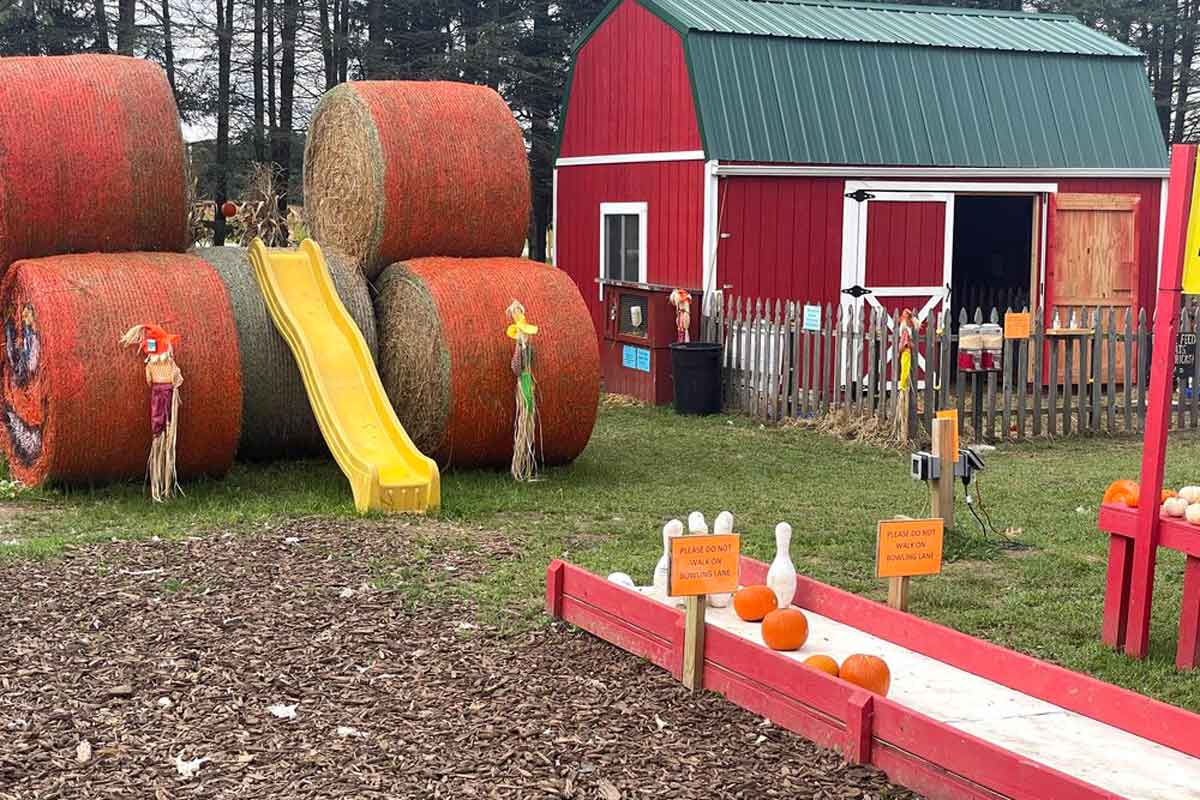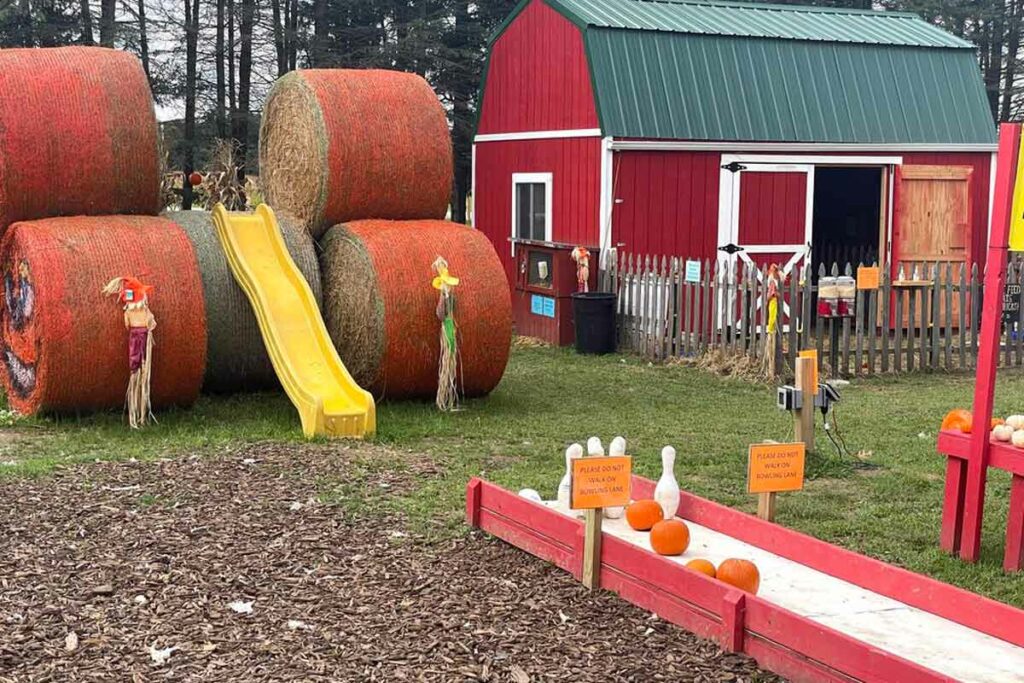 Blaser's Acres, Suamico
2556 School Lane, Suamico, Wisconsin
Blaser's Acres is over 29 years old and owned by Chris Blaser, a young kid out of high school who wanted to drive a tractor. He started with a rototiller and an acre of land and today farms hundreds of acres. From roadside stands, family-friendly seasonal events, pick-your-own produce, grocery, and more!
Activities Include:
Corn Maze (treasure prize hunt)
Bounce House
Duck Races
Corn Box
Playground
Petting Zoo
Fall Themed Games – including pumpkin bowling, slingshot, tic tac toe
Hay Slide
Carmel Apples
Fall Decor
Hay Rides and barrel train rides are available Wednesday through Sunday
Admission:
Free Activities with donation or purchase
Children Under 2 Years Old = FREE
Dogs are welcome on a leash on weekdays only.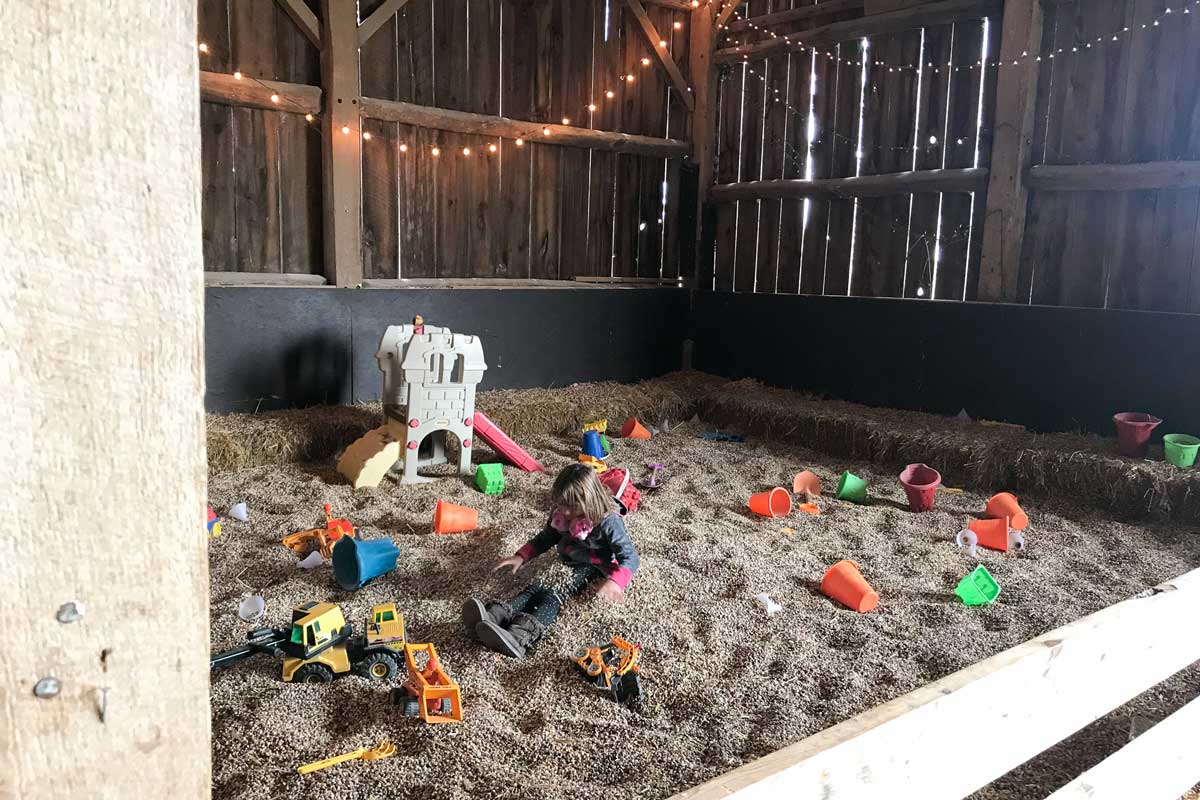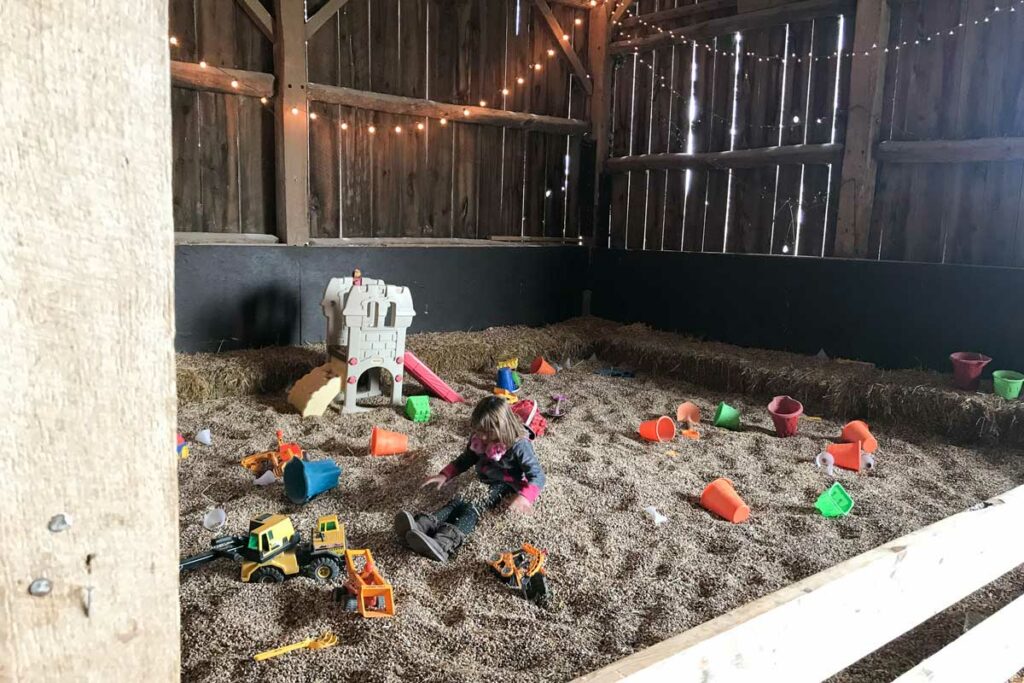 Cuff Farms, Hortonville
N2299 Ledge Hill Rd, Hortonville, Wisconsin
Pumpkin season is the ultimate family tradition at Cuff Farms. The large (free!) play area is perfect for letting the kids run wild. Take the whole family to pick your pumpkins on our leisurely scenic pumpkin-picking wagon ride that takes you right to the field. Choose your colored corn from the stalk and gourds from the vine. Pumpkins and other fall decorating items, such as mums and straw bales, are also available. Grab a homemade apple cider donut and award-winning Kelley Country Creamery ice cream! Wood-fired pizza is served in the evenings. Various food trucks, apple cider donuts, and more.
Admission: FREE
Activities:

Straw Slide
Rock N' Rollers
Combine Slide
Corn Maze
Small Bale Maze
Bale Run
Corn Stalk Tunnel
Barn
Picnic Area
Corn Pool
Granary Play Rooms
Duck Racers
Barrel Train Ride
Port-a-potties and hand wash stations
Pumpkin picking wagon ride at cost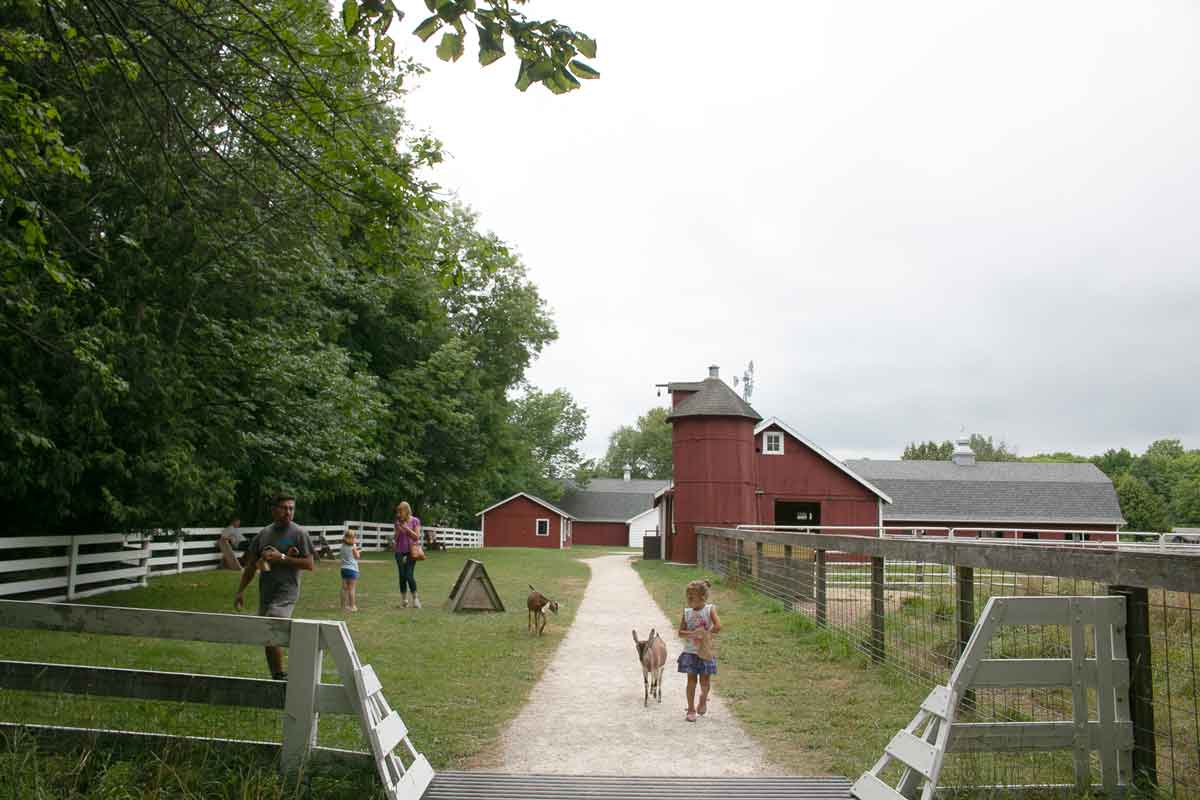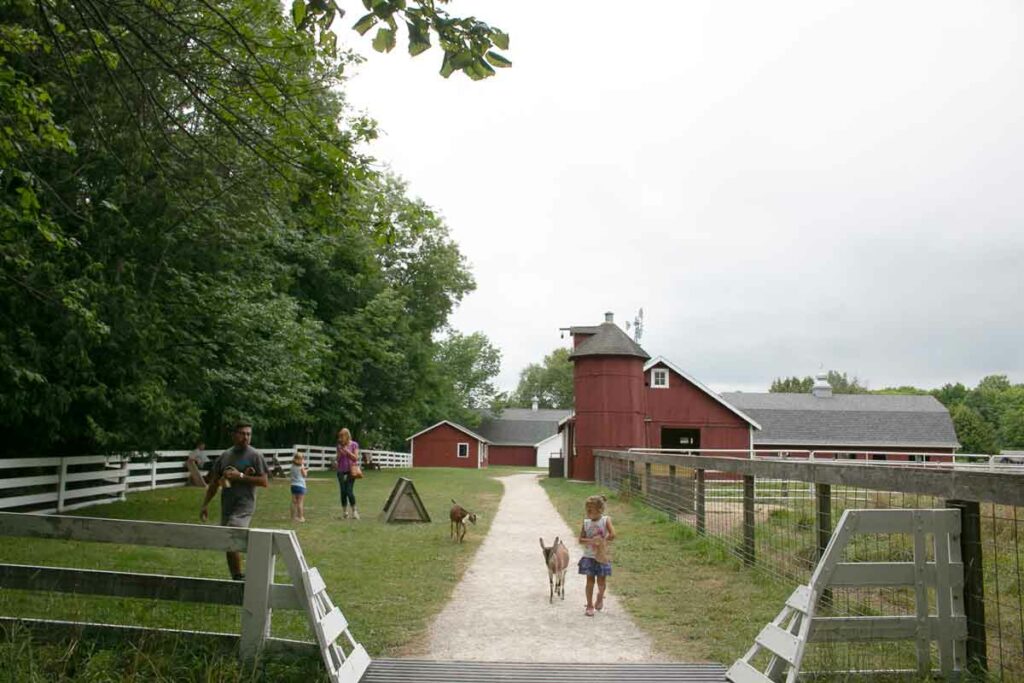 The Farm, Sturgeon Bay
4285 WI-57, Sturgeon Bay, Wisconsin
Described as a living museum of rural America, The Farm in Sturgeon Bay has been a family favorite since 1965 (it's one of our favorite things to do in Door County). Families enjoy an immersive experience with farm animals, history, and culture. Bottle feed baby goats, lambs, and piglets. Stroll around the grounds for a nice nature walk.
Admission:

Adults (13 and over) $9.50
Children (3-12) $6.00
Children 2 and under FREE

Activities:

Bottle Feed Animals (purchase)
Bags of corn available for purchase to feed animals
Walking Trails
Educational Signage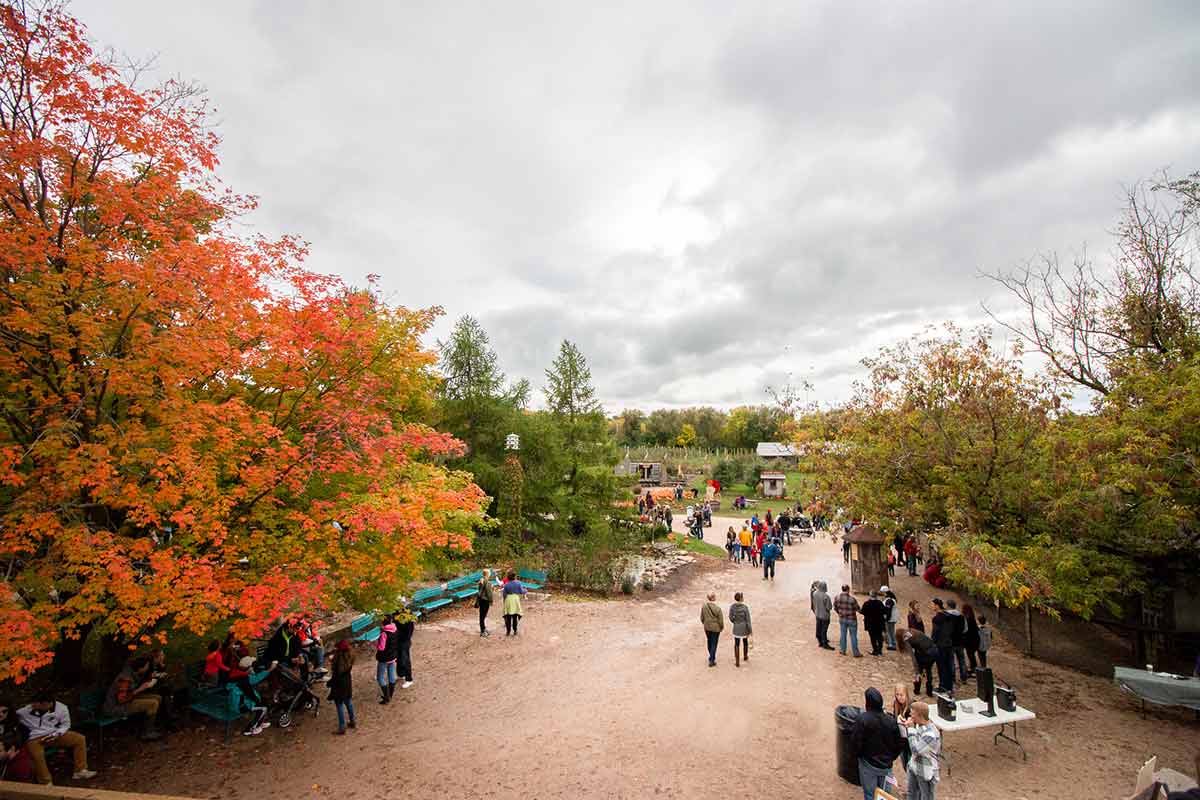 The Little Farmer, Malone
N9438 Hwy 151, Malone, Wisconsin
The Little Farmer began back in 1866 as a traditional farm, eventually adding apple orchards throughout the years before opening to the public and becoming one of the Fox Valley's favorite fall stops for families. Their primary crop continues to be apples, grown on their 7,000 apple trees across six orchard sites and 20 varieties of pumpkins grown on their 20-acre pumpkin patch.
There is no admission fee to enter the grounds, ride the U-Pick wagon, visit with the animals (feed is available for purchase), or get lost in the corn maze. Hayrides are available on weekends and only require purchased tickets. Pumpkins are priced depending on "ring size." You'll find ring stations around the farm for sizing pumpkins or bring them to a cashier for sizing. Your price is based on what size ring it fits through.
Admission: FREE
Activities:

You pick pumpkins and apples.
Applehouse to buy apples, caramel apples, and bakery. Check out their daily muffin and drink specials!
Corn Maze
FREE playground for small children and toddlers!
Animals including goats, sheep, peafowl, chicks, and Scottish Highland cattle. Goats can be fed for 25 cents per handful.
Hayrides
6-acre corn maze and try to figure out who stole the pie from the bakers — a fun game that encourages kids to learn about animal tracks.
Don't miss their playground; it is a fantastic fit for small children and toddlers, which includes a straw maze, a trike path, swings, and more.
Pedal car track for all ages!
Fall Food & Decorations Available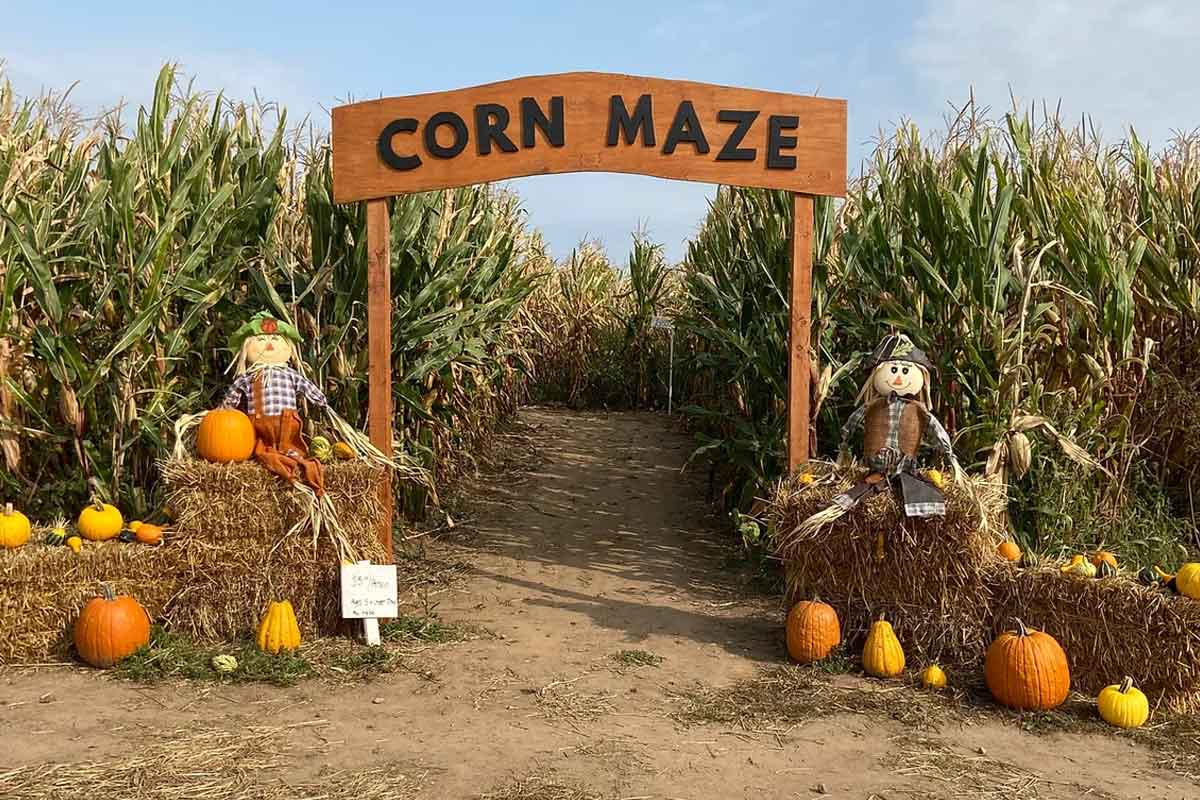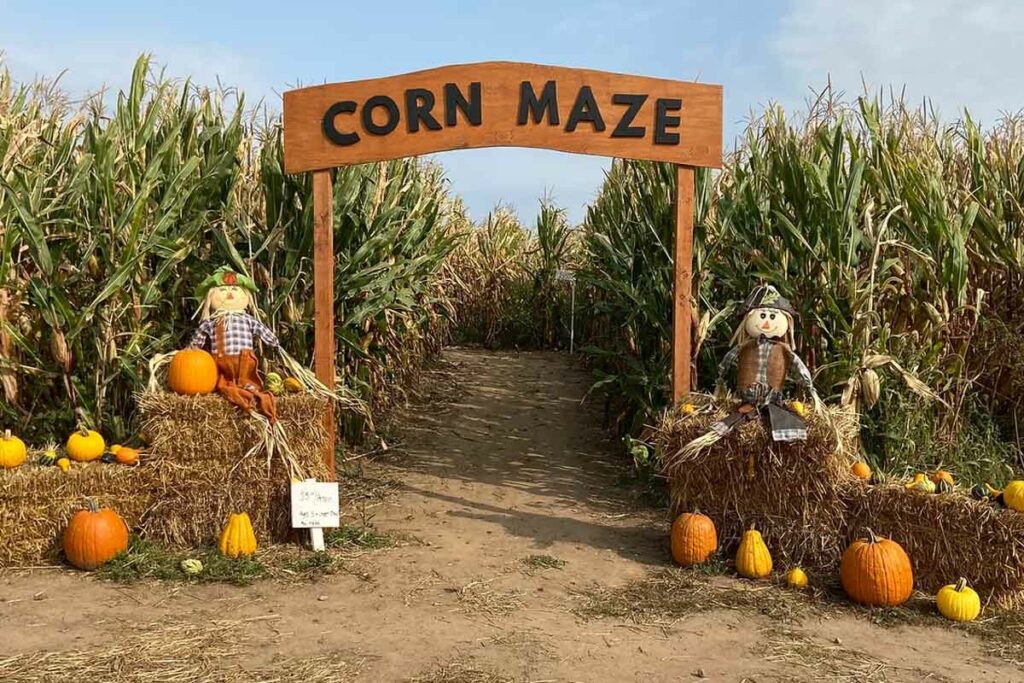 Harvest Hill Family Farm, Seymour
N9339 French Road, Seymour, Wisconsin
Harvest Hill Family Farm opened their farm to the public in 2018 to provide an affordable family fun fall experience. There are no admission fees, plenty of great photo opportunities, pumpkins, and cute animals to interact with too! Get all your outdoor fall decorating needs in our one-stop shop.
Admission: Free
Activities Include:

12-acre Corn Maze
Hayrides
Pumpkins
Pumpkin Painting
Straw Tower
Petting Zoo
Duck Races
Chalk Silos
Hamster Wheels
Corn Box
Yard Games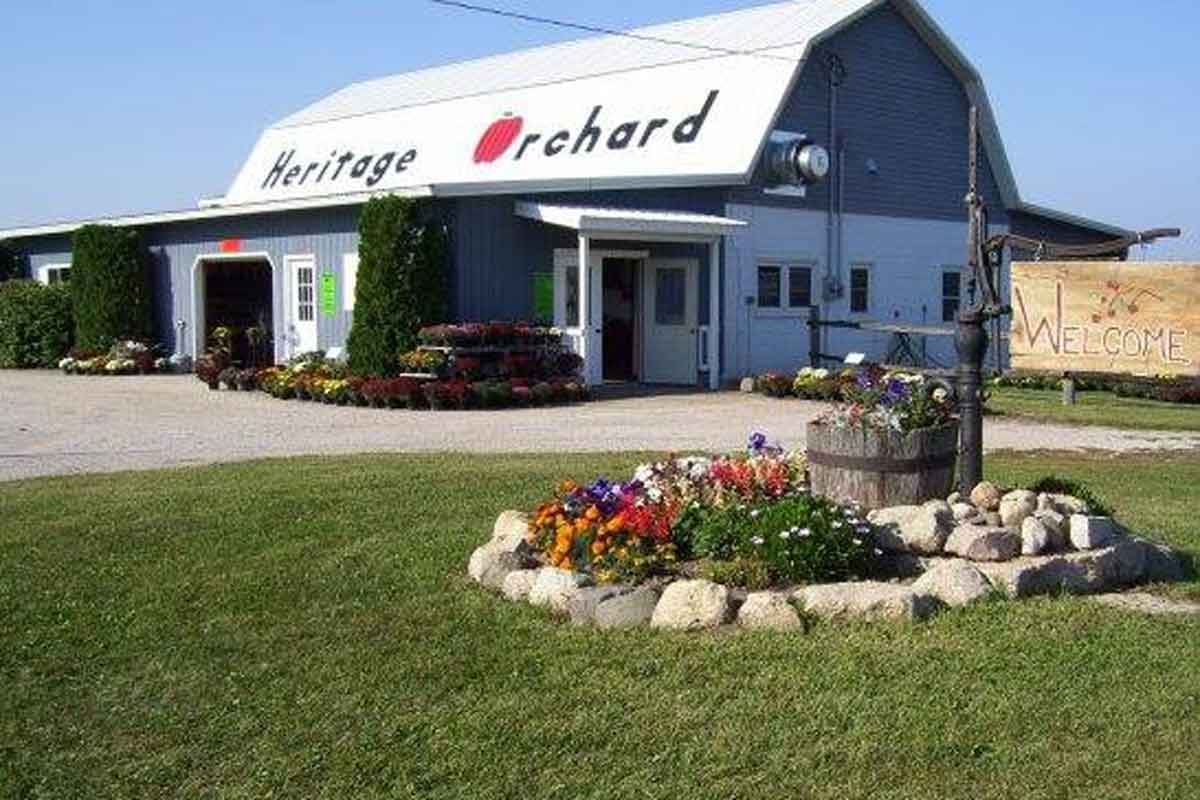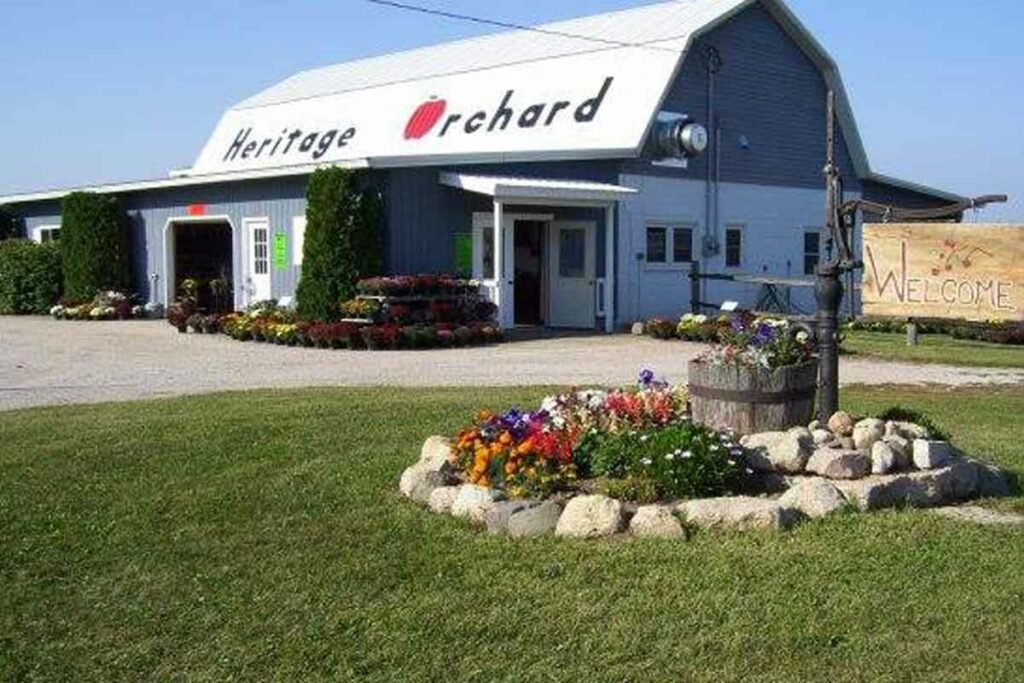 Heritage Orchard, Chilton
N2963 Lakeshore Dr, Chilton, Wisconsin
Heritage Orchard in Chilton on the east side of Lake Winnebago is a family-owned and operated and offers pick-your-own apples and pumpkins, as well as the farm market featuring unique food products, caramel apples, award-winning apple cider, fresh apple cider doughnuts, and the craft loft.
Admission: FREE
Activities:

Farm Market store includes seasonal fruits, pumpkins, honey, popcorn, apple pies, cider, apple cider donuts, caramel apples, and more. They have a full bakery and a craft loft, too!
Pick your own pumpkins and apples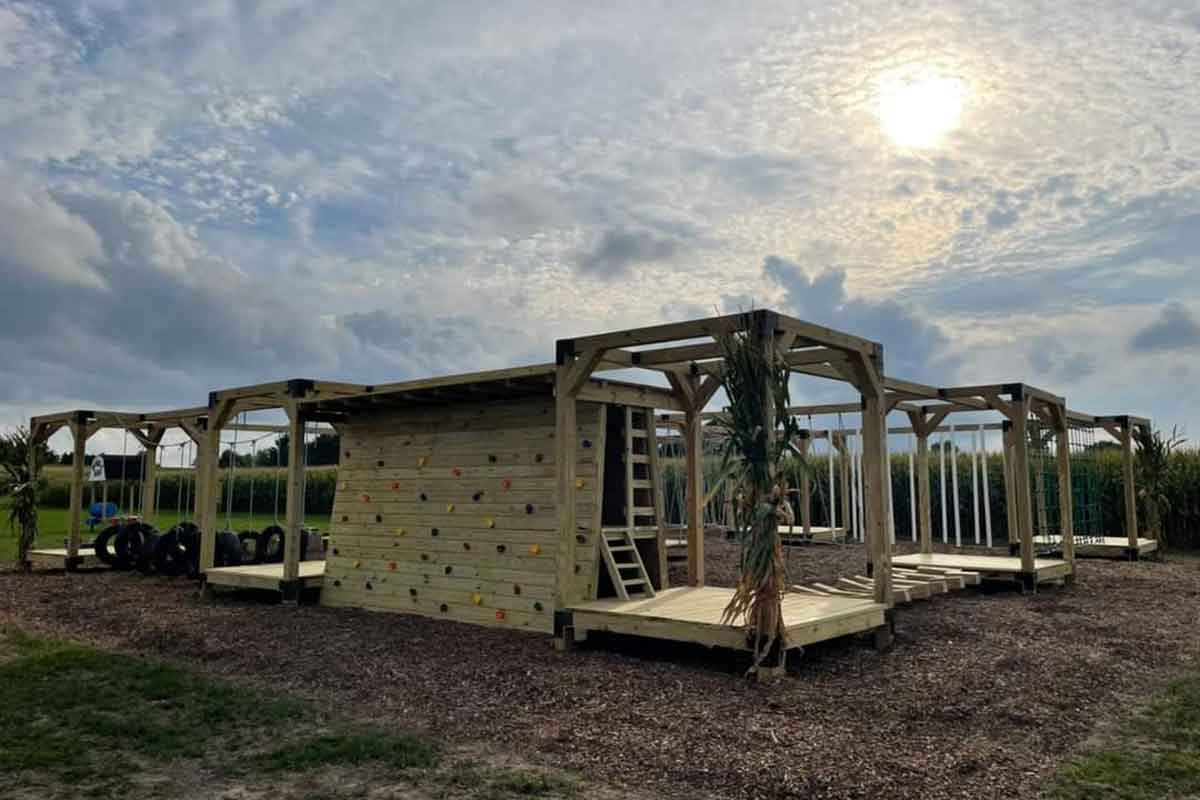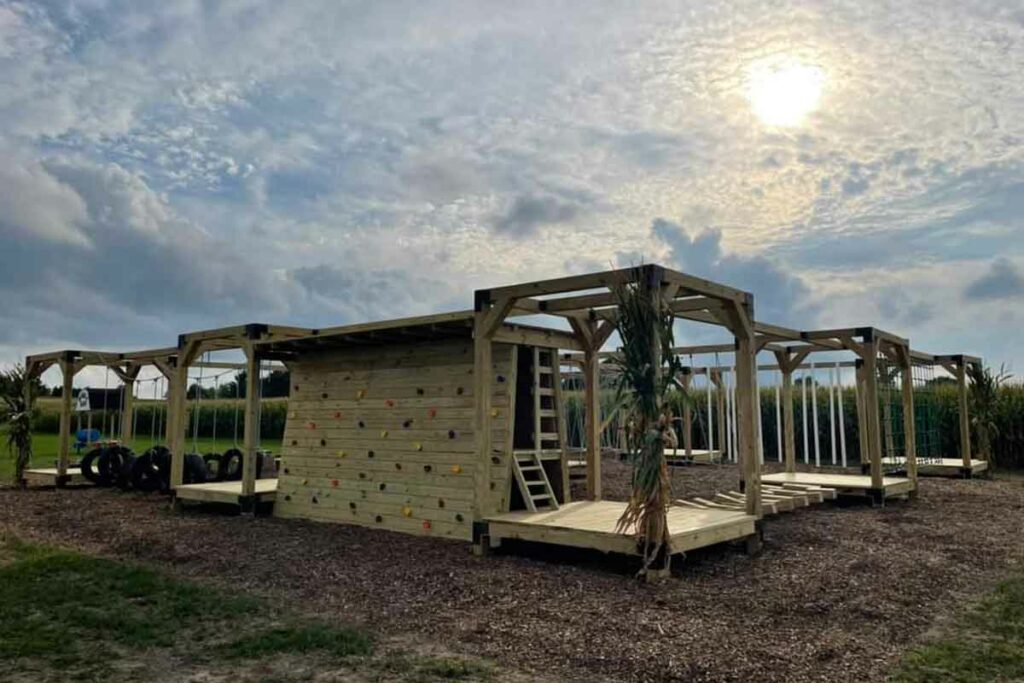 Kelley's Farmstand, Fond du Lac
Fun family activities adjacent to one of Wisconsin's best ice cream spots is the perfect combination! Kelley's Farmstand is a great place for Fall, with 20+ fun activities for kids.
Kelley's Farmstead offers a variety of food and drink options throughout your visit, including hot dogs, walking tacos, apple slices with caramel, mini donuts, and baked goods.
Admission: $12 per person (tax included) (all guests 2 years and up)

Animal Feed: Ice Cream cones of animal feed available for $1.00 each

Activities:

Trike Course
Barnyard Animal Toys
Bubble Station
Big Bale Slide
Pumpkin Checkers and Tic Tac Toe
Grain Cart Ride
Lasso a Steer
Tight Rope Walking
Sandbox
Straw Bale Pyramid
Tire Mountain
Ziplines
Duck Races
Tunnel Tube
Combine Slide
Pumpkin Wagon
Corn Maze
Ropes Course
Barrel Carts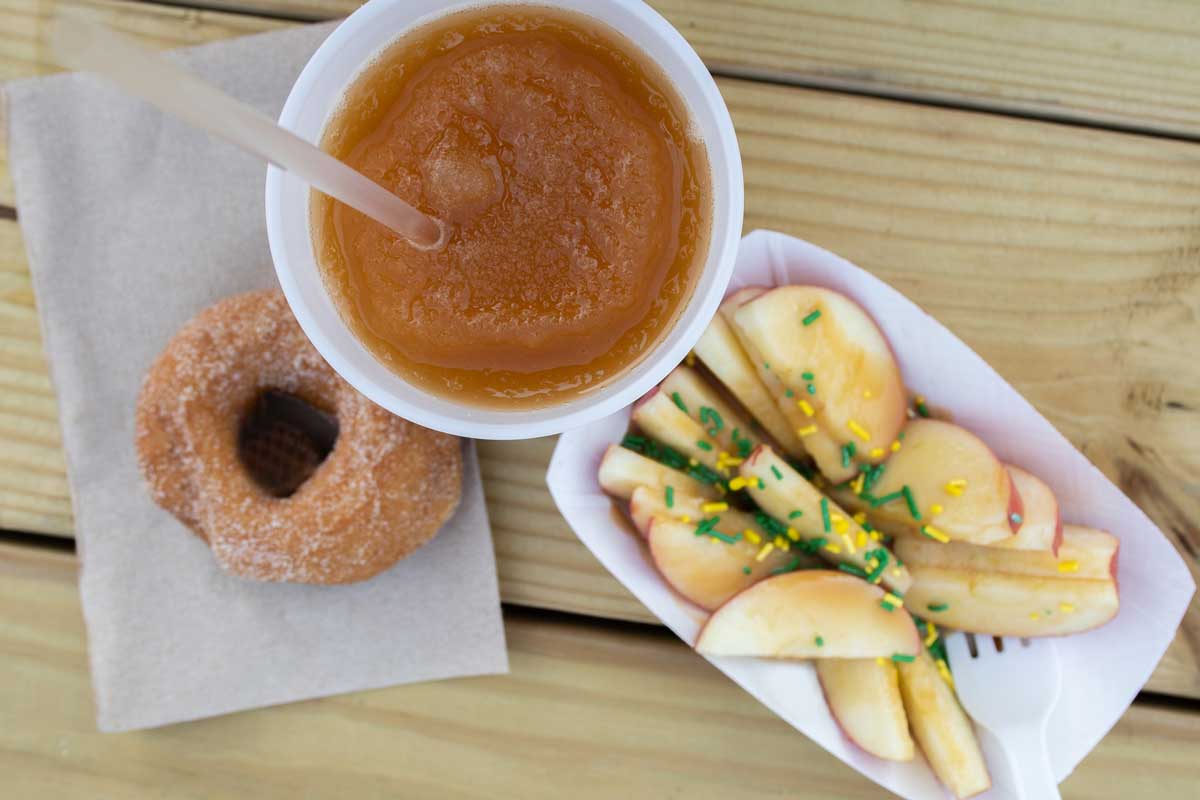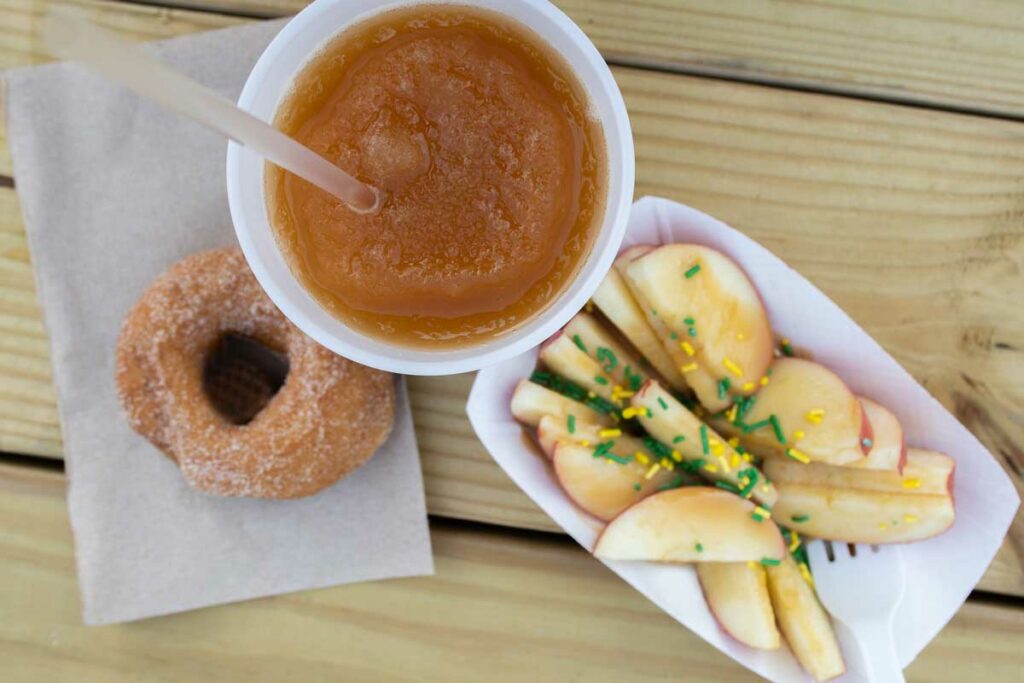 Misty Ridge Orchard, De Pere
N5126 Advent Rd, De Pere, Wisconsin
Misty Ridge Orchard is a newer apple orchard in the Fox Cities, owned by Steve and Carrie Gonnering. The retail store and bakery were completed in 2018. The orchard currently has over 4,000 apple trees with 20 varieties. Stop in and pick up a couple Fall goodies, fresh hot donuts, apple cider slush, and caramel apples. Kids will enjoy all the free activities outside!
Admission: Free
Activities:

Corn Maze
Petting Zoo
Basketball
Swings
Sand Pile
Giant Tunnel
Fire Pit
Corn Hole
Kid's Beanbag Toss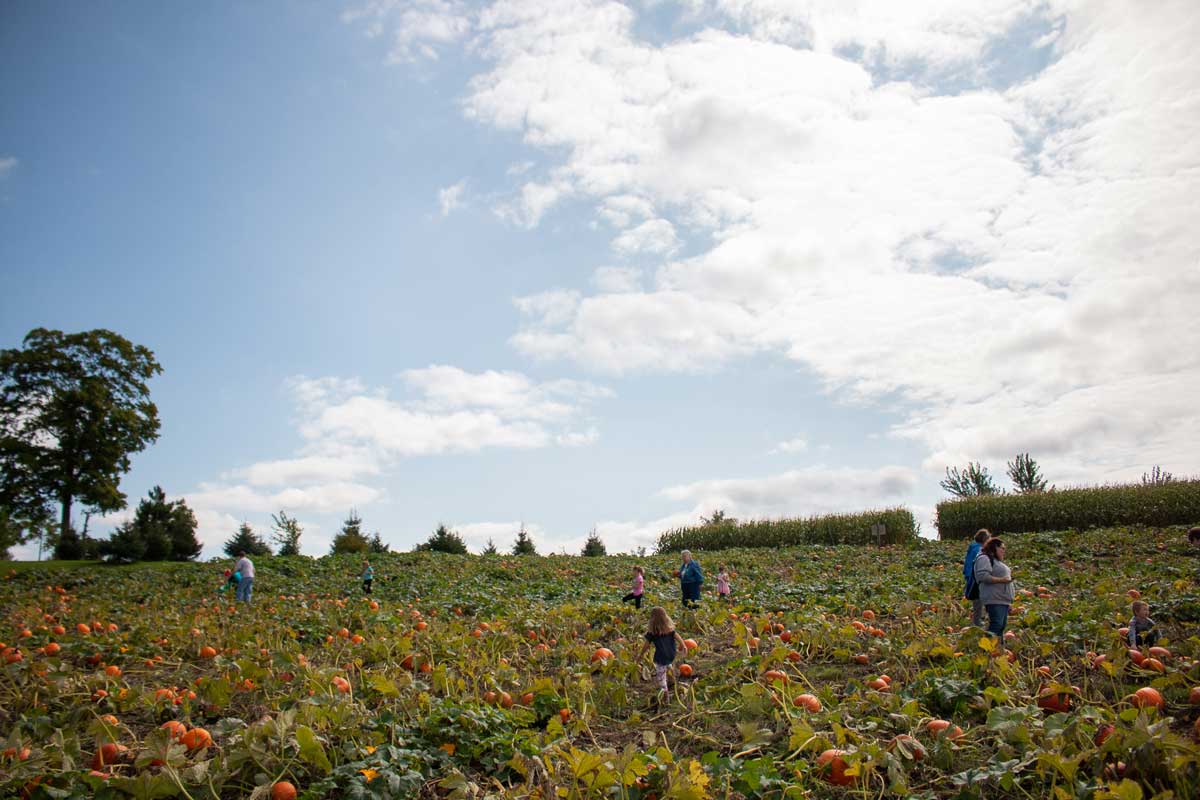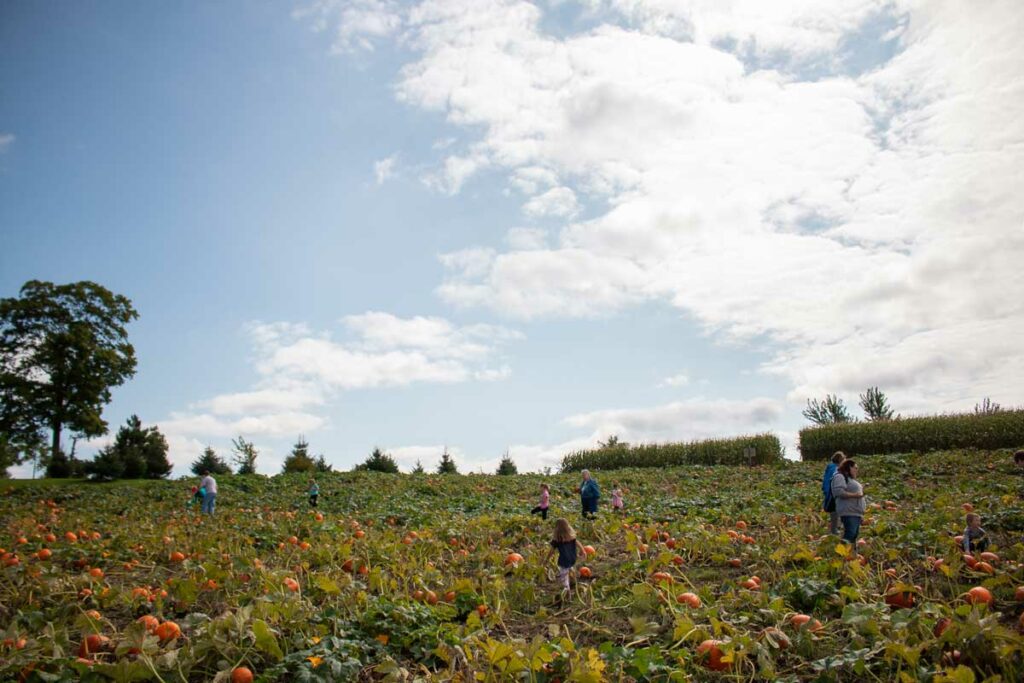 Mulberry Lane Farm, Hilbert
W3190 County Road B, Hilbert, Wisconsin
Mulberry Lane Farm is a locally owned petting farm just 3 miles east of Sherwood. It is one of our family's favorite things to do in Sherwood! Touch, feed, and experience these incredible animals close up. You'll also enjoy the farm as you learn things you never knew about farm animals, including cows, pigs, goats, sheep, chickens, rabbits, geese, donkeys, and more!
Admission:

Children 1 and under FREE
Age 2 to 92 $14/person (cash) or $14.50/person (credit card)

Activities:

Pumpkin Harvest Celebration
Hayride
Pick Your Own Pumpkin (FREE with admission)
Season-round animal interactions: kittens, goats, pigs, milk a cow, and more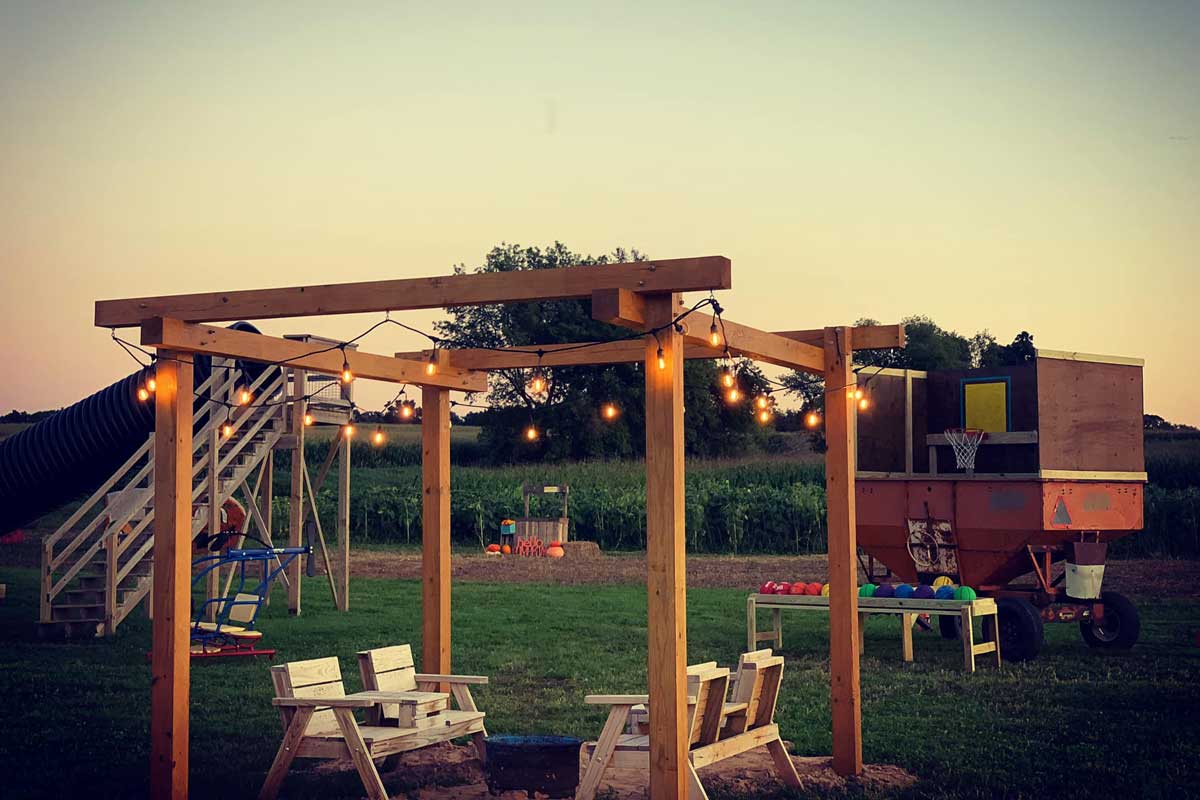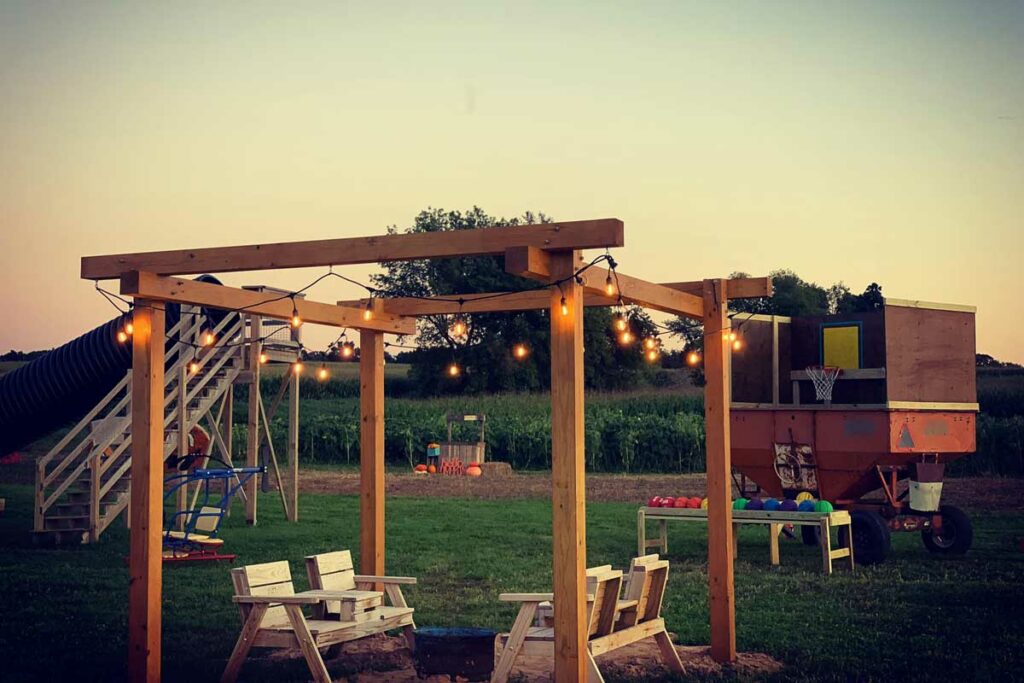 Petals & Plows, Ripon
9129 Kaufman Rd, Ripon, Wisconsin
Petals & Plows, the Kaufman Farm, is always hustling and bustling during the Wisconsin fall season, from an open greenhouse with pumpkins, squash, gourds, perennials, trees & shrubs all available for purchase to beautify and decorate your home. They also have their famous corn maze, a must for anyone with an adventurous spirit. The farm also has music, food, face painting, and much more on weekends, so make plans today to visit us during this exciting time of year!
Corn Maze Admission: $10 for Adults, $5 for Kids (age 2-12), and Free for Kids under 2
Activities:

Corn Maze
Pumpkins
Caramel Apples
FREE Activities
Picture Opportunities
Dog-friendly as long as they are people and friendly with the farm yard animals and other dogs at the farm.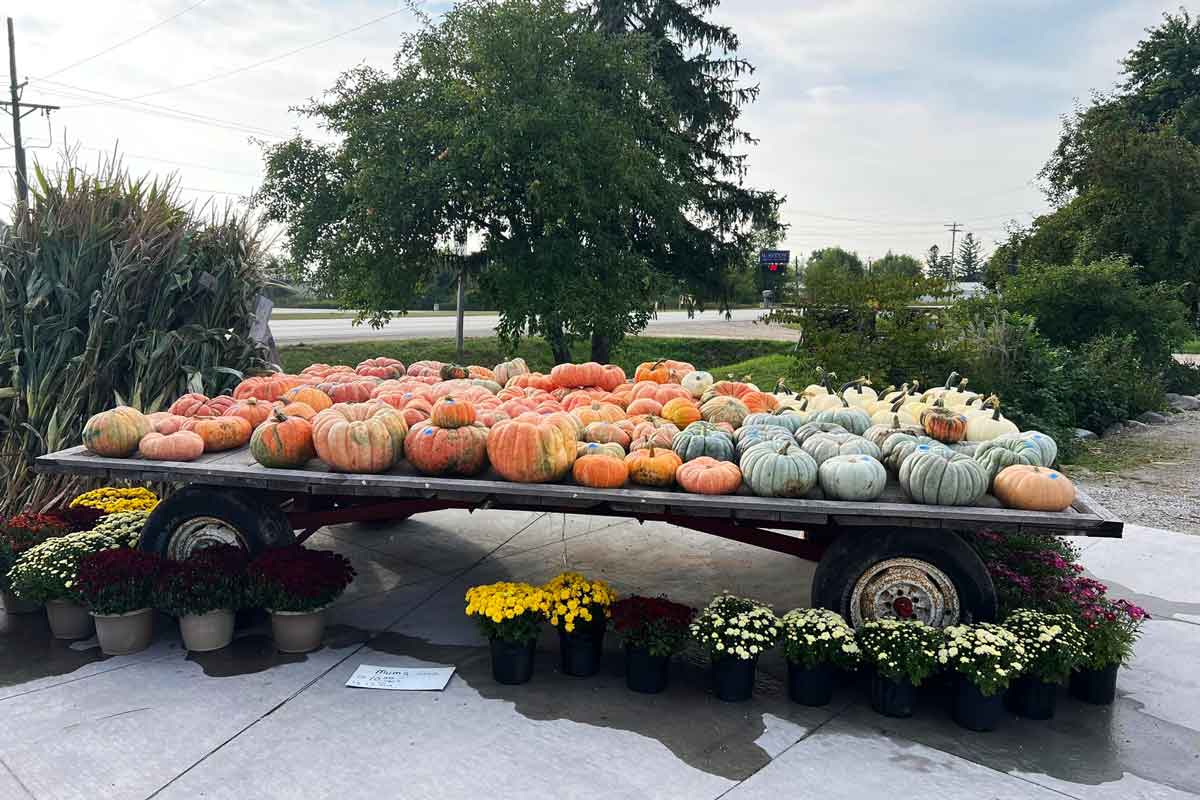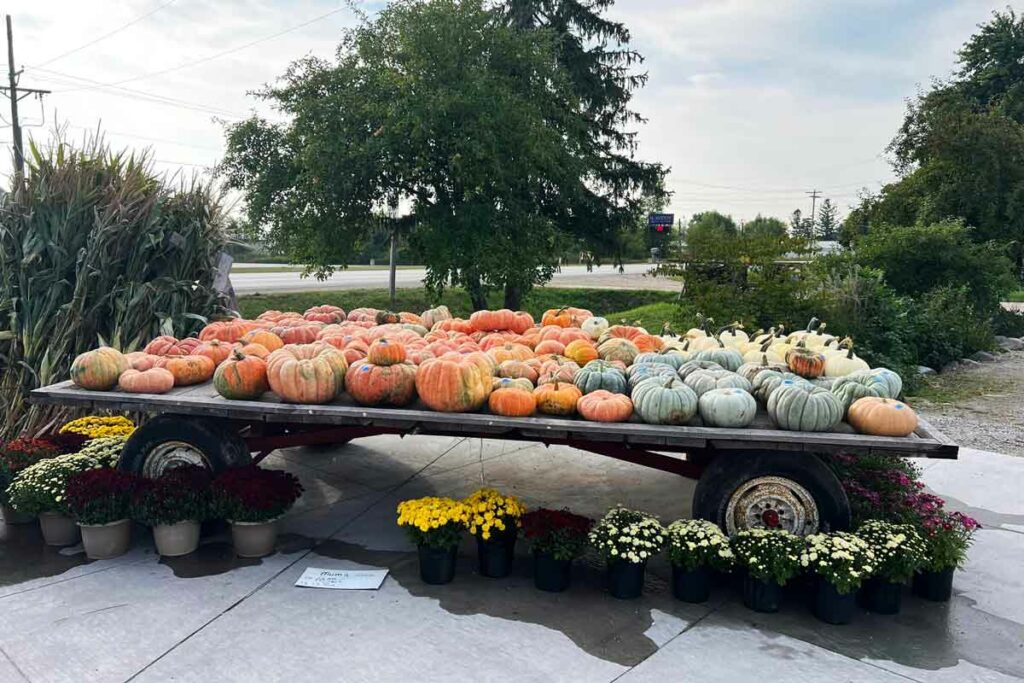 Peter's Pumpkin Patch, Kaukauna
N181 State Highway 55, Kaukauna, Wisconsin
Peter's Pumpkin Patch is a great staple for your fall decorations.
Admission: FREE
What you'll find:

Large selection of specialty pumpkins, squash, and gourds
Hay bales, corn stalks, broom corn stalks, Indian corn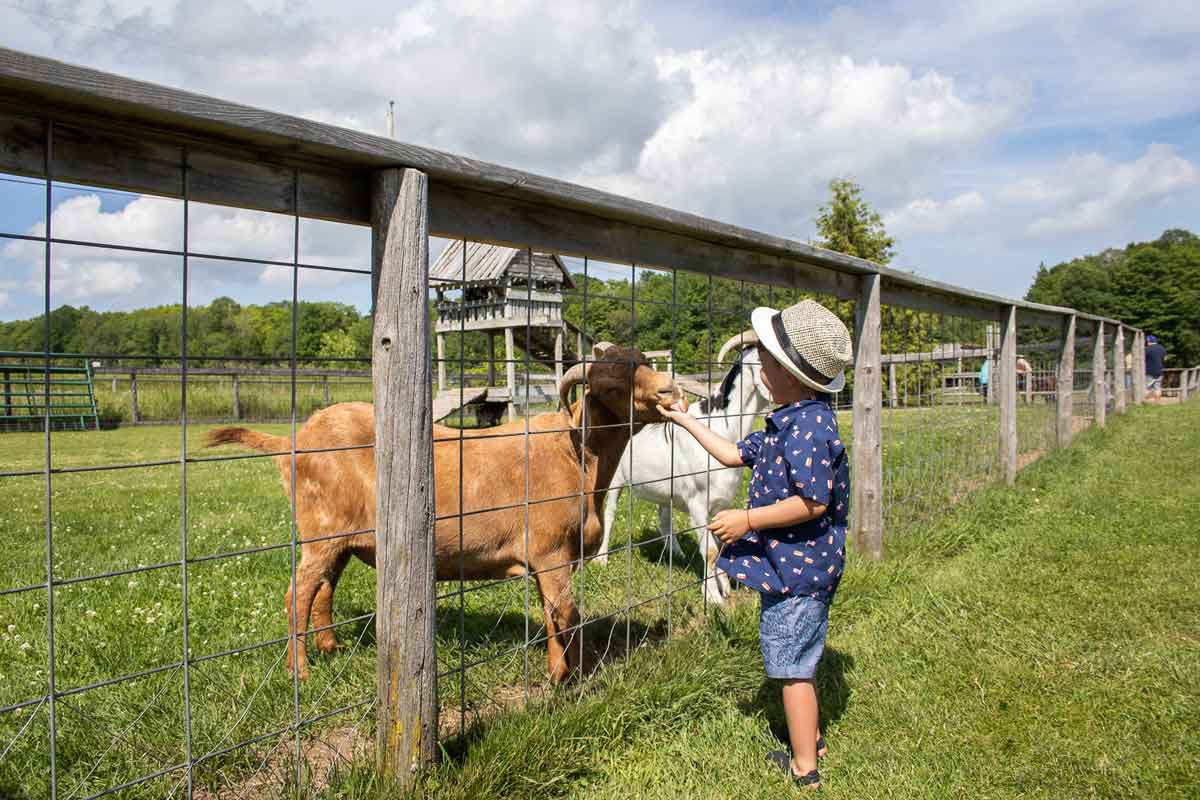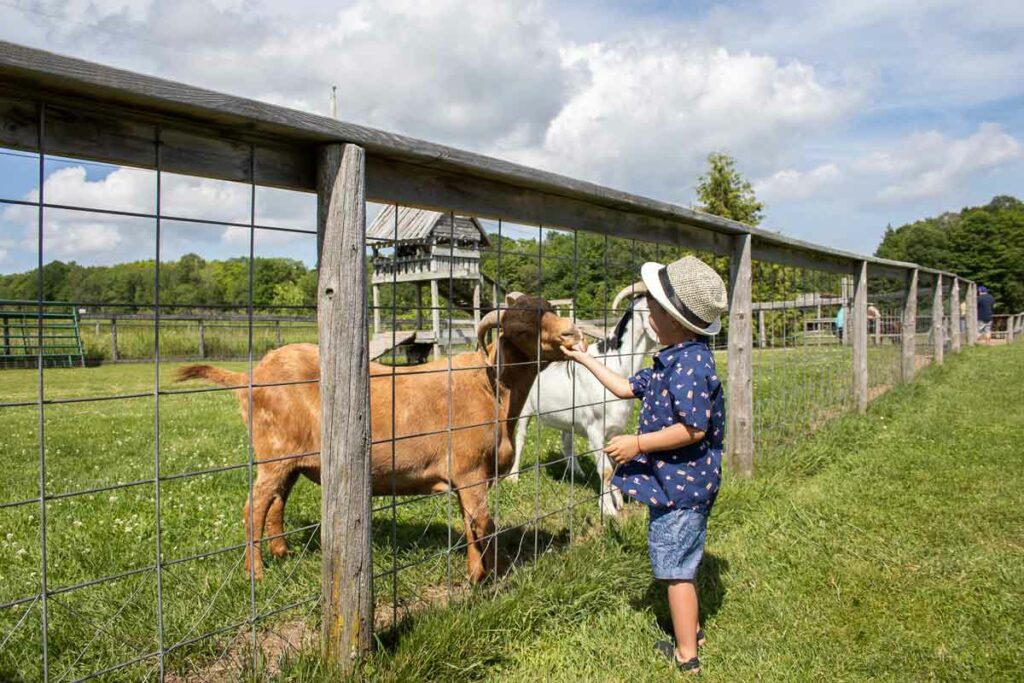 Plum Loco Animal Farm, Egg Harbor
4431 Plum Bottom Road, Egg Harbor
Plum Loco Animal Farm in Egg Harbor in Door County is a fun petting farm and play area. Animals include ponies, horses, miniature donkeys, goats, sheep, pot-bellied pigs, chickens, turkeys, geese, and miniature horses. Buckets of food to feed the animals include grain (for goats and sheep) and carrots (for ponies, horses, donkeys, and miniature horses) available to purchase.
Play-Farm Village is a play area with a pretend town for imaginative play, a miniature farm, a picnic area, and games.
Admission:

Adults: $9.00
Kids: $8.00 (ages 2-17)
Grandparents/Seniors: $7.00

Activities

Petting Farm
Feeding Animals
Play Area
Yard Games
Pumpkin Painting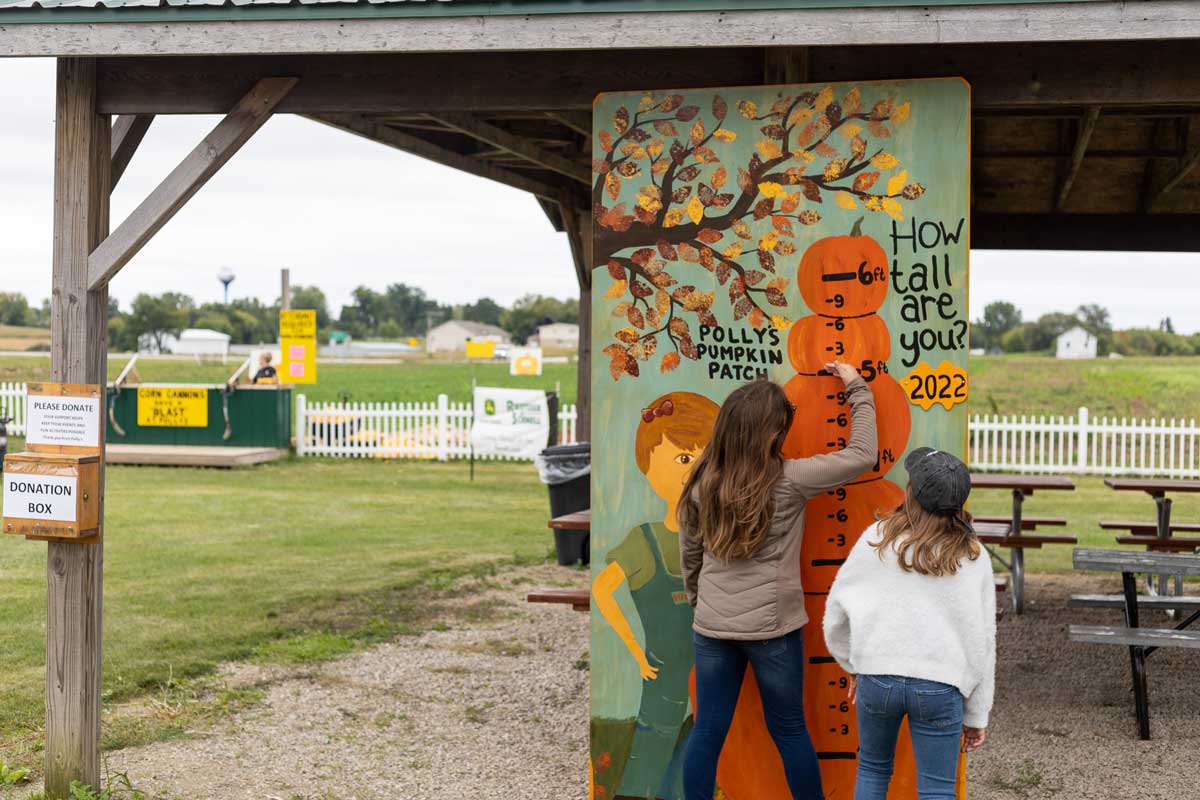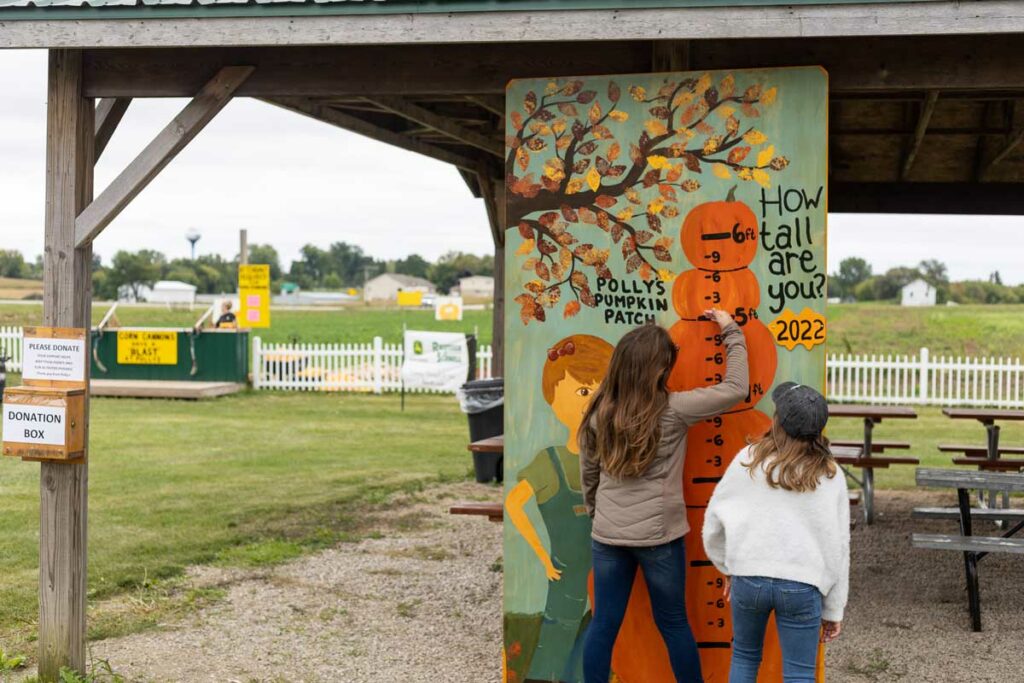 Polly's Pumpkin Patch, Chilton
N4367 WI-57, Chilton, Wisconsin
Polly's Pumpkin Patch is a small family farm and market owned by Gary Juckem and Polly Roland in northeast Wisconsin, just north of Chilton on Highway 57.
Well known over the years for their wide variety of odd and unusual pumpkins and fall decorations, with over 50 varieties of pumpkins of every shape, color, and size – white, green, blue, tan, striped, bumpy, and orange too! Gourds of every shape and size are also very popular. They also offer Indian corn, broom corn, straw bales, bundles of corn stalks, and fall mums too.
What you'll find:

Farm Market Store
15-acre Corn Maze – easier Dottie maze and the harder Search N Find maze
Farm Animals
Duck Races
Hay Barrel Climbing
Fresh Apple Cider Donuts, Pies and Caramel Apples
Pumpkins, Hay Bales and Gourds
Wagon Rides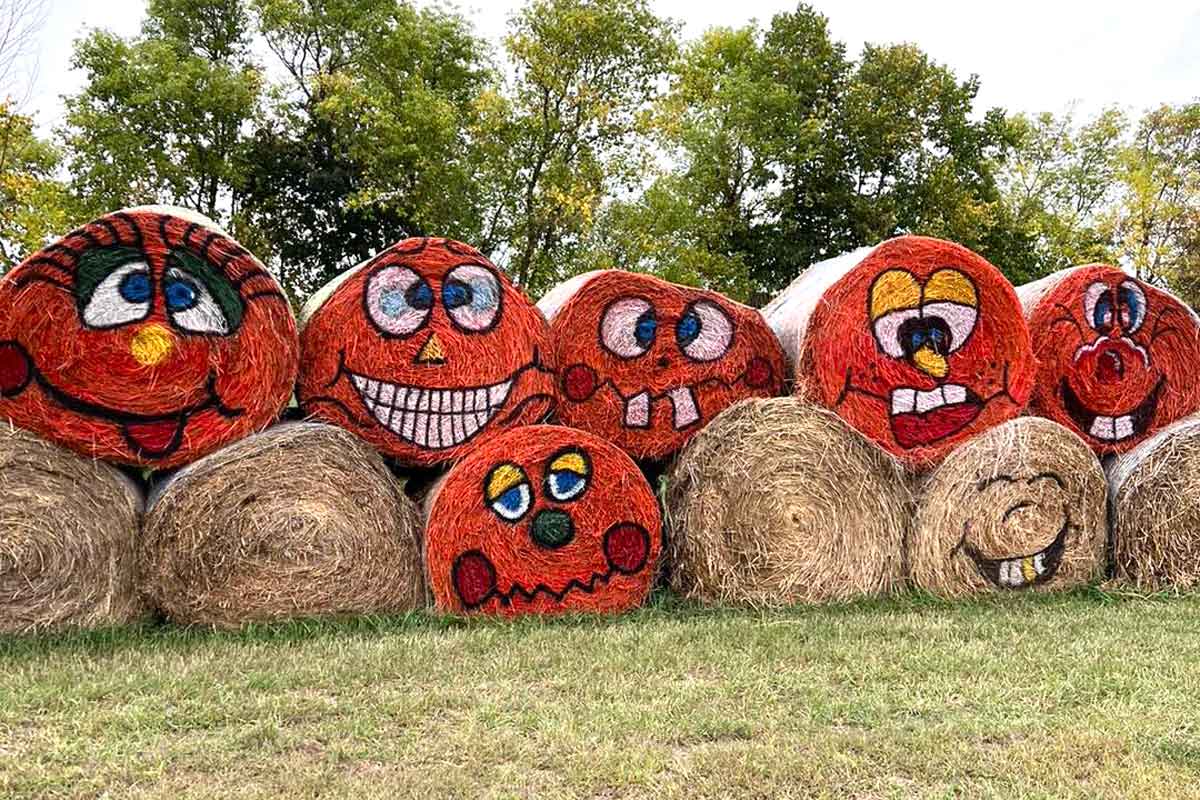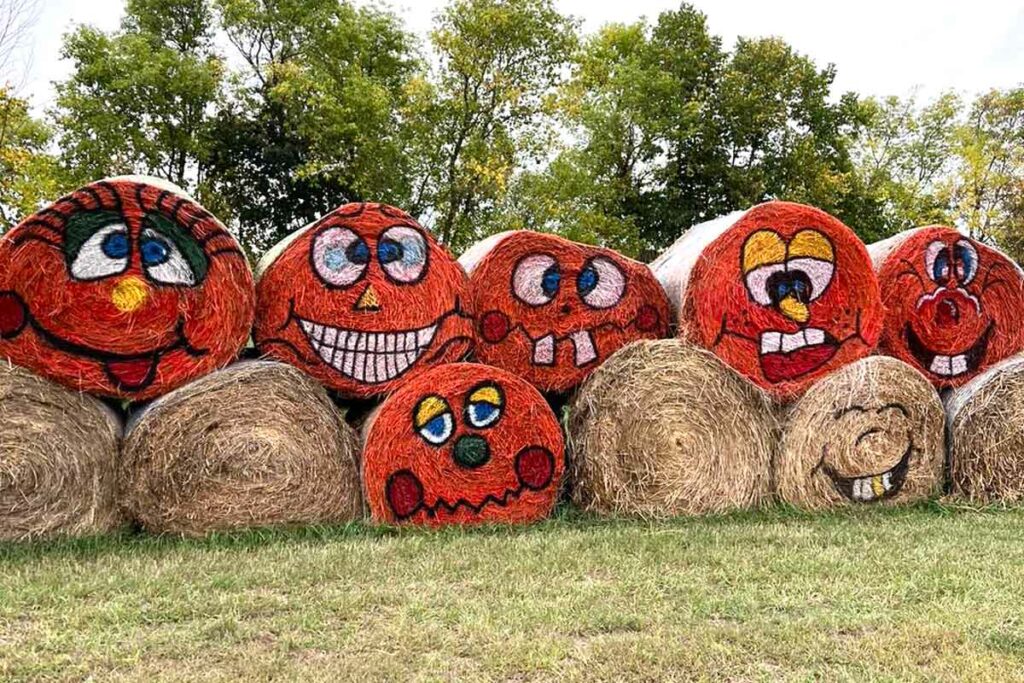 Porter's Patch, Bonduel
W4314 State Hwy 156, Bonduel, Wisconsin
Porter's Patch hosts an annual Fall pumpkin celebration called Farmtoberfest every Friday, Saturday, and Sunday through the end of October.
Admission:

$10.48 + tax per person
3 years and under FREE

What You'll Find:

Corn Maze
Wagon Hay Rides
Corn Cob Chuck, Rat Racers, Water Pump Racers
Craft a Shed, Build a Fall Bouquet, Scarecrow Making, Pumpkin Painting
Pumpkin Checkers, Pumpkin Tic Tac Toe, Bud's Build Block Bonanza
Tug-a-War, Gunny Sack Races, Pumpkin Twister
Petting Zoo: goats, calves, chickens
Round Bale Play Area
Antler Toss, Pumpkin Toss, Pumpkin Bowling, Pigskin Toss
Food from El Agave Mexican Grill
Fall Decor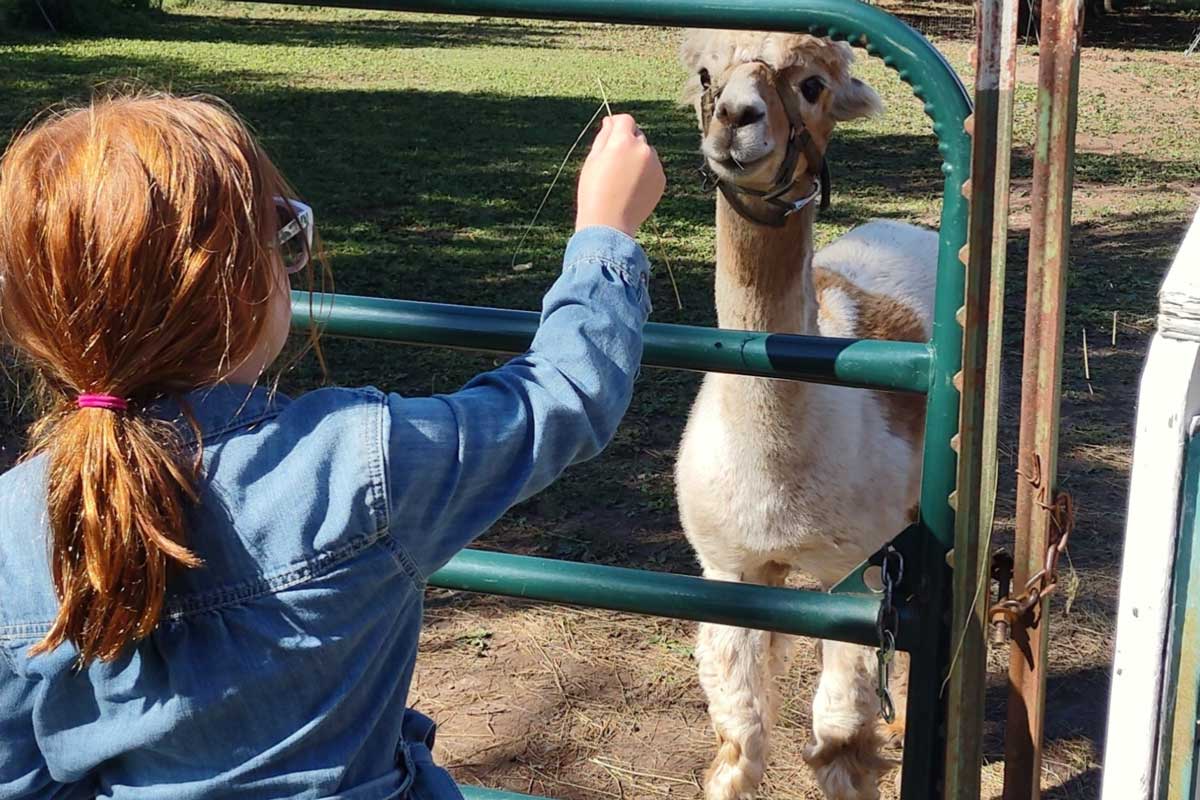 The Sunny Acres Farm, Oshkosh
4759 CR-GG, Oshkosh, Wisconsin
The Sunny Acres Farm in Oshkosh is a perfect destination spot for fall festive fun with your family. As soon as you pull in prepare to be greeted with an abundant flock of friendly chickens, roosters, goats, and even pigs!
The farm is open 7 days a week, rain or shine, September and October Only. Purchase fresh vegetables, pumpkins, and mums while you visit. They are available at the farm stand near the entrance.
What You'll Find:

Pumpkins and mums are available for purchase at the farm stand
Gifts and holiday decor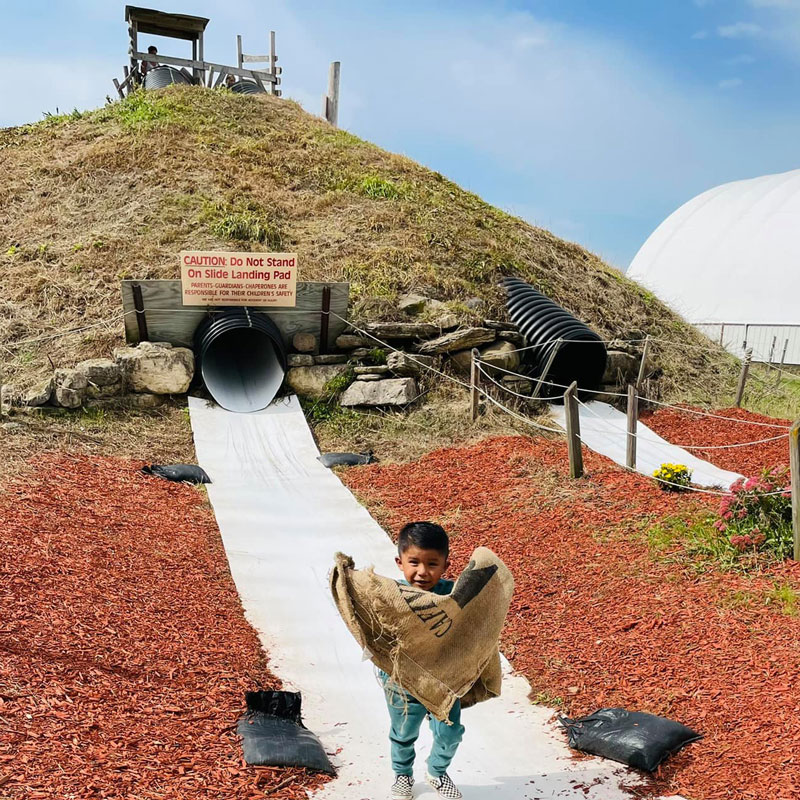 Waldvogel's Farm, Juneau
N7416 County Rd I, Juneau, Wisconsin
Located in Juneau, a little over an hour from the Fox Cities, families can enjoy over 80 attractions and activities, pick up fresh baked goods from the on-farm bakery, and visit the pumpkin patch at Waldvogel's Farm.
The farm features many activities for kids of all ages. From an area to pet adorable baby goats to a train ride through the cornfield, visitors will want to explore the grounds all day! Meet Bruce the Goose, find Jimmy—the friendly purring farm cat, or relax on the gigantic family-size swing. The farm offers an interactive day out in the fresh air while inspiring silly and precious family memories.
For an additional fee, visitors can participate in gemstone mining and face painting, use the pumpkin launcher, or take aim in the shooting gallery. The admission covers all other activities.
Admission:

$15.99 each ages 3 and up, save by purchasing online

Note that pumpkins are not included. They range in price from $2 to $10 each.

Activities:

World's Largest Pumpkin Bounce House
Underground Slides
Barn & Silo Playhouse
Chalkboard Animals
Flip-A-Chic
Farm Train Ride
Hop-Along Rodeo
The Lost Mine
9-Hole Mini Golf
Moo the Cow
Mini Farm