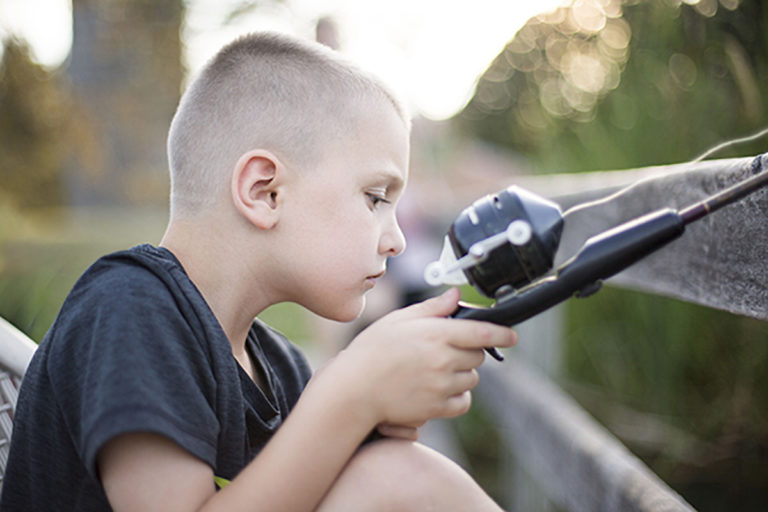 Fishing … This popular summer thing to do may conjure up a romantic snapshot of a sweet family, sitting in matching lawn chairs lakeside. A boy in a baseball cap or a girl in a tutu with scuffed knees, all smiles and holding a fishing pole, their eyes dancing with the red and white bobber that slowly matches the rise and fall of the waves. There's a sweet honesty when we parents think of these fishing moments with our kids. We hold on to these snapshots in our minds, because the ride to the lake, setting up, and then packing back up to head home can be messy. If we only regarded the setup and tear-downs of life with kids though, we probably would never leave the house.
So, you had this idea about fishing and you thought you would start by going to a sports store. Maybe some panic about the details set in down the fishing pole aisle: Do we need fishing licenses? Inland? Big lake? How will I know if we catch a trout?
So, how do you get your family out in beautiful Wisconsin outdoors, and on the way to becoming the capable anglers you envision? We can help in getting started and to find places to go!
FREE Wisconsin Fishing Days 2019
The DNR opens up free fishing for all ages twice each year. Generally, those days are the first weekend in June or the third weekend in January. The next free fishing day is June 1-2, 2019. I suggest looking for one of these days. Dozens of free clinics are offered during these weekends by clubs, local parks, and other community organizations around the state. You can find a list of some here. We usually take our kids to River Park in Sheboygan Falls, where they make it a real event for the entire family. Not only do they have concessions for purchase, prize drawings for the kids, a playground for kids to play one, they also have expert anglers there to help teach, guide and clean your catches! The local conservation club generously stocks the little lagoon to help encourage young anglers. Don't have tackle gear of your own? Many of these events will have gear for you to borrow, or you can look for a Tackle Loaner site at several state parks in Wisconsin.
If you find you really enjoy fishing after the free fishing weekend, there are several ways to purchase a license. If you are new to fishing, you can try the  First-time Buyer resident license for only $5. For everyone else, here is more information about purchasing a Wisconsin fishing license. Everyone 16 years old or older will need a license to fish, except for the free fishing days.
I highly recommend using the DNR's website as a guide to fishing. There are certain rules for fishing depending upon the fish you catch or the season. These rules are created to help make sure Wisconsin waterways and her fish continue to thrive for years of enjoyment to come.
Community First FREE Fishing Day 2019
Saturday, June 1, 2019
8 am – Noon
Jefferson Park, Menasha
For all youth ages 2-12 years old and their families.
Bait, Rods, and Reels Supplied
Fun Activities for Kids
FREE T-Shirts
Fishing Derby for ages 12 and under
Lunch will also be provided for all event participants
Heckrodt Wetland Reserve volunteers will be available to help with baiting hooks. removing fish, releasing fish, taking pictures, and cheering fisher-persons.
Spaces are limited and registration is required by May 29, 2019. More information here.
Wilderness Springs, New London
Wilderness Springs Trout Farm is the perfect option for fishing with your family. The is open for public fishing Saturdays and Sundays, Memorial Day, 4th of July and Labor Day, May thru September from 9 am – 4 pm.
No fishing license is required! Bait and tackle is provided. There is no limit to what you catch, but catch and release is not allowed. You pay by the pound and they will pack it into ice for free, and for a small fee can even have the fish cleaned.
Check out the beautiful ponds and learn about where your food is raised. There are picnic areas if you want to pack a lunch and spend the day!
For more information visit: www.wilderness-springs.com
Memorial Park, Appleton
Memorial Park is designated as an Urban Fishing Water and was stocked with 500 rainbow trout in coordination with the Wisconsin DNR for 2019. Children 15 and younger, and disabled anglers can fish from March 9 – April 26, 2019. No license necessary for those 15 and under, disabled anglers need a disabled fishing license and an inland trout stamp. April 27, 2019, and beyond the pond is open for anyone and 16+ need a license and an inland trout stamp. The daily bag limit is 3 trout of any size.
GVK Reader Recommended Fishing Spots for Kids
Wilderness Springs Trout Farm
N4923 Lange Drive, New London, Wisconsin
Jefferson Park
Menasha, Wisconsin
Kaukauna Industrial Park
Sarah, "The pond in the Kaukauna industrial park. Not great eating sized fish, but lots of little ones that are easily caught with a bobber for catch and release. They are hungry little guys, too, so the kids always catch lots."
Riverside Park
Neenah, Wisconsin
Kimberly Point Park / The Neenah Light
Neenah, Wisconsin
Near Riverside Park in Neenah, just down the road a bit.
Memorial Park
Appleton, Wisconsin
"Appleton Memorial Park Pond is located on the South side of Appleton Memorial Park and is available all year round from 6 am to 11 pm."  
Prairie Hill Park
2901 N Abendroth St, Appleton, Wisconsin / Town of Grand Chute
"catch and release fishing pond with dock (handicap accessible)"

Lutz Park
Appleton, Wisconsin
"An ADA accessible canoe/kayak launch was added to Lutz Park to assist those with special needs and river enthusiasts."
Sunset Park, Kimberly
Kelly, "Sunset Park in Kimberly or Lutz Park in Appleton. I always see people fishing in these two parks when we go to play."
Bay Beach Wildlife Sanctuary
http://www.baybeachwildlife.com/take-the-tour/fishing/
Long Lake, Sheboygan County

Bullhead Lake, Manitowoc County

Cedar Lake, Manitowoc County

Manitowoc South Pier
Hartmann's Creek, Waupaca
Tonya, "If you want keepers fish the Wolf River in Shiocton, New London, or Fremont."
Diana, "A lot of people fish in the Neenah Slough and at Baldwin Park; there is a playground too, but no restrooms."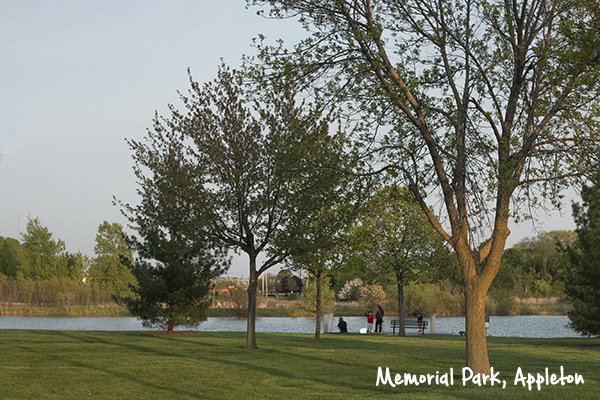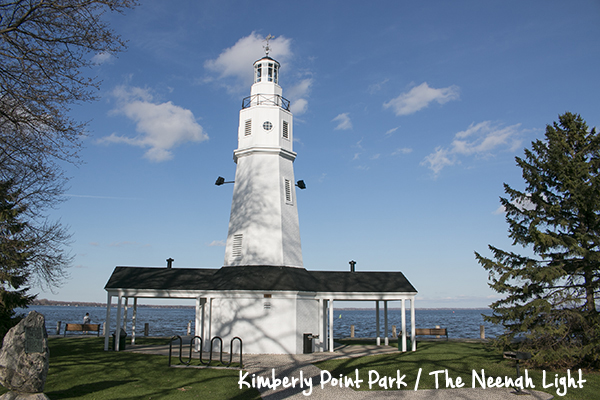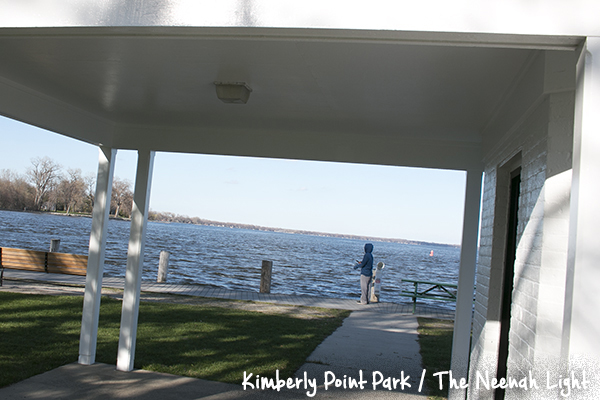 Stephanie Freville is happily married to an amazing man and mother to her flock of three precious babes. While she dreams of late nights and long, sleepy mornings, living each moment as her lovelies grow is an amazing privilege. Willing to try just about anything once, Stephanie is a crafting, writing, gardening, yoga practicing foodie who loves Jesus, but may also cuss a little.