Just a short hour and a half drive north of the Fox Valley and located 15 miles outside of Crivitz, this 2,800-acre Wisconsin State Park offers a wealth of trails to hike, waterways to explore, a sandy beach, and an abundance of wildlife to observe, making it a perfect destination for families to get away from the city life for some camping or an adventurous day trip. If you are specifically seeking a water adventure, Governor Thompson offers about 6.5 miles of undeveloped shoreline on Caldron Falls Flowage, with frontage on Woods Lake and Huber Lake. Motorized watercraft are not allowed on these lakes, so you can enjoy the quiet, calm waters from the comfort of your kayak or canoe.
Ready to plan your adventure northward? Before you hit the road to visit, we recommend you join the 2022 Wisconsin State Parks Challenge and get your kids started with the Wisconsin Explorer's Program so that you can earn prizes and patches while you explore nature together.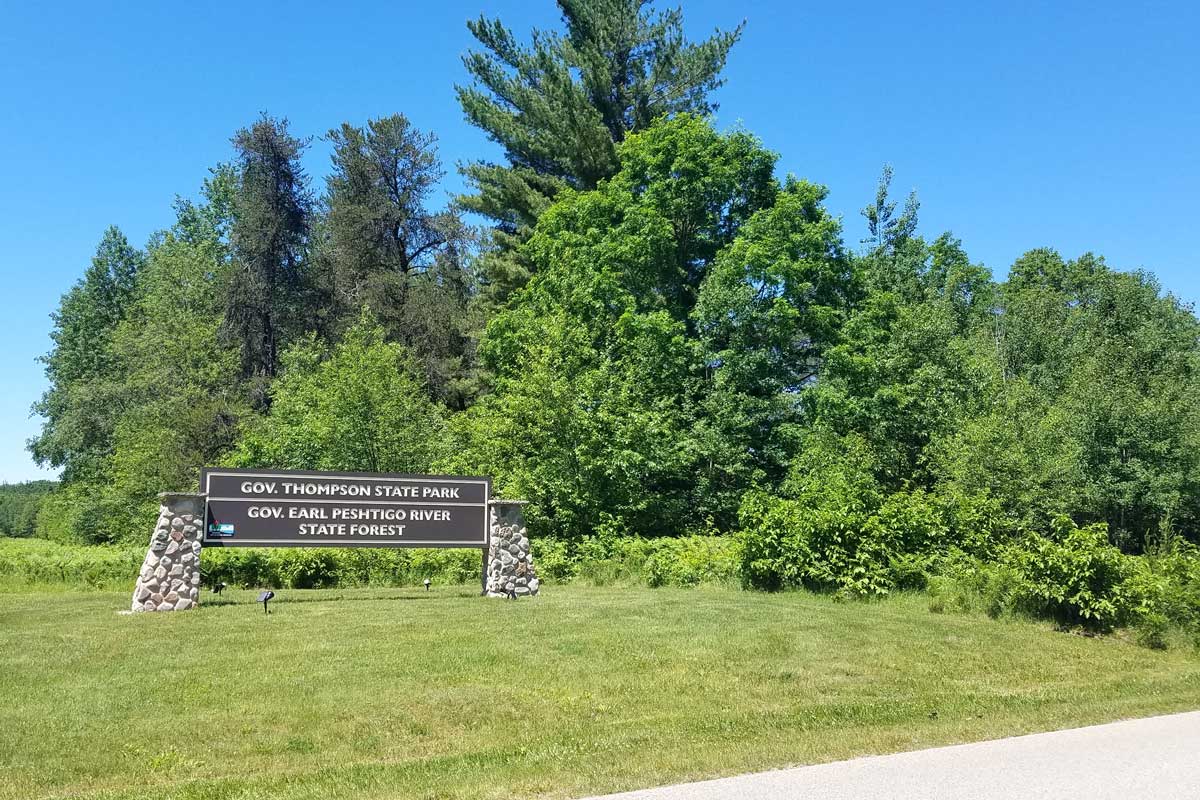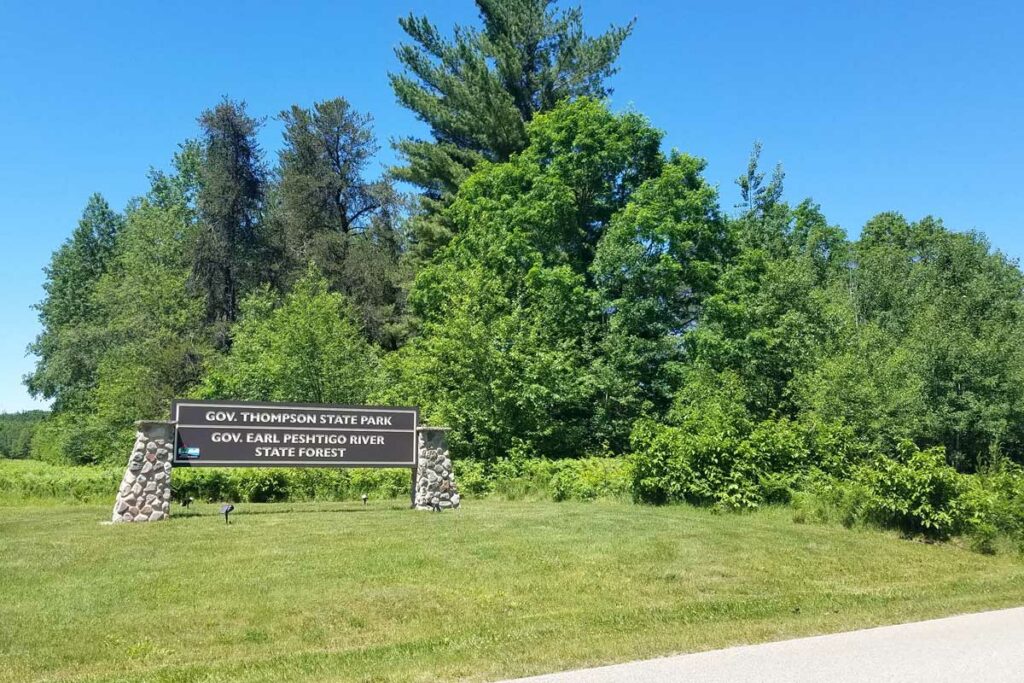 Governor Thompson State Park At-A-Glance:
Travel Specs: 1 hour, 35 minutes | 96 miles, Marinette County
Address: N10008 Paust Ln, Crivitz
Vehicle Admission Pricing: With a WI license plate, you can purchase a daily pass for $8 or an annual pass to all of Wisconsin's state parks for $28. Stop in at the park office.
Firewood: available for sale at the park office via wheelbarrow-loads.
Pets: Leashed pets are allowed in the park.
Camping: Yes, 100 family campsites, some electric, two accessible
History: Governor Thompson State Park was dedicated in the year 2000, the centennial anniversary of the Wisconsin State Parks system. It is named after former Governor Tommy Thompson.
Recreation
Beach & Swimming
No doubt one of the highlights of Governor Thompson State Park is spending time at the beach and picnic area on Woods Lake. The lake is fairly shallow, so it warms up pretty quickly in the summer for a more comfortable swimming experience over so many of our chilly Wisconsin lakes. The sandy beach is well-maintained and never crowded on weekdays. Bring a picnic lunch and spend the day playing in the water and exploring the lily pad-laden shorelines for frogs and interesting bugs. You'll also notice most of the water in this region is a root beer color due to incompletely dissolved organic materials, called tannins, which come from the decomposition of wetland plants in the watershed of the lake. This coloration is harmless and common in Wisconsin. There are nearby restrooms for changing or bathroom breaks.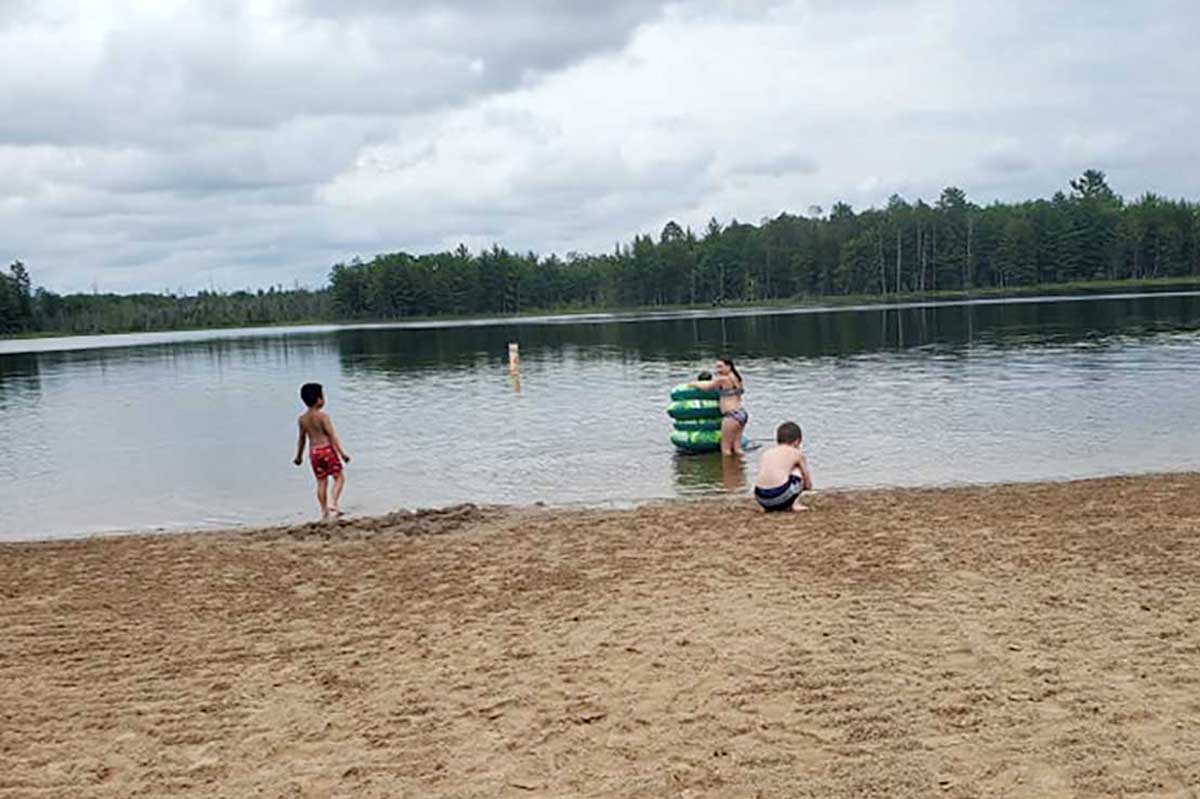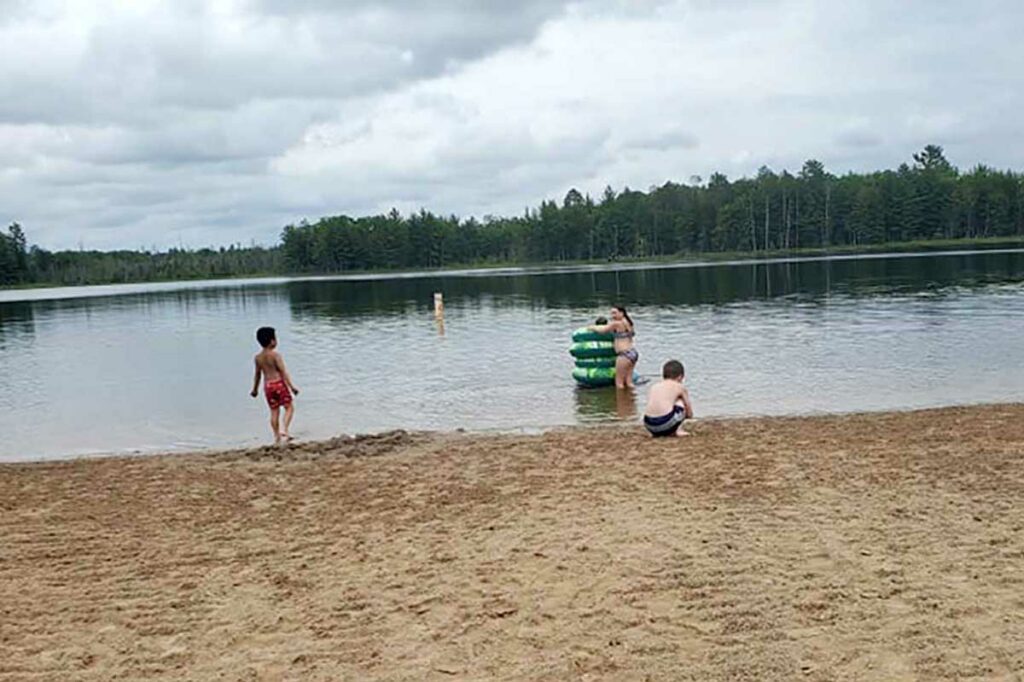 Berry Season
If you plan your visit for July or August, you may just luck out and be around for berry season! The campgrounds are overrun with wild blackberries and raspberries. You'll find plants growing along the trails, roadways, and around the campsites. Kids can go to town spending hours collecting bowls of berries that you can later enjoy turning into 'pie' over the night's campfire with pudgy pie irons.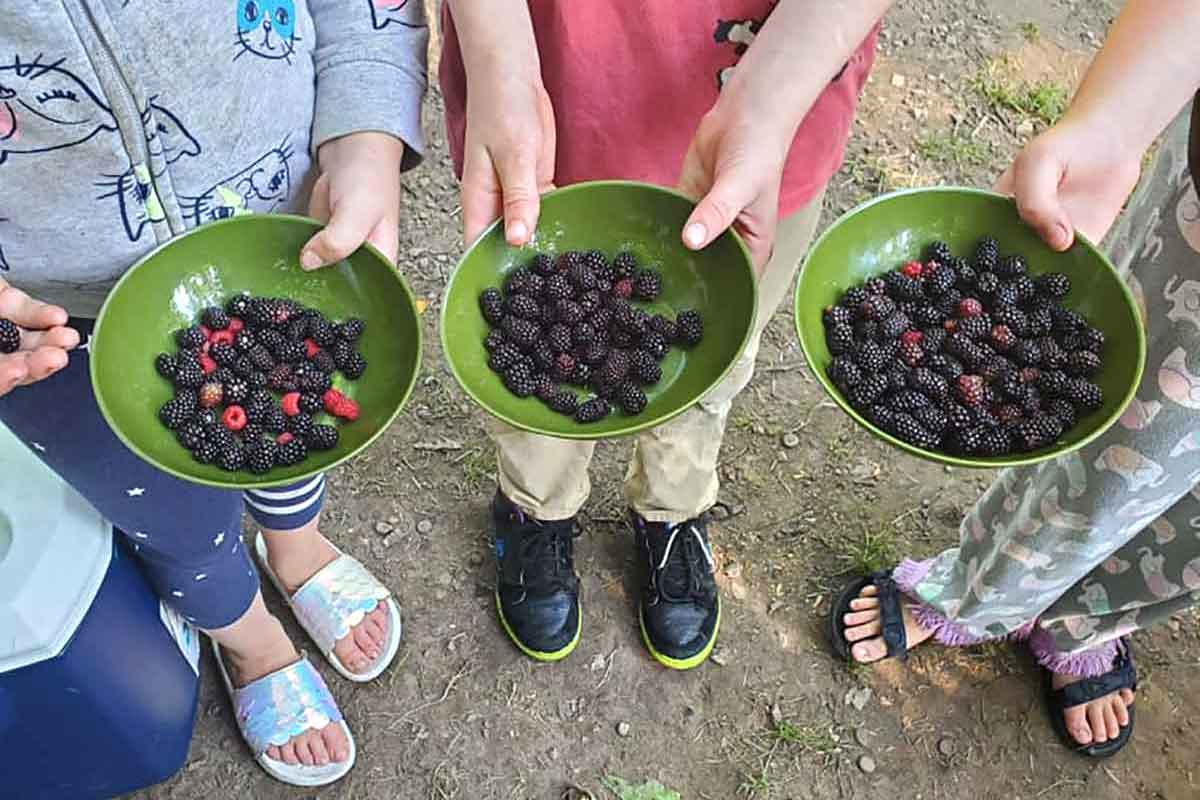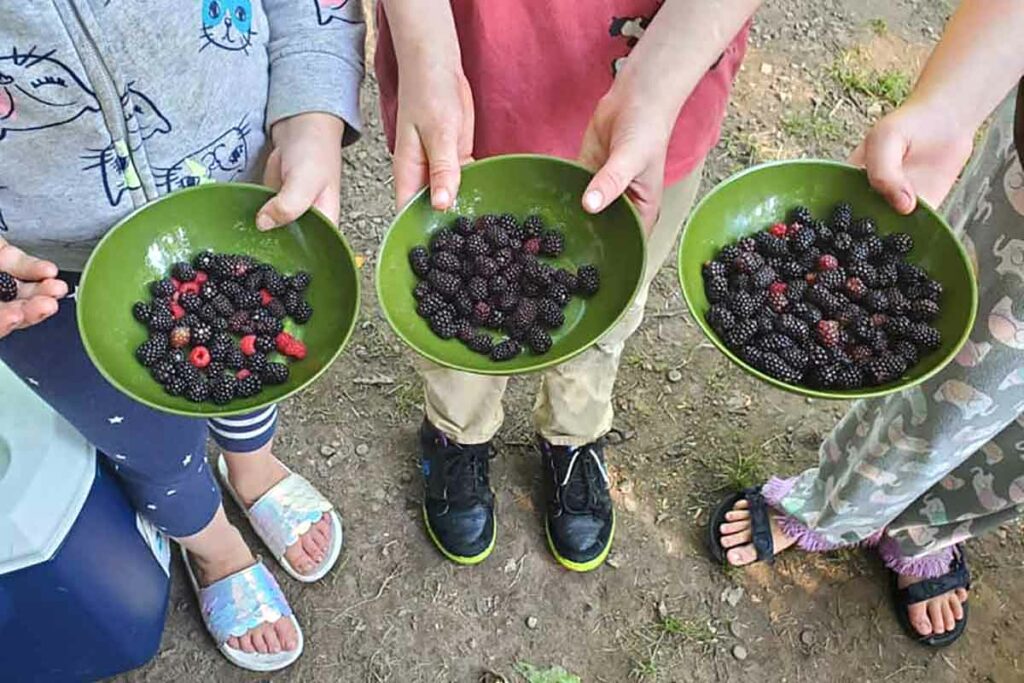 Biking and Hiking
Governor Thompson State Park features over 16 miles of hiking trails consisting of 10 named and well-marked and maintained trails of varying lengths crisscrossing this beautiful Northwoods park. Bikes aren't allowed on most of the trails, so be sure to check the trail map before your trip if you plan to bike. These trails will bring hikers past some fantastic rock formations and waterways, including Huber Lake, Woods Lake, and the Caldron Falls Reservoir.
We recommend the one-mile Pine View Trail or Otter Trail both near Woods Lake for a low key, enjoyable family hike. Have toddlers? Bring along a hiking backpack so these littlest ones can enjoy some hiking and also rest their legs when needed.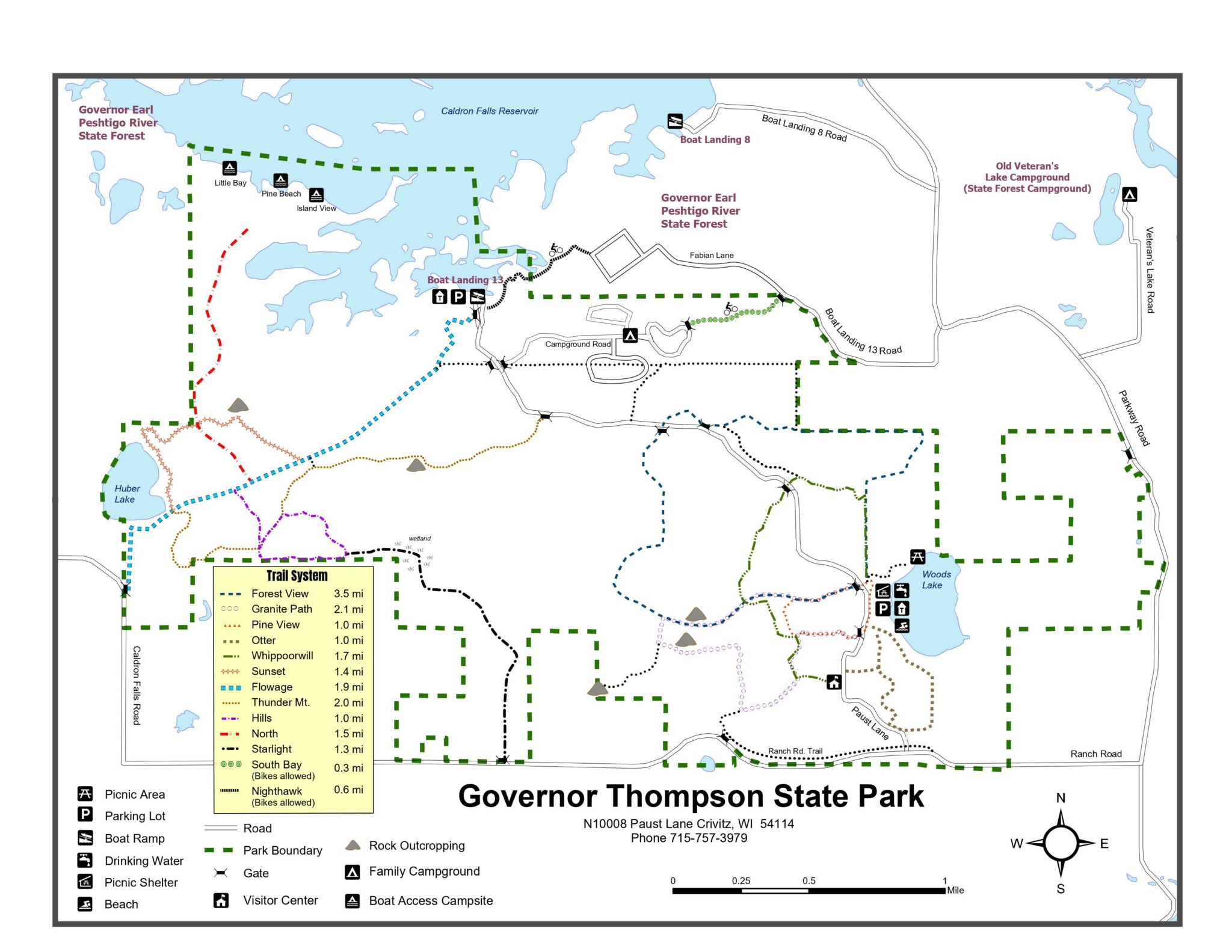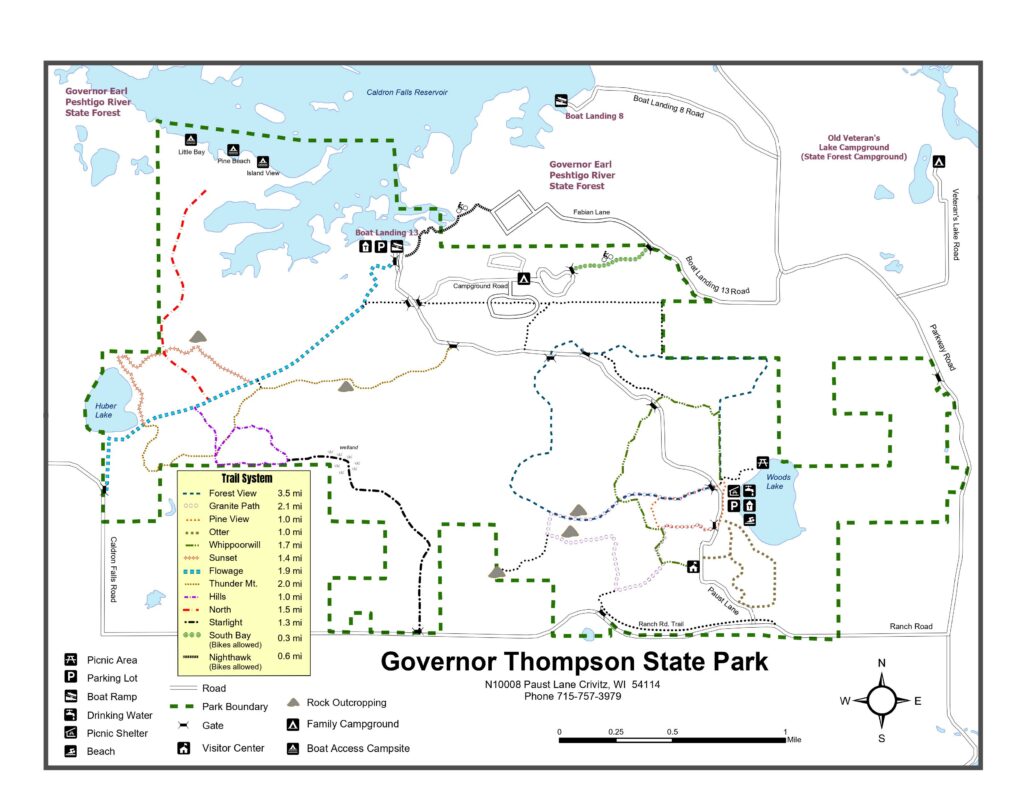 Boating & Fishing
If you are looking for some water adventure, Governor Thompson is a perfect spot! The park offers about 6.5 miles of undeveloped shoreline on Caldron Falls Flowage, with frontage on Woods Lake and Huber Lake. Three boat access campsites are also available on the south shore of Caldron Falls Flowage. These sites are reservable and only accessible by boat. These sites include a canoe rack and place to tie up your boat, fire ring, tent area, bear-proof food box, and an outdoor toilet. These sites are available year-round for backpackers as well.
Paddlers have a few options to enjoy these gorgeous waters! You can enjoy a low key, quiet paddle on Woods Lake or Hueber Lake free from the busyness and noise of motorized watercraft. Another great option is to put in your canoe or kayak at Boat Launch 13 on the Caldron Falls Reservoir. You can spend hours paddling around these waters and islands. Pack a picnic lunch and find a quiet, shady spot to enjoy your lunch while watching the surrounding water activities and wildlife.
These waters are also ideal fishing holes! Blue gills, crappies, northern and bass are all common catches here at Governor Thompson State Park. If you need bait, stop by nearby Popp's Resort Bait Shop just down the road for some night crawlers.
Camping & Picnicking
If you want to spend a few days at this park (and you'll probably need to if you want to enjoy everything it has to offer), take advantage of the modern 100-site family campground (divided into two loops). The campsites are well-maintained and range from fully wooded to more open-air spaces. Several are large enough to accommodate campers or RVs and some offer a pull-through driveway.
There are vault toilets and water fountains throughout the campground, but what we love about this campground is the centrally-located shower building. The shower building has regular public bathrooms with flush toilets, plus individual rooms around the building, each containing a flush toilet, sink, and shower. Who doesn't love the luxury of a private bathroom and shower while camping?! If you're not interested in camping but plan to take a picnic, definitely check out the picnic area by Woods Lake. You'll find a 150-foot sand beach and swimming area here with a spacious, grassy picnic area. Picnic tables & a charcoal grill are available, as well as a reservable enclosed park shelter.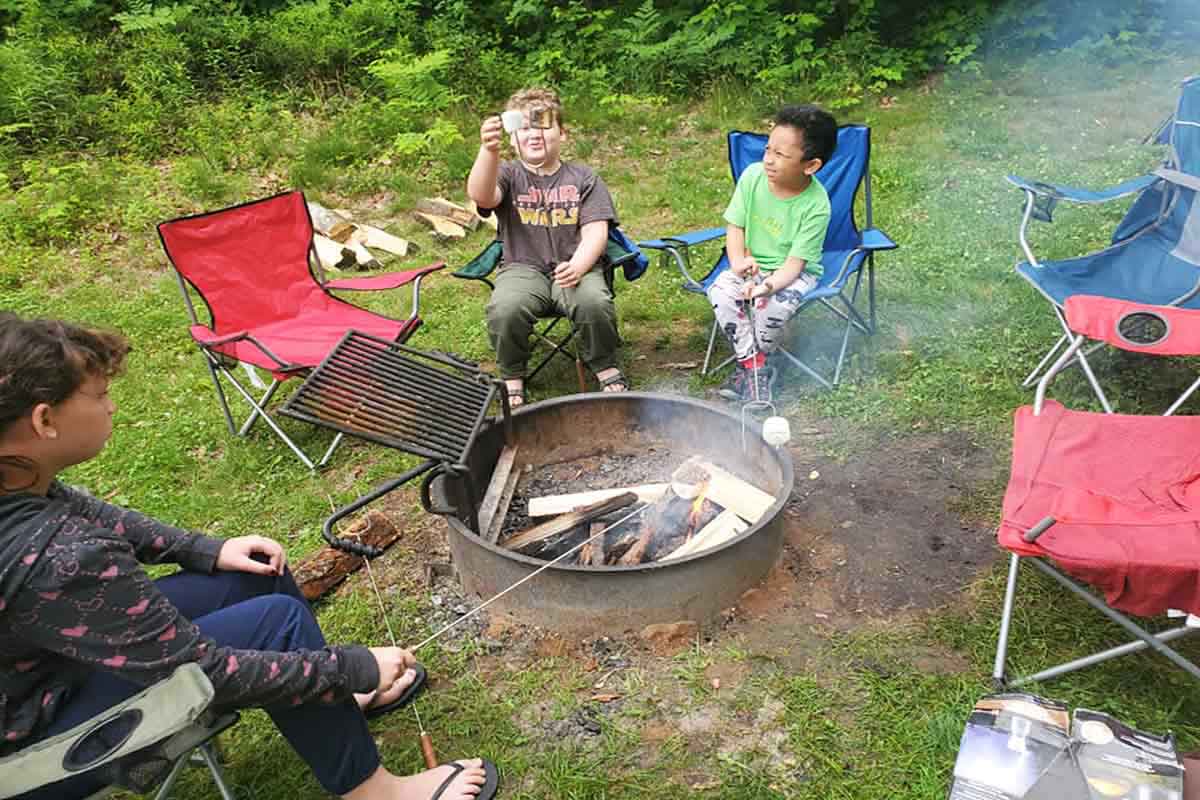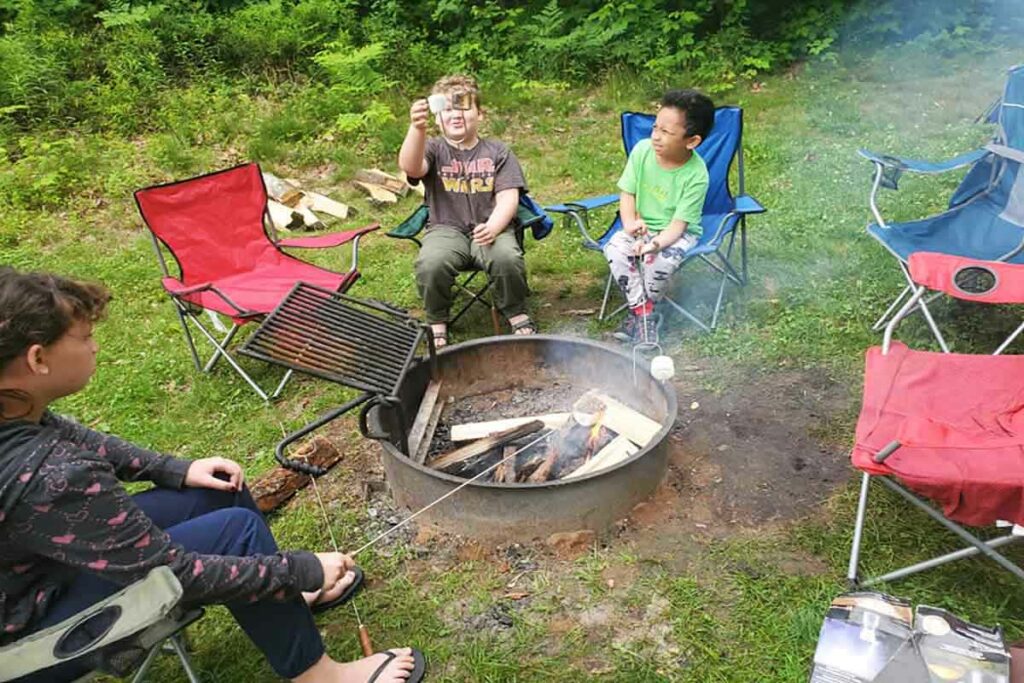 Wildlife
Wildlife abounds in this densely forested park. Deer are a common sight, even within the campground loops. You may also spot sandhill cranes, turkey, grouse, bald eagles, a variety of songbirds, frogs and turtles, raccoons, chipmunks, and sometimes even black bears! (If you're camping, you may want to keep your food in your vehicle overnight to avoid attracting bears and raccoons raiding your food). Don't be afraid, black bears generally prefer to avoid people and are unlikely to show up in the campground.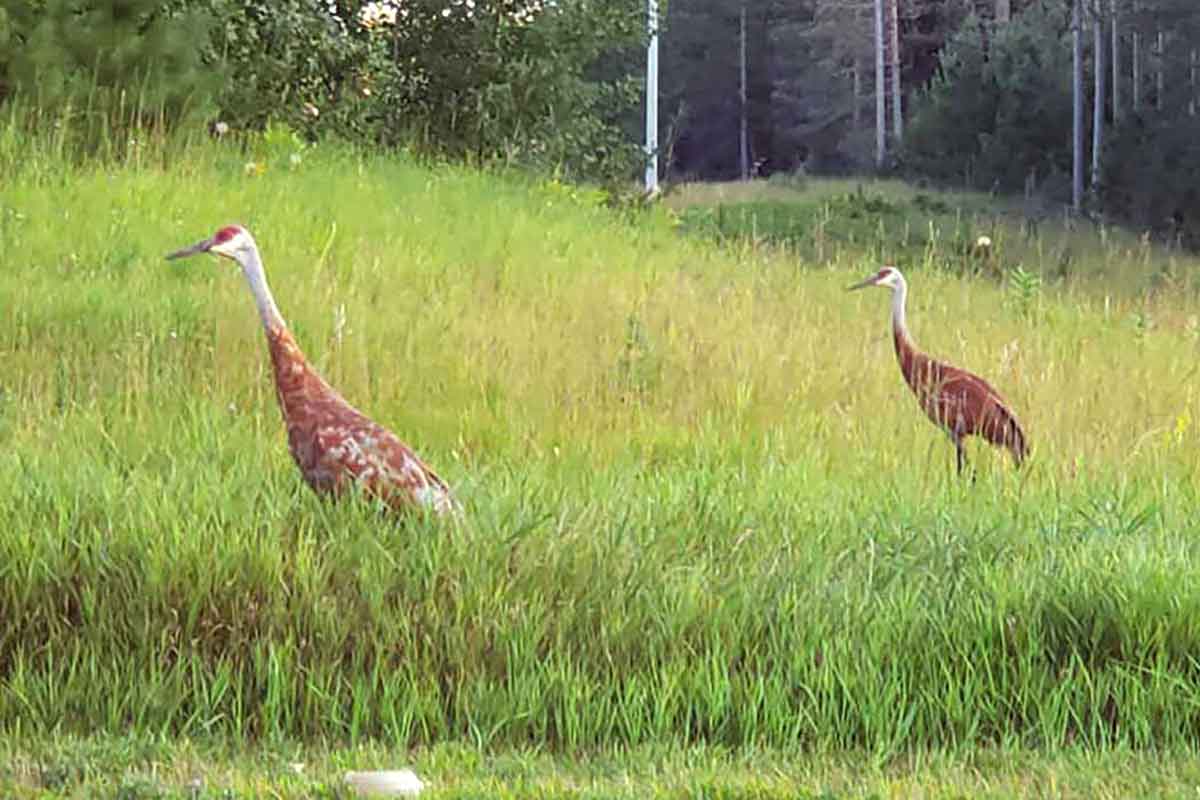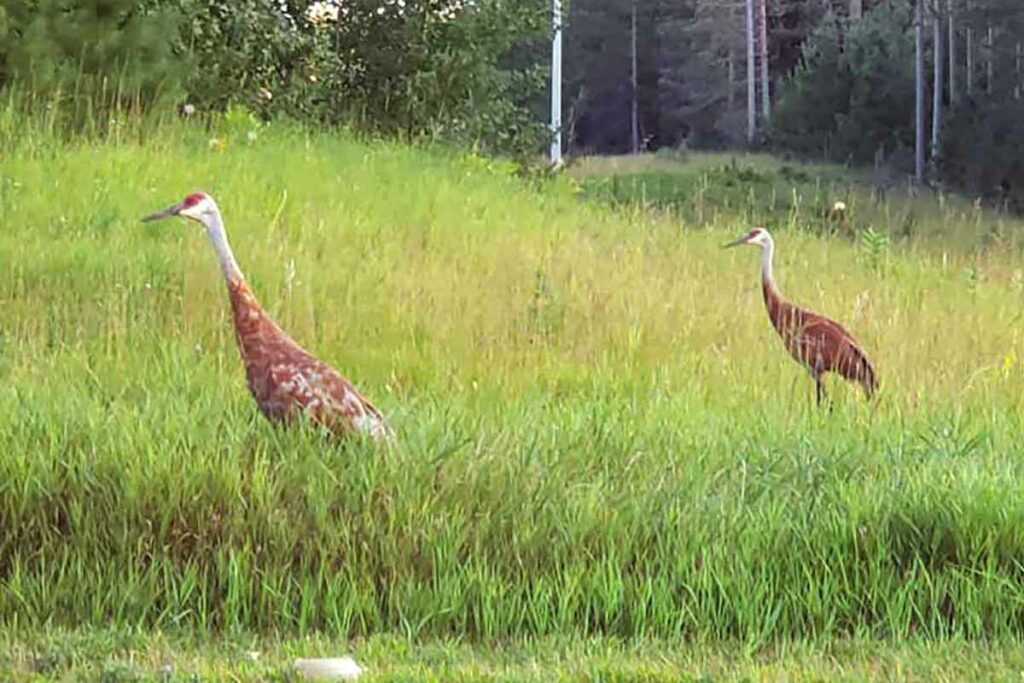 More Adventure in the Area:
Waterfall Central
One of our favorite features of this area of the state isn't in the park itself, but surrounding it. If you're a fan of waterfalls, plan a day away from Governor Thompson's and explore the area waterfalls. There are several to choose from, but we especially recommend Veterans Memorial Park! There is a $5 self-serve entrance fee per vehicle, so come prepared with exact change. Follow the wooded path down to find some beautiful waterfalls (the trail down past the last wooden platform can be a bit treacherous so bring sturdy shoes and watch your step). You'll find some great places to jump in and take a swim at the bottom of the falls (the water is pretty chilly, but kids love it). The water here is clear and the setting is magical. Strong Falls and Dave Falls are also beautiful and worth a visit.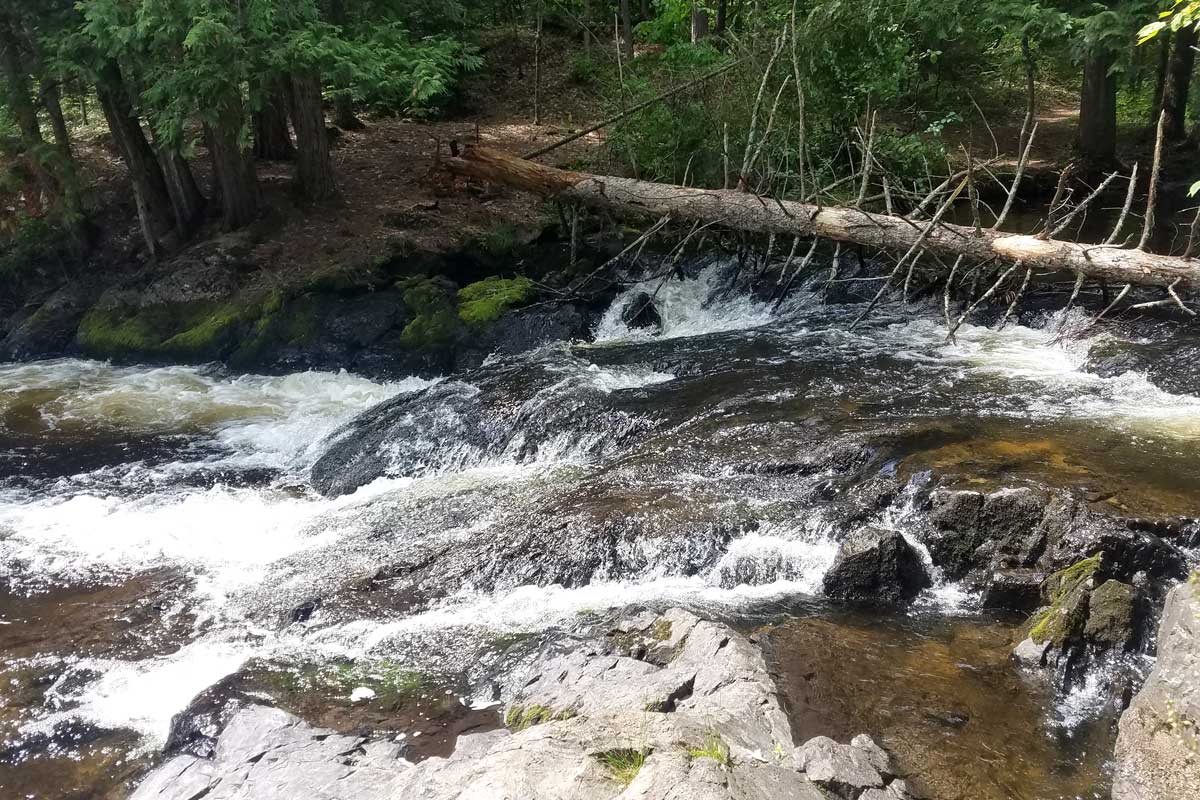 Deliciously Fun Stops in Nearby Crivitz
Pelkin's Smokey Meat Market, 600 S Hwy 141, Crivitz,

The Daddy of all meat markets! With hundreds of different flavored brats, beef sticks, wieners, and much more, this is definitely worth the stop. Stock up on a yummy picnic lunch for a day out hiking or on the kayak, or leave some room in your cooler to load up on goodies to bring home for later!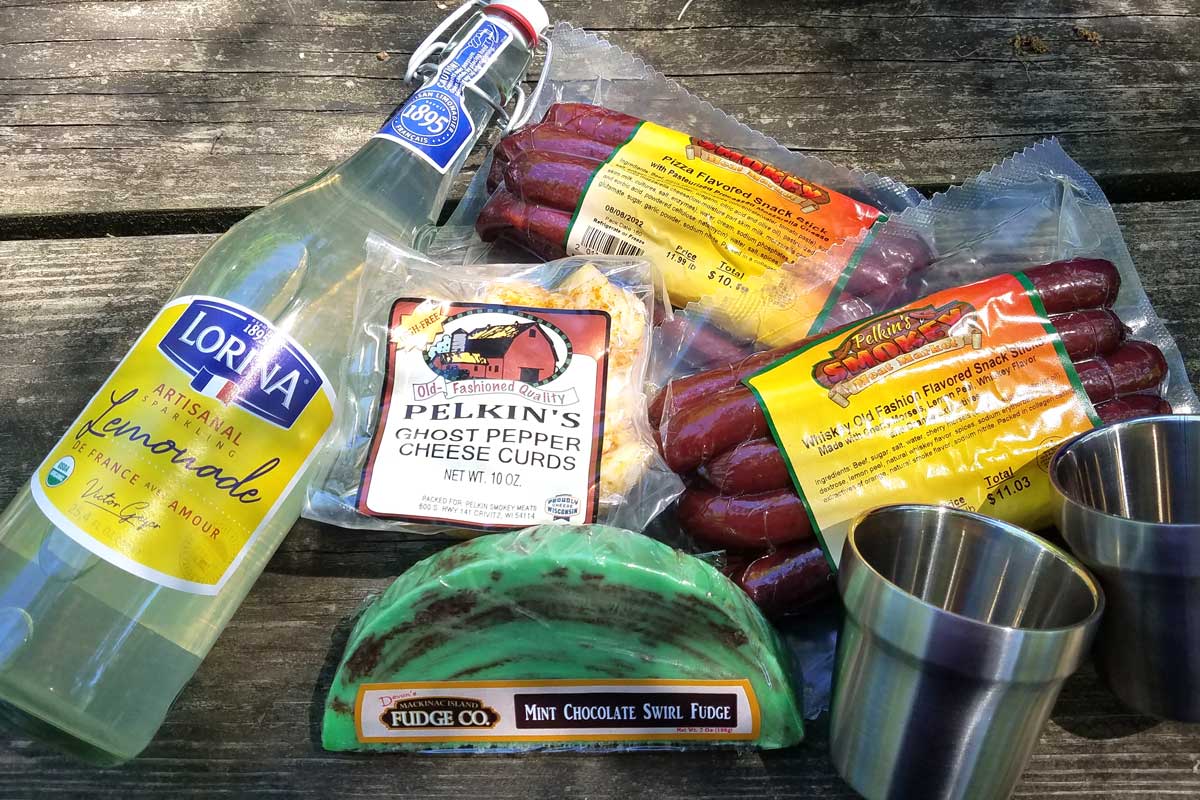 Sweet Thistle Coffee House, 519 Henrietta Ave, Crivitz

A delightful small town cafe with all of your favorites and a delicious apple strudel! It's attached to the cutest boutique, Briar & Brambles, where you'll find the perfect, whitty camping or home decor gift. Note: they do not offer WiFi.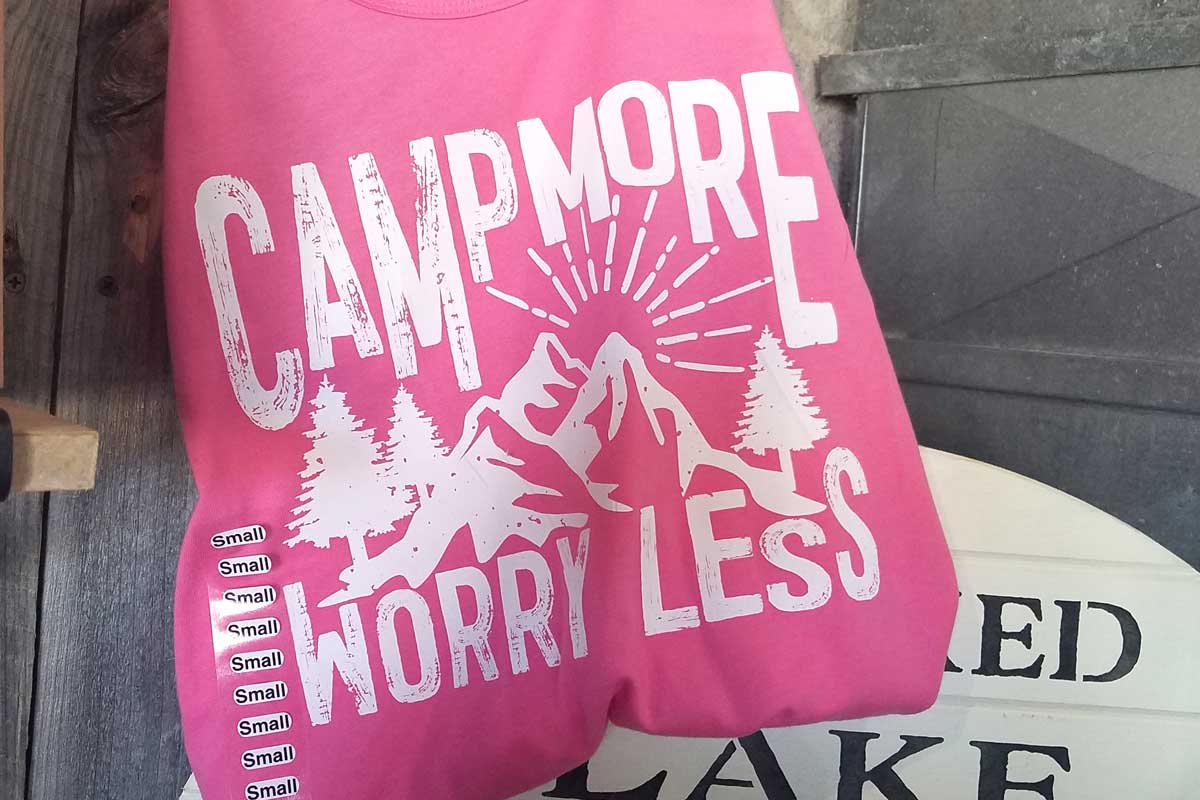 Are you looking for even more family state park adventures? We've got you covered with 26 Awesome Wisconsin State Parks That Are Only Two Hours or Less From Appleton!