Some of the best summer days are spent near, on, or in the water! We've got lots of great options in our area from the greatest of lakes to small splash pads. Pick a spot and head out on your next swimming or splashing adventure.
Here are a couple of things to keep in mind when choosing where to head to cool off!
Pool or sand?
Inflatables?

Some beaches have fun obstacle courses in the water.

Pool toys and floaties?

Floaties and toys are generally not allowed at pools. If these are important — head to a beach! Check our websites before going for rules.

Space to move around? How busy will it be?

Public pools can get busy during the afternoon. Consider swims during normal dinner time or evenings if you are looking for quieter times.

How strong of swimmers are your kids?

State Parks are generally deeper and have waves, they also don't have lifeguards. Beaches that charge admission generally have an extra set of eyes on your kiddos with lifeguards.

How warm do you like the water?

The larger the lake the longer it takes to warm up! Lake Michigan is pretty cool!
Check the condition and status of the water. Beach advisories are available for the Great Lake beaches as well as inland beaches at www.wibeaches.us.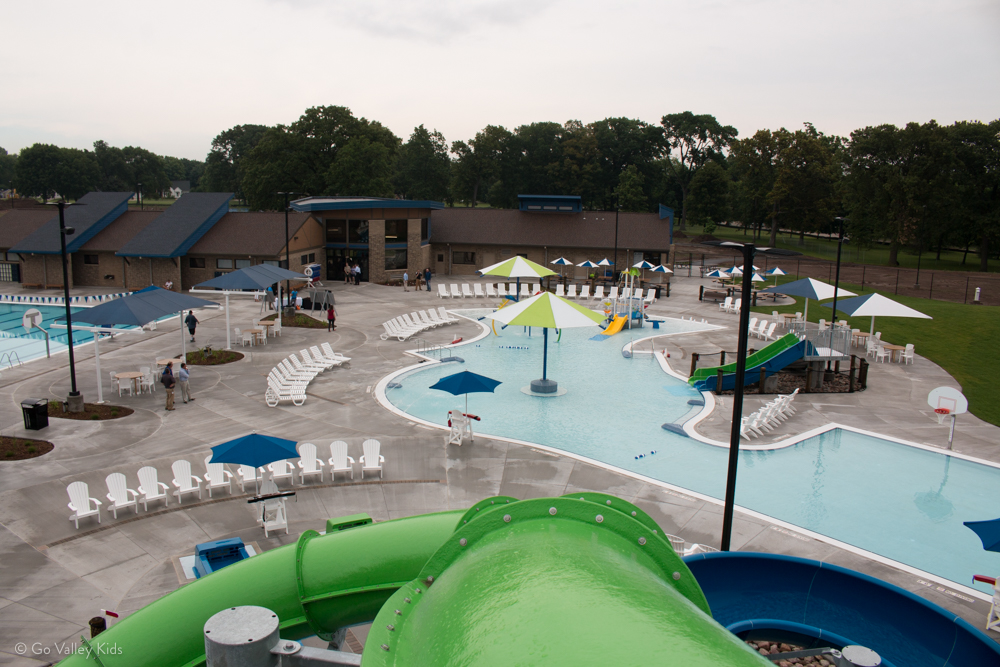 Visit these pages for more information on the locations listed below!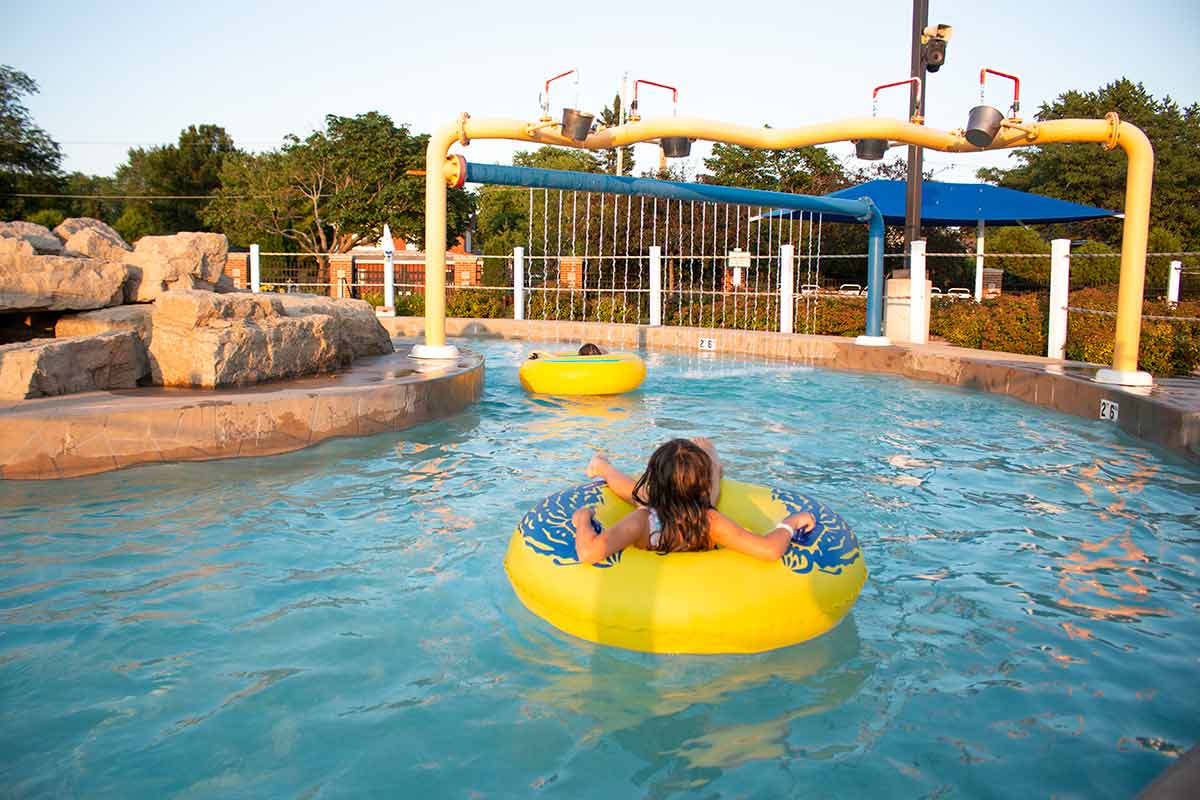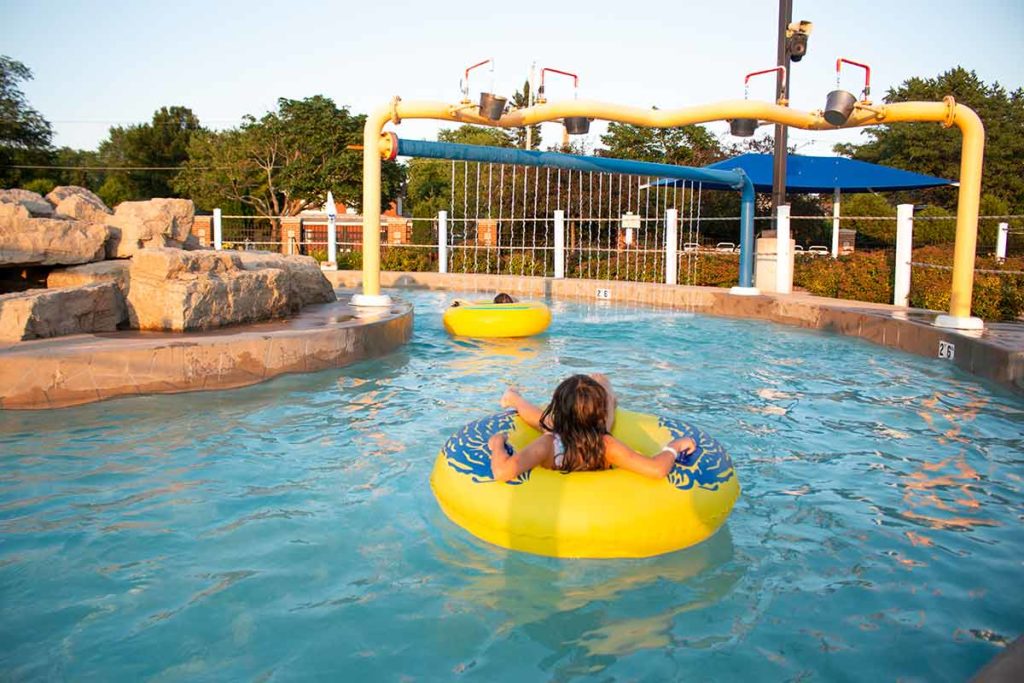 Pools (Admission Required)
Erb Park Swimming Pool, 1800 N Morrison St, Appleton
Mead Park Swimming Pool, 1430 E John St, Appleton
Doyle Pool, 100 Van Buren St, Little Chute
Kaukauna Pool, 607 Dodge St, Kaukauna
Jefferson Park Swimming Pool, 915 3rd St, Menasha
Pollock Pool, 1550 Taft Ave, Oshkosh
Omro Family Aquatic Center, 1241 Kiwanis St, Omro
Colburn Pool, 1025 S Fisk St, Green Bay
Joannes Aquatic Center, 1430 E Walnut St, Green Bay
Resch Aquatic Center, 1058 Reed St, Green Bay
New Holstein Aquatic Center, 1718 Madison St, New Holstein
Find more information on all theses outdoor swimming pools.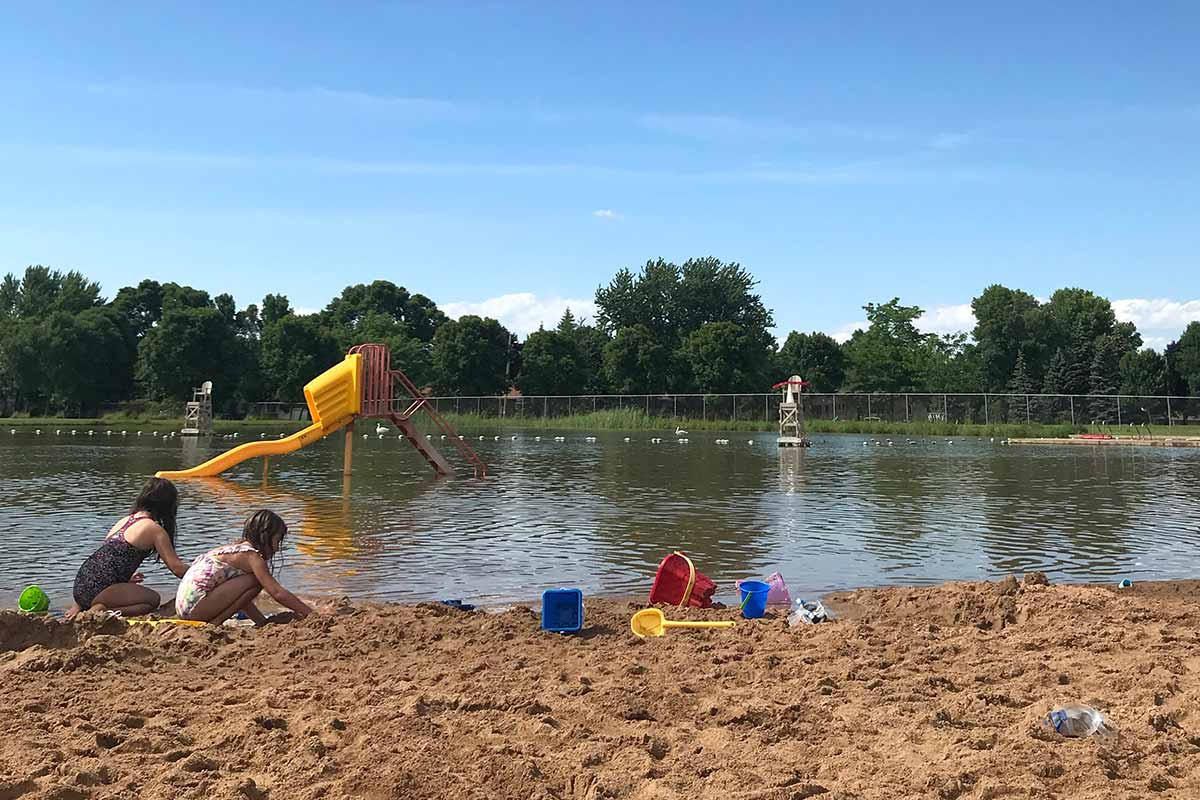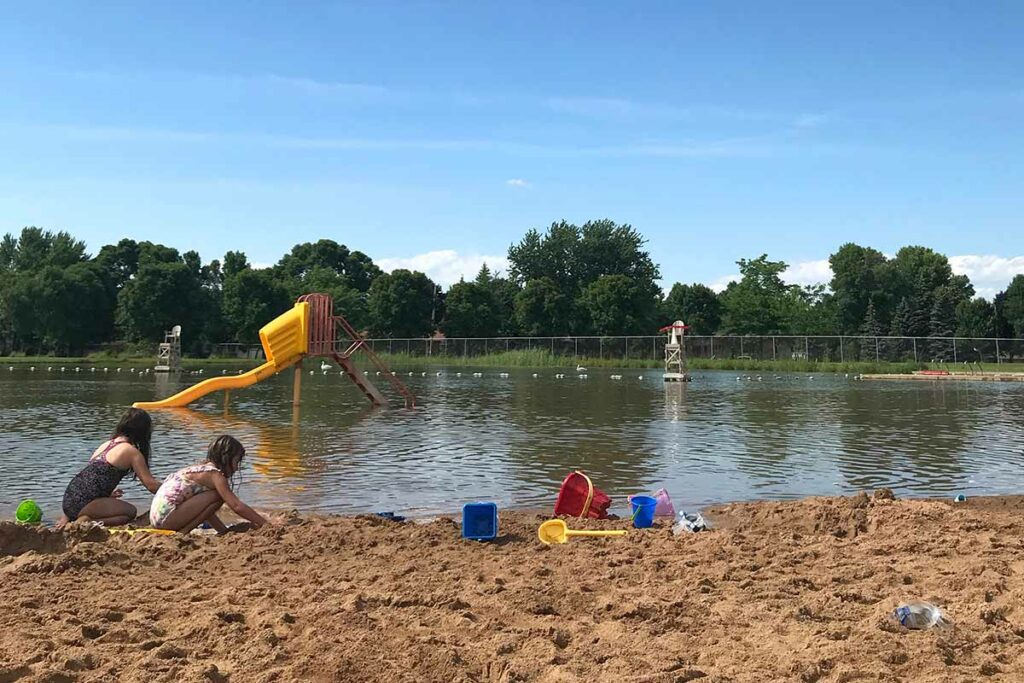 Beaches (Admission Required)
Plamann Park Lake, 1375 E Broadway Dr, Appleton
Sunset Beach, 1010 W Fulcer Ave, Kimberly
Arthur Marble Park Beach, 200 S 6th St, Winneconne
Ashwaubomay Lake, 2881 S Broadway, Green Bay
Fireman's Park & Swimming Beach, 411 S. Lake St. Elkhart Lake
Fondy Aqua Park, N5820 Co Rd D, Fond du Lac
Find more information on all these beaches.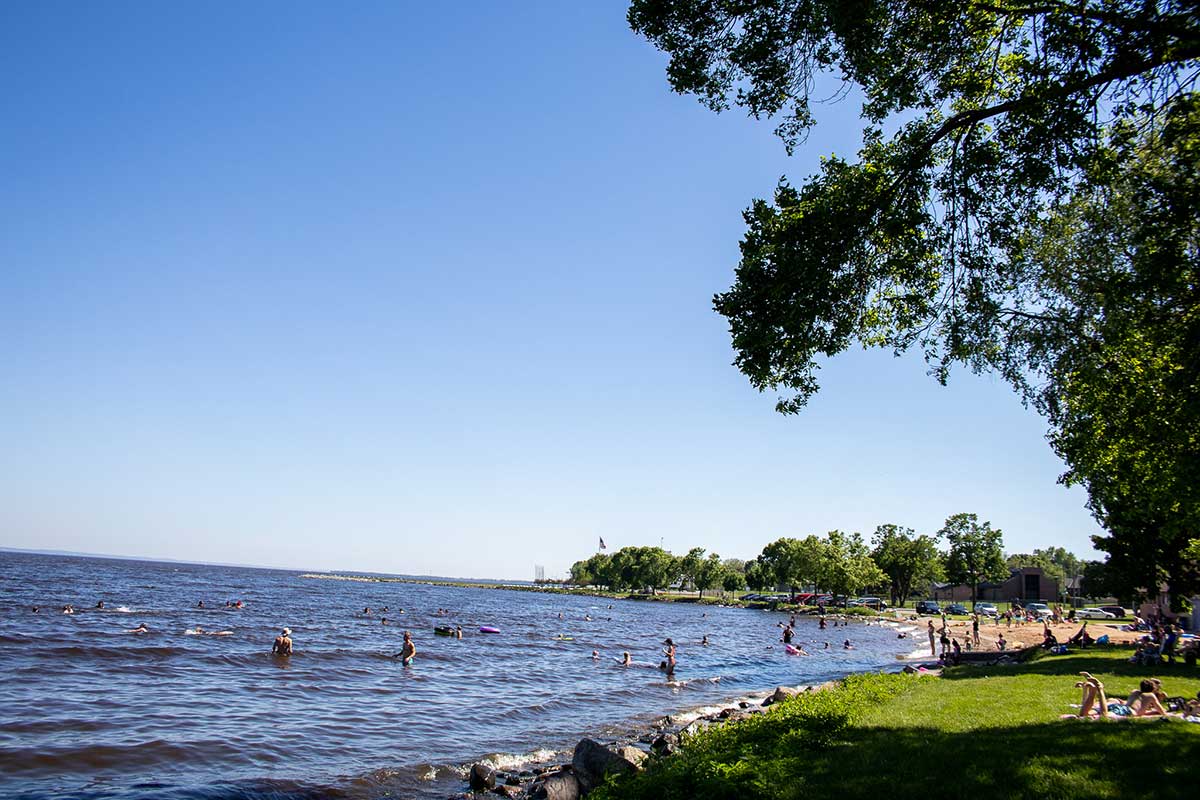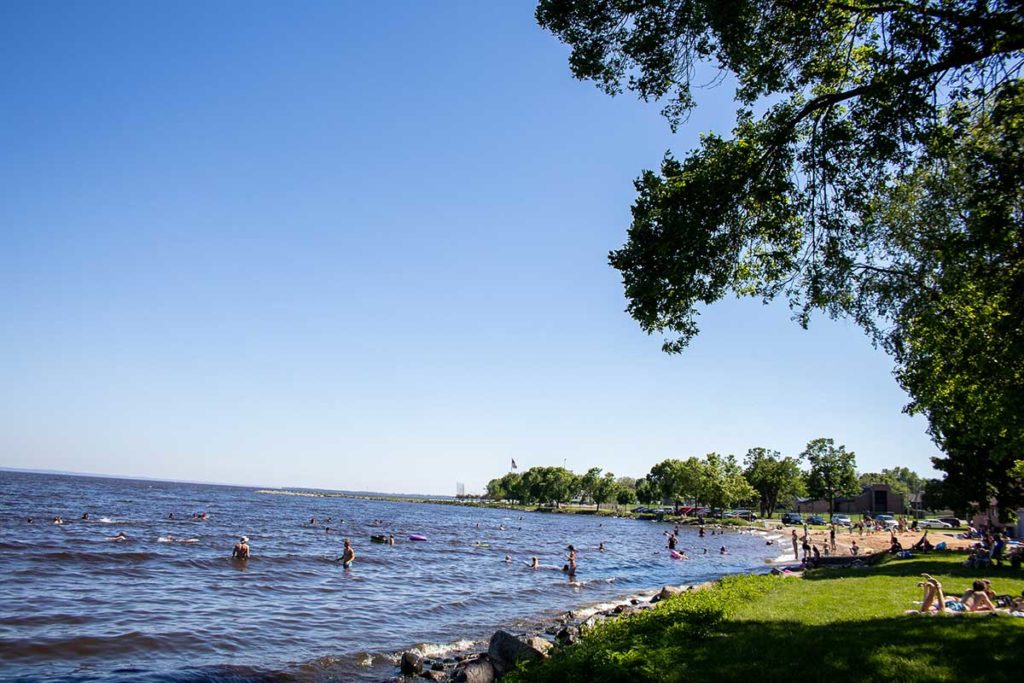 Beaches (FREE Admission)
Menominee Park Beach, 520 Pratt Trail, Oshkosh (Lake Winnebago)
Partridge Lake Park (Fremont public beach), Wolf River Drive, Fremont
Margaret Dodge Memorial Park, Co Rd K, Markesan
Sunset Park, 569-547 Mill St, Green Lake
Hattie Sherwood Park, 451 S Lawson Dr, Green Lake
South Park Beach, 921 South Main St, Waupaca
Shawano County Park, W5791 Lake Dr, Shawano
Sunset Lake Park, 1092 Sunset Lake Rd, Amherst Junction
Lake Park, 303 E Mary St, Black Creek
Shiocton Lake Park, N5684 Lake Park St, Shiocton
Crescent Beach Boardwalk, 1025 Lake St, Algoma
Selner Park & Beach, 616 Lake Street, Kewaunee
Neshotah Beach & Park, 300 Zlatnik Dr., Two Rivers
Deland Park, Sheboygan
Find more information on all these beaches.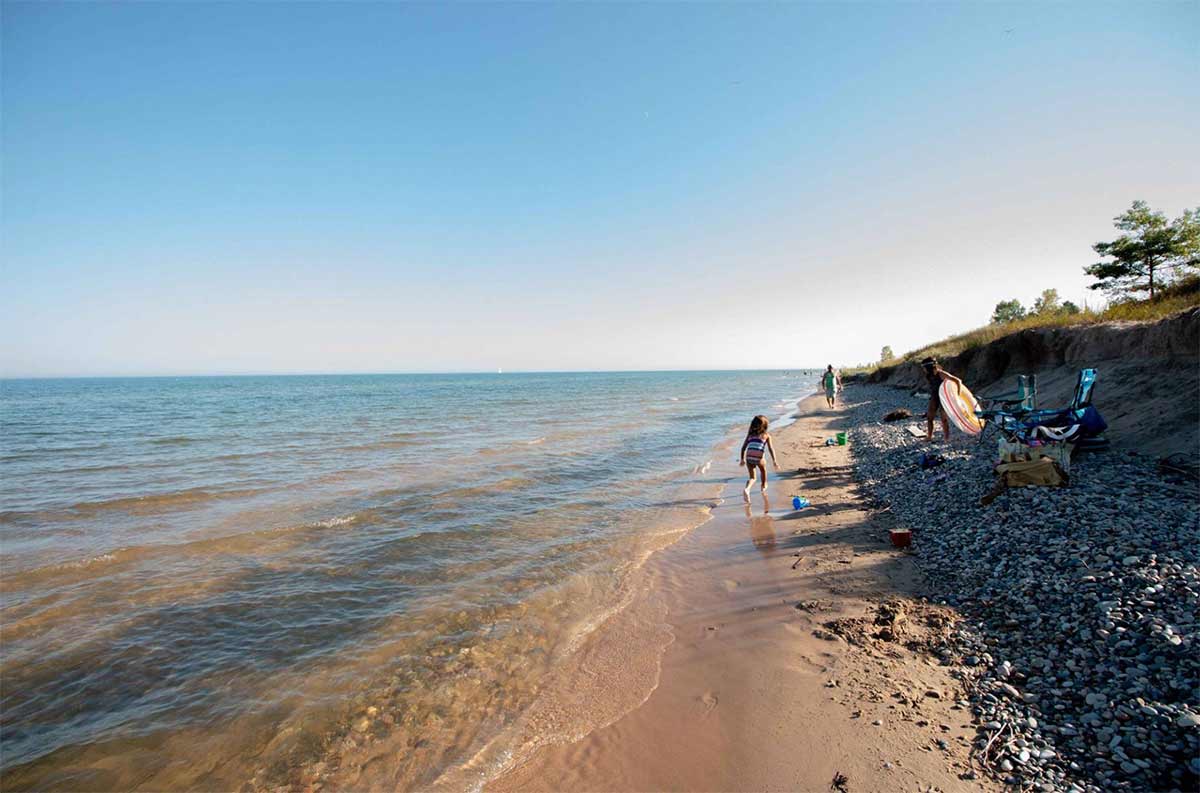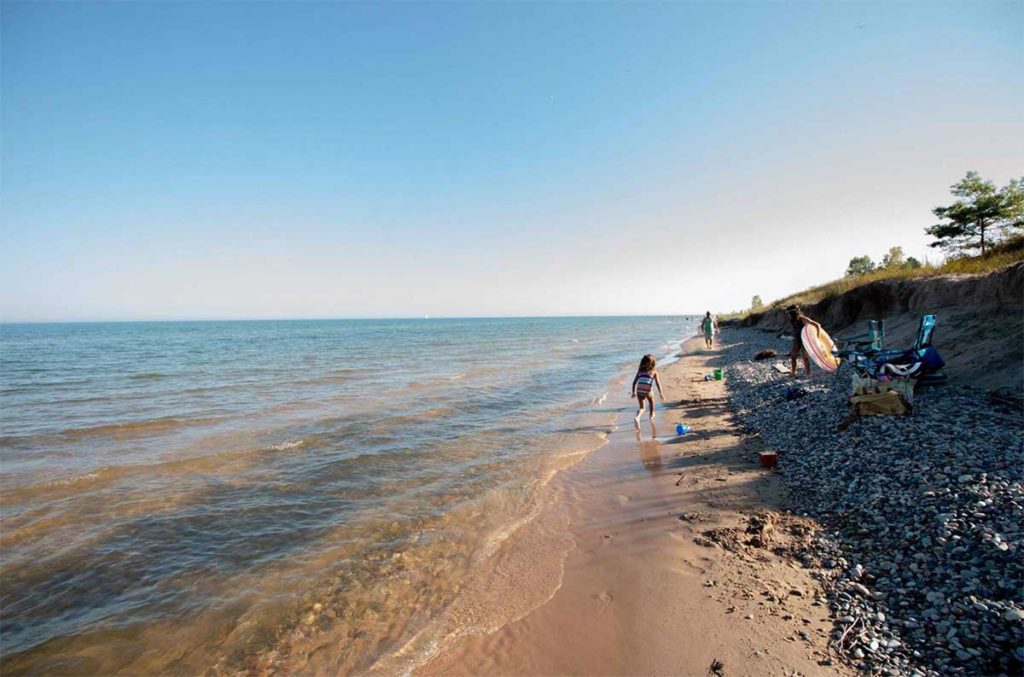 State Park Beaches (Day or Annual Pass Required)
These beaches are about 1.5 hours or less from the Fox Valley.
High Cliff State Park, N7630 State Park Rd, Sherwood
Hartman Creek State Park, N2480 Hartman Creek Rd, Waupaca
Point Beach State Park, 9400 County Road 0, Two Rivers
Kohler-Andrae State Park, 1020 Beach Park Lane Sheboygan
Find more information on all these beaches.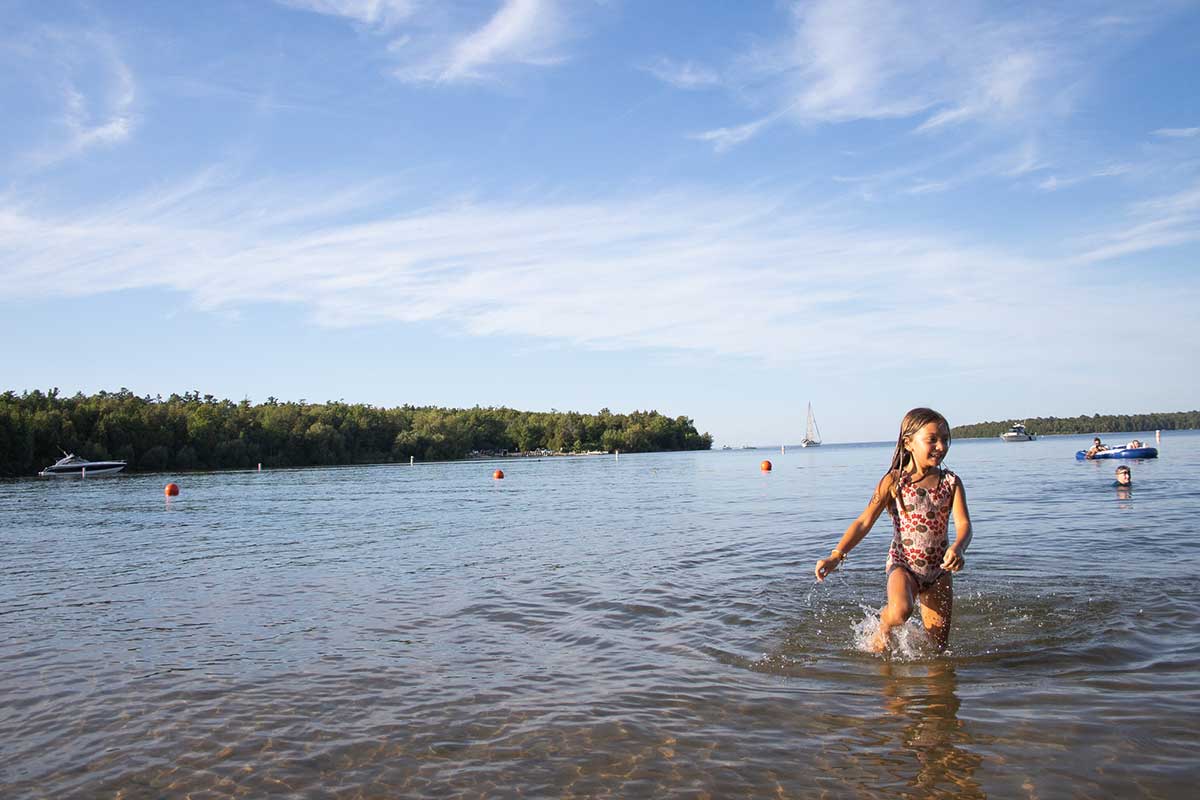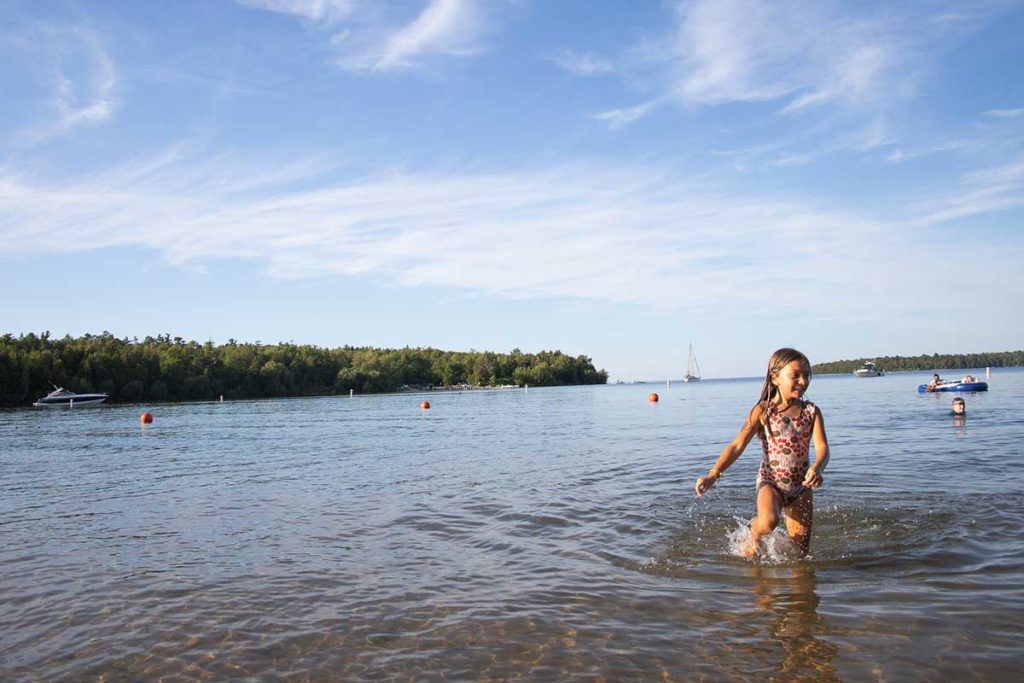 Door County Beaches
Clark Lake, South Lake Rd, Door County, Wisconsin
Sister Bay Beach, 2362 Mill Rd, Sister Bay
Nicolet Bay Beach, Peninsula State Park
Peninsula State Park, 9462 Shore Rd, Fish Creek
Schoolhouse Beach Park, 1824 Washington Harbor Rd, Washington
Bailey's Harbor Ridges County Park, 2301 Ridges Rd, Baileys Harbor
Sand Bay Town Park, Liberty Grove
Newport State Park, 475 County Rd NP, Ellison Bay,
Egg Harbor Village Beach, Egg Harbor
Ephraim Beach, Ephraim
Whitefish Dunes, Sturgeon Bay
Find more information on all these beaches.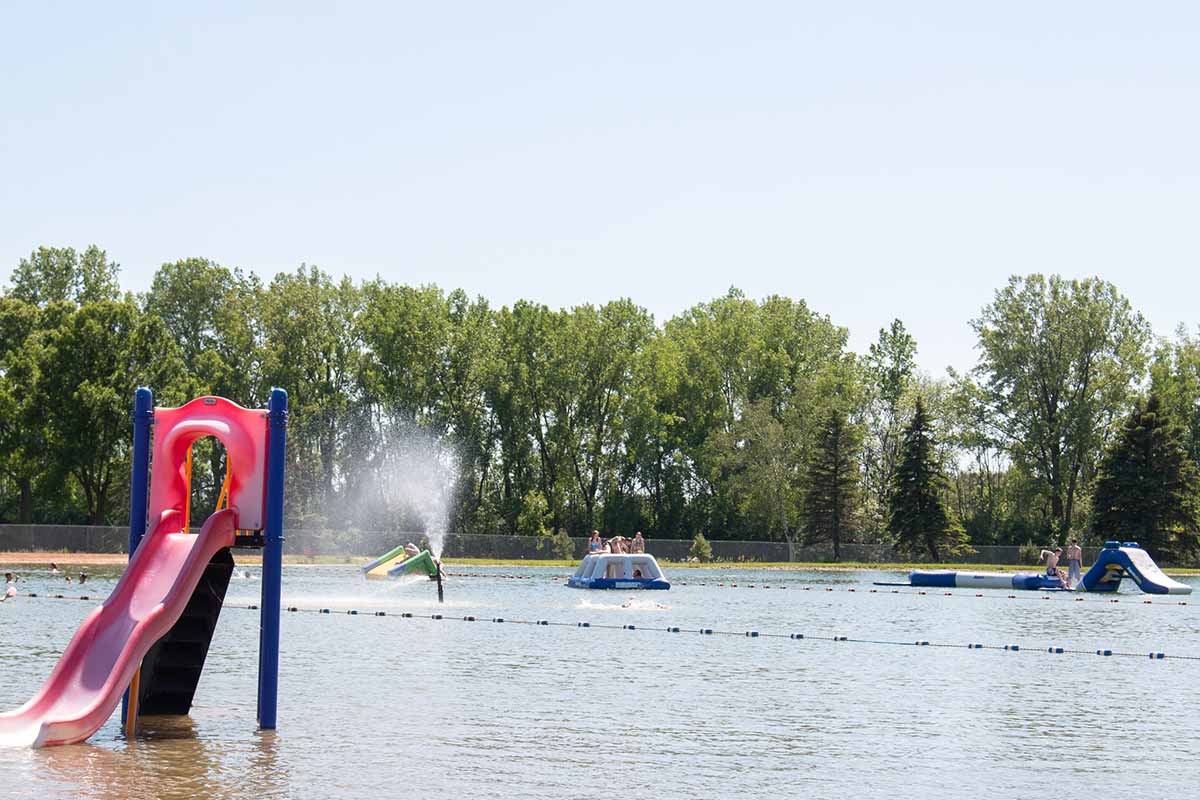 Beach Inflatables
Plamann Park Lake, 1375 E Broadway Dr, Appleton
Arthur Marble Park Beach, 200 S 6th St, Winneconne
Fondy Aqua Park, N5820 Co Rd D, Fond du Lac
Quarry Beach Adventure Park and Water Sports, 3401 Calumet Dr, Sheboygan
Aqua Play Zone at Hi-Pines Campground, 1919 US-45, Eagle River
Tiki Beach Bar and Resort at Kettle Moraine Lake, W921 Kettle Moraine Ln, Campbellsport
Find more information about all these beaches with inflatables.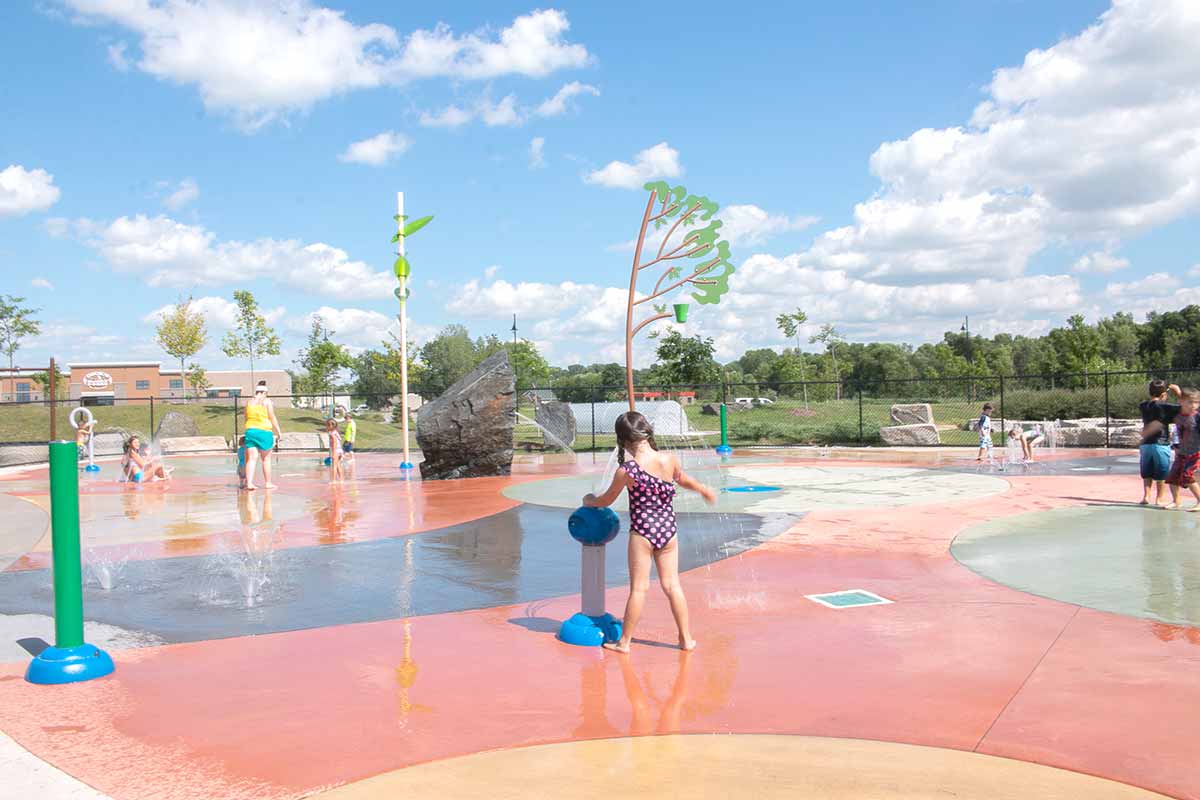 Splash Pads (FREE)
Washington Park, 631 Winneconne Avenue, Neenah
Wanick-Choute Park, W4690 Castle Drive, Sherwood
South Park, Georgia/Ohio Street, Oshkosh
Recknagel Park, 650 E High Street, Seymour
Red Smith Park, 2765 Sussex Street, Green Bay
Downtown Green Bay City Deck, Pine Street, Green Bay
Fisk Park, 995 Dousman Street, Green Bay
Seymour Park, 330 South Oakland Avenue, Green Bay
Fort Howard Park, 714 Augusta Street, Green Bay
Eastman Park, 1240 Eastman Avenue, Green Bay
Farlin Park, 1510 Harold Street, Green Bay
Bay View Park, 1137 Vanderbraak Street, Green Bay
Find more information on all these splash pads.