Caterpillars, butterflies, and bugs, oh my! While summer comes with warm, sunny weather, there are also many opportunities to find fascinating little insects. Get ready for some buggin' and an adventure in the great outdoors!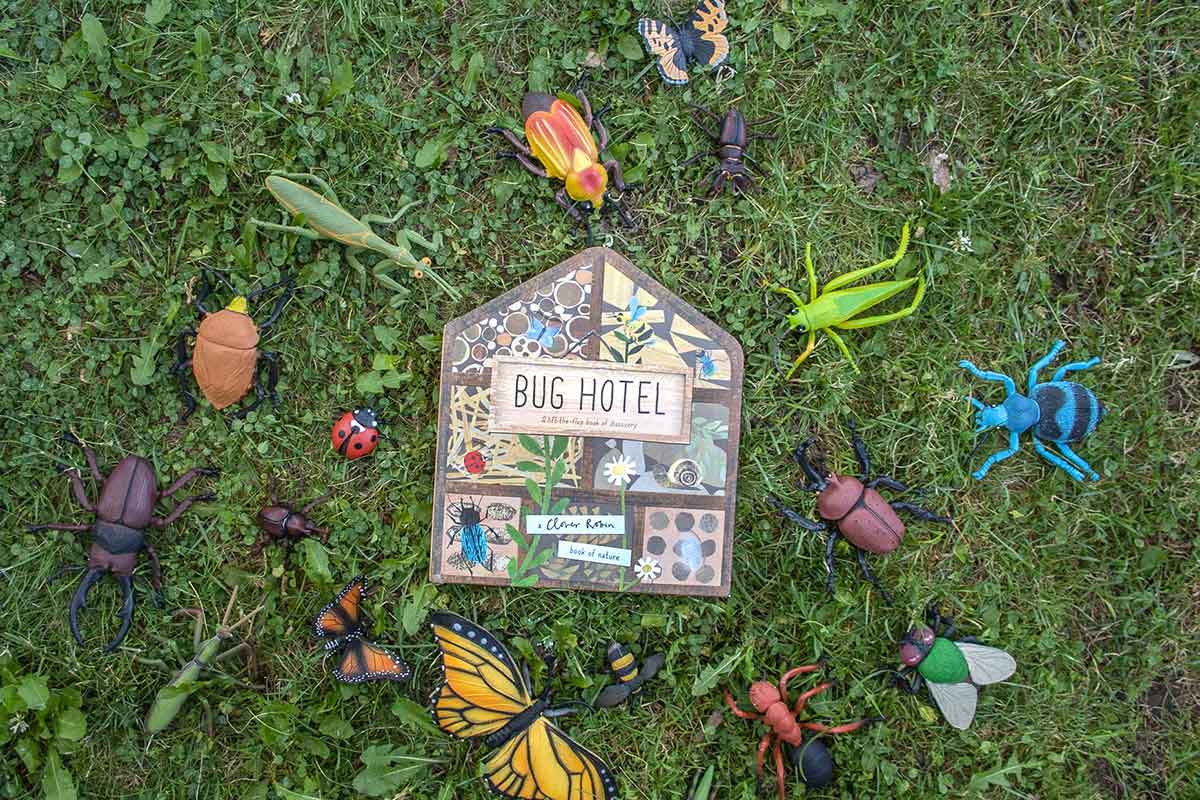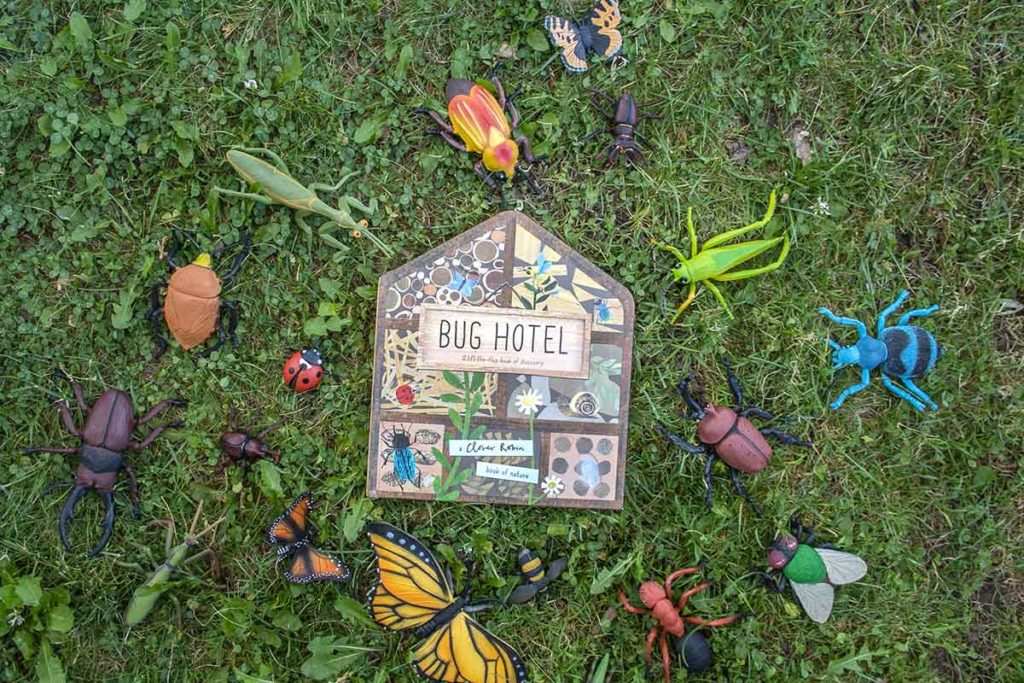 Common Wisconsin Bugs
There are nearly a thousand different bugs that call our state home! While some are simply pests, others serve an essential role in nature. Here are ten interesting ones to look for on your next hike or walk. Click the name of each bug to learn more about it!
READ MORE: Engaging with Nature – Tips & Where to Explore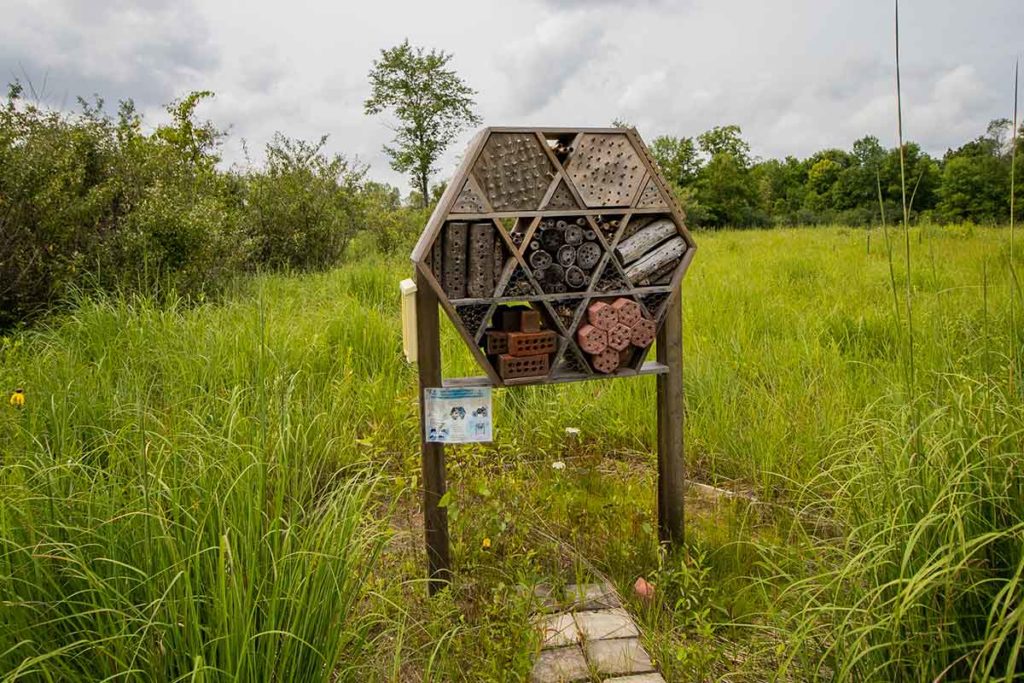 10 Places to Bug Hunt
When it comes to searching for these tiny buggers, you must know where to look! So, check out these beautiful spots throughout the Fox Valley area. From walking trails to bridges over waterways, there will be lots of opportunities to bug hunt! Please remember to be mindful of wildlife and respect their habitats by leaving the bugs you encounter. Instead, snap a photo or make a list of those you find!
Look for bug hotels while out and exploring. These are also easy to make at home. These manmade structures made from things like logs, twigs, leaves, bark provide shelter for bees, bugs and other insects!
READ MORE: Fox Valley Nature Trails | Oshkosh Area Trails | Green Bay Area Trails (and Waterfalls!) | 12 Nearby Nature Centers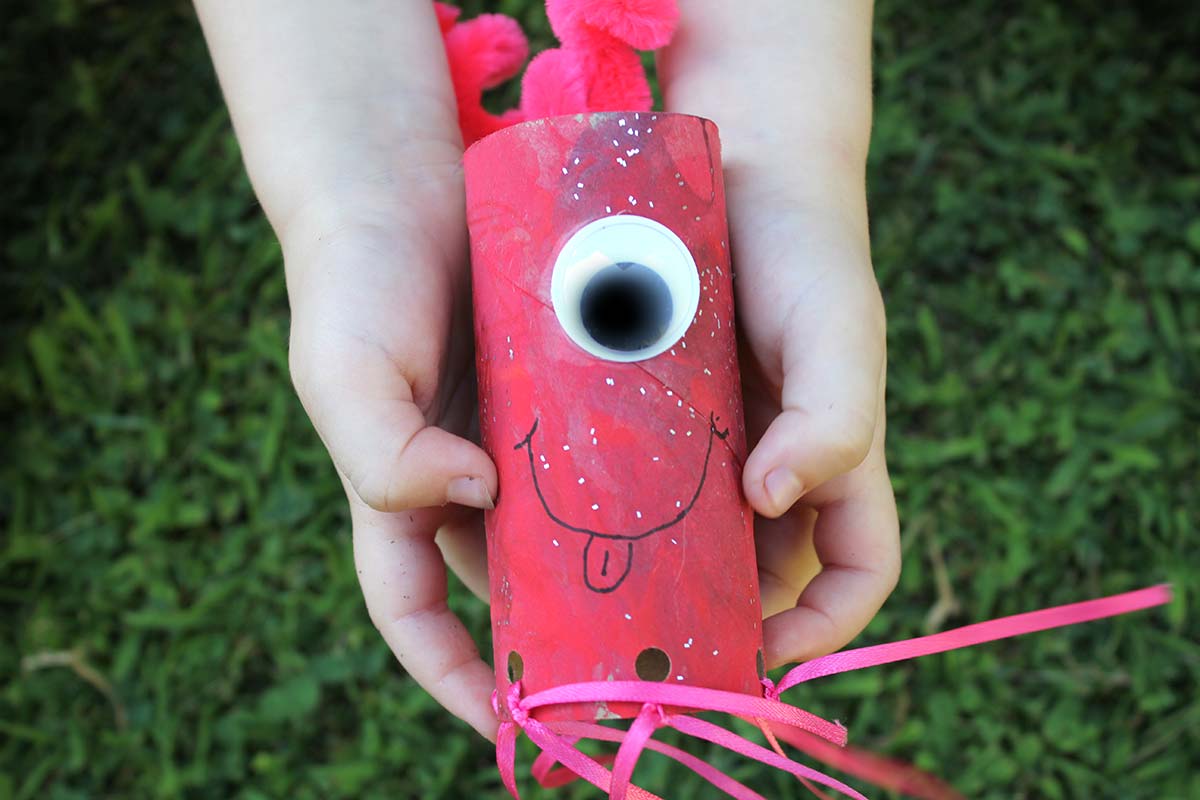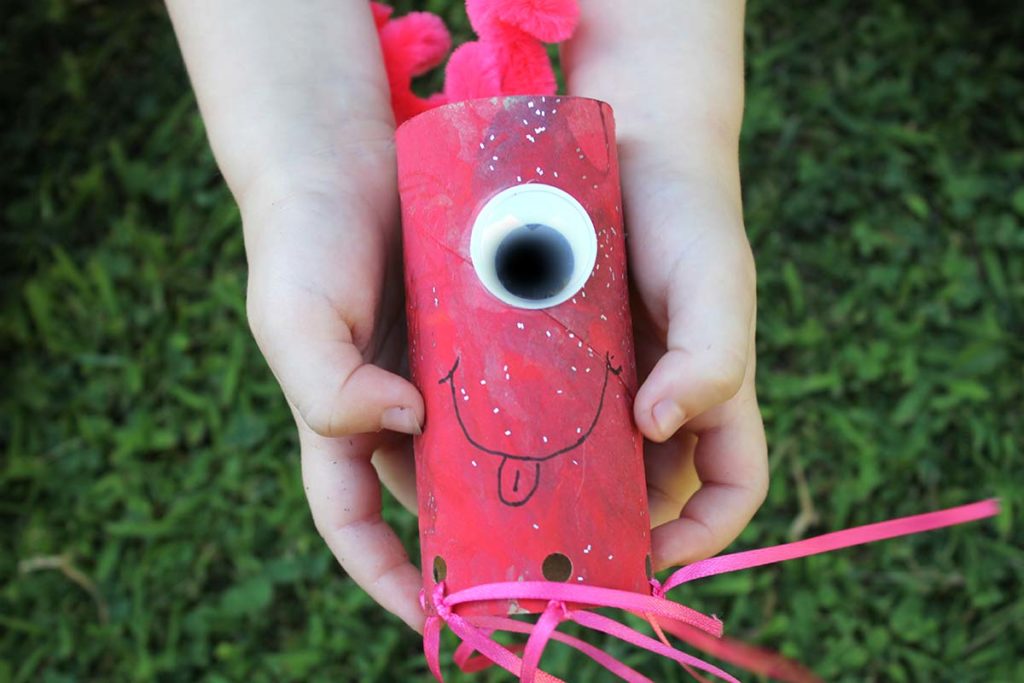 Critter-Inspired Crafts
When you can't go exploring on a rainy day – create bugs of your own with these fun insect crafts!
Paper Roll Bugs
Supplies:
Empty Paper Towel or Bathroom Roll
Acrylic Paint
Googly Eyes
Pipe Cleaners
Ribbon
Paintbrush
Glue
Instructions:
Design your bug by painting the empty roll. Decorate it to your liking, adding eyes, pipe cleaners for the antenna, and ribbon for feet. Be creative and make it unique. What will you name your bug?
Caterpillar Ring Pop Puppets
Supplies:
Ring Pop
Candy Eyes
Pipe Cleaner
Colored Poms
Hot Glue
Instructions:
Attach a pipe cleaner to the bottom side of a Ring Pop sucker. Glue on poms in a pattern or design of choice on the pipe cleaner. Once completely cool, attach the candy eyes to the sucker. They should stick on their own, but if they don't, apply a small dab of water. Gently twist the pom line to give it shape. Cute, isn't it?
Ladybug Stamp Art
Supplies:
Apple or Potato
Red Paint
Black Paint
Disposable Plate
Paintbrush
Paper
Instructions:
Carefully slice a potato or apple in half, dip into red paint and press to a piece of paper and gently lift. Using a paintbrush, paint the ladybug's head and spots! Discard the stamper. How many ladybugs did you stamp?
Fingerprint Doodle Bug Jar
Supplies:
Paper
Watercolor Paints
Ultra Fine Marker
Instructions:
Draw or print out an outline of a jar. Wet each color of paint and press one finger into the color of your choice. Gently press your print to the paper inside the jar and repeat as many times as you'd like. Allow the paper to dry. Once dry, take an ultra-fine marker to doodle eyes, wings, legs, and features on your bugs. Admire those silly bugs!
Button Butterfly Magnets
Supplies:
Coffee Filter
Washable Markers
Paintbrush
Clothespin
Assorted Buttons
Small Googly Eyes
Hot Glue
Magnet
Instructions:
Spread out a coffee filter and color or create a cute design or pattern. Color the clothespin and carefully glue on buttons down the front, leaving room at the top for the eyes. Carefully pinch the coffee filter in the center and grasp it with the clothespin. On the back of the pin, glue on the magnet. Lastly, glue on the two small googly eyes on the face. What a beauty!
READ MORE: Weather Kids: Meteorologist Cameron Moreland talks rainbow clouds, summer storms and scorching heatwaves (crafts, books and more)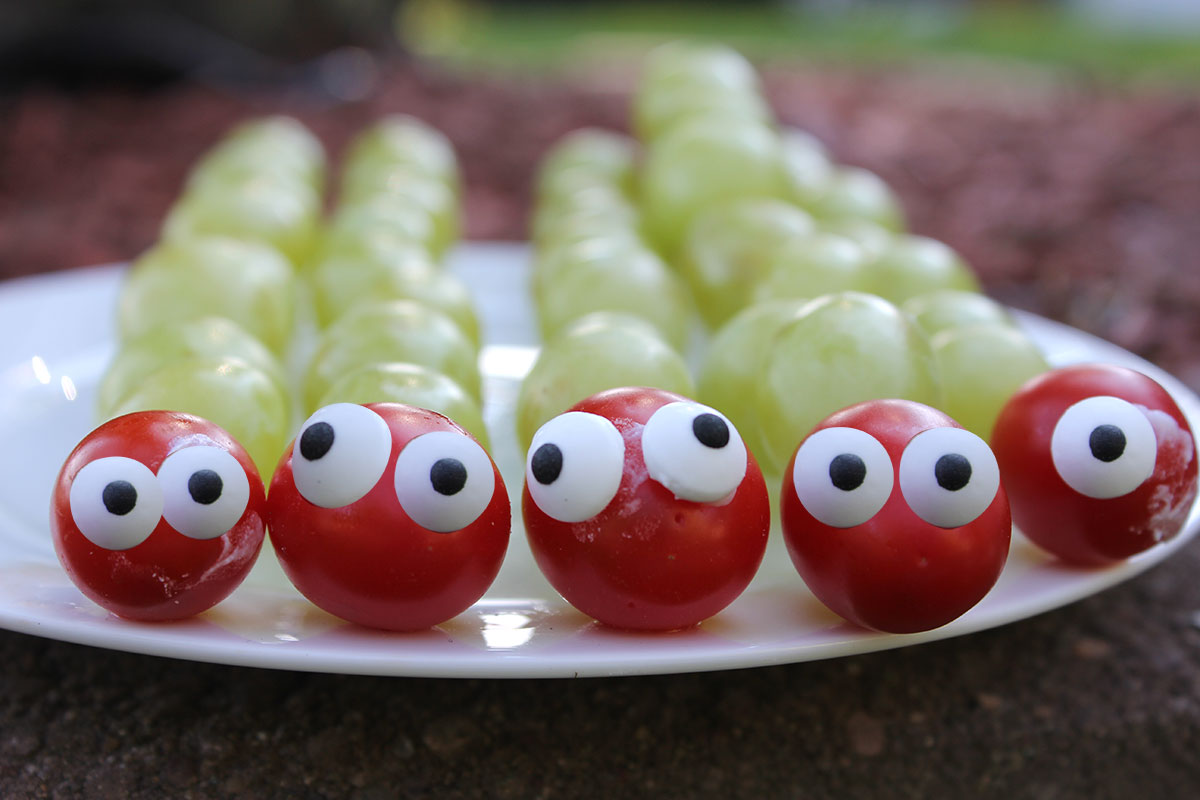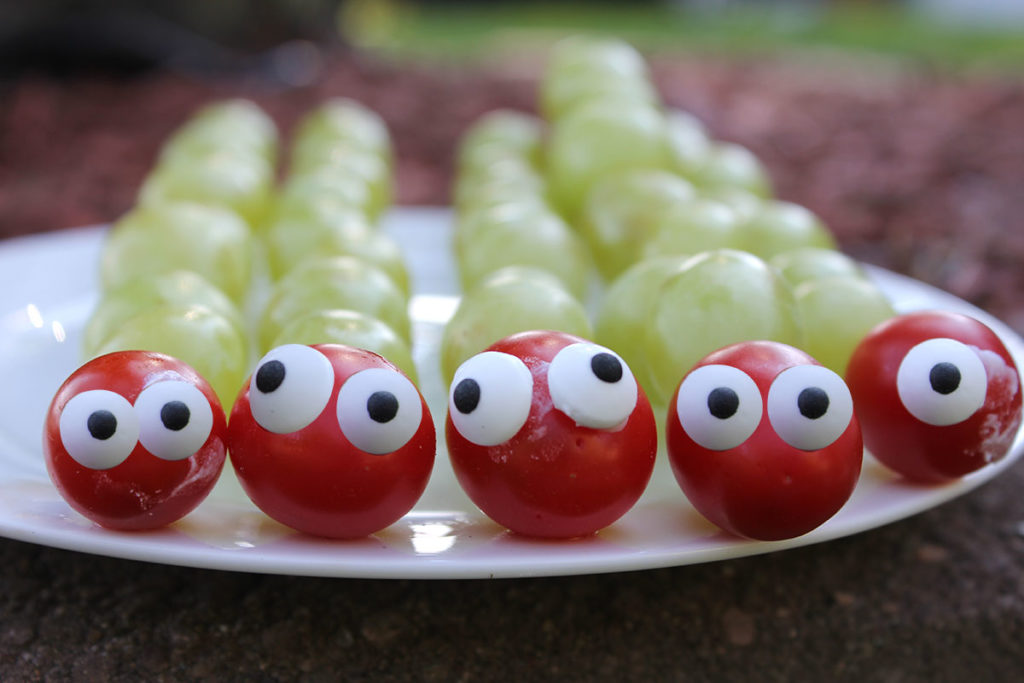 Bug Themed Snacks
Let's eat! Instead of insects invading our nibbles, they are the inspiration behind the snack! Get creative and whip up these yummy bug-themed treats!
Caterpillar Kabobs
Supplies:
Green Grapes
Cherry Tomatoes
Candy Eyes
White Tube Frosting
Bamboo Skewer
Instructions:
Wash the grapes and tomatoes.
Fill the skewer with green grapes and add one cherry tomato at the top for the caterpillar's head.
Place two candy eyes on the tomato. They should stick, but if necessary, add a dab of water or use the white tube frosting.
Chill before enjoying!
Ants on a Stick
Supplies:
Pretzel Rods
Peanut Butter (or any nut butter)
Chocolate Yogurt Covered Raisins
Instructions:

Have the kiddos help by holding the pretzel as an adult helps to spread a thin layer of peanut butter over the topside of the pretzel.
Place chocolate yogurt raisins on the pretzel as desired.
What is better than a sweet and salty snack?
Cheesy Ladybug Bites
Supplies:
Ritz Crackers
Provolone Cheese
Cherry Tomatoes
Black Olives
BIack Food Coloring Gel
Instructions:
Cut out rounds of provolone cheese (or any favorite cheese variety) and place onto the crackers.
Slice a cherry tomato lengthwise and place each half on top of the cracker next to each other.
Slice a black olive lengthwise and place one half above the tomatoes for the head.
Using black food coloring gel, add dots to your ladybug.
Talk about a lucky snack!
Critter Dirt Cups
Supplies:
Gummy Bugs or bug fruit snacks
Chocolate Pudding
Oreo Cookies
Small Cups
Ziplock Bag
Instructions:

Remove the cream center from a handful of oreo cookies (and eat it because we all know its the best part!).
Place the cookie pieces in a bag, seal, and finely crush.
In a cup, layer the chocolate pudding and the crushed Oreos.
Top with gummy bugs or bug fruit snacks.
Who would have known we'd eat dirt and like it?
Ranch Veggie Snails
Supplies:
Celery
Cucumber
Green Onion
Cream Cheese
1 packet of dry ranch seasoning
Candy Eyes
Bowl
Spoon
Knife
Instructions:
In a mixing bowl, combine one packet of dry ranch seasoning with the cream cheese and mix well.
Wash all veggies. Cut the celery into 3″ pieces, slice the cucumber and chop the green onion into 1″ strips.
Spread a generous amount of cream cheese filling over the celery.
Place one slice of cucumber for the snail's shell, and add two pieces of onion for its antennae.
Lastly, add two candy dots for eyes.
Enjoy your snails!
Learning about bugs is fun, and searching for them or using them as snack inspiration is even better. From the hunt to crafting to snack time, we're willing to bet you sure had fun buggin'!