Sherwood Splash Pad / Wanick Choute Park Snapshot
Address: Castle Dr, Sherwood, Wisconsin
Splash Pad Open Hours: Memorial Day (Monday) through Labor Day (Monday) annually. Operating times are from 10 am – 8 pm Sunday through Saturday.
Temperature outside must be 63 degrees Fahrenheit or warmer and must not be raining (or have rain or inclement weather in the forecast). Water feature shut down is subject to inclement weather.
Year Built: 2015
Surface Ground: wood chips
Bathrooms: Yes, flush
Special / Unique Features: Scavenger Hunt, Fenced in Splash Pad
Mobile Gaming: Pokestops
Nearest Local Coffeeshop: The Chubby Seagull, N7663 Pigeon Rd, Sherwood
Nearest Local Ice Cream Shop: Froggs Ice Cream, N370 Military Rd, Sherwood
More Park Info: www.villageofsherwood.org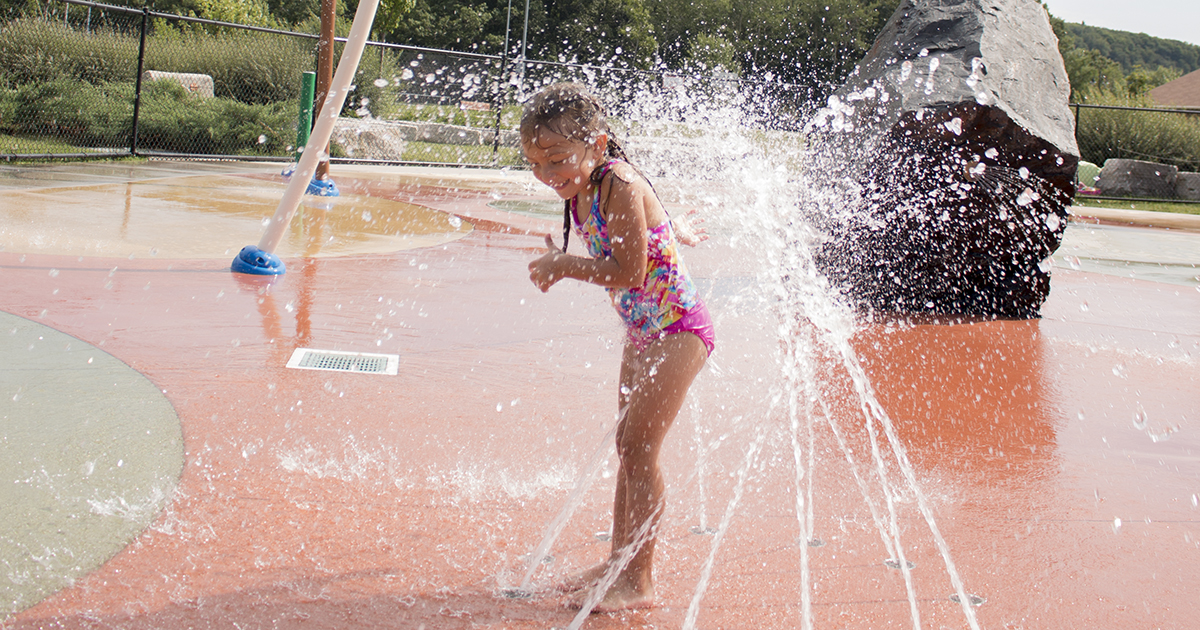 Jodi's Review
We love the Sherwood Splash Pad and park! The Splash Pad is perfect for a hot day! The boys love to run and play with all the fun equipment in the Splash Pad, and I love how well maintained it is! This is a great option for people with small kids who might be nervous about taking their children to the pool. The Splash Pad is fenced, which helps keeps smaller children from wandering out of the area!
I love the open layout of this park. You can easily have a child playing in the Splash Pad area and another playing on the playground and still be able to see both! For families with multiple children, this is a huge plus!
There are two playgrounds in this park. Both are lots of fun!
The big playground is right next to the Splash Pad. There are multiple slides, swings, monkey bars, and other fun things to climb on. They also have a fun cement tunnel/sewer. If you have a Teenage Mutant Ninja Turtle fan, they will love playing in this tunnel!
There is also a smaller playground down the path from the main area. The walk to this playground is my favorite part of the adventure. There are huge rocks to climb and grass areas to hunt for bugs! The smaller playground is like a fun forest adventure. There are plastic trees to climb up, logs to hide in, and plastic rock mounds to climb.
There are clean bathrooms and drinking fountains. There are benches and picnic tables. There are also sport areas: tennis courts, basketball court, soccer field, a baseball diamond, and of course Pokestops! The playgrounds have rubber mulch or rubber padding.