Kohler-Andrae State Park is one of the last remaining state natural areas along the Lake Michigan shoreline connecting Terry Andrae State Park and Michael Kohler State Parks. This Wisconsin State Park is one of our favorites and is less than 2 hours from Appleton. With 988 acres and over 2 miles of sandy beaches and sand dunes along the shore, there is so much to explore in this state park system gem. In fact, it's #1 in our Ten Must-Do Wisconsin State Park Adventures for your Family's 2022 Bucket List! We enjoy this beach in the summer because there is typically room to spread out. We do recommend getting there early on the weekends. The clear blue water is refreshingly cool and barely reaches 70 degrees in late summer. Bring sand toys and brave the chilly water or just stick in your toes!
The park also includes opportunities for recreational activities, camping, wetlands, a fishing pond (stocked with trout and panfish), white pine forest, picnic areas, hiking but our favorite… cordwalk trails through the sand dunes.
Keep your eye out for lots of wildlife and birds! We like bringing binoculars too. White-tailed deer, squirrels, chipmunks and red foxes can be spotted as well as geese, ducks, sandhill cranes and herons. Download a bird guide to test for an extra challenge!
Did you know there are multiple Lake Michigan Shipwrecks to discover and explore? Challenge, a two-mast schooner, was stranded on its way to Sheboygan. You can see the keel on display near the nature center. Learn more about this and other shipwrecks here!
NOTE: Before visiting, we recommend visiting the Season Conditions (including weather, camping and beach conditions) website page that is updated regularly.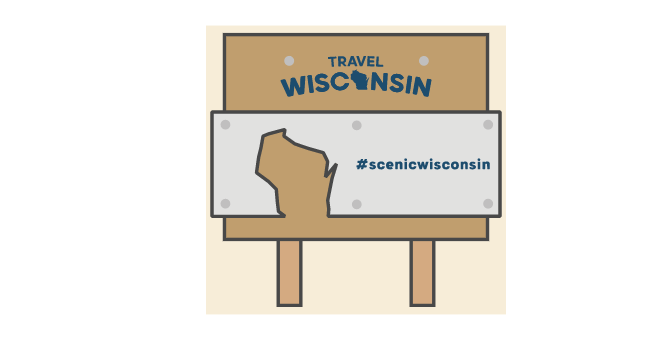 Travel Wisconsin Selfie Stands
Make sure to grab a family picture at the selfie station! These stands are located throughout Wisconsin and can help you get a picture with everyone and provides a perch to set your camera on. Set your timer and snap away! Find the selfie stand near the Sanderling Nature Center (parking lot #3). Walk north on the cordwalk and then turn left at the first "T" intersection.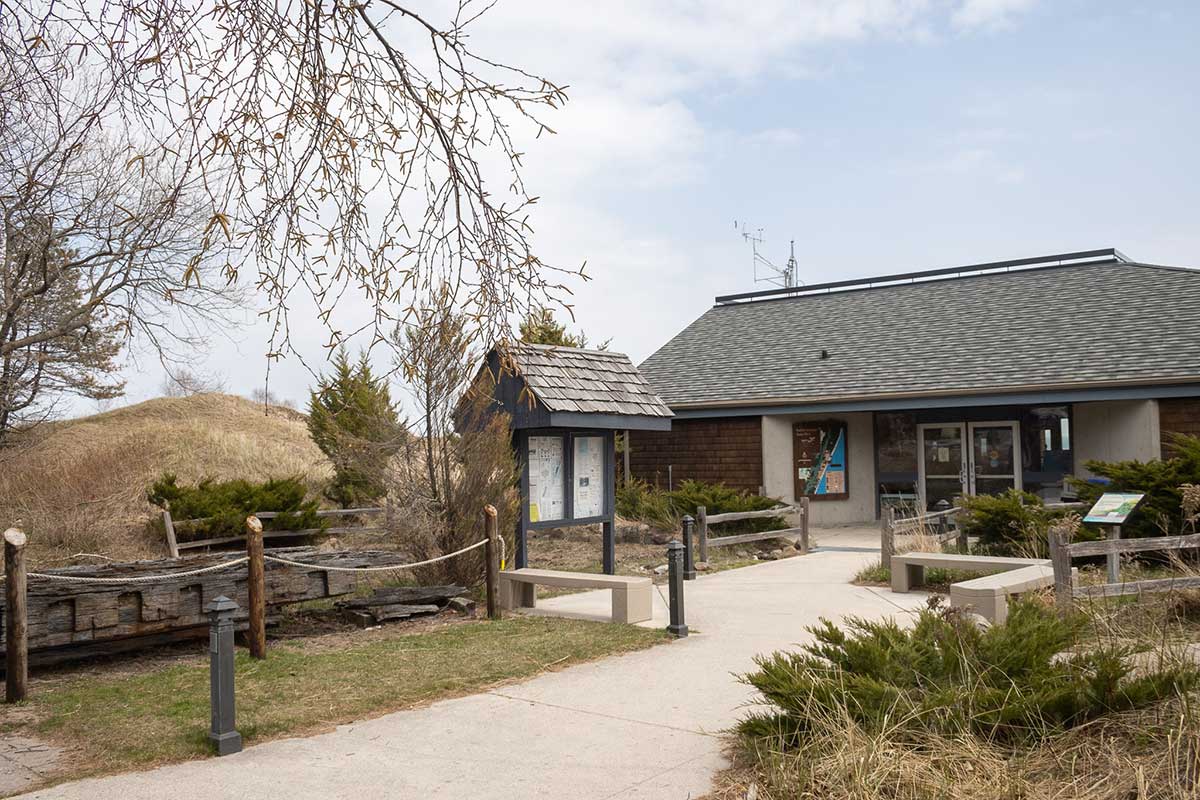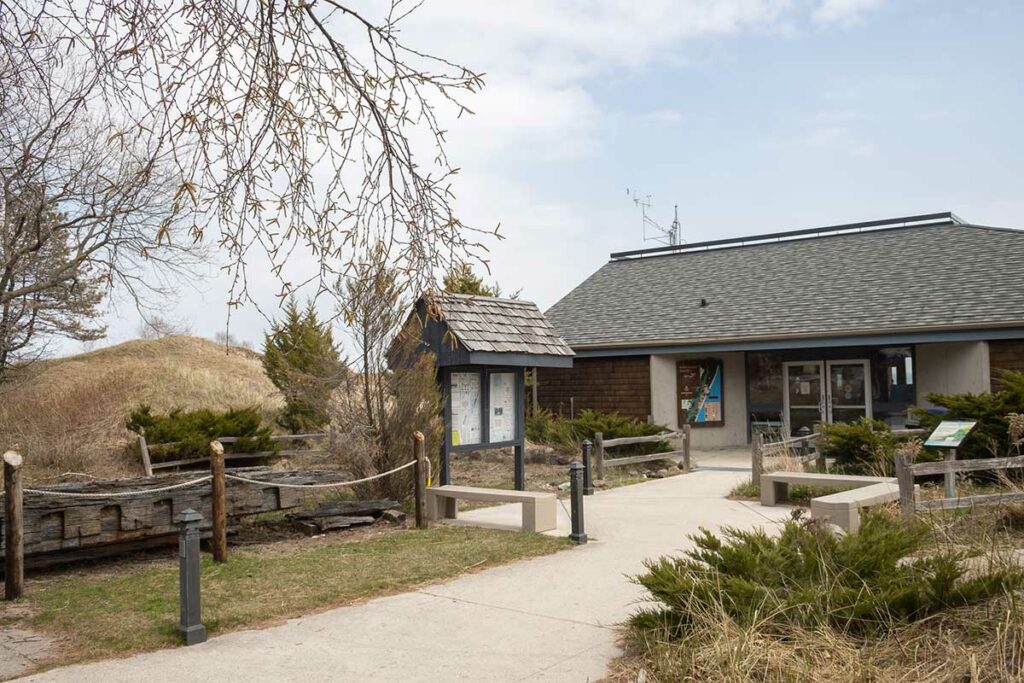 Sanderling Nature Center
The Nature Center is a perfect stop for families. It also connects to the Creeping Juniper Nature Trail, the Dunes Cordwalk and the beach. Guests can learn more about the park's history and wildlife with interactive kiosks, displays, picture books and programs (typically run from May through October).
Amenities include bathrooms, outside picnic tables, a rooftop observation deck and a gift shop that uses profits to support park improvements.
Lastly, the nature center has all the information for families looking to join the 2022 Wisconsin State Parks Challenge!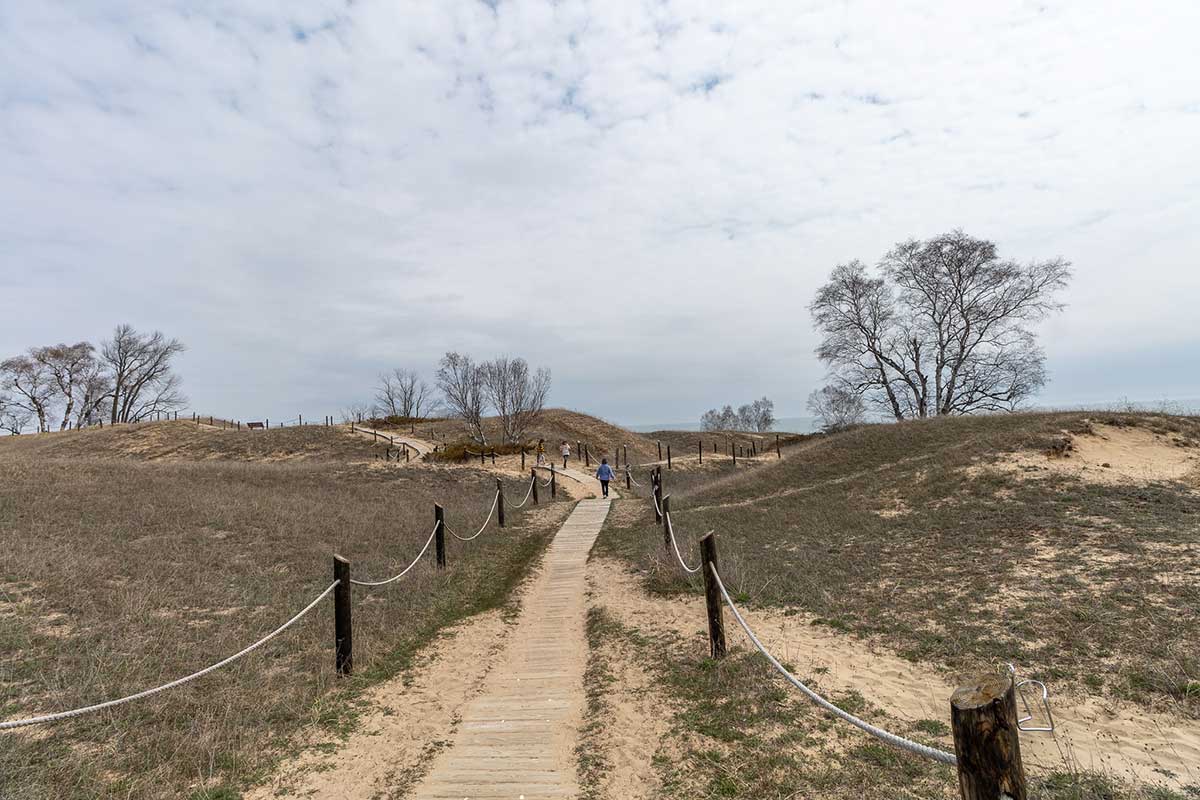 Hiking Trail Descriptions
Our family's favorite were the walks down the beach and the cordwalks. Download Maps to plan out your visit!
The Creeping Juniper Nature Trail – Half-mile loop starts and ends at the Sanderling Nature Center. This walk is through a fragile area, stay on the cordwalk through the dunes while learning about the plants, land, and animals in the area. No pets are allowed on this trail.
The Dunes Cordwalk – This 2-mile trail is a more challenging hike with a wooden cordwalk that is parallel to the shore of Lake Michigan. The north trail is 0.5 miles and the south trail is 1.5 miles through dunes, wetlands, and white pine forest. Pets can join you on this hike!
The Woodland Dunes Nature Trail – This one-mile loop begins and ends near the playground. A 0.25-mile loop within the longer trail has a crushed limestone surface and is perfect for strollers and wheelchairs. No pets on this trail.
The Black River Marsh Boardwalk – This short, accessible trail is a boardwalk starting at the parking area west of the campground and takes you through wetlands. Pets are allowed.
The Black River Trails – These trails loop through open fields and forests. You'll start at the northwest section of the park on South 12th Street. This is a perfect trail for identifying birds and wildflowers. Horses and pets are allowed on this trail as well as mountain bikes.
The Marsh Trail – This half-mile trail connects the Marsh Boardwalk to the Accessible Cabin and the Woodland Dunes Nature Trail. Great for spotting wildlife and identifying flowers and trees! Pets are allowed.
The Fishing Pond Trail – This shorter trail loops around the Friends Fishing Pond. It has a flat surface and many benches along the way to observe pond life and birds. Pets are allowed.
The Ancient Shores Hiking Trail – This is a 1.3-mile looping trail that starts and ends at Friends Fishing Pond Trail. The trail runs along two former beach ridges including a cool former beach ridge from about 5,000 years ago when the Great Lakes were at a higher level. Pets are allowed.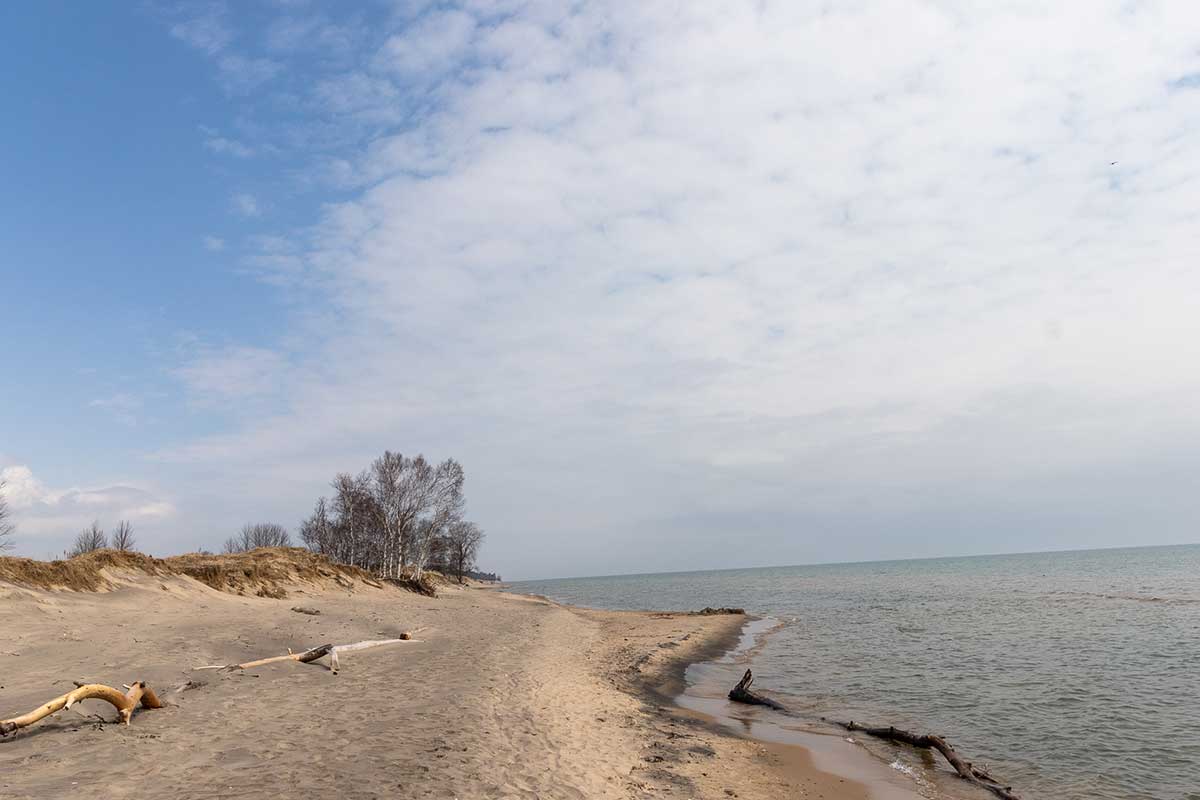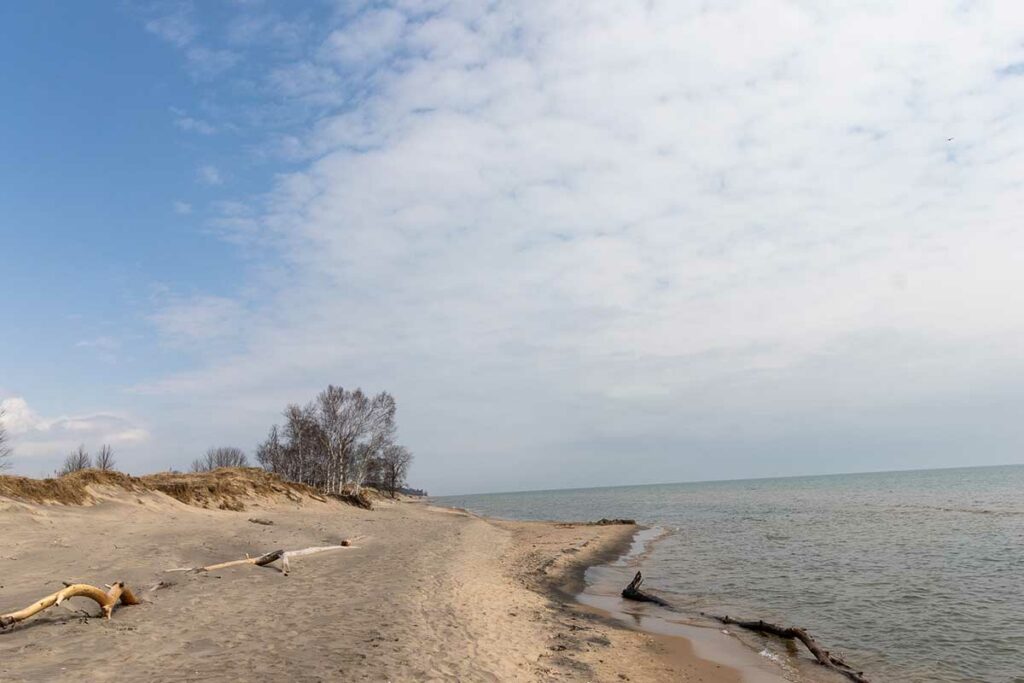 Things to Know
Kohler-Andrae State Park, 1020 Beach Park Lane, Sheboygan, Wisconsin
Hours: Open year-round from 6 am – 11 pm
Admission: A vehicle admission sticker from the Wisconsin State Parks is required.

Wisconsin Resident: $28 Annual
Wisconsin Resident: $8 Daily

Parking: There are parking lots near many of the trails and plenty of beach parking.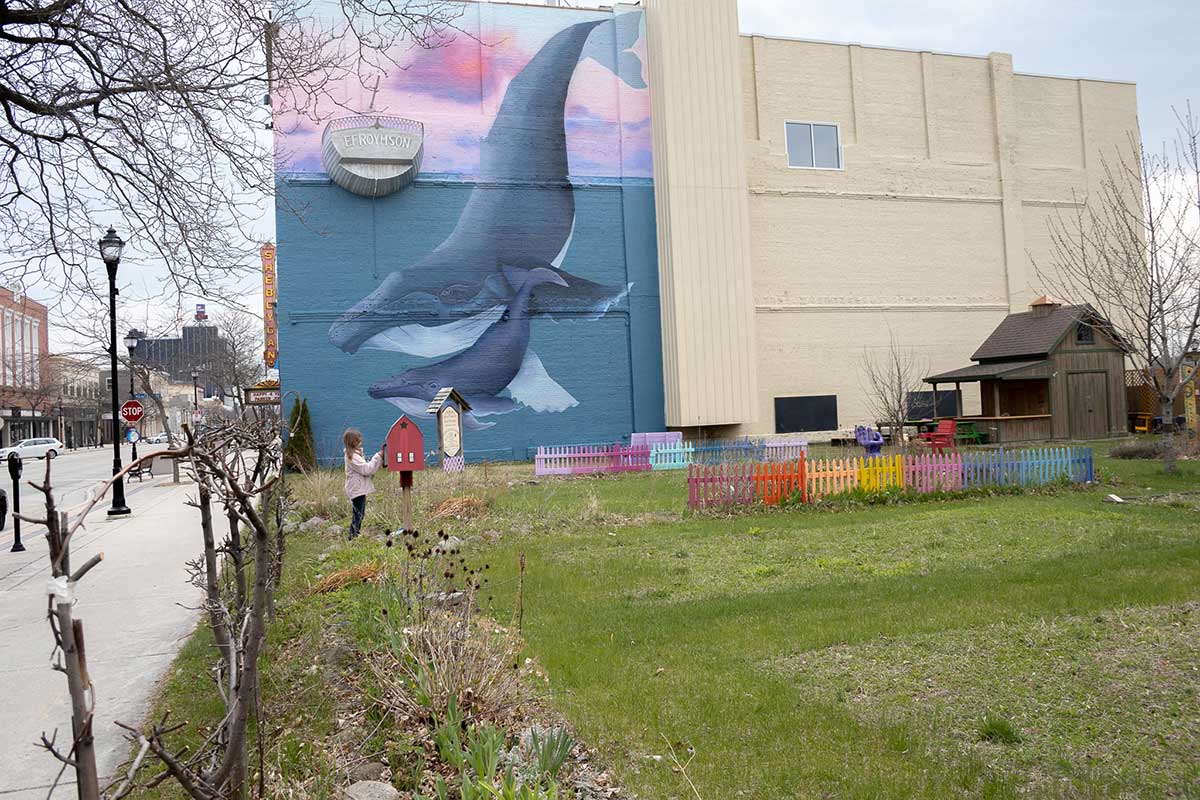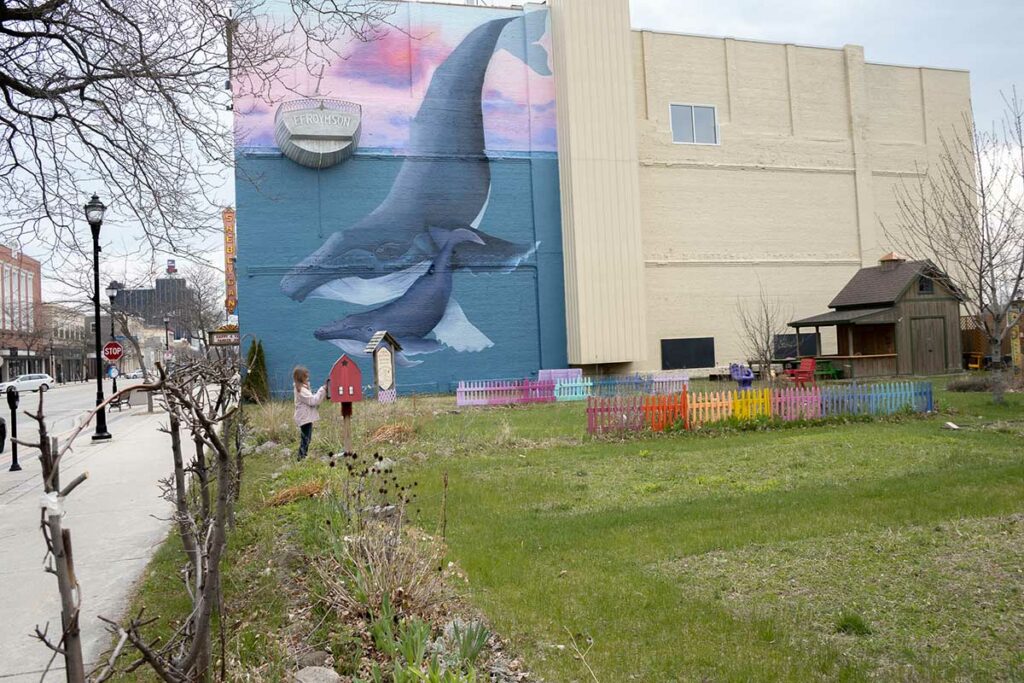 Other Fun Things to Do in Sheboygan
We spent the majority of our day at the Kohler Andrae State Park but after we got pizza and ate it at a park in Downtown Sheboygan. We checked out the mural outside the Above & Beyond Children's Museum and played in the gardens adjacent to it. Paradigm Coffee is great for a snack, treat or pick up! We ran off some energy at the Shaw Family Playground and then headed home.
Find more information about these other fun adventures in Sheboygan >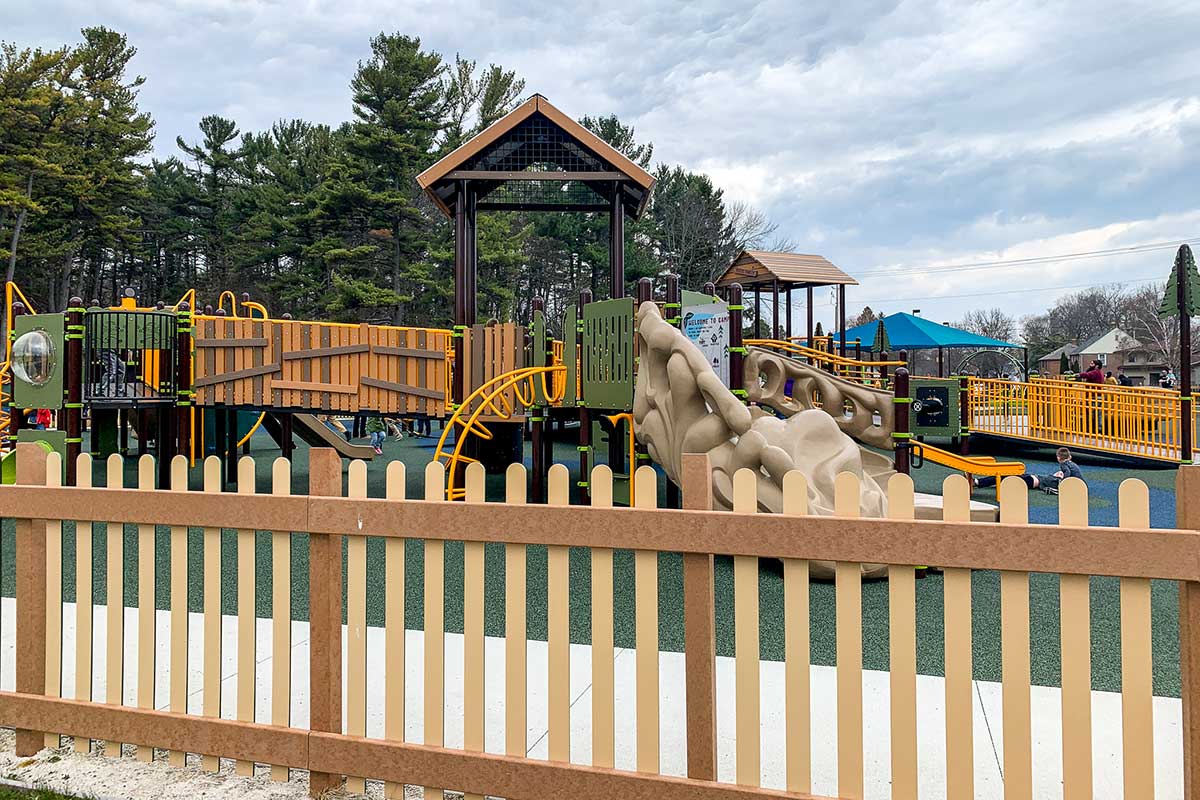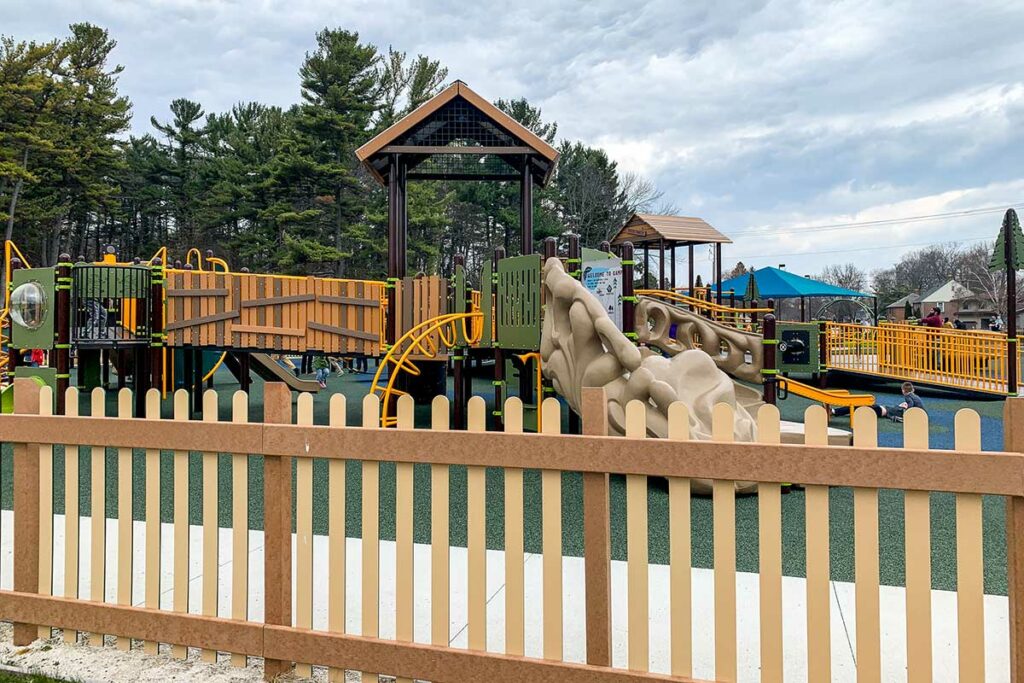 Toyota Highlander Review
We had the opportunity to test drive the 2021 Toyota Highlander. Our family nicknamed her Ruby. For the past 10 years, we have been sporting a minivan and it was the perfect trial to see if we were ready for the transition to an SUV. The Highlander was what we expected from Toyota, a quality premium vehicle, but what made us fall in love was all in the details.
Our Favorite Detail Features Included
Third-Row Seating – The Highlander had enough space for up to eight people so we were able to continue our carpool at school and had enough room for our family +2 more!
Safety Features including the Blind Spot Monitor & Cameras – I loved that this made me confident in know what was all around the vehicle while still focusing on the road ahead. From backing out of the garage, down the driveway to traffic. Even the rearview mirror let me see more of what was behind me.
Heated and Ventilated Front Seats – This comes in handy in Wisconsin weather! I loved the option to cool down or warm up on demand.
Apple CarPlay & SiriusXM Radio – When the kids were with me they requested Kids Bop, but I was able to easily connect to my favorite podcasts and current audiobook. And it sounded amazing with the JBL audio system!
Navigation – I liked not having to use the navigation on my phone and fumbling to get that set. The touchscreen map option was perfect for our road trip and finding gas and eating options along the way.
Nooks for Storage & Cup Holders – We spend a lot of time traveling between sports, activities, schools and adventures. As a mom, I appreciated that the Highlander helped our family stay organized with all our stuff.
Charging Stations including USB and Outlet – There was no fighting from the kids on chargers with ample options to charge their Nintendo and phones! I loved that I could charge my camera battery as well.
Phone Charger – The center console with wireless charging was an extra bonus!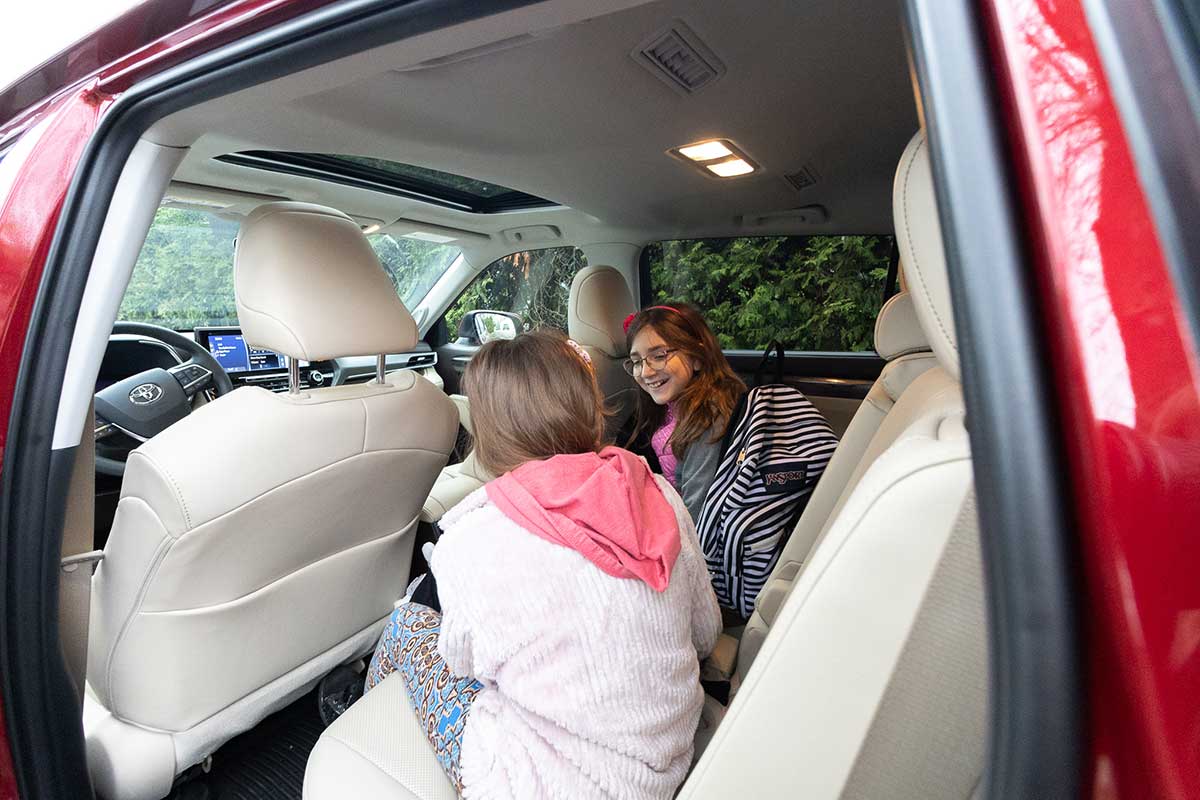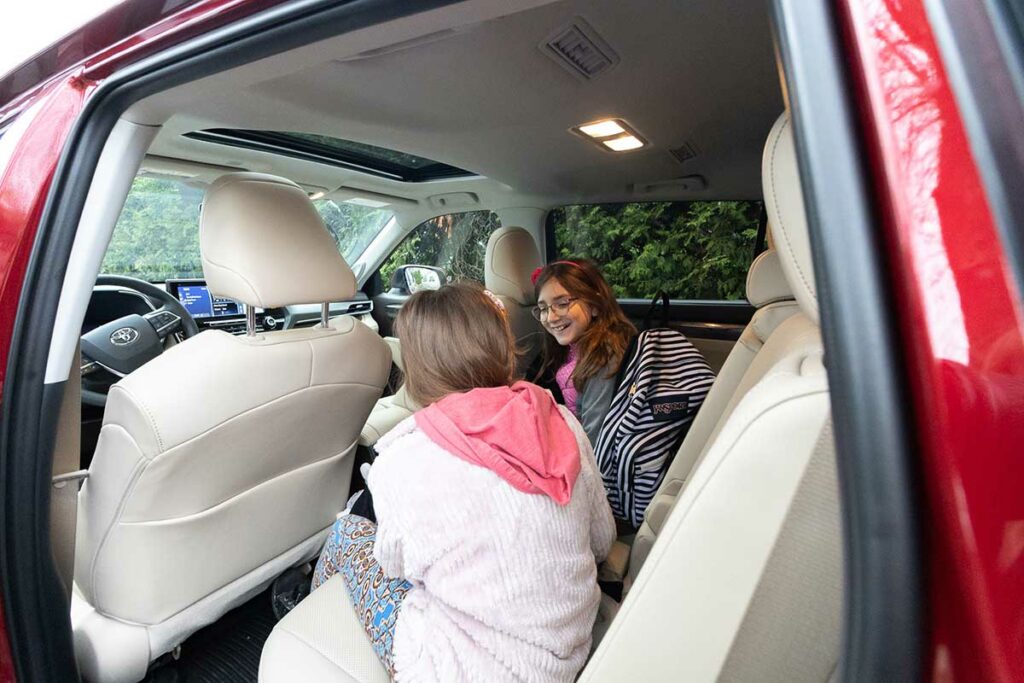 We often overlook the significance of a family vehicle, but they become portals for our family memories. We bring our babies home from the hospital. Hear stories about school. Make pajama ice cream runs. Clean out sand after summer trips to the beach. Make the most out of road trips. When we are ready to consider our next family vehicle, the Highlander will be a strong contender. In just a week, we added stories to our family chapter of adventures with pickups at school and a trip to Sheboygan.