SaveOne of our favorite things to do in fall is to slip on a cozy sweater, fill up the travel mugs with coffee and cocoa, and head out for a family fall road trip on a sunny, mild day in Calumet County.
With kids, it seems like two hours is the day trip sweet spot for being in the car at one shot. Even if you venture all the way through our list of 17 spots to visit on the east side of Lake Winnebago, you'll still be back home in an hour or less from your last stop!

Go ahead! Choose your own day trip adventure with these worth the drive spots to visit where you'll find great hiking trails, petting farms, and plenty of delicious treats!
COVID-19 remains active in our communities and we're seeing an increase in cases. Please remember to wear your masks, bring along your hand sanitizer, maintain 6 feet of distance between yourself and people outside of your family. You can find up to date information from the Wisconsin Department of Health Services.
Wanick Choute Park
The Chubby Seagull
High Cliff State Park
Mulberry Lane Farm
Brillion Nature Center
Calumet County Park
Mud Creek Coffee
Terra Verde Coffee House
Polly's Pumpkin Patch
Scoops Ice Cream House
Vern's Cheese
Ledge View Nature Center
Heritage Orchard
LaClare Family Creamery
Columbia Park
Little Farmer
Kelley Country Creamery
Be on the lookout for 25+ barn quilts and murals!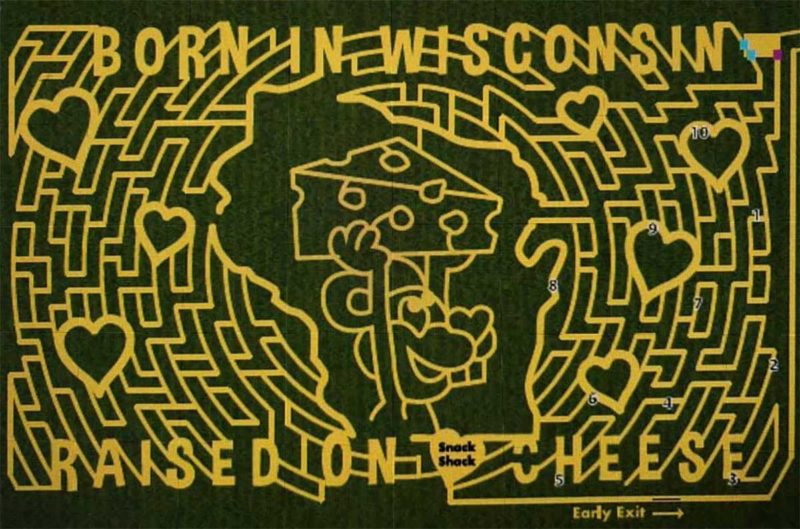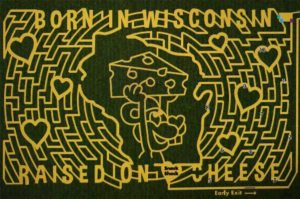 1. Wanick Choute Park, Sherwood
This community park has 2 awesome playgrounds and a splash pad that runs Memorial Day through Labor Day. The smaller playground is perfect for toddlers and preschoolers to explore. The bigger playground has a tall spider web style climbing structure that is a hit even for older kids that think they've outgrown playgrounds. There is plenty of room to run around at this beautiful community park. This family favorite is also featured on our Park Reviews!
2. The Chubby Seagull, Sherwood
There's a treat for everyone at The Chubby Seagull: Cedar Crest ice cream, food, wine, microbrew, and espresso. Play a round of mini golf and catch a fun photo op on the big blue chair. Visit Facebook for fall hours.
3. High Cliff State Park, Sherwood
High Cliff is one of our 15 Awesome Wisconsin State Parks That Are Less Than Two Hours From Appleton and a must-see fall destination for Fall Pictures with hiking along the Niagara Escarpment rock formations, observation tower, and pretty views of Lake Winnebago. A Wisconsin State Park vehicle admission sticker is required to visit.
4. Mulberry Lane Farm, Hilbert
Mulberry Lane Petting Farm is for all ages to explore through hands-on activities and self-guided tours. You can pet and hold kittens and baby goats, milk a cow and take a hayride. Also featured on our favorite Fall Pumpkin Farms, a free pumpkin from their pumpkin patch is included with admission.
5. Brillion Nature Center, Brillion
Building hours vary Monday through Friday, but the 7 miles of trails here are open from dawn to dusk daily. The Cottonwood Trail is perfect for families, as it has been updated with crushed limestone. Other trails are dirt, woodchip, or mowed grass. Look for the osprey nesting platform across from the marsh overlook.
Featured as one of our 11 Worth the Drive Hiking Trails about One Hour from Appleton.
6. Calumet County Park, Hilbert
Great for a quick water view of Lake Winnebago from the water. Kiddos can also run off some energy at the playground. We also love this place for great sunsets! Camping available.
7. Mud Creek Coffee, Stockbridge
Stop in for a cup of Colectivo coffee or a fun specialty espresso drink like a Campfire Mocha. They also serve lunch and breakfast, smoothies and protein shakes.
8. Terra Verde Coffee House, Chilton
Stop at Terra Verde for fresh roasted, specialty organically grown, fair trade and direct trade coffee. Stay for a bite to eat too!
9. Polly's Pumpkin Patch, Chilton
Polly's is ready to fill all of your fall fun requirements. There's a corn maze, a 40-foot slide, corn cannons, a petting farm, caramel apples and so much more. Be sure to have cash on hand for the corn cannon and treats at the Snack Shack. You can grab fall decor and fresh pie or apple cider donuts to take home.
Also featured on our favorite Fall Pumpkin Farms and Corn Mazes.
10. Scoop's Ice Cream House, Chilton
Scoops is open year-round and is known for their homemade ice cream made in-house including 16 regular flavors and 8 seasonal flavors. Scoops also serves Terra Verde Coffee, homemade soup and sandwiches.
Featured in The Ultimate Ice Cream Lovers Bucket List: 60+ Favorites!
11. Vern's Cheese, Chilton
Stop to grab a quick savory snack at Vern's for the road or for taking home. You'll find cheese of course, but also meat sticks, specialty snacks, and Wisconsin wines and beer.
12. Ledge View Nature Center
Ledge View is best known for its caves but also has a 60-foot observation tower to scamper up to see the fall colors from a bird's eye view.
Featured as one of our 11 Worth the Drive Hiking Trails about One Hour from Appleton and Exploring in Chilton – Nature Center, Caves, Wooden Park & Ice Cream!
13. Heritage Orchard
Cider donuts, turnovers, popcorn, pies, pick your own apples, and beautiful surroundings make Heritage Orchard a great place to add to your tour of the east side of the lake!
It is featured in our 15 U-Pick Apple Orchards & Pumpkin Patch Farms Near the Fox Cities and the donuts are reader recommended!
14. LaClare Farms, Malone
LaClare Farms is an award-winning, family-owned goat farm. This family farm started as a hobby and has grown into a passionate business. Check out the milking process from 4:30 to about 6 pm daily from the Viewing Room. They have 375 dairy goats and if you are lucky the kids (baby goats) as well can be viewed from the window as well!
Watch the goats on the farm and feed them in a petting area as well.
The retail store and cafe are beautiful. Focusing on local products, enjoy ice cream, cheese, Wisconsin wine and more. If the weather is nice, the courtyard patio space outside is beautiful.
15. Columbia Park, Malone
Located in Pipe, Wisconsin, the 70 foot Columbia Park Tower has a breathtaking view of Lake Winnebago. This park is probably best known for its boating facilities. If you have any little boat lovers in your family it would be a great place to see them! Campgrounds are also open for tent and RV camping from Late September to Mid-October depending on the weather.
16. The Little Farmer, Malone
Located just north of Fond du Lac in Malone Wisconsin, Little Farmer is nearly 120 acres. This family farm grows 20 acres each of pumpkins and apples. Admission is free but each activity will have a charge. If you bring your furry friend along they will be welcomed. Dogs are fine on a leash.
Hayrides run from Labor Day weekend through October 31st on Saturdays and Sundays only. The ride is about 25 minutes through the apple orchards, fields and woods.
Don't forget to get a caramel apple! People rave about it being the best caramel around. We love the option to cut them up for easier eating. Choose from lots of toppings that rotate like peanuts, coconut, candy, cookies, chocolate-covered sunflower seeds and more. You also won't be able to miss the delicious smell of freshly baked apple pies!
There are lots to explore on their beautiful grounds. Kids can enjoy the play area and feed animals as well. Plan extra time for all the activities!
17. Kelley Country Creamery
Voted "Best Ice Cream in America" by Good Morning America in 2013, this farm with 22 daily flavors and a whole host of signature sundaes is well worth the trip! Watch ice cream being made and then head out to a picnic table to enjoy "the best ice cream in the middle of nowhere."
Fall flavors include: apple raisin strudel, baby sunny apple, caramel apple cheesecake, caramel apple pie, country bumpkin pumpkin, cranberry walnut, green apple, jack-o-lantern, kandy korn, oatmeal raisin, p-nutty caramel apple, pumpkin bar, pumpkin cheesecake, pumpkin chip, pumpkin pecan, pumpkin pie, pumpkin praline and snickerdoodle

It is also featured on our Ultimate Ice Cream Lovers Bucket List with more than 60 local spots to get great ice cream!
What are your favorite things to do in fall? Leave a comment with your go-to spots!