Some of the best memories made stem from hitting the open road and exploring new places with your family.
Recently, my family packed our bags and drove to Minnesota for a week-long vacation. Though we are seasoned travelers, we were heedfully prepared to face the little challenges that come with traveling with a toddler. After shaking up our typical travel routine, we were surprised at how smooth our vacation went. Here are five, helpful, mom-approved tips!
Find some of our favorite road trips here >
1. Travel While They Sleep
While this sounds too good to be true, it's genius. Initially, my family was set to leave in the morning, but my husband made the spur-of-the-moment decision to drive through the night instead. Our daughter was already asleep, so we packed up the car and hit the road. Our daughter slept through nearly the entire drive, waking up about a half hour before we hit the Wisconsin/Minnesota border!

As she slumbered, my husband and I had the rare opportunity to engage in uninterrupted conversation – but even better, to our daughter, the trip did not seem as long. Though we stopped briefly to stretch our legs when she woke up, the rest of the short journey went by fast as we were occupied looking at the sunrise, scenery and chatting about the trip. Ultimately, this was a less stressful option for our toddler.

2. Book Kid-Friendly Accommodations
Staying in a hotel that is geared around families, especially those with toddlers, is key. Most hotels are equipped to provide complimentary cribs or roll away beds – which means less packing for parents. Best of all, parents can relax knowing that there are other families with children there, too. Instead of hoping and crossing your fingers that your child is silent as a church mouse, you can embrace every snort and giggle.

Family-orientated hotels also typically offer special activities for children, have longer pool hours and often feature a playroom or arcade. With those things in mind, we booked our stay at The Great Wolf Lodge in Bloomington, Minnesota. The lodge featured an indoor water park, complete with a lazy river and toddler splash zone, as well as a 24-hour arcade, bowling alley, Ben & Jerry's Ice Cream Shop and its very own Build-A-Bear store.

Staying at the resort meant we only had to step outside our hotel room for our toddler to have fun but could effortlessly return when nap time neared. The lodge had many age-appropriate activities available, including more individualized opportunities. My daughter's favorite included a visit from Wiley Wolf, one of the lodge's mascots, who knocked on our room door just before bedtime with a tray of fresh cookies, chocolate milk and a goodnight hug.
3. Pack Convenient Snacks
Packing snacks for your toddler will not only save money, but they will also help ease their grumbly tummy in a pinch. You'll never know when you'll hear the famous, "mama, I'm hungry" line, so it's best to be prepared. I like to pack non-perishable snacks that have minimal mess. When selecting snacks, I consider that they might be consumed in the car, on a walk or during a wait in a long line.

Snacks like applesauce pouches, cut grapes, natural fruit snacks, Annie's Organic Cheddar Bunnies and bananas make our bag quite often when we travel. Of course, trying out new foods while traveling is part of the fun. Apart from packing our own
snacks, we tasted some unique goodies during our trip.

When we wanted a little something sweet, we headed over to the new Build-a-Bear Bakeshop at the Mall of America. There are only two of these shops in the country so far, but here, little hands can have some fun while they decorate their own cupcakes. Kids choose from a variety of toppings and frosting colors and whip up their own creation. It's a fun way to entertain and please your sweet tooth at the same time.
4. Do Your Research
An extra benefit of traveling with toddlers is that they often get free admission to many zoos, parks and museums. Many places advertise "three and under free," which is a great way to help maintain a budget while on vacation. Before going on vacation, go online and lookup free attractions that your toddler may enjoy.

Many places list admission fees –or lack thereof, on their social media pages or website. You may be surprised what attractions your tot can visit for free. With my daughter being curious, active and hands on, I wanted to find activities that would pique her interest. An attraction that we were the most surprised with was Como Park Zoo and Conservatory in nearby St. Paul. Not only did it have a beautiful, lush indoor garden, but we spent two hours walking around the zoo checking out sea lions, polar bears, arctic foxes, giraffes and snakes – and it was completely free for the entire family!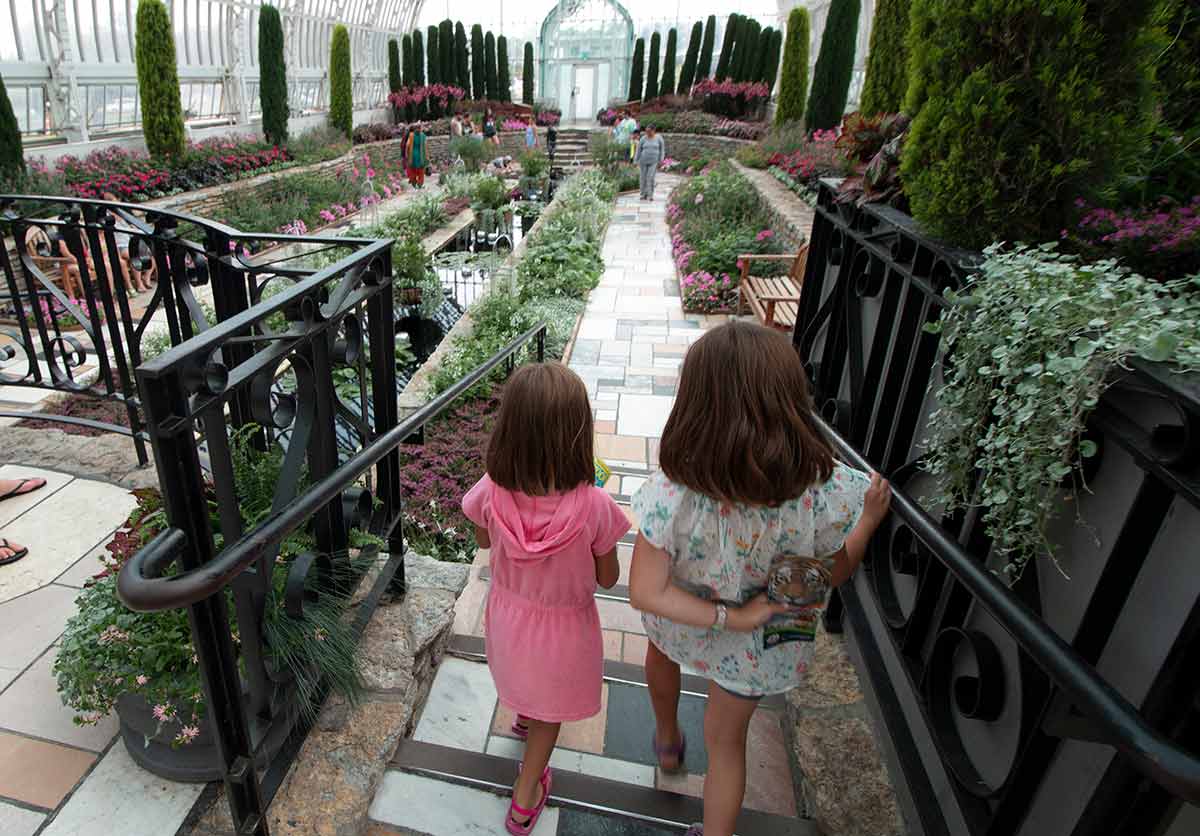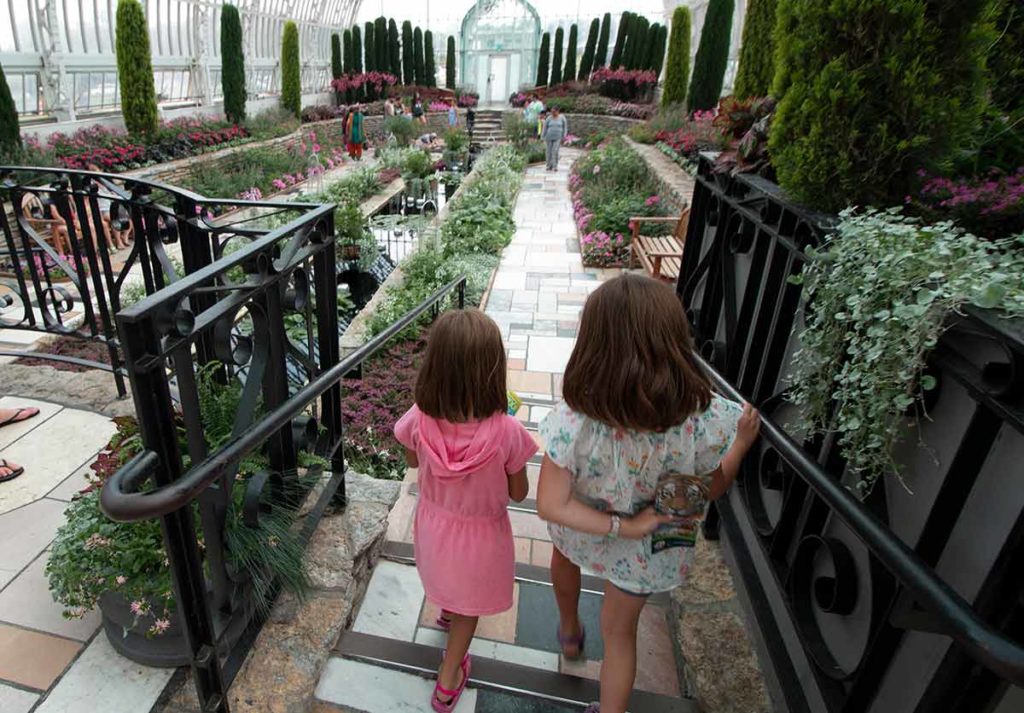 Along with the fun things, I recommend planning before you dine. Not only do many chains and local eateries offer free meals for toddlers, but it's helpful to know which places are family-friendly before you arrive. In Minnesota, I had received a card for a complimentary children's meal for a restaurant in the mall and considered making a reservation until I walked past it. Inside the dimly lit dining room were glass wall fireplaces and rows of wine glasses. Needless the say, we opted to dine alongside a giant gorilla during a lightening storm at the Rainforest Café instead.
5. Expect the Unexpected
Us parents know this tune – pack extra clothes, have a spare blankie, bring band aids. Aside from the obvious circumstances, expect to have a few surprises along the way: feeling even more connected and completely in love with your toddler!

Vacations are wonderful opportunities that allow us to step back and truly enjoy our kids. It's just amazing watching them interact and enjoy the simplest things. For instance, I will never forget a conversation my two-year-old had with a little red monkey at the zoo:

"Hi monkey, what are you doing? I see you!" she began. "Do you like bananas? I like bananas. Mmm!"

Even more, one of my most cherished memories was spending an hour with her in the shark tunnel at the SeaLife Aquarium. She sat admiring all the creatures, as if she was immersed in some magical world. These are the sorts of experiences that make traveling with a toddler even more special.

In all, along with planning and having fun, it all comes down to celebrating the unexpected, cherishing the memories and snapping a picture to relive it. Happy travels and enjoy every moment of traveling with your toddler as you show them the beauty and wonder of the world!
Where is your favorite place to travel to as a family? Let us know in the comments below?