We've rounded up the outdoor swimming pools in the Fox Valley for the summer and included hours, and opening and closing dates! Grab your towel and sunscreen and head to one of these fun spots for swimming! Summer in Wisconsin never seems long enough, so don't delay!
PS… We threw in the man-made lakes, Marble and Plamann Park have fun inflatables for a change of pace from regular swimming pools and Pollock Pool in Oshkosh is a scaled-down waterpark complete with splash buckets and a lazy river!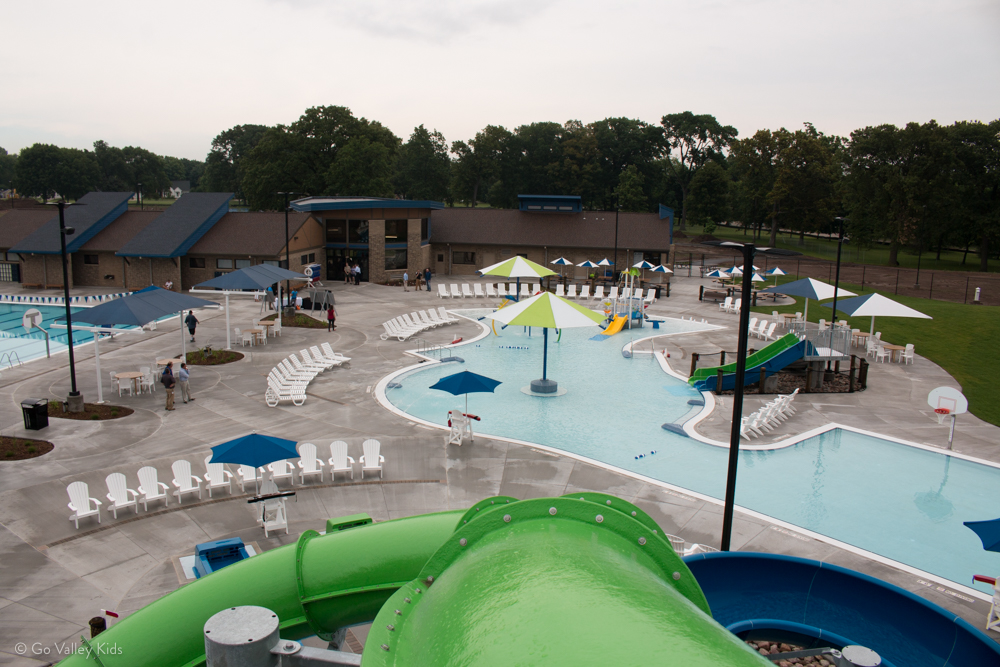 Swimming Pools in Appleton
Erb Pool, Appleton
Erb Pool is not far from Downtown Appleton and was completely rebuilt in 2018 along with extensive playground updates. There are lots of Adirondack chairs and loungers for when you're not in the pool as well as grassy areas to spread out a blanket or towel. The zero-depth play area, leisure pool, full-size swimming pool, and twisty slides make this pool a great destination for families with kids of various ages.
Parking can get a little dicey at peak times, so be prepared to walk a block or more. There's a lot of parking on the street aside from the parking lots. If you arrive at opening, expect to wait in a line on nice days, if you have a season pass, it goes a lot faster though!
GVK Pro-Pool Fan Tip: Appleton residents can buy a discounted year pass for the outdoor and indoor pools until May each year.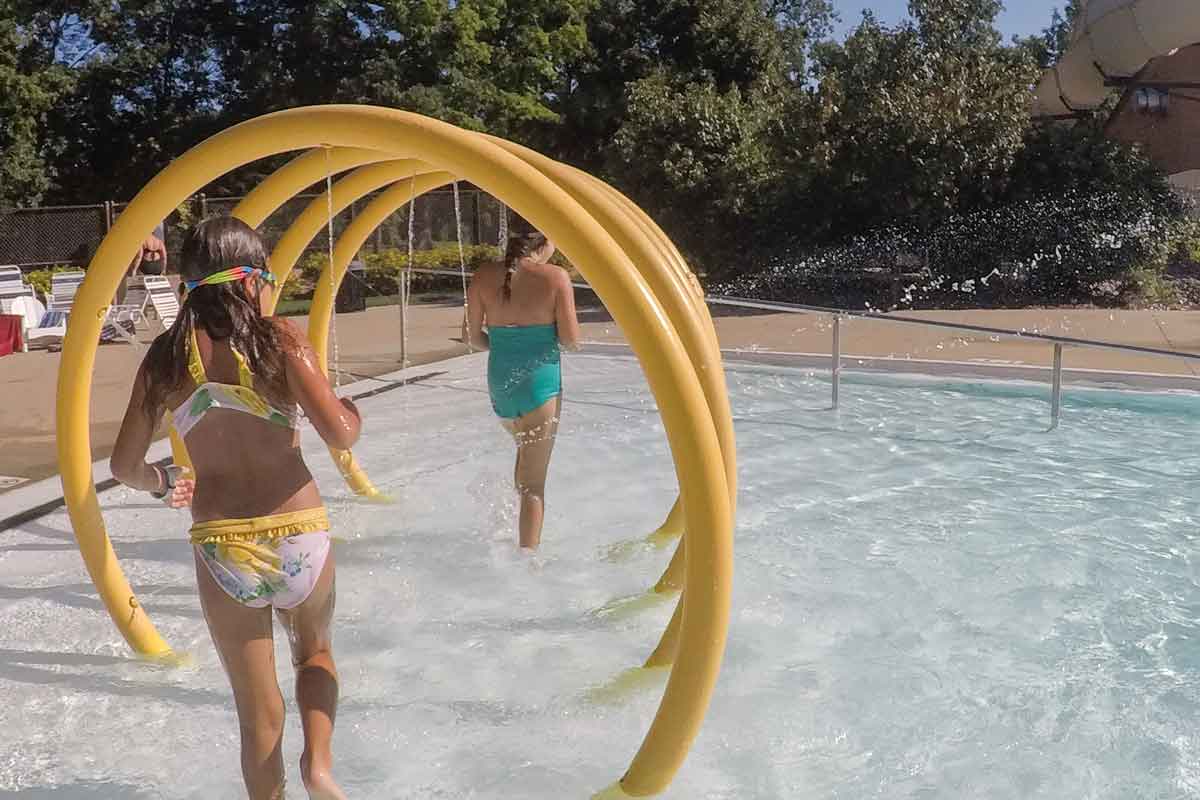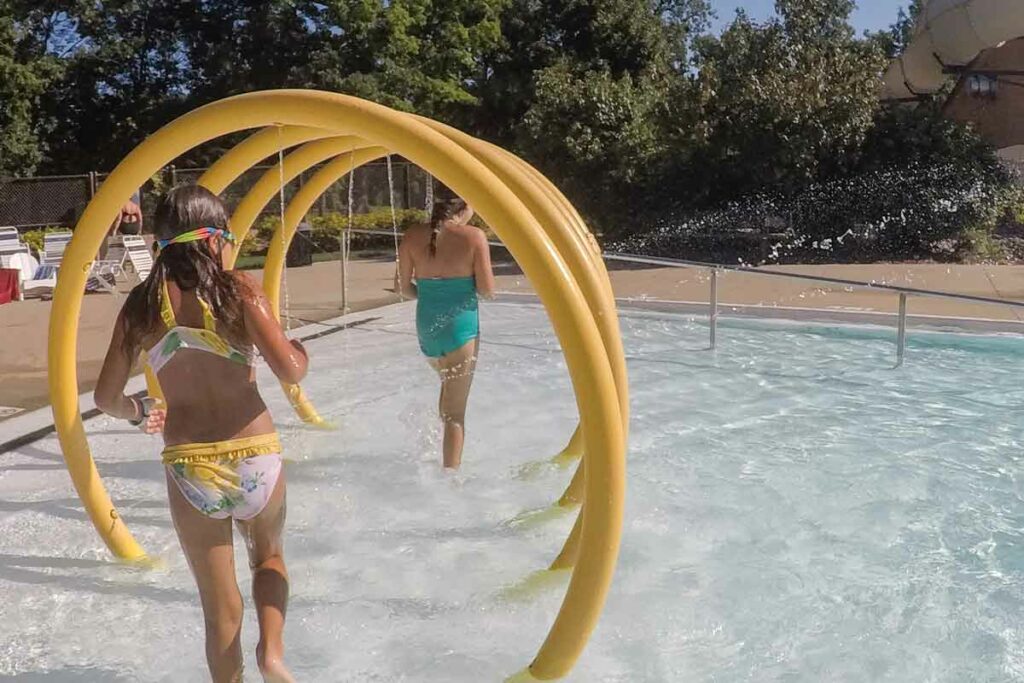 Mead Pool, Appleton
There are a lot of great reasons to love Mead Pool! It is usually a little quieter than Erb Pool and has lots of grassy and shady areas to relax outside of the water. There is a fun twisty slide that usually has a very short line along with two heights of diving boards. The zero-depth entry are is quite large and offers a lot of room for families with younger children to play in the water.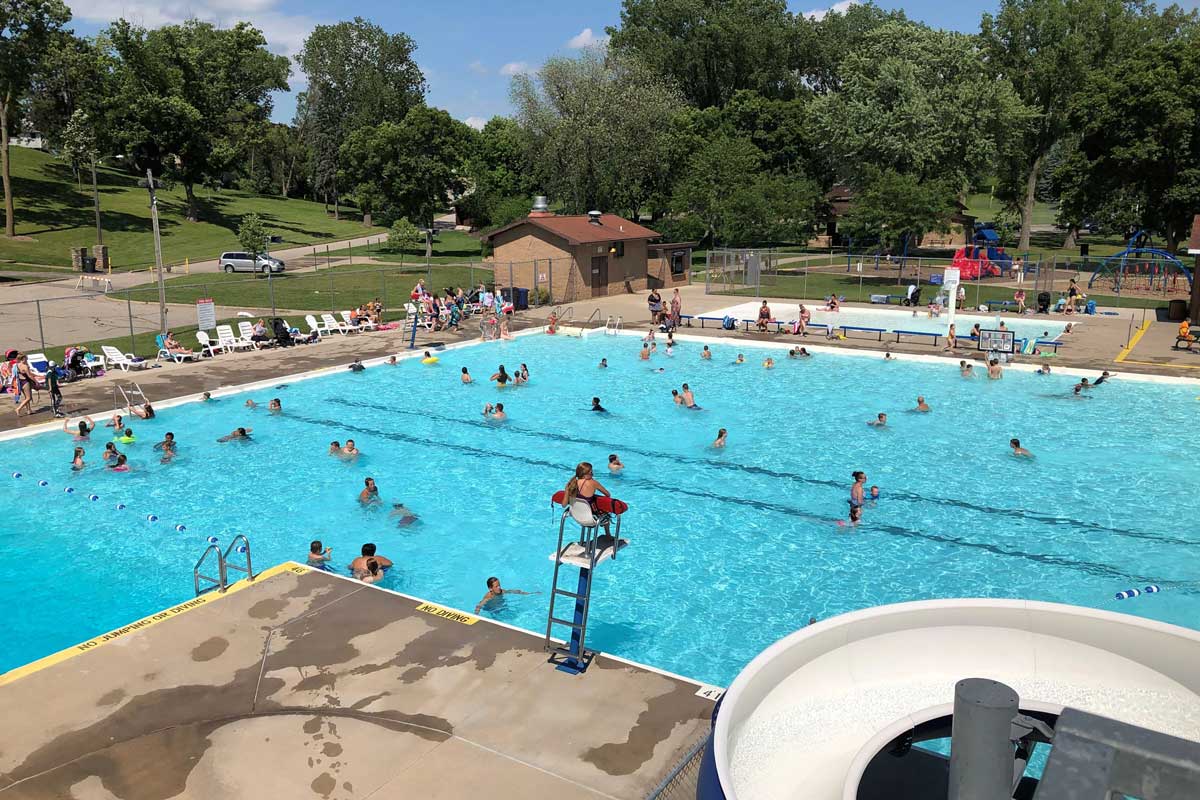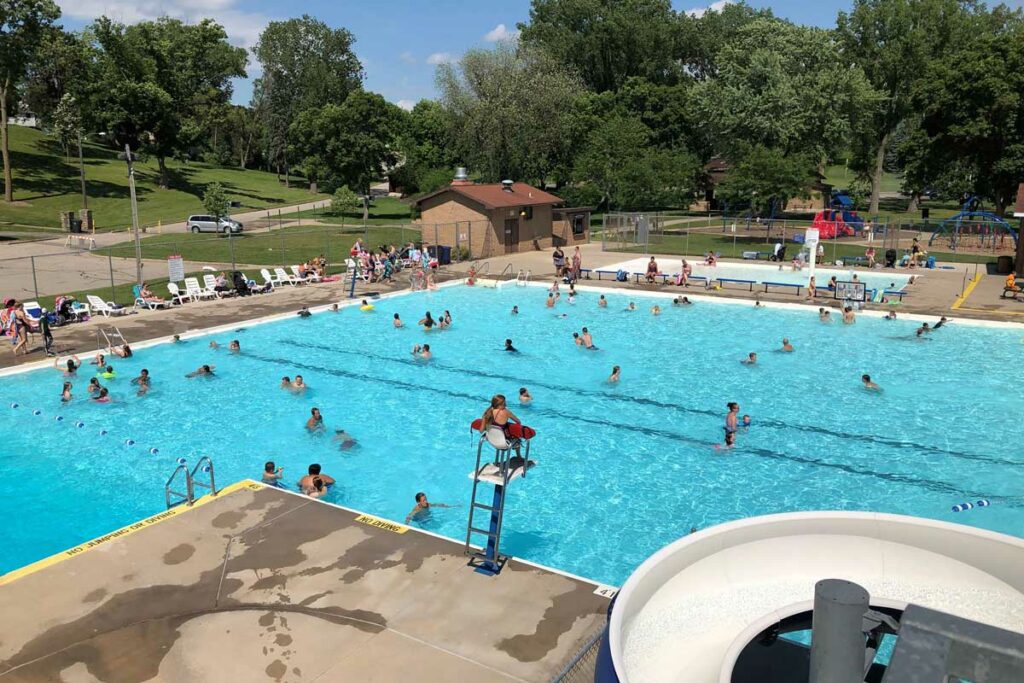 Swimming Pools in Little Chute
Doyle Pool, Little Chute
Doyle Pool in Little Chute is a community pool with a unique feature for littles—a heated wading pool! You'll also find a high dive here and a flume-style water slide for adventurous older kids. There's plenty of deck space for relaxing and a concessions stand if you get snacky.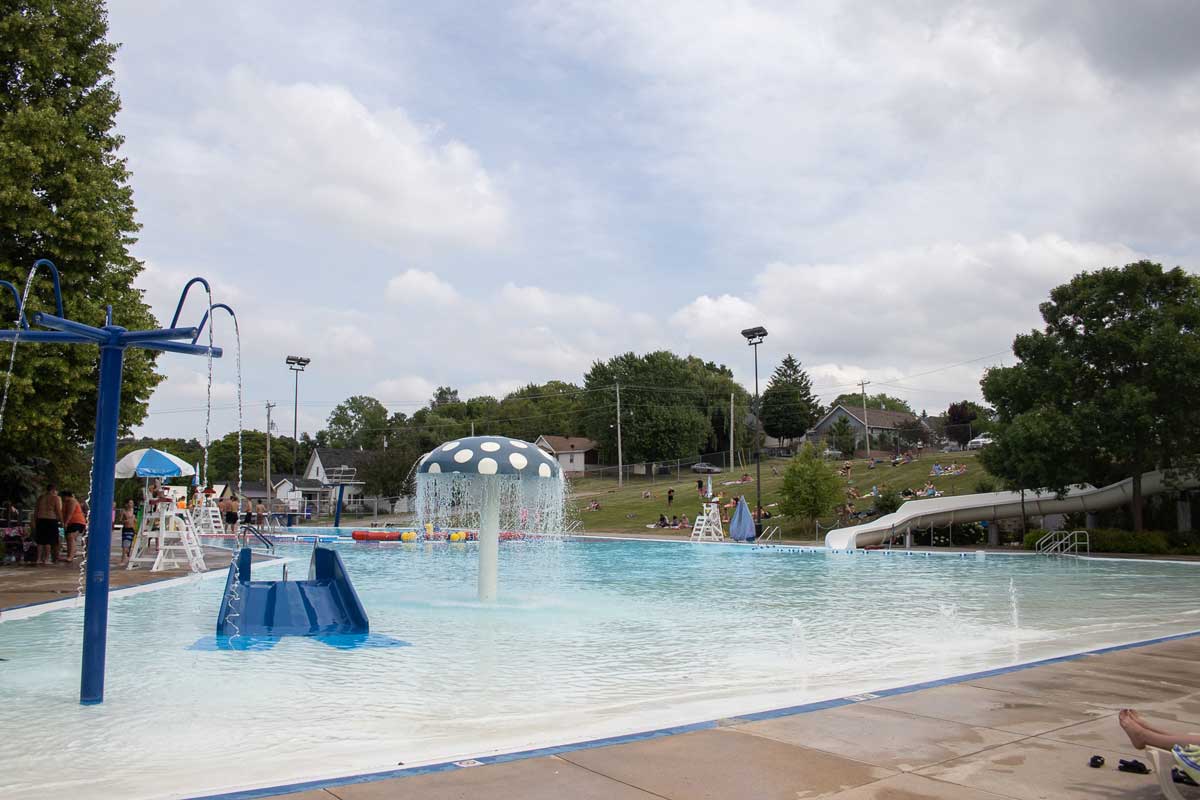 Swimming Pools in Kaukauna
Kaukauna Pool, Kaukauna
Kaukauna Pool is close to their downtown and it is heated! There is a parking lot and street parking available. At the pool, you'll find a sandy volleyball court, lots of chairs for lounging, and a zero-depth entry play area for little swimmers. This pool will be getting an update in the coming years and has an open survey to collect information from the community.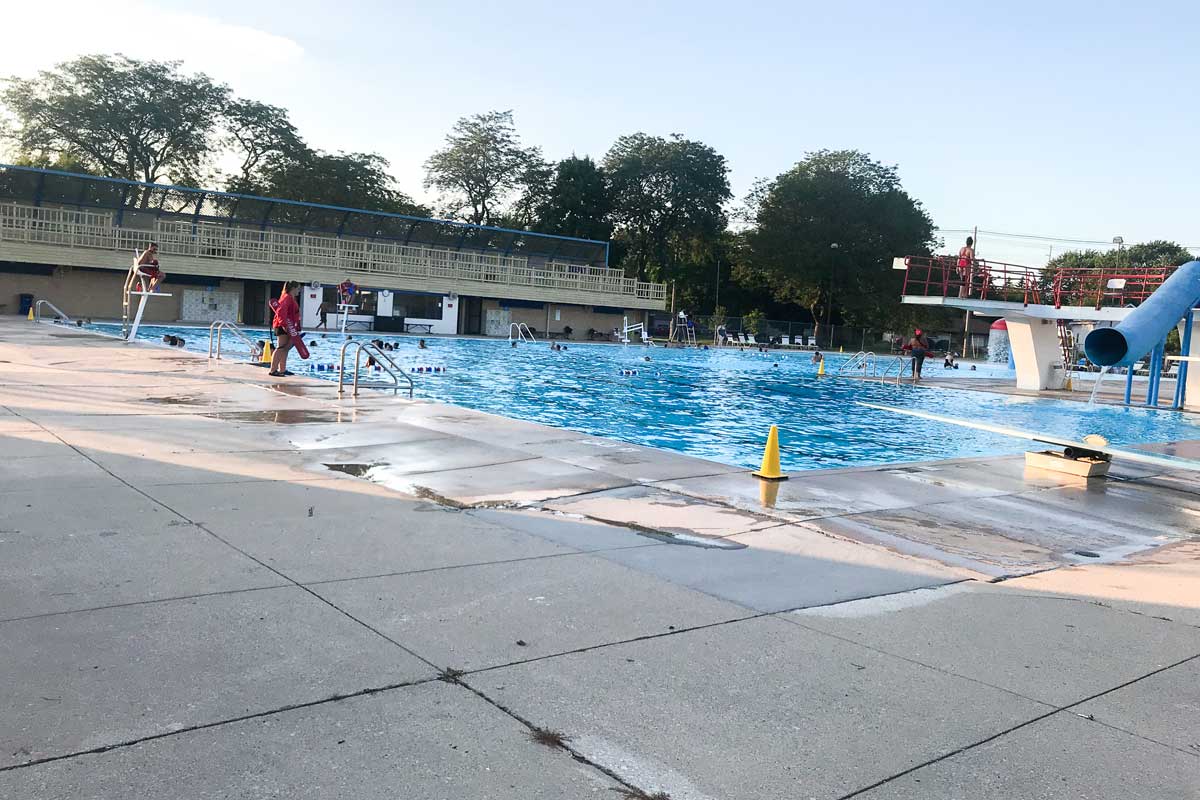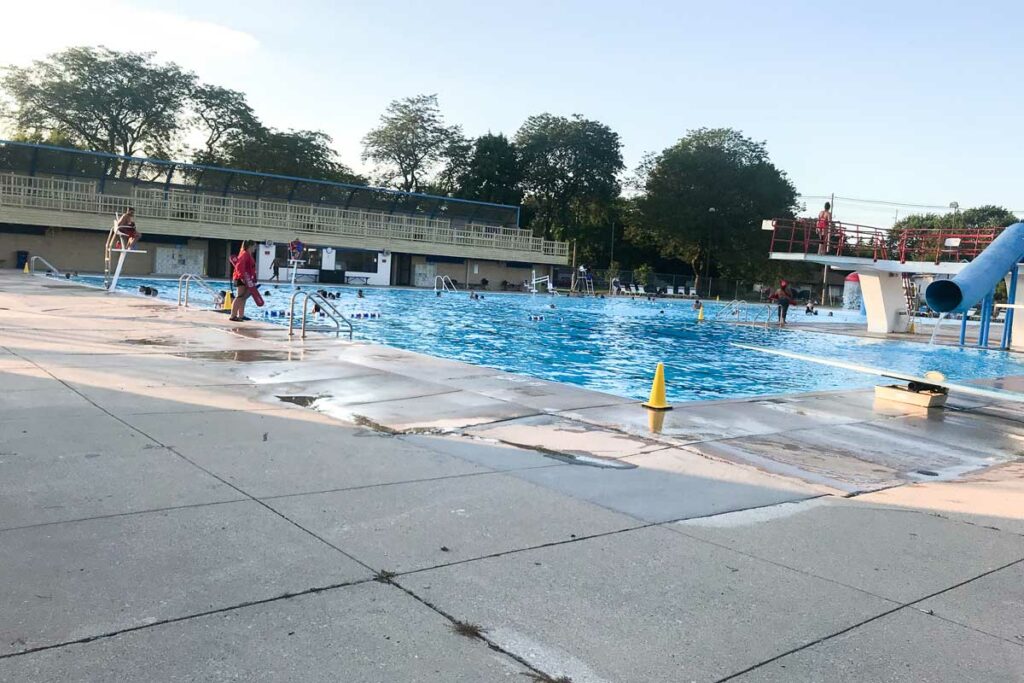 Swimming Pools in Menasha
Menasha Swimming Pool (Jefferson Park), Menasha
Menasha's public swimming pool is a fun spot of younger kids in particular to swim. It has features that your bigger kids will love like slides, diving boards, and concessions stand. But, there are some things at this pool that you will not find at other city pools: an inflatable toy section, heated water, and zero-depth entry and play area perfect for littles ages 2 – 6.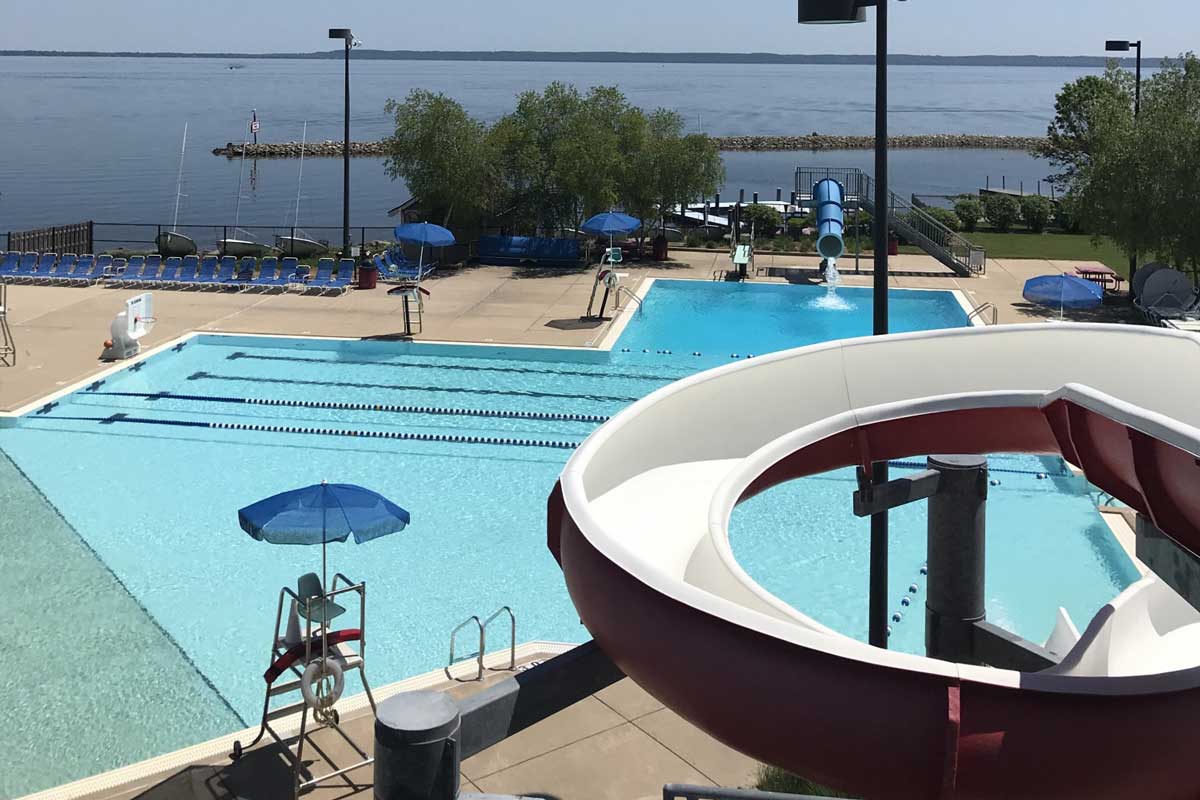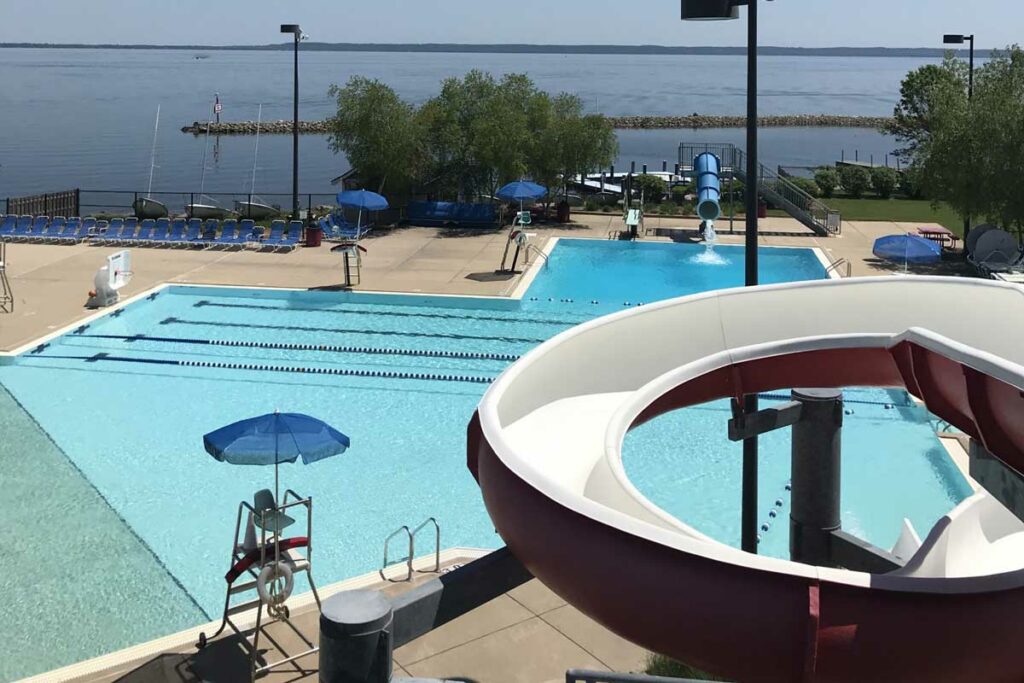 Swimming Pools in Neenah
Neenah Pool, Neenah
Neenah's public swimming pool has something special that you will not find at other local pools. The location—you can swim and relax here in view of the lake! It is almost a beach day with the comforts of a pool. You'll also find a flume slide, a water slide, and fun features for little kids like a splashing fountain and sand play area designed with toddlers in mind.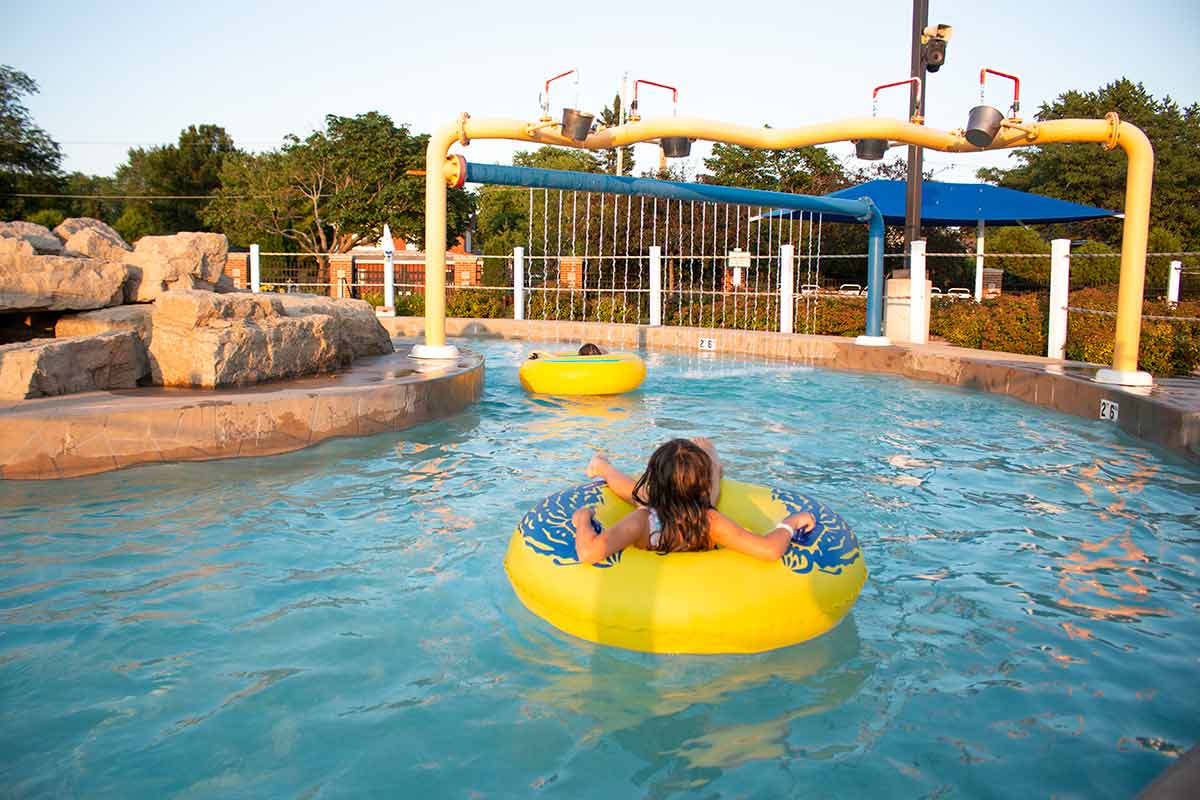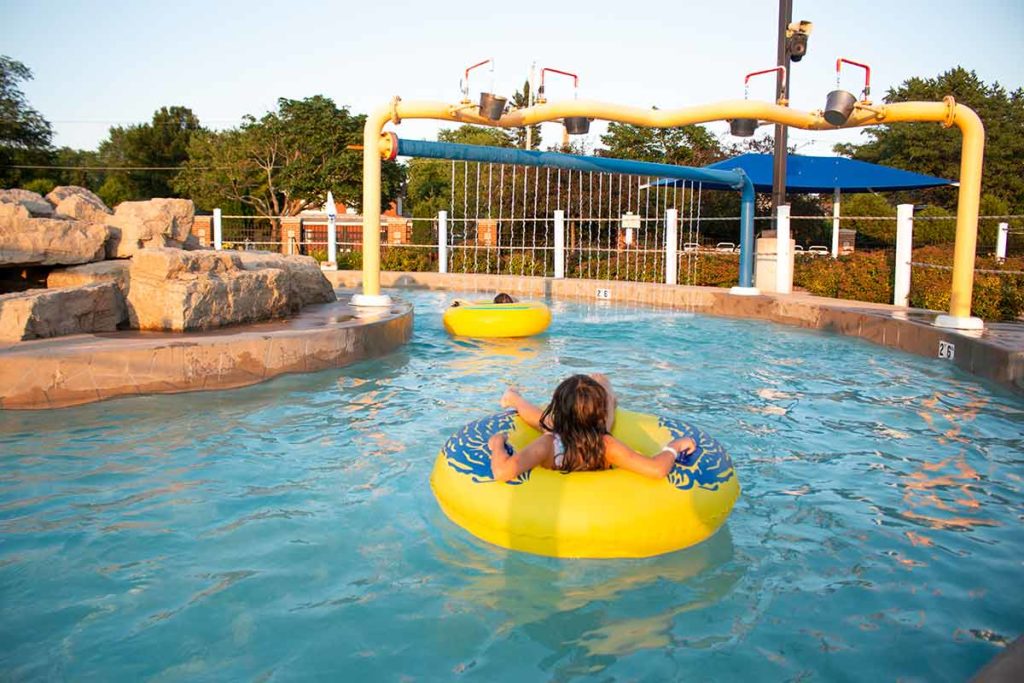 Swimming Pools in Oshkosh
Pollock Community Water Park, Oshkosh
Pollock Community Water Park is a true gem! The affordable admission and features of the park make it a budget-friendly destination with no shortage of opportunities for fun. There's a lazy river, a fun play area complete with big tipping buckets, large slides to go down in tubes, diving boards, and sandy areas to play. Put a visit on your family's summer bucket list!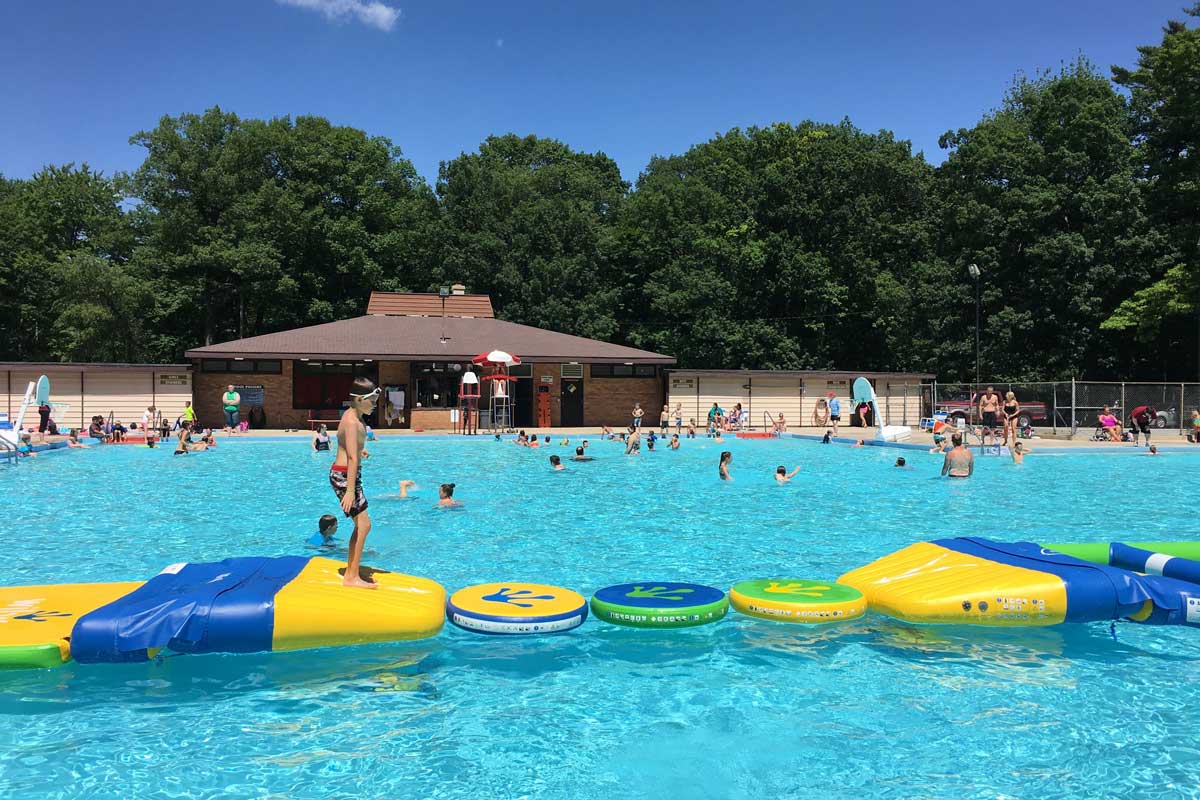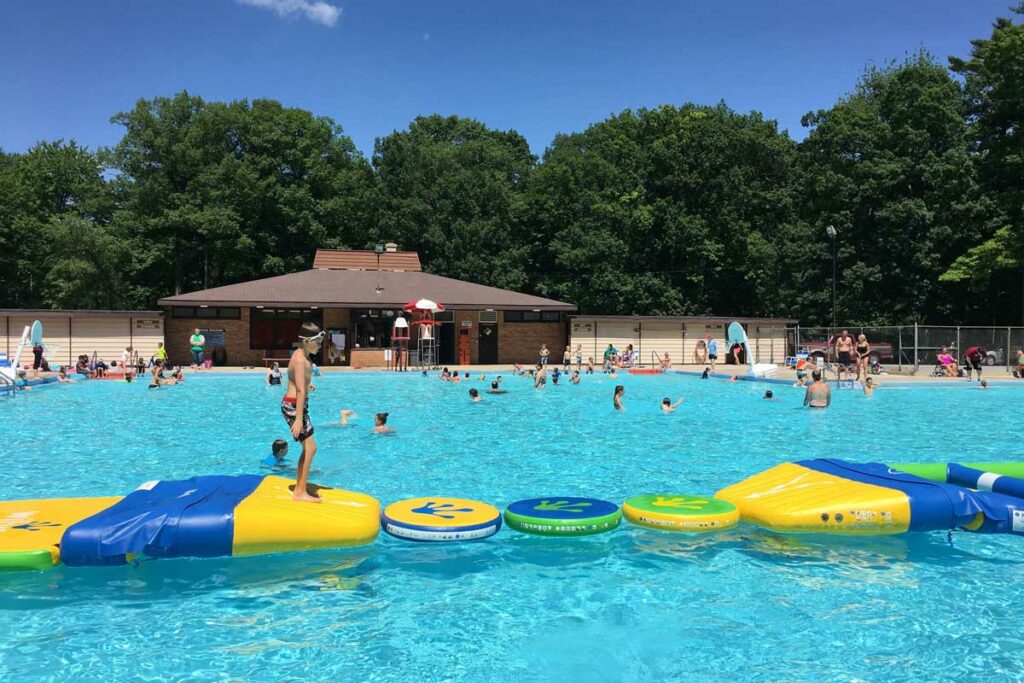 Swimming Pools in Green Bay
Colburn Pool, Green Bay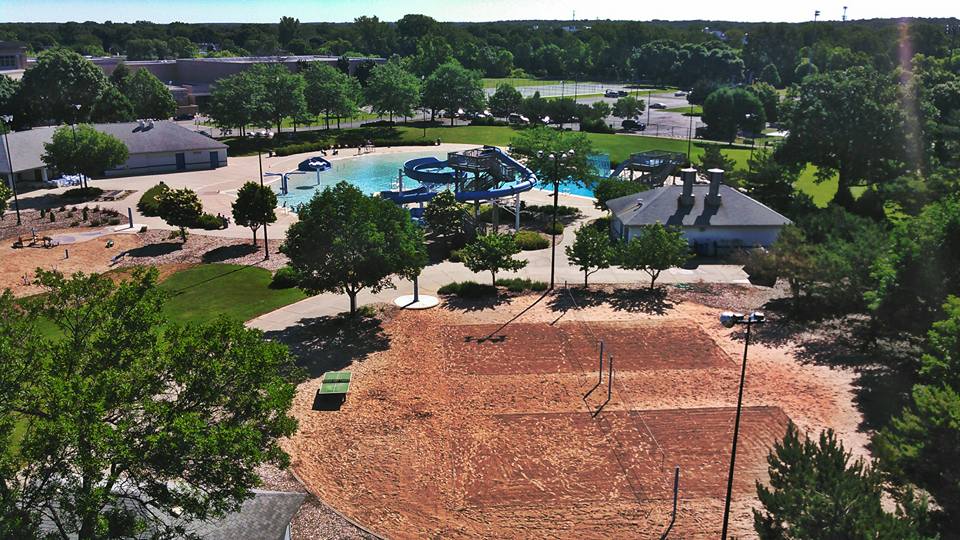 Joannes Aquatic Center, Green Bay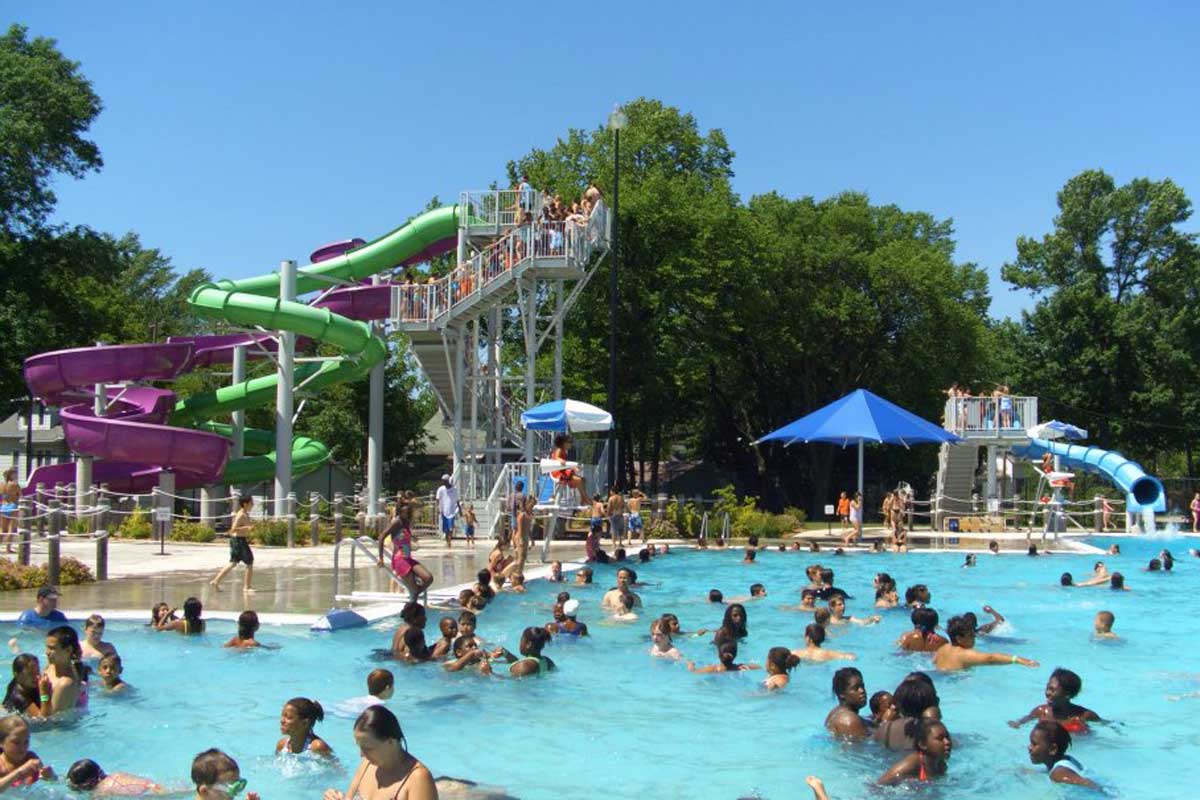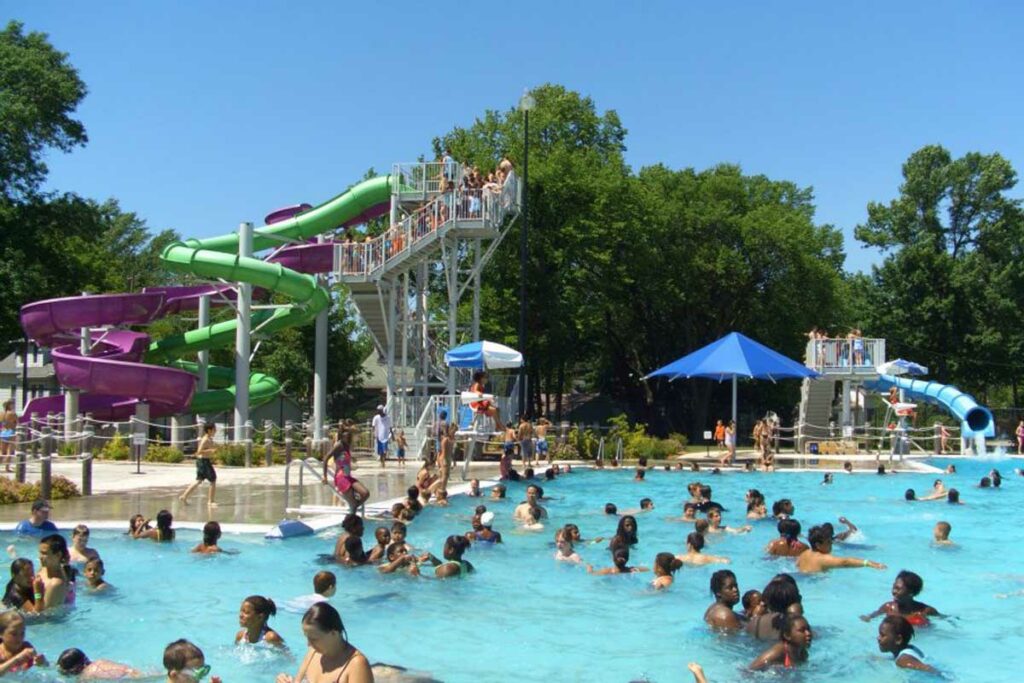 Resch Aquatic Center, Green Bay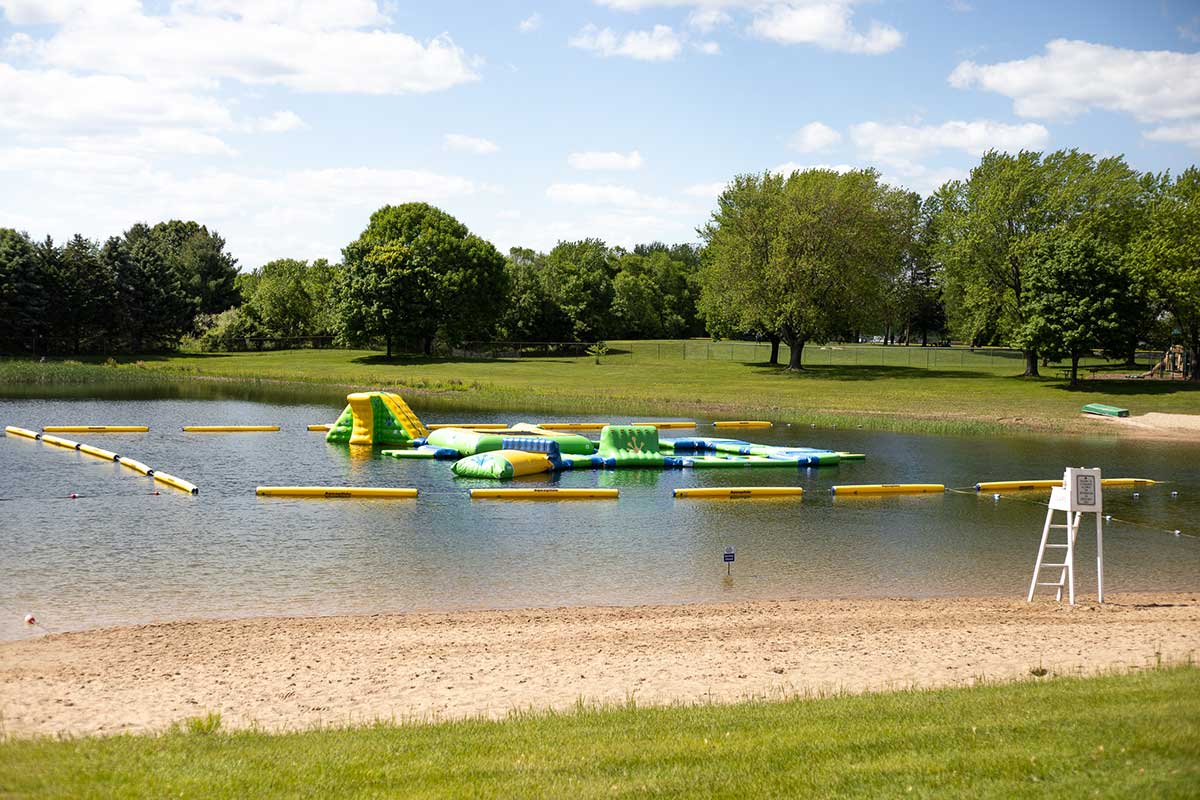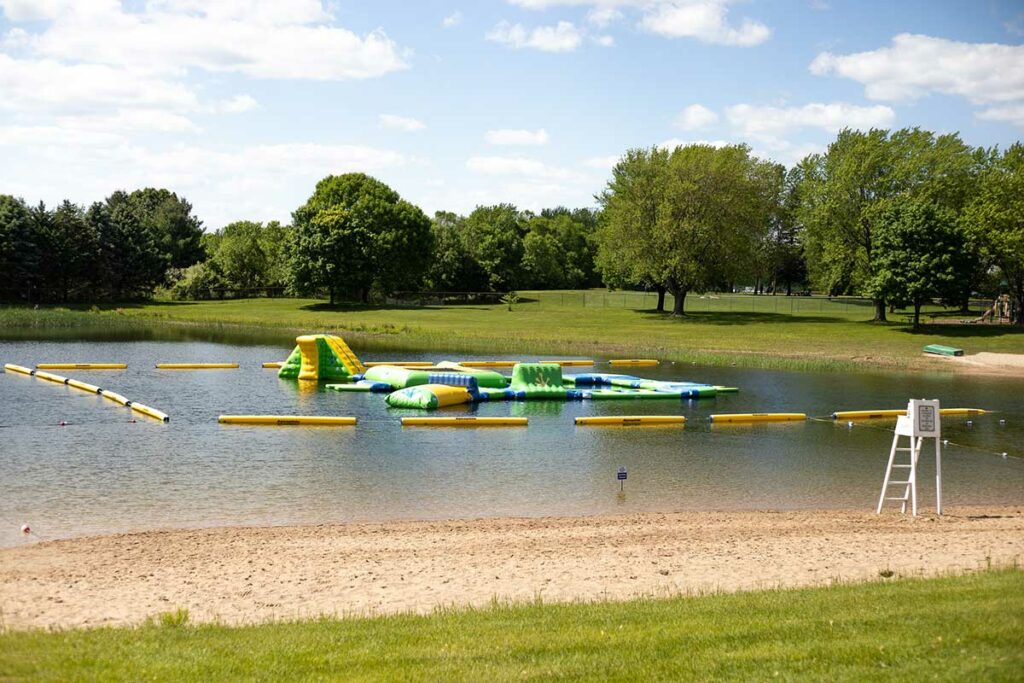 Public Beaches in the Fox Cities
Read More: Where to Swim in Lakes and Beaches near the Fox Cities
Plamann Park Lake, Appleton
This manmade lake is located within Plamann Park, making it easy to plan a fun day with a hike on trails, disc golf, visiting the petting farm or playgrounds, and then following up with a swim to end the day. In addition to a sandy beach area and fun slides, Plamann Park Lake offers an adventure for kids 7 and older with a water inflatables obstacle area. You can also pack in any snacks or lunch for a picnic, just make sure that nothing is in glass!
Sunset Beach, Kimberly
Sunset Beach in Kimberly is a man-made lake with a large sandy beach, an extensive grassy area with lots of shade, and a small playground area lakeside. There are a lot of areas to play in shallow water and so much space for building sandcastles, smaller slides with ladders to access the lake, as well as a fun diving well and drop slide. There is a large parking lot adjacent to the pool.
Arthur Marble Park Beach, Winneconne
This beach has a shallow sandy entrance, fun inflatables, and a diving platform for stronger swimmers. This beach is a fun spot for families to play and features free swim nights throughout the summer and hosts a movie night at the beach. There's an interesting and unique historical museum next door to the beach with free admission to explore that features a schoolhouse, extensive doll collection, and a riverboat.
Ashwaubomay Lake, Green Bay
Other Fun Places to Swim