As the temperature rises into the 90s and the official end of summer looms, there is no better reason to head up to the thumb of Wisconsin and hit the beach for sun-kissed noses!
Sailboats line the horizon as the sun reflects over the beautiful bay. The area, notably known for its views and, of course, the sturgeon fish, is the perfect destination with an opportunity for families to relax, spend time together, and explore!
You'll wish two days would quickly roll into two weeks, between history and adventurous endeavors — Sturgeon Bay offers so much for families.
Things To Do in Sturgeon Bay For Families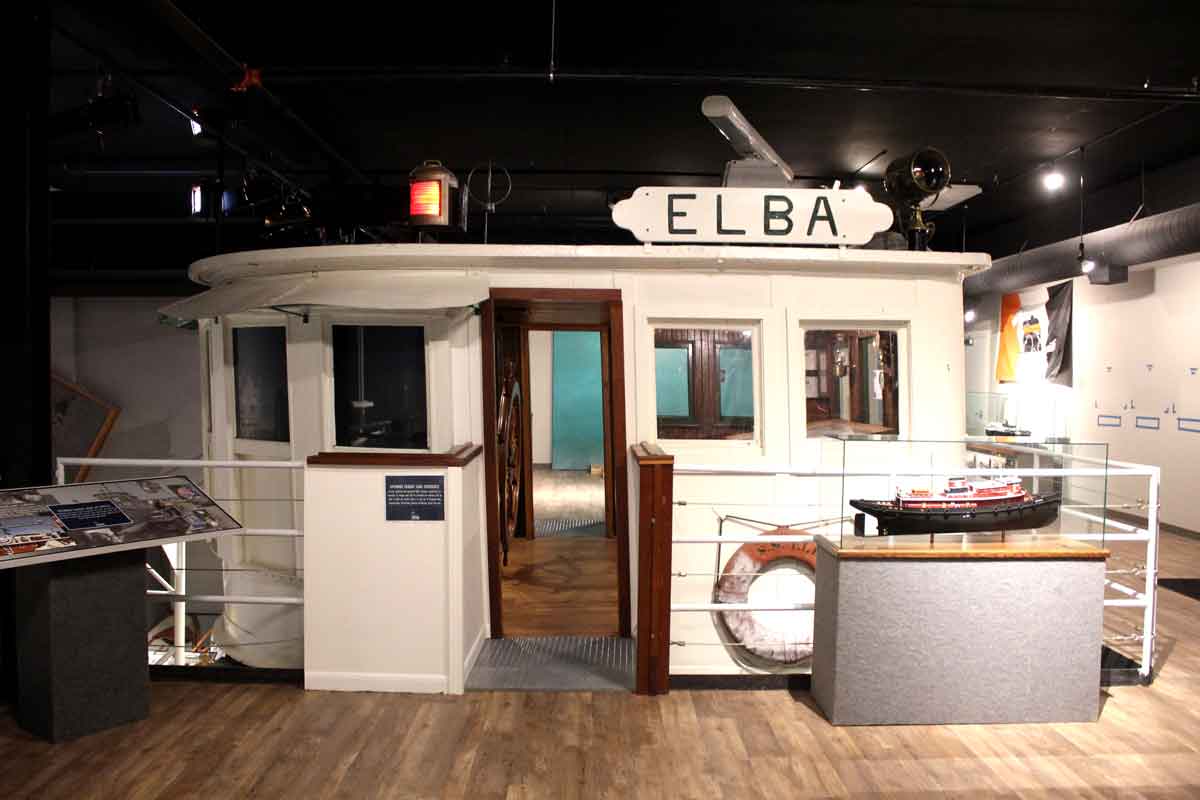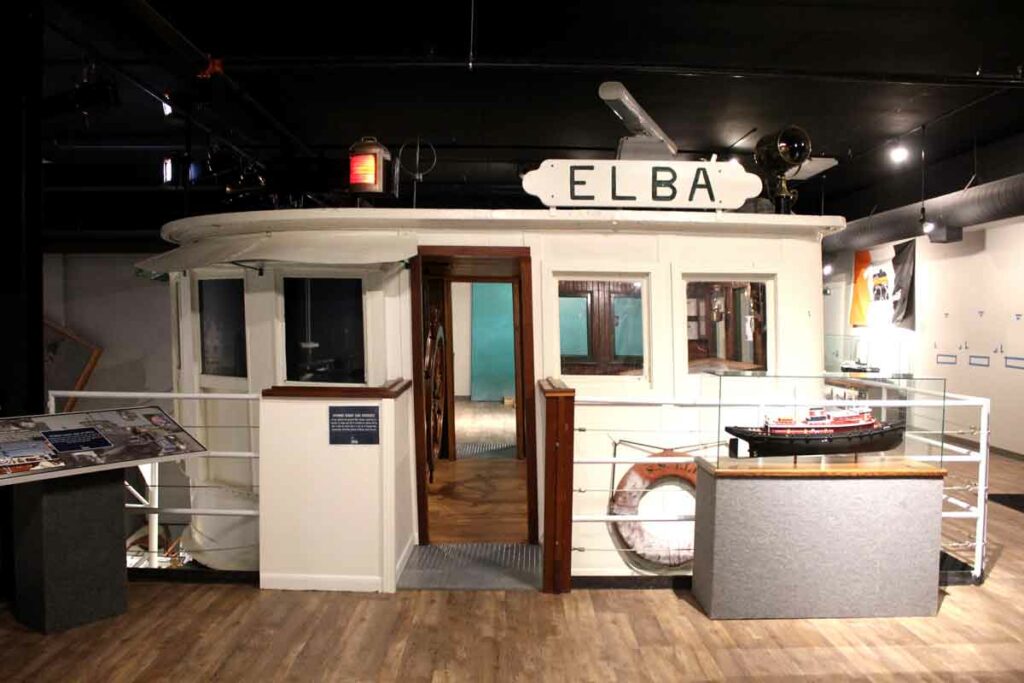 1. Explore Maritime Marvels At The Door County Maritime Museum
One of the best ways to be introduced to the bay is by visiting the brand new Jim Kress Maritime Lighthouse Tower at the Door County Maritime Museum! Make your way to the top of ten floors, where you'll find a stunning observation deck that offers a breathtaking view of the area, large boats, tugs, and a picturesque scan of the ombre skyline.
The museum is home to fascinating exhibits designed to showcase the evolution of Sturgeon Bay. Visitors begin on the top floor learning about the land's ecology, making their way through history, and then end up "under the waves" with an area dedicated to shipwrecks! While there are many shipwrecks known in Door County, there are three right along the bay line, just an eyeshot from the museum tower windows.
It offers families an up-close look into local rarities, namely an original Fresnel lens from a nearby lighthouse. The lens was part of a specialized lighting system in historic lighthouses to help guide ships. Its unique construction of concentric circles on the annular sections has been dubbed "the invention that saved a million ships."
Kids will especially enjoy stepping into an original wheelhouse of the Elba, located on the second floor, and virtually navigating the ship through the crashing waves. The museum also is home to the "Built for Battle" exhibit honoring the history and importance of Sturgeon Bay ships during World War II. There was even a ship used on DDay built proudly in the Bay area.
Outside on the water is the John Purves, a restored 1919 Great Lakes tug. Visitors can take a guided tour of the tug, a marvelous floating attraction for kids and adults alike. Walk through the 149-foot boat's engine room, crew cabins, galley, and wheelhouse and learn the daily life of the 13-man crew that once guided her on the water.
Door County Maritime Museum, 120 North Madison Avenue, Sturgeon Bay
Hours: 10 am – 5 pm daily
Museum with Tower Admission: $12 adults, $5 youth (5-17), and children 4 and under are FREE!
Active military and up to five family members are admitted for free; seniors and retired military are $10
READ MORE: Discovering Lake Michigan Shipwrecks >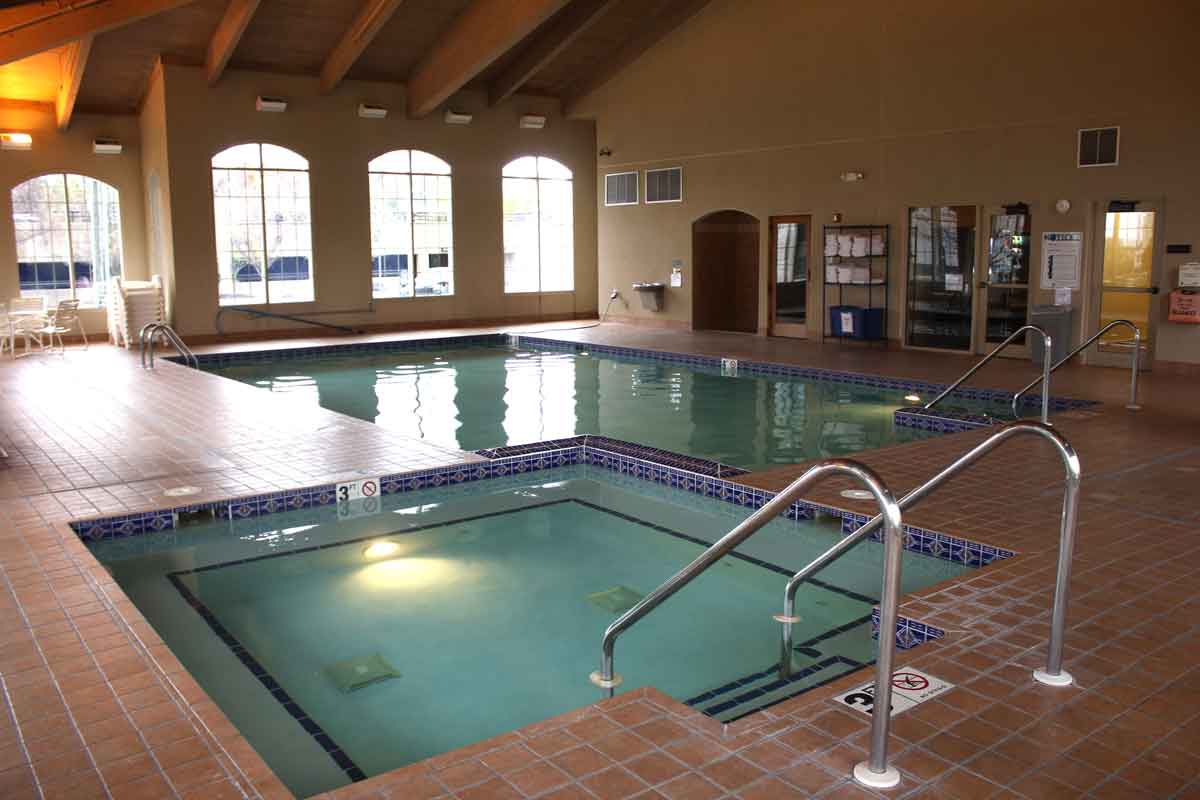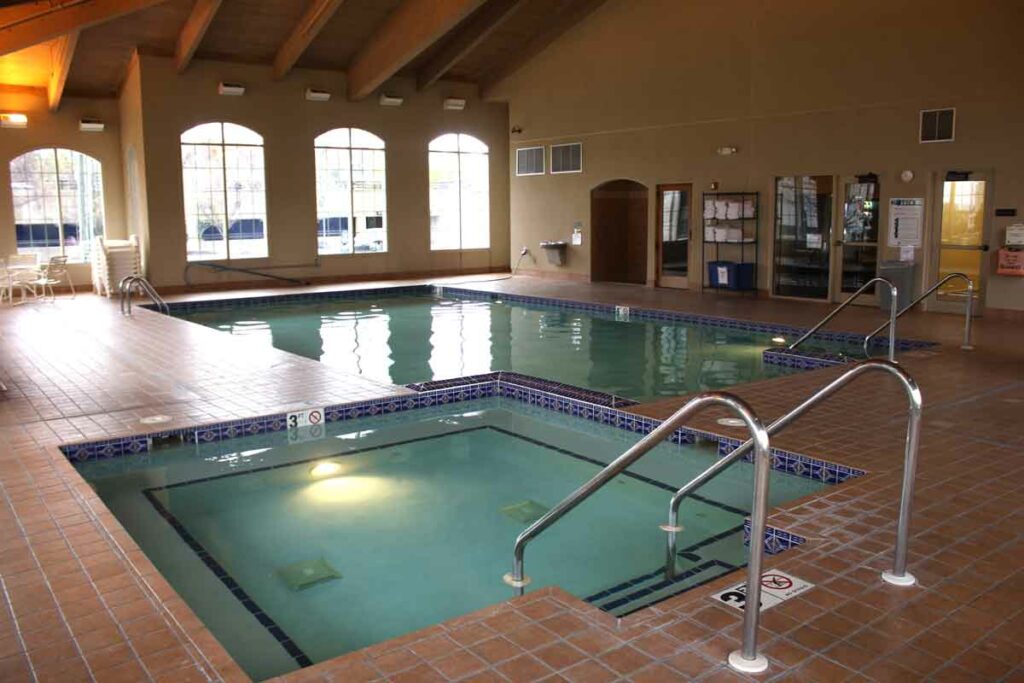 2. Check-In, Swim & Relax At The Stone Harbor Resort
One aspect of traveling that can be challenging for parents is to find accommodations that can comfortably host the whole family. Luckily, Stone Harbor offers a wide variety of room types that provide a perfect fit!
The property consists of spacious room layouts that are designed with growing families in mind. They include in-room kitchens equipped with a full-size refrigerator, stove, and a dishwasher, along with an open-concept living area with plenty of seating and a gas fireplace. Each room type offers a specific number of bedrooms with plush beds. Their largest room type is a three-bedroom Premier Loft Suite.
Along with a cozy place to recharge, the resort provides guests with a gorgeous view of the bay, complimentary wifi, an on-site restaurant, an outdoor pool, and an indoor swim area with a separate pool, whirlpool, and sauna.
Families can also conveniently enjoy a delicious meal from the Stone Harbor Restaurant, available for dine-in, pick-up, or room service. Opting for room service allows families to dine around the table family-style. This provides a different feel from the typical vacation dining and avoids long waits and crowds. Parents can also enjoy the custom blends of in-room Door County coffees.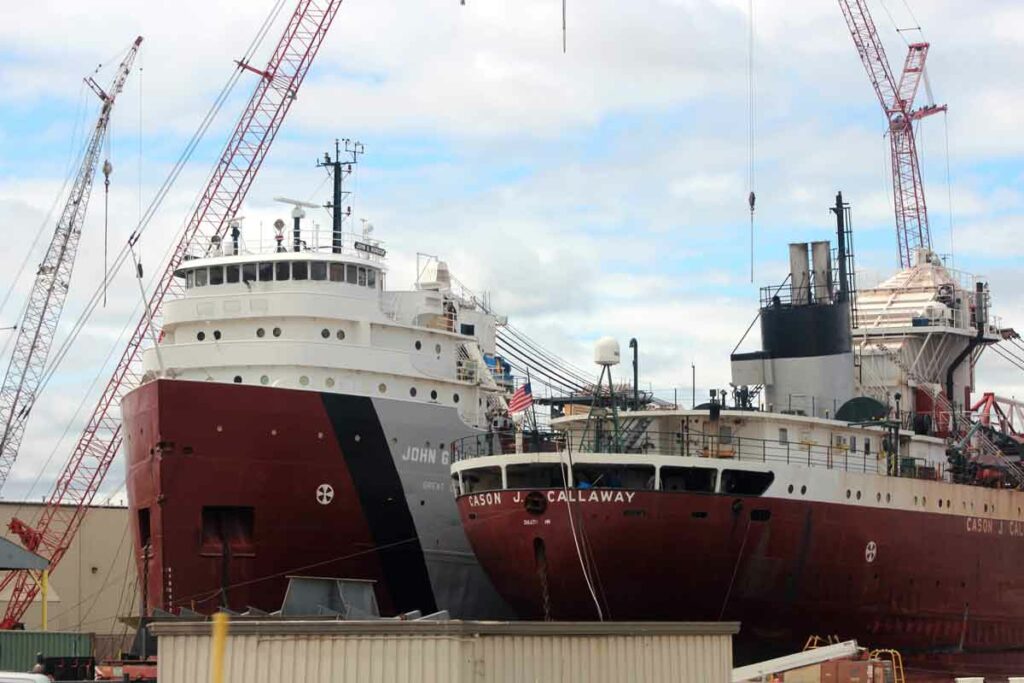 3. See Massive Cargo Ships & "Big Blue" At Fincantieri Bay Shipbuilding
When it comes to Lake Michigan, beyond the lore, legends, and chilly waves, is a monstrous surprise floating in the distance – massive cargo ships! The shipyard specializes in repairing, sustaining, and building new commercial vessels and visitors have the opportunity to watch!
Children especially will be fascinated by the boats coming into port along with the big gantry crane, nicknamed "Big Blue." The crane is a whopping 160-feet tall and can even be seen from downtown Sturgeon Bay! With its 120-foot lifting hook, the crane can lift a capacity of 200 tons, making it an essential tool for taking care of the ships on the lake.
Ships come and go all year but often dock for longer periods during the winter months. It is still worth a trip down to the water to see them anytime! Families also have the opportunity to tour the shipyard itself, thanks to the Sturgeon Bay Rotary Club. This years' tour will take place on Saturday, September 11th, and tickets can be purchased online.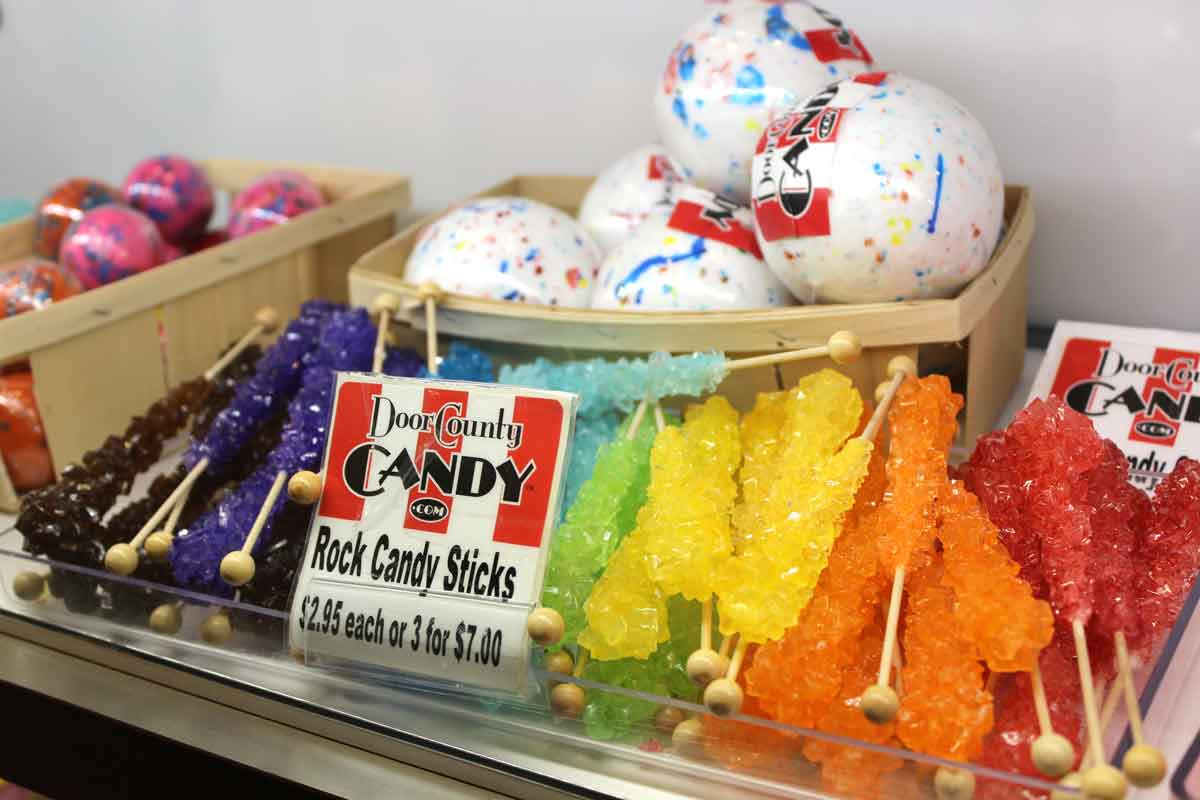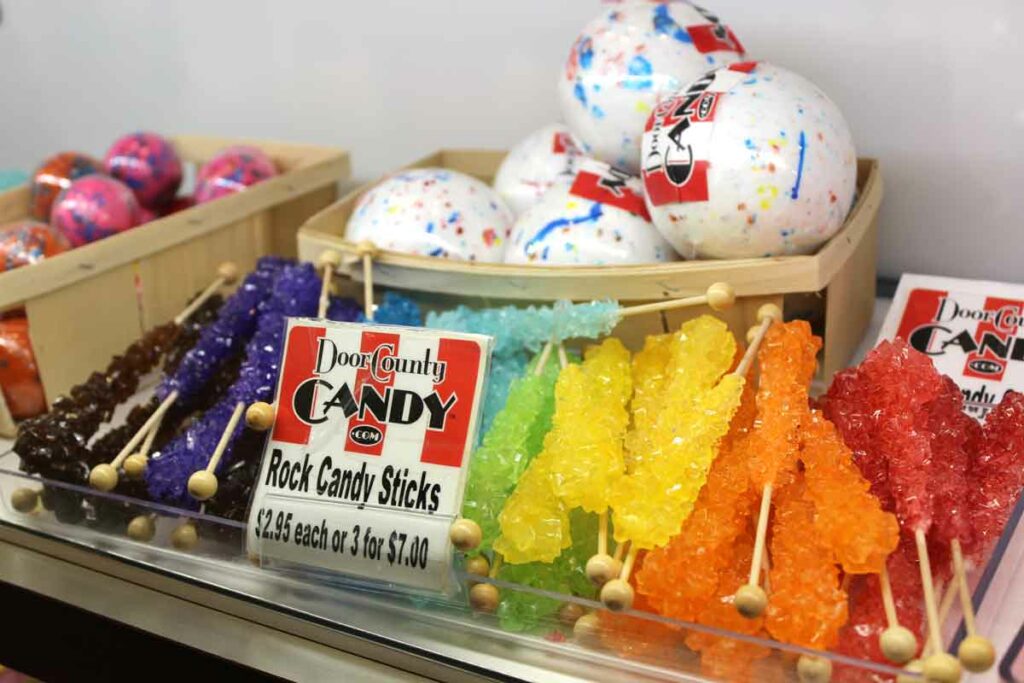 4. Stop In For Sweet Treats At Door County Candy
Located in downtown Sturgeon Bay, Door County Candy is one of the sweetest spots to be! The old-fashioned shop offers a vibrant assortment of treats ranging from hand-dipped ice creams, fudges, chocolates, salt water taffies, rock candy, and other nostalgic goodies.
Walking in, families will enjoy the magnificent aroma of gourmet kettle corn and get to check out the walls lined shelves and baskets containing thousands of candies – basically, in every flavor, color, shape, or taste you could wish for! The front counter is home to decadent fudges and other goods, and the staff will happily offer suggestions when trying to pick out treats, too.
The giant wall of saltwater taffies is also impressive with its unique flavor ranges. Offering chewy pieces of goodness in flavors like Neapolitan, creamsicle, and even pickle! Pick up a pre-packed box or spend time selecting various kinds for your own bag.
Beyond the heaps of treats, the store offers indoor seating with antique Kaaps wooden booths for customers to relax and enjoy their finds and, in all, a bright and whimsical experience overall!
Door County Candy, 12 N. 3rd Avenue, Sturgeon Bay
Hours: Monday – Wednesday 9 am – 6 pm, Thursday Closed, Friday & Saturday 9 am – 8 pm and Sunday 9 am – 5 pm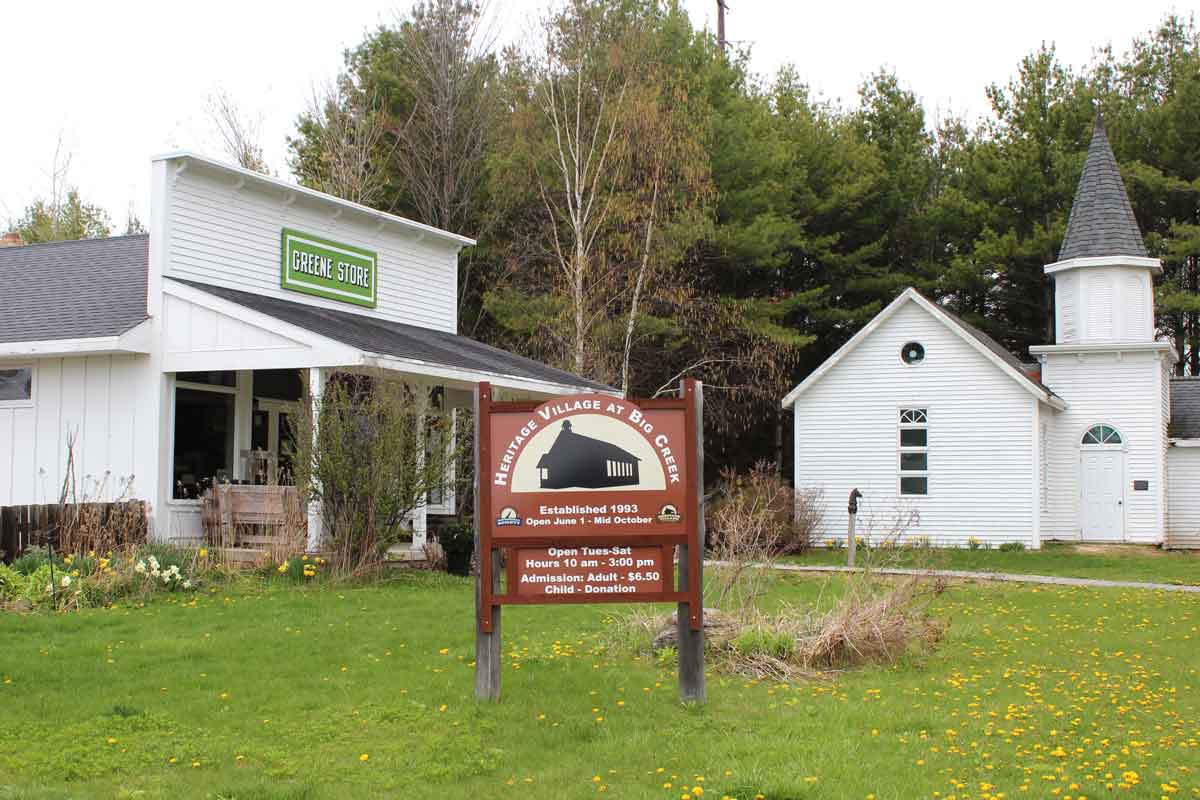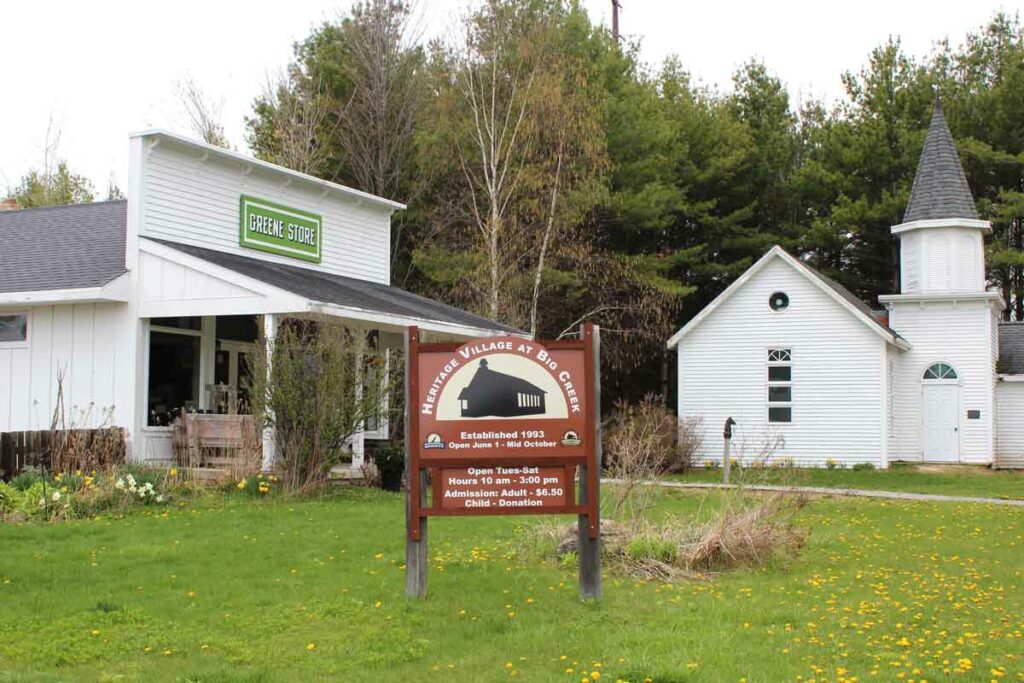 5. Visit Historic Buildings At Heritage Village At Big Creek
Families can enjoy time out in the fresh air and exploring Sturgeon Bay history with a visit to the Heritage Village at Big Creek! The grounds introduce visitors to buildings from the local area, including a family homestead (1882), village chapel (1853), schoolhouse (1890), general store (1900), granary (1905), and more.
The grounds are easy to navigate, and those of all ages can enjoy exploring the area. Each building has a different story to tell and can offer children a fun, interactive lesson. In addition to the buildings that are scattered around the village, you will find the Madden Tool Museum. Unlike any other in our state, the museum is built from a reconstructed barn and features tool displays and areas for demonstrations.
Heritage Village at Big Creek, 2041 Michigan Street, Sturgeon Bay
Hours: Tuesday – Saturday, 10 am – 3 pm
Admission: Adults $6.50, children by monetary donation of choice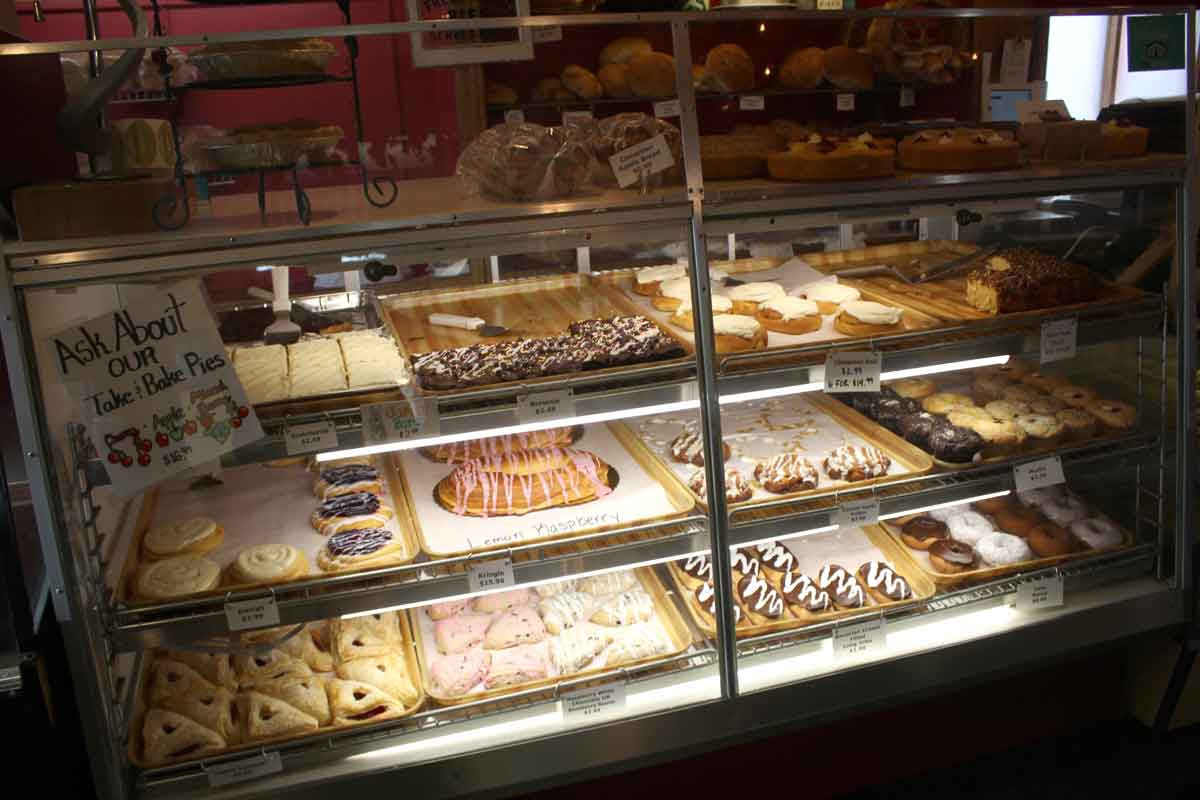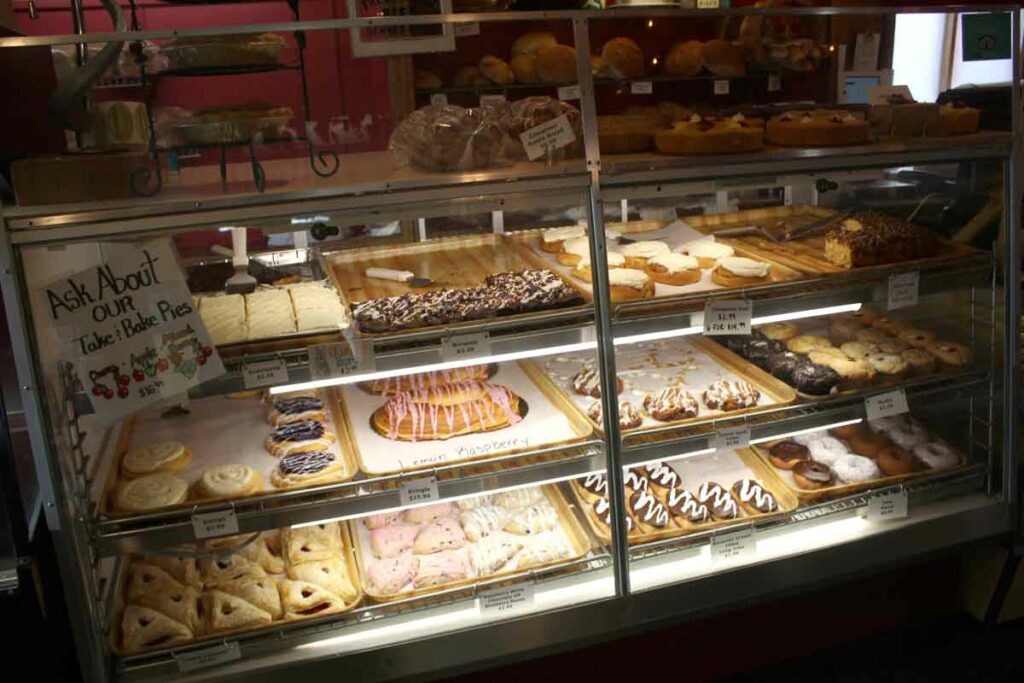 Bite Into Tasty Eats at Scaturo's Baking Co. & Cafe
Before your adventure in Sturgeon Bay ends, stop by Scaturo's, a quaint cafe on the hill, for a hearty meal from a menu of housemade classics!
Breakfast time was my family's favorite as we dined on the cheesy hash brown casserole and fluffy chocolate chip pancakes with fresh strawberries and cream. The portions are perfect, and there were a variety of budget-friendly options available.
Surprisingly, while it was bustling with customers, the wait time for our food was reasonably fast. Our order also came in convenient to-go containers, making it easy to pack up leftovers, especially while traveling with a young child. The cafe allows dine-in or to-go, so stopping for a bite is rather convenient.
Before heading out, swing by the glass bakery cases to pick out fresh baked goods to bring home! There is always quite a variety to choose from, including delectable goods like fruit turnovers, blueberry cream cheese pastries, elephant ears, brownies, scones, donuts, pies, fresh breads, and beyond — all of which smell delectable!
Scaturo's Baking Co. & Cafe, 19 Green Bay Road, Sturgeon Bay
Hours: Monday & Tuesday 5 am – 6 pm, Wednesday – Friday 5 am – 7 pm, Saturday 5 am – 3 pm and Sunday 7 am – 2 pm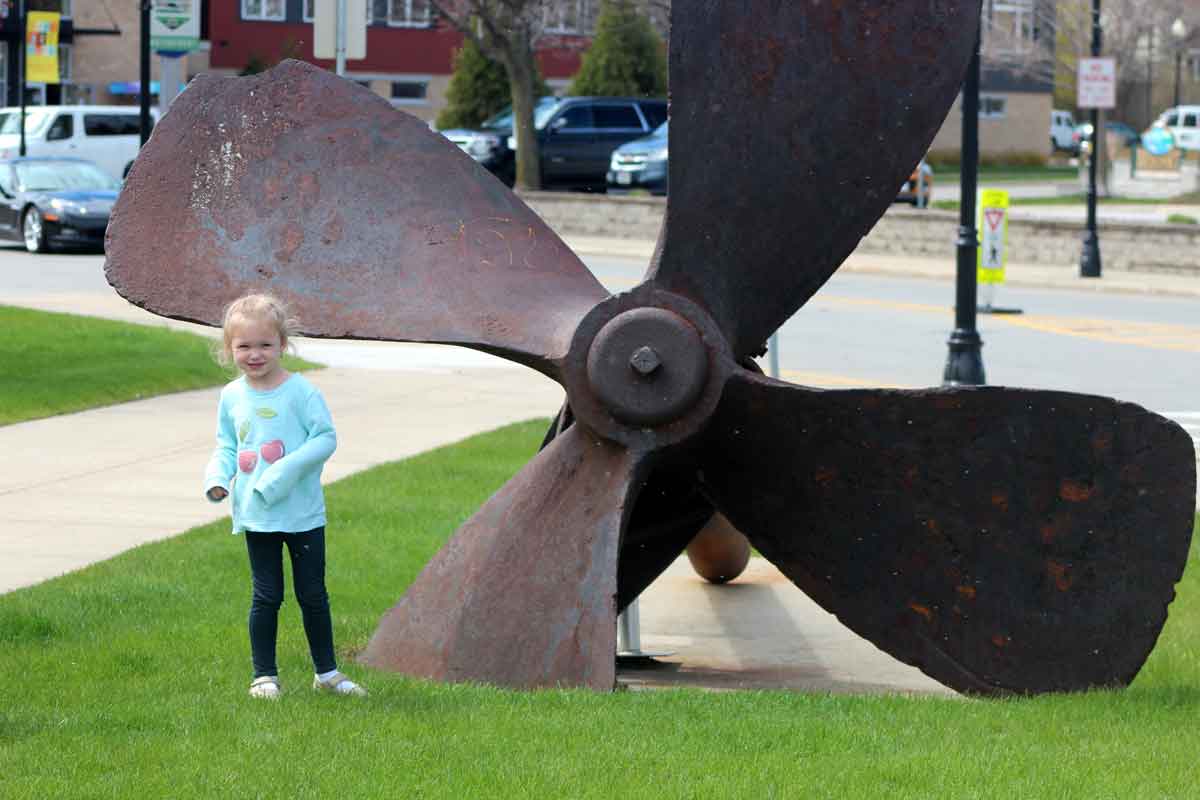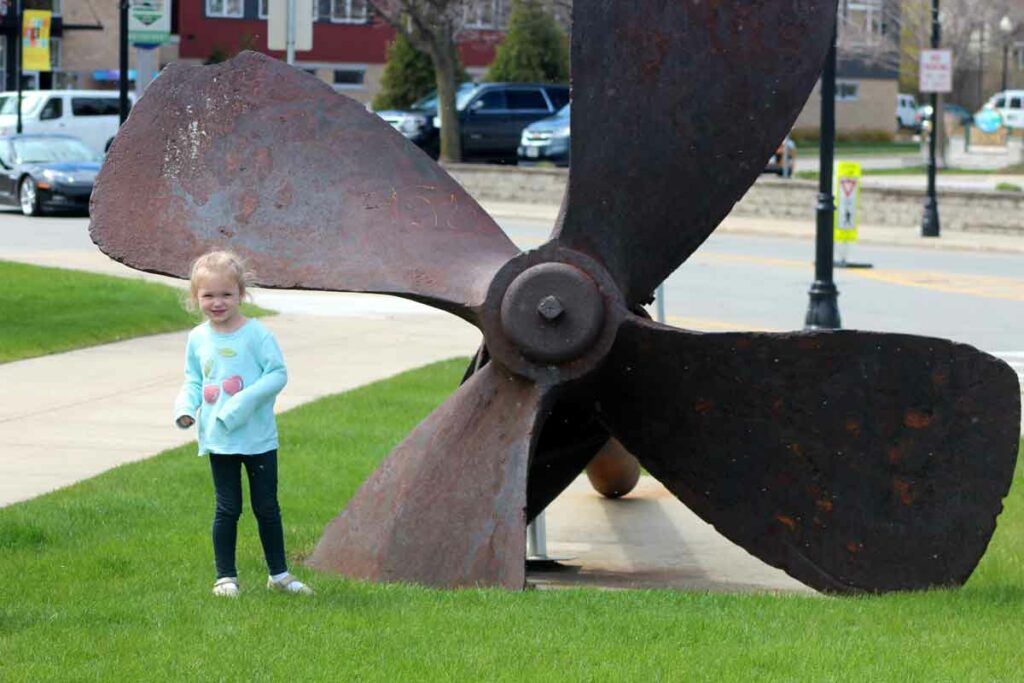 Go On a Family Scavenger Hunt!
Grab your camera! As you drive through and explore the beautiful city of Sturgeon Bay, can you spot these unique spots? You can even make a quick stop to check out these fun places!
Giant Ship Anchor by Fincantieri Ship Builders
John Purves Tug Boat by the Door County Maritime Museum
Sturgeon Fish Art by the BP gas station on 3rd and Michigan.
Colorful Quirky Garden Shack by 5th and Jefferson Coffee House
Wall of Sweets inside Door County Candy
Giant Clock located downtown Sturgeon Bay
Park Arch by the water and marina off of Pennsylvania st.
Silver Cube Sculpture found in Martin Park by 3rd and Oregon
Nautical Star on the window of Bayside Bargains in the downtown area
Giant Gnome on the lawn of Mr. Mulch as you drive into Sturgeon Bay
Iconic Sturgeon Bay Bridge that brings you over the bay. This bridge is on the National Register of Historic Places!
Tiny Boat by the Little Red House near "Big Blue"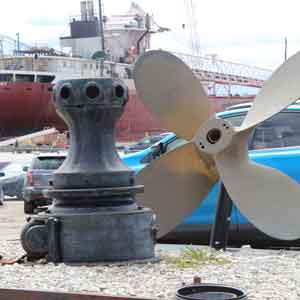 Read More About Door County With Kids!
Enjoy your family trip to Sturgeon Bay! What was your family's favorite spot?