We were first introduced to cider donuts in Ohio while visiting family friends. Northeast Wisconsin has taken some time to catch on to this yummy Fall treat. We were super excited to find them so close to the Fox Valley at Misty Ridge Orchard just outside of Freedom.
If you haven't tried these donuts, you may be wondering… What are apple cider donuts? Apple cider donuts are made by adding apple cider to the donut batter, deep-fried, and then rolled and dipped in cinnamon sugar and other typical apple pie spices like nutmeg. The apple cider leaves a subtle sweetness and the sugary topping is finger-lickin' good.
We like these donuts warm and straight from the fryer paired with (and dunked) in hot apple cider!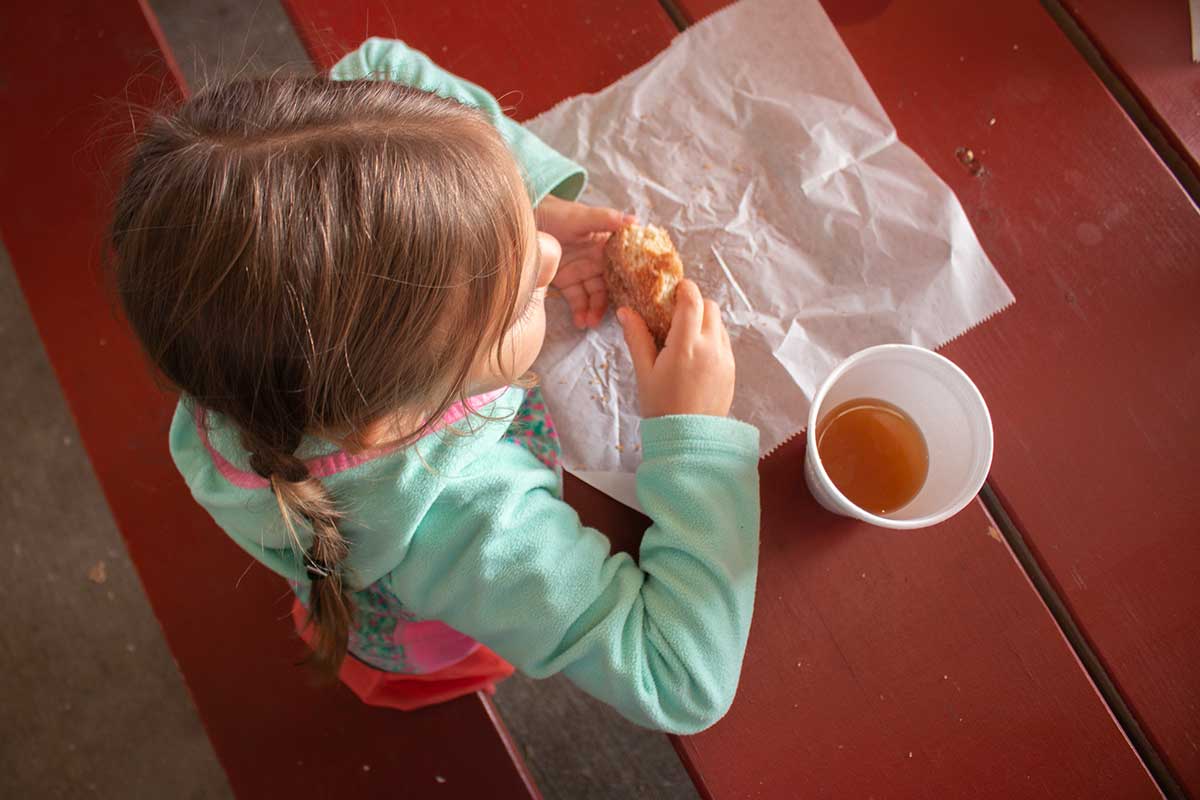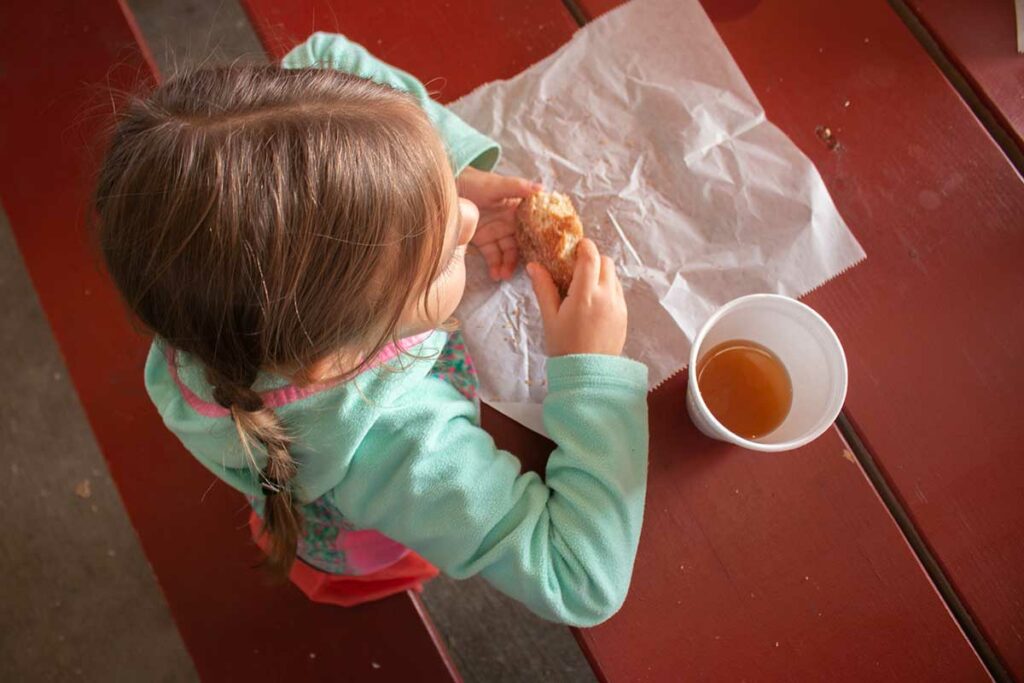 Misty Ridge Orchard is a newer apple orchard to the area, in their third season, and owned by Steve and Carrie Gonnering. The retail store and bakery were completed in 2018. This family-owned orchard is considered a high-density orchard meaning the trees are planted closer together to maximize the crop and resources. The orchard currently has over 4,000 apple trees with 20 varieties from well-loved HoneyCrisp, Cortland, and McIntosh Red to rarer to find AutumnCrisp, EverCrisp, or Snow Sweet. Currently picking is not offered but is part of the orchard's future plans.
The modern and trendy retail store features a temperature-controlled apple room and local products including jams, pretzels, honey, maple syrup, and more. Kiddos can enjoy watching apples sorted and cleaned and see the baked goodies being made while waiting. They also sell fresh-baked apple pie whole or by the slice, caramel apples (with made from scratch caramel) with peanuts or sprinkles, apple cider, and our favorite… fresh made to order cider donuts.
We recommend getting a dozen right away at $8 dozen or 75 cents each. These also paired lovely with their cider slushies!
Our family enjoyed the free activities outside as well including a petting zoo, mini corn maze, sandpit, giant swings, and basketball.
One thing to keep in mind, Misty Ridge is only open on the weekends. Masks were required inside but we waited for a while for the donuts. Make sure to be prepared to wait or have a backup plan to split up.
GVK Reader Review: "We loved Misty Ridge. A small corn maze, gaunt sandpit, swings, and small petting zoo means we'll be back! All our fun for 2.50 in donuts! Yum!"
GVK Reader Review: "Misty Ridge Orchard is our favorite for cider donuts! Made fresh and hot to order. Better than Door County!"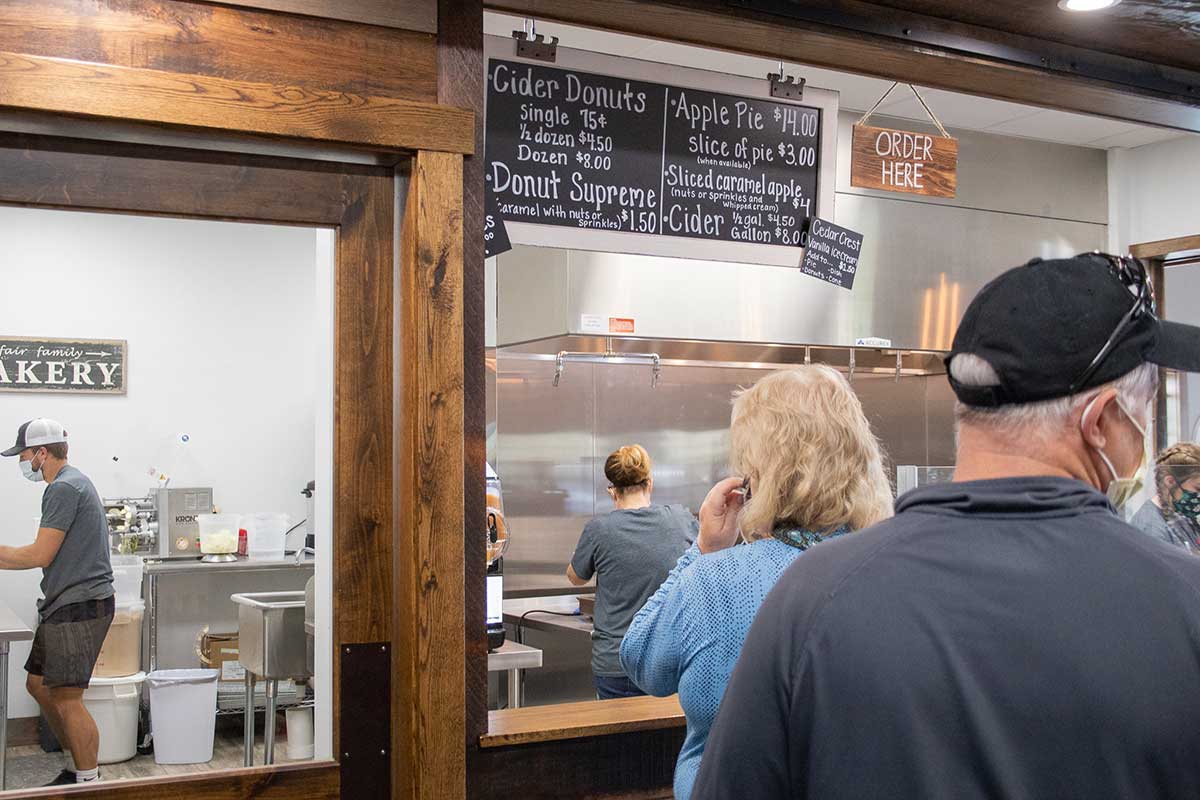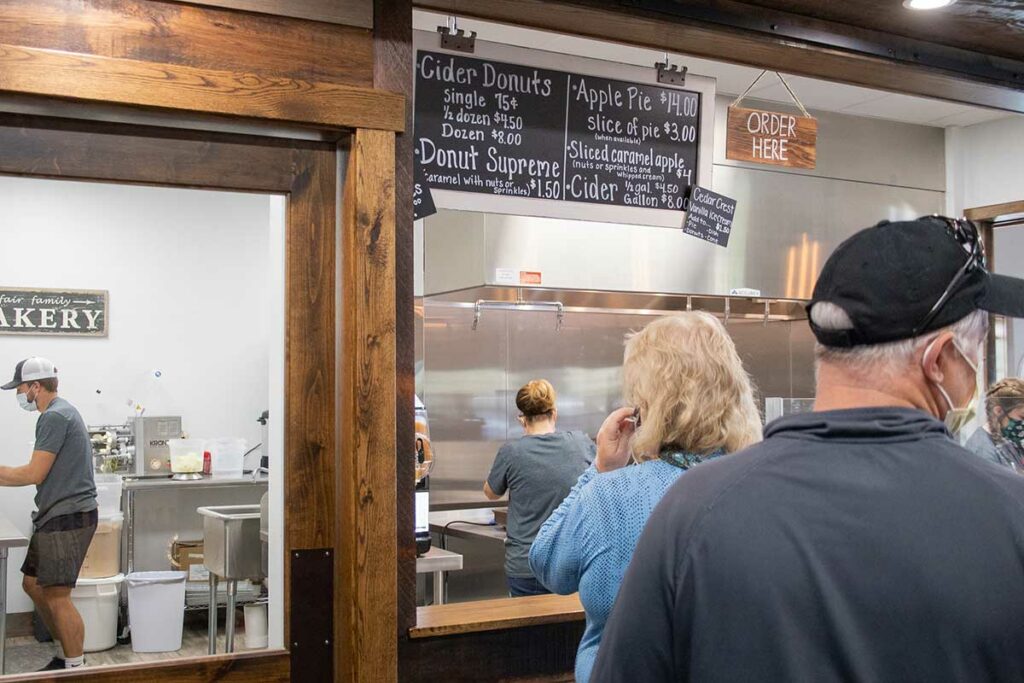 Where to Find Cider Donuts in the Fox Cities