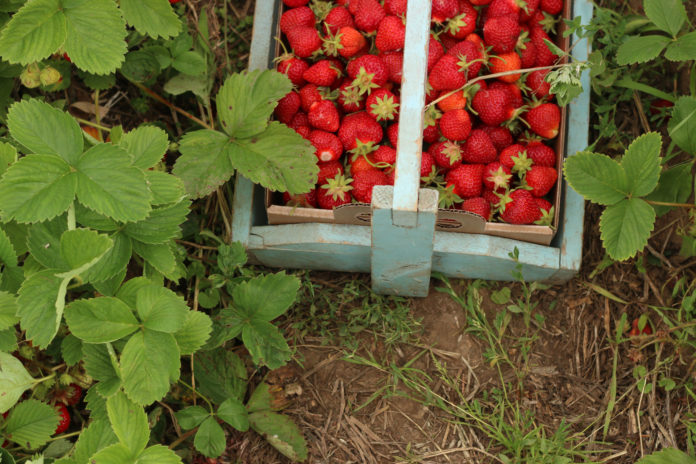 One of the best parts of summer is fresh, locally grown berries. Taking your kids to pick your own berries can be a treasured summer tradition. Kids get an up-close look at where their food comes from, you save money because pick your own is cheaper than buying at the market or grocery store, and you cannot beat the freshness. Play your cards right and laboring in the sunshine with a belly full of berries can also deliver a solid nap time.
Tips for Berry Picking
Typical harvest times:
Strawberries: mid-June through mid-July
Raspberries: July through mid-August
Blueberries: mid-July through mid-August
Because harvest times and peakness is subject to change, check the website or call ahead before going

Check to see what they accept for payment. Some places only accept cash or local checks and do not accept any credit or debit cards. If you never carry cash it's good to plan ahead and make sure you have some on hand.

Bring a small bucket with a handle for little ones.

Berry juice can be a laundry problem, clothes that you don't care about having stains are a good bet.
The fields can be muddy if it has been rainy and poke-y with hay, choose shoes likey to keep the fun levels high and whining levels low.
Tips for what to do with your berries.
Berries freeze very well. Lay berries out on a cookie sheet lined with parchment paper so they are not touching and freeze solid. Then simply put frozen berries into freezer bags or containers.

Freezer jam is an easy way to preserve your berries. Pick up a box of pectin at your local grocery store and simply follow the directions on the back of the box.

Fresh berries are great in pies, smoothies, on pancakes, in ice cream, in yogurt, and of course, eating just as they are. Many of the websites listed below have lots of great recipes and more tips for storing and using your berries.
We would love your feedback! Tell us in the comments where your favorite spot to pick is, any tips you have or your favorite berry recipe.
Here is a roundup of pick-your-own strawberries, blueberries, and raspberries around Northeast Wisconsin.
Porter's Patch
W4314 State Hwy. 156, Bonduel, Wisconsin
(715) 758-8162 / (715) 584-2070
Pick-your-own strawberries, blueberries and raspberries. Porter's Patch is a family farm located in Bonduel, Wisconsin specializing in fresh picked fruits including strawberries, raspberries, and blueberries. Our locally grown vegetables include asparagus, peas, beans, cucumbers, sweet corn, tomatoes, squash, and pumpkins. You can stop out and pick your own from the fields or purchase pre-picked fresh fruits and produce when in season at the Farm Store. Visit us during our Farmtoberfest celebration in the fall, a favorite time of the year and search for that perfect pumpkin from the Patch. Porter's Patch is just a short drive away for all the folks in Northeastern Wisconsin. Visit www.PortersPatch.com for more info.
Berryland Strawberries
5810 Heimke Ln, Abrams, Wisconsin
(920) 826-7297
Pick-your-own strawberries. During Strawberry season we are open everyday from 6:30 am to 7:30 pm (as long as the weather cooperates & ripe fruit is available). Please call ahead.
pickberryland.com

Blaser's Acres
2556 School Lane, Green Bay, Wisconsin
(920) 655-0483
A family friendly zone offering 'pick-your-own' strawberries. Only a mile from NEW Zoo so could be a great day outing of both berry picking and a visit to the zoo.
Blueberry Haven
W9967 County Road XX, Bear Creek, Wisconsin
(715) 823-4091
Blueberry picking. All natural fertilizer and no pesticides. Located 3.5 miles south of Clintonville. "Blueberry Haven was great to do with little kids."
www.blueberryhaven.net

Cuffs Farms
N2299 Ledge Hill Rd, Hortonville, Wisconsin
(920) 779-4788
Pick-your-own strawberries. Strawberry harvest is from mid-June until mid-July. Picking times are 6 am – 6 pm. Due to weather and crop conditions picking times may vary. Always call ahead for picking conditions. Children are welcome. Take a free wagon ride to the field.
www.cuffarms.com
Glendale Farms
N9895 Kluth Road, Clintonville, Wisconsin
(715) 823-4187
Pick-your-own strawberries. Also visit the goats.
glendalestrawberries.com

Greiling Gardens Strawberries
18215 Pleasant Road, Maribel, Wisconsin
(920) 863-6778
Pick-your-own strawberries
greilingstrawberries.com

Kraynik's Berry Farm & Greenhouse
N3545 Church Rd, Kewaunee, Wisconsin
(920) 606-6239
Pick-your-own strawberries and raspberries.
www.facebook.com/krayniksbfg
Malvitz Bay Farms
8678 County Road C, Sturgeon Bay, Wisconsin
(920) 824-5625
Pick-your-own strawberries. Normal picking between 7 to 11 am daily during strawberry harvest.
www.facebook.com/pages/Malvitz-Bay-Farms
Moder's Gardens
3439 Lineville Rd, Green Bay, Wisconsin
(920) 434-0730
Pick-your-own strawberries.
modersgardens.com
Meuer Farm
N2564 US Hwy 151, Chilton, Wisconsin
(920) 418-2676
Located just 20 minutes south of Appleton.
Kids activities include a 80' tube slide, straw fort, duck races and corn box. Kids can also see pigs and chickens on the farm.
Hotline: (920) 418-4777 (in season / updated daily for times and weather conditions)
www.meuerfarm.com
Nature's Finest Foods
4902 County Rd S, Oshkosh, Wisconsin
Pick your own strawberries and raspberries.
(920) 710-1325
www.naturesfinestfoods.com
Polly's Pumpkin Patch
N4367 Highway 57, Chilton, WI 53014
(920) 849-4819
Pick-your-own raspberries and strawberries.
www.pollyspumpkinpatch.com
Oakridge Farms
NO PICK YOUR OWN STRAWBERRIES FOR 2018.
125 County Road CB, Neenah, Wisconsin
(920) 420-1845
Pick-your-own strawberries and raspberries when in season.
"Oakridge Farms offers excellent quality, wonderful service and a great place to pick berries."
www.oakridgeberries.com

Porter's Patch {featured above}
W4314 State Hwy. 156, Bonduel, Wisconsin
(715) 758-8162 / (715) 584-2070
Pick-your-own strawberries, blueberries and raspberries.
porterspatch.com
Sunny Hill Farm
1922 Oak Road, Green Bay, Wisconsin
(920) 434-9009
Pick-your-own strawberries.
www.sunnyhillfarm.net