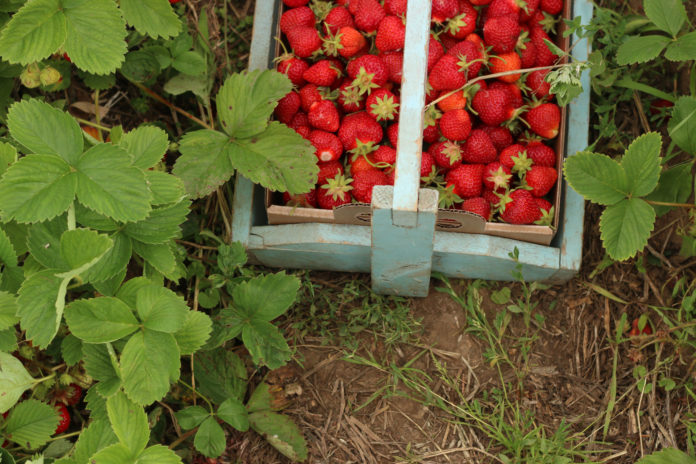 Pick your own berry bonuses: teach your kids about where their food comes from and take advantage of the cheap help!
Here is a roundup of pick-your-own strawberries, blueberries and raspberries around Northeast Wisconsin. All harvests are subject to change but normal picking is between mid-June and the beginning of July. Please call or visit websites for more information. We would love your feedback! Leave any tips or recommendations in the comments below!
Featured
Porter's Patch
W4314 State Hwy. 156, Bonduel, Wisconsin
(715) 758-8162 / (715) 584-2070
Pick-your-own strawberries, blueberries and raspberries.Porter's Patch is a family farm located in Bonduel, Wisconsin specializing in fresh picked fruits including strawberries, raspberries and blueberries. Our locally grown vegetables include asparagus, peas, beans, cucumbers, sweet corn, tomatoes, squash, and pumpkins. You can stop out and pick your own from the fields or purchase pre-picked fresh fruits and produce when in season at the Farm Store. Visit us during our Farmtoberfest celebration in the fall, a favorite time of the year and search for that perfect pumpkin from the Patch. Porter's Patch is just a short drive away for all the folks in Northeastern Wisconsin. Visit www.PortersPatch.com for more info.
---
Berryland Strawberries
5810 Heimke Ln, Abrams, Wisconsin
(920) 826-7297
Pick-your-own strawberries. During Strawberry season we are open everyday from 6:30 am to 7:30 pm (as long as the weather cooperates & ripe fruit is available). Please call ahead.
pickberryland.com

Blaser's Acres
2556 School Lane, Green Bay, Wisconsin
(920) 655-0483
A family friendly zone offering 'pick-your-own' strawberries, a petting zoo, and various activities throughout the year.
blasersacresgb.com

Blueberry Haven
W9967 County Road XX, Bear Creek, Wisconsin
(715) 823-4091
Blueberry picking. All natural fertilizer and no pesticides. Located 3.5 miles south of Clintonville. "Blueberry Haven was great to do with little kids."
www.blueberryhaven.net

Cuffs Farms
N2299 Ledge Hill Rd, Hortonville, Wisconsin
(920) 779-4788
Pick-your-own strawberries. Strawberry harvest is from mid-June until mid-July. Picking times are 6:30 am – 6:30 pm. Due to weather and crop conditions picking times may vary. Always call ahead for picking conditions. Children are welcome. Take a free wagon ride to the field.
www.cuffarms.com
Glendale Farms
N9895 Kluth Road, Clintonville, Wisconsin
(715) 823-4187
Pick-your-own strawberries. Also visit the goats.
glendalestrawberries.com

Greiling Gardens Strawberries
18215 Pleasant Road, Maribel, Wisconsin
(920) 863-6778
Pick-your-own strawberries
greilingstrawberries.com

Kraynik's Berry Farm & Greenhouse
N3545 Church Rd, Kewaunee, Wisconsin
(920) 606-6239
Pick-your-own strawberries and raspberries.
www.facebook.com/krayniksbfg
Malvitz Bay Farms
8678 County Road C, Sturgeon Bay, Wisconsin
(920) 824-5625
Pick-your-own strawberries. Normal picking between 7 to 11 am daily during strawberry harvest.
www.facebook.com/pages/Malvitz-Bay-Farms
Moder's Gardens
3439 Lineville Rd, Green Bay, Wisconsin
(920) 434-0730
Pick-your-own strawberries.
modersgardens.com
Meuer Farm
N2564 US Hwy 151, Chilton, Wisconsin
(920) 418-2676
Located just 20 minutes south of Appleton. Activity and animal area are open and free for the kids again this year during strawberry picking season.
www.meuerfarm.com
Oakridge Farms
125 County Road CB, Neenah, Wisconsin
(920) 725-1541
Pick-your-own strawberries and raspberries when in season.
"Oakridge Farms offers excellent quality, wonderful service and a great place to pick berries."
www.oakridgeberries.com

Porter's Patch {featured above}
W4314 State Hwy. 156, Bonduel, Wisconsin
(715) 758-8162 / (715) 584-2070
Pick-your-own strawberries, blueberries and raspberries.
porterspatch.com
Sunny Hill Farm
1922 Oak Road, Green Bay, Wisconsin
(920) 434-9009
Pick-your-own strawberries.
www.sunnyhillfarm.net