The Madison Children's Museum is nestled right in the heart of our capital, across the street from the Wisconsin State Capital building. We loved this museum because it's packed with STEM features. Don't forget to visit the rooftop space! Open year-round this space is fun and has a great view. This museum has something for everyone! Who doesn't love a human-sized gerbil wheel?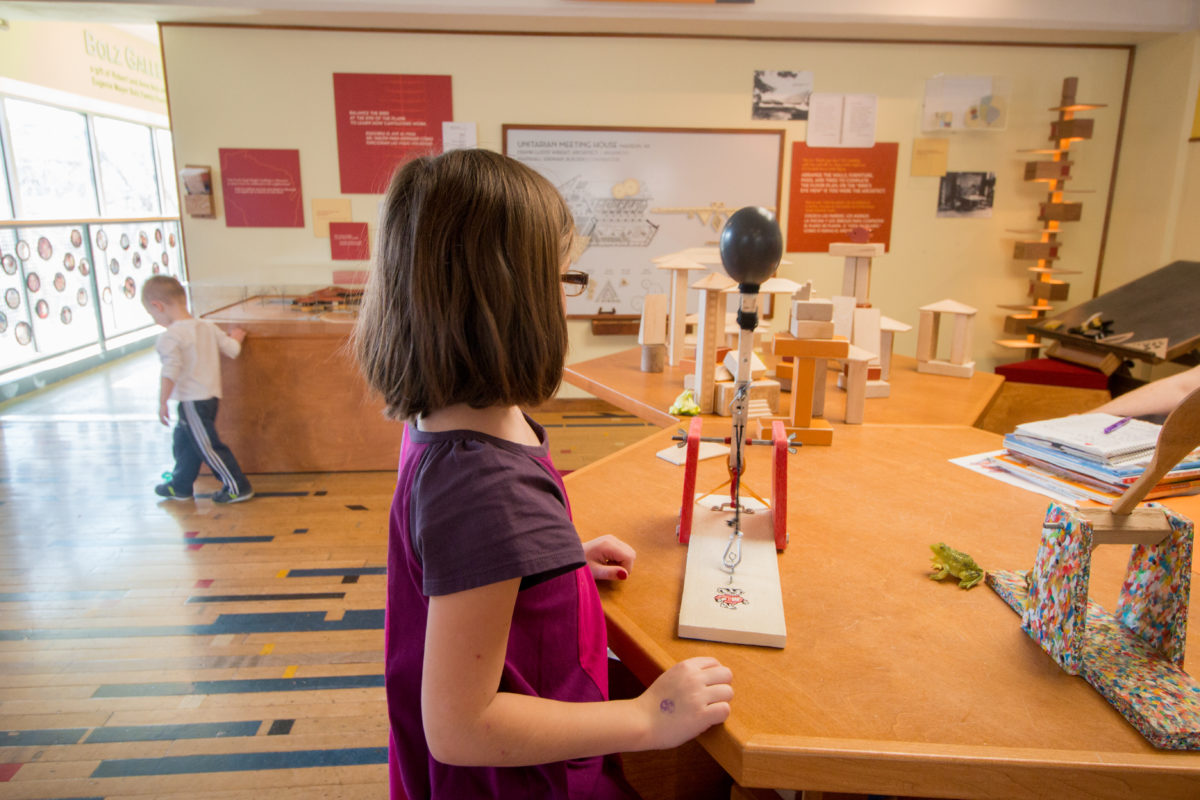 Where do we put our stuff?
An unattended coat room with bins is available for coats and strollers. Limited lockers are also available for $.25.
Can we bring in strollers?
The entire Madison Children's Museum is stroller friendly. Strollers can also be parked in the Coat Room.
Changing Tables & Nursing Areas
Changing tables are available in all restrooms. Restrooms are located on every floor near the elevator. If you are in a pinch the front desk has diapers and wipes! Family restrooms are available in the community concourse and in the Wildernest.
Nursing can be done anywhere in the museum but if you are looking for a more private area to nurse, ask the front desk to use an available comfort room, or you can use the Cozy Cottage in the Wildernest.
Parking
Parking is available at two nearby, walking distance, parking ramps or metered spaces.
The Capital Square North Garage

218 W. Mifflin St.
$1.20 / hour
Accepts Visa, MasterCard, and cash.

ULI Dayton/Pinckney Ramp

N. Pinckney and East Dayton Street
Weekday Hourly Rate: $2 per 30 min. / $18 max
Weekday Evening (after 4pm): $3
Weekend: $5 flat fee
Accepts cash and credit.
Ask for a discounted parking voucher at museum front desk.

Metered Parking Spaces

Meters are enforced: 8 am – 6 pm, Monday – Saturday
Short-term parking, max time noted on meters, most are 1-2 hours
Museum Hours
Summer Hours
Open Daily
9:30 am – 5 pm
Art Studio & Rooftop Ramble close at 4:30 pm
Labor Day to Memorial Day Hours
Open Tuesday – Sunday
9:30 am – 5 pm
Art Studio & Rooftop Ramble close at 4:30 pm

Admission
Children (2 & up): $9
Adults: $9
Seniors & Grandparents: $8
Enjoy free admission on the first open Wednesday of the month, from 5 – 8 p.m.
Do you have an explorer membership with the Building for Kids? The Association of Science Technology Centers Travel Passport Program offers FREE admission for up to 6 people. Learn more about the membership here.
Food
The museum has a kid-friendly cafe called the Roman Candle Sparkler Café on the first floor near the entrance. Food options include pizza, pasta, salads, ice cream, snacks and on the go options. Check out the complete menu here.
You may also bring in food and beverages. Eating is allowed in the Concourse dining area only. Drinks with lids are allowed throughout the museum. No glass allowed.
Floor Plan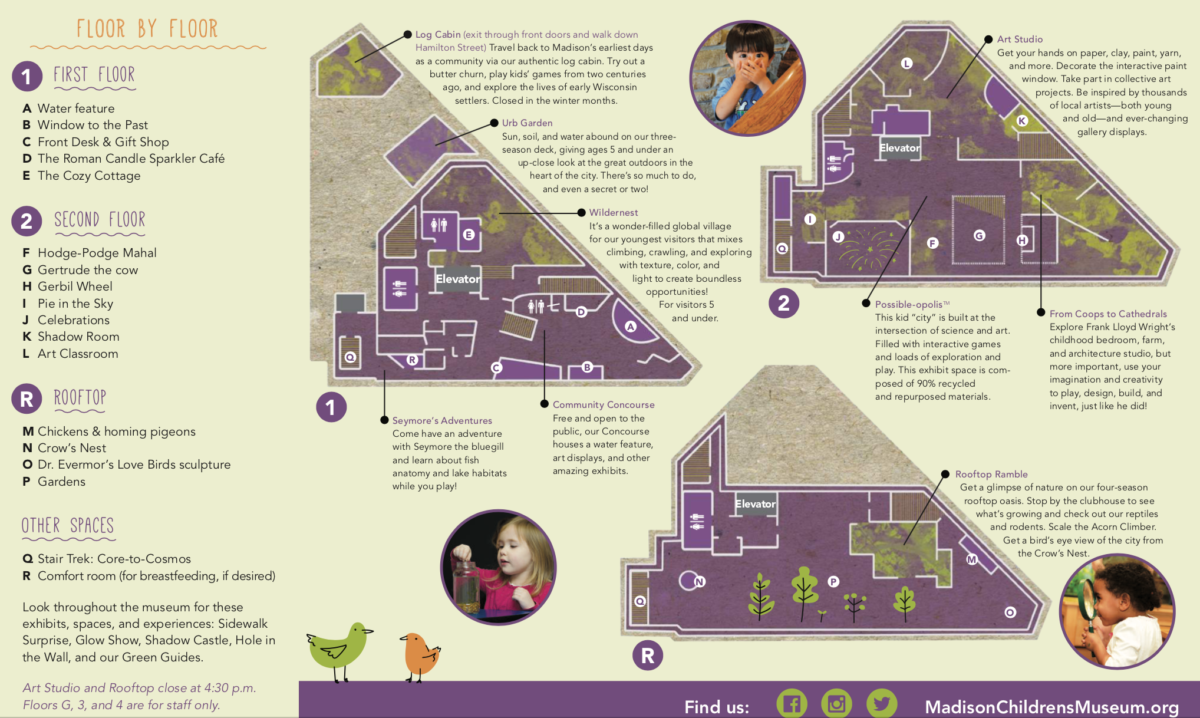 Family Friendly Dining Nearby
Great Dane Pub & Brewery
123 E. Doty Street, Madison
greatdanepub.com

Located just a few blocks from the museum, the whole family can find something to enjoy from this menu!

Ian's Pizza
100 State Street, Madison
ianspizza.com

Pizzas by the slice, build your own, signature and classic options. Make sure to get some puppy chow for the ride home!

Chick-fil-A
4212 E Washington Avenue, Madison
chick-fil-a.com

Want to get something on the way out of Madison? This option is on the route home, about 15 minutes from the museum. This fast, easy option even has an indoor play area.
More Madison Ideas!
Here are some other Go Valley Kids suggestions and recommendations.
We love exploring outside of the Fox Cities at places like this children's museum. How many Wisconsin Children's Museums have you visited? Check out our complete list here.
Madison Children's Museum
100 N. Hamilton Street, Madison, Wisconsin
main entrance located at the corner of Hamilton and Pinckney Streets
madisonchildrensmuseum.org