Funset Boulevard in Appleton has just the things to do for kids in every age group, classic fun for the whole family! This family entertainment center has been a staple in Grand Chute since the mid-nineties. A step inside will bring you back there with its nostalgic and many original features and decorations. The theme is a Hollywood movie set with a dinosaur head coming out of the ceiling and checkered flooring. You might even see Teddy the Token, the Funset mascot walking around.
Funset is a great value entertainment for the family with weekday specials and options to purchase individual attractions or unlimited wristbands. They also offer birthday party packages. You won't find high-tech amenities or frills, but it's still loads of fun.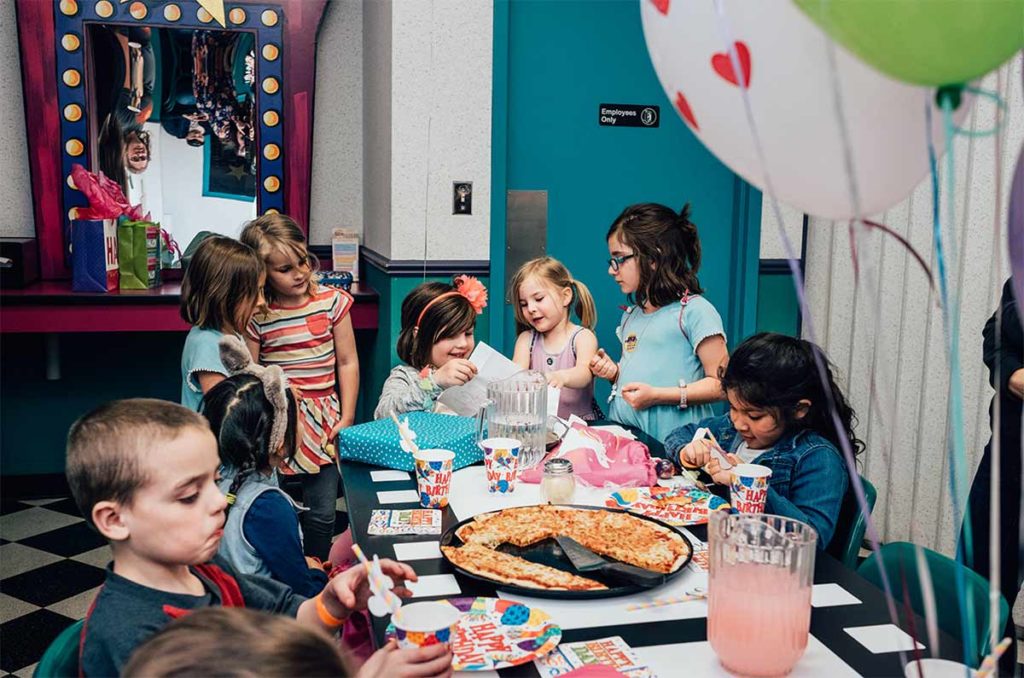 Located conveniently off Highway 41 in Grand Chute, not far from the Fox River Mall (behind Texas Roadhouse). The main parking lot is on the south side of the Funset Boulevard building facing College Avenue.
Weekday Specials include unlimited laser tag, $5 Unlimited Basic Wristband, BOGO Free Wristbands, Kids Day, and Teen Nights. Sometimes you can also find specials on Groupon.
Connected to the Marcus Hollywood Cinema, a movie theatre, and also features Kids Dream FREE movies.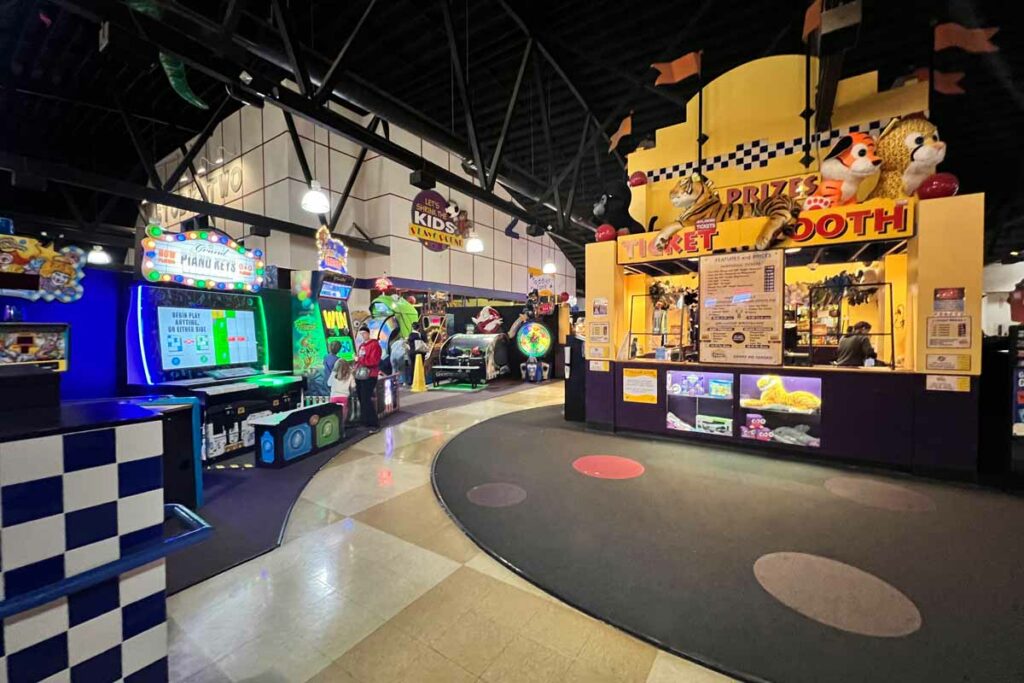 Arcade
With nearly one hundred video and arcade games, there is something for every age. Some games are played for tickets to be redeemed for prizes. This is the only Fox Cities arcade with tokens and paper tickets. Each token is equivalent to $1, but if you purchase more, you'll get more tokens for a better value. They don't expire. Games typically take 1-4 tokens. 
There are classic games like Pac-Man and pinball, toddler rides, racing games, and more. There is also mini bowling.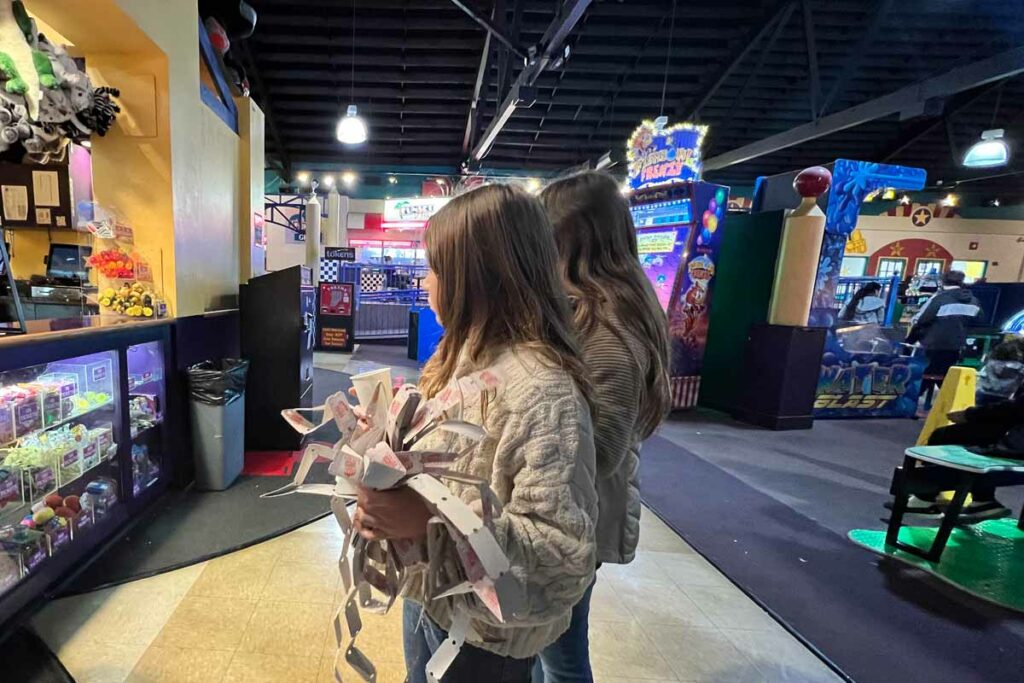 Kids Playground
This is one of our favorite indoor playgrounds in the Fox Cities! The kid's playroom includes a giant kid's playground to climb, slide, crawl, and hang. It is similar to what you might find in other play areas but is super-sized, modeled off the movie Honey; I Shrunk the Kids. The fun goes up several stories and has super fun twisty slides for getting down. Kids need socks and the maximum height for playing is 58 inches.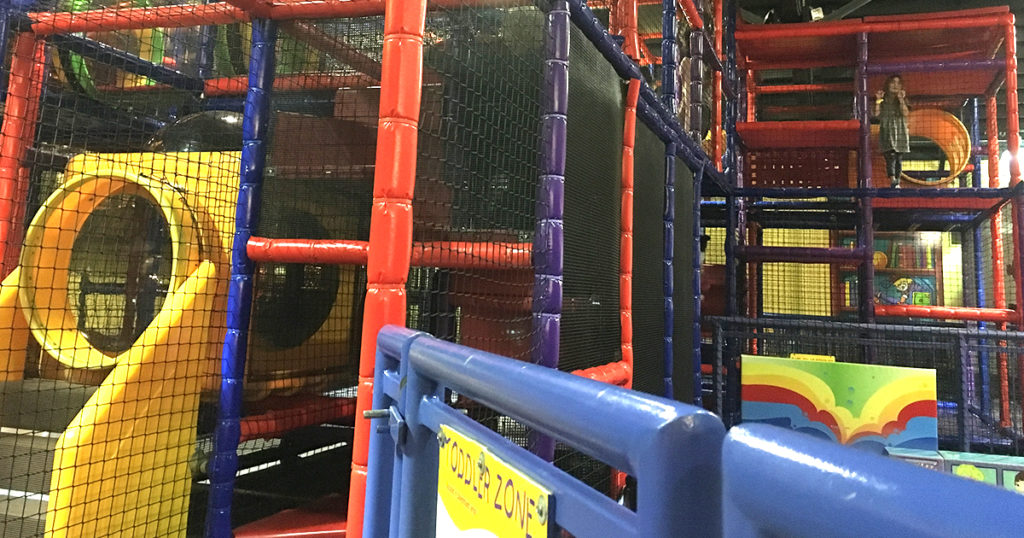 Toddler Zone
Located within the Kids Playground, the toddler area is reserved for kids ages 4 years old and under. A grownup (parent or caregiver) must stay with the child. The area includes a ball pit, climbing features, mirrors, and toys. Socks are required. There are little cubbies for shoes.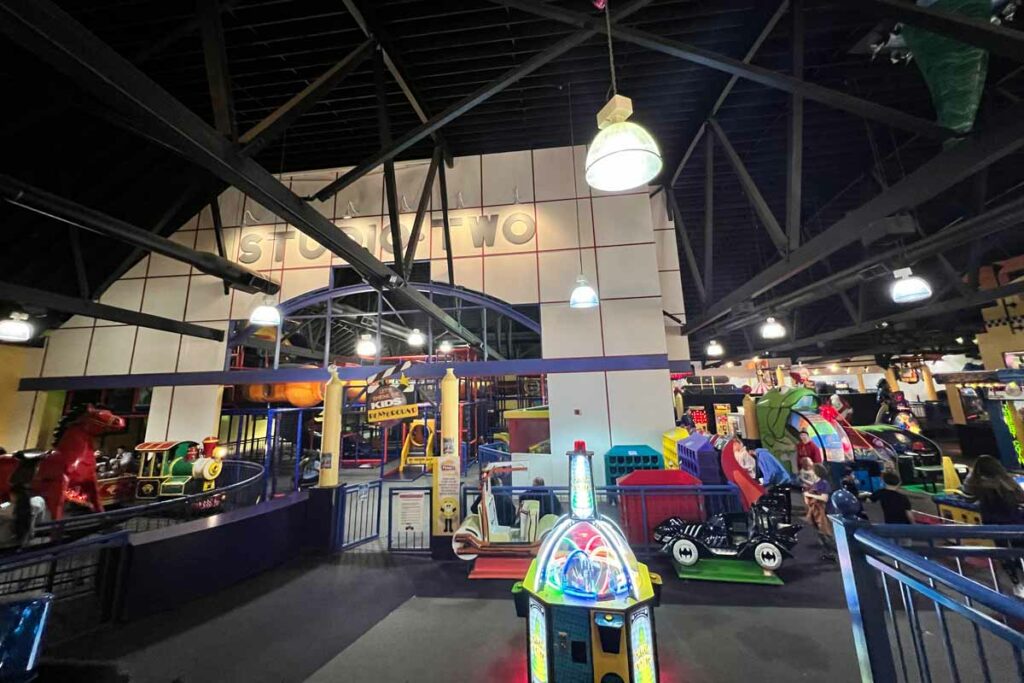 Laserforce Laser Tag
Sessions last about 20 minutes; you must sign up for a session in advance. You might want to check availability and sign up for when you'd like to play as soon as you get there, especially if it is a busy night. Rules are gone over before the game starts, and you get suited up with a vest and laser blaster. At the end of the game, you can see how you and your team did on the big scoreboard. Kids need to be 48 inches tall to play.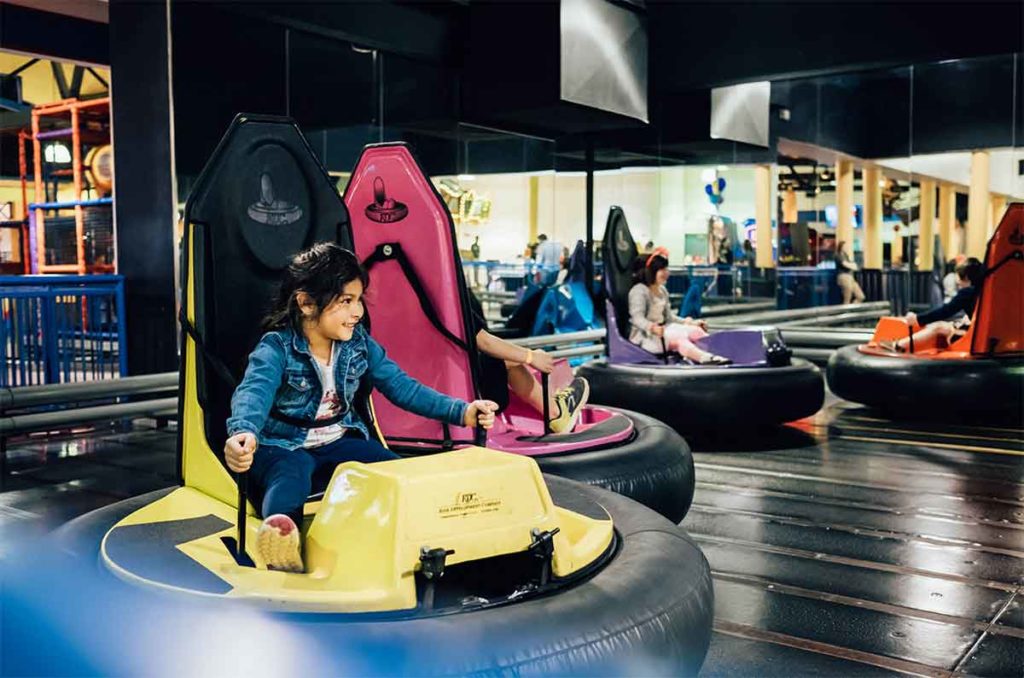 Bumper Cars
The bumper cars are full-size, inner tube-type cars. Kids need to be 40 inches tall to ride. There are no double seaters, and the maximum weight to ride is 275 pounds.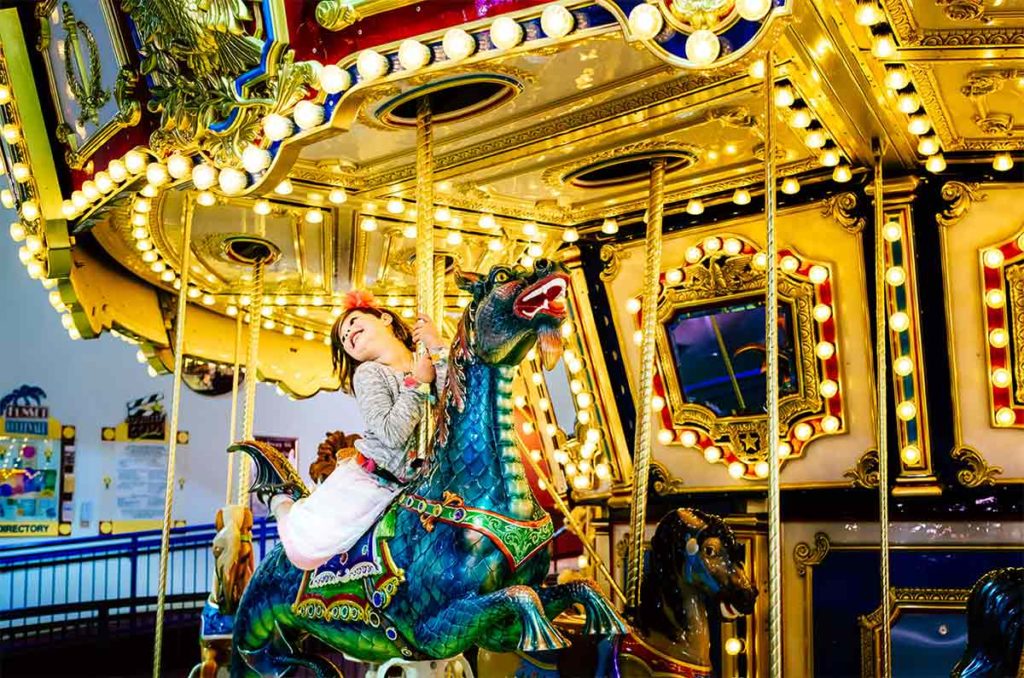 Carousel
A huge indoor carousel has animals of all kinds to choose from. Most go up and down, and all of them have safety belts. Parents can ride standing alongside smaller kids or there are options for lower and still seating.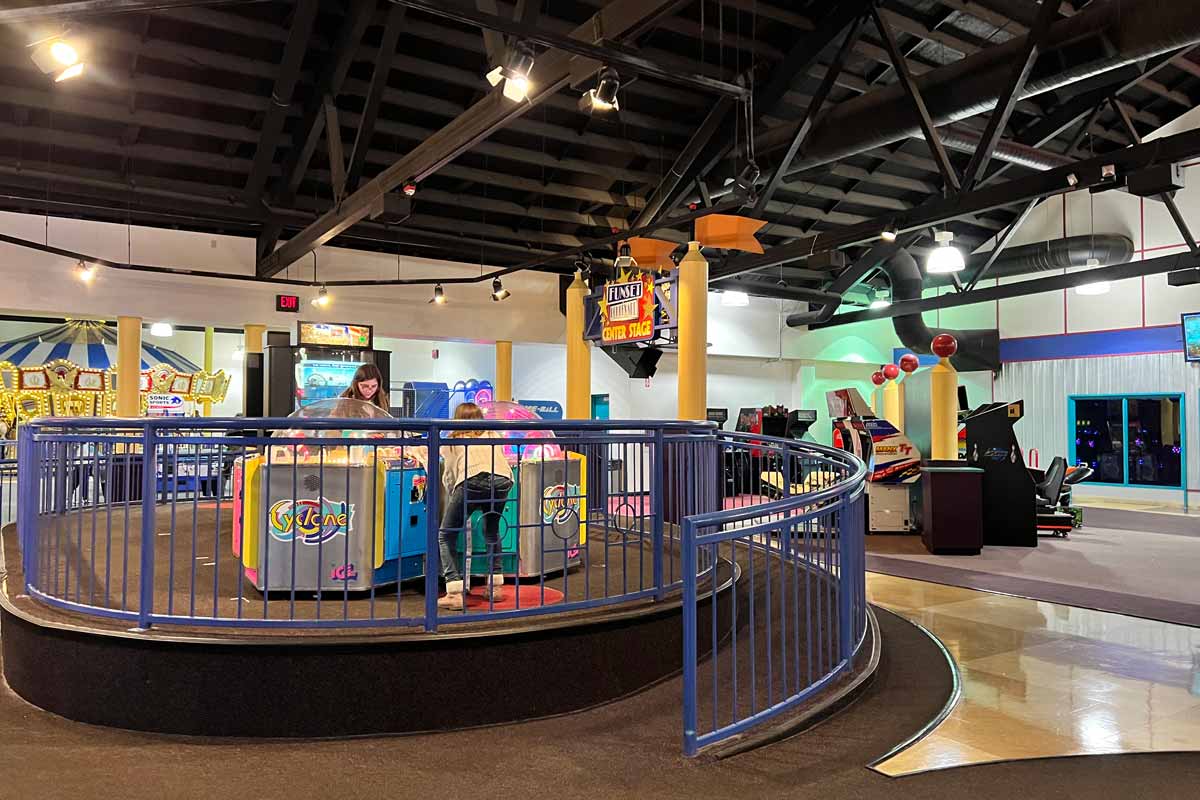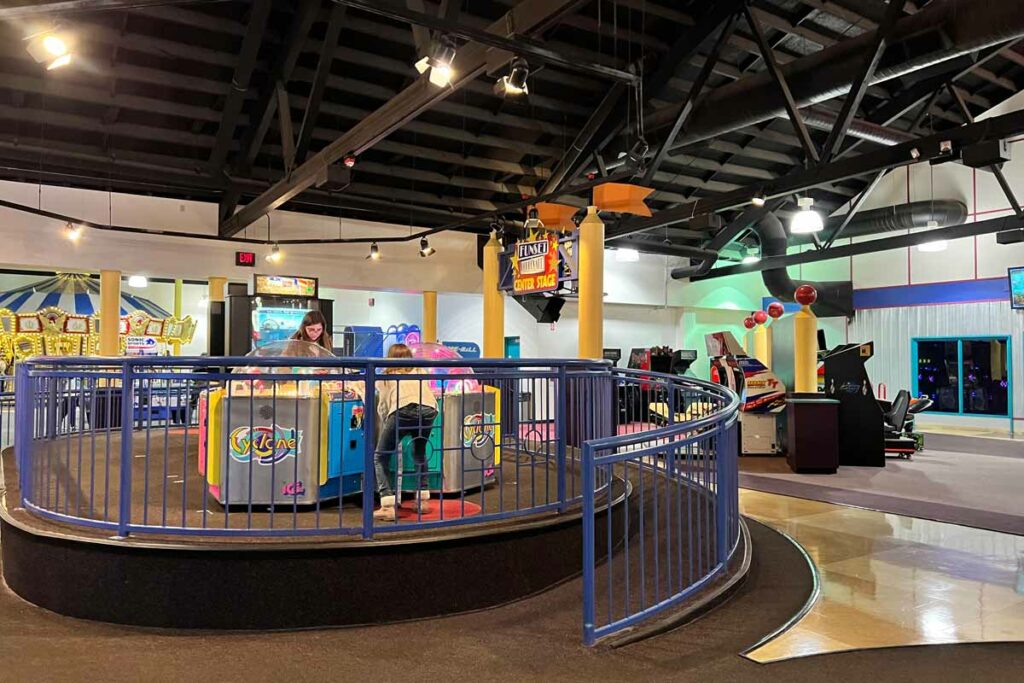 Train
The indoor train ride drives along tracks that run in a loop around the giant playground. Parents are able to ride with smaller kiddos. The cars are just the right size for siblings to ride together for sweet photo ops.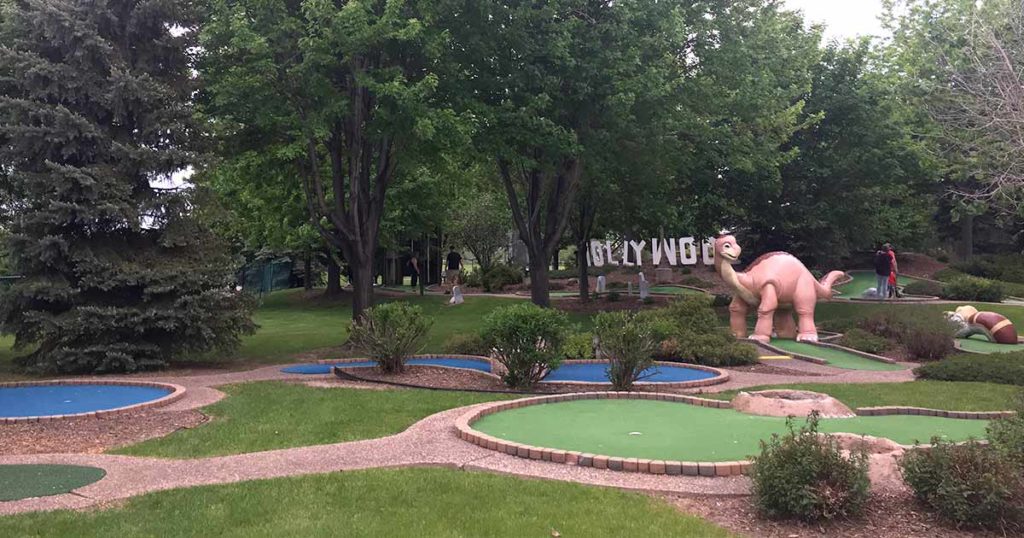 Outdoor Mini Golf & Batting Cages (Seasonal)
Typically open from Memorial Day to Labor Day, enjoy a round of golf with a 9 or 18-hole course. The course continues the set movie theme and includes a waterfall. 
Baseball and softball outdoor batting cages are available at different speeds for both. Purchase tokens for balls.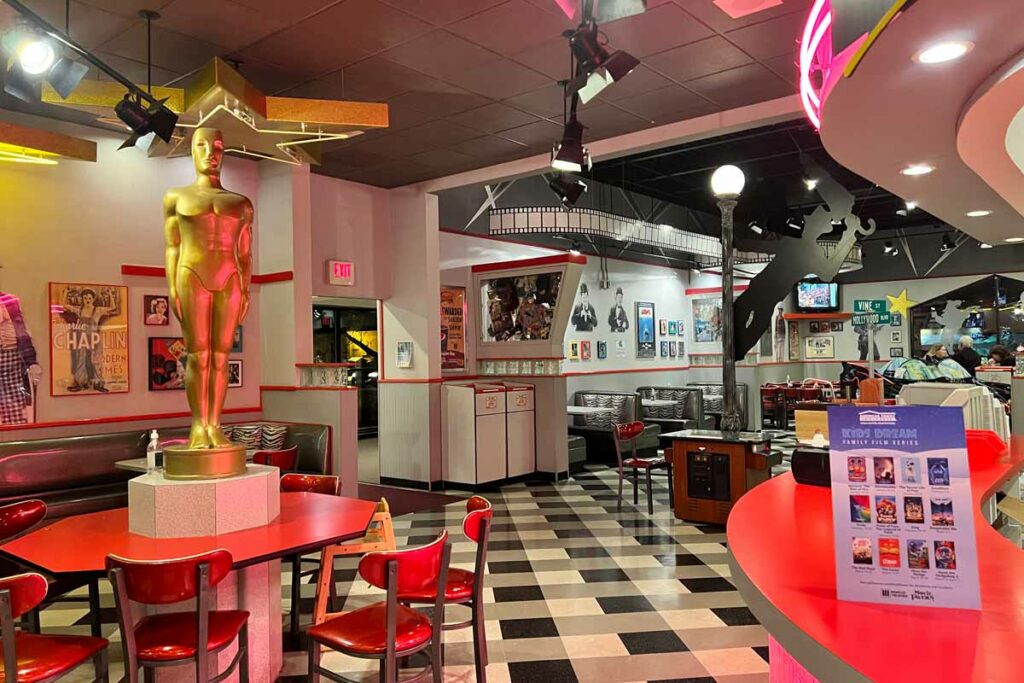 Food Options at Funset Grill
The Hollywood-themed restaurant serves pizza and grill-type fare in a movie theme setting. They also have hand-dipped Blue Bunny ice cream!
Kids' meals start at $7.99 and include chicken tenders, hamburgers, mac and cheese, grilled cheese, and build-your-own pizzas.
Funset Boulevard
For more information, visit Funset Boulevard Family Entertainment Center, 3916 W  College Ave, Appleton, WI.