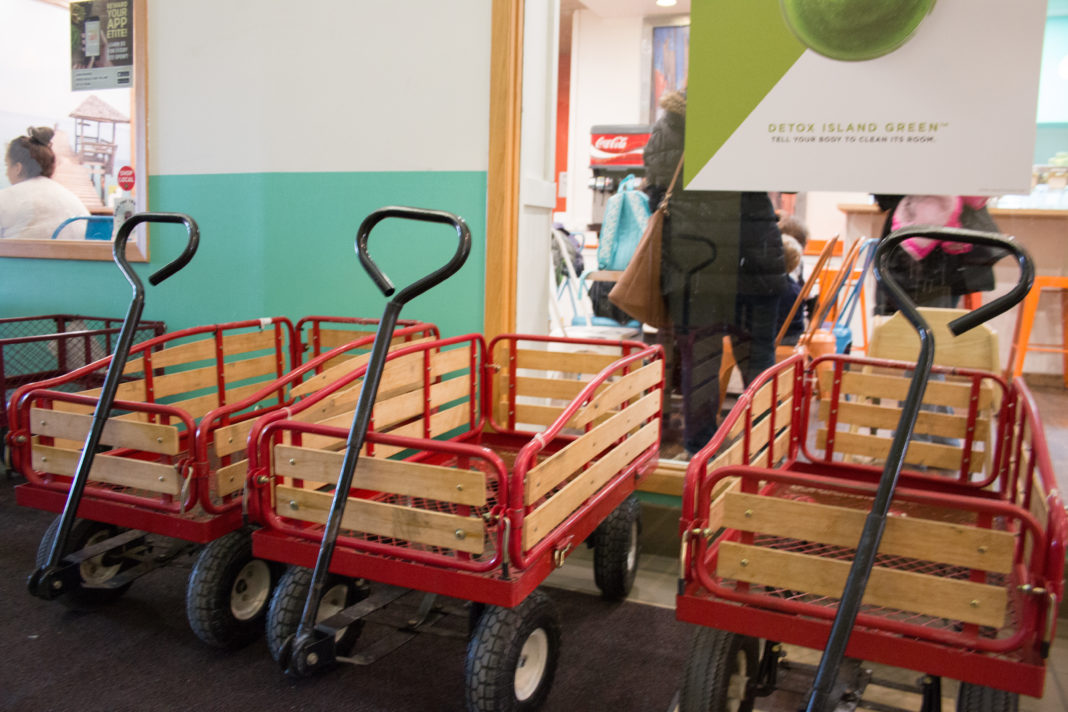 Do you miss the outdoor Saturday morning farmers markets? Appleton offers an indoor farmers market every Saturday from November until May in the City Center that has some of the best parts of the outdoor market and a low-key vibe. It's a great way to pick up some fresh fruits and vegetables, meat, cheeses, local goods, crafts, and more. It is a good time to connect with local farmers and learn more about their farming practices and what they are able to offer year round. If you are lucky you'll even enjoy some music from our very own local musicians! Grab a complimentary wagon if you need to contain the kids, jackets or for all your goodies!
Downtown Appleton Indoor Farmers Market
Inside City Center Plaza
10 E. College Ave. Saturdays
Nov. 4, 2017 – May, 2018
9 am – 12:30 pm
appletondowntown.org/downtown-appleton-farm-market
Parking
Don't forget to grab change for the parking meters. Parking meters are $.75/hour with a 2-hour maximum from 9 am to 6 pm. You can also use the Passport Parking app, it is quick to set up and easy to use but you can not add additional time past the 2-hour maximum. Park on College Avenue or enter through the back of the City Center between the Appleton Public Library and Valley Transit Bus Station on Washington Street. The Blue Ramp is connected to the City Center and is also metered but has a 3 hour limit. Parking is also available at the Red (Radisson), Green (P.A.C.) and Yellow (East on Washington St.) parking garages and you pay when you exit. Rates range from $1 for less than 2 hours to $5 maximum. For more information on parking in downtown Appleton visit: appletondowntown.org/getting-around/parking
Monthly Market Themes & Events
1st Saturday of the month: Learning & Education
2nd Saturday of the month: Health & Wellness
3rd Saturday of the month: Kids Market
Last Saturday of the month: Sample the Market
3rd Saturday of the Month
The Wisconsin Museum of International Wildlife is a FREE museum on 2nd floor of the City Center. Check out this little local hidden gem if you are at the market on the 3rd Saturday of the month from 10 am to noon.
Other Fun Places for Kids to Visit while DowntownAppleton
Appleton Public Library
225 N Oneida St, Appleton
apl.org
Boardlandia
10 E College Ave #125A, Appleton
(access inside the City Center from the market)
boardlandia.com
Building for Kids
100 W College Ave, Appleton
buildingforkids.org
Crazy Sweet
201 W College Ave, Appleton
crazy-sweet.com
Items of Interest
10 E College Ave #102, Appleton
(access inside the City Center from the market)
facebook.com/itemsofinterestappleton