When thinking about starting horseback riding lessons or even just spending an afternoon on a trail ride, there can be a lot of questions if you're brand new to horses or if it has been a long time since you've been around a stable. Whether you are looking for casual trail rides through the countryside, a horse-themed birthday party, or equestrian training, we have rounded up a list to help you! Looking for horse drawn sleigh rides? Check out our wagon rides and carriage rides options in Wisconsin!
What riding gear is needed?
Riding Boots

Heeled boots are preferred, often called paddock boots (ankle height boots with a heel)
No side zipper because they can scratch saddles. Look for the zipper on front or back or lace up boots

Long Pants

Jeans work fine for beginners but as kids start to learn more advanced skills breeches are a nice investment.
Breeches are typically made of cotton, cotton blend or microfiber and have a suede knee patch design to grip well while riding.
For cold weather riding, some breeches are made of corduroy or denim and are fleece lined.

Helmet

Most stables will have helmets to borrow. Ask when you make your plans to visit.
Helmets are a great investment if you continue lessons. There are fun helmets with designs. If you think you will compete, consider a solid black helmet. Make sure your name is inside.
As you ride more and become a more experienced rider you'll want some other things like gloves and maybe your own tack box and maybe a pocket of peppermints, carrots or apples!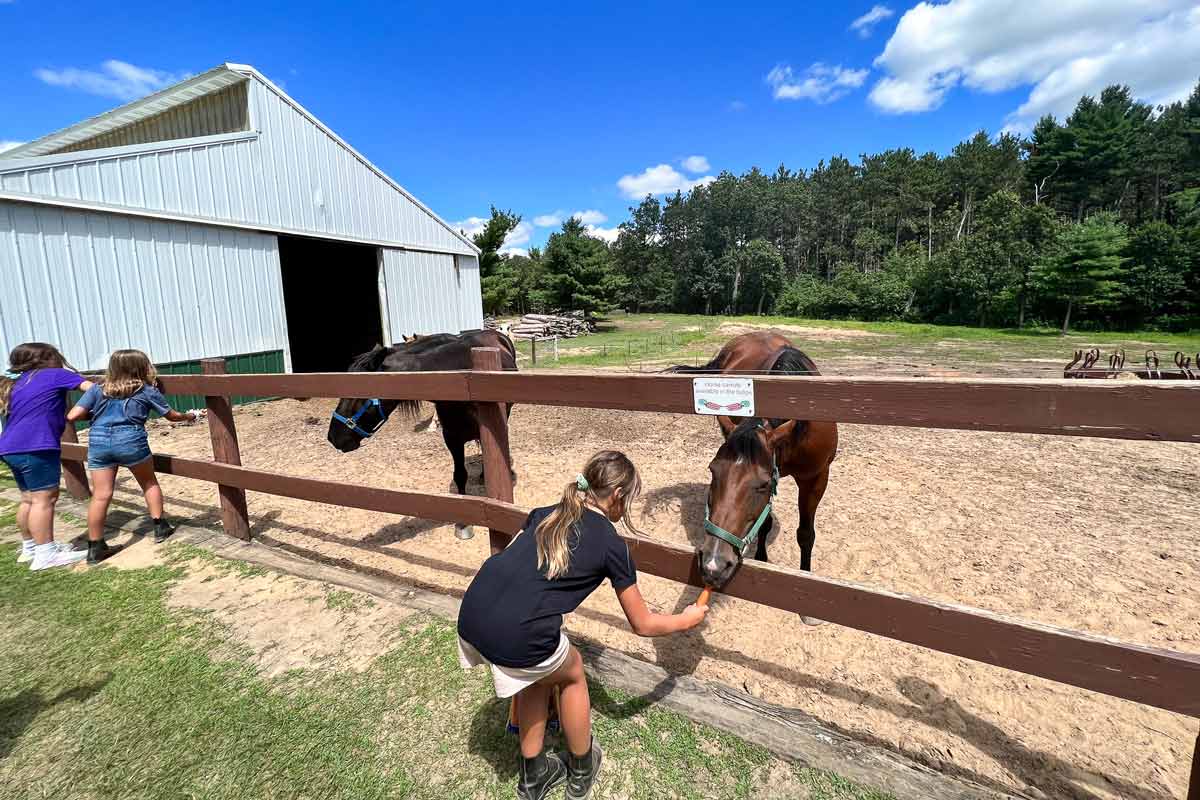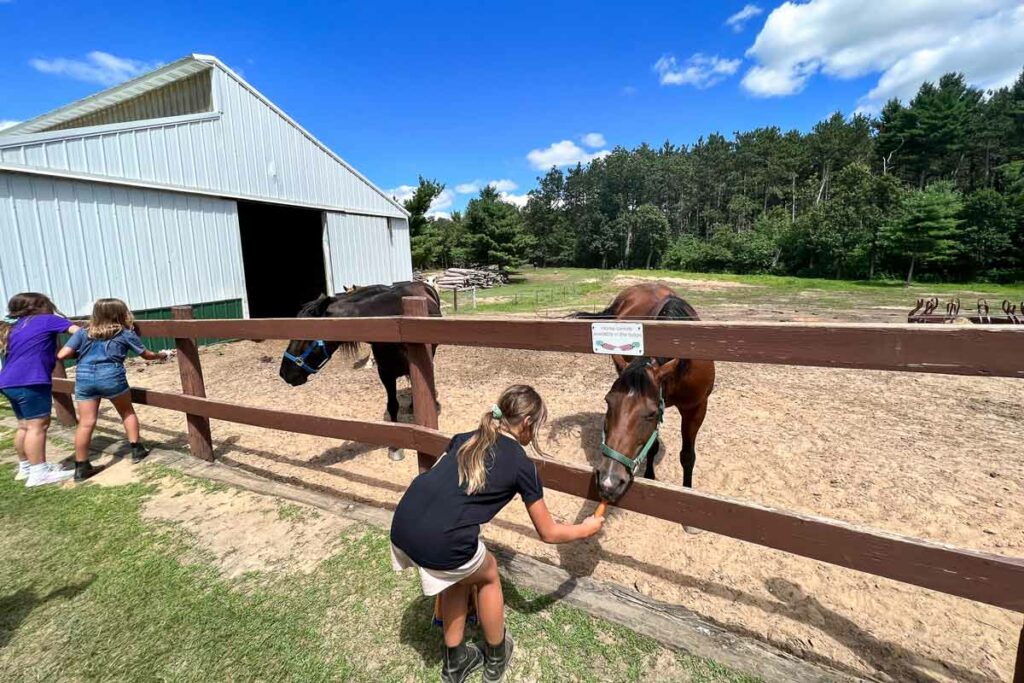 How much do horse riding lessons cost?
Lessons typically run between $30-$50 an hour.
Most lessons include 30 minutes of training and 15 minutes before and after for horse care including grooming and tacking.
One-on-one lessons are recommended for beginners.
Group riding lessons are typically available for more intermediate or advanced riders and also great for socializing and getting to know other riders.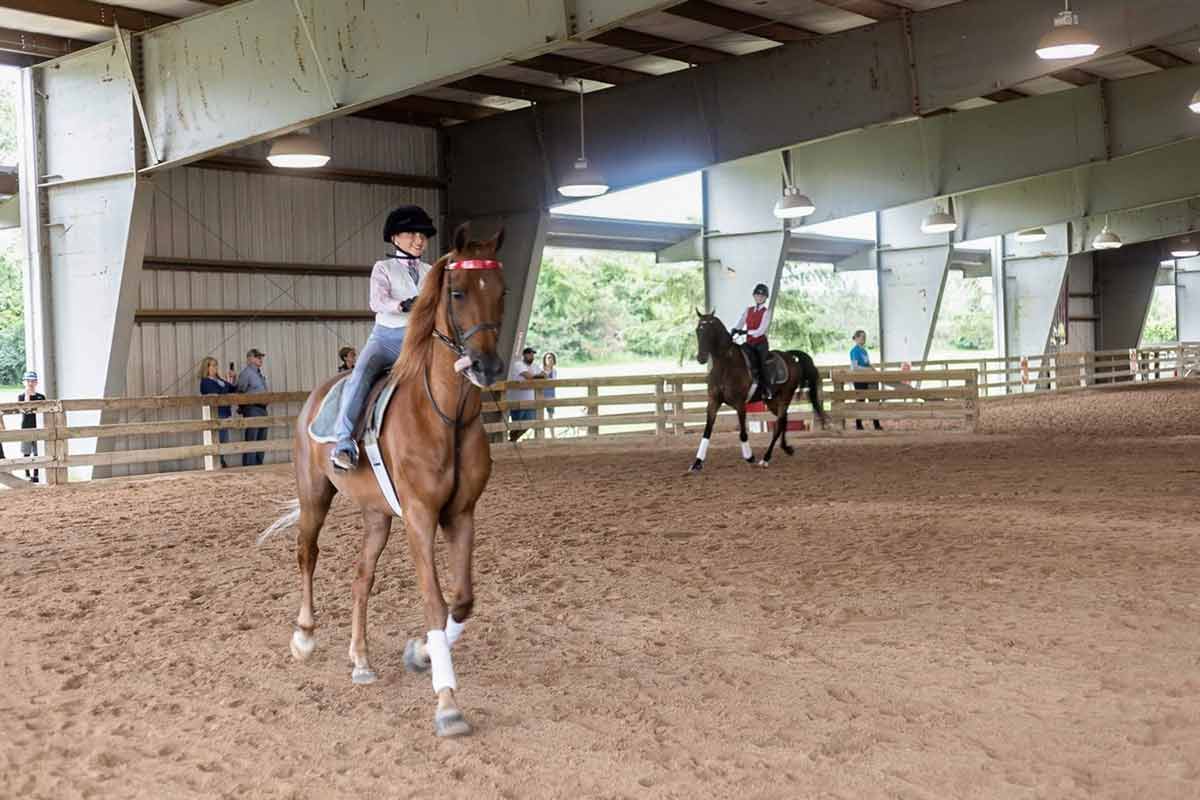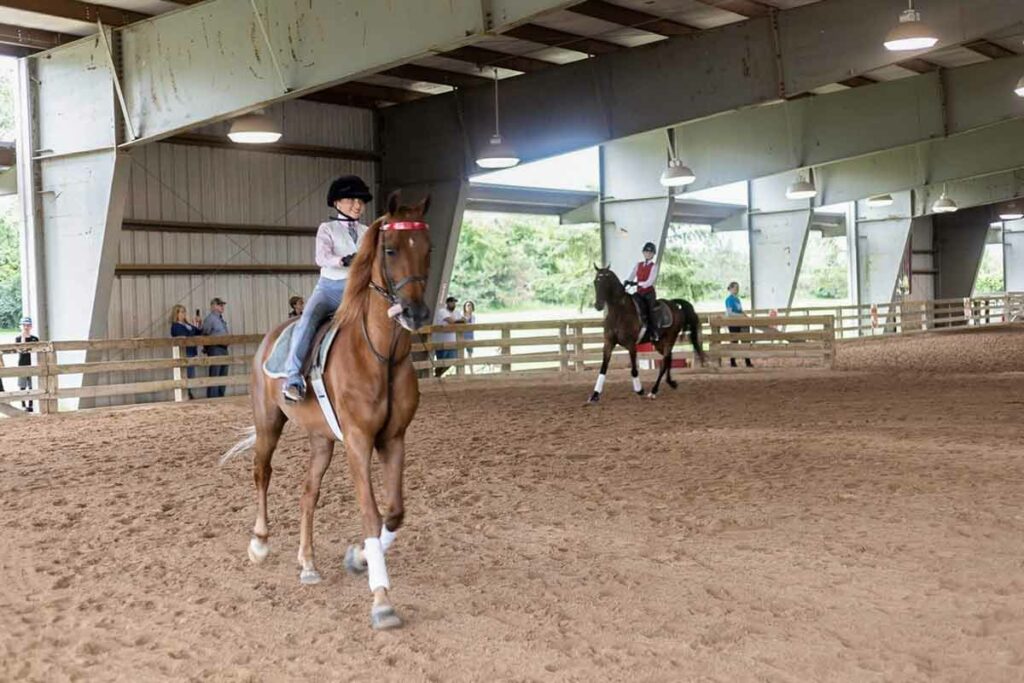 10 things to consider when choosing where to take lessons
There are many benefits to riding. Horseback riding has become more popular and we are fortunate to have many local options. Understanding the goals for the rider will help choose the best program for your kids. Some of these may include therapeutic, recreational or a competitive academy program. Here are some things to consider or ask when choosing the best riding facility and training program.
For what ages are lessons available? What experience is needed? Are the lessons geared to beginner riders or advanced riders?
Are discounts offered for referrals or advance paying? Some stables will offer bundle packages for monthly lessons.
How long are lessons? What are the expectations during lessons? What is included in lessons?
Do you want to compete in horse shows? Does the stable train for them? Is competition required for riders? Plan for additional costs for competing.
Are you looking for a riding community? If you are looking for a rounded experience, ask about other opportunities to get to know other riders like open houses, clubs, camps unique experiences and birthday parties.
Can parents stay to watch during lessons?
Do they offer year-round lessons? Are the stable and arena areas heated?
What style of riding do they teach? Is it the style you want to learn? Ask about English Riding versus Western.
Get to know the riding instructors. Ask about background and credentials. Can you see you or your child learning from the instructor? Do they have a knowledgeable staff?
Tour the facility and observe lessons. Is the facility clean? Is there an outdoor arena? Indoor arena? Do they have safety rules? Is the facility licensed? Are the staff and stable hands friendly? Observe the horses. Are they well behaved, well-trained horses? Are there a variety of different horses – young for more advanced riders to older, mature horses for beginners?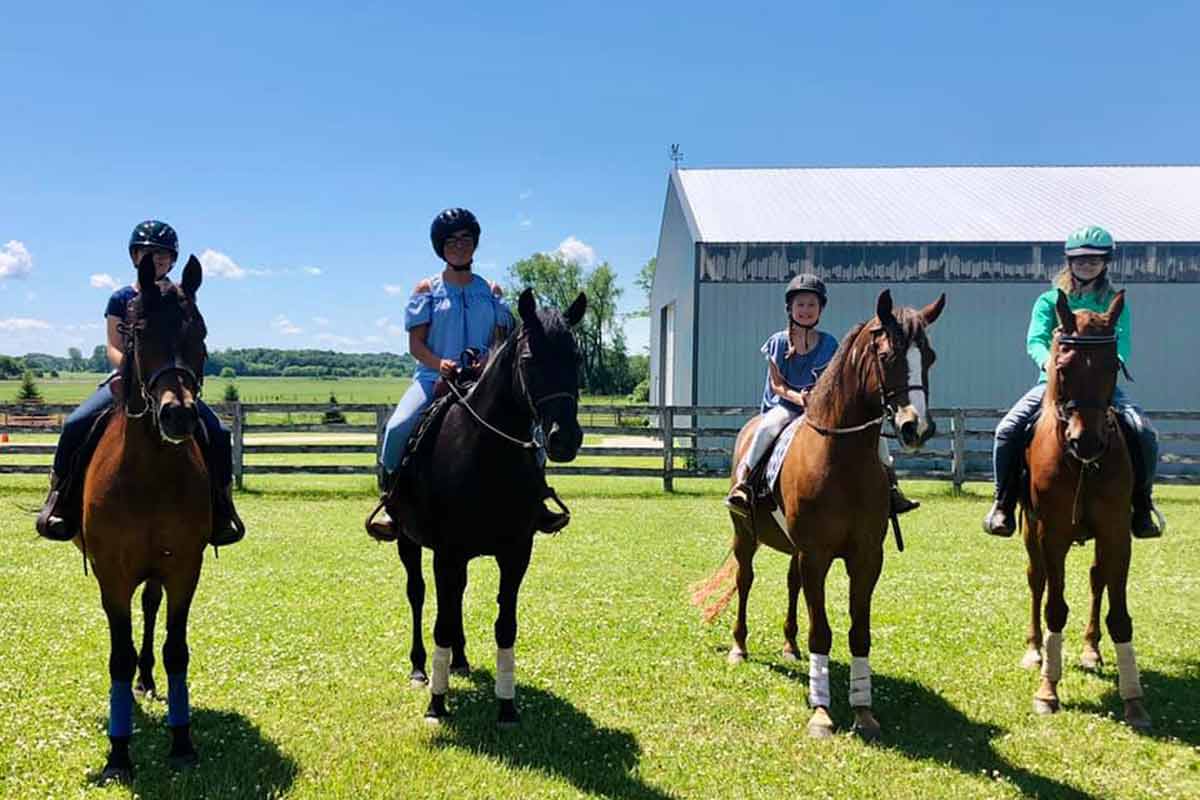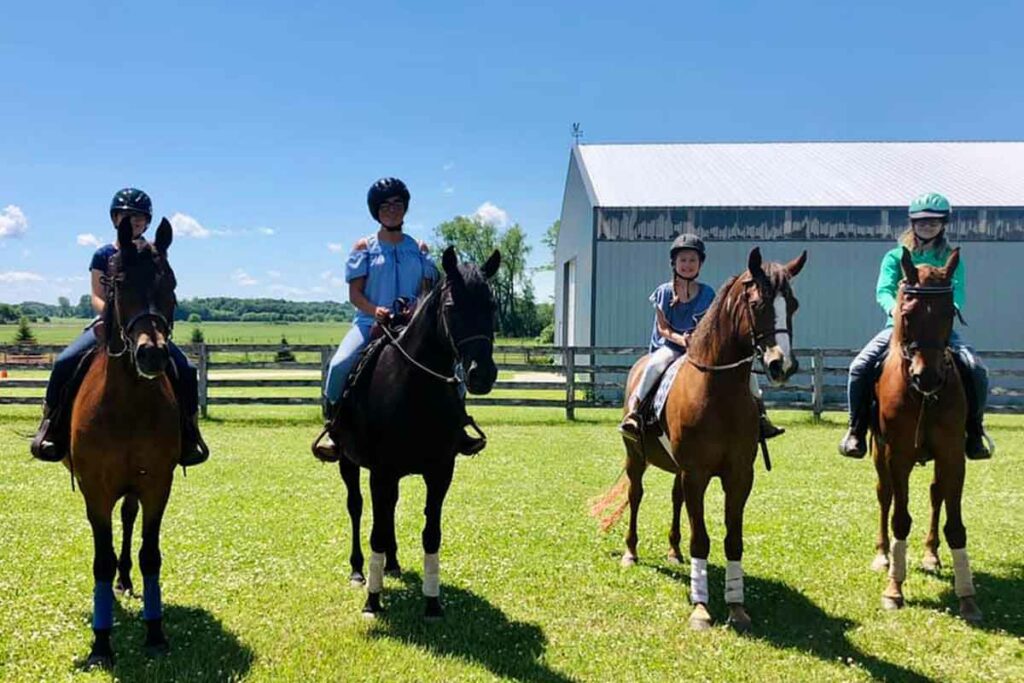 Horseback Riding Lessons
Horseback riding has so many benefits, both mental and physical from quality time outdoors in nature to burning calories. Horseback riding teaches responsibility, problem solving, balance, coordination, confidence and more. These horseback riding stables offer lessons for all skill and experience levels for kids and adults, private and semi-private lessons.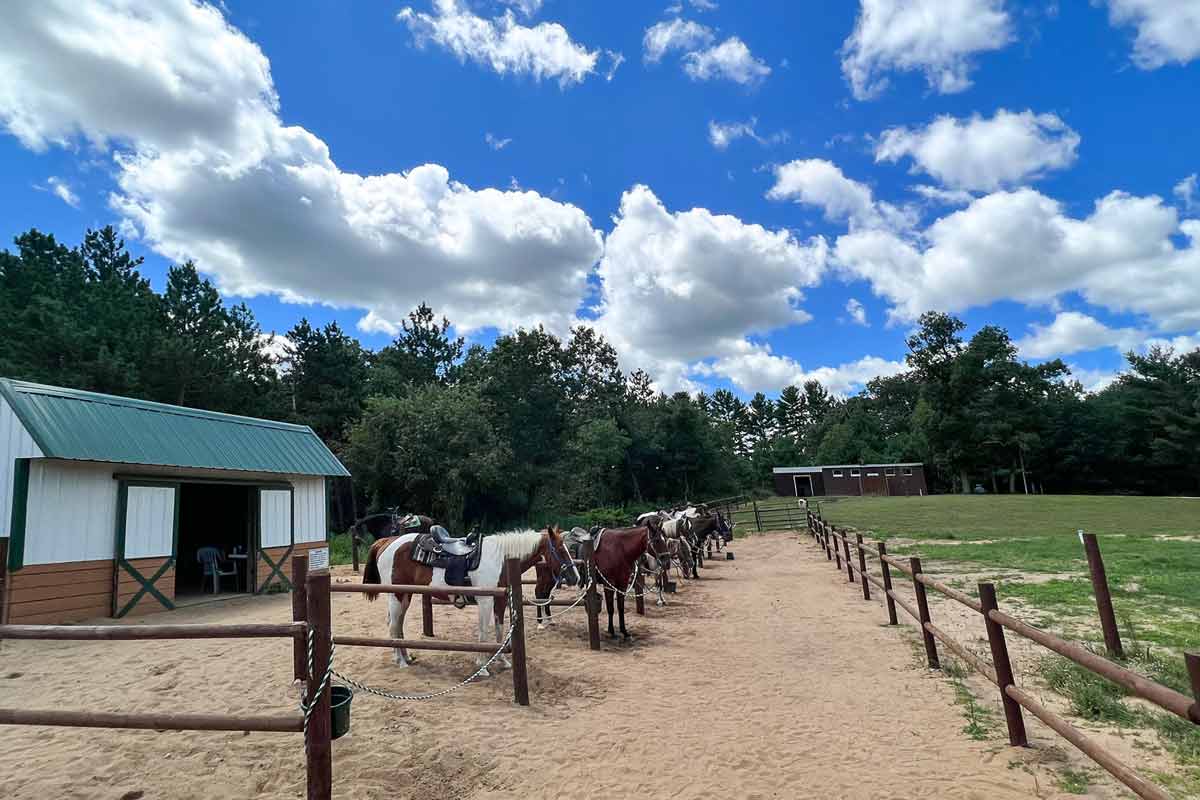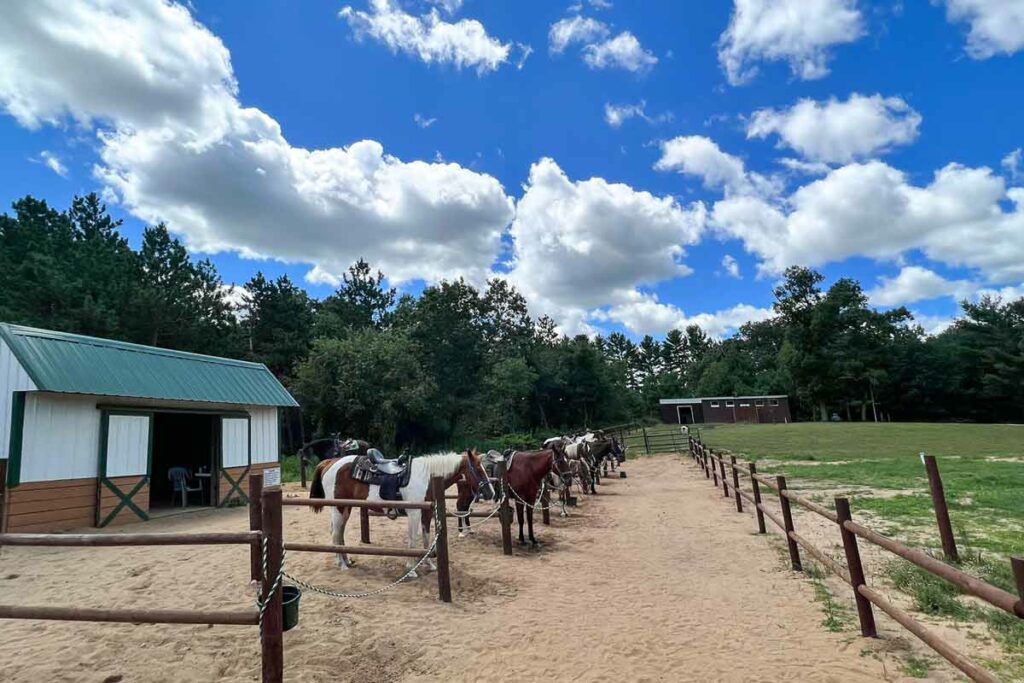 Trail Rides
One of the best ways for horse lovers for a fun day is enjoying the the natural beauty of the outdoors on horseback with miles of scenic trails. Some trail rides include options for a private ride, night ride, sunset ride and other fun horse riding experiences. Check with the horse farm on age requirements, weight limit and other important information.
Clydesdale Horses
Larson's Famous Clydesdales in Ripon boast as one of the only places in the United States where visitors can see these majestic horses up close and personal. Open May through October the ranch offers a 90 minute guided tour with a grandstand show. The experience also includes meeting a baby Clydesdale, mascot Mac Gregor, a great Scottie dog, museum and gift shop.
Overnight Weeklong Summer Camps
Horse camps are a great way to "try out" the horse experience. Many of the academy lesson programs listed above also offer day camps during the summer and winter.
Horse Nonprofits and Volunteer Opportunities
Beaming in Neenah provides Equine-Assisted Learning and Adaptive Horsemanship in our community with therapeutic riding sessions and experiences and the perfect opportunity for people to get involved while on the farm! Volunteers must be 14 years old. Tasks include lesson prep grooming and saddling horses, side walkers to assist participants with mounting and dismounting, maintaining balance and control and interpreting directions given by the riding instructor during lessons, horse handler, and office and educational support.
Programs Include:
Saddle Up for Success – individual lessons
Dragons in Flight – advanced lessons
Partners in Riding – a partnership with local school districts for children with challenging physical, cognitive or neurological disabilities
LAUNCH – group classes for troubled and hurting youth
Horses, Hearts & Heroes for veterans
RideStrong for those affected by trauma
Riding in the Moment, a program for seniors with early- to moderate-onset dementia, Alzheimer's or other forms of memory loss.
Equine-Assisted Memory Cafes which invite seniors in the community with memory loss and their caregivers to improve their quality of life by experiencing the benefits of equine-assisted services.
Hold Your Horses Teen Summer Camp for troubled and hurting youth
Autism Camp for children with autism
Beaming Inc, 2692 CR-GG Neenah, WI
Find Horseback Riding Near Me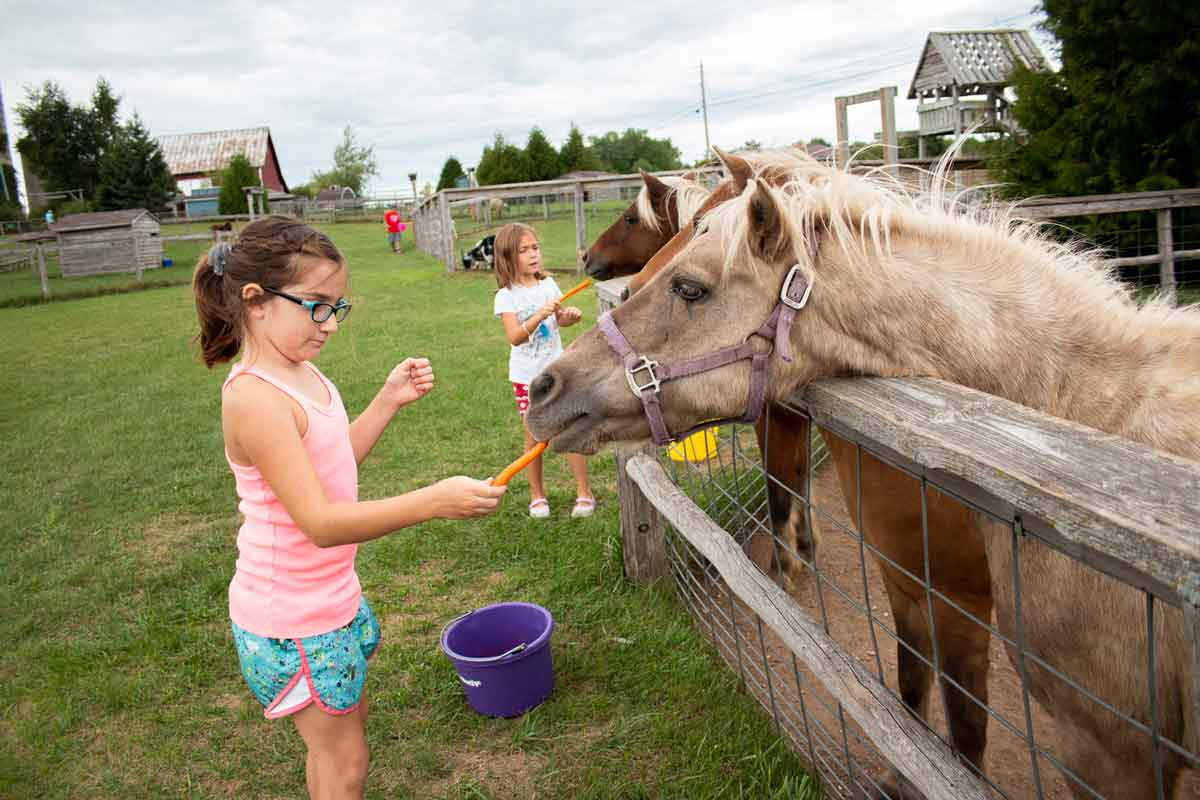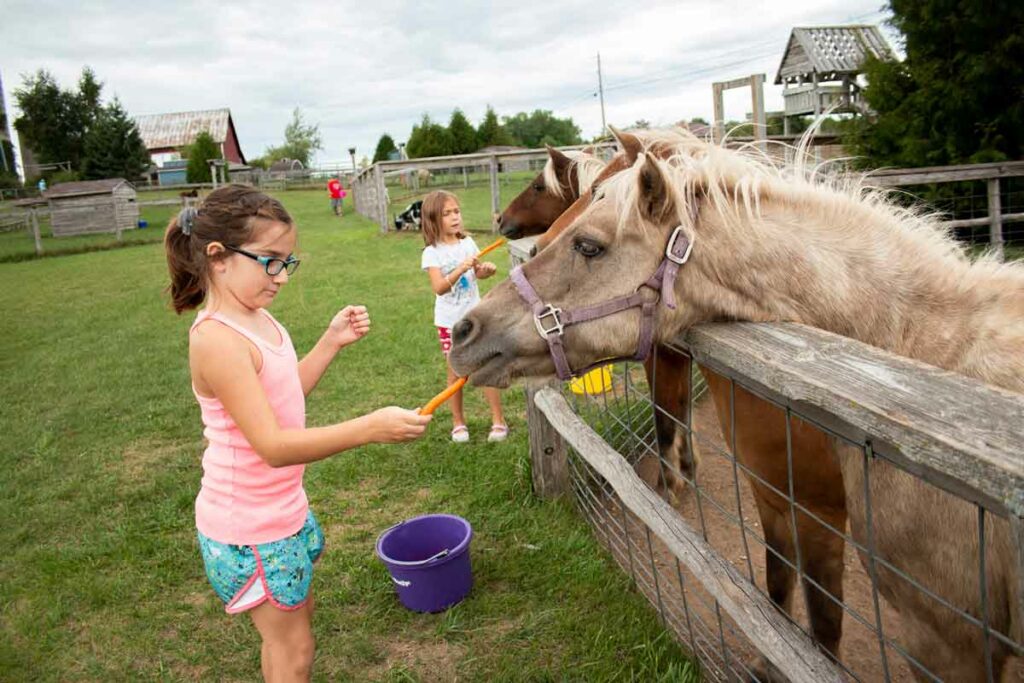 Looking for a petting zoo? Your horse lover would enjoy seeing and feeding the horses at The Farm in Sturgeon Bay or Plum Loco in Egg Harbor, Door County.
Save