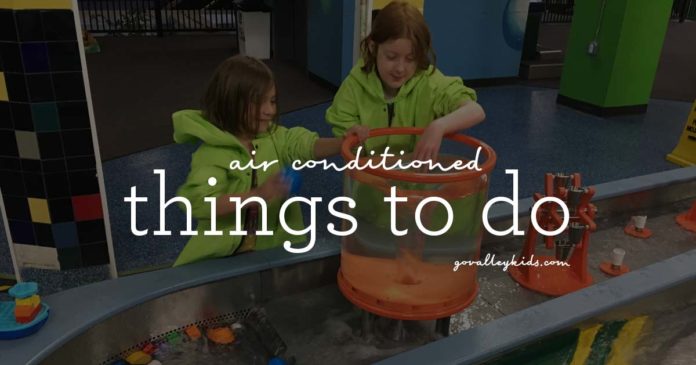 Is summer not your jam? Just plain tired of feeling hot? Maybe it is actually 100 degrees with 97% humidity? There are plenty of kid-friendly spots to get out of the house and cool off for part of the day! Find some air-conditioned things to do indoors here!

These spots have air conditioning and activities for the kids to get out some energy! Bonus, most of them have free WiFi!
There might not be a spot cooler in the summer than the movie theater. Don't forget your sweatshirt!
Remember winter? Indoor ice skating will jog your memory. Cool off and maybe also rediscover your appreciation for the warmer weather.
All of the bowling alleys are nice and cool! And if you sign up for Kids Bowl Free, you'll just need to pay for shoe rental. And probably nachos.
When's the last time you had on skates? It is just as much fun as you remember and this time you get to hold hands with your kids.
There's a museum for everyone in and around Northeast Wisconsin. Art, science, play, boats, cars, and more! If you have an explorer membership from The Building for Kids or other area museums, you can access free or discounted entrance to many nearby museums.
Shooting your kids with lasers is even more fun when you're leaving 90+ degrees outside the door!
The ultimate cool off spot. There's probably a story time or activity, and there are definitely plenty of things to do at our awesome area libraries.
Find a new board game, craft kit, or just browse at one of the cool local shops.
There are many indoor, air-conditioned spots to try out archery!
Stay cool and use some creative energy at one of these spots to make something awesome to take home or give as a gift.