Hop on a wagon ride and enjoy the fall scenery at Waldvogel's Farm! Located in Juneau, a little over an hour away from the Fox Cities, families can enjoy over 80 attractions and activities, pick up fresh baked goods from the on-farm bakery, and visit the pumpkin patch.
Spanning over 80-acres, the farm has been running for over 30 years. It became a tradition for my family years ago after stumbling across it on Pinterest. I was eager to visit, and my daughter, who was only one at the time, loved it so much, we look forward to returning each year. I am excited that my son will now get to visit this extraordinary fall place, too! 
READ MORE: 9 Ways to Enjoy Family Fall Adventures in Madison, Wisconsin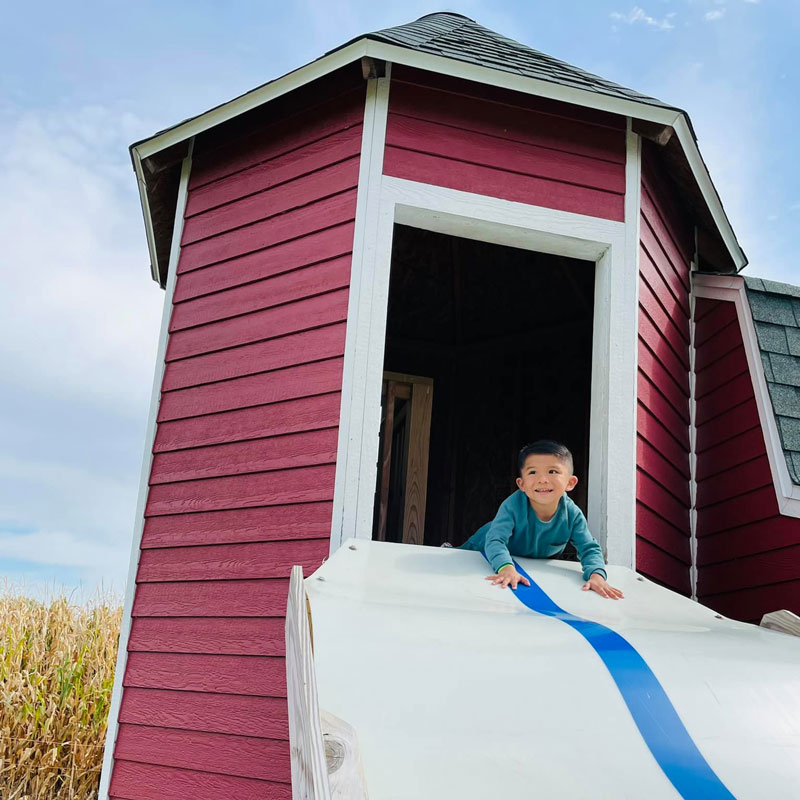 Exploring the Farm
The farm features many activities for kids of all ages. From an area to pet adorable baby goats to a train ride through the cornfield, visitors will want to spend all day exploring the grounds! Meet Bruce the Goose, find Jimmy—the friendly purring farm cat, or relax on the gigantic family-size swing. The farm truly offers an interactive day out in the fresh air while inspiring silly and precious family memories.
Don't forget to head to the spacious pumpkin patch! Families can take a ride out to the fields to pick the perfect pumpkin and hunt for unique gourds. Pumpkins picked from the patch are $5 each – no matter the size! There is also a pre-picked selection available near the entrance in various colors and sizes, including pie pumpkins.
Visit our Fall Guide for more places for your family to explore this autumn >
Activities for All
There is so much to do on the farm—the following are just some of the activities included with admission:
World's Largest Pumpkin Bouce
Underground Slides
Barn & Silo Playhouse
Chalkboard Animals
Flip-A-Chic
Farm Train Ride
Hop-Along Rodeo
The Lost Mine
9-Hole Mini Golf
Moo the Cow
Mini Farm
For an additional fee, visitors can participate in Gemstone Mining, Face Painting, use the Pumpkin Launcher, or take aim in the Shooting Gallery. The admission covers all other activities.
In addition to the fall festivities, families can grab a snack or pick up a treat to take home in the Market area. Enjoy a caramel apple or purchase some freshly baked goods; there's something delicious waiting for everyone. Please note that food and beverages are not included in admission. No carry-ins are allowed, but cold sandwiches and chips are available during the weekdays, and food trucks are on-site over the weekend.
For an opportunity for endless fun, laughter, and giggles, add Waldvogel's to your family's fall bucket list! Not only will everyone have an exciting experience on the farm, but families will quickly find it becomes a cherished family tradition!
Waldvogel's Farm At-A-Glance: