On your next family walk or drive, be on the lookout for a special box filled with goodness. These Little Free Libraries and Little Free Pantries (sometimes also called Blessing Boxes) are free to use. Your kiddo can have an adventure while on the hunt for a new book and your family can help combat food insecurity in our communities. My family loves going for drives to get some fresh air and get out of the house. On our outings, we began seeing these boxes! I did not realize there were so many, and I am sure there are more out there, too.
Over the past few years, these little libraries have grown in popularity and have sprung up throughout neighborhoods everywhere.
Anyone can find a book or non-perishable food item in one of these boxes, and best of all, many give back by swapping out a book or adding canned goods or boxes of food items, too. This is such a wonderful way for our community to encourage reading and support one another.
*Do you have a Little Free Library or Pantry that you'd like to add to our list and map? Have more information on who created the Free Little Library you love or maintains it? We can also use your help with adding pictures! Fill out this quick form and we'll be sure to add it.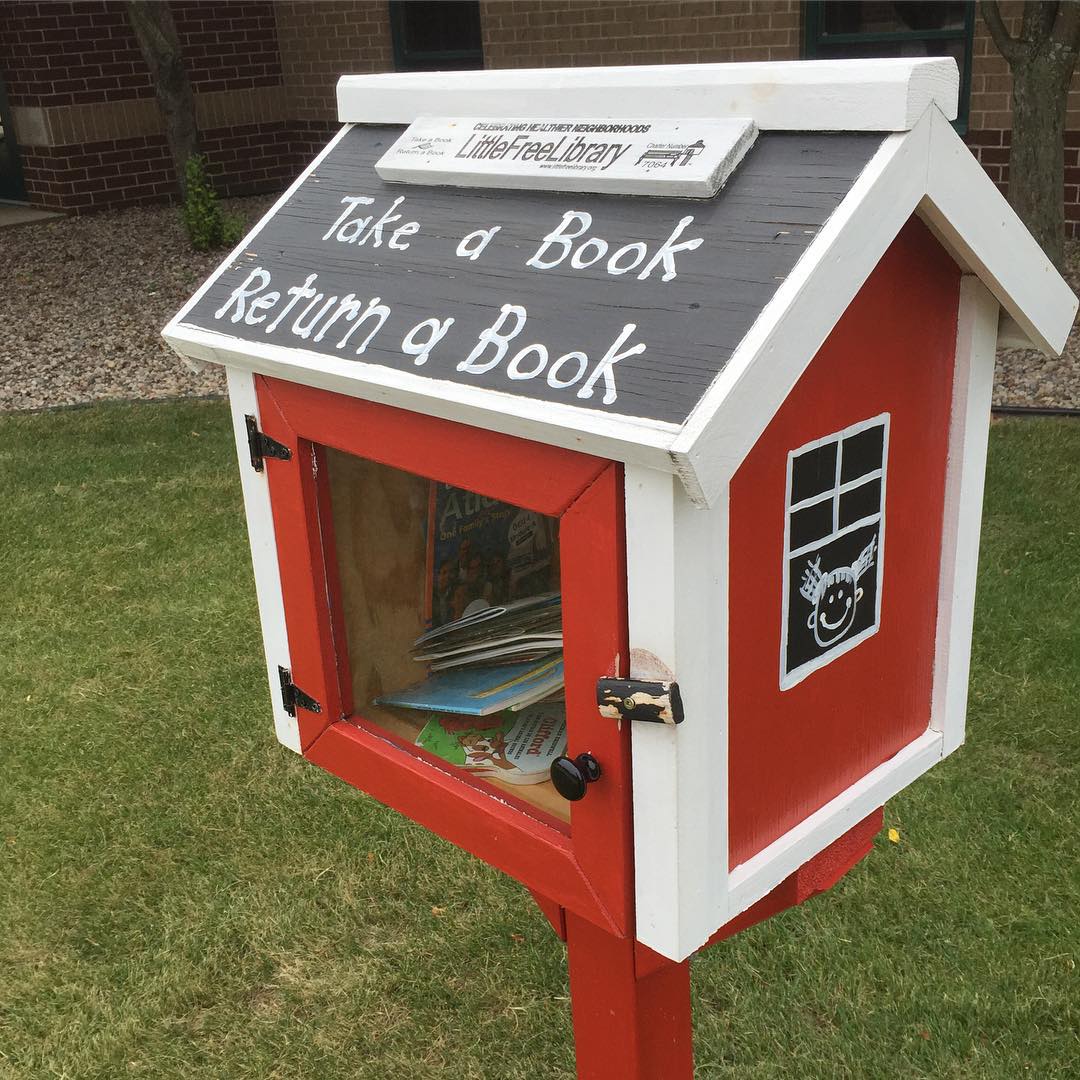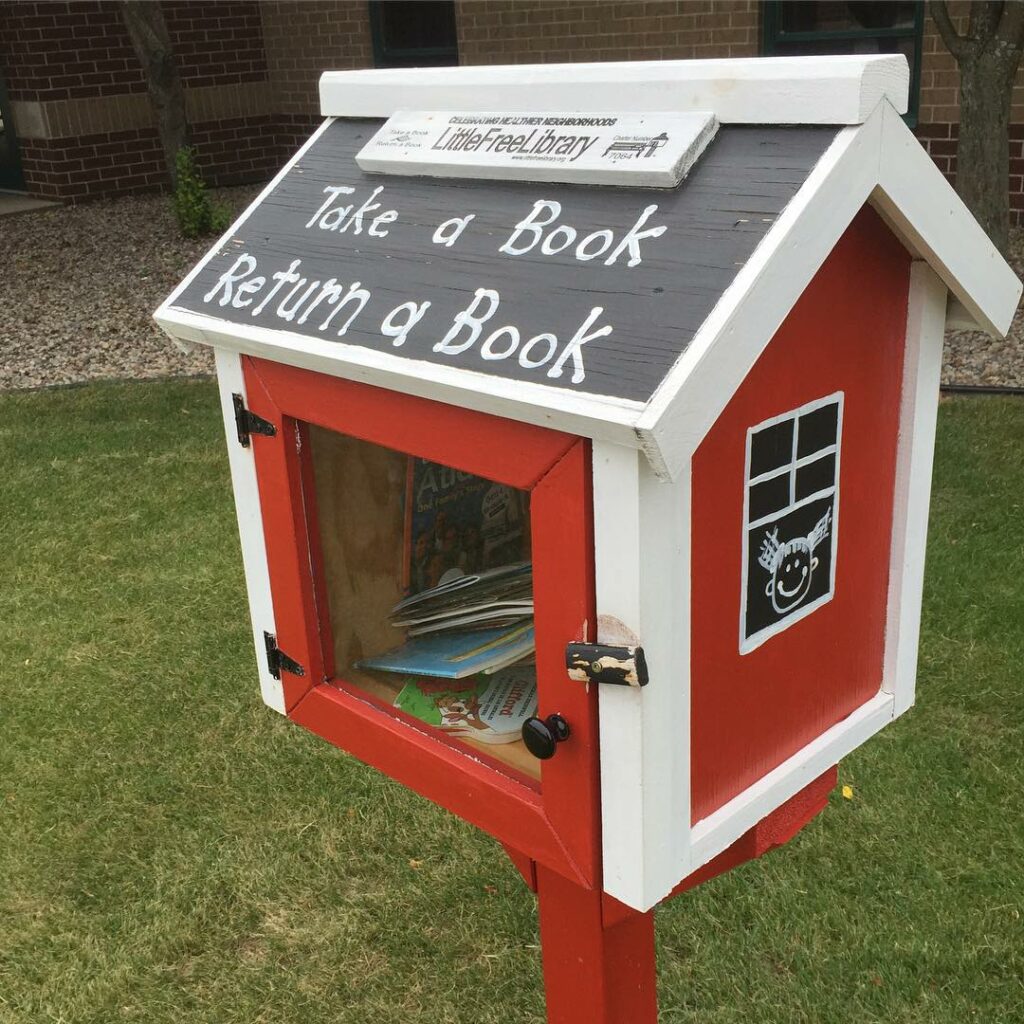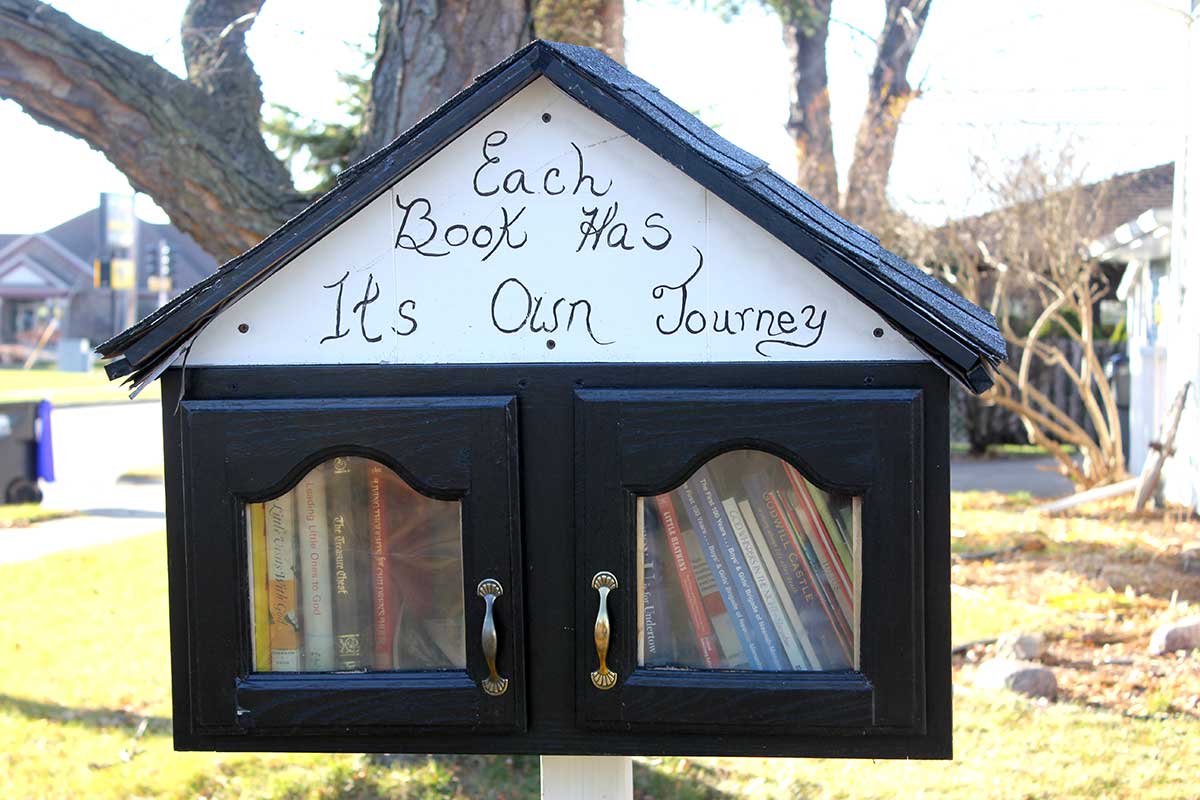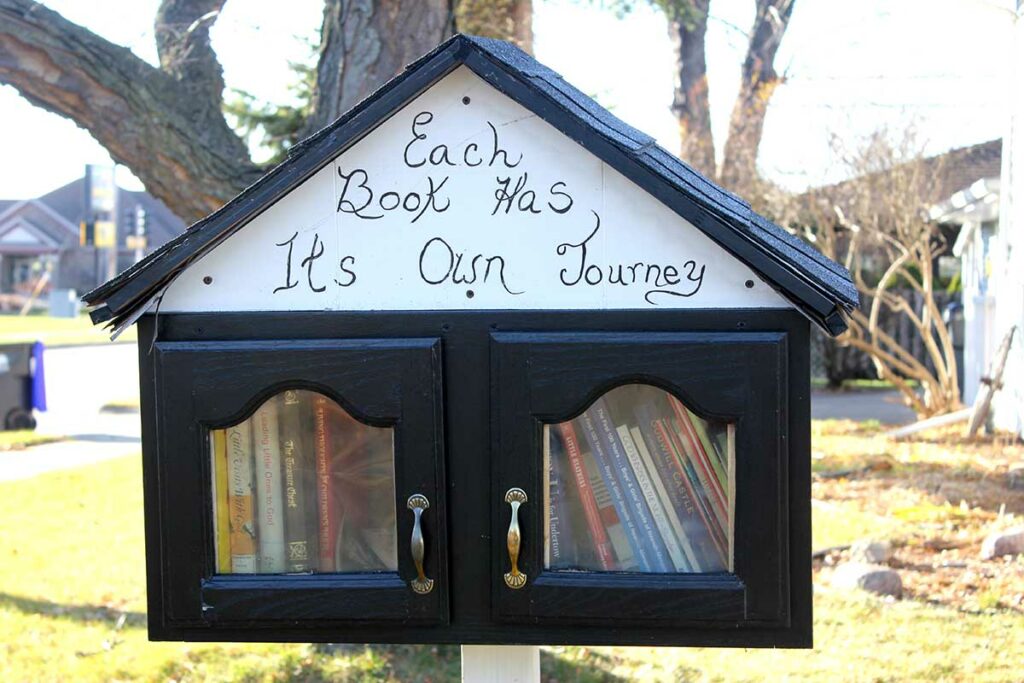 Recommended Items to Stock Little Free Pantries
Little Free Pantry has lots of additional resources including plans to build your own library! If you can't find an empty little pantry, donations can also be dropped off at St. Joseph's Food Program.
Paper Products
Paper towels
Toilet paper
Kleenex
Personal Care Items
Shampoo/conditioner
Soap
Toothpaste
Toothbrushes
Moisturizer
Pads/tampons
Diapers/wipes
Deodorant
Chapstick
Hats, Gloves, Scarves (Winter)
Handwarmers (Winter)
Non-Perishable Foods
Peanut butter and jelly in plastic
Boxed/bagged grains/beans: rice, couscous, quinoa, red beans, white beans
Pasta: dry pasta, bagged pasta meals, mac n' cheese
Pasta sauce in plastic
Cereal: cold and hot
Peanut butter and other snack crackers
Applesauce
Dried fruits
Granola bars
Find a Free Little Library or Little Free Pantry Near You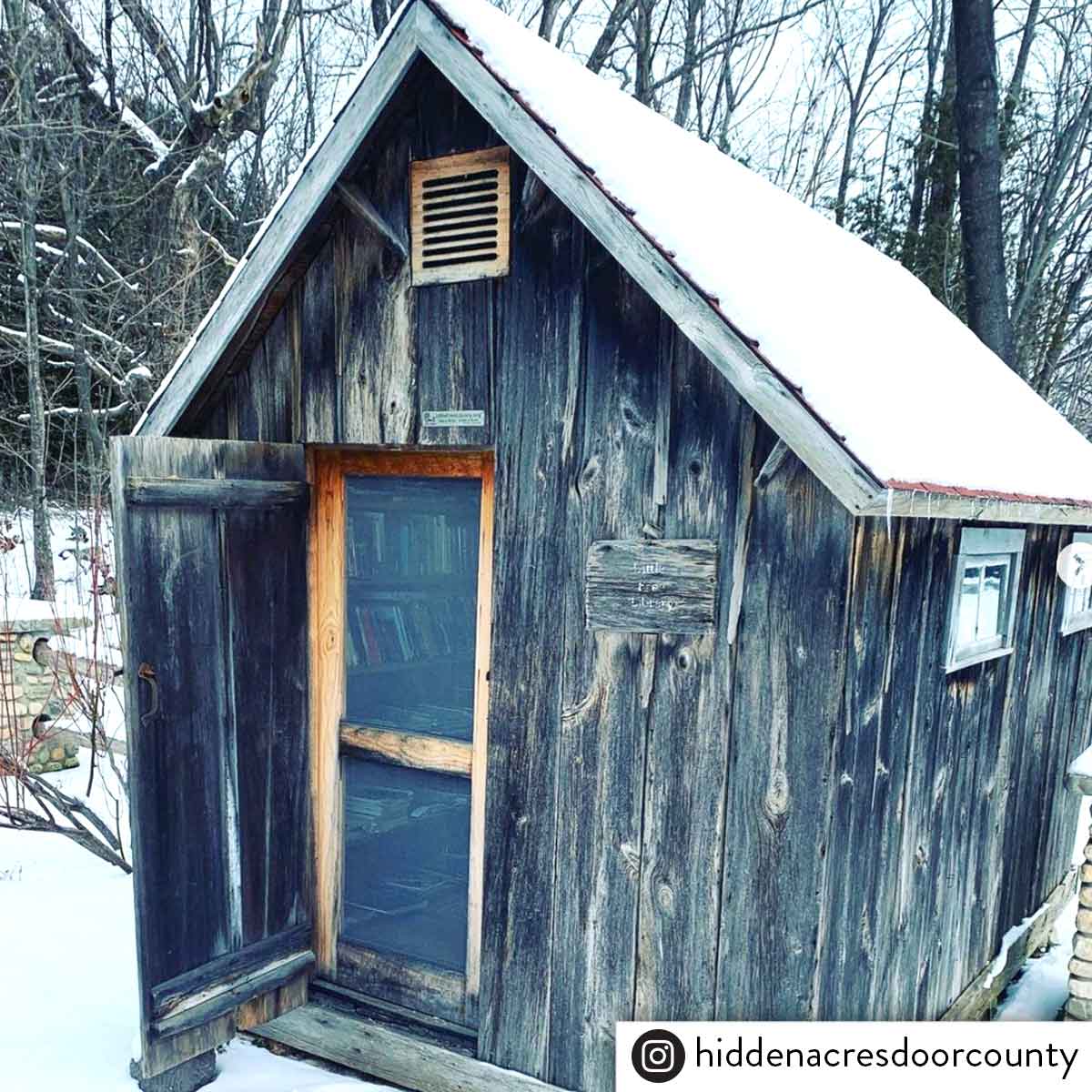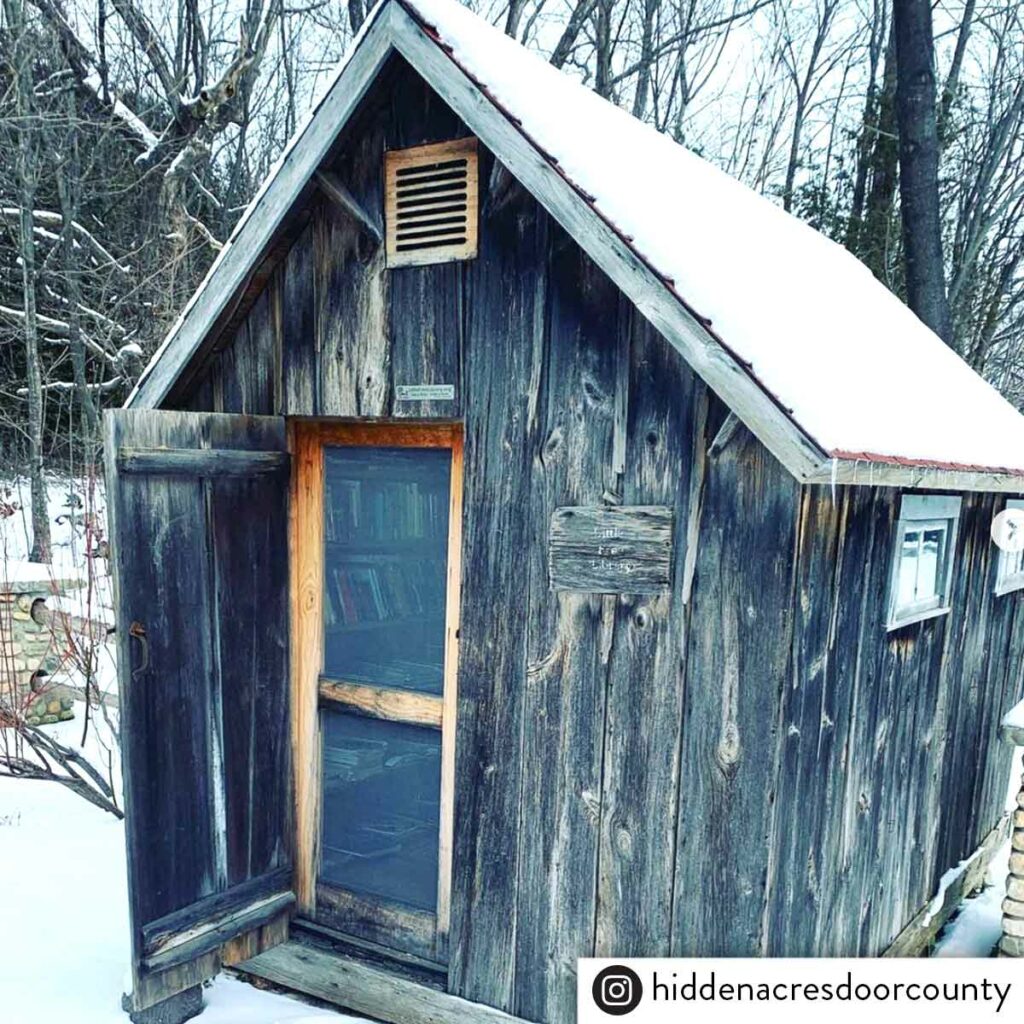 Free Little Libraries in Appleton
544 North Lawe Street, across from Jacob's Meat Market
313 South State Street, Community Early Learning Center
115 South State Street, McFleshman's
222 South Walnut Street, Appleton Police Department
308 North Lawe Street, residence
1437 East Harriet Street, residence
3009 North Meade Street, Our Savior Lutheran Church
1009 Capitol Drive, residence
515 East Capitol Drive, Ferber Elementary, near building
326 East North Street, First English Lutheran Church
319 North Drew Street, residence
1000 East Glendale, near ThedaCare Regional Medical Center–Appleton (Appleton Medical Center)
100 North Drew Street, All Saints Episcopal Church
Ballard & Glendale, residence
225 North Badger Avenue, Wilson Middle School
1830 East Melrose Street, residence
4801 North Brookshire Drive, residence
1407 West Edmund Drive, private park
419 East McArthur, residence
107 East McArthur, residence
1011 Midway Road, Eternal Love Lutheran
1441 East John Street, Richmond Elementary
1475 West Prospect Avenue, by Xavier High School, residence
1432 South Riverview Lane, residence
Corner of Kernan & Meadow Grove
Calumet Street, Prince of Peace Lutheran Church
1426 Calumet Street, residence
Jackman and Water Streets, near Fratello's in the smaller parking lot
Prospect between Pierce Avenue and Locust Street, residence
Rankin & 1st Street, residence
Lindberg Street, Grace Christian Fellowship
Commercial Street, near Grace Lutheran
1124 North Mason Street, Evergreen Florists
2305 West Capitol Drive, Houdini Elementary
100 West Capitol Drive, St. James United Methodist Church
740 East College Avenue, Emmanuel United Methodist Church
1438 East Pauline Street, residence
516 East Pacific Street, residence
1007 North Leminwah Street, residence
814 Winona Way, residence
229 North Rankin Street, residence
912 North Oneida Street, Zion Lutheran Church ELCA
1208 North Oneida Street, Little Angel's Daycare
3325 West Florida Avenue, residence
3375 West Brewster Avenue, Outagamie County Master Gardeners
1432 South Memorial Drive, residence
Free Little Libraries in Menasha
Third Street & Manitowoc Road, residence
862 Third Street, residence
105 Ice Street, Jefferson Elementary
449 Ahnaip Street, Nicolet Elementary
528 2nd Street, St. Mary's Catholic Church, in courtyard
974 9th Street, Clovis Grove Elementary
155 Marina Place, Marina Place Apartments
328 6th Street, Banta Elementary
675 West Airport Road, Gegan Elementary
Free Little Libraries in Neenah
1021 Oak Street, Horace Mann Middle School
200 North Commercial Street, St. Paul Lutheran Church
200 South Church Street, First Presbyterian Church
116 West Columbian Avenue, Neenah Family Chiropractic
1271 Maple Street, residence
821 North Lake Street, residence
1090 Congress Street, residence
828 East Cecil Street, residence
Corner of Lakeshore Drive, near lake
1674 South Park Avenue, Conservancy Walking Trail Park
1645 South Commercial Street, Lakeview Elementary
Free Little Libraries in Hortonville
Nash & Main, inside Memorial Square
Free Little Libraries in Kaukauna
207 Thilmany Road, Kaukauna Public Library
828 Oviatt Street, residence
Free Little Libraries in Kimberly
1200 W. Kimberly Avenue, Fox Valley Christian Fellowship
Free Little Libraries in Little Chute
625 Grand Avenue, near the Little Chute Library
Free Little Libraries in Combined Locks
107 Edwards Street, residence
Free Little Libraries in Oshkosh
132 South Park Avenue, residence
213 West New York, by Merrill Middle
1160 Central Street, Oshkosh Area United Way
375 North Eagle Street, Oshkosh West High School
722 South Westfield Street, residence
1401 West 5th Avenue, Franklin Elementary
728 East Irving Avenue, residence
915 Hazel Street, Webster Stanley Middle
1115 East New York Avenue, residence
1617 Jackson Street, residence
370 Bowen Street, Trinity Evangelical Lutheran Church
Nevada Street, near Emmeline Cook Elementary
1100 East Murdock Avenue, St. Andrew's Lutheran Church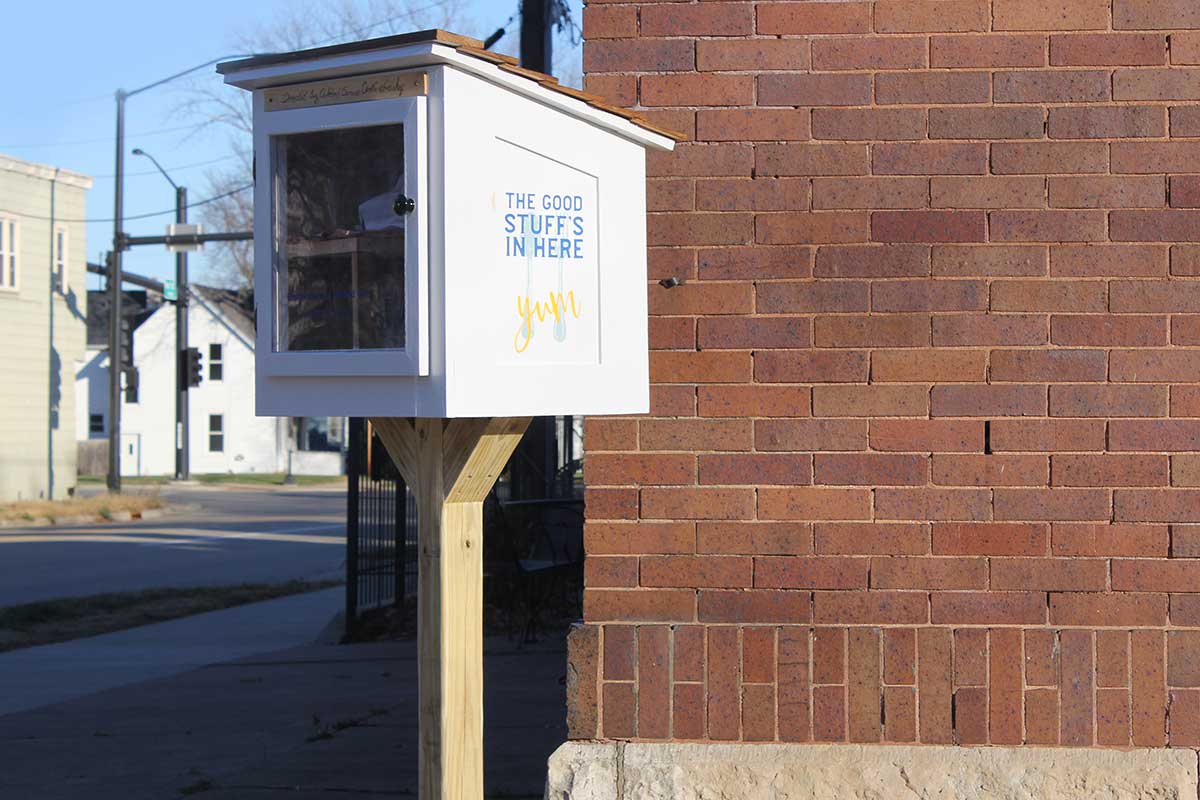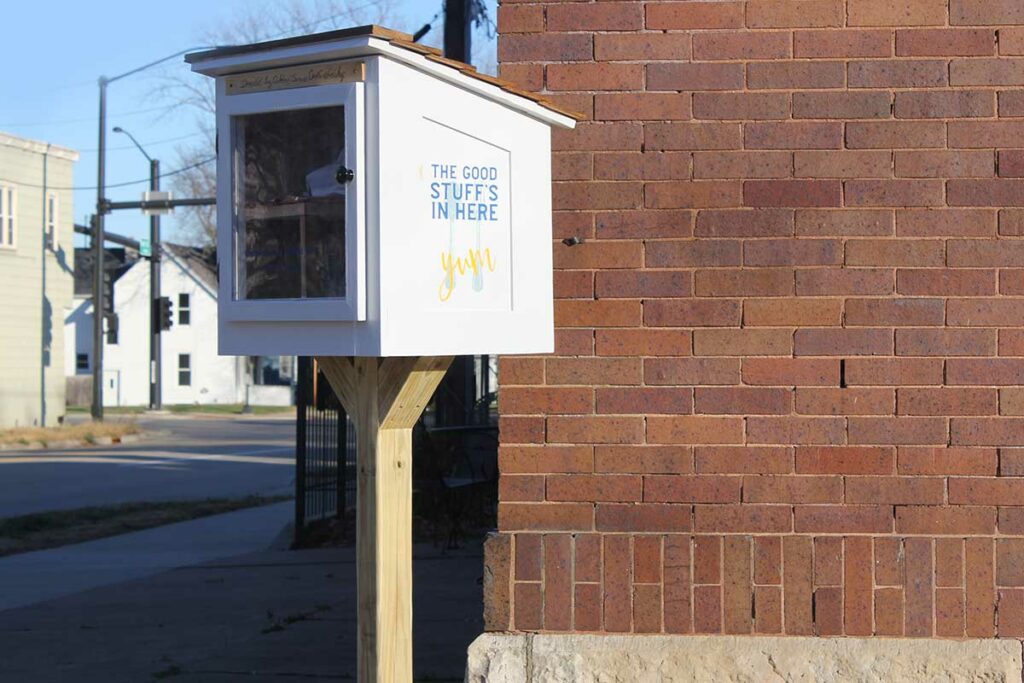 Little Free Pantries in Appleton
501 S Bluemound Drive, Badger Elementary School
3009 North Meade Street, Our Savior Lutheran Church
1009 Capitol Drive, residence
225 North Badger Avenue, Wilson Middle School
Mason Street, Lincoln Elementary School
Commercial Street, near Grace Lutheran
740 East College Avenue, Emmanuel United Methodist Church
Little Free Pantries in Little Chute
625 Grand Ave, near Little Chute Public Library
Free Little Pantries in Kaukauna
207 Thilmany Road, Kaukauna Public Library
Little Free Pantries in Menasha
1st & Racine, behind Menasha Public Library
105 Ice Street, Jefferson Elementary
Little Free Pantries in Neenah
1021 Oak Street, Horace Mann Middle School
200 South Church Street, First Presbyterian Church
1645 South Commercial Street, Lakeview Elementary
Little Free Pantries in Oshkosh
1160 Central Street, Oshkosh Area United Way
403 East Irving Avenue, residence