Are you and your family looking for a day trip out in nature enjoying the beauty of Wisconsin? Come along with us as we visit three state parks all nestled within the glacial lake geological area of western Wisconsin. We'll take you along the journey west from the Fox Cities toward Roche-A-Cri State Park, Buckhorn State Park, and Mill Bluff State Park for a family fun adventure in the beautiful bluffs and hills. One last note before you head out on your adventure, make sure you sign up for the Wisconsin State Parks Challenge, so you can enter to win prizes while you adventure together!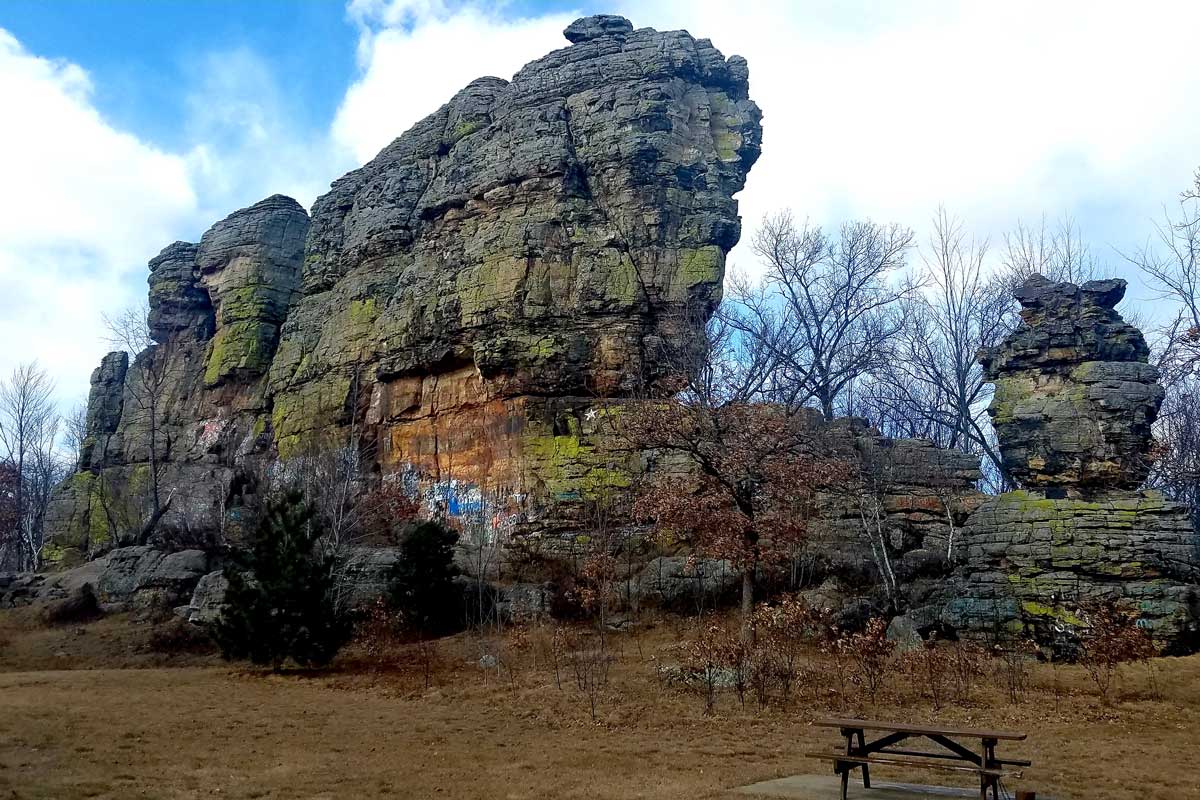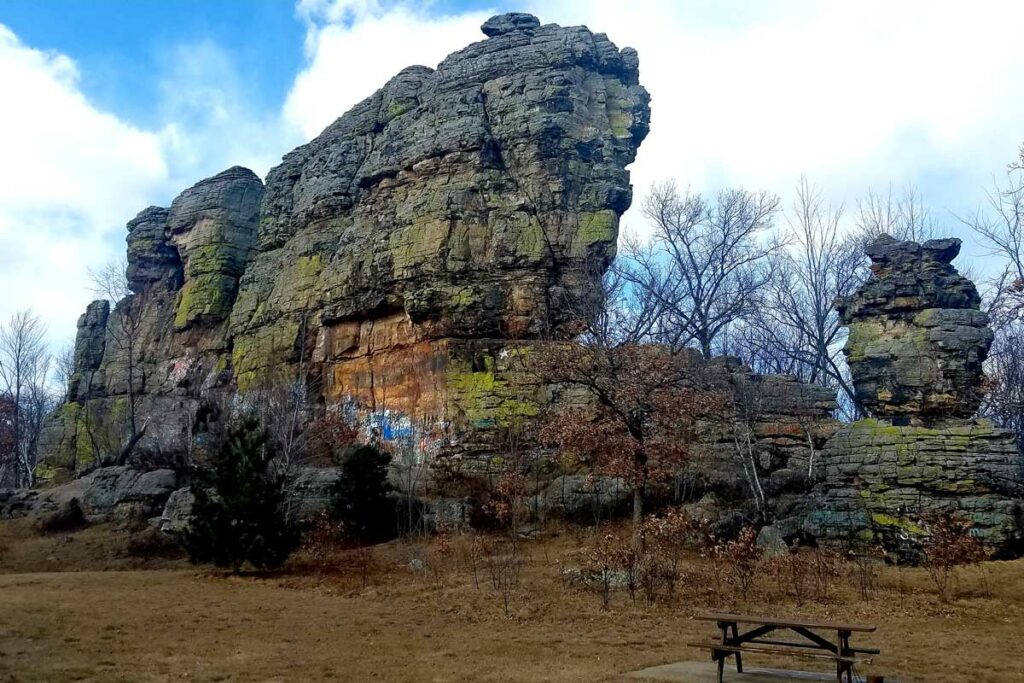 Ship Rock Wayside
As you begin your journey westward along Highway 21, you'll want to take a quick pit stop along the highway at Ship Rock Wayside, just west of Coloma! Ship rock is a 1,024-foot outcropping of limestone created by Wisconsin's ancient glaciation, and it indeed takes the form of a sea vessel! While there's not tons to do here, it's a great excuse to study a bit of Wisconsin's natural history, stretch your legs, and begin your adventure.
Roche-A-Cri State Park
Next stop is Roche-A-Cri State Park! Continue to head west on Highway 21 and turn left toward Adams on Highway 13. You'll pass right by beautiful Roche-A-Cri State Park. During the winter the main entrance is closed, but you can still access the park via Czech Avenue, west of State Highway 13. As you drive into the parking lot, you won't miss the stunning beauty of Roche-A-Cri Mound, a 300-foot-high rock outcropping. This amazing sandstone outcrop also serves as a historical account of the handiwork of ancient Native American artists. Petroglyphs and pictographs adorn its many rock surfaces, and tell a story of the first inhabitants of this area.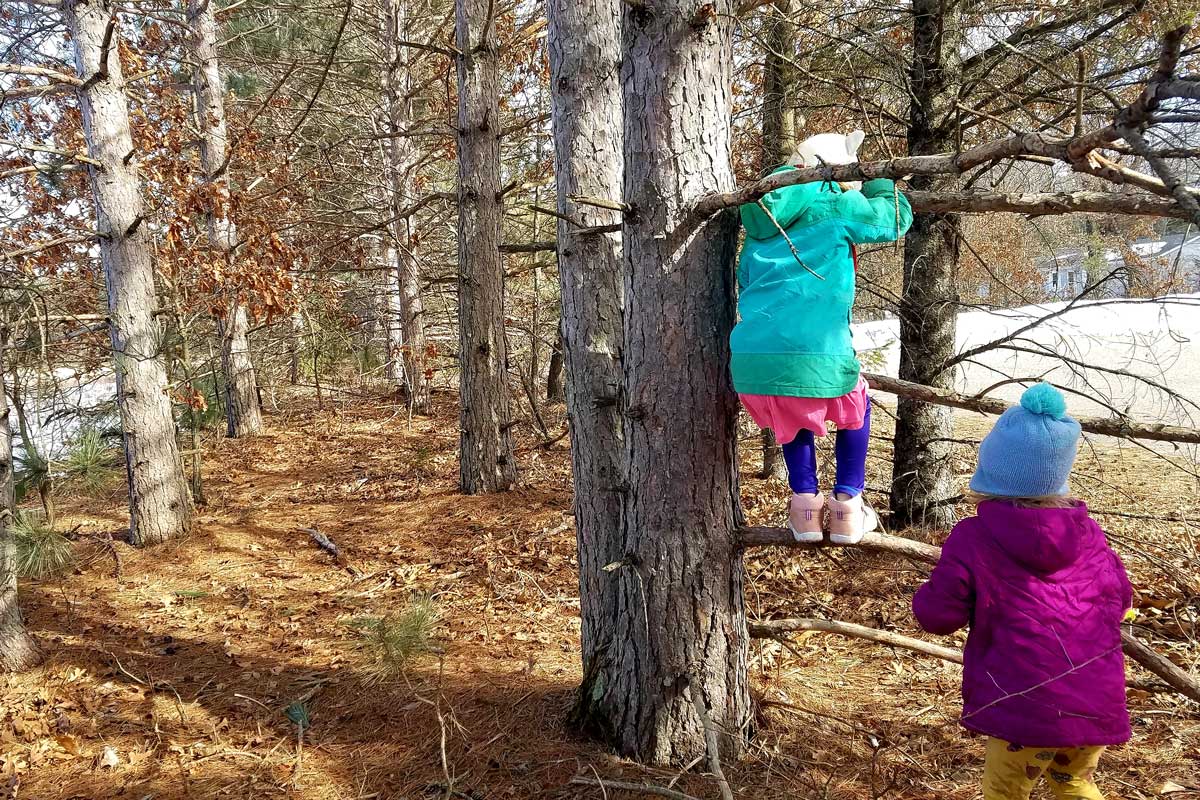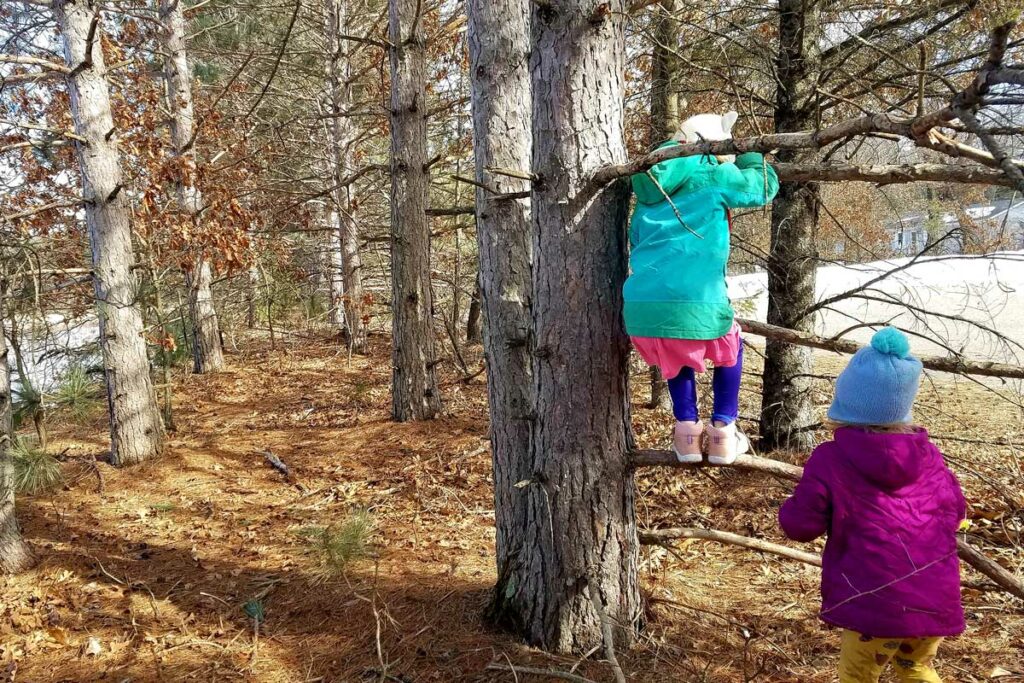 Highlights of Roche-A-Cri State Park:
Mound Trails and Stairway (0.3 miles)- Climb the rock stairway to the top of the mound for spectacular views of the area and a chance to learn about ancient Native American art. This is arguably the highlight of the park.
Family Campground – check out the campground map to select your rustic camping site of choice! They also have an accessible site with a paved pad at the site and a paved trail to the pit toilets.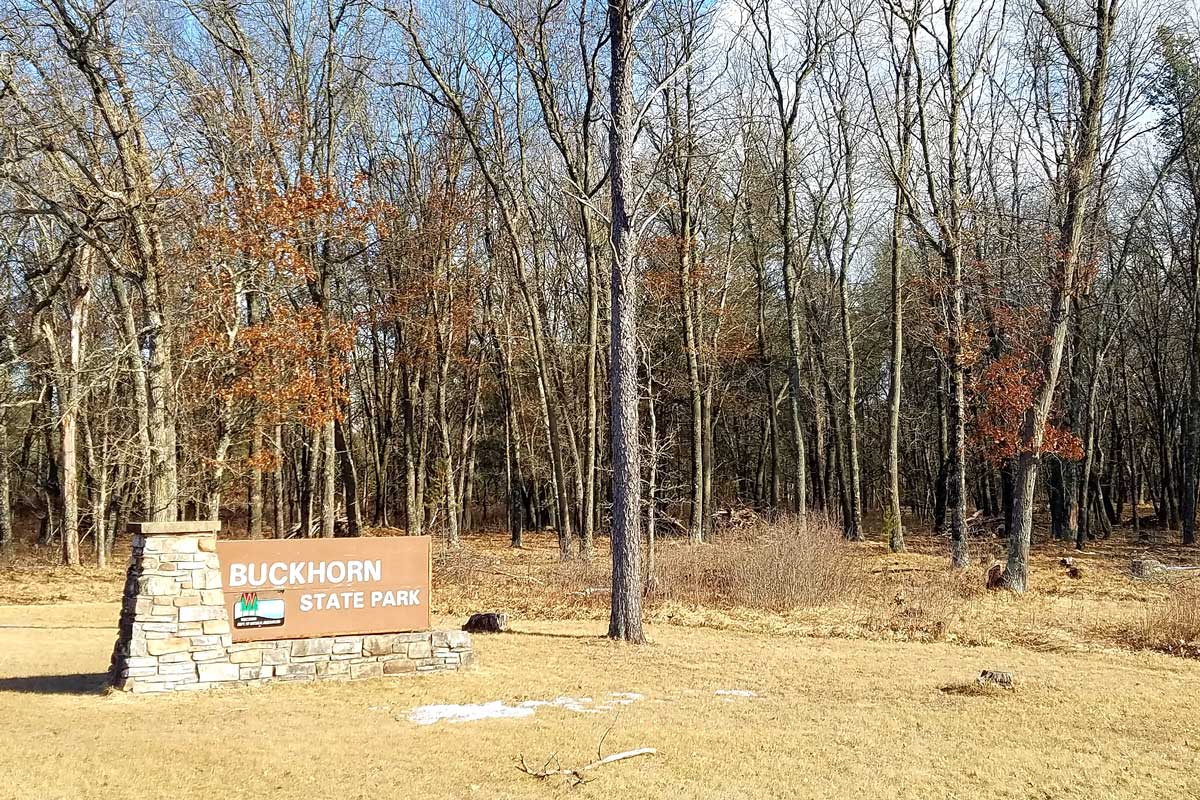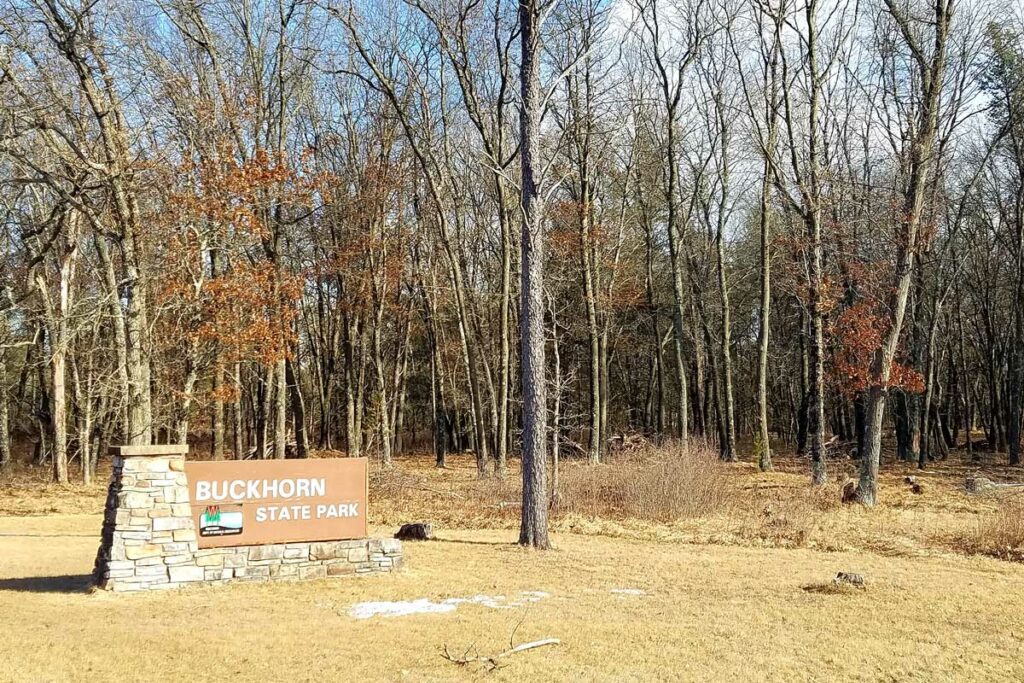 Buckhorn State Park
Once you have finished exploring Roche-A-Cri State Park, get back on Highway 21 and take it westward toward Necedah. Once in town, you'll head south on Highway 58 and begin to weave your way through small country roads toward Buckhorn State Park. Buckhorn State Park, situated on a peninsula on the Castle Rock Flowage of the Wisconsin River along with two state natural areas, is home to a diverse range of wildlife, including osprey, one of Wisconsin's threatened birds, and occasional black bears. The park is also made up of several environments, including savanna, floodplain forest, prairie, and dessert-like areas. This once 'unbroken wilderness' is currently under active restoration to return it to its pre-settled condition.
Highlights of Buckhorn State Park:
Beach swimming – No lifeguard is on duty so swim at your own risk here in Castle Rock Lake. There is a cold water beachside shower and a beach wheelchair available for anyone who needs it. If you have time, make use of the picnic areas while you're here!
Island Self-Guiding Canoe Trail – Enjoy a paddle along this self-guided, 10-step, 1.8-mile interpretive trail where you and your family will learn all about the local ecosystem.
Camping – You have three camping options here! An accessible cabin, traditional campsites, or a handful of backpack-in remote sites if you are feeling extra adventurous!
Mill Bluff State Park
Once you've explored Buckhorn (or maybe even camped a night there!) head southwest toward Interstate I-90. Head northwest along the Interstate toward Camp Douglas and Mill Bluff State Park. Mill Bluff State Park was once covered by Wisconsin's ancient glacial lake. The stunning Mill Bluff and other bluffs and rock formations that remain today were once islands in this glacial lake.
Highlights of Mill Bluff State Park:
Mill Bluff Summit – Hike up the 223 stone steps toward the top of Mill Bluff and the observation deck with lends a spectacular view of the park and surrounding area.
Swimming Pond – Enjoy this clear, cool, spring water-fed swimming hole. They have changing stalls available, but no lifeguard is on duty.
Ice Cream Nearby
Rocky Road Ice Cream 21 & G, W5696 WI-21, Necedah
Rich & creamy ice cream with an abundance of flavors and toppings to choose from!
Gimme the Scoop, N Main St, Adams
If you love to shop local, this is your place! Two local women opened this business to bring great ice cream to Adams.
Does all of this talk of boulders have you itching to get out and climb more? Check out Rib Mountain State Park in Wausau, another great day trip, for the boulder-climbing lover in your family! They also have plenty of wonderful hiking trails with an amazing view.
Still looking for even more ideas to enjoy the natural beauty of Wisconsin's State Parks with your family? Check out our bucket list of state park adventures!