I grew up using public transportation; although the busing in my hometown in Mexico has some similarities to the one in Appleton, the experience is much more relaxed and spacious here.
After we moved to the Fox Valley, my family rarely used the bus, my sister and I took it to the mall a couple of times as teenagers and used the bus ride to catch up on all the sister gossip. I remember using a paper map and having a mix of anxiety and excitement—fingers crossed that we had chosen the right route. Now, as an adult, I use public transportation with my children.
My family has the privilege of owning reliable vehicles, but I want my children to be able to relate to others and learn more about our community. In the summer, we will pick a place in the area to visit and get on the bus.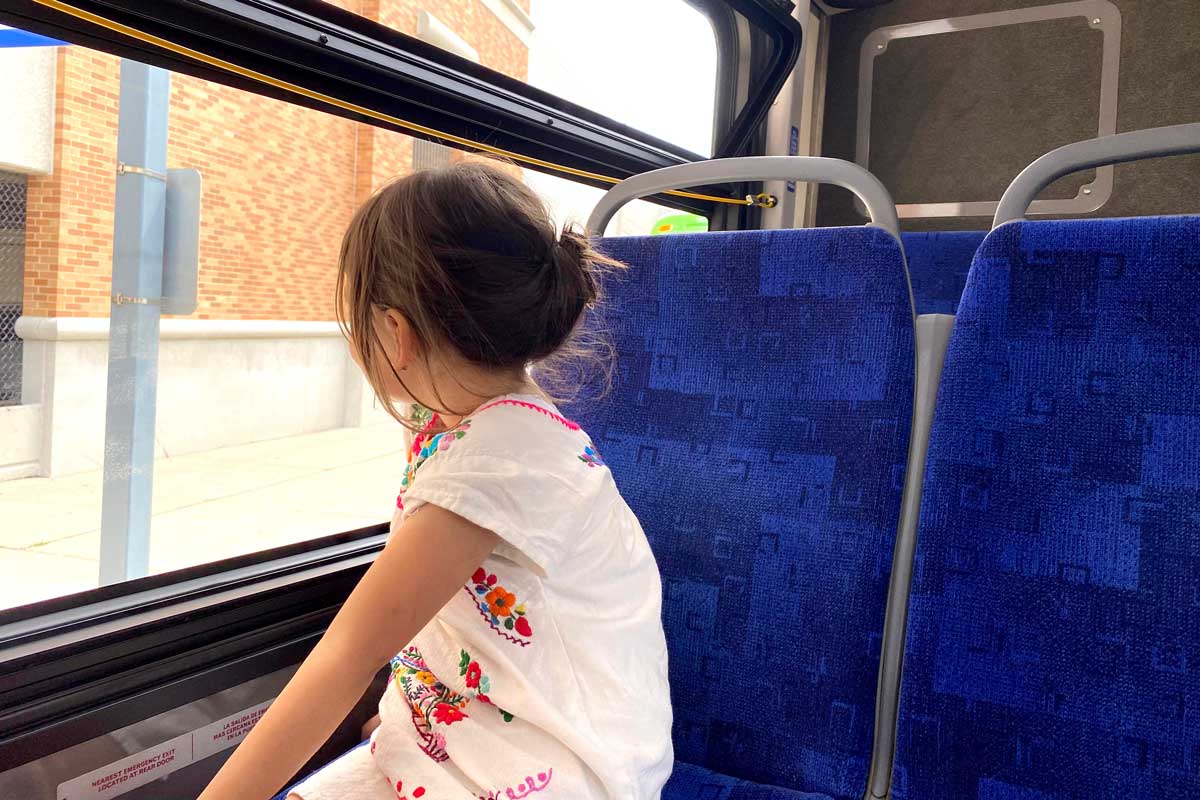 3 Things to Know About Using the Valley Transit Bus System:
They have an app! Available for both Android and Apple devices. It is very user-friendly and my kids like to watch the map to track our bus. Valley Transit has made this very helpful video with some tips.
There are various locations to buy tickets and passes, though we often use the Ticket Vending Machine located at our downtown Appleton Transit Center (100 E. Washington).
Appleton

Valley Transit Administrative Office: 801 S Whitman Avenue (Route 2)
Appleton City Hall: 100 N Appleton Street (Routes 1, 2, 3, 4, 5, 6, 8, 9, 11, 12, 15, 16, 19, 20, 30)

Credit/debit cards not accepted at this location.

Pick N Save: 2700 N Ballard Road. (Route 6 & 16)
Pick N Save: 511 W Calumet Street (Routes 1 & 30)
Festival Foods: 1200 W Northland Avenue (Routes 3 & 4)

Grand Chute

Pick N Save: 2400 W Wisconsin Avenue (Route 12)

Darboy/Buchanan

Festival Foods: W3195 Van Roy Road (Route 11 & 19)

Menasha

Festival Foods: 1355 Oneida Street (Route 1)
Piggly Wiggly: 1151 Midway Road (Routes 1 & 30)
UW – Fox Valley: 1478 Midway Road (Route 1)

Neenah

Festival Foods: 647 S Green Bay Road (Routes 32 & 41)
Pick N Save: 858 Fox Point Plaza (Routes 32 & 41)
The bus fair is affordable for most, but there are discounts; children under 4 ride for free and there is a partnership between Valley Transit and AASD, FVTC and Lawrence University; students with valid ID can ride for free. 
READ MORE: Ride the Downtown Appleton Trolley – Free!
Now you have all the information on how to plan your trip. As I mentioned earlier, my family and I use the bus as a form of transportation and as our tool to tour our beautiful city.
Though getting on the big bus is an experience on its own, sometimes the kids need a little more to stay engaged. We point out murals and city landmarks or play I-Spy (colors, buildings, letters, almost anything can keep a game going).
By far, our favorite thing to do while looking out the window is to look for places we can visit and buy snacks and other treats.
Low expectations are key to most things I do with my kids. Some routes are longer than others, and planning a trip around my kid's sleep, and eating schedules have helped make our trips a success. 
One of my family's biggest gains from using public transportation is connection.
We plan our trip together, disconnect from social media and devices, and I can truly listen and engage with my kids in conversation or play.