Easter will soon be hopping our way! As with each holiday, it's always fun to bring some festive cheer and fun activities into your own home to make the celebration extra special. And, let's be honest. Wisconsin weather is unpredictable at best in the spring; we could be in sundresses or parkas. Don't let the weather keep you from enjoying Eastertime with your family, either. From treats and activities to bunny-themed reads, we've got plenty of ideas to spice up your family's Easter celebration this year!
Jump to Section: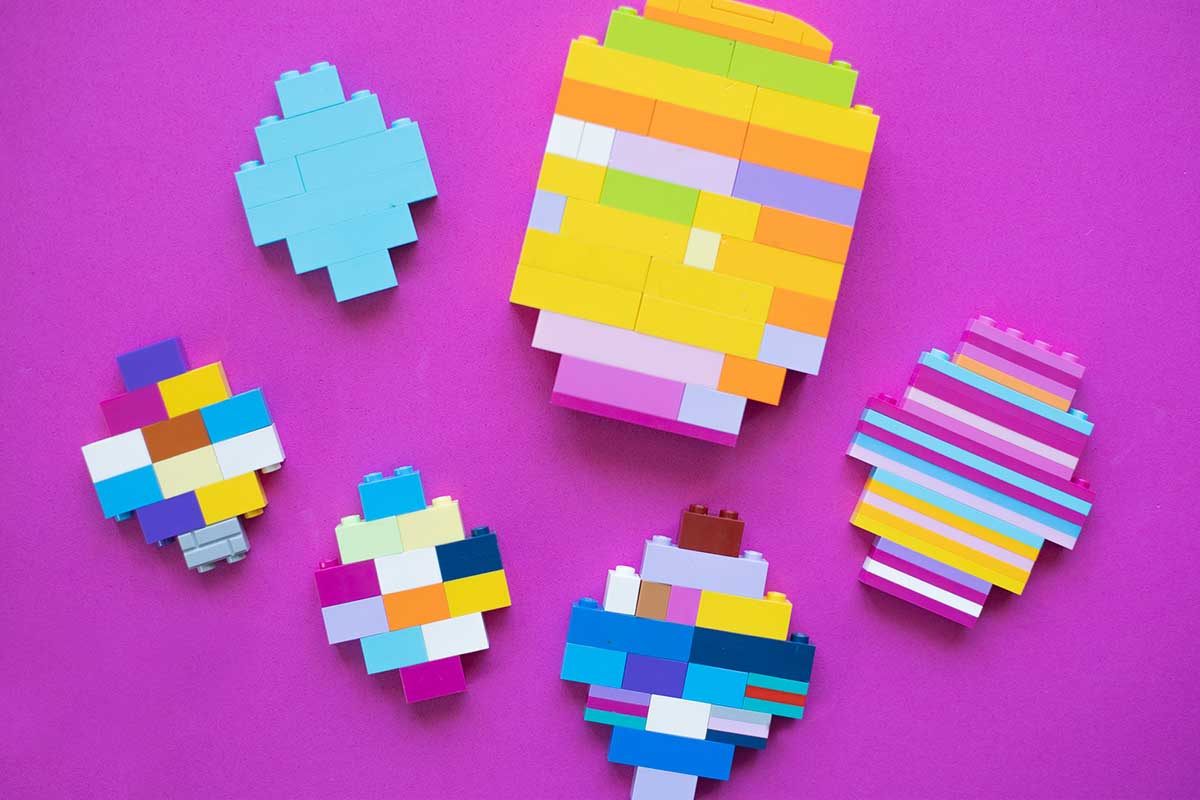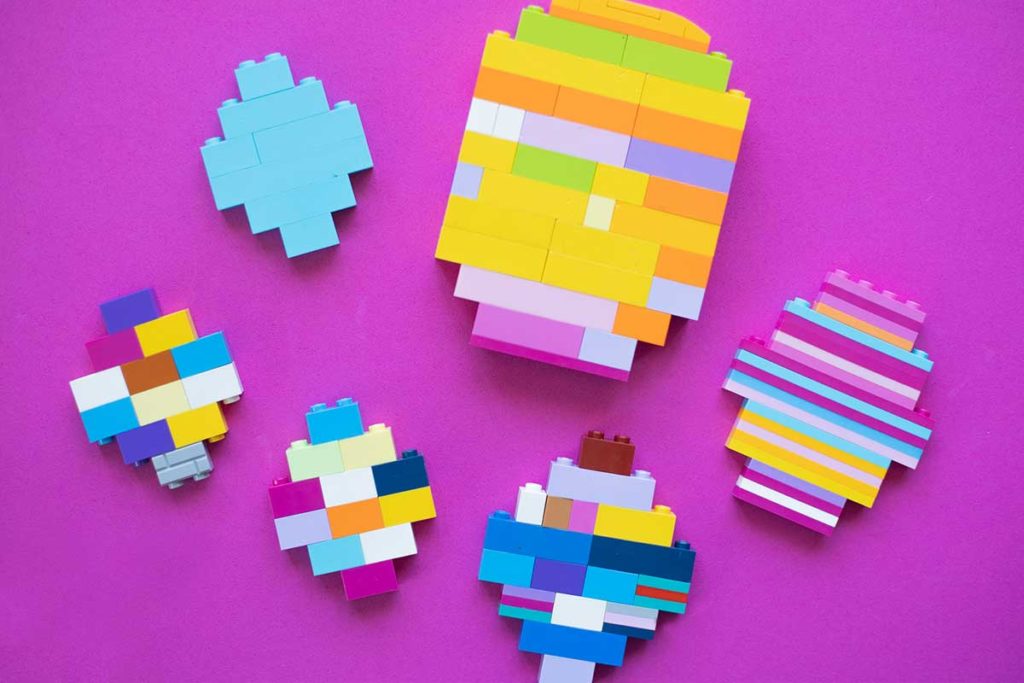 Easter Activities
Jump to Section: Festive Crafts | Bunny Movies | Springtime Stories | Holiday Treats | Family Traditions
Easter Egg Picnic
Enjoy some festive nibbles packed with a variety of colors and flavors!
Veggies: Baby Carrots, Cherry Tomatoes, Cucumbers, Cauliflower, Peas
Fruit: Blueberries, Grapes, Strawberries, Mandarin Oranges, Bananas
Dry Goods: Ritz Crackers, Goldfish, Mini Pretzels, Cheerios, Popcorn
Meats & Cheese: Pepperoni, Halved String Cheese, Babybells, Ham, Mini Jerky Bites
Sweets: Yogurt Raisins, M&M's, Mini Marshmallows, Rice Krispies
Directions: Using plastic Easter eggs, open and place one egg in each slot in an egg carton. Fill each egg with bite size pieces of your favorite foods. Enjoy a picnic indoors!
Bunny Box Golf
With a cardboard box and a little creativity, the whole family can enjoy a cheery game of golf!
Cardboard Box
Markers
Construction Paper
Scissors
Golf Balls
Golf Club, Bat or Stick
Directions: Cover a cardboard box with construction paper and draw a bunny face. Don't forget the ears and whiskers! Cut out a hole for the mouth and use construction paper to add bunny teeth. Nothing says indoor fun like a game of bunny box golf!
Egg Shaker Maracas
Start a bunny band with these easy-to-make egg shaker maracas!
2 Plastic Spoons
Tape
Jellybeans
Plastic Easter Eggs
Directions: Add a few jellybeans to plastic Easter eggs, close tight and add a spoon on opposite sides of the egg. Tape around the spoon, assuring they are secure. Shake, shake, shake! When you're done, recycle your supplies and enjoy the jellybean treat!
Marshmallow Peep Catapult
Ready, aim, score! Watch as Peeps fly through the air in this competitive game of catapulting!
Package of Peeps
5 Buckets
Paper
Pen
Spoon
Craft Sticks
Rubber Bands
Directions: Using craft sticks, rubber bands and a spoon, create a catapult. Mark the point value on each bucket using a pen and paper. Values should be in increments of five. Separate Peeps, either bunnies or chicks and equally divide them up amongst each player. Each player will take a turn catapulting a Peep and the person with the most points when all the Peeps are gone – wins!
Glowing Bubble Egg Bath
Little ones will enjoy a fun egg bath filled with bubbles and a neon glow! Not only is this a way to get them squeaky clean, but it doubles as sensory play!
Plastic Easter Eggs
Glow Sticks
Bubble Bath
Plastic Serving Spoon
Directions: Run a warm bath and fill it with lots of bubbles! Drop in plastic eggs and glow sticks and turn off the light. Parents, be sure to supervise your children. Kiddos will enjoy trying to balance eggs on the spoon and playing amongst glowing bubbles!
Lego Block Egg Building
Quick! Set a timer and see who can build the fastest Lego Easter Egg!
Directions: Gather as a family at a table and place a bin of Lego blocks in the center. Set a timer and see who is the fastest at building their egg! These eggs look unique with their brick-style and will make a great modern decoration at home!
Bunny Bean Toss
Challenge your kiddos to a bunny bean toss – a fun game made from ordinary home supplies!
Dry Beans
Clean Socks
Rubber Bands
Cardboard
Thick Sharpie Marker
Scissors
Directions: Using a piece of cardboard, draw an adorable, detailed bunny, including a wide-open mouthed smile, round tummy and a fluffy tail. Cut out these areas as they will become aim spots! Next, using clean socks, fill them halfway with dry beans and secure them shut with a rubber band. Be sure to make several "bags" so everyone in the family can play. Lean your board against the wall and challenge your family to bunny bean toss!
Emoji Easter Eggs
Smile! Wink! Laugh! Create your own set of unique faces to brighten up your Easter!
Hard-boiled Eggs
Yellow Dye Kit
Cup
Paint Pens
Directions: Lay out a cup and dye a set of hard-boiled eggs yellow. Re-dip them a second time for a darker, richer shade and allow them to dry completely. Next, take paint pens and draw your favorite emoji faces. You can even add some extra springtime doodles like flowers, bunny ears or chick beaks!
Coffee Filter Tie Dye Eggs
Check out this bold new way to decorate eggs with a burst of beautiful colors!
Hard-boiled Eggs
Coffee Filters
Markers
Sheet of Scrap Paper
Mini Rubber Bands
Spray Bottle with Water
Directions: Place a sheet of scrap paper down to protect your working surface. Spread out a coffee filter and color with markers. Insert a cooled hard-boiled egg in the center and secure it at the top with a mini rubber band. Using a spray bottle filled with water, spray the egg until the filter is saturated. Allow to sit and soak in the color for ten minutes before removing the filter and band.
Rice Shake Easter Eggs
Shake it up and try dyeing eggs with this common kitchen staple!
Hard-boiled Eggs
Food-Safe Dye
Uncooked Rice
Ziplock Bags
Directions: Fill a ziplock bag with a scoop of uncooked rice and add several drops of a desired color. Shake and knead to color the rice. Repeat this process for each color. Insert an egg into the bag and carefully turn and shake to create a unique egg pattern!
Jellybean Jewelry
Create some sweet and edible Easter fashion!
Jellybeans
Needle
Thread
Ribbon
Scissors
Directions: Sort jellybeans into pretty patterns or color combos, cut the string to the desired length for a necklace or bracelet and then string the beans together with a needle and thread. Be sure to assist your kiddos with this part. After arranging the jellybeans, tie the ends of the string and finish with a ribbon bow. Gift or model your fashions!
Easter Egg Math Match
Brush up on math skills after embarking on a fun-fulled scavenger hunt!
Plastic Easter Eggs
Black Sharpie
Directions: Separate plastic eggs into two pieces and mix up the colors. On one part of the egg, write a number and on the other half, draw out the number of dots that represent that number. Hide the egg pieces around your home and yard. After the kids collect the pieces, they will need to match them! The person who gets the most matches the fastest, wins a prize!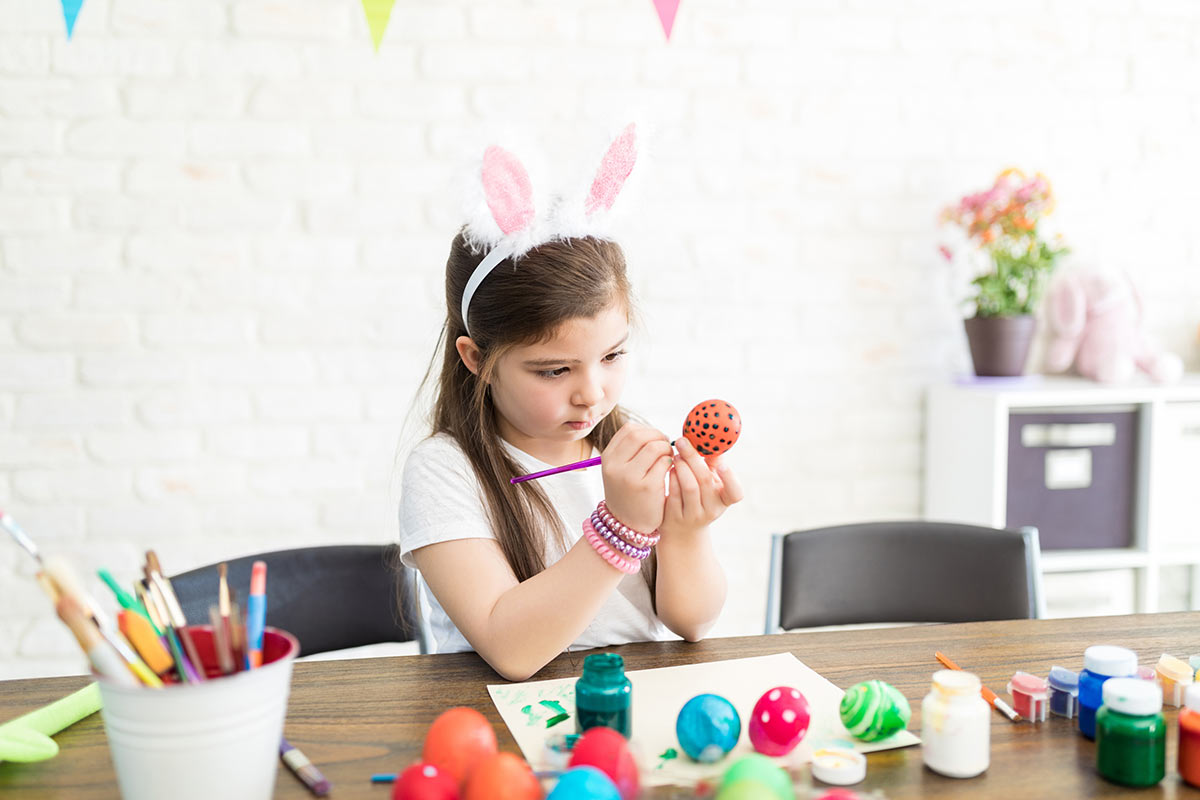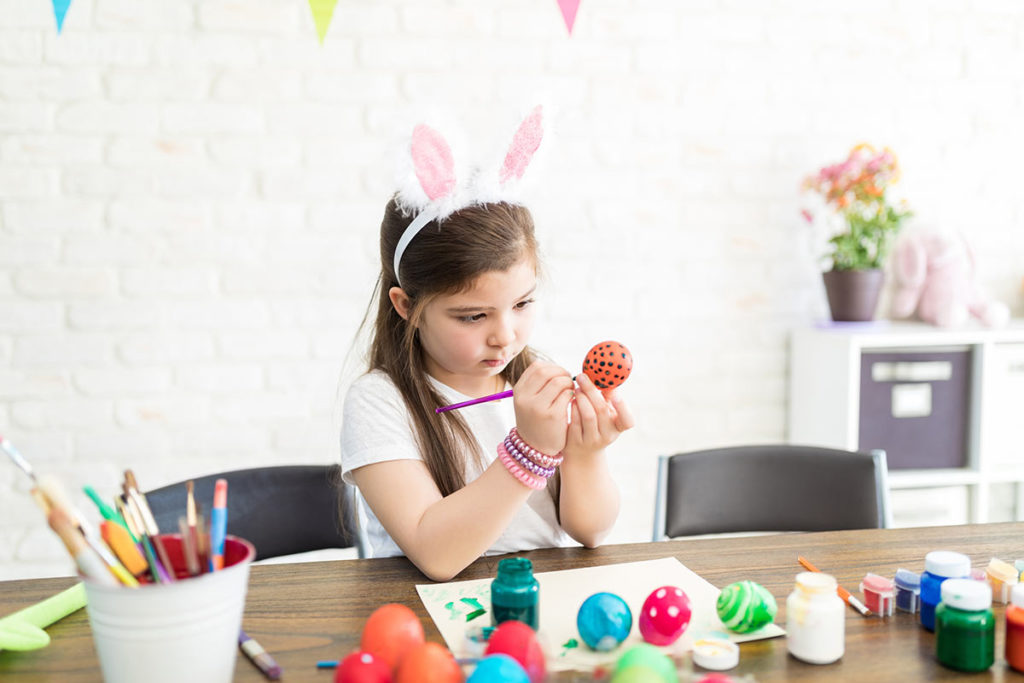 Festive Easter Crafts
Jump to Section: Easter Activities | Bunny Movies | Springtime Stories | Holiday Treats | Family Traditions
Salt Painted Easter Eggs
Celebrate spring with this easy and fun salt craft!
Watercolor Paints
Elmer's Glue
Paintbrush
Paper
Pencil
Salt
Directions: Draw out an egg with a pencil on paper and design it. Trace the design with glue. Generously sprinkle salt over the glued areas, shake off the excess and allow to dry. Using a paintbrush, dip the tip in paint and dab along the salt design and allow to dry. The result will be a colorful, puffy-paint style picture with a cool texture!
Finger Print Bunny Mosaic
A masterpiece is at the tip of your finger! This bunny art is fun for all ages and makes a sweet Easter keepsake.
2 Sheets of White Cardstock
Assorted Paints
Cotton Balls
Scissors
Tape
Glue
Directions: Using one sheet of the paper, cut out the shape of a bunny's body as a template. Tape it loosely to the other sheet. Dip your finger in paints and press in a pattern or randomly around the bunny. Be creative and make your own colors or designs! Allow your painting to dry. Once dry, remove the bunny template and glue cotton balls in place of the tail and fluff!
Plastic Egg Printing
Re-purpose those plastic Easter eggs and create an egg-celent work of art!
Plastic Easter Eggs
Black Acrylic Paint
Set of Watercolor Paints
White Cardstock
Black Sharpie
Paintbrush
Directions: Using a sharpie, draw an outline of an egg on a piece of white cardstock. Break open and separate a plastic egg and dip one half into black paint. Press to the paper to make hollow black circles. Make your own pattern, design or overlap the circles. Allow the paint to dry. Then, using watercolors, paint the different areas within your egg. As a variation for little artists, dip halves of eggs into assorted colors and stamp them on paper.
Marbled Paper Egg Art
Get ready to shake, rattle and roll your way to beautiful, egg-themed art!
Cookie Sheet
Tin Foil
Foam Shaving Cream
Acrylic Paints
White Cardstock
Newspaper
Scraper Tool
Scissors
Fork
Directions: Line a cookie sheet with tin foil and spread out a generous amount of shaving cream. Drop small dollops of various color paints in the shaving cream, and using a fork, lightly mix to create a marbled look. Next, cut out egg shapes from the white cardstock and place it on top the shaving cream sheet and lightly press. Remove it and place it face up onto newspaper and let sit for five minutes. Gently take a scraper tool – a plastic knife or old gift card works well – and remove the excess shaving cream. Allow to dry overnight and use the finished eggs to decorate or glue your child's photo inside for a sweet keepsake.
Paper Mache Eggs
Go beyond traditional egg dye and create one-of-a-kind creations with tissue paper!
Plastic Easter Eggs
Colored Tissue Paper
Mod Podge or Glue
Disposable Dish
Scissors
Directions: Cut a variety of colored tissue papers into various shapes and strips. Take a disposable dish and add mod podge or glue. One by one, dip each paper piece into the glue and place over the egg. Layer the colors to completely coat the egg. Allow the eggs to dry and use for decorations throughout your home.
Carrot Footprint Keepsakes
Create a festive keepsake of your kiddos foot and turn it into a tradition to repeat as they grow!
White Cardstock
Green Construction Paper
Orange Paint
Disposable Plate
Scissors
Glue
Directions: Place a sheet of white cardstock on the ground and pour some paint on a disposable plate. Gently guide your child's foot into the paint and press it against the paper, lifting slowly. Allow the print to dry completely and then cut around the print. Take a sheet of green construction paper and create the carrot stems. Admire that little print!
Easter Stick Puppets
From bunnies to cute little chicks, create your own puppet and put on a show!
Colored Pipe Cleaners
Construction Paper
Craft Sticks
Googly Eyes
Markers
Scissors
Glue
Directions: Let imaginations run wild and create a collection of cute little friends! Color craft sticks or decorate them with construction paper. Make bunny or chick faces with paper and add googly eyes with glue. Using markers, draw on a beak or nose and other details. Finally, wrap colored pipe cleaners around the stick to make arms or wings. Have fun!
Egg Flower Pots
Spring is here, get your green thumb ready with this adorable nature-inspired project!
Plastic Easter Eggs
Seeds or Small Plants
Hot Glue
Glue Gun
Potting Soil
Directions: Take a plastic egg and separate it. Heat up a glue gun and add a small dollop to the bottom of one side of the egg. Flip the other piece over and press it to the bottom of the egg with the glue and let set. Once dried, fill the pot with pinches of potting soil and add seeds or small plants. Place in a sunny spot in your home and watch it grow!
Painted Egg Rocks
Decorate your garden and plant bases with colorful, Easter-inspired rock creations!
Acrylic Paints
Paintbrush
Smooth Rocks
Sealer – optional
Directions: This craft is great for all ages to stir up creativity! Simply take a smooth rock, dip your brush in paint and design! Once you've finished your rock, you can spray it with sealer to protect the paint. Egg painted rocks make a beautiful, spring-centric addition to gardens, home decorations, homemade games and planters!
Salt Dough Egg Ornaments
Who says you can't make a festive Easter tree? These ornaments are cute, fun and easy to make!
1 c. Flour
1/2 c. Salt
1/2 c. Water
Mixing Bowl
Rolling Pin
Egg Cookie Cutter
Flat Spatula
Straw
Parchment Paper
Baking Sheet
Paint Pens
Ribbon
Sealer – optional
Directions: In a mixing bowl, combine the flour, salt and water and mix until a dough forms. Knead the dough gently until it feels silky and smooth. Roll it out and create egg shapes with a cookie cutter or use a knife to hand cut your own shapes. Place each ornament on a parchment-covered baking sheet and poke a hole at the top with a straw. Bake at 250° for two hours and allow to cool completely before decorating to prevent cracking. Using paint pens, draw or color your design. Once finished, you can seal your egg for durability. Finally, thread a piece of ribbon through the hole and tie. Hang and admire!
Springtime Fork Flowers
Celebrate spring and create some beautiful flowers to brighten the day!
White Cardstock
Acrylic Paints
Paintbrush
Fork
Directions: Dip the backside of a fork into paint and gently press to the paper. Repeat to create additional flowers, as desired. Then, take a paintbrush and draw on stems and leaves. Allow to dry completely before hanging your beautiful work of art!
Outdoor Bunny Art
Spend some time outside enjoying the sunshine and create your own bunny, inspired by nature!
White Paper
Black Marker
Nature
Directions: On a sheet of paper, draw out two bunny eyes, mouth, whiskers and nose. Using items from your yard such as grass, leaves, rocks, sticks, or flowers, arrange them over your paper and create the bunny's ears, face, body, paws and tail. Be sure to take a photo to capture your beautiful nature bunny art!
Tin Foil Eggs
Be creative and design your own shiny Easter egg!
Tin Foil
Sharpie Markers
Scissors
Directions: Cut the tin foil into the shape of an egg. Using colored sharpie markers, create a design, pattern or color your egg. While simple, this craft is great for all ages and can make a cute home decoration. Hang your eggs from fishing line or attach a magnet for the fridge, the possibilities to showcase your work are endless!
Window Easter Murals
Decorate your windows with colorful scenes and make a festive Easter mural!
Crayola Washable Window Markers
Clean Window
Directions: Clean a window or glass door and dry it well. Using Crayola Washable Window Markers, get creative and fill your window with bunnies, chicks, flowers and more! To remove, use any glass cleaner and wipe clean.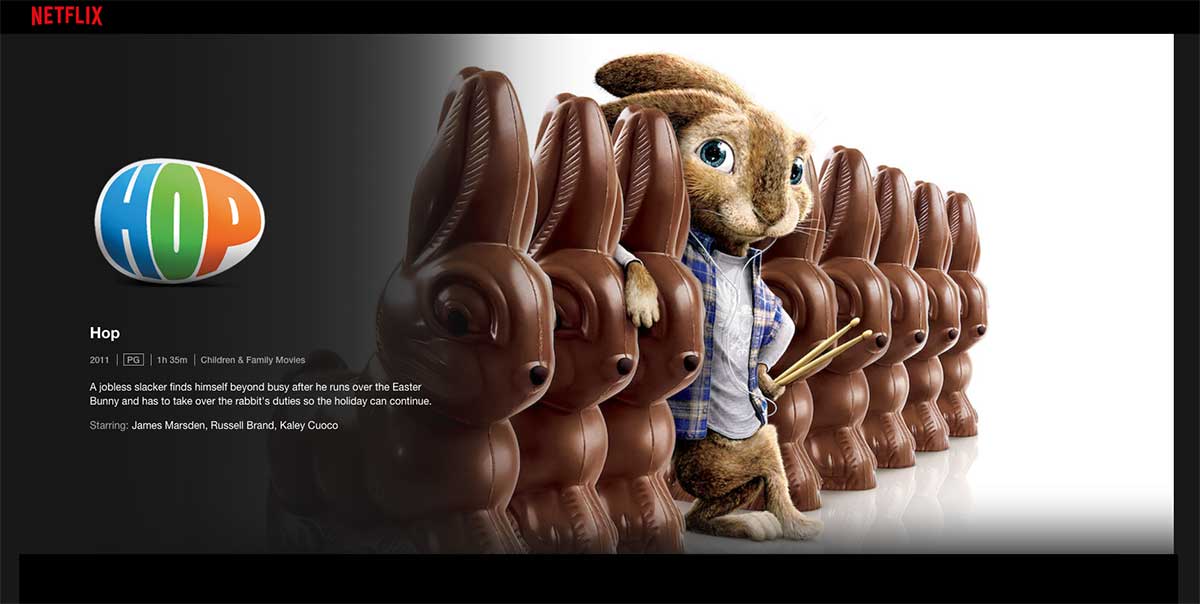 Bunny Movies
Jump to Section: Easter Activities | Festive Crafts | Springtime Stories | Holiday Treats | Family Traditions
Grab some goodies and settle in for a classic bunny-inspired tale! Watch trailers, rent or buy the movie through Prime Video or check out the selections on Netflix, Hulu, DisneyPlus, YouTube and in your own family collection!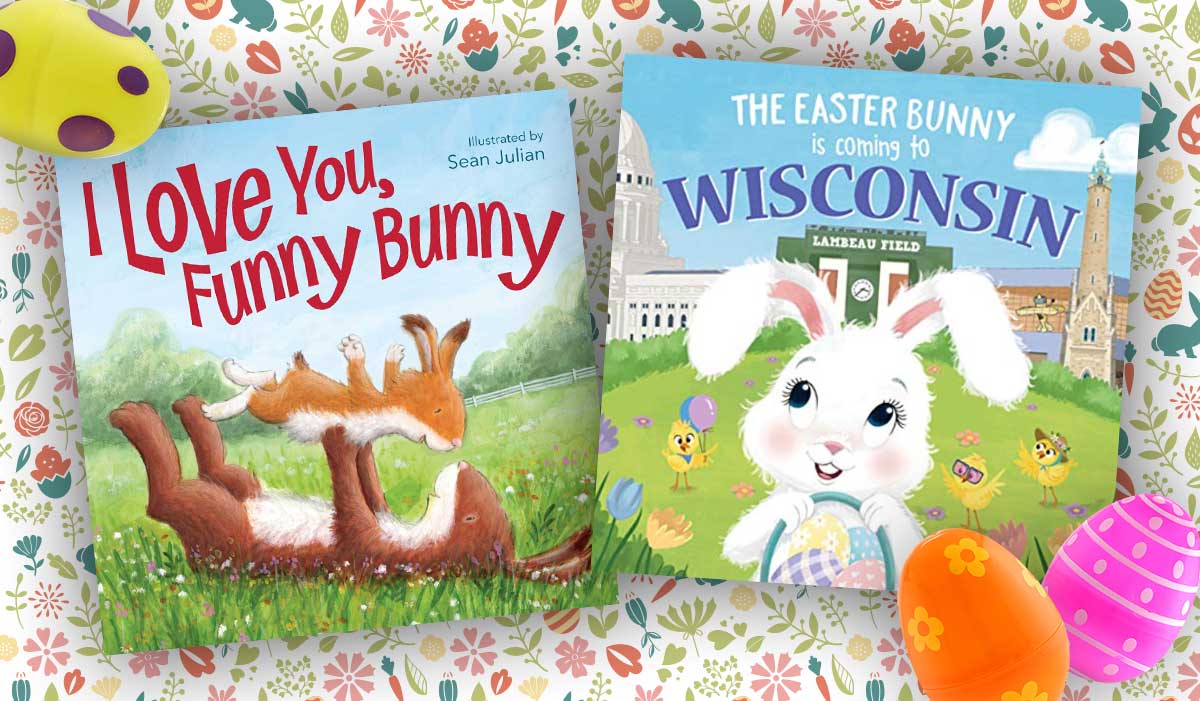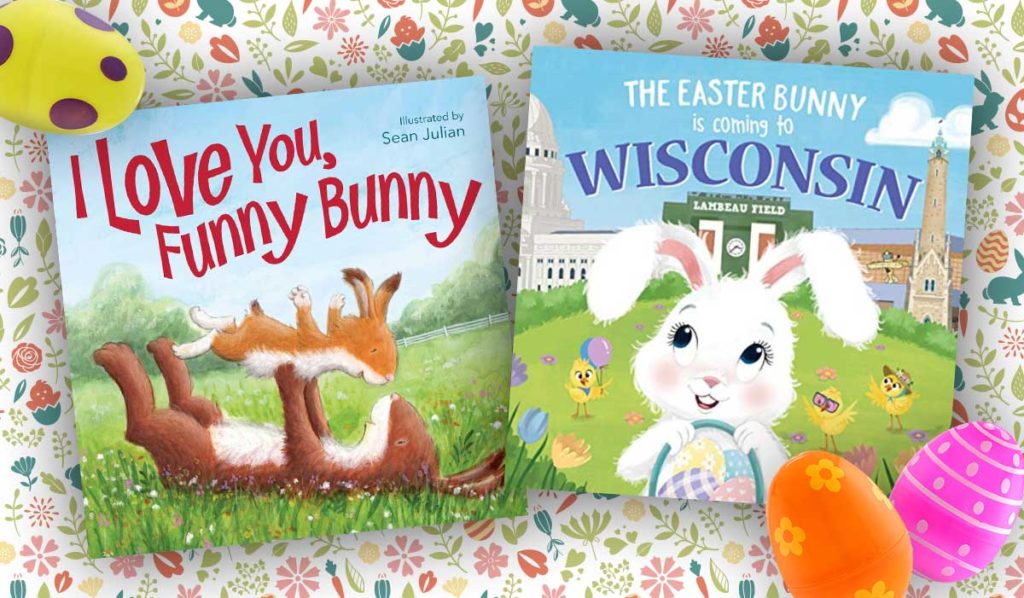 Springtime Stories
Jump to Section: Easter Activities | Festive Crafts | Bunny Movies | Holiday Treats | Family Traditions
Reading about springtime and the Easter Bunny is exciting for little readers! Download one of these amazing stories right to your Kindle, listen via an audio book or buy a copy online and add it to your family bookshelf.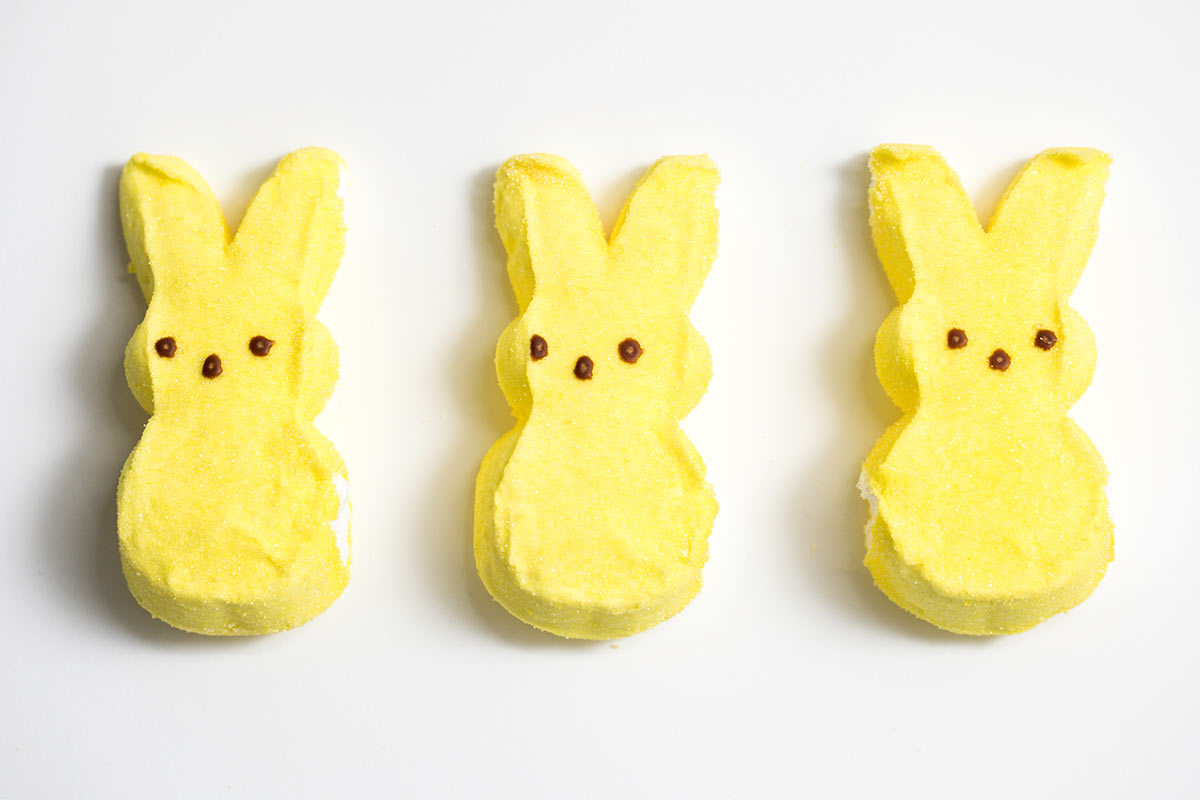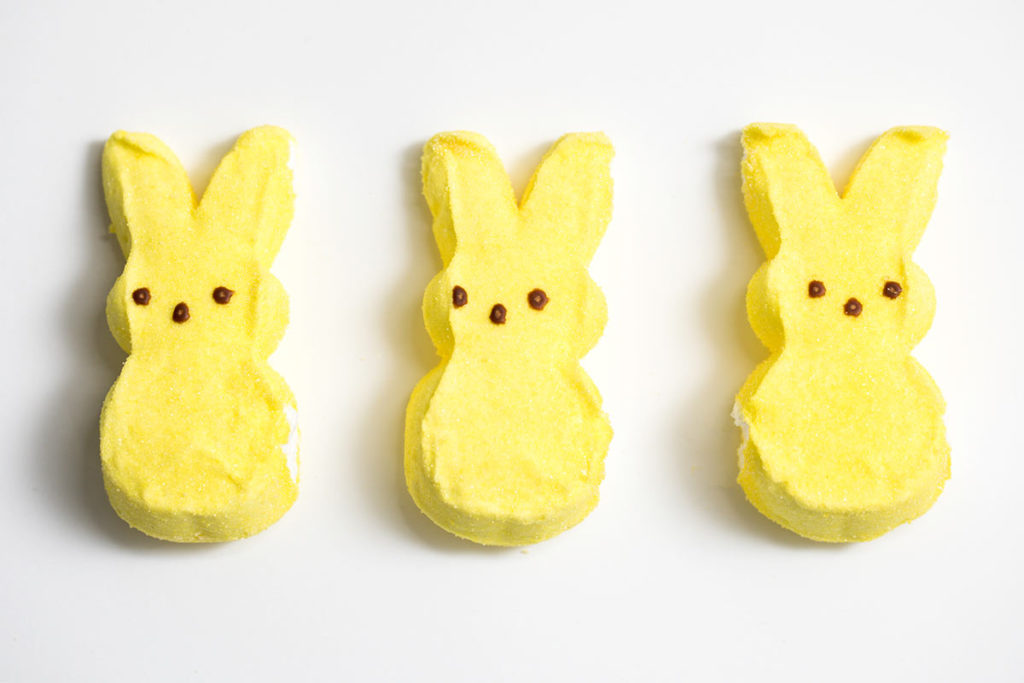 Holiday Treats
Jump to Section: Easter Activities | Festive Crafts | Bunny Movies | Springtime Stories | Family Traditions
Easter Bunny Peep Fruit Kabobs
It's not truly Easter without some sweet fruit or delicious candy! Have the best of both worlds with these cute and mess-free kabobs!
Bunny Peeps
Strawberries
Green Grapes
Chunked Pineapple
Cantaloupe
Bamboo Skewers
Directions: Thoroughly wash the fruit and cut up the pineapple and cantaloupe into bite size pieces. Leave the grapes and strawberries whole. Layer the fruit on the skewer and place a bunny peep in the center. Serve chilled and refrigerate leftovers.
Carrot Cake Parfaits
Take a bite out of a sweet, from-scratch carrot cake topped with festive candies!
1 1/2 c. Flour
2 tsp. Baking Powder
1/2 tsp. Salt
1 tsp. Cinnamon
3/4 c. Sugar
1/4 c. Vegetable Oil
1 large Egg
1/2 c. Milk
3 carrots, shredded and drained
Container of Cool Whip
Mixing Bowl
Spoon
Fancy Glasses
Directions: In a bowl, combine the flour, baking powder, salt and cinnamon and mix. Next, slowly add in the sugar, vegetable oil, egg, milk and shredded carrots and mix well. Bake at 350° for 30 minutes until light brown. Allow the cake to cool completely. After it cools, cut the cake into cubes and arrange them in the bottom of a glass. Top with a generous layer of cool whip and garnish with a sprinkle of carrot cake flavored m&ms!
Easter Egg Sugar Cookie Pizza
Whip up a fresh sugar cookie pizza, the perfect accompaniment to Easter that the whole family will enjoy!
Sugar Cookie Dough
2 blocks of Cream Cheese
3 c. Powdered Sugar
2 tsp. Vanilla
Strawberries
Kiwi
Blueberries
Cutie Oranges
Baking Sheet
Mixing Bowl
Spatula
Directions: On a baking tray, roll out the cookie dough and form into an egg shape. Bake it according to the package directions or until it is golden brown and set it aside to cool. In a mixing bowl, combine the cream cheese, powdered sugar and vanilla and mix well. Spread the frosting over the cookie. Wash and prepare fruit by slicing the strawberries and kiwi and peeling the orange. Create a pattern with the fruit and serve chilled.
Chocolate-Dipped Bunny Pops
Easter is filled with sweet treats – make a concoction of your own with chocolate and bunny peeps!
Package of Bunny Peeps
Package of Mini Milk Chocolate Chips
Chocolate Jimmies or Sprinkles
Candy Pop Sticks
Microwave-Safe Bowl
Directions: Melt mini chocolate chips in a microwave-safe bowl and stir frequently. Place a bunny peep on a pop stick and dip into the chocolate. Roll the pop into sprinkles or chocolate jimmies and allow to set. Enjoy!
Frosted Cinna Bunnies
Put a spin on this gooey treat and make cute little Cinna Bunnies!
Package of Cinnamon Rolls, thawed but cold
Cream Cheese Frosting
Decorate Candy
Baking Sheet
Cooking Spray
Directions: Open a package of cinnamon rolls and remove half. Place them on a sprayed baking sheet, giving them enough room between. Using the leftover cinnamon rolls, unwind the rolls and fold both ends toward the center. Place above the roll on the sheet to make the ears. Bake according to package directions and allow to cool. Frost the rolls with cream cheese frosting and decorate with candies to make a bunny face.
Rice Krispy Easter Eggs
Love Easter but want to go beyond traditional eggs? Serve up a plate of colorful and chewy Krispy eggs!
Stick of Butter
Bag of Mini Marshmallows
Food Coloring
Rice Krispy Cereal
Plastic Easter Eggs
Egg Carton or Airtight Container
Microwave-Safe Bowl
Cooking Spray
Spoon
Directions: In a microwave-safe bowl, add one stick of butter and a bag of mini marshmallows and heat. Stir well to prevent burning. Separate the mixture into different bowls to make multiple colored eggs. Add a few drops of food coloring to each for the desired color. Add in rice krispies and mix well. Spray the inside of a plastic egg with cooking spray to prevent sticking. Spoon in the mix and close the egg to form the shape. Immediately remove the egg and enjoy or store!
Peep Pudding Pies
These pudding pies are a quick and tasty treat and are perfect for the kiddos to help prepare!
Individual Keebler Mini Graham Cracker Pie Crusts
2 c. Chocolate Pudding
Package of Peeps
Decorative Candies – optional
Directions: Prepare the pudding according to package directions or use pre-made pudding. Divide the pudding among the mini crusts and top each with a peep candy as well as any additional decorative candies, if desired. Chill before serving.
Easter Egg Yogurt Pops
Enjoy a healthy but delicious Easter treat with a fruity kick!
Flavored Yogurt
Assorted Fruits
Granola
Decorative Mold or Tray
Popsicle Sticks
Directions: Pour yogurt of your choice into a decorative mold, filling it halfway. Add in fresh fruit like blueberries and raspberries and sprinkle in some granola. Place a popsicle stick on each pop and cover the remaining space with yogurt. Freeze overnight and carefully remove from the mold.
Easter Bunny Munch
Even the Easter Bunny needs a snack! Dig into this deliciously sweet and salty snack mix that will leave you wanting to munch all day!
4 c. Chex Cereal – any variety
2 c. Pretzel Sticks
2 c. Cheerios – any variety
1 c. Cadbury Mini Egg Candies
1 bag White Chocolate Chips
Parchment Paper
Mixing Bowl
Microwave-Safe Bowl
Covered Container
Directions: Mix the pretzels, cheerios and Cadbury eggs in a mixing bowl and set aside. In the microwave-safe bowl, melt the chocolate and stir well. Pour the chocolate over the snack mix and combine. Once mixed, spread the mixture out on parchment paper and let set. Store the mix in a covered container and snack away!
Springtime Sprinkle Oreos
A simple, yet yummy treat, Springtime Oreos are easy to make and will satisfy everyone's sweet tooth!
Package of Oreo Cookies
Bag of White Mini Chocolate Chips
Sprinkles or Mini M&M's
Microwave-Safe Bowl
Parchment Paper
Directions: In a microwave-safe bowl, melt a bag of white mini chocolate chips, stirring frequently to avoid burning. Dip half of the Oreo cookie into the chocolate and lay it on parchment paper. Decorate the chocolate portion with sprinkles or mini m&m's and allow to set before enjoying or storing.
Carrot Patch Brownies
Turn a simple brownie mix into a delicious, spring-inspired dessert with flair!
Box of Brownie Mix
Container of Chocolate Frosting
Package of Oreo Cookies
Fresh Strawberries
Bag of Orange Candy Melts
Ziplock Bag
Microwave-Safe Bowl
Parchment Paper
Bamboo Skewers
Directions: Bake the brownies according to box directions or make a batch from scratch. Once cooled, frost the top with chocolate frosting. Place the oreos in a ziplock bag and lightly crush. Sprinkle the oreos generously over the brownies and set aside. In a microwave-safe bowl, melt a bag of orange candy melts and mix well. Wash and dry fresh strawberries and place a skewer in the top of each. Dip each strawberry into the chocolate and place on the parchment paper and chill for fifteen minutes. Once firm, remove the skewers and place in rows on the brownies, cut into squares and serve.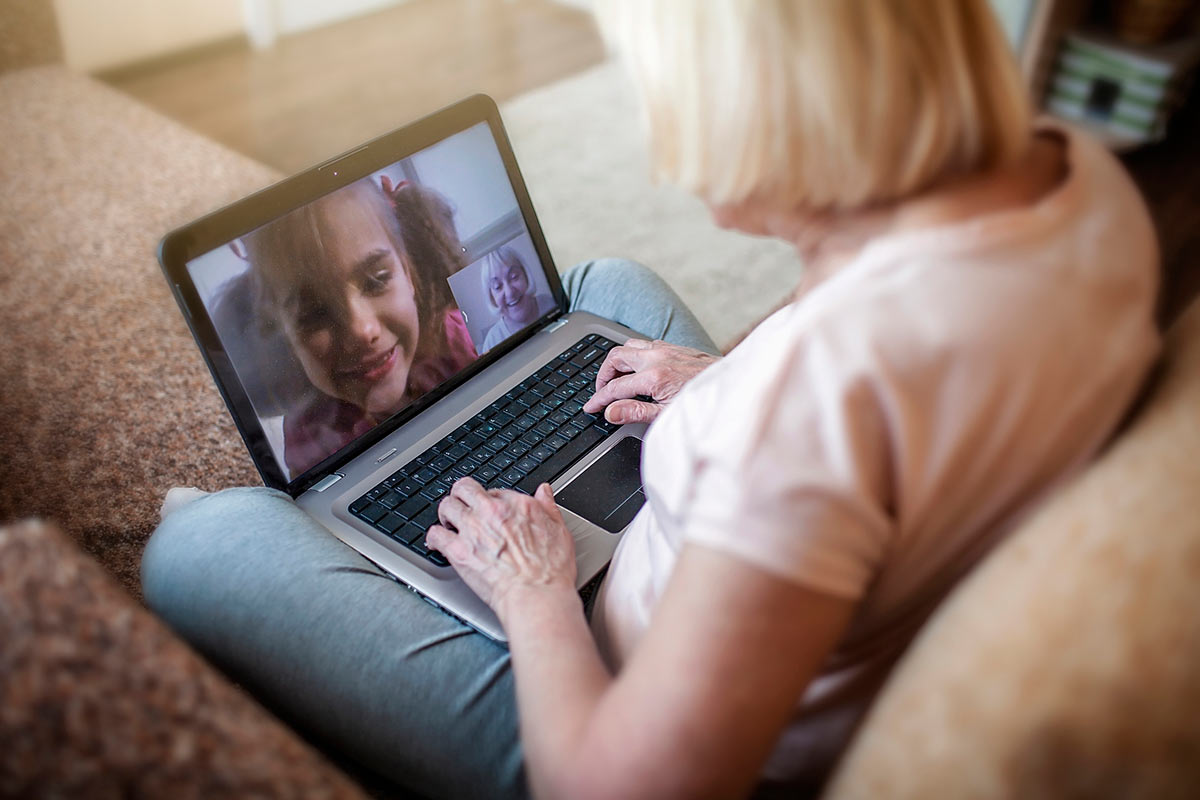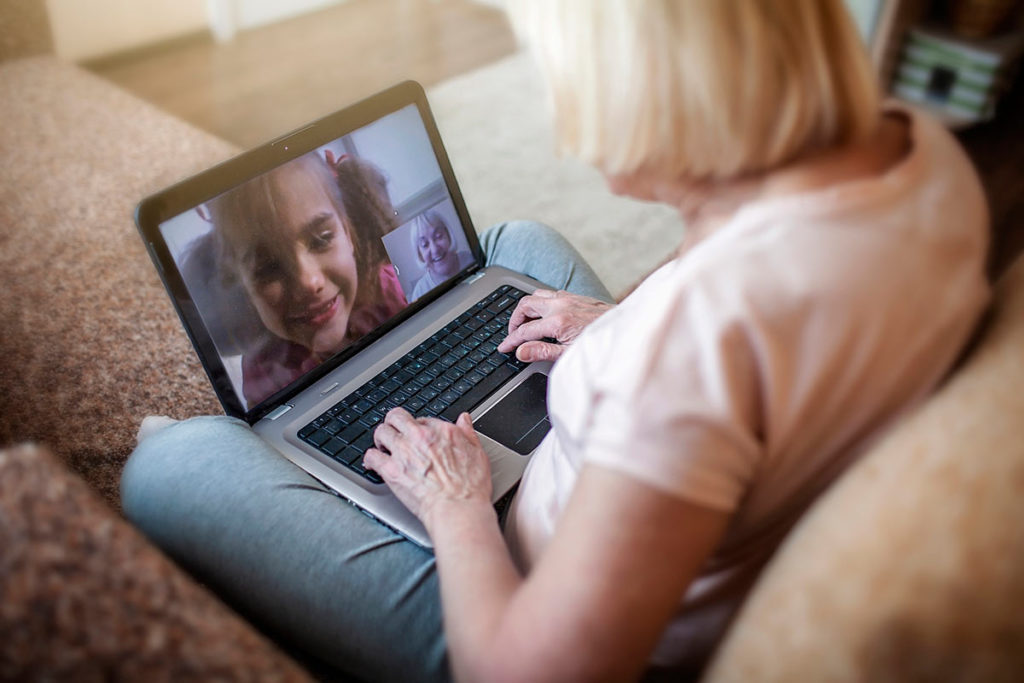 Family Traditions
Jump to Section: Easter Activities | Festive Crafts | Bunny Movies | Springtime Stories | Holiday Treats
Here are some creative ways to uphold your families current traditions, or adopt new ones to celebrate the holiday. Hoppy Easter!
Dye Easter eggs using a new method or style
Go on an indoor or outdoor egg hunt
Bake a cherished family recipe
Nosh on Easter classics like ham, candied carrots, deviled eggs and more
Eat the ears off hollow chocolate bunnies!
Attend an Easter Church Service
Sing Easter songs or make up your own
Send Easter lilies or a card to family who you cannot be with in person this year
Organize your own Easter parade around your home
Create a family Easter photo shoot right at your own home
Read an Easter story
Watch a springtime flick with your family
Play Easter Bingo
Decorate an Easter tree
Bake classic Italian Easter bread
Plant an Easter garden or freshen your yard
Have an egg relay race
Read through Easter-inspired scriptures
Make rainbow colored pancakes for Easter breakfast
Play a game of pin the tail on the Bunny
Enjoy gooey Peep smores around a backyard firepit or grill
Plant jellybeans with the kiddos and watch their faces in the morning when they've turned into lollipops
Video chat or Skype with family who are celebrating from afar