Want to take a step back in time this summer? Check out some of the old car shows in Wisconsin!! See some of the great vintage/classic cars from simpler days when there were no back-up cameras, remote start or GPS. Most of the car shows on our list to enter as a spectator is free or very low cost. Your typical car show is a fun atmosphere with food and drinks for purchase and music but other extra additions to some shows are vendors selling crafts/baked goods, swap meets, raffles to raise money for charities to win cash/prizes, contests and local bands. Look for a select few on our list that have airplanes and motorcycles as well along with potential meet and greets of celebrities such as Former Packer Players, Race Car drivers, and Actors/TV personalities! At certain shows, you could even enter for a chance to win your very own classic car! A lot of the car shows are during the weekend but there are also a few that are during the week so check out our list and see if you can make it out. See some history and have some fun!! Below are dates, times, location, admission, and other good information to know before you go.
*Please note for those actually entering a car at the shows there may be a separate entry fee.
Car Show Tips
Ask Questions
The people that have brought their cars to a show love them! They've worked hard on them and are happy to chat with you about their vehicle.
Wear Comfortable Shoes
There's often a lot of walking involved in visiting a car show. Wear shoes that you're going to be happy in all day. Make sure the kids do also because nothing kills fun faster than kids whining about their feet.
Keep Your Hands to Yourself
As mentioned above, the people showing cars love them and have worked hard to get them ready to show. Remember the lessons of Kindergarten and resist touching the shiny parts. And, remind your kids too!
Keep Track of What Your Kids Are Up To
With all of the cool cars around and so many things to look at, it can be easy to get distracted. Keep a close eye on the kids, because as tempting as the shiny parts and sparkling paint are for us to touch (or is that just me?) it is tenfold for kids.
Bring a Stroller or Wagon
Related to the comfortable shoes, your time at a car show will likely be more fun with somewhere for a tired kid to catch a little break. But, keep them at a distance from the cars.
Food and Drinks
Some shows have concessions or food trucks around, so you'll want to have cash handy. You also might pack snacks for a picnic if you'll be at a larger show for a large part of the day. In any case, keep kids snacking and drinking separately from car viewing.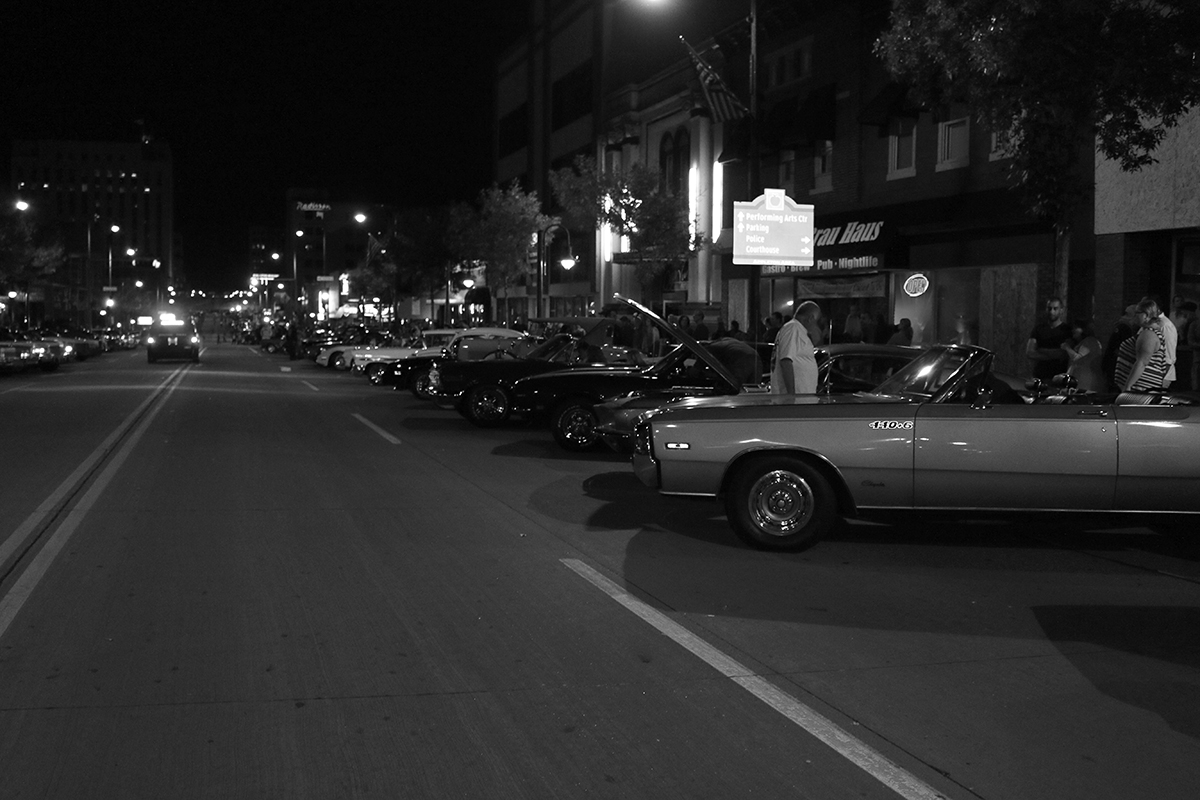 May 2021 Car Shows
American Antiques and Jewelry Car Show
Saturday, May 1, 2021: 10 am – 2 pm
American Antiques and Jewelry, 2545 W Mason Street, Green Bay
Admission: FREE
Food and Music
Launches Expansion of American Antiques new showroom
Offering special deals day that day in-store
13th Annual Freedom High School Car Show
Saturday, May 1, 2021: 9 am – 2 pm
Freedom High School, N4021 County E Freedom
Admission: FREE
Hosted by the Freedom High School Auto Club. All makes and Models Welcome!
1st Annual Grand Opening Procar & Autopro Car Show
Saturday, May 1, 2021: 8 am – 3 pm

Rain Date Saturday, May 8, 2021

325 VanBuren Street, Oconto Falls
Admission: FREE
Food Truck selling "Smash Burgers"
Selling Pro Car Stickers Hats and Shirts
Wash Stall to clean off UTVs and Vehicles
Donations welcome for NWTC Auto Student Department
Greater Milwaukee International Car and Truck Show
Wednesday, May 5 – May 9, 2021: 3 – 9 pm, then 10 am – 9 pm Thursday – Sunday
Fairgrounds Wisconsin State Park, 8200 W Greenfield West Allis
Admission: $12 at the door per person $10 when you buy online and Senior Discounts

Sunday is Family Day with FREE admission
Parking is $6 a vehicle and $3 per motorcycle

Racecar Driver "Al Unser Jr." will have a meet and greet with fans, sign autographs, and pose for photos Saturday, May 8th from 1-5 pm, Thursday is "Sip and Savor" with 30 Craft Brewers for a fee
Take Back The Ave Cruise
Friday, May 7, 2021: 6 pm – 10 pm
Downtown College Avenue Appleton
Admission: FREE
Hosted By Atomic Armadillo Metal Fab
Old Fashioned Cruise you can see cars driving up and down the Ave during those hours
Crazy 8's Bar Vintage Car Show
Saturday, May 29, 2021: 8 am – 7 pm
18614 Tish Mills Road
Admission: FREE
Trophies awarded at 3:30 pm
Band from 1 – 5 pm
Food and Refreshments all day!
21 and up can hang out at the bar after the show!
June 2021 Car Shows
Krusin Klassics 35th Annual Fun Run, Car Show and Swap Meet
Friday, June 4 and Saturday, June 5, 2021: Gates open at 7 am
Escanaba State Fairgrounds, 2401 12th Avenue North, Escanaba Michigan
Admission: $5 a person each day
Includes Dance with Where's Gary Band Friday night
Food, beverages, music, prizes.
Grand prize is a 1971 Chevrolet NOVA RALLY 350
Allouez Fest Car Show
Sunday, June 13, 2021: 10 am – 3 pm
Green Isle Park, 900 Green Ave, Allouez
Admission: $2.00 donation at gate
All makes models and years welcome
Food, Refreshments, Kids games, Remote Control Car Demo, DJ music
Trophies and Fundraiser
Gilbert Brown Foundation Car Show at Wilderness Campground
Saturday, June 19, 2021: 10 am-3 pm (Fathers Day weekend!)
Wilderness Campground, N1499 State Highway 22, Montello
Admission: FREE
The GBF Foundation provides funds for Camp Sunshine – Kids with Cancer, Gilbert Browns All-Pro Football Camp, Free Milwaukee Skills Camp Offered for Kids Ages 8-17, the Make a Wish Foundation, Mark Tauscher's Tri-Fecta Foundation, and the High School Scholarship Program.
Food & Beverage Tent
Montello's own award-winning BBQ stand with profits donated to the Gilbert Brown Foundation.
Raffle Items & 50/50 Raffle
For a $25 dollar donation take a picture with Gilbert Brown or former Packer Player and Your Car or Self, plus Fundraising Games With former Green Bay Packers!
47th Annual Back to the 50's Car Show (Worth the Drive!)
Friday, June 18 – Saturday 19, 2021: 8 am – 10 pm; Sunday 20, 2021: 6 am – 3 pm
Minnesota State Fairgrounds, St. Paul, Minnesota
Admission: $12 Per Adult – Kids 15 and under Free with paid adult
Voted "Best Car Show" in 2019 by USA Today with 11,345 Cars shown
Live Music Friday and Saturday
Free Park and Ride Saturday
Over 100 Craft booths selling merchandise
4th Annual Summer Knights Car & Bike Show
Saturday, June 19, 2021: 8 am – 5 pm
W4232 County Road A, Tomahawk
Admission: FREE
Food and Music
Vote for your favorite car for the recipient to win a "Mystery Trophy"
Fundraiser for Lincoln County Humane Society
4th Annual Cars and Guitars Show
Saturday, June 19, 2021: 8 am-2 pm
400 Block of South Washington, Green Bay
Admission: FREE
Family Friendly
Face Painting
Food, Live Music from Johnny Wad, Car rides
Non-perishable food items being collected for the NEW Community Shelter
CIOFA Annual Algoma Car Show
Saturday, June 19, 2021: 8 am – 3 pm
Steele Street, Algoma
Admission: FREE
Enjoy food, drink, music
Special Armed Forces Day salute by local service veterans.
30th Rods-N-Relics Car Show
Saturday, June 19, 2021: 9 am – 2:30 pm
2020 South Green Bay Road, Grafton
Admission: FREE
Live Bands
Food – Soda – Beer
Fundraising to provide tools for local high school and auto school classes
Les Stumpf Ford 40th Annual Car Show
Father's Day, Sunday, June 20, 2021: 8 am – 2 pm
3030 W College Ave, Appleton (Les Stumpf Ford)
Admission: FREE
Come see some great Ford Vehicles
Food, DJ and Make Wish Foundation Raffle
Celebrating 100 years of service in Appleton
Waterfront Bar & Grill Annual Car Show
Sunday, June 20, 2021: 7:30 am – 5 pm (Rain Date: June 26, 2021)
215 N Main St, Kewaunee
Admission: FREE
Outdoor Food/Drinks
920-388-0505
Northern Roundup MC Festival
Friday, June 25 – Saturday 26, 2021: All day/night long!!
N5890 County Rd H, Gleason (MC Festival Grounds)
Admission: Weekend Passes: $25, Friday Day Pass: $10, Saturday Day Pass: $15
1950's style pinup contest
Motor Bike Races/Flame thrower contest
6 Live Bands
Raffles – Raffle Car Is A 1960 Pontiac Catalina
3rd Annual Out-A-Site Drags
Friday, June 25 and Saturday 26, 2021: 9 am – 10 pm
18411 1st Street, Union Grove
Admission: Adults: $20, Kids Ages 10-15: $10, Kids 9 and under: FREE
Part of admission price goes towards "Christmas with the Vets" cause
Racing starts at noon
Oldest Continuously Operating Drag Strip in America
Food and Refreshments
St. Mary's Memorial Food Pantry Car, Bike & Antique Tractor Show
Saturday, June 26, 2021: 9 am – 3 pm (Rain Date: June 27, 2021)
Downtown Lyons in Lyons, Wisconsin (White River Trail Courtyard)
Admission: FREE
Food and Music
50/50 Raffle
All proceeds go to support St. Mary's Memorial Food Pantry
Kenosha Car Club Cruise In
Sunday, June 27, 2021: 10 am – 3 pm
Fireside, 2801 30th Ave, Kenosha
Admission: FREE
Accepting donations to benefit Stars and Stripes Honor Flight of Wisconsin
Food and Drinks
Goodie Bags
Calumet County VFW 20th Century Car, Truck and Bike Show
Sunday, June 27, 2021: 8 am – 2:30 pm
Hobart Park, Chilton
Admission: FREE
Rain or Shine
Food and Refreshments
Fundraiser to help widows and orphans of deceased Veterans.
Central Wisconsin Auto Collectors 39th Annual Benefit Car Show
Sunday, June 27, 2021: 8 am – 4 pm
Brennand Airport, 3282 Breezewood Lane, Neenah
Admission: FREE
Very Family Friendly
DJ-Sizzlin' Sonny's Rockin' Roadshow with Hula Hoop Contest
50/50 Raffle Cash Drawing and Door Prizes all day to benefit local charities
Food and Beverages
Airplanes on Display
Swap and Flea Market
Celebrate Wapan Car Show 6th Annual
Sunday, June 27, 2021: 8 am – 4 pm
300 N Forest Street
Admission: FREE
Door Prizes
Food Drink and Music
Shade available with a great view of Rock River
Car and Vendor Show at Riverside Ballroom
Sunday, June 27, 2021: 10 am – 4 pm
Riverside Ballroom, 1560 Main St, Green Bay
Admission: $2.00 a person
Food Trucks
Variety of Vendors selling goods inside
July 2021 Car Shows
Tony's Hot Rod Shop Car Show and 4th of July Celebration
Sunday, July 4, 2021: Starts at 12 pm and goes all day/night
W10532 Hwy Y
Admission: FREE
Food, fun, and fireworks
Iola Swap Meet & Car Show 49th Annual
Thursday, July 8 – Saturday 10, 2021: 9 am – 9 pm
350 Chrome Place, Iola
Admission: Guests are encouraged to purchase online rather than at the gate. Online Daily $15.00, 3 Day Pass is $28.00, At the Gate is $20 Per guest Daily and $30 for a 3 Day pass – Ages 12 and under are free.
One of the Largest Car Shows in America with many unique cars
Special Appearances by celebrities including "Greg Brady" actor Barry Williams
Food and Drinks
Concerts/Live Music
Kewaunee Car/Motorcycle Show
Saturday, July 10, 2021: 8 am – 5 pm (Rain date July 11, 2021)
216 Ellis Street Kewaunee

In front of Kewaunee Bowl and Blue Door

Admission: FREE
Food and Fun
See some cars and chill with lots of Coors/Coors Light Beer available for purchase
Ninos 17th Annual Car Show for the Red White and Troops
Sunday, July 11, 2021: 8:30 am – 4:30 pm
7805 South Loomis Road, Wind Lake
Admission: FREE
Silent Auctions, Raffles, 50/50 raffle
Bar Food/Drink (No carry-ins please)
Car Show Name Paperfest Car and Motorcycle Show (Postponed)
Saturday, July 17, 2021: 8 am – 12:30 pm
Memorial Park Combined Locks
Admission: FREE
Great food, drinks, and live music
Check out Paperfest Carnival Rides and Hot Air Balloon Glow
Appleton Auto Show & Swap Meet at Pierce Park
Sunday, July 18, 2021: 8 am – 4 pm
Pierce Park, 1035 W Prospect Ave Appleton
Admission: FREE
Largest Free Car Show in the Valley with over 1,000 plus cars from 1991 and older
Numerous food and beverage stands in the park
Music
Wisconsin's Largest Food Truck Rally and Car Show
Saturday, July 24, 2021: 8 am – 5 pm
Waupaca Fairgrounds, 602 South St, Weyauwega
Admission: $1 per person or $2 per family
All proceeds from admission goes to support Waupaca Canine Society
Food Trucks and other vendors
36th Annual Summer Elkhorn Swap Meet & Car Show
Saturday, July 31, 2021: 8 am – 4 pm
Sunday, August 31, 2021: 8 am – 3pm
Fairgrounds, 411 East Court Street, Elkhorn
Admission: $7 per adult in the vehicle. Children under 12 are free when accompanied by an adult.
There is a great selection of food stands available on the fairgrounds
This Swap Meet is a great place for vendors to sell or buy their cars, car parts, and car accessories!
August 2021 Car Shows
Kiwanis Car, Motorcycle, & Vintage Camper Show
Sunday, August 8, 2021: 10 am – 4 pm
Washington Park, 1101 Washington St, Manitowoc
Admission: FREE
Vendors will be on hand to provide a wide selection of food, beverages, and treats.
Funds raised will help children in the area in need
Theme car this year: Chevrolet Nova
North Star Cars and Handlebars
Saturday, August 28, 2021: 8 am – 3 pm
North Star Casino, W12180 County Road A , Bowler
Admission: FREE
Food Trucks, DJ, Flea Market
Reserve your tickets for Jay Leno rescheduled for next years show in 2022
Symco Hotrod & Kustom Weekender
Thursday, August 12, Friday, August 13, and Saturday, 14, 2021: 9 am – 1 am
Union Thresheree Grounds, E6361 WI-22, Manawa
Admission: Wristband required for 14 and younger Prepay online to save!!Online $20 for a 3-day wristband or daily at the gate Thursday $5 Friday $15 Saturday $20

Kids 14 and under free with paying adult

Food soda and beer
20 plus live Bands from all over the world! Germany, Spain, the U.K and more!
Free mini bike drawing at 3:00 Saturday for kids 15 and younger; must be present to win
Raffling off a Vintage vehicle for Charity TBD (Manua Area Freedom Veterans Park)
Belly Bumper Classic Car and Motorcycle Show
Sunday, August 22, 2021: 9 am – 4 pm
Eaton Town Hall, 3063 South County T (Hwy 29 East)
Admission: FREE
Belly Dancer Show, Hula Hoop Contest, Music by a DJ, Door Prizes
Funds raised for Golden House Domestic Abuse Program and Shelter
September 2021 Car Shows
Gateway for Veterans 3rd Annual Car, Truck & Bike Show
Saturday, September 11, 2021: 8 am – 2 pm
HWY 141, Crivitz
Admission: FREE
Music, Food, Raffles, 50/50
All proceeds going towards Veterans
Honoring Heros from 9/11 from 20 years ago
Patrick's Vintage Automotive Classic Car Show
Saturday, September 11th, 2021: 11 am – 3 pm
Antique Mall of Greater Green Bay, 358 Mid Valley Drive De Pere
Admission: FREE
Music Provided
Prizes for best time period dress/costume
Oconto Elks Fly-In
Saturday, September 18, 2021: 9 am – 4 pm
Oconto Airport, 2983 Airport Road – Oconto
Admission: FREE
Classic cars, tractors, and airplanes on display
Veterans' ceremony will start at 10:00 am. There will also be a military encampment on display.
The Northern Aces RC will have their planes flying throughout the day
Enjoy the music, great food, and shopping at all the craft vendors!
Free parking!
Adventist Junior Academy Car Show
Sunday, September 19, 2021: 8 am – 2 pm
Adventist Academy, 1422 Shawano Ave Green Bay
Admission: FREE
Food, fun, silent auction, and bake sale
All proceeds help out the Academy
There will be a Kids Choice award! Kids get to vote for their favorite car on display that day
Octoberfest & License To Cruise
Friday, September 24, 2021: 6 pm – 10 pm
Downtown College Avenue, Appleton
Admission: FREE
Classic Cars displayed up and down the avenue
Music, bands, and DJs
Over 100 Food Vendors
Octoberfest festivities carry into the next day on Saturday
44th annual Fall Jefferson Swap Meet & Car Show!
Friday, September 24, 2021: 10 am – 5 pm
Saturday, September 25. 2021: 6 am – 5 pm
Sunday, September 26, 2021: 6 am – 3 pm
Jefferson County Fair Park, 503 North Jackson Avenue – Jefferson
Admission: $10 a day kids under 12 free with paying adult $5 for parking on fairgrounds
Food and Music
Trucks are being highlighted this year
October 2021 Car Shows
Banana Peeler Rat Rod & Traditional Hot Rod Show
Saturday, October 2, 2021: 10 am-4 pm
3927 Lily Lake Road, Green Bay
Admission: FREE
Banana Seat Bicycles featured
Excellent Raffle Prizes
Great Food
Exclusive Kids Hot Wheels Play area
100% proceeds go to charity
Weekly Car-Show-Off Gatherings, May-October, 2021
Tuesdays: Shake-A-Burger (Rev's music on 1st & 3rd Tuesday) Main Street, Oconto
Wednesdays: A&W Duck Creek (Velp Ave in Howard) 4 pm – dark
Thursdays: Mountain Bay Plaza, Hwy 32, Pulaski 4 pm – 7 pm (Jun 17 thru Sep 16)
Saturdays: Jack Stand Racin' Car Club: Antique Up Parking Lot, Church Street, Stevens Point (Saturdays Memorial Day Through Labor Day) 5 pm til dark
Visit Wisconsin Hotrod Radio for updates and other great car shows that are not our list!!