Do you have family members that are feeling ready for something a little more spooky this Halloween? We asked our readers for recommendations for haunted houses in the Fox Valley that would be great for first-timers or those looking for a just slightly scary experience. We got some great ideas to share with everyone!
If you're looking for an even less scary time, we have suggestions for Halloween activities and events around the Fox Cities area happening each weekend throughout October. Many local libraries will host Halloween storytimes and events during the month also.
Trunk or treats are also great options for younger kids, they are usually not scary but very festive events that are perfect for newer trick-or-treaters, and there are multiple events every week.
Or! Stay safely tucked into your warm car with a travel cup of hot chocolate while checking out these houses with Halloween lights that are worth a little drive.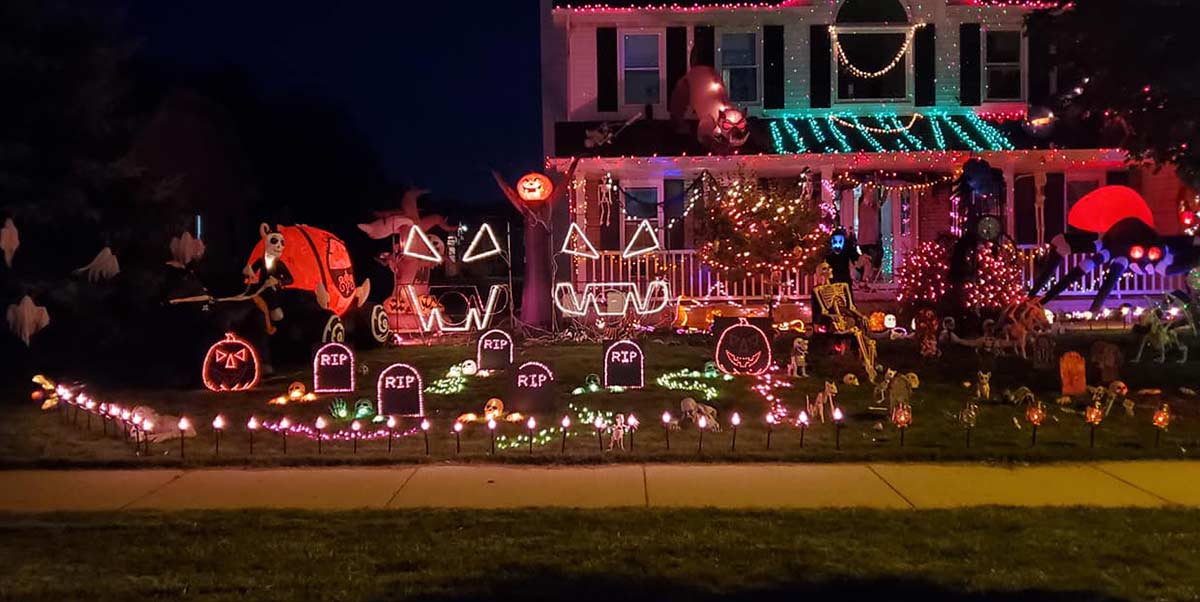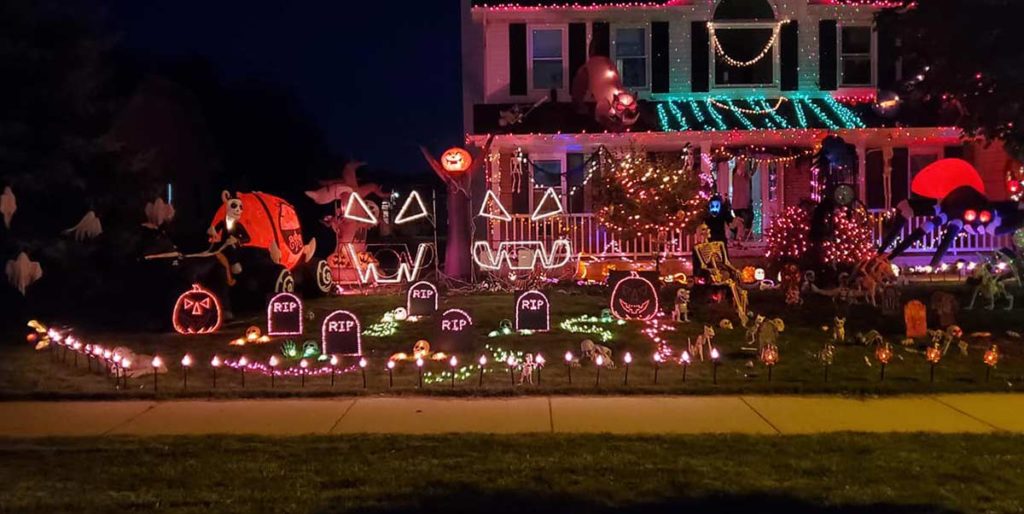 1. Haunted House – A Night to Dismember
Dates

Friday, October 21, 2022, from 1 – 4 pm and 6 – 10 pm
Saturday, October 22, 2022, from 1 – 4 pm and 6 – 10 pm

Location: Appleton North High School, 5000 North Ballard Road, Appleton
Cost: $5 – 12 and younger | $7 – 13 & Up
Details: One of the oldest and longest-running Halloween attractions in the area. More than 100 members of North's Drama Club create the spine-chilling cast of characters that inhabit the house! Non-scary flashlight tours are offered (all hours) for younger children or those "weak of heart." Carnival games, a mini-inflatable haunted house for little ones, and a bake sale will also be featured.
Reader Recommendation: We liked Appleton North High School. My kids took the guided tour, and after going through it with flashlights, I feel like my oldest would feel comfortable going again without lights.
2. YouthGo Neenah The Hallows
Dates:

Friday, September 30th & Saturday, October 1, 2022, from 6:30 – 10 pm
Friday, October 7 & Saturday, October 8, 2022, from 6:30 – 10 pm

Location: Memorial Park, 1131 Tullar Road, Neenah
Cost: $5
Details: The hallows is a haunted trail walk through Memorial Park where guests navigate through the woods filled with costumed actors with only the light of a single lantern.
Reader Recommendation: Youth Go was a great choice for my daughter's first "grown-up" haunted house. Scary enough that it doesn't feel like a kids event but not nearly as intense as something like Burial Chamber or Terror on the Fox.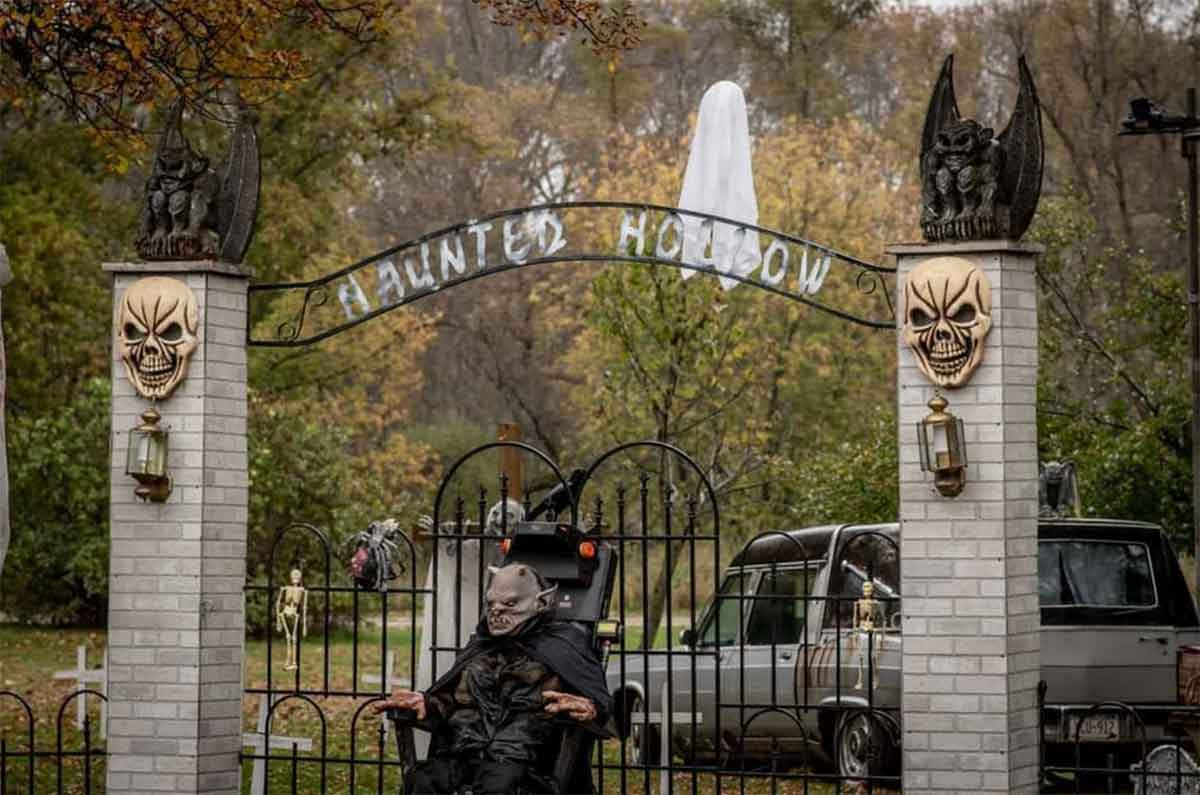 3. Haunted Hollow
Dates:

Daily, October 8 – 31
Sunday-Thursday 7:00-9:00 pm
Friday and Saturday 7:00-11:00 pm

Location: N3762 Maple Grove Road, Weyauwega
Cost: FREE, food and cash donations for the Waupaca area food pantry and Humane Society accepted.
Details: Drive through haunted yard with live actors offering daytime or low-scare viewing.
Reader Recommendation: You turn your flashers on if you don't want them to approach your car. Nice to just stay in the vehicle but still get the same experience.
4. Fright Night
Dates: October 21- 22 & 27-28, 2022

Kids Hour: 6 – 8 pm
Full scares: 8 – 10 pm

Location: N1683 Greenville Drive, Greenville
Cost

Ages 0 – 4: Free
Ages 5 – 18: $10
Ages 19+: $15

Details: This is a family-friendly event with something for everyone. During the kids' hour, the spooks in the haunted pavilion and hayride are friendly. The lights are left on in the haunted house, and the characters will interact with the kids but do not attempt to scare them. During adult hours, the lights are out, and the spooks will be active in both the haunted pavilion and hayride through the paranormal zoo. Bonfires, pumpkin decorating, dance parties, face painting, and food and beverage sales all happen each night. On Saturday, October 22 & 29, Pat Pedersen will provide live music.
Reader Recommendation: We have one who does not at all want anyone jumping at her but loves all Halloween things. I believe it's the first hour or two when the lights are on, and they lead you through and show the fun stuff but no jumping or pretending to come after you. Side note: The hay ride is always scary with people coming after you or jumping on the wagon, even during kid time. So my husband takes our other child, and other fun things are included, such as making a pumpkin or sometimes a craft. For the price, it is a great community event.
5. Realm of Darkness Electric City Halloween Kids' Day
Dates: Saturday, October 15, 2022, from 1 – 3 pm
Location: 235 W Wisconsin Ave, Kaukauna
Cost: FREE
Details: Food, face painting, live music from Appleton Rock School, kid-friendly version of Realm of Darkness Haunted House
Reader Recommendation: We did the kid-friendly day, and it was a really good way to get our feet wet. It wasn't totally lights on/bright so it still gives has the haunt without being the total scare.
6. Outagamie Conservation Club Haunted Hayride
Dates

Friday, October 21 & Saturday, October 22, 2022
Friday, October 28 & Saturday, October 29, 2022
Registration 6 – 9 each night. No early registration, no reservations.

Location: N3502 Mayflower Road, Hortonville
Cost

$7 ages 13+ | $6 with canned food donation
$4 + donation of gently used coat for ages 12 – 3
Ages 2 and under free

Details: Hayrides begin at dusk. Bonfire, warm clubhouse, food & beverages available for purchase.
Reader Recommendation: Usually a good time!
7. Haunted Golf Cart Ride
Dates

Friday, October 7 & Saturday, October 8, 2022
Friday, October 14 & Saturday, October 15, 2022
Friday, October 21 & Saturday, October 22, 2022
Friday, October 28 & Saturday, October 29, 2022
Ticket window opens at 5:30, rides from 6:30 – 9:30 pm, no advance ticket sales

Location: Hickory Hills Country Club, W3095 Hickory Hills Road, Chilton
Cost

Ages 14+: $15
Ages 13 and under: $9

Details: The ride is about 35 minutes long as drivers shuttle you throughout the property decorated for Halloween, with spooks along the way! Kid-friendly rides are available by request so that spooks are signaled not to scare that specific cart, but you can all still enjoy the lights and the ride! Concessions are available for purchase.
8. Hatten Haunted Trail & Trick or Treat Trail
Date: Friday, October 28, 2022

4:30 – 6:30 pm: Trick or Treat Trail for ages 12 and under
6:45: estimated Spooky Trail start time

Location: Hatten Park, 801 Werner Allen Road, New London
Cost: $3 per person
Details: Located at the Hatten Park Main Shelters, there will be concessions and admissions.
9. Kids Day at Green Bay Fear Haunted Attractions
Dates: Saturdays October 15 & 29, 2022, 2 – 5 pm
Location: Green Bay Fear Haunted Attractions
Cost: $5
Details: Join us for a friendly Trick-or-Treating experience where we tone down the spooky but still have a fun Halloween event for the family! Walk through the Attraction, get some treats, and dress in your best costumes!
Need to know Trick or Treat Times for 2022? We've got you covered! Click here>>