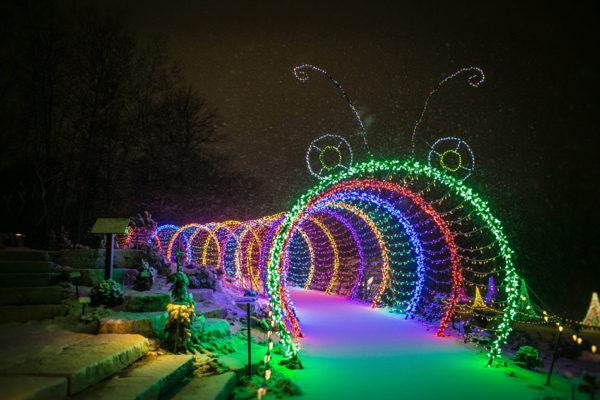 WPS Garden of Lights: 20+ Years of Lighting Up the Green Bay Botanical Gardens
2018 marks the 22nd year of WPS Garden of Lights at Green Bay Botanical Garden. It started as an idea with Jerry Landwehr, the Executive Director in 1997, and used less than 100,000 lights in the first display. The display has grown to include over a quarter million lights and takes over 4500 total volunteer hours over the year to light up the gardens. Each feature is built by hand by either the staff of the Green Bay Botanical Gardens or NWTC students. WPS provides all of the electricity for the display using renewable energy through WPS's NatureWise Renewable Energy Program and the light structures use almost exclusively LED lights which consume at least 80% less electricity than traditional incandescent lights and also have a longer lifespan.
New features are built almost every year. In 2010 an animated five point 18 point star was added to the 45-foot tree. 2012 brought a light replica of the Thome Fountain with 7000 blue and white LED spraying upward. Introduced in 2014, the Under the Pond display was added guests can swim with koi fish and a turtle, and dance in the seaweed where 7000 multicolored LED lights take your family on an underwater adventure. Last year a 15,000 LED light display was added, watch as the rich blue, green, pink, teal, and purple lights change as you take in the Garden's own Northern Lights. A Field of Flowers has been added this year. Featuring over 1,000 RGB LED lights found only here in Wisconsin and lighting up the hillside with flowers in a variety of colors.
Special Features of WPS Garden of Lights
 Icicle Forest
Glistening Flowers
The area's tallest and brightest tree
60 foot walkthrough caterpillar
Model train exhibit from the G-Gagers Train Club
Campfire to warm up around
Holiday gifts to be found in the WPS Trellis Gift Shop
Natural Christmas tree featuring decorations made by volunteers and staff from plant materials that are grown and collected from the Garden.
Photos Courtesy of Green Bay Botanical Gardens & Amenson Studio
Special Events during WPS Garden of Lights
Family Night: Sunday, November 25 from 5 – 9pm

Children 12 & under free with one paid adult. Wagon rides $5/person.
Meet and greet with Mrs. Claus, letters to Santa, face painting, and visit with Santa for photos from 5 – 9pm.

Photos with Santa: Every Friday, Saturday, and Sunday before Christmas from 5 – 9 pm.

Photos are taken by Ambrosius Studio. Photo packages start at $12.50.

Face Painting: Sunday, November 25th and Saturdays, December 1, 15 & 29 from 5-9 pm.
Stories with Mrs Claus: Every Saturday before Christmas from 5pm to 8pm.

Venture inside to warm up with a story about the North Pole.

Letters to Santa: Sunday, November 25th and every Saturday before Christmas from 5:30pm to 8pm.

Bring your letters to the North Pole Mailbox and meet two of Santa's elves and receive a free candy cane.
Things to know before you go!
WPS Garden of Lights glows on Fridays, Saturdays, and Sundays through the end of December from 5 to 9pm.

The display is closed Christmas Eve, Christmas Day, and New Year's Eve.
Ticket Prices

Walking Tour Adults (13 & up): $10 Children (3-12): $5 Children (2 & under): Free
Horse-Drawn Wagon Tour* Adults (13 & up): $15 Children (3-12): $10 Children (2 & under): Free *The Horse-Drawn Wagon Tour includes the Walking Tour.

The horse-drawn wagon tour begins on the lower mulched portion of the light displays. It is recommended to by 8 pm to allow enough time to experience the upper paved portion of the light displays which is walking. The horse-drawn wagon fits 20 passengers. Children are able to sit on their guardian's lap. Wagon rides run from 5-8:30 pm. Wagons are available on a first-come, first-served basis and cannot be reserved. On Saturdays there is usually is a line to get onto the wagon. We do our best to accommodate all wagon ride guests in a timely and safe manner and appreciate your patience. For night-of wagon updates, please go to the Garden's Facebook page.

Buy tickets ahead at Green Bay Botanical Garden's admission desk in the Fischer Visitor Center and online at www.GBBG.org/WPSGardenofLights  AND Select Festival Foods locations including: Green Bay East & West, De Pere, Appleton, Darboy, Suamico, Manitowoc, Menasha, Neenah, Oshkosh, Sheboygan, and Fond du Lac.

Tickets purchased ahead are good for any night that the WPS Garden of Lights runs. No reservations are necessary.

Or purchase your tickets at the door!

How long to plan to be at WPS Garden of Lights.

Spend as much time as your family would like, but typically the walking tour takes about 30-45 minutes and it covers just under a mile of walking paths. The wagon tours last about 10-15 minutes. Plan to arrive at least an hour before closing to have enough time to enjoy the experience.

Best Time to Visit

The number of visitors increases on warmer winter nights and on Saturday evenings. Visitation tends to peak between 5:30–7:30 pm. Visitation is lighter on opening weekend, early Friday evenings and Sunday evenings (Green Bay Packers afternoon and evening games). Please remember the Garden is closed December 24 & 25.

Pet Policy

No pets are allowed in the Garden. Certified service dogs are allowed with a vest or other identification.

Weather Policy

WPS Garden of Lights closes for extreme inclement weather. Notices will be posted to their website, Facebook page, and local news and radio stations. The Garden is open if it is simply snowing.

Parking 

Parking is FREE. Five shuttle buses take guests from NWTC lot F and G to the Garden. Follow the signs on Larsen Road or Country Club Road to the shuttle bus parking. The buses pick up and drop off in the same location at the Garden. Handicap parking is available at the Garden's main lot by showing your parking permit to the volunteers at the gate; in the event that the parking is full in the main lot, a handicap accessible shuttle bus will run continuously through the night.
No carry-ins of food or beverages are allowed.

A variety of food and beverages are available in the Winterberry Café including: homemade soup and/or chili, hot dogs, nachos, cookies, popcorn, candy bars, trail mix, chips, gummi bears, hot chocolate, apple cider, coffee, tea, water, soda, beer, wine and shots such as Peppermint Schnapps or Baileys to compliment a hot beverage. Please bring ID for the purchase of alcoholic beverages. 
Accessibility

The paths in the upper Gardens are paved, shoveled and salted and should be accessible to wheelchairs, walkers, strollers and pull-along wagons. The lower mulched path is difficult to navigate and not recommended for wheelchairs and walkers. Horse-drawn wagon rides are typically available on a first come, first served basis. Golf cart rides from the building to the horse-drawn wagons are available for those unable to walk down the mulch where the wagons begin. There are three large steps up into the horse-drawn wagon. Please bring someone to assist you in getting onto the horse-drawn wagon. There are no motorized scooters or wheelchairs available at the Garden. Families walking with small children should bring a large wheeled stroller or pull along wagon.
Suggestions for those with limited mobility.

Prearrange a date with the Garden so parking volunteers and staff can help accommodate your group by calling 920.490.9457.
Purchase your tickets in advance at the Garden, Festival Foods locations or online.
Choose a Sunday when WPS Garden of Lights experiences less foot traffic.
There are some steps, inclines, mulch, snow, salt, and puddles.
Photography Tips

Turn off the flash!
Shoot at twilight for better exposures
Steady your camera to avoid blurry photos
Visit earlier in the evening or on Sunday nights to avoid crowds
Dress warmly and wear gloves
Photo Courtesy of Green Bay Botanical Gardens & Amenson Studio
Save
Save
Save
Save
Save
Save
Save