At one time, every child with a wild imagination has dreamt of being an adventurous pirate searching for glistening golden treasure while sailing the high seas. Luckily, it won't take a lengthy ocean voyage to fulfill that vision, as aspiring sailors can camp onboard a pirate ship right here in Wisconsin!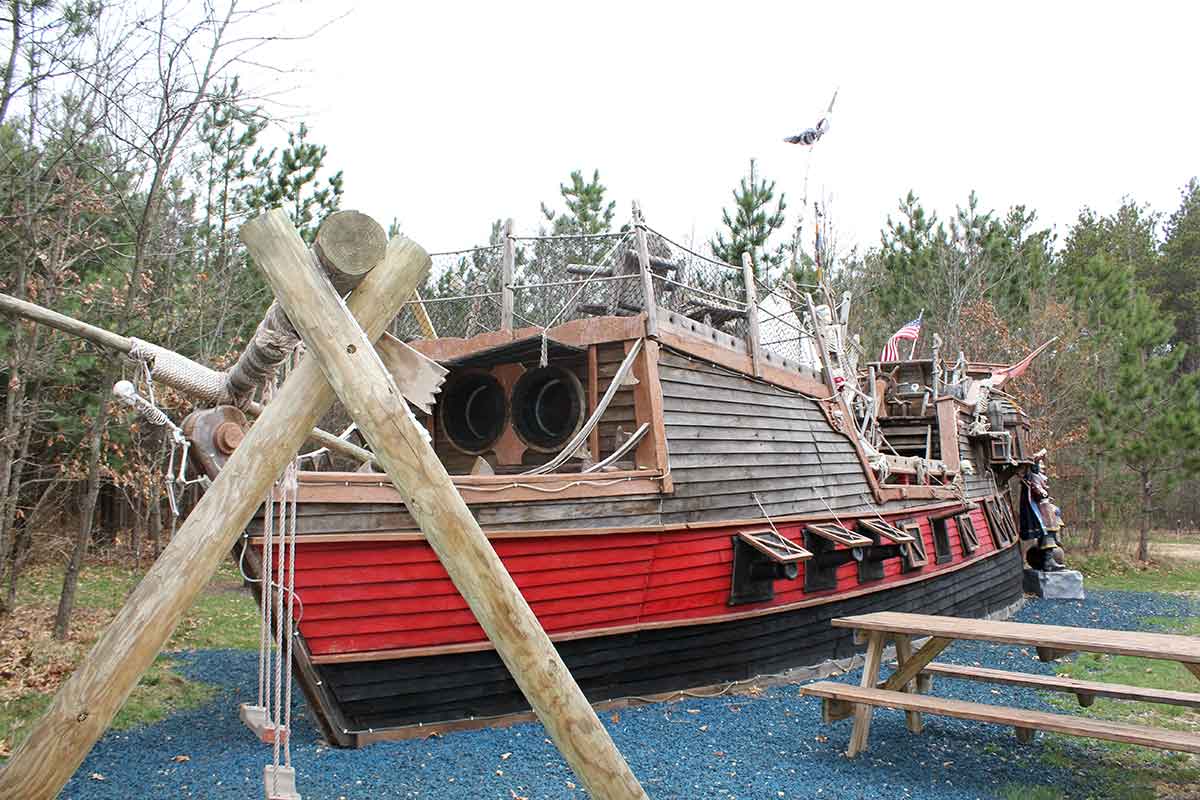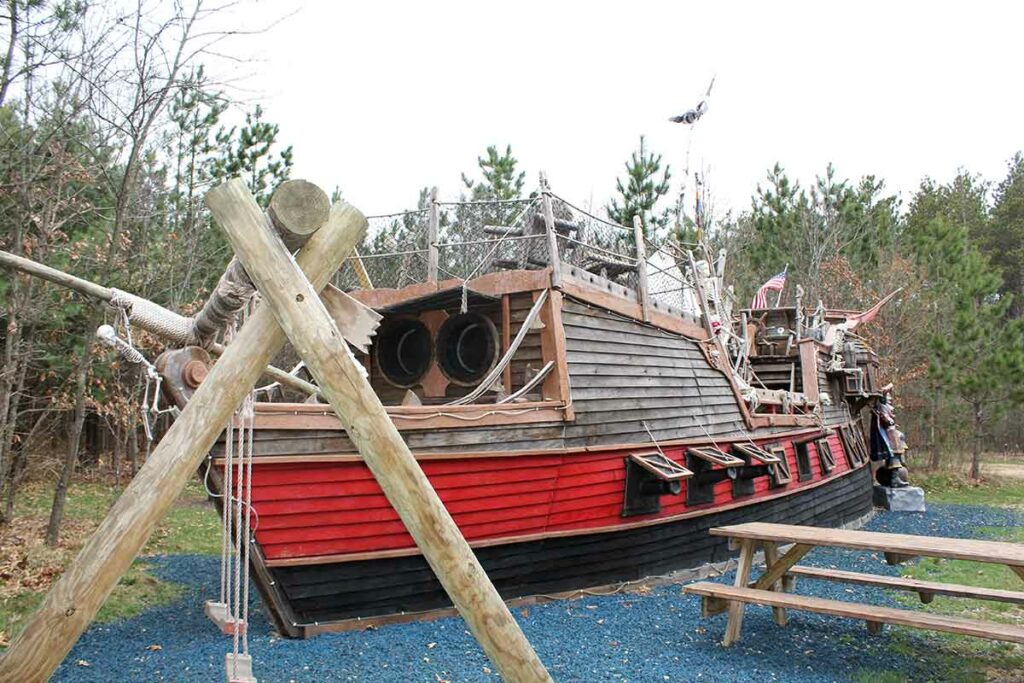 Aboard the Ship
Nestled in the rural town of Lyndon Station, located outside Wisconsin Dells, is a unique cabin designed like a real, Caribbean-style pirate ship! The adventure cabin, playfully known as "Passing Wind," can host six guests within its two bedrooms. The lifelike ship is truly one-of-a-kind and perfect for every lad and lass!
Through the entrance, guests enter the ship into the main room with a queen bed, heater, table, and counter space with a sink, mini-refrigerator, coffee maker, and microwave. The doorway leads to a private, lower mid-ship deck with access to a second bedroom that features two sets of twin-sized bunks and its own heater.
Guests can also climb up to two separate decks. The upper decks provide an inviting spot to play games, read, relax and stargaze. Kiddos can steer the ship's wheel, watch for tides in the Crows' Nest, or "walk the plank" to escape down the slide after a friendly sword battle! In addition, there is also a swing set attached to the front of the ship!
Outside, there are multiple picnic tables on-site, a firepit and park-style charcoal grill, as well as plenty of space to run around, play, and observe nature. Restroom facilities with private shower stalls are available a short walk from the ship.
Families are welcome to walk and explore the area and marked trails or try out one of the grounds activities. For a small fee, guests can test their skills with ax-throwing or take on a scaling challenge at the rock climbing wall.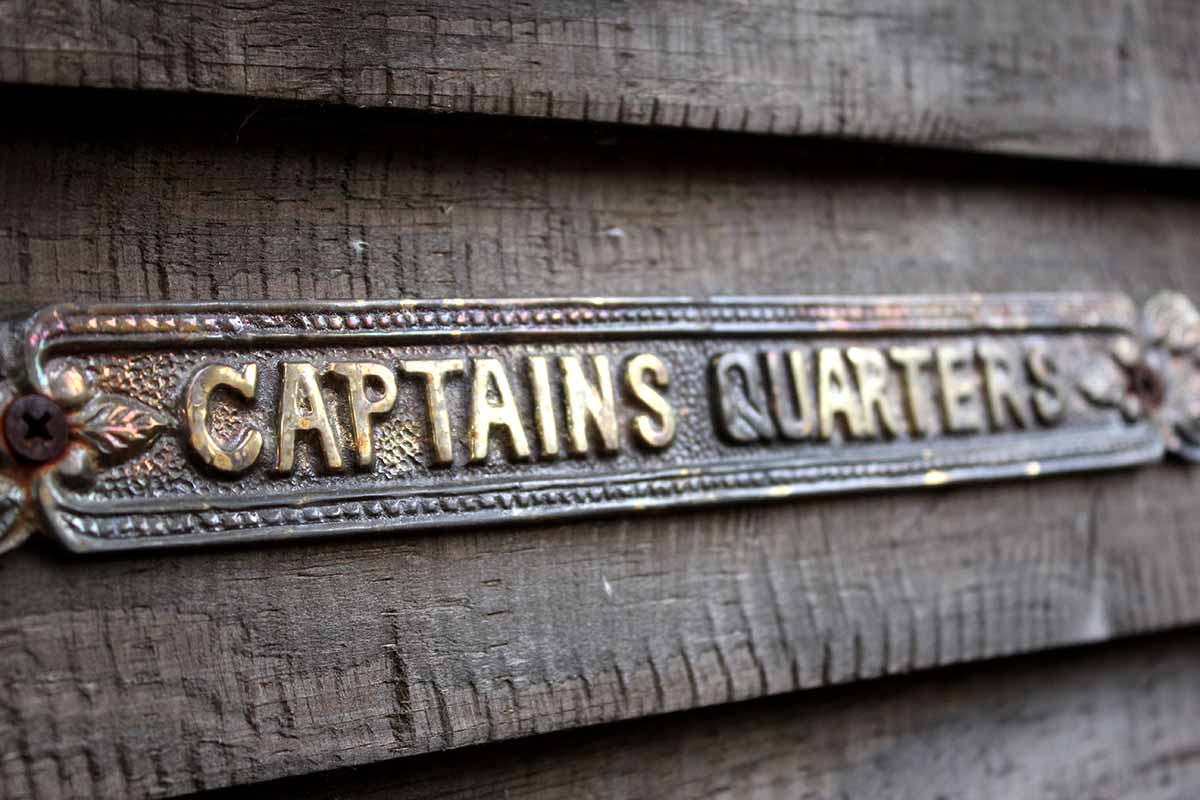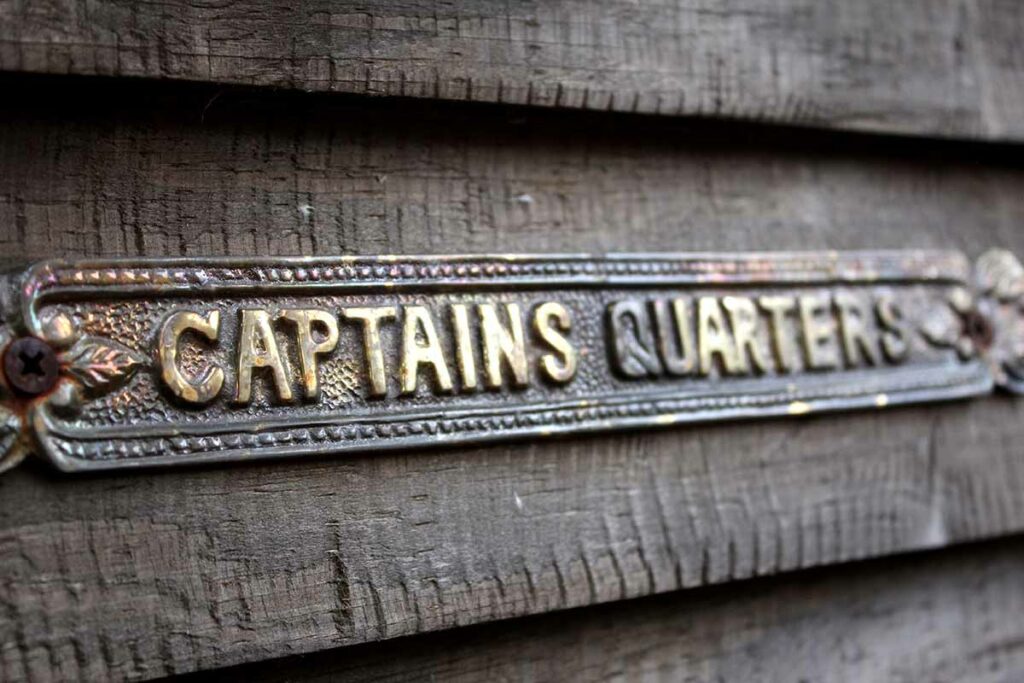 What To Bring
The Pirate Ship Adventure Cabin is a self-cleaning unit and families are responsible for keeping everything in shipshape. Like camping elsewhere, guests are asked to bring their own:
Bed Linens (queen/twin)
Paper Products (toilet paper & paper towels)
Shower Towels
Personal Hygiene Items
Firewood
The ship is equipped with limited supplies of mugs, plates, and utensils, so packing your own or bringing disposable is recommended.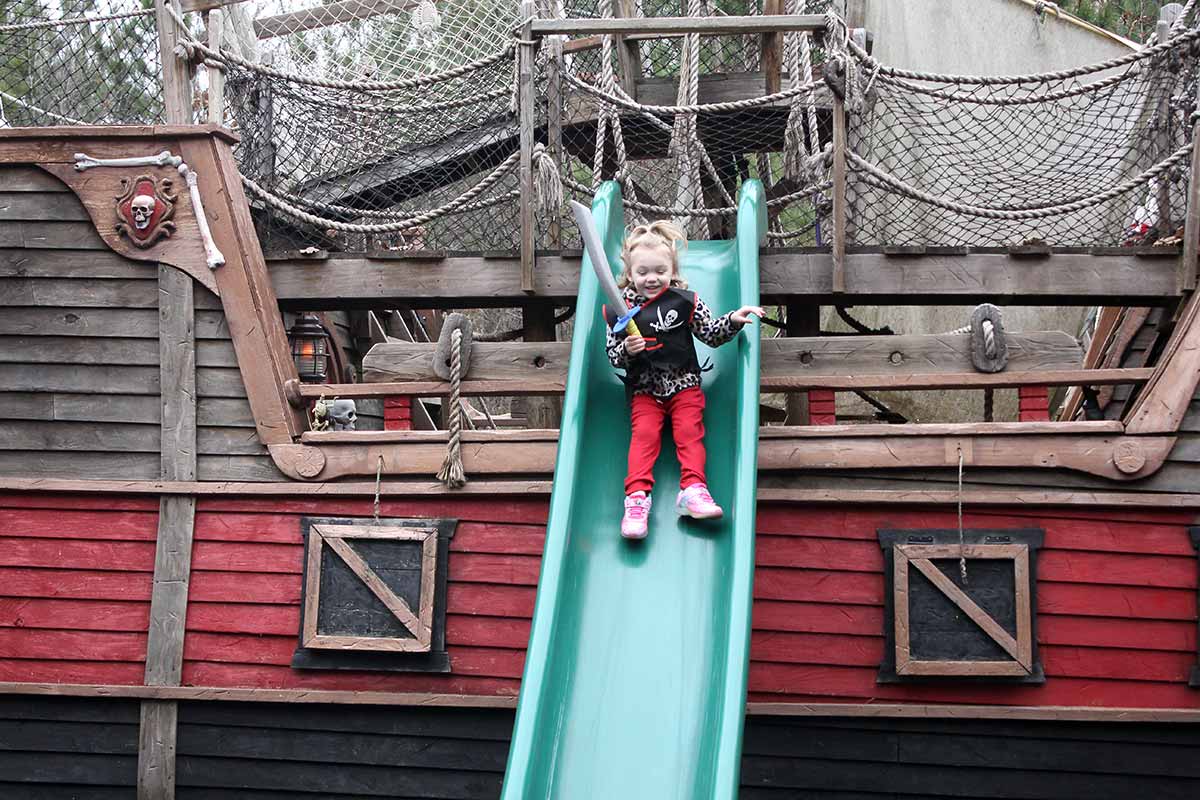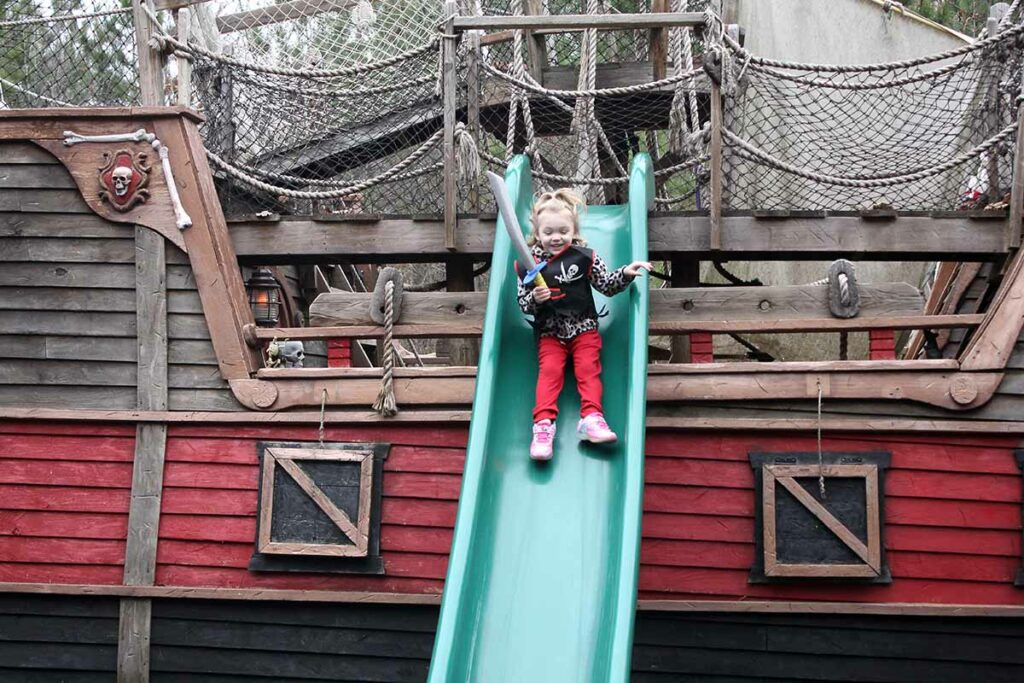 Time For Grub – Yummy Pirate Recipes
When tummies be rumblin' just anchor in to enjoy a hot meal around the fire or off the grill! The possibilities are endless; here are some tasty ideas to try!
Sloppy Pirate Pies
A spin on classic Pudgie Pies, these toasty warm pockets of goodness will surely shiver your timbers!
Supplies:
Pie Iron(s)
Non-stick Cooking Spray
Hot Pad
Ingredients:
1lb. Pre-cooked Ground Beef
Can of Sloppy Joe Sauce
1 Medium Onion
1 Yellow Bell Pepper
Cheddar Cheese
Loaf of Bread
Butter
Directions:
Prep and cook the ground beef, veggies and sloppy joe mix ahead of time and pack the container in a cooler. When you are ready to enjoy around the fire, spray the pie iron with non-stick cooking spray. Butter both sides of the bread and place one on each side of the iron. Spoon the mixture to the bread and add a slice of cheese. Close the iron and place over the fire and cook for five minutes on each side. Carefully remove from the fire and allow to cool slightly before enjoying.
Hot Dog N' Beans Skillet
This quick and hearty skillet is packed with flavor and will fill up any hungry pirate!
Supplies:
Cast Iron Skillet
Can Opener
Knife
Serving Spoon
Hot Mit
Ingredients:
Package of Beef Hot Dogs
Can of Bush's Baked Beans
Bag of Frito Corn Chips
Green Onion
Butter
Directions:
Heat up the skillet over the fire or on the grill and melt a slice of butter. Open and add a can of beans and slice the hot dogs. Cook until heated through, occasionally stirring. Carefully remove from the heat and scoop servings into bowls. Top with Frito Corn Chips and chopped green onion to taste.
Stuffed Cannon Ball Subs
Ready, aim – eat! These subs provide the best toasty crunch and bite of zesty sauce from the fire or grill!
Supplies:
Ingredients:
Fresh Italian Loafs
Jar of Marinara Sauce
Pre-cooked Meatballs
Mozzarella Cheese
Directions:
Cut the end off of one side of an Italian loaf. Carve out the inside of the bread until it is hollow. Fill the inside with layers of sauce, cheese and thawed meatballs. Add the end slice back to the loaf and wrap in tin foil. Place on the grill or in the fire, turning every few minutes. Remove from the heat source once the outside of the bread is nicely toasted. Cut to serve.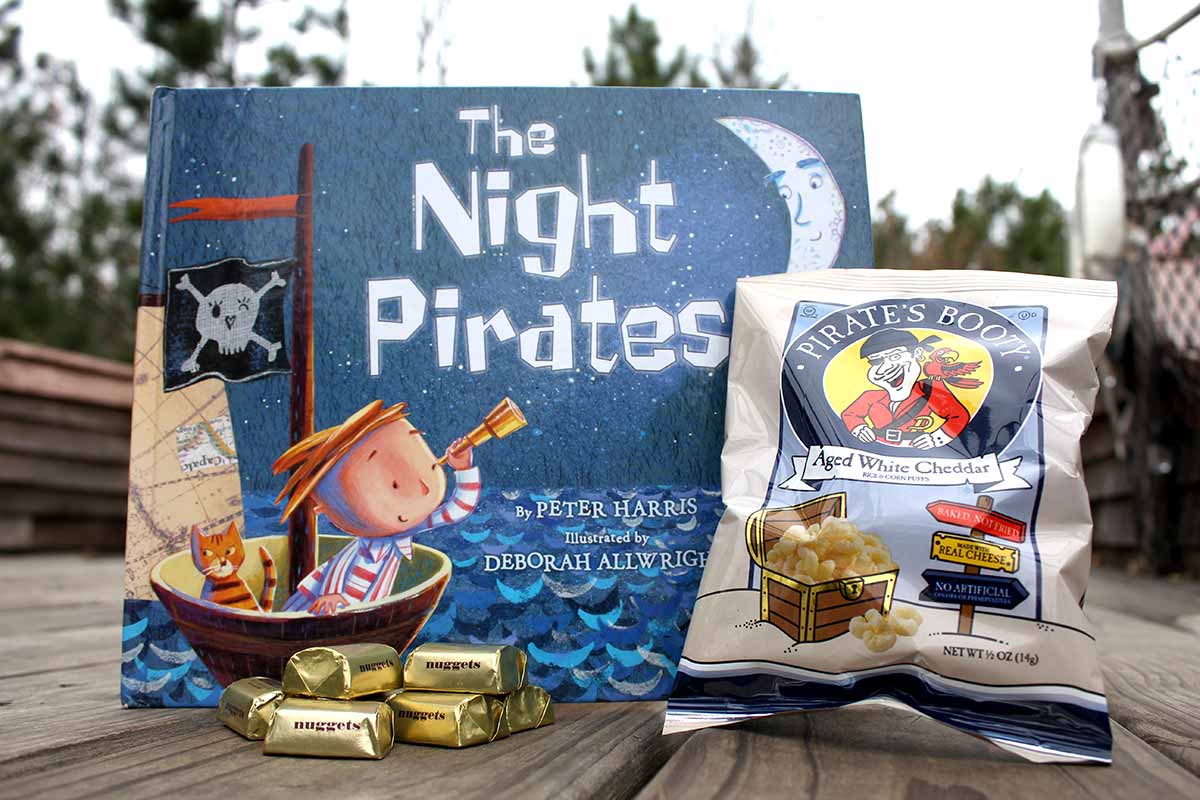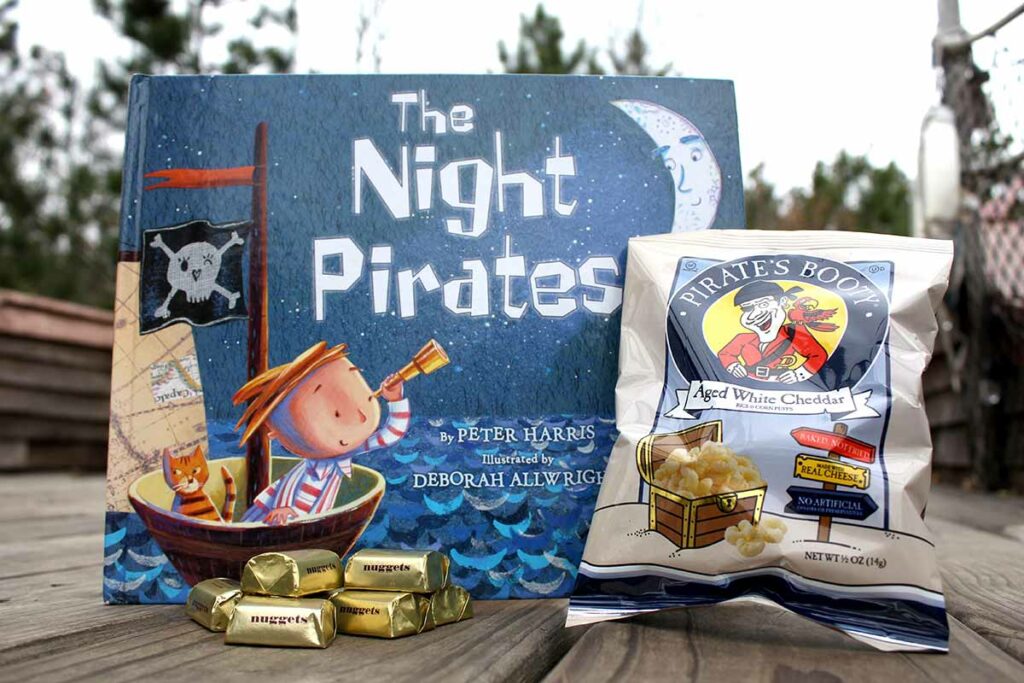 Explore & Entertain – Pirate Themed Activities
Those looking to continue their adventure are in for a treat. There are a variety of pirate-themed activities for families to enjoy on-site and in the local area.
Have a Friendly Sword Fight: Grab your sword and head atop the top deck! My family loved the foam swords, vests, and pirate masks from Dollar Tree! They provided hours of fun!
Color Pirate Art: Pickup a Crayola Pirate Velvety Art set, also at Dollar Tree, or print and pack free Pirate-themed Crayola color pages!
Plan a Treasure Hunt: Parents can create a scavenger hunt for the kiddos around the ship! Supply clues for them to find the hidden treasure or award the winner some "gold doubloons" (Hershey's Milk Chocolate Nuggets work perfectly!)
Go Mini Golfing at Pirates Cove: Families can take a short drive to the Dells and visit Pirates Cove Adventure Golf! The facility offers 5 different courses with 91 holes alongside cascading waterfalls, footbridges, and a multitude of pirate-clad lore!
Read a Pirate Tale: Grab some Pirates Booty puff snacks and treats and settle in for a story! My family enjoyed the book, "The Night Pirates" by Peter Harris – a tale of a little boy who is invited on a nighttime sea adventure by pirates!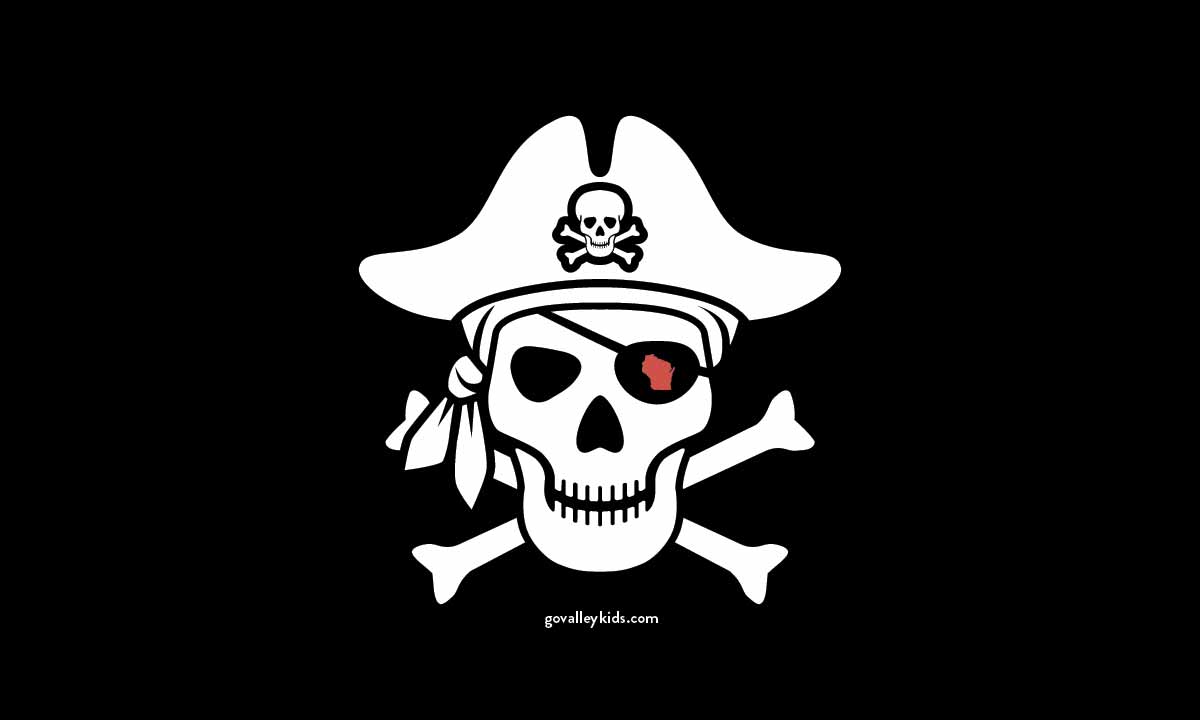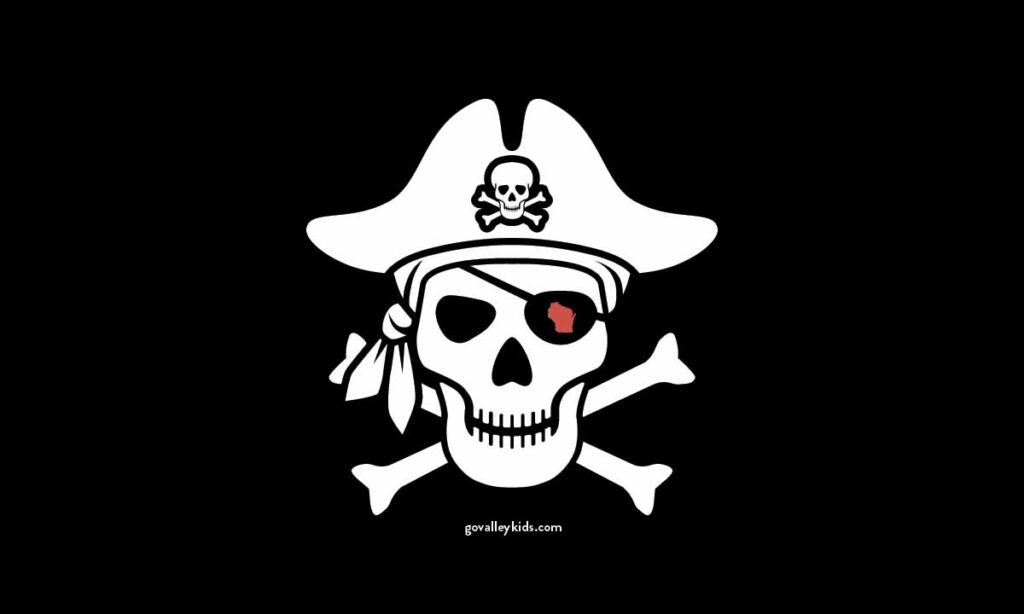 Did Wisconsin ever have REAL Pirates?
Aye, indeed it has! Sailor and fisherman Dan Seavey became the only documented individual arrested for piracy on Lake Michigan. In the early 1900s, Seavey would extinguish sea lights and capture ships in distress. The vessels would unknowingly sail into the rocks, and Seavey and his accomplices would hop aboard and steal their cargo. Not a very nice pirate, eh?
Well, me hearties, between the plank and searching for treasure – the ship offers so much to families, including the thrill of camping with the opportunity of a themed stay. Children and adults alike will enjoy the experience and spend time together in the great outdoors. So, if your family is looking for a truly unique adventure, book a journey onboard and become part of the crew!
Pirate Ship Adventure Cabin, Lyndon Station, Wisconsin
Book on AirBNB
You might also like these Wisconsin shipwreck adventures!