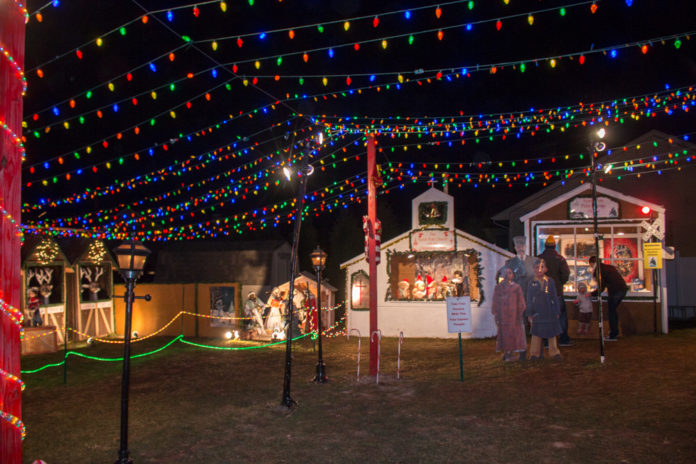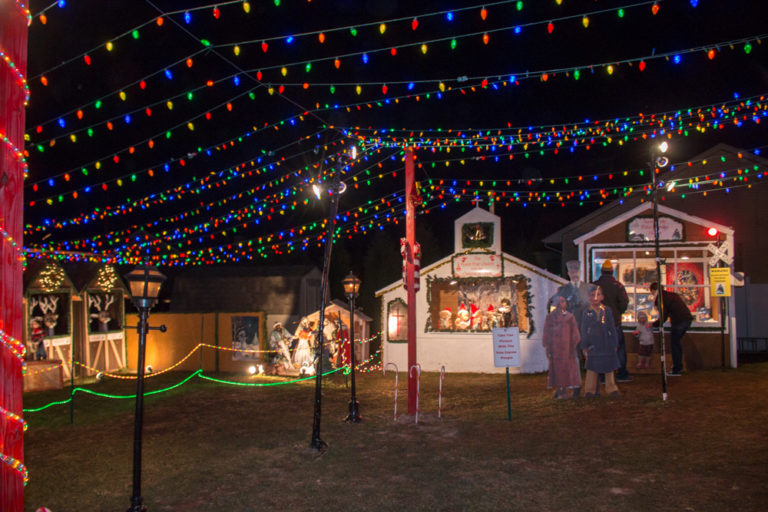 There are so many excellent holiday light and decoration displays to explore in the Fox Valley. One of our favorites has become a family tradition and is unlike any of the others. "The North Pole" in Kaukauna is located at 830 Rusty Court. It is easy to find, right off of Highway 41. Visit Santa or drop off a letter. There is no admission to enter and explore, but there is a box for donating to the food pantry.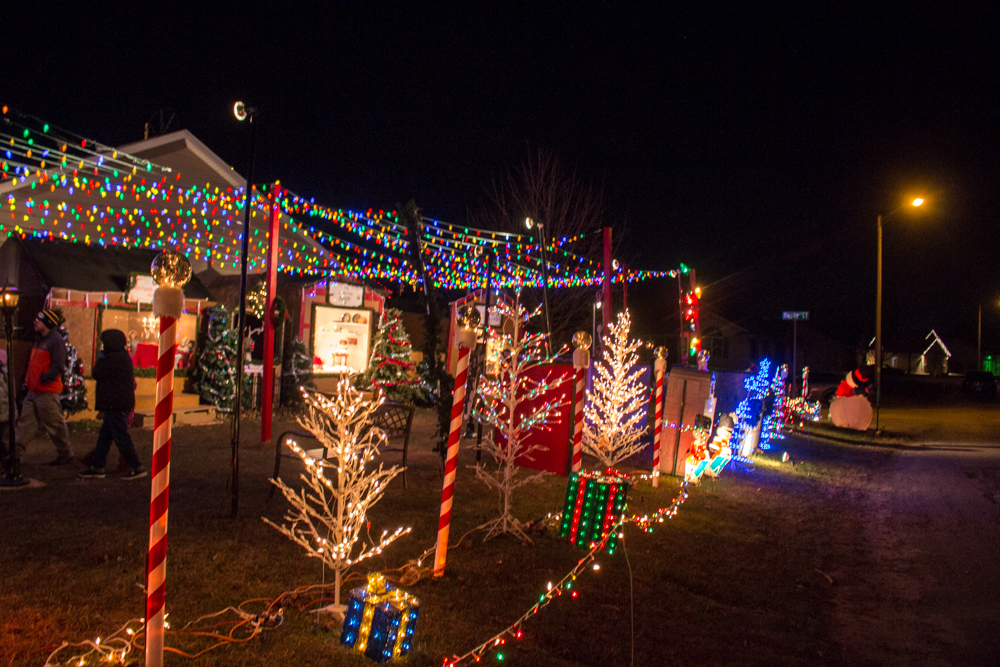 More than a half a dozen handmade little houses are homes to Santa's helpers for one month in December. Mechanical characters tell magical little stories in this quaint Christmas village. While visiting the school, church, radio station, and watching the penguins ice skate, your family is transported to The North Pole without leaving the Fox Valley.
We spoke with Troy Campbell, the man behind The North Pole, about the history behind his creation in Kaukauna!
Go Valley Kids: When did you start The North Pole and what was your inspiration? 
TROY: We started displaying The North Pole seven years ago. I was critically injured with a broken neck and dislocated left arm caused by being injured by a drunk driver. After being out of work for two years, I decided I wanted to help people who were not able to help themselves. I noticed that more and more people were going without food and that many of our senior citizens were forgotten at Christmas. My son-in-law, Robert stepped forward to help me and we vowed to make every one of the children and senior citizens feel important and forget about their worries while they are here.
GVK: What is your favorite part of The North Pole?
TROY: My favorite part is seeing the children and others smiles and get excited about seeing what The North Pole has to offer.
GVK: Tell us more about you. What keeps you busy? What fills your free time?
TROY: My wife and I are busy caring for our son, Christopher, who is on a ventilator and feeding tube which require constant care in our home. We also have another son that we care for that is autistic. We also enjoy helping to care for our young grandchildren.
In my free time, I am always thinking about Christmas. I am what you call beyond obsessed with Christmas. If I had my way, it would be Christmas every day. My neighbors find it amusing that my son-in-law and I are building Christmas displays in July.
GVK: What's new at the North Pole?
TROY: We added 60,000 lights set to synch with 14 different songs staged in front of the house and you can tune from your car or hear it from outside. There is a new movie theater and a gingerbread house factory. We added a ceiling of lights over the entire display.
There is also a station for dropping off letters and cards for our men and women in the armed services that will not be home for Christmas. I will deliver the letters to the VFW and they send them out to those members.
North Pole in Kaukauna Tips
Bundle up! This display is viewed out of your car. The kids threw on their snow pants, hats, and mittens right when we got there. Although the paths are kept up and shoveled, we found the extra gear and at the least, the boots kept our feet warmer.
Bring a donation for the food pantry.
Prepare your letters to Santa and bring them along! Santa is there every night to greet visitors. Look for the dropbox for letters.
Don't forget your camera. There are lots of opportunities for pictures.
The North Pole can get pretty busy on the weekend. Weekdays are much less crowded.
Check out other area light displays. Find our interactive Christmas Lights guide and printables here!
The Details
The North Pole in Kaukauna
830 Rusty Ct.
Kaukauna, Wisconsin
Hours: Open nightly from Thanksgiving Eve Night, Wednesday, November 21st, 2018 through January 1st, 2019.
Hours are from 5:00pm to 10pm.
Santa visits from 5:30pm to 8pm.
Find updates on Facebook!
Here are a couple more pictures from our past visits! Have any other tips? Tell us why your family loves the North Pole in the comments below. Have a great picture to share? Email us at govalleykids@gmail.com.
Jump Directly to More Holiday Events:
Christmas Tree Farms | Breakfast with Santa | Pictures with Santa | Live Nativities | Christmas Parades