Town Square Community Center in Green Lake is hosting a dinosaur-themed, mammoth-sized day of family fun Saturday, June 11, 2022, for just $20 a family (or $5 a person)! Activities include dinosaur-themed games, arts and crafts, educational presenters, unique photo opportunities, and, best of all, an exhibit from The Weis Earth Science Museum. Tickets are now available!
Let the games begin! Outside Town Square, on the Mill Pond Terrace, get in on this carnival-style series of challenges, creative projects, and the Fred Flintstone Feeding Frenzy, for Dad (or Mom?).
Become a T-rex! Get ready to roar at this interactive installation that positions Town Square as the canvas and kids as the dinosaurs.
Games & Activities
Jurassic Creation Station – Have you ever wanted a dinosaur pet? Make a dinosaur to take home!
Dig in the Dinosphere – Prepare for a dinosaur expedition! Studio A will be lined with educational dinosaur charts that list scientific facts with flashcards for kids to test their knowledge.
Triceratops Ring Toss – Toss rings to 'capture' a dinosaur to win a prehistoric prize.
Virtual Bone Dig – Indiana Jones, move over. Here's your chance to dig for bones, teeth and riches.
Stegosaurus Wheel of Fortune – Spin the wheel, try your luck, and win a Jurassic prize.
Cave Rock Painting – Decorate your cave with prehistoric rocks that you've painted yourself.
Face Painting – Get your dino on. Which prehistoric creature would you like to be?
Dino Diner – Chomp. Chomp. Chomp. Stop in for a Sheboygan hot cog, chips and pop.
Prehistoric Egg Hunt – Let the hunt begin! Search Town Square campus for the eggs left by dinosaurs. Hidden by the prehistoric creatures millions of years ago!
Fred Flintstone Feeding Frenzy – It's not just for kids…parents can join in on the fun. Win this giant turkey leg eating contest to be inducted into the Loyal Order of Water Buffalos and get crowned Grand Poobah.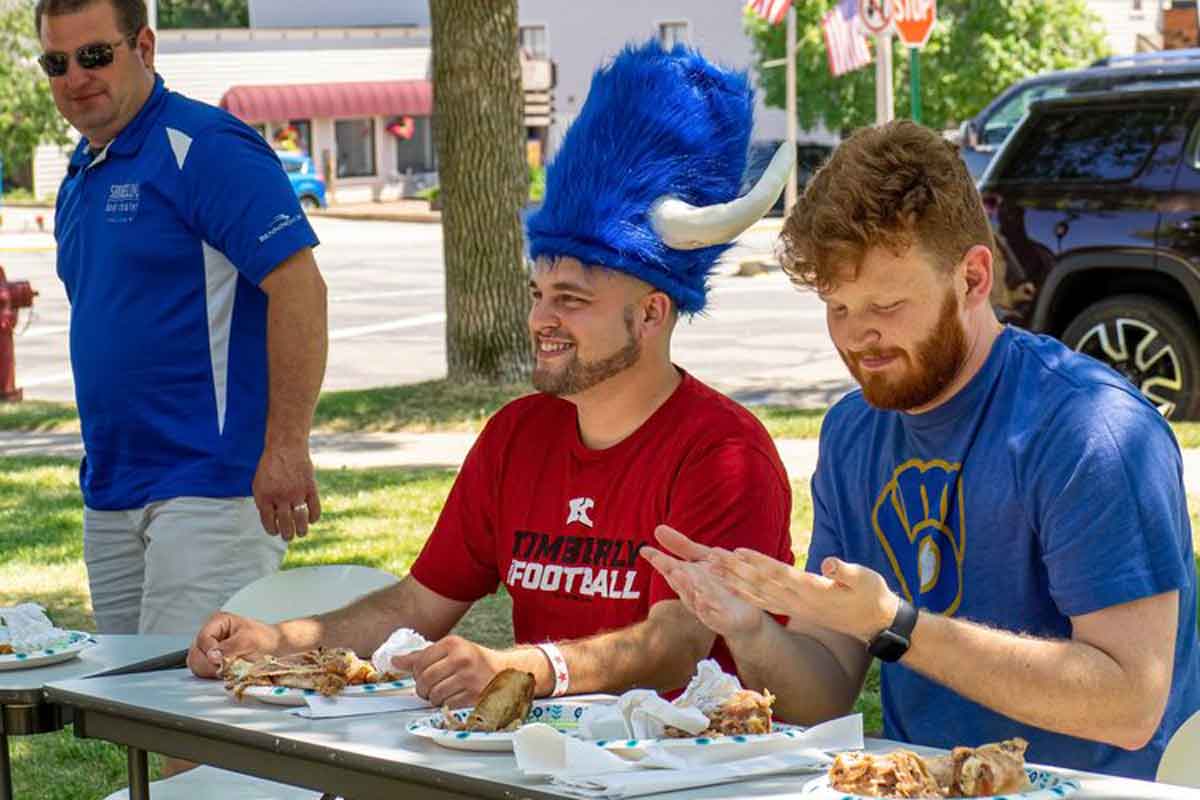 Dino Daze Event Details
Date: Saturday, June 11, 2022
Time: 10:00 am – 3:00 pm
Location: Town Square Community Center
Tickets: Purchase tickets online today OR in person before and at the event.

$20 per family (up to five people)
The Fred Flinstone Feeding Frenzy is FREE to enter this year!
Kids 2 and under are free