There is nothing better than a camping adventure filled with laughter, stunning views and fun – except the food enjoyed together around the campfire! For your next family excursion, try out these easy, kid-friendly camping recipes that will not only please the kiddos, but will leave everyone's taste buds partying in the woods.
Other Articles You Might Like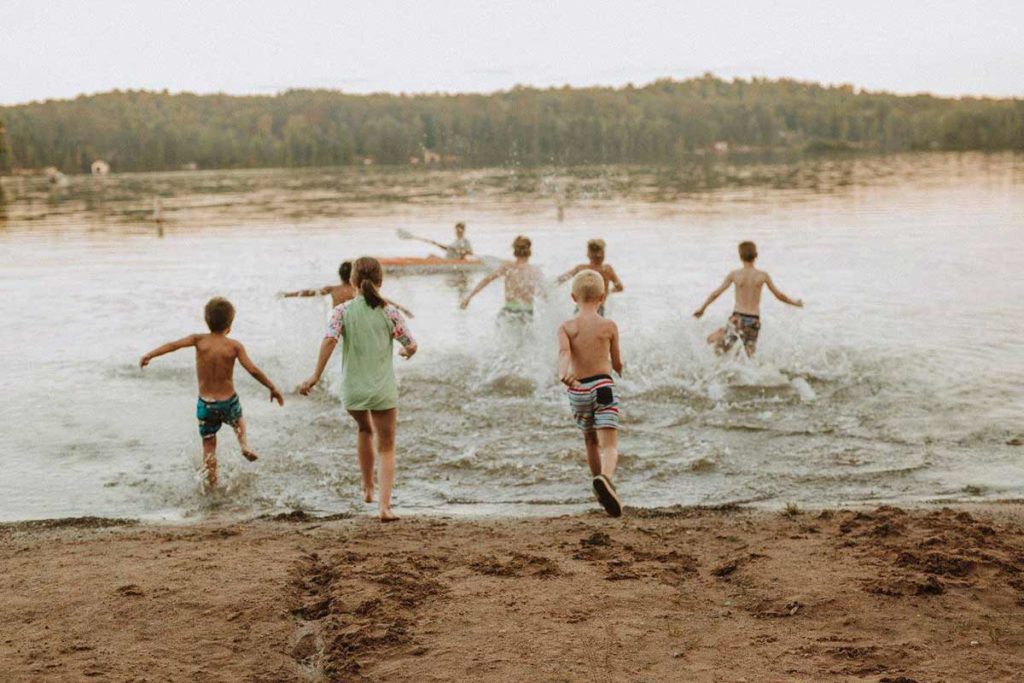 Campfire Dessert Burritos
Roll up a deliciously gooey burrito, filled with nothing but sweetness!
INGREDIENTS:
Assorted pie fillings
Peanut butter
Mini marshmallows
Milk chocolate chips
Flour tortilla wraps
TOOLS NEEDED:
Tin foil, tongs, utensils, cooking grate
INSTRUCTIONS:
Assemble the burrito with desired toppings, starting with the spreads. Carefully fold in the ends of the burritos and roll to close to keep all the gooey ingredients inside. Take a piece of tin foil and wrap up the burrito. Place it on the cooking grate over the campfire for five minutes. Remove with a pair of tongs and allow to cool before enjoying.
---
Reese's PB Smores
Merge the best of both worlds with a simple twist on a traditional camping treat.
INGREDIENTS:
Graham crackers
Marshmallows
Reese's Peanut Butter Cups
TOOLS NEEDED:
INSTRUCTIONS:
Lay out two pieces of graham crackers and unwrap one regular Reese's peanut butter cup. Toast the marshmallow to desired likeness. Place on top of graham cracker, top with the Reese's peanut butter cup and the final graham cracker piece.
---
Crunchy Bag Tacos
It's a fiesta in the woods! These tacos are not only tasty, but conveniently mess-free.
INGREDIENTS:
Mini bags of Nacho Cheese Doritos
Browned taco meat
Shredded cheddar cheese
Sour cream (optional)
Tomatoes (optional)
Lettuce (optional)
TOOLS NEEDED: Scissors, utensils

INSTRUCTIONS:
Lightly squeeze a bag of Nacho Cheese Doritos to break up the chips. Cut open the bag and top the chips with warmed, pre-cooked taco meat. Generously sprinkle in shredded cheddar cheese and top with any desired toppings. Dig in!
---
Fruity Campfire Cones
It's fruity and sweet – and makes the very best treat! Forget the ice cream, these cones are meant for sticky camping sweetness.
INGREDIENTS:
Waffle cones
Mini marshmallows
Milk chocolate chips
Fresh fruit (berries & bananas)
TOOLS NEEDED:
Tin foil, tongs, cooking grate
INSTRUCTIONS:
Fill a waffle cone with the desired toppings. One filled, wrap the cone securely in tin foil and place on a cooking grate. Cook for five minutes and allow ingredients to melt. Be sure to cool before enjoying.
---
Stuffed French Bread Pizza Hoagie
Enjoy pizza night from around the crackling campfire with these toasty loaf pizzas!
INGREDIENTS:
French bread loaf
Shredded mozzarella cheese
Jar of pizza sauce
Pizza toppings of choice
Oregano (optional)
TOOLS NEEDED:
INSTRUCTIONS:
Slice the end off one side of a french bread loaf but put that piece aside. Tear out the inner pieces of the bread loaf, keeping the outer side intact. Once hollowed, layer sauce, cheese, oregano and pizza toppings of your choice. Finish with a cheese layer and by replacing the cut end of the bread. Roll tightly in tin foil and place over a cooking grate for ten minutes, turning halfway through.
---
Hot Iron Ham & Cheese Sammy
Feast on this savory and cheesy classic, perfectly toasted by the flickering fire.
INGREDIENTS:
White or wheat bread
Muenster cheese slices
Sliced honey ham
Butter
TOOLS NEEDED:
Pie iron or tin foil and cooking grate
INSTRUCTIONS:
Butter both sides of the bread slices and place a slice of cheese and ham in-between. Place the sandwich in a pie iron for five minutes over the fire, turning mid-way through or wrap in tin foil and place over cooking grate for equal time.
---
Teddy on the Trail Mix
Go exploring – don't go hungry! This sweet and salty mix will send everyone's taste buds on an adventure.
INGREDIENTS:
Teddy grahams
Mini marshmallows
Cheerios
Dried fruits
Mini pretzels
M&M's
TOOLS NEEDED:
INSTRUCTIONS:
Mix the desired dry ingredients together and store in an air-tight bag or container. Hit the trails!
---
Apple Skillet Fries
Who can resist this pie adjacent treat? Great for on-the-go, these sweetly-spiced fries make for a great snack or family dessert.
INGREDIENTS:
Apples
Brown sugar
Cinnamon
Butter
Whipped cream (optional)
TOOLS NEEDED:
Cast-iron skillet, oven mitt, mixing bowl
INSTRUCTIONS:
Peel and slice apples in any variety (Fuji and Granny Smith are the best!) Heat the skillet with several chunks of butter over the campfire. In a bowl, mix a sprinkle of sugar and cinnamon and toss with the apple slices. Place in the skillet and cook until semi-tender, occasionally turning the slices. Remove from fire – caution, the skillet will be hot! Serve warm with a side of whipped cream to dip, if desired.
---
Sunny Morning Bag Omelets
Start the day with these easy and delicious pre-prepped omelets! For the easiest serving, label each omelet bag with a family member's name.
INGREDIENTS:
Eggs
Shredded cheddar cheese
Cooked sausage (optional)
Chopped veggies (optional)
Salt & pepper
TOOLS NEEDED:
Thick storage bag, cooking pot, utensils, mixing bowl, whisk
INSTRUCTIONS:
Whisk eggs in a bowl and add a dash of salt and pepper. Add in pre-cooked meats or chopped veggies of your choice. Place mixture in a thick storage bag, seal well, and keep cold. When ready to cook, sprinkle cheese inside the bag, shake and re-seal. Boil a pot of water over the campfire and place the omelet bag with the seam-side up. Boil until the egg solidifies. Remove from the water, open the bag to briefly allow it to cool before eating.
---
This article first appeared in our magazine, Sprout, April 2019.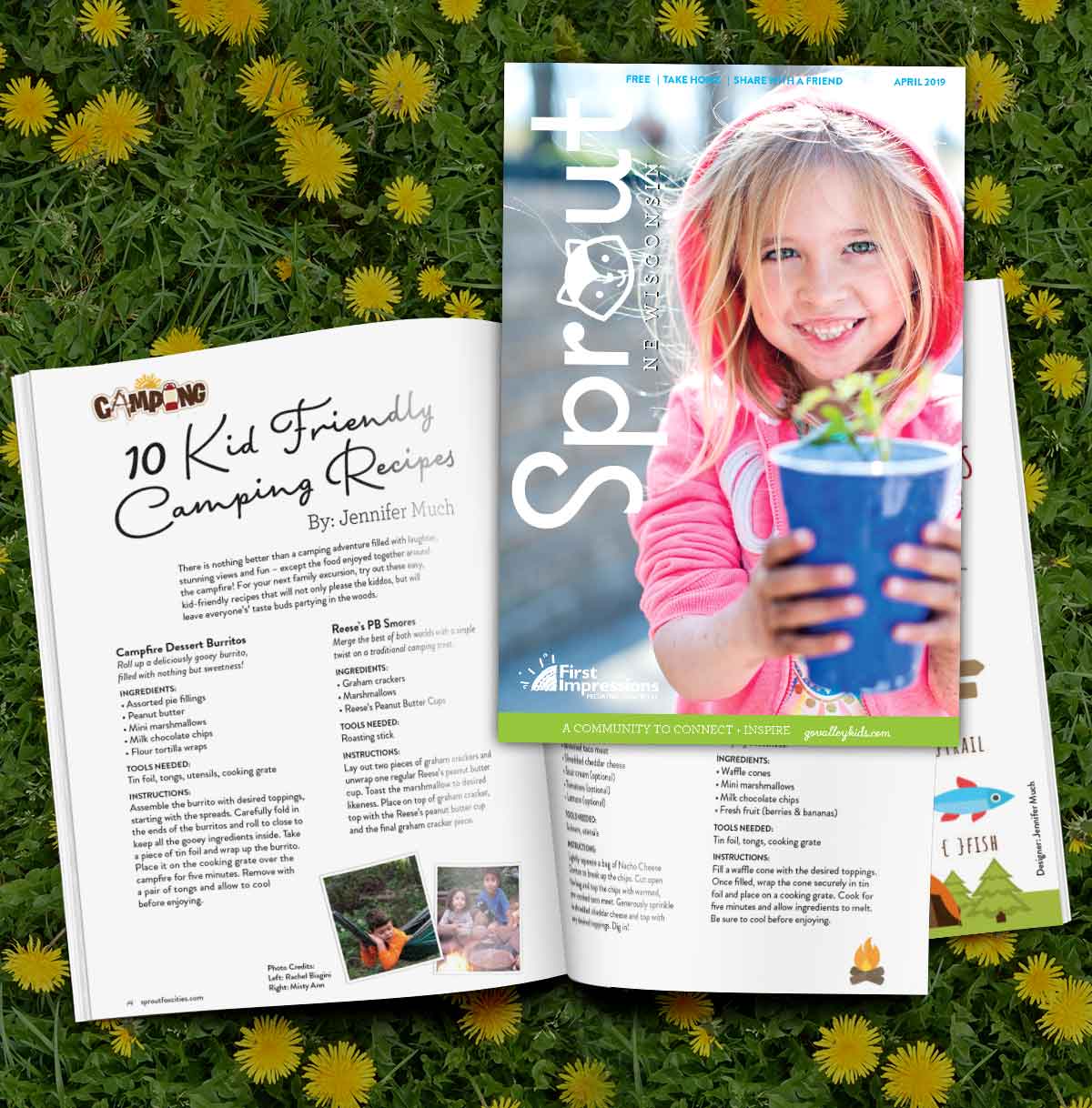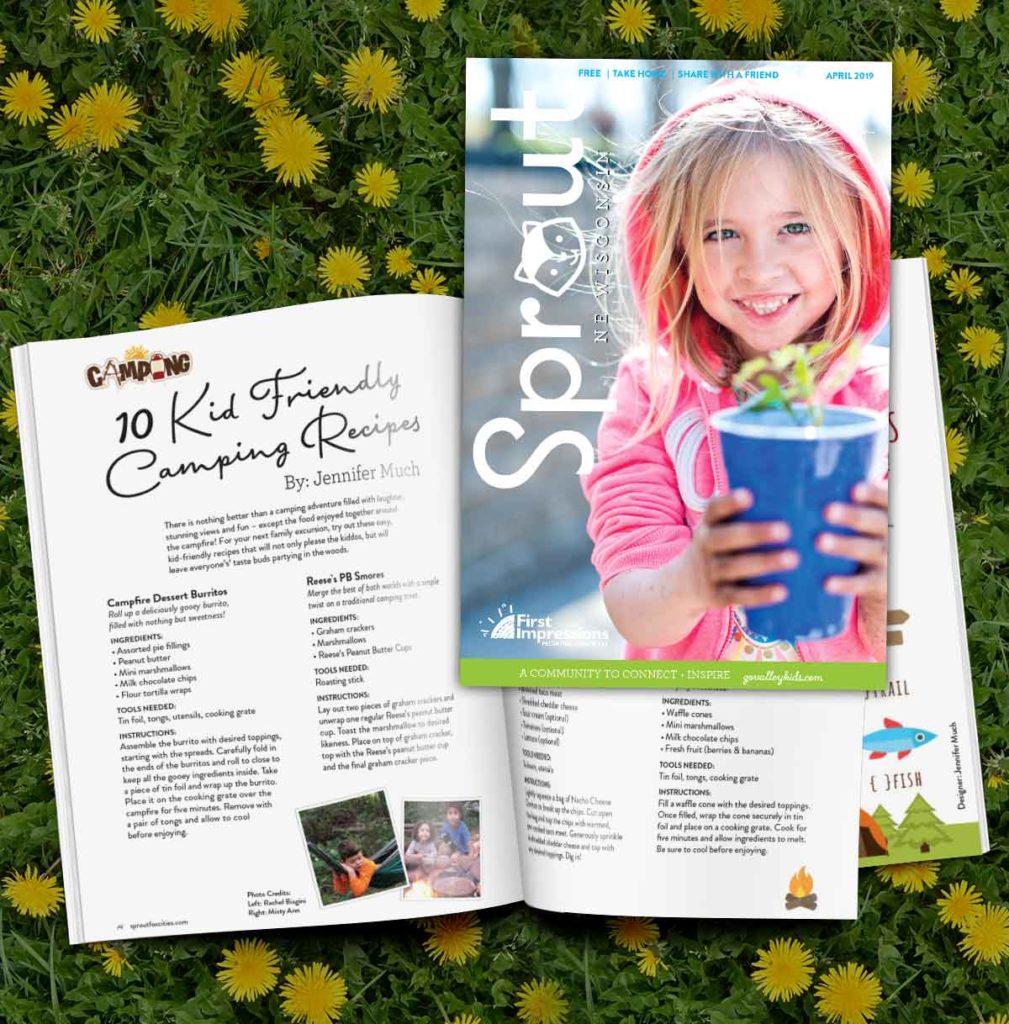 What is your family's favorite camping recipe? Let us know in the comments below!