Serve something delicious at your next backyard bonfire or camping trip! Here are some of our favorites campfire treats!
North Mallow
Gourmet Marshmallows
These yummy all-natural gourmet marshmallows are crafted in Minnesota and have no artificial ingredients or chemical preservatives. Bonus: they won't catch on fire! Available in Vanilla Bean, Chocolate Chip and Caramel Swirl. If you are lucky you may find them at TJ Maxx or order online
at northmallow.com.
Happy Bellies Bakeshop
Graham Crackers
These all natural, hand crafted graham crackers make the ultimate s'more. Stop by the bakery on 2107 Richmond Street in Appleton or visit happybelliesbakeshop.com.
Vande Walle's
Chocolate
Stock up when the neighbor kids sell you their fundraiser chocolate bars or head to the candy shop at 400 N Mall Drive in Appleton or visit www.vandewallescandies.com.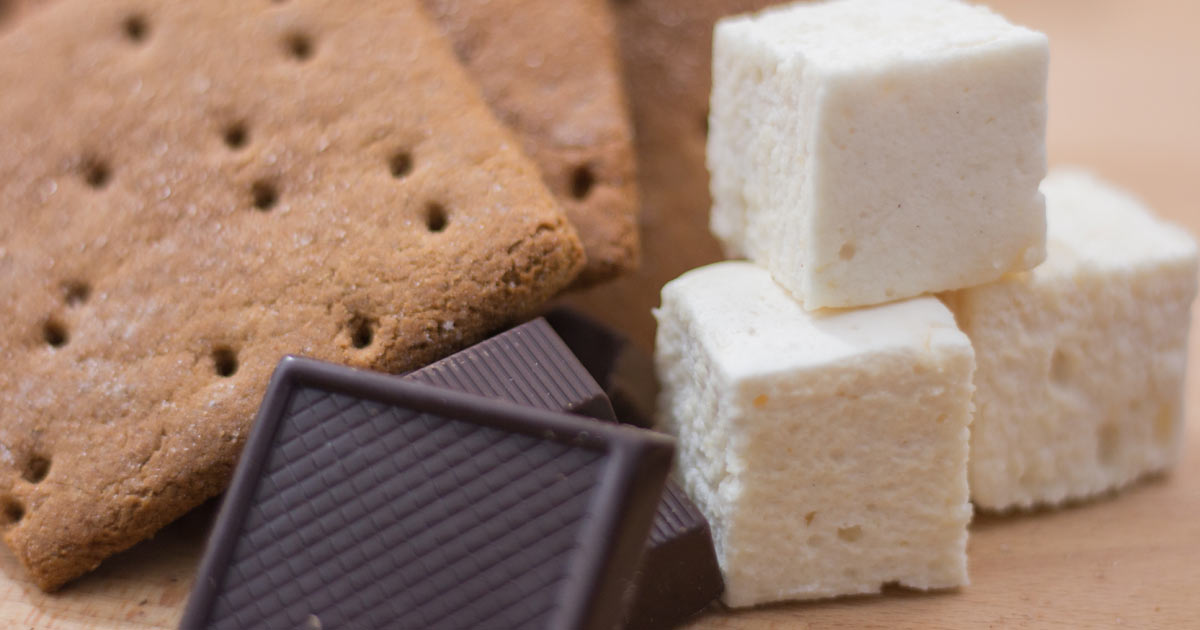 Rome
Campfire Cooking
A 3 generation family business in Madison has been making camping gear for cooking in 1964. We like the traditional options like the pudge pie makers and love the fun heart one! We also packed the popcorn popper and waffle iron for our next camping trip! Find even more campfire cooking gear from Rome at Scheels, Gander Outdoor and Van Boxtel RV in Green Bay.
Pudgie Revolution
Pie Iron Cookin' for Food-Lovin' Campers
When Liv Svanoe, Carrie Simon and Jared Pierce of Pudgie Revolution aren't traveling around the state of Wisconsin making pudgie pies they are creating fun and tasty new recipes for their 2nd cookbook, Pudgie Revolution 2: Pushing Your Pie Iron's Potential. Pudgie Revolution includes recipes like Crabulous Rangoon and Dude, Where's My Caramel Apple. pudgierevolution.wordpress.com
Recipe: Go Nuts for Donuts from Pudgie Revolution
Ingredients
2 cake donuts
1 split plus pieces for hole-filling
margarine
sweetened condensed milk
pecans, chopped
2 slices cooked bacon, chopped
maple syrup
salt, just a pinch
Directions
Split 1 cake donut and spread margarine on the cut side. Place cut side down in each pie iron pan. Press donut halves into iron and fill gaps with donut pieces. Drizzle in sweetened condensed milk and maple syrup and top with bacon, nuts, and salt. Add another drizzle of sweetened condensed milk and close iron. Cook over a fire or grill until golden, about 5 minutes per side. Let cool before scarfing.
Trust us, you donut want to miss this pudgie pie!
pudgierevolution.wordpress.com
Campgrounds
Looking for a Wisconsin campground to check out? Check out these fun reader recommended family campgrounds. Also, find lots of road trip ideas here including Door County with kids.
Do you have a favorite campfire treat! Please share below!