The Appleton Fox Cities Kiwanis Club, in partnership with Hand to Shoulder Center of Wisconsin, proudly announces the return of the 12th Annual Fox Cities Butterfly Festival which will be held Saturday, June 18th from 9:00 am – 12:00 pm at City Park in downtown Appleton.
The Fox Cities Butterfly Festival is a FREE community event featuring more than 30 activity booths, displays and activities, play areas, an entertainment stage, face painting, giveaways, food and more! The highlight of the event is a group release of 1,500 butterflies for registered attendees, representing our dedication to "Helping Families Fly"!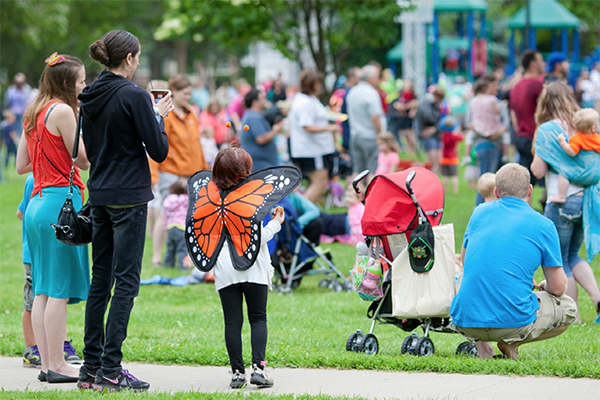 The Fox Cities Butterfly Festival focuses on the following:
FUN – Parents and children participate in FREE activities, games, interactive displays, healthy snacks, and entertainment.
EDUCATION – Exhibitors will present engaging, interactive displays and activities, making it fun for families to participate.
?ADVENTURE – Interactive games, a butterfly release, nature adventures and more!
The 12th Annual Fox Cities Butterfly Festival is all about family fun with learning mixed in – and admission is FREE! Visit foxcitiesbutterflyfestival.com for more information on the event. Be sure to like us on Facebook for daily updates leading up to the event. Proceeds of the event will support the Kiwanis iPads for Autism program.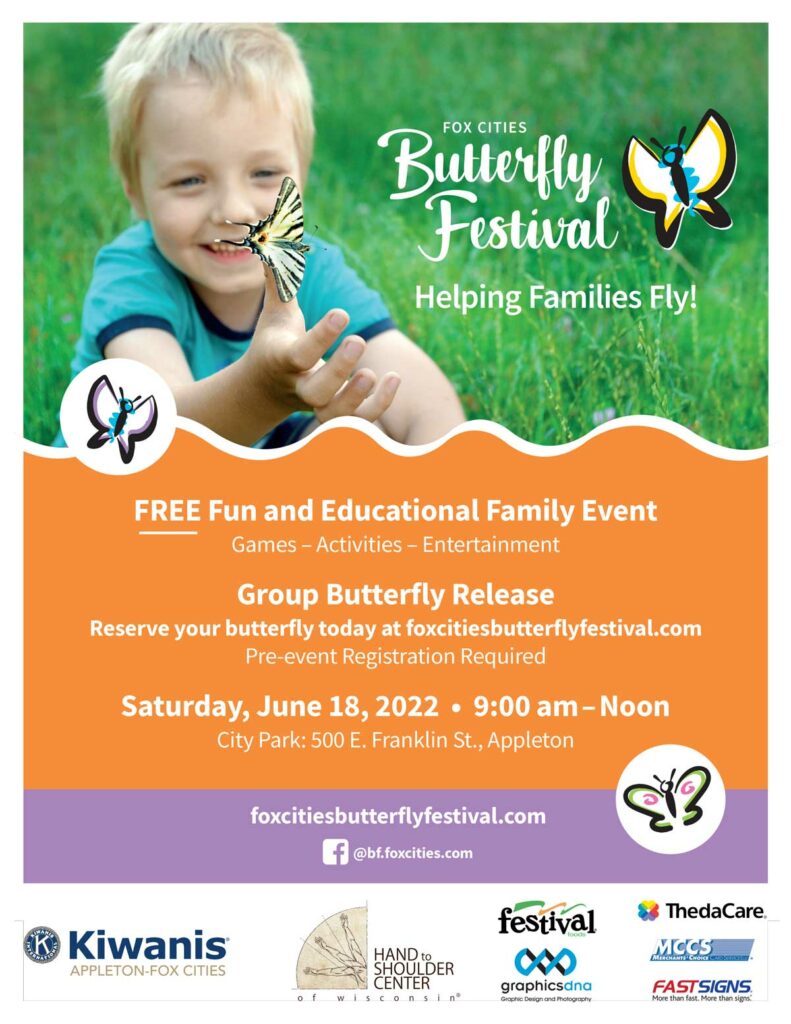 About the Appleton Fox Cities Kiwanis Club
The Appleton-Fox Cities Kiwanis club was chartered in 1972 and is part of Kiwanis International, a global community of clubs, members and partners dedicated to improving the lives of children one community at a time.
Our club is a snapshot of our community, with members from all walks of life and at every step of the career ladder. We are unified in our belief that children and their communities benefit from the efforts of a proficient group of caring and involved volunteers. The club meets once a week on Fridays at 7:15 am at First United Methodist Church – Appleton (325 E Franklin St. Appleton, WI 54911) and offers an atmosphere of fun, learning, and fellowship. In addition to attending the meetings, the typical Kiwanian volunteers to assist with club service projects throughout the year.
Local community events we sponsor:
Fox Cities Kidz Expo (Spring)
Fox Cities Butterfly Festival (June)
Appleton Old Car Show (July)
Golf FORE Children (August)
For more information about the Appleton Fox Cities Kiwanis, visit our website at foxkiwanis.org
About the "iPads for Autism" Program
The"iPads for Autism" program was initiated in 2012 when Sheboygan Falls Kiwanian, Lynn Messer, served the Wisconsin-Upper Michigan District as the service organization's Governor. Lynn and his wife, Merita, have an autistic granddaughter and, back in 2012, they saw an opportunity, through Kiwanis service, to administer help to children who have autism and their families by providing iPads. Over the past ten years, this project touched the lives of many families throughout that WI-UM District and gifted almost 1,400 iPads to kids with autism. The program begins with an application from the parent or guardian, has input from the autistic child's therapists, and a wait for approval. Once approved, there might be another wait until funding is available. The funding is done by individual clubs. Overall, the project has received admirable support from the communities. The benefits have been tremendous, especially in the area of communication for these kids. The therapists are involved at the time the iPads are ordered so that software can be included that will address the individual needs of the recipients.