July is National Ice Cream Month, and there is no better way to celebrate it than with a heaping dish of summer's creamy, sugary staple! With its gobs of cream and many delicious varieties, what's not to love about the chilly treat? 
While ice cream has been a household favorite for decades, it holds a very sweet place in Wisconsin history. Let me take you an hour outside of the Fox Cities to Two Rivers, Wisconsin, back to the invention of the ice cream sundae in 1881!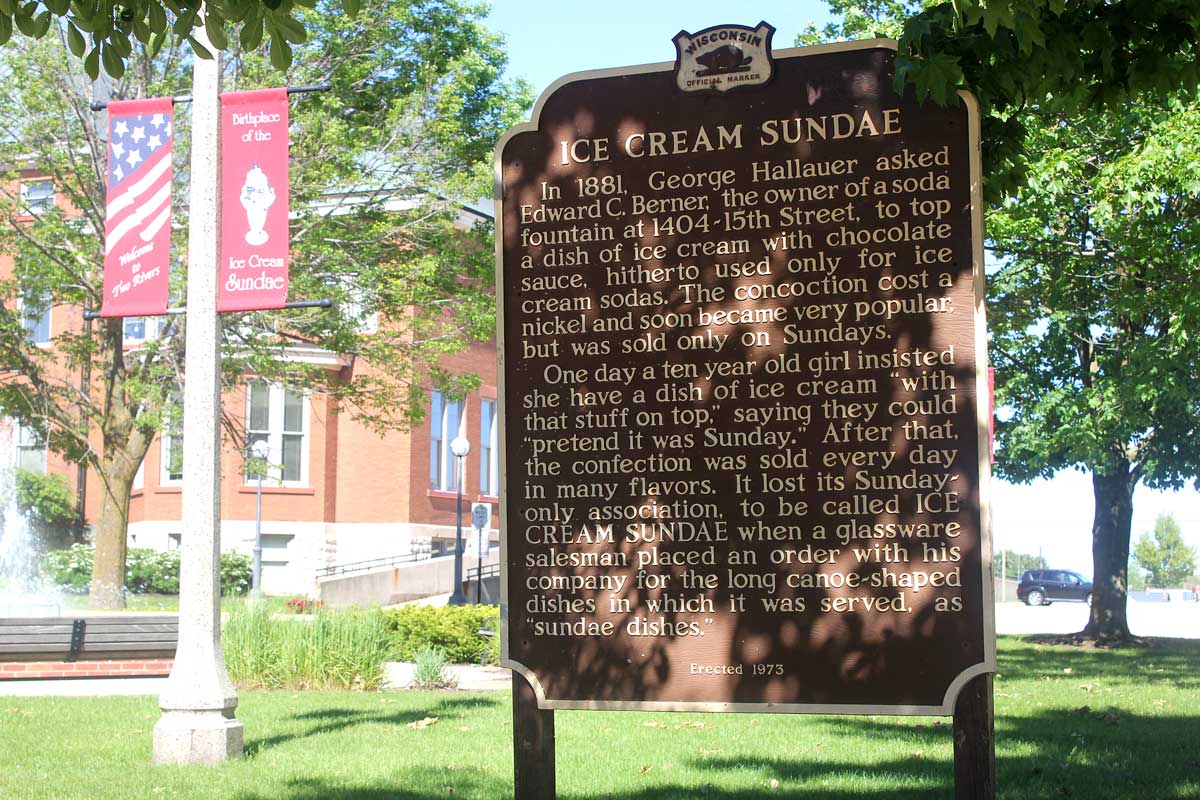 The Scoop on The History of Ice Cream Sundaes
Two Rivers resident Ed Berners once owned a local old-fashioned soda fountain. His shop offered flavored syrups that mixed with seltzer to create sodas. Often, ice cream was added, too, to make the ever-popular ice cream sodas. While customers enjoyed them immensely, they could not be sold on Sundays.
During the 1800s, society followed what was referred to as 'blue laws.' They were originally designed to prevent secular entertainment or leisure activities on Sundays. This included consuming ice cream sodas. While these rules have mostly melted into the past, Wisconsin has one remaining blue law: no car dealership can be open on Sundays. (At least we can have ice cream now, right?)
In an attempt to skirt the restriction, one of Berners' customers, George Hallauer, asked for ice cream topped with chocolate soda syrup instead. Both men surprisingly liked the new concoction, and Berner added the item to his Sunday menu for five cents.
The treat became a hit, and at one point, a ten-year-old girl walked into the parlor to order the new dish, however, it wasn't Sunday. After sweetly asking Berner to "pretend" it was, he agreed, and sundaes quickly became a daily offering!
Today, nearly every ice cream shop has a sundae on its menu. Though several other places have made claims to inventing the treat, Two Rivers is the only one endorsed by the National Register of Historic Places.
READ MORE: Under the Waves—Discover Lake Michigan Shipwrecks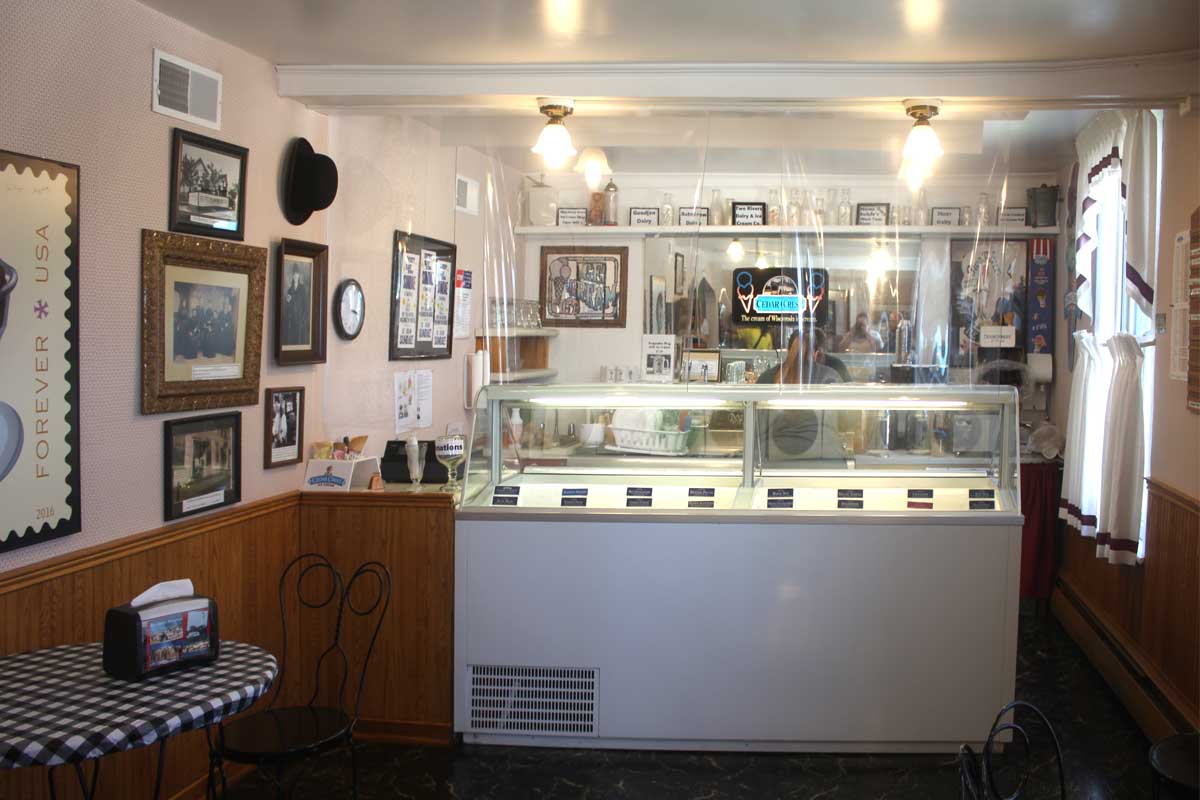 Grab A Spoon
Visitors can stop by Berners to enjoy a sundae or scoop of ice cream in a variety of flavors. While the original parlor was demolished in the 70s, a replica of the famous parlor can be found at the historic Washington House on Jefferson Street.
The three-story former hotel was built in 1850 and houses an original 1890s saloon, ballroom, and Berners' ice cream parlor. Decked out with checkered tables and photographs of the first parlor, the shop serves up Cedar Crest Ice Cream, made in nearby Manitowoc, and delicious sundaes. Customers can also see wall decor of a commemorative stamp issued in June 2016 by the U.S. Postal Service dubbing the city as the home of the ice cream sundae. 
By tradition, sundaes can be garnished with many toppings like nuts, syrups, and fruits. Customers can order a true Berners specialty: a Ruby Sundae. It features homemade rhubarb sauce and caramel drizzled over vanilla ice cream, and is topped with chopped peanuts, whipped cream, and a maraschino cherry.
A classic sundae is often seen served in a tulip-shaped glass. From a long association of this style and its use for ice cream, it is referred to as a sundae glass. Many vintage glasses line the shelf at Berners along with milk bottles and an antique ice cream churn.
After eating, visitors are invited to tour the house and see other ice cream references, including cone sprinkled felt ornaments and a malt system. The museum features time period artifacts and showcases a gorgeous ballroom with mural painted ceilings as well as Two Rivers history highlights. Tours are free of charge and volunteers are happy to answer questions and to share stories.
Berners' Ice Cream Parlor, located inside the Washington House
Address: 1622 Jefferson Street, Two Rivers 
Hours:

Wednesday – Sunday: 12 – 5 pm
Closed Monday-Tuesday
Open seasonally May-September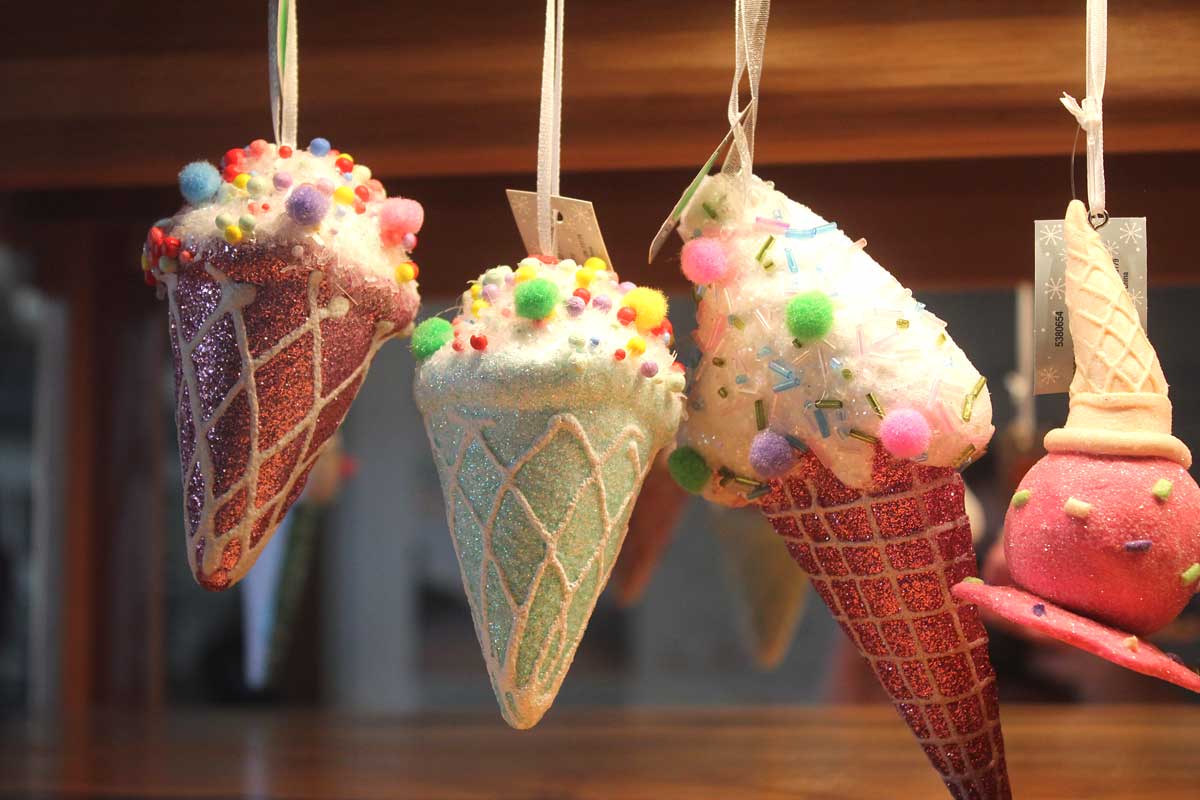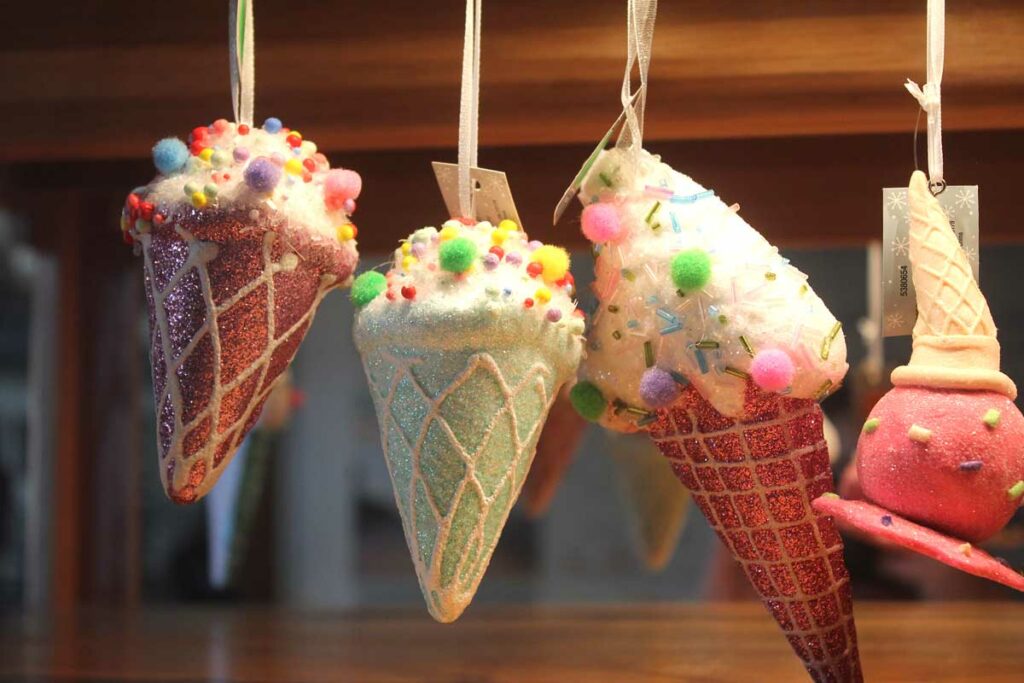 READ MORE: The Ultimate Ice Cream Lovers Bucket List
DIY Ice Cream Treats
Try your hand at making ice cream treats at home! Not only is it a fun activity for families, but the reward is even sweeter!
Classic Handshaken Ice Cream
With only a few base ingredients, this recipe is both tasty and easy!
You'll Need: 
1 cup Half and Half
2 tbsp. Sugar
1 tsp. Vanilla Extract
3 cups of Ice
1 cup Morton's Rock Salt
1 gallon Ziplock bag
1 quart Ziplock bag
Chocolate Syrup (optional)
Toppings (optional)
Directions:
Pour the half and half, sugar, vanilla (add chocolate syrup, if using), in the quart-size bag. Set aside.
In the gallon bag, add the ice and rock salt.
Place the sealed quart bag inside the gallon bag.
Shake, shake, shake until thickened.
Add your favorite toppings to the ice cream bag and enjoy!
Old-Fashioned Chocolate Soda
Step back in time and enjoy an ice cream soda like the kind served at Berners!
You'll Need:
3 tbsp. Chocolate Syrup
1 tbsp. Whipped Cream (can)
1-¼ cups Carbonated Water, cold
2 scoops Vanilla Ice Cream
16 oz. Glass
Directions:
Add the chocolate syrup to the glass.
Stir in the carbonated water and whipped cream until foamy.
Add in two generous scoops of ice cream.
Recipe credit: Taste of Home
Thanks to an ice cream-loving customer and a persistent little girl, we can now all enjoy sundaes – any day of the week! Stop by for a taste, and be sure to find the accompanying historical marker downtown!
What is your favorite way to build a sundae? Let us know on social media using hashtag #govalleykids