Summer reading programs got a shakeup this summer with the pandemic. Challenged with figuring out how to bring families this summer staple, the libraries and Wisconsin Department of Public Instruction are delivering with a fun online platform. Beanstack gamifies reading with virtual badges to earn for hours spent reading and other fun activities. It is quick and easy to sign up the whole family and you're able to navigate to each person from one easy app on your phone or through your home library's website. Sign up with your home library and start earning your summer reading badges today!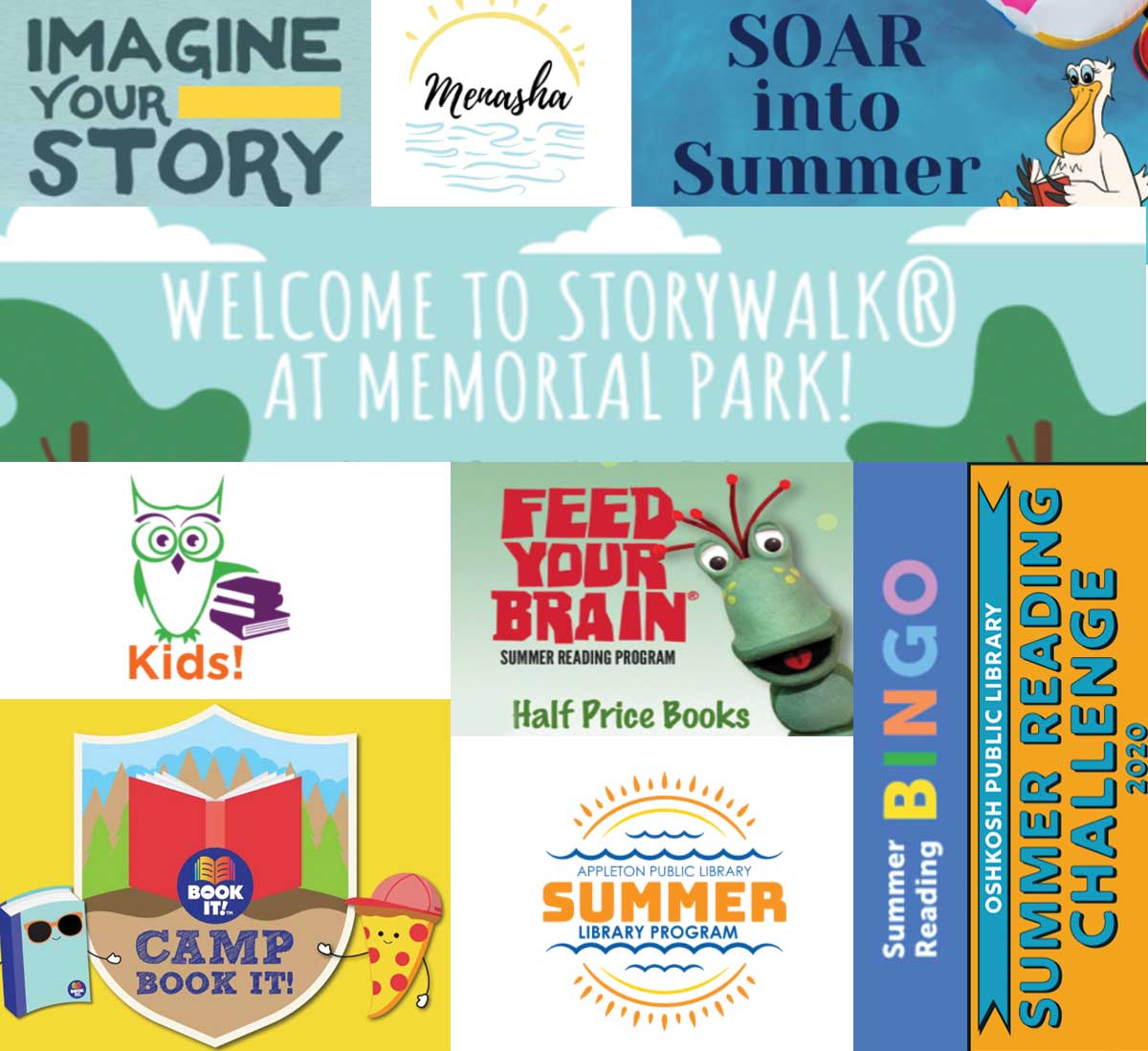 Beanstack Reading Program Challenge Examples
These details are based on Appleton Public Library's program, your home library's challenges and activities may vary.
Reading Programs for Kids
Read independently or with another for 1 hour each week
Badge and prize drawing each week
Log 13 hours of reading and 8 activities to complete the program and enter the grand prize drawing
Reading Programs for Teens
Read and log 2 hours each week
Bonus badges for kindness and wellness activities
Log 14 hours of reading get entered for the grand prize drawing and challenge badge.
Reading Programs for Adults
No minimum reading requirement.
Set a personal goal.
Log what you're reading once a week.
Get a badge for each week you log
Earn 6 badges to complete the program and be entered for the grand prize.

Participating Libraries
Appleton Public Library
Encourage reading with fun incentives, virtual storytimes and programs on Facebook, Maker Quest challenges, and more with APL's 2020 Summer Reading Program! Make sure to sign up for APL's Beanstack Program.
The Appleton Public Library is also open for contact-free curbside pickup and appointments for holds, computer or WiFi, printing and faxing, library cards, and notary service.
Other Favorite Program Highlights:
Story Walk – Enjoy reading a children's story with an Interactive walk at Appleton's Memorial Park's Scheig Center. Stories will be updated every other week.
Take n' Create Packs for Teens: Curated kits for teens include instructions and everything needed to make a project. Past kits have included Upcycled Terrariums and a Kraft Summer Journal Notebook. The Take and Create kits are only available by reservation for the first 25 sign-ups each week. Reservations are taken from Sunday at noon through Friday at 5 pm.
For More Information
Elisha D. Smith Public Library
Log your reading this summer to earn prizes with the Menasha Public Library! Virtual programs and videos are available on the Menasha Library Facebook Page. Sign up as a family or individual.
Elisha D. Smith Public Library is also open for appointments for using computers, making copies, faxing, printing, notary services, and test proctoring. Curbside pick-up and book drop-offs are available.
Kaukauna Public Library
Imagine Your Story, Kaukauna Public Library's 2020 Summer Learning Program includes virtual programming, pop up libraries, writing contest, community scavenger ghost hunt and more! Follow on facebook for updates!
Kaukauna Public Library is open by appointment and for curbside pickup.
Kimberly/Little Chute Public Library
Imagine Your Story is the Kimberly-Little Chute Library summer theme with fairy tales and mythical creatures including dragons and unicorns. Follow Kimberly-Little Chute Public Library on Facebook for videos, programs and more information. Request weekly grab-and-go craft kits with the curbside pickup request form.
Kimberly-Little Chute Public libraries are open for curbside pick up.
515 W Kimberly Ave, Kimberly
625 Grand Ave, Little Chute
(920) 788-7515
Neenah Public Library
SOAR into Summer with Neenah Public Library's Summer Reading Program. Follow NPL on Facebook for updates and videos. Book bundles, Virtual Book Club Girlfriends Read and Craft and Discovery Kits are also available to checkout!
Neenah Public Library is open for patrons on a limited basis and for curbside pickup.
Oshkosh Public Library
Take the Oshkosh Public Library's Summer Reading Challenge June 15 – August 22, 2020.
Follow Oshkosh Public Library on Facebook for videos, scavenger hunts, and more information.
Request a STEAM Take Home Kits with curbside pickup with make and do projects at home including botany in a bag, skittle chromatography, catapult engineering kit, UV and dice games.
Oshkosh Public Library is open for curbside pickup.
Brown County Library
Read anything, anytime, anywhere to participate in Brown County Library's Summer Reading Challenge. Follow Brown County Library on Facebook and YouTube for virtual programs, videos and information.
Brown County Libraries are open by appointment for computer services and for curbside pickup.
Many other smaller community libraries are also participating in the Beanstack program! Check your favorite library's website for information about their summer programs.
Other Summer Reading Programs & Incentives
Barnes & Noble
The Barnes & Noble Summer Reading Program is here to help your kids on their way, encouraging reading books of their own choosing to earn a FREE book, simply by following these three easy steps:
Read any eight books this summer and record them in your Summer Reading Journal (English or Español). Tell us which part of the book is your favorite, and why.
Bring your completed journal to a Barnes & Noble store between July 1st and August 31, 2020.
Choose your FREE reading adventure from the book list featured on the back of the journal.
Download your reading journal.
Book It Program
Remember Book-It? Read books, get a personal pan? It is still around and there is a Summer Reading Program called Camp BOOK IT this year!
Fill out monthly calendar trackers. When kids complete their monthly reading goals you'll receive a coupon by email for a FREE personal pizza from Pizza Hut.
Enjoy monthly activity books with book suggestions and fun things to do.
Half Price Books
Feed Your Brain – Read 15 minutes a day to keep up an appetite for reading all summer long.
(Grown-ups may read aloud to kids who are still learning.)
Slay dragons. Ride broomsticks. Unlock portals. Cast spells. FEED YOUR BRAIN® & fuel the power of your imagination this summer.
Read for 15 minutes each day and record it.
Enter weekly give-aways.
Try out virtual storytimes.
Scholastic Summer Reading Bingo