Another thing on our Summer Bucket List is to catch outdoor movies under the stars! We have lots of great, FREE options around the Fox Valley. Don't forget your blankets, popcorn, and bug spray. Movies begin at dusk.
Appleton
Appleton Memorial Park Amphitheater
Appleton's Movie on the Hill series is a great opportunity for families and friends to spend some time together in a safe, family friendly environment. Bring a blanket (no lawn chairs please) to our movie series and enjoy entertainment under the summer sky! Our staff will be starting children's games at 7:00 p.m. with the movie beginning at dusk (approx. 8:45). Concessions will be available for purchase. This is a FREE event!! www.appletonparkandrec.org
The Croods: A New Age
Thursday, June 24, 2021
Cars 3
Thursday, July 8, 2021
The Sandlot
Thursday, July 22, 2021
Raya and the Dragon
Thursday, August 12, 2021
Neenah
Neenah Pool
Come June 25th and July 23rd for a "Dive"-in Movie!
Movie titles will be posted at the pool the week of the Dive-In Movie! Movies will be shown on the deck on a large screen. Families can swim, slide on the slides or sit on the grass/chairs and enjoy the movie. Evening pool hours will be extended. Use your season pass or pay the after 6 pm rate. Come early and stay for the movie at no extra charge. The concession stand will be open. The movie will start at dusk (approx. 8:30 pm).
Washington Park
631 Winneconne Ave, Neenah
Bring the blanket and the family for this free night of games and a movie. Movie starts at dusk, around 8:30pm. Popcorn and water will be sold.
The Mighty Ducks
Tuesday, August 3, 2021
Village of Fox Crossing
Wittmann Park
Movie will begin at Dusk and some small sized snacks will be available for purchase on site.
1920 Airport Rd., (Menasha address)
Shrek
Thursday, July 29, 2021
Menasha
Barker Farm Park
974 9th St, Menasha
There will be planned activities at 8:00 pm before the movie. Concessions and beverages are available for purchase. Pizza will also be available for purchase!. Free movie starts at dusk around 8:30.
Trolls
Wednesday, June 30, 2021
Menasha Swimming Pool
915 Third Street, Menasha.
Scuba-doo around the pool as you watch Scoob! Grab your lawn chair or inner tube and join us for this family event with games, activities and other fun stuff before the movie. Activities start at 6:45 pm and the movie is shown at dusk. Food available for purchase.
Scoob!
Wednesday, July 28, 2021
Little Chute
On Saturday, June 26 come watch JAWS 3D in the most terrifying way – on the water! Attendees can watch the film in the water or from the sides of the pool for the less daring. Please bring your own chair or pool noodle, NO FLOATS ALLOWED. The movie starts at 9 pm at Doyle Pool. Doors open at 8 pm! The Little Chute Library will also provide a shark-themed craft and interaction kit for the movie. Concessions will be available for purchase. Free for teens and adults. This event has a capacity of 200 people, attendance is first come first serve.
Doyle Pool, Little Chute
Jaws 3D
Saturday, June 26, 2021
Greenville
Lion's Park, Greenville
FREE movies start at dusk and concessions are sold in the pavilion. In the event of rain or wind, the movie will be shown in the pavilion but may begin BEFORE dusk, so come earlier.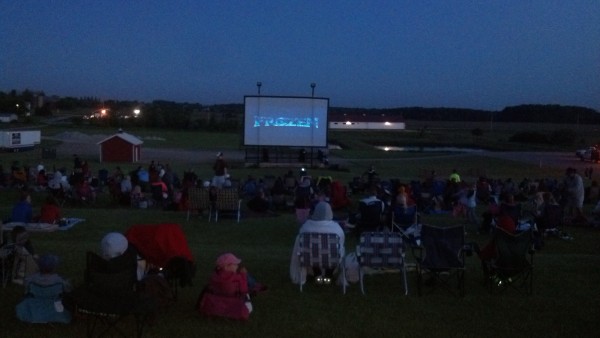 Playing With Fire
Wednesday, June 16th, 2021 – Appleton Fire Department hosting and will be there
Trolls World Tour
Wednesday, June 30, 2021
The Croods: A New Age
Wednesday, July 14th, 2021
Secret Life Of Pets 2
Wednesday, July 28, 2021
Raya and the Last Dragon
Wednesday, August 11, 2021
Tom and Jerry
Wednesday, August 25, 2021
Sherwood
Wanick Choute Park
W4687 Castle Dr, Sherwood
Concessions will be available approximately one hour before showing and during the movie. Bring blankets (lawn chairs are ok for lower level) to sit on and bug spray. Check the village Facebook page for more information.
The Lion King (Animated)
Friday, June 18, 2021
Finding Nemo
Tuesday, August 6, 2021
Oshkosh
Leach Amphitheater
303 Ceape Av, Oshkosh
Bring a blanket, lawn chairs and enjoy fun family entertainment and movie night. Concessions will be available. No carry-ins please. Gates open at 6:30 pm. Family Fun 7-8 pm. Movie begins at dusk (around 8:45 pm).
Smallfoot
Friday, June 25th, 2021
Family fun: Bubble night
A Dog's Journey
Friday, July 9, 2021
Family fun: Beach Ball Night
Onward
Friday, July 30, 2021
Family fun: Mascot night
The Mighty Ducks
Friday, August 13, 2021
Family Fun: Youth Sports Night
Green Bay
Bay Beach Amusement Park
1313 Bay Beach Road, Green Bay
Celebrate Kids Day with a FREE movie! Bring blankets and chairs. Concessions will be available. Movie starts at dusk near Shelter 3.
Shrek
Friday, June 25th, 2021
Bellevue
Willow Creek Park
1800 Guns St, Bellevue
Bring the whole family and BIG blanket to the park and enjoy an exciting family-friendly movie on the BIG SCREEN in the great outdoors! Concessions start at 7:30pm with each movie beginning at dusk. Movie in the Park is offered on 3 Thursday evenings throughout the summer.
The Croods: A New Age
Thursday, July 8th, 2021
Tom and Jerry
Tuesday, August 3rd, 2021
Back to The Future
Saturday, September 11th, 2021
Allouez
Bring your family out for a movie under the stars. Don't forget a blanket or chairs for seating.
Due to COVID we will not be selling concessions or providing activities prior to the movie this summer. We are also asking families to please socially distance while attending the movie. Most importantly stay safe and have fun. Movies are FREE and start at dusk.
Green Isle Park Baseball Diamond
2400 Greene Ave., Allouez
Onward
Friday, June 11, 2021
The Mighty Ducks
Friday, July 9, 2021
Sonic the Hedgehog
Friday, August 13. 2021
---
Drive-In Theaters

Field of Scenes
N3712 WI-55, Kaukauna, WI
www.fieldofscenes.biz
Movies shown on Fridays and Saturdays in the beginning of the season. Watch their website for additional showtimes and movies. Two movies are included with admission. Admission is $7 per person for ages 12 & over, $3 per person for ages 4 – 11, and ages 3 and under are free. Gate opens at 6 pm. The first movie begins at dusk. The second movie will begin approximately 15 minutes after the first movie is finished. Gate close at 10 pm.
Chilton Twilight Drive-In Theater
1255 E Chestnut St, Chilton
facebook page
Open Wednesday, Thursday, Friday, Saturday and Sunday during the summer. Open 2 hours prior to sunset. Mini Golf will be open each night. Also available for private parties on Monday or Tuesday night. Wednesday and Thursdays are $10 carload nights. All other nights admission is 6 for adults, $4 for children 11 and under.
Skyway Drive-In Theatre
3475 Hwy 42, Fish Creek
www.doorcountydrivein.com
Open Friday, Saturday, and Sundays in May, September, and October and nightly June through Labor Day. The entry gate opens at 7:30 pm and closes about 15 minutes after the start of the second show. Admission is $8 for ages 12 & older, $5 for ages 5-11, and 4 and younger are free.