Parades, Santa, and lots of holiday events are filling our calendar! One of our favorite family tradition is visiting our local light shows. Its inexpensive and fun.
We will be updating the list all month long. Scroll to the bottom of this page for a printable list. Happy light hunting!
Last Updated: 12/26/17
Filter by
Appleton
Neenah / Menasha
Greenville
Oshkosh
Kaukauna
Little Chute 
Combined Locks 
Chilton
Green Bay 
Manitowoc / Two Rivers
Light Displays from Previous Years
NOTE: This is a working list from previous years. Many of these have not been confirmed yet. If you have updates please email us at govalleykids@gmail.com.
1019 W. Parkway St., Appleton
1307 W. Frances St., Appleton
990 Stuart Ct., Neenah
Commanche Ln. on the lake road between Neenah & Oshkosh

1400 Lime Kiln Rd, Green Bay (the old Dousman home)

3348 Davies Ave., Green Bay & right around corner on Graceland Terrace
N1690 County Road T, Hortonville
706 N. Main St., Seymour
Erie Rd, Green Bay
Other Wisconsin Light Shows
Brix Street Light Show, 86 Brix Street in Clintonville
A a 20 minute show tuned to the radio, 88.3 FM. Shows begin at 6 pm and run until 8:30 pm (Sunday – Thursday) and 9 pm (Friday and Saturday).
Pine Cone Cir., Larsen
Lights best seen from Grace Lutheran Church Parking Lot
Fond du Lac Lakeside Park
Enjoy a 20 minute show (approximately) with dancing trees. Tune your car radio to 87.9 FM to listen to the music. This years light show is in the park on the hill by the water treatment plant. When entering the park from Main street, take a left after passing the children's play area. The best spot for viewing is in the parking lot across the street but be careful it does get busy. Don't forget to see who is on top of the lighthouse! The show is free but donations are accepted for future improvements. Snacks available to purchase at The Snack Cabin located at the entrance by the main parking lot.
Rotary Winter Wonderland, Marshfield
Holiday lights display at Wildwood Zoo, Marshfield with over 1,000,000 L.E.D. lights! They also host many fun activities like Santa visits, horse drawn carriage rides, and more. Walk through or drive through. Check out their website for event information. It is free however donations of food and cash are accepted to help the local food pantries and keep the project running.
Making Spirits Bright, A Drive Through Holiday Display by the Sheboygan County Rotary Clubs
Free holiday light display at Evergreen Park in Sheyboygan. Lights synchronized to music, tune your radio to 89.1 FM while driving through. Take a trolley ride on Fridays or Saturdays from 5:30 – 8:30 pm from the Quarryview Center for $2 per person (infants ride free). Drop off a donation for the food pantry or leave a cash donation for the display.
14 Briarwood Lane, Shawano (east of Shawano High School)
Corner of Lincoln Street and Lieg Avenue in Shawano
Download our list!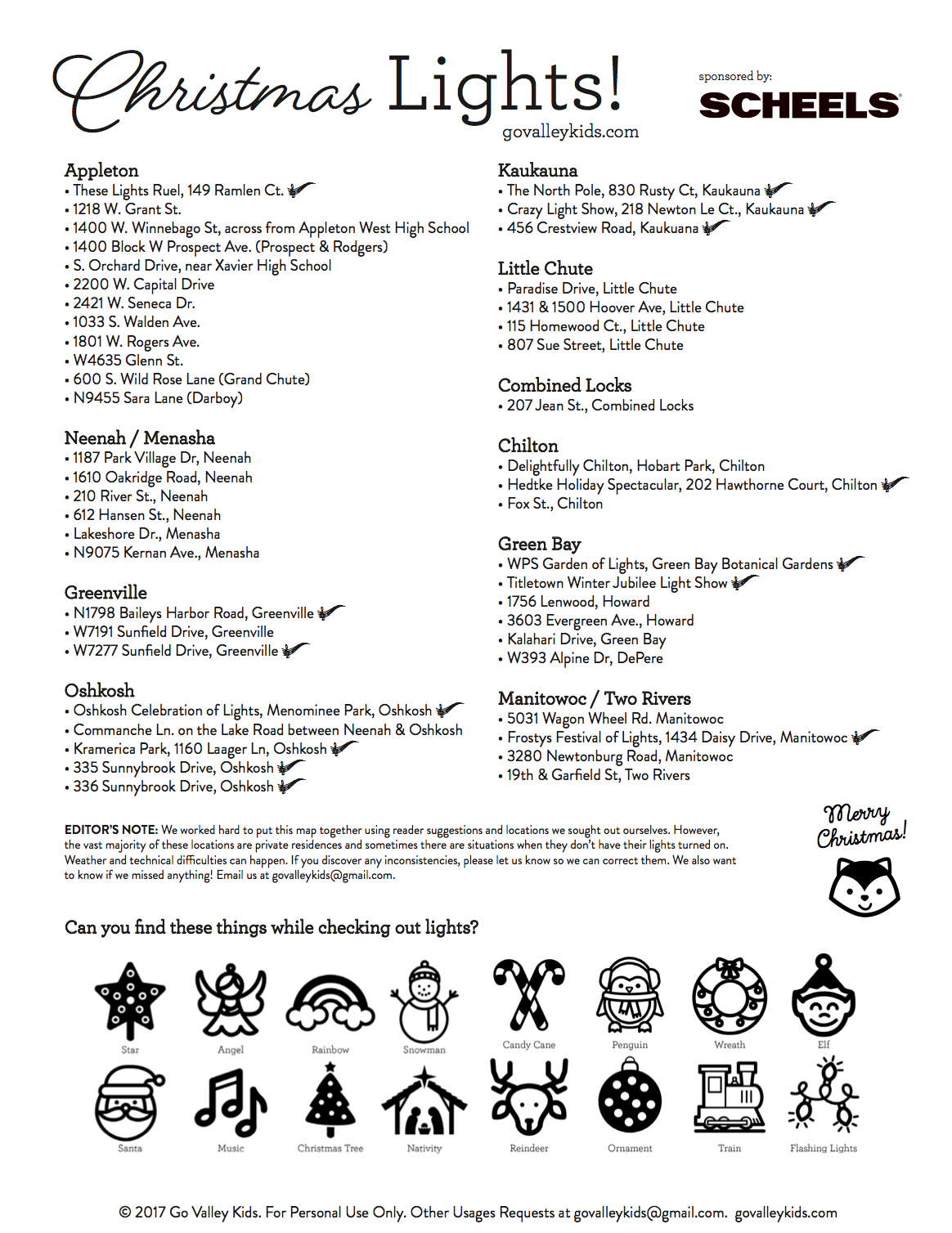 Download our fun scavenger hunt!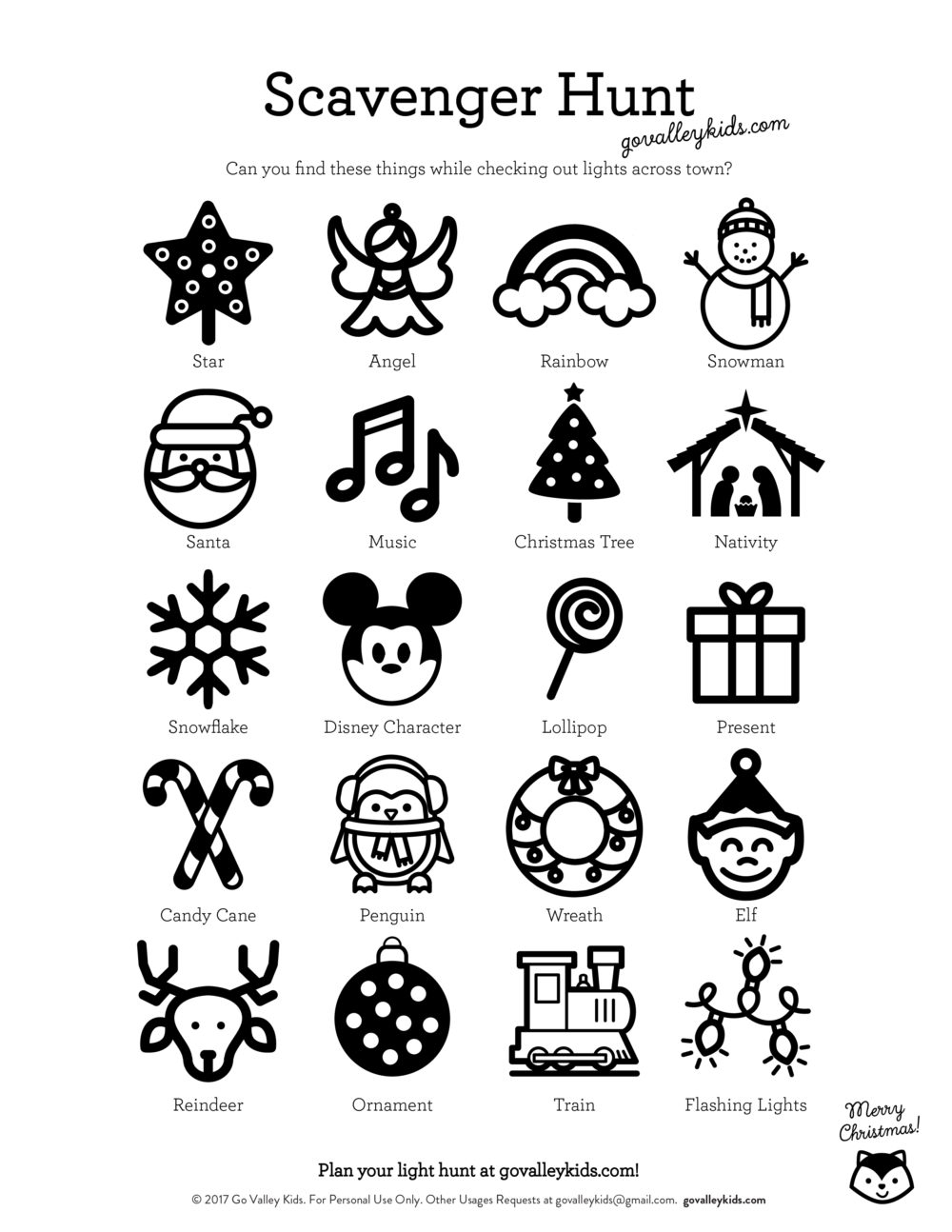 ---
Please let us know if you have any other updates or addresses to add. Also, we would love pictures of or videos if you are willing to share. Email them to govalleykids@gmail.com or tag #GoValleyKids. We will continue to update with your help and post more pictures as we check out the displays as well!