June is Pride Month celebrating the triumphs and continued work on the path to full equality for the LGTBQ+ community and honors the 1969 Stonewall Uprising. Pride gives space for the communal and individual celebration of visibility, dignity, and self-affirmation.
People in the LGBTQ+ community are at higher risk of suicidal thoughts and mental health concerns as a result of discrimination, prejudice, rejection, and more. It is important to raise awareness of that here in the Fox Valley and we're featuring a resource for youth who are struggling or looking for additional support.
We reached out to Reiko Ramos who is the Youth and Young Adult Advocate for the Room to Be Safe Program at Diverse and Resilient in Appleton. Reiko is a graduate of Lawrence University and has helped make a difference in our community with the Anti-Violence Program.
We hope the questions from us and answers from Reiko plus the links below can help people in the Fox Cities know and understand more about Diverse and Resilient in Appleton. Please visit if you or someone you or someone you know needs help or if you just want to learn or get more information on how to help and support others in our LGBTQ+ community.
LOVE always wins!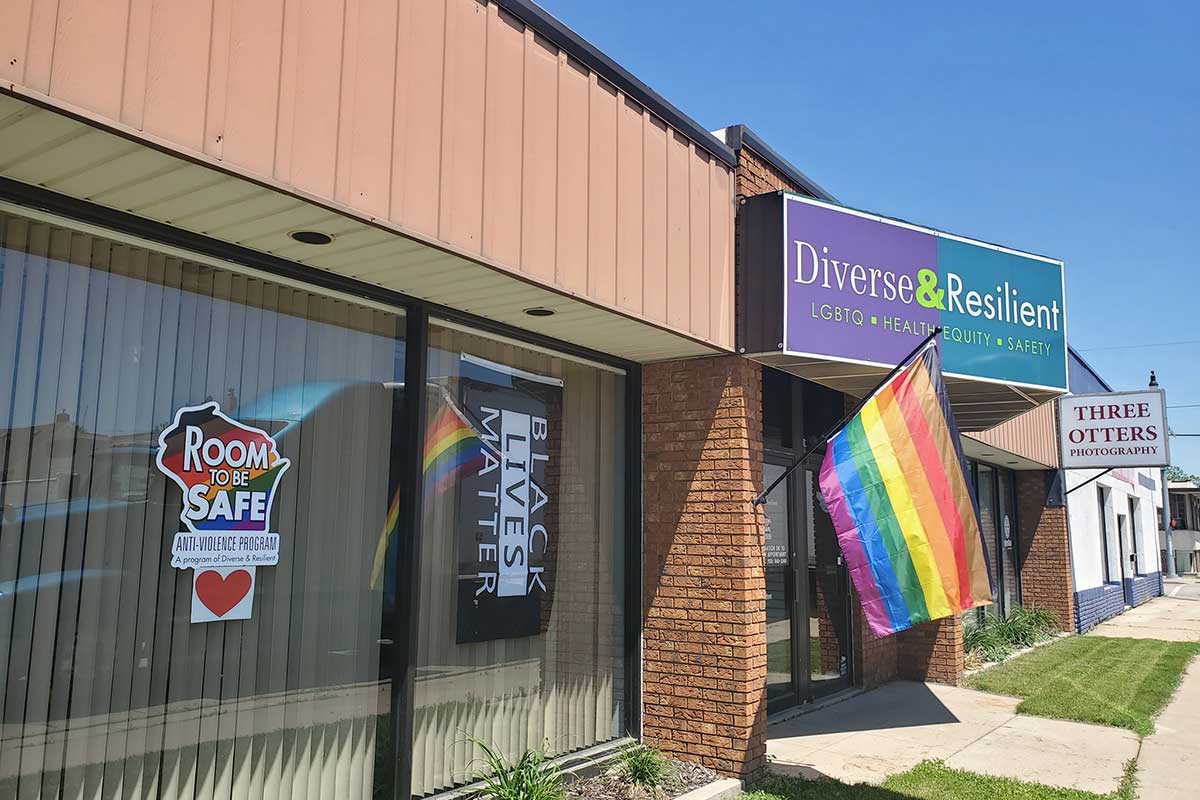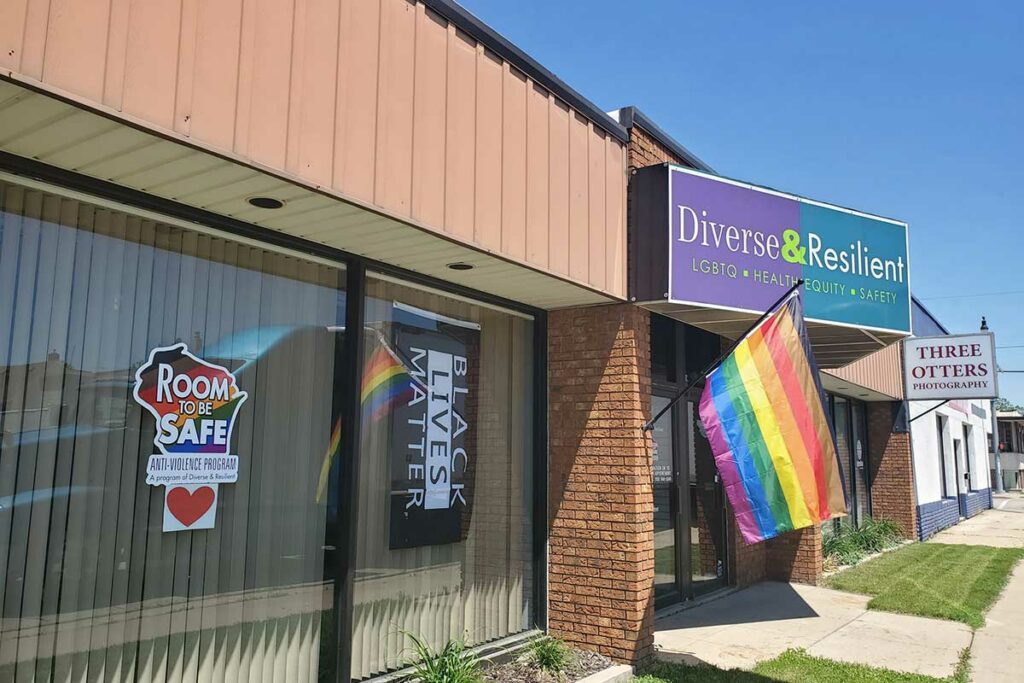 Reiko, what is your job title at Diverse and Resilient and your role there?
I am a Youth/Young Adult Advocate for our LGBTQ+ anti-violence program, called Room to Be Safe. I provide individual support and advocacy to LGBTQ+ young people who have experienced some type of violence—from dating/intimate partner violence, sexual, community- or hate-based violence to bullying or family rejection. In addition to one-on-one services, I also facilitate our youth group called Room to Be You(th). This group is currently meeting on Zoom and is open to middle- to high school-aged LGBTQ+ youth in northeast Wisconsin.
Who started the center and how long has it been here in Appleton?
Diverse & Resilient has been in existence in Milwaukee since 1995 and is the largest LGBTQ+ non-profit in the state of Wisconsin. Room to Be Safe was established as a statewide anti-violence program in 2016 by our program director, Kathy Flores. In response to the community interest and level of need in the Fox Valley, Diverse & Resilient opened a second office in Appleton at the end of 2019.
What made you decide to get involved with Diverse & Resilient?
Throughout college, I knew I wanted a career path that would allow me to make a positive impact on the LGBTQ+ community and provide others with the type of resources and connection I could only dream of as a youth. Prior to working at Diverse & Resilient, I led the LGBT Partnership program at Goodwill NCW. In my past experience working with the LGBTQ+ community, Diverse & Resilient has always been a wonderful partner. When Goodwill NCW could no longer sustain the LGBT Partnership due to the COVID-19 pandemic, Diverse & Resilient was a natural home for the work I was doing with LGBTQ+ youth.
How do you help people that come to you?
First and foremost, we are here to hear, affirm, and validate the experiences of LGBTQ+ people and make sure that they are feeling welcome and well-supported. No two clients are exactly alike, so everything that happens after that is a highly individual process led by the needs and interests of the person we are working with. Services include:
Emotional support
Advocacy
Safety planning
Connection to LGBTQ+ community
Referral to other community resources
Emergency assistance to address basic needs for LGBTQ+ survivors of violence
Assistance with legal name and gender marker change
Is this center available to all ages or just those over 18?
Our space and services are open to LGBTQ+ people of all ages, however, certain groups and events such as our youth group and adult drop-in time may target specific age groups.
For people that use the center is there a cost?
Our services are free and confidential!
What do you enjoy most about your job?
The people! We have incredible LGBTQ+ folks in our community and they make our work both meaningful and fun. Also, I wouldn't be a youth advocate if I didn't say that the youth weren't my favorite! LGBTQ+ youth are creative, resilient, and understand more about the world we live in than most adults tend to give them credit for. I learn from them every day and it is a gift to know them.
I've been working with LGBTQ+ youth in this capacity for 4 years now, so some of the youth who are graduating high school now are youth who I've known since they were 13 or 14 years old. It has been incredible to watch them blossom over the past few years, grow their confidence, and become leaders for other LGBTQ+ youth.
Does Diverse and Resilient hold any events that are held publicly in the community and if so what are they?
We just celebrated our grand re-opening at the beginning of June which included the public unveiling of a gorgeous mural painted by a local artist, Laura Schrampfer Champeau. This event was to welcome the community back into our space and the first time we've done anything publicly in person since the start of COVID-19. Throughout the pandemic, we held a series of virtual programs called "Queerantines" to offer a space for LGBTQ+ people to support each other and learn together while living in quarantine. Pre-covid, we began a series called Room to Heal Through Art and partnered with local artists to create a healing space for LGBTQ+ survivors. Looking ahead, we also hope to bring back some big events for LGBTQ+ youth, previously held by the LGBT Partnership program such as Pride Prom and Night of Noise.
This was a long way of saying, not quite yet! We're still getting settled back in. But in the meantime, you can 1) pay attention to our social media for future events and 2) feel free to stop at our offices during open hours to say hello and check out our space!
What would you say to someone who is unsure if they should stop by or reach out?
It's okay to be afraid to reach out! Consent and autonomy are very important to us so we'll never force you to work with us if you're not ready. We're always here when you do want to reach out.
LGBTQ+ people aren't always given reason to trust community resources and providers. Oftentimes, we are harmed by the very people who are intended to help us. These experiences teach a lot of LGBTQ+ people to internalize the belief that we aren't deserving of care and advocacy or that there is no one equipped to help us. We exist to make sure that LGBTQ+ people are heard and validated, and receive the care that they deserve!
What can people in the community do to help support your work and those that are LGBTQ?
Do your research and homework to learn ways to support LGBTQ+ people in your everyday life!
As for supporting our work, we've learned that word of mouth is one of the best ways of connecting with our community. Please tell your friends and family that we are an available resource! If you have the capacity, you may also make a donation to Diverse & Resilient to support LGBTQ+ survivors.
How can the community support the work at Diverse and Resilient?
Donate online or send a check to the Milwaukee address below. Be sure to indicate in the online giving form or check memo which location you would like to receive your gift.
Diverse & Resilient, 2439 N Holton St, Milwaukee, WI 53212
Where can we find more information about Diverse and Resilient?
Please visit our website! You can also keep up with us on Facebook and Instagram!
Additional info:
For more information about receiving services or connecting to the Room to Be Youth Group, please contact Reiko Ramos.
Call or text: 920-841-1703 or email: rramos@diverseandresilient.org
Our physical address is 408 ½ W. Wisconsin Ave. Please go to the parking lot in the back and use the back entrance. Our open office hours are Wednesday – Friday from noon – 6 pm.