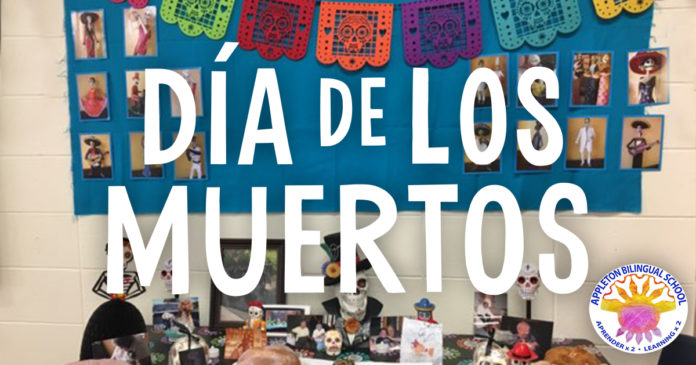 Have you seen colorful sugar skulls and artwork depicting Dia de los Muertos? Do you wonder what this tradition and cultural holiday all meant? The Appleton Bilingual School shares with us some meaning behind this traditional celebration.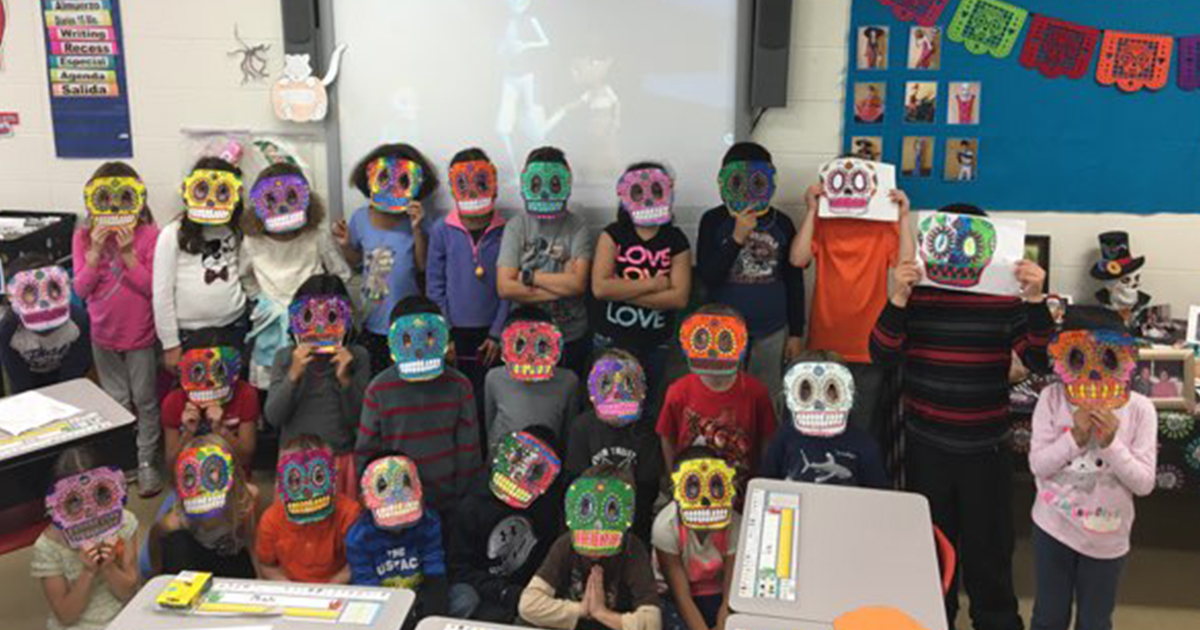 Dia de los Muertos or Day of the Dead, is a celebration honoring our ancestors. In Mexico, Dia de los Muertos is celebrated on October 31, November 1 and 2. Although seen primarily as a Mexican holiday, it is also celebrated in many communities in the United States where there is a large Mexican-American population, and to a lesser extent it is also celebrated in some parts of Latin America. This holiday is celebrated cheerfully, and although it happens on dates close to All Saints' Day, and All Souls Day, instead of feeling fearful of malevolent spirits, the mood on the day of the dead is much more relaxed. Similar to Halloween, the Day of the Dead celebration has a greater emphasis on honoring the lives of the departed. The origins of the Day of the Dead in Mexico can be traced back to the time of the Mesoamerican Indians, such as the Aztecs, Mayas, Purepechas, Nahuas and Totonacas. The rituals that celebrate the lives of the ancestors were performed by these civilizations for at least the last 3,000 years.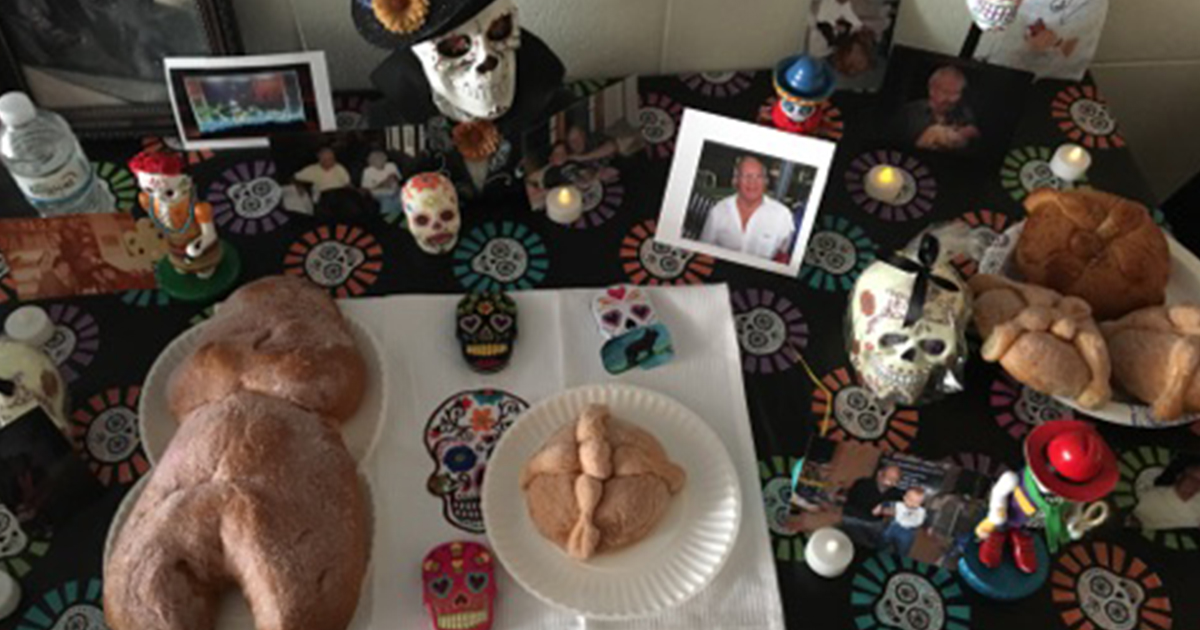 In general, this celebration includes practices such as decorating tombs in cemeteries and dedicating altars (in homes or on tombstones) that include various elements to lead the souls back to the world of the living. It is said that the bright color of the flowers of cempasúchil represents the way that the dead must follow; the candle light and warmth illuminates them and accompanies them through the darkness of the grave, while the succulent scent of the dishes prepared and placed in the offerings "nourishes" them, while recalling the importance of sharing food with the family. Offerings to the dead are carefully prepared with the deceased's favorite delicacies and are placed around the family altar and tomb, amidst flowers, decoration with paper, photographs, toys or any souvenir in remembrance of our loved ones.
Download this Dia de los Muertos fun activity for kids!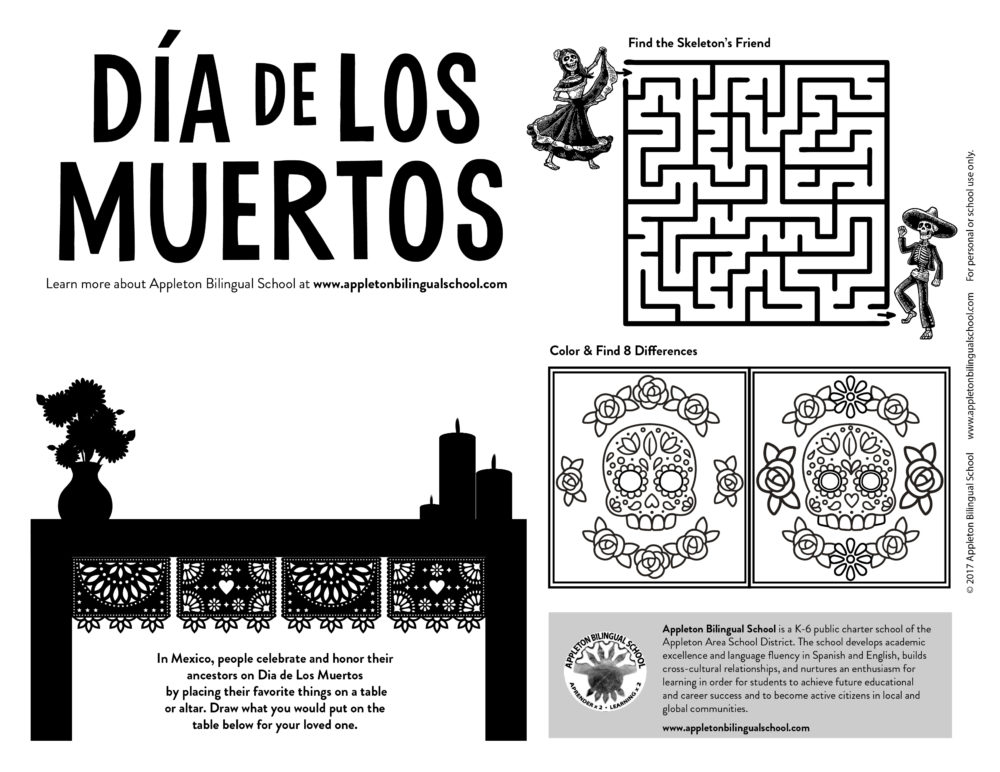 Download English Version  |  Download Spanish Version
Here are two short videos we like!
About Appleton Bilingual School
Appleton Bilingual School is a K-6 public charter school of the Appleton Area School District. The school develops academic excellence and language fluency in Spanish and English, builds cross-cultural relationships, and nurtures an enthusiasm for learning in order for students to achieve future educational and career success and to become active citizens in local and global communities.
La Escuela Bilingüe de Appleton es una escuela pública charter K-6 de Appleton Area School District. La escuela desarrolla la excelencia académica y fluidez del idioma español e inglés, construye relaciones interculturales, y alimenta el entusiasmo por el aprendizaje para que los alumnos logren el éxito educativo y profesional futuro, y lleguen a ser ciudadanos activos en las comunidades locales y globales.
Located within Columbus Elementary School and Zion Lutheran
913 N Oneida St, Appleton, Wisconsin
To learn more about Appleton Bilingual School visit them at the Appleton Area School District's Mini Charter Fair on Tuesday, November 7, 2017 at Community Early Learning Center, 313 S. State Street in Appleton, from 10 am – 1:30 pm.