Let's talk about the elephant in the room—or maybe it's not an elephant at all for you. Sometimes at Go Valley Kids, we need to discuss things that are not easy and that we may not all agree on. Still, it's important to us that we move forward in our mission to bring resources and information to empower families to lead happy, healthy lives.
We believe that everyone has a choice and should have access to factual information to guide their decision-making. It has been a really loud and confusing couple of years and it can be hard to know who to listen to. We've tapped local experts to provide us with factual information about the vaccines and to answer questions that we and other parents have about this vaccine. 
We've also talked with local parents about their experiences and any tips they have for making it through the vaccine process.
Editor's Note: As always, we appreciate feedback from our readers. When you provide feedback or comments, we ask that you keep in mind that we have worked to maintain a positive and supportive community.
The Building for Kids seeks to be a reliable resource of information to promote the wellbeing of children and their grownups throughout our community. The BFK recently received a Communities for Immunity grant in support of their work to promote vaccine confidence. Communities for Immunity is made possible with funding from the Centers for Disease Control and Prevention and the Institute of Museum and Library Services. For more information, visit www.communitiesforimmunity.org.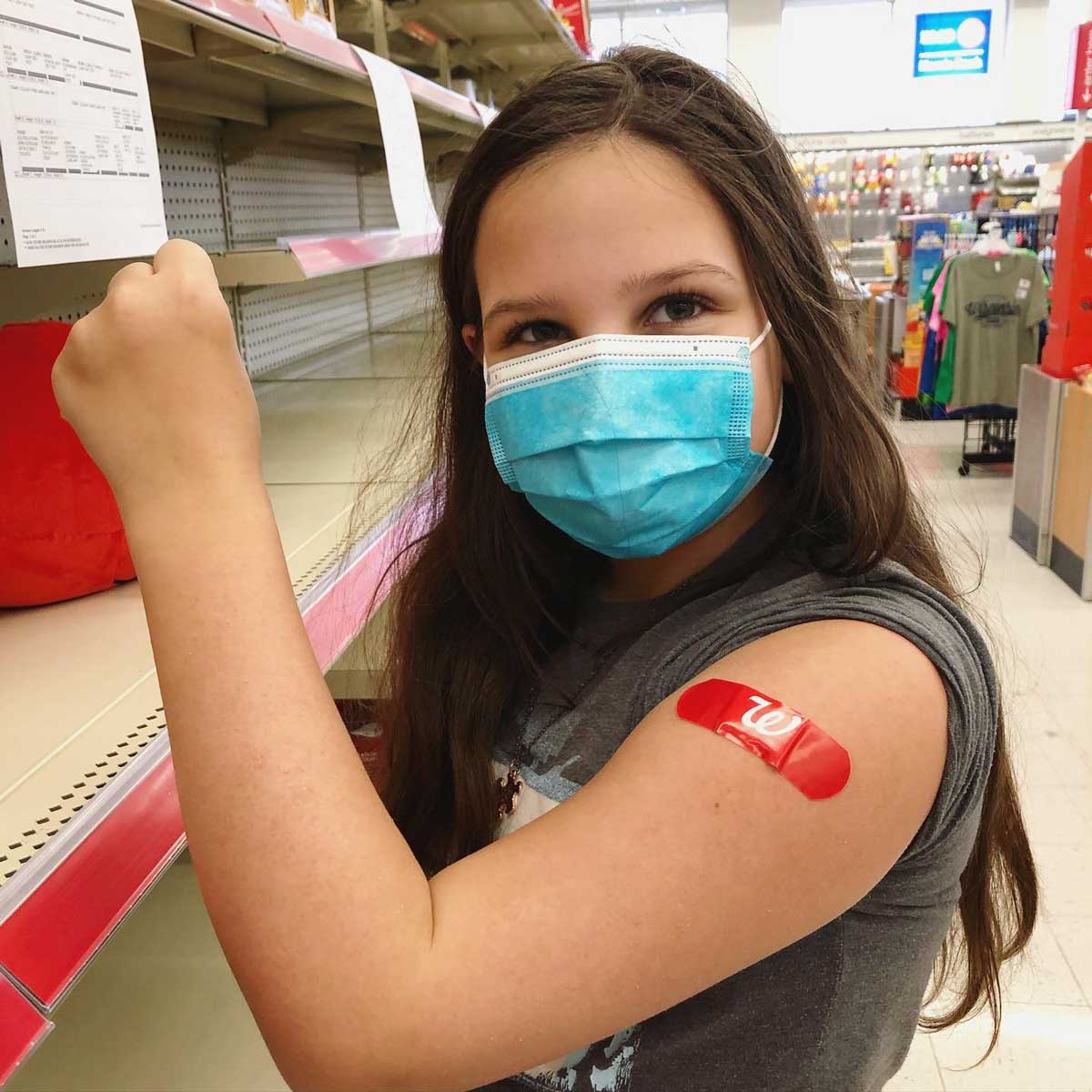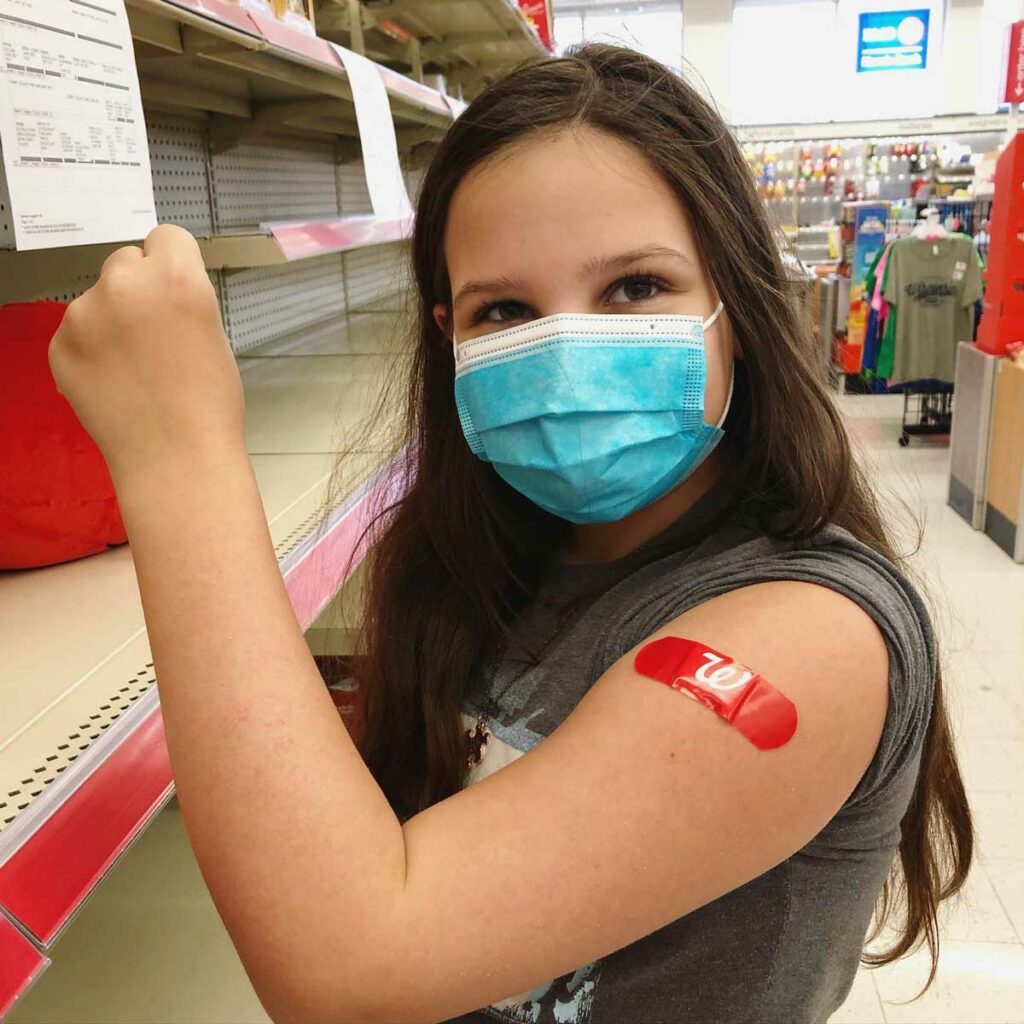 Tips and Experiences from Fox Valley Parents
Amanda, mom of 2 in Neenah
My 10-year-old twins are on the opposite sides of the spectrum with how they handle shots or anything with needles. One kiddo was ready to go, didn't need any preparation, and sat like a statue for both doses.
My other kiddo needed ALL the tricks. In addition to medication from our pediatrician, we watched a video about the process, talked about how the vaccination can keep us healthy, and practiced a tight hug to help keep them safe and still during the vaccination (we took inspiration from this TikTok video from a pediatrician mom).
After the first vaccination, we discovered that the nervous kiddo should go first — waiting just made it harder. We brought two more tools with us to the appointment. First is a Shot Blocker, a small plastic device that tricks your brain into noticing the injection a bit less. Lastly, we brought headphones and played funny cat videos on my phone.
In the end, both kids decided they were glad they did the vaccination and agreed that it felt like a mosquito bite…then they picked out a treat from the store. (I told you it was ALL the tricks!)
Julie, mom of 2 in Appleton
After almost losing their Grandpa to Covid, these girls were eager to do their part and get vaccinated!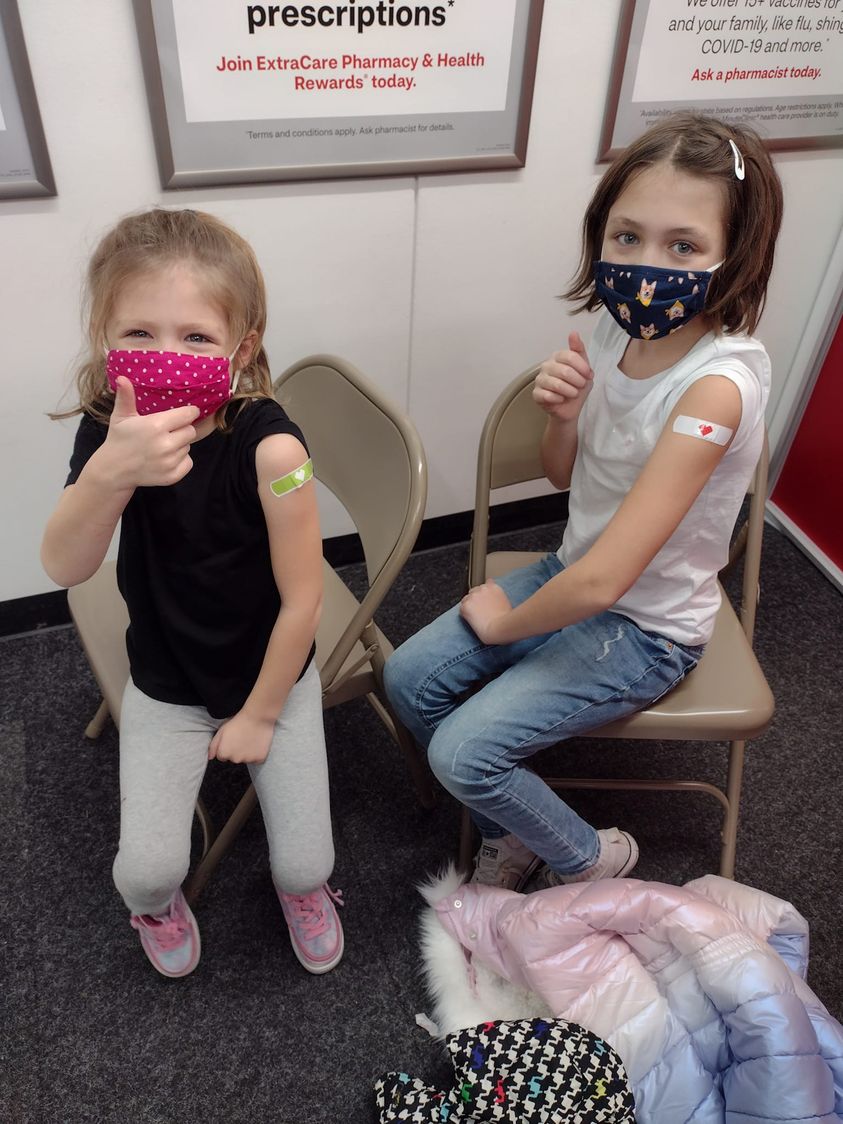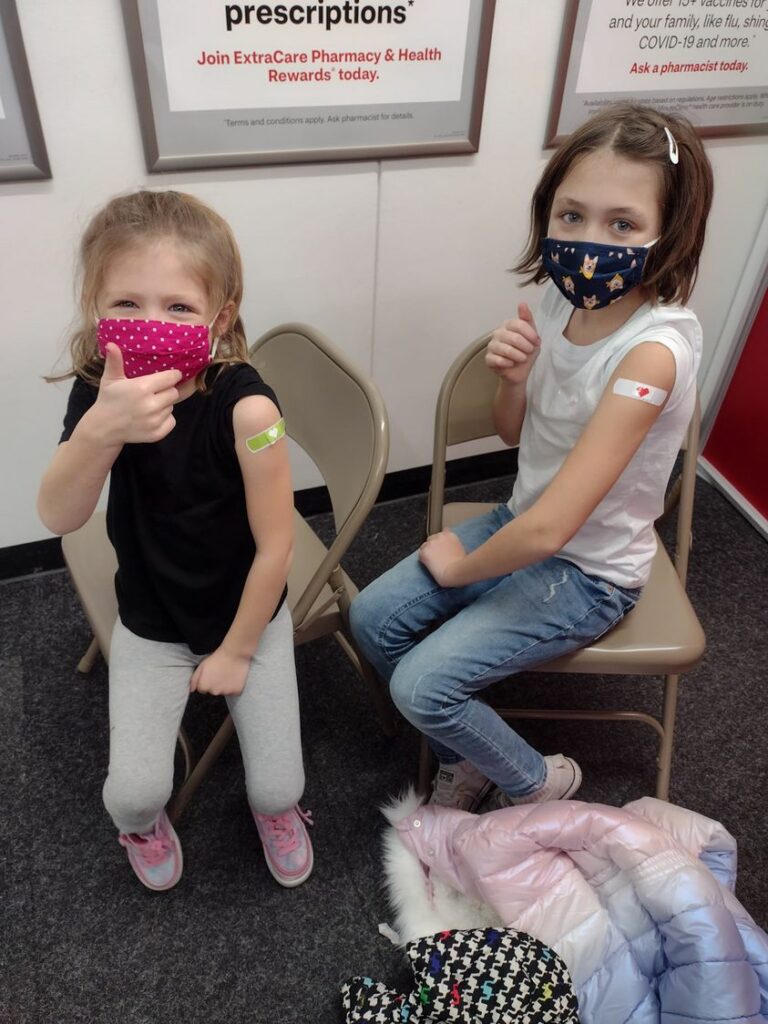 I would share about booking appointments for our three youngest children because it was somewhat difficult. My first choice was CVS, because that's where I got mine and our 13-year-old son's vaccines. I know, like, and trust the pharmacist there, and being somewhat hesitant with the vaccine, it would've made me more comfortable to do it there. They don't have an option to book family members together. Everyone requires separate appointments that are 15 minutes apart, even though it doesn't take that long, and I couldn't get appointment times together at the times I needed them without booking really far out in advance. Again, already being hesitant about doing it, once I had made the decision to do it, I just wanted it done and over with. I didn't want to dwell on it for weeks waiting for an appointment.
We ended up at Walmart, which had many more appointment times available. Not a huge deal, but slightly more inconvenient because it wasn't in Neenah and it was with an unknown pharmacist. But they also didn't have the option to book family members together. So for example, our appointments were for 5:20, 5:40, and 6:00 pm. We were done with all 3 kids by 5:25.
As far as side effects, our 13-year-old had a sore arm, headache, and fatigue the next day. The three Littles (10, 8, and 5) only had a sore arm. No extra fatigue or anything to report.
I intended to wait until the vaccine was fully approved by the FDA and for further information. But, ultimately I felt I had to get them vaccinated now because with many schools stopping mask requirements and Covid cases rising — especially in my oldest child's school — the choice to wait was kind of taken away from me.
Frequently Asked Questions & Answers
Where can I or my child get vaccinated? 
Everyone age 5 and older can now get a COVID-19 vaccine.
You have three ways to find vaccines near you:
Go to vaccines.gov
Text your ZIP code to 438829
Call 1-800-232-0233
Vaccine Clinics & Events for Kids in the Fox Valley
Public Health Division – 3rd floor at the County Government Center
320 Walnut Street in Appleton

Call 920-832-5100 to schedule an appointment.
Open Wednesdays 9 am – 3 pm
Additional days and hours vary by week.

Fox River Mall – Located in the food court near Scheels

No appointment needed, no ID required, no insurance required.
Registration in advance will save time while you're there. You can take care of that online or by calling 844-684-1064.
Check the schedule online for hours, but generally, the site is open on Mondays, Tuesdays, and Thursdays from 11 am – 7 pm.
They administer Pfizer for kids ages 5 and older. Moderna and Johnson & Johnson are available for adults.

Black Creek Fire Department – W5200 County Road B, Black Creek

No appointment is needed. Pfizer is available for everyone 5 years and older. Moderna and Johnson & Johnson are available for adults.
Open Wednesdays from 3 – 6 pm.

Shiocton-Bovina Fire Department – W7740 Pine Street, Shiocton

No appointment is needed. Pfizer is available for everyone 5 years and older. Moderna and Johnson & Johnson are available for adults.
Open Wednesdays from 2:30 – 5:30 pm.
Need a Ride to a Vaccine Site?
There are three free options for transportation:
How to Prepare for Vaccines?
Before:
Be honest with your child: Shots can pinch or sting, but they don't hurt for long.
Help your child see vaccines as a good thing. Tell them vaccines keep them safe from germs that might make them sick.
Don't tell your child scary stories or make threats about shots.
During:
Bring a favorite toy or blanket for your child to hug.
Hold your child in a comforting position, such as on your lap.
Distract your child, such as with a story, a video, or a conversation.
Ask the vaccine provider if they have a numbing ointment or spray to apply before the shot.
After:
Hug and praise your child.
Remind your child why vaccines are good. Tell them their body is already making germ fighters to keep them safe and healthy.
Consider rewarding your child, such as with a treat or a sticker.
To get the most protection from the vaccine, your child will need 2 doses, 21 days apart.
Talk to a doctor if you have questions about the vaccine for your particular family situation and health history.
For more information, visit cdc.gov/coronavirus.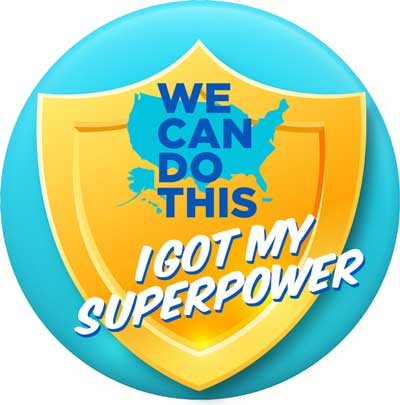 Our team and partners hope that we've given you information that you can use when thinking about vaccinating your kids. We will be adding more articles to help your family to navigate this phase of the Covid pandemic with locations to get tested and school district policies.

We know that it has been a long couple of years for your family—it certainly has been for ours—but we also know that we will get through this together as a strong community that helps each other through difficult times. We've seen this demonstrated time after time and know that this hard time won't be different.