"Do what you can to show you care about other people, and you will make our world a better place."
— Rosalynn Carter
There are so many benefits to volunteering, we truly are making the world a better place when we help others. For those of us that are parents, volunteering is a positive way to spend quality time together as a family. It's a good opportunity to teach our children about social issues and for our children to see us as positive role models.
In addition to being good for the community, volunteering offers many benefits to our children. It teaches them about responsibility, compassion, empathy, tolerance, and gratitude. Even toddlers and preschoolers can have meaningful experiences when they volunteer. The United Way has a lot of good information on why children should volunteer, I've summarized some of their findings here:
Volunteering enhances development by increasing self-esteem, responsibility and an interest in learning. It also helps develop social skills
It promotes a healthy lifestyle and choices, children who volunteer are less likely to become involved in at-risk behaviors
Helping others teaches social responsibility and helps children develop empathy and learn that one person can make a difference
Volunteering creates a lifelong ethic of service
It improves the community and…
It's fun!
To get started volunteering with your child, decide if you want to participate in a one-time event or an ongoing opportunity. Think about what interests your family and also what your kids care about.
There are many, many opportunities appropriate for families with young children. Here are a few ideas:
Serving dinner once a month at a soup kitchen or homeless shelter
Cleaning up your neighborhood or a park – picking up garbage, planting flowers
Volunteering at an animal shelter or offering to care for an abandoned animal
Spending time in a nursing home
Befriending a person with disabilities
Collecting books and games and delivering them to children in the hospital
Collecting food for a food pantry
Delivering meals to people who are homebound
Participating in walks to raise awareness and fight disease
Tutoring younger children
For more information or ideas visit these sites:
Volunteer Match
United Way
Doing Good Together

It's true that children who volunteer are much more likely to continue as adults so what better way to create more volunteers in the world than to get our children volunteering!
---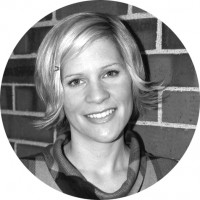 Jen Van Rooy is an Appleton native, mother of two and a part time Community Manager for a Minneapolis based Social Services Company. Her interests include all things family, reading, writing and being active in the community.
Read more from Jen here.